This article may contain affiliate links; if you click on a shopping link and make a purchase I may receive a commission. As an Amazon Associate, I earn from qualifying purchases. 
I don't do wish lists or gift guides on Wardrobe Oxygen. First reason, I am not skilled enough to make pretty ones. You can visit other bloggers like my friend from The Art of Accessories who makes a gorgeous one each winter. Second reason, I feel that it encourages spending. I only believe one should shop if she needs to – shopping should not be therapy, and the more you see that looks appealing, the easier it is to get off your budget and buy that which you don't need (and possibly can't afford).
However I figured I would share with you my Christmas list. This is what I shared with my loved ones – each year we provide one another with lists as guidelines and in hopes we don't have to do a bunch of returns come January. We usually don't stick to the list, but it's a great guideline to understand what that person is interested in that year. In fact, I found my list from last year and those items I asked for and didn't get I wouldn't want this year. But this is what I am feeling at the end of 2011: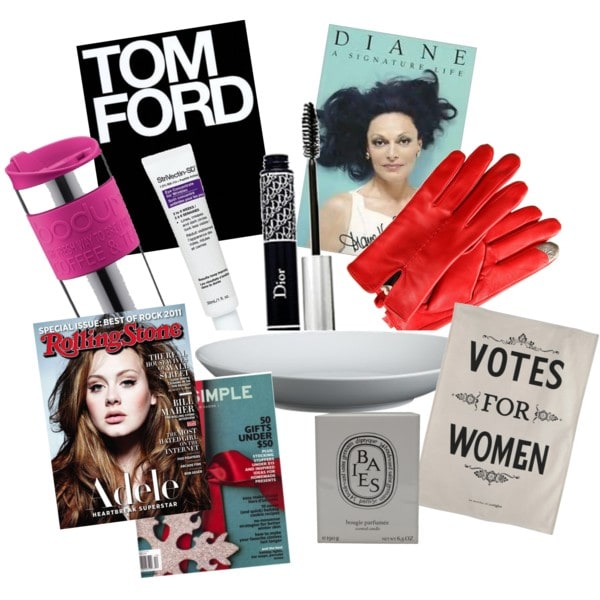 Now some of these aren't exact, so I won't share the specific Polyvore links, but I do desire:
Fashion books, especially those about Tom Ford and Diane von Furstenberg
Touch gloves, so I can tweet while keeping my fingers toasty
StriVectin Eye Concentrate – I keep hearing such good things about this stuff but it's far out of my regular beauty price range
DiorShow mascara – another beauty splurge and always a wonderful holiday gift
Travel mug – I always want coffee to go when my only mug is in the dishwasher!
Subscription to Rolling Stone and a renewal to Real Simple – these two (and Bazaar) are my absolute favorite magazines
A fancy candle. Another thing I would never buy myself but love getting as a gift
Fun dish towels. We don't use paper towels, so I really love my collection of dish and tea towels. The quirkier the better.
White serving dishes. While I love color in 99% of my life, I love the simplicity of white serving dishes. It's also easier to create a collection at any price point. When I host a party I often end up borrowing serving platters and bowls from relatives and friends so it would be nice to add to my current collection.
 

So what is on your grown-up gift list? Are these things you dream of, things you save up and buy yourself, or things you hope to receive from loved ones?
Follow Me | Twitter | Facebook