This article may contain affiliate links; if you click on a shopping link and make a purchase I may receive a commission. As an Amazon Associate, I earn from qualifying purchases.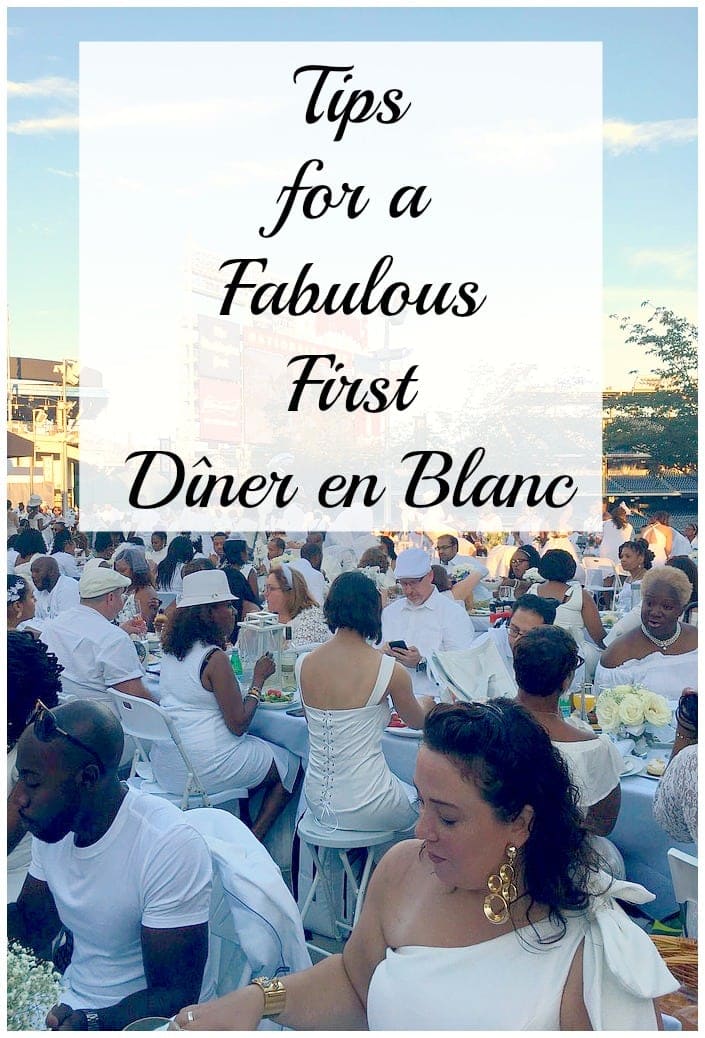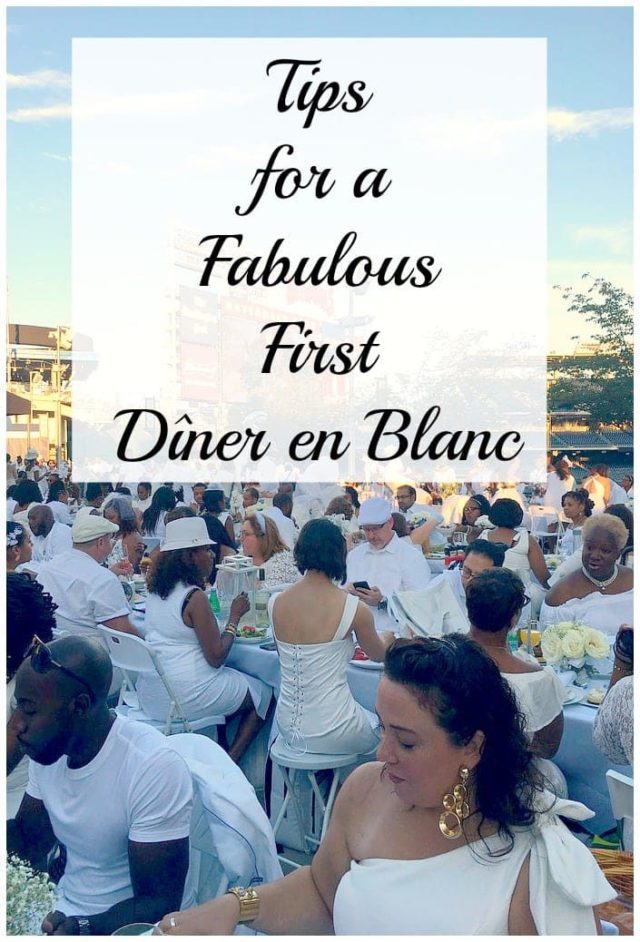 I have now attended Dîner en Blanc on two separate occasions. This is an event that requires some preparation, supplies, and strategy to have a great time and I want to share what we've learned and what has worked to help others enjoy Dîner en Blanc. I hope these tips for Dîner en Blanc will help you have an amazing experience at this unique event!
Tips for First Time Dîner en Blanc Attendees
After attending Dîner en Blanc in Washington DC more than once, and being one who does a lot of research and preparation before an event, I want to share my experience and tips to first time Dîner en Blanc attendees in hopes your first experience with this extraordinary event is painless and stylish!
What is Dîner n Blanc?
Dîner en Blanc began in Paris in 1988 when François Pasquier invited a group of friends to an elegant outdoor dinner, asking them to dress in white so they could find each other. It is now a worldwide event spanning six continents. A date is chosen, as well as a location. However, the location remains a secret until you arrive.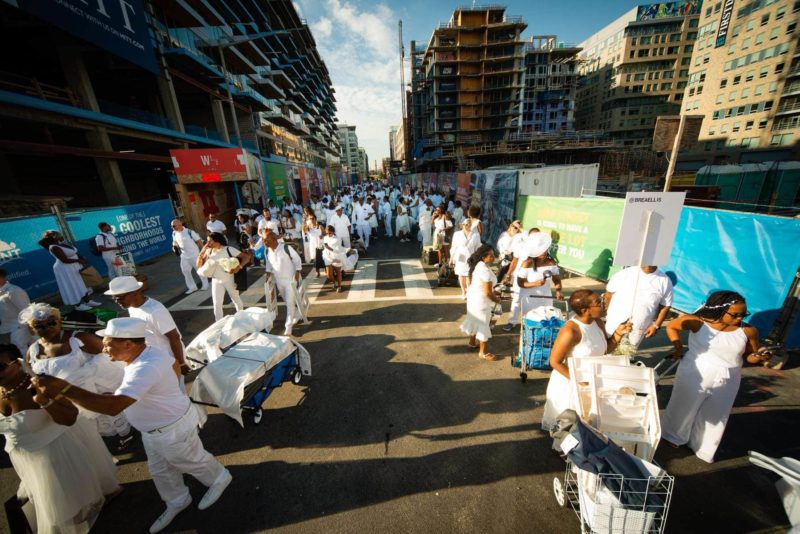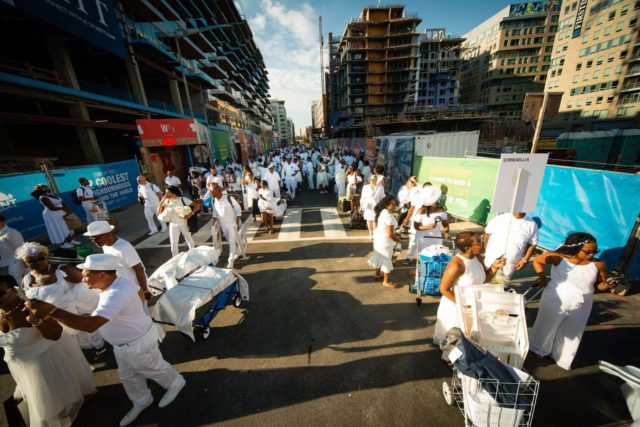 Image via Dîner en Blanc DC
How Do I Get a Ticket to Dîner en Blanc?
DC has a waiting list of tens of thousands to attend. If you haven't attended, I recommend paying to be a member now. When tickets go on sale, there are three rounds. First Round is those who have attended previously, Second Round is those who signed up to be members or were guests of a previous attendee, Third Round, if there are seats left, go to the public. You will be notified by email when the date will be for ticket sales and what round you are eligible to participate in.
Set a reminder on your phone or in your electronic calendar with the link to buy tickets. Tickets go FAST and especially if you have others you wish to sit with, you need to be quick on the trigger.
When you register to attend, you choose a group leader and from there, a table leader. These group leaders are assigned to meeting spots all over the city; some of these spots are within walking distance of the secret location, and some require a trip on the Metro or by charter bus. It's imperative that if you wish to sit with friends you all choose the same table leader.
Over 5,000 people attend Dîner en Blanc and you sit with those with the same table leader; there's a good chance you will never see friends at the event with different group leaders, and it's impossible to leave your table leader and sit elsewhere at the event.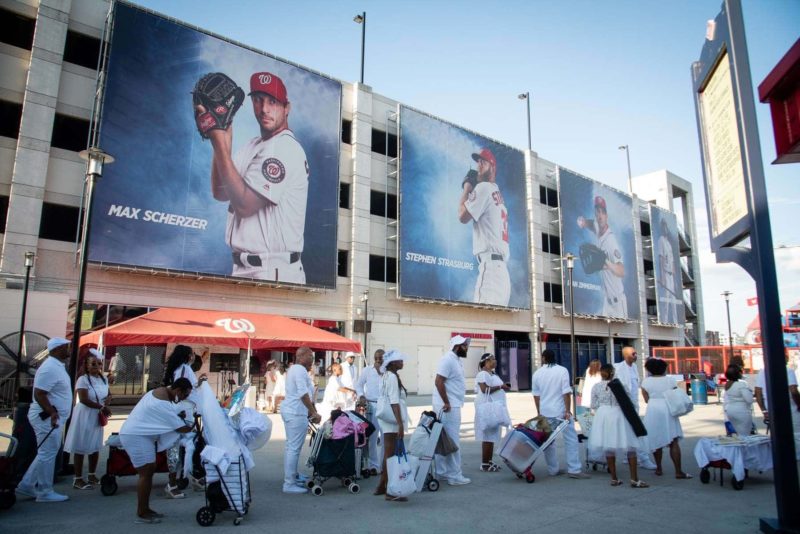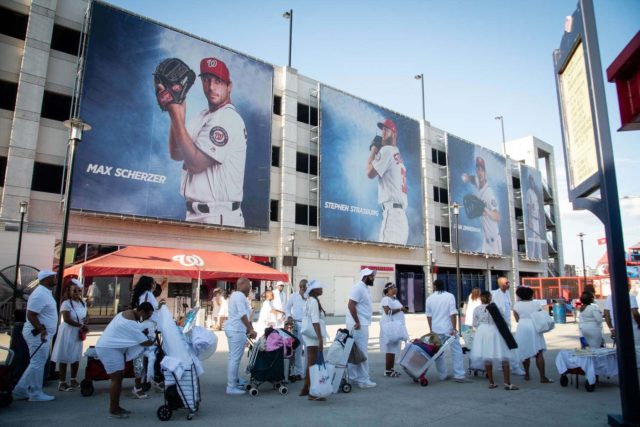 Image via Dîner en Blanc DC
What Should I Bring to Dîner en Blanc?
Dîner en Blanc is a pop-up dinner. As a guest, you bring everything – your table, your chairs, and your meal. There are options to rent your tables and chairs as well as get a prepared meal but I don't recommend it. The lines can be long causing you to miss the beginning and end of the event. Last year I was only halfway through the food line when they began Dîner en Blanc with the ceremonial waving of the napkins and I've had friends have to end the party early to hike their tables and chairs blocks away back to the rental spot.
People go all out with their food, or centerpieces, or outfits… but it's nearly impossible to do all three. Find a focus and keep in mind that you may have to cart your stuff half a mile in the blazing sun, get it on and off public transportation, and have to set it up in about 15 minutes.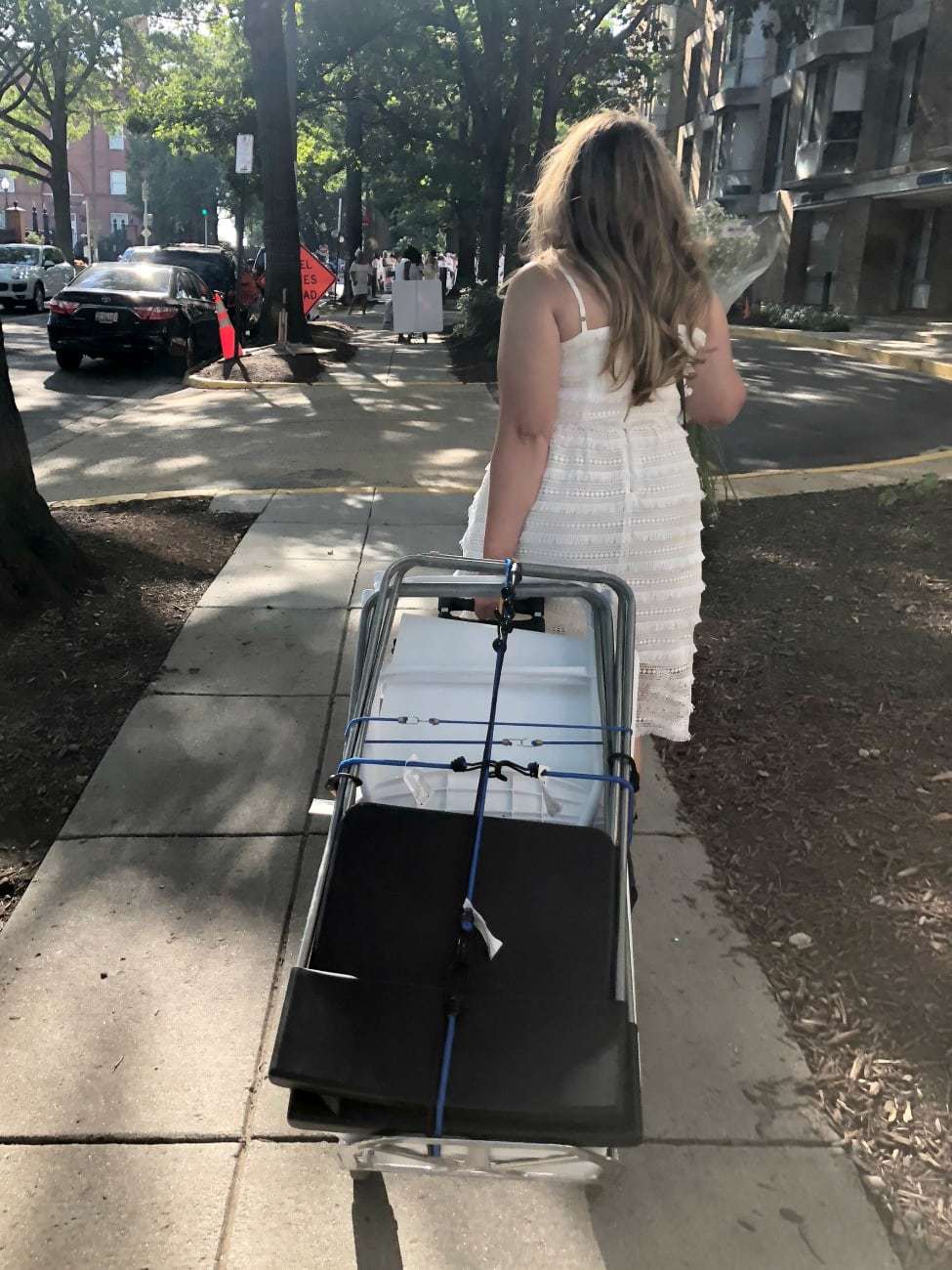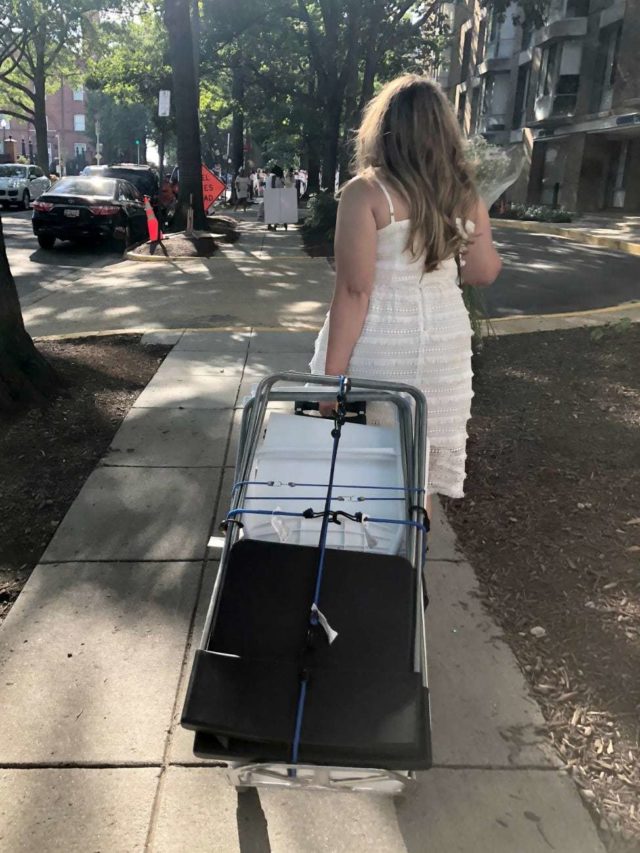 Using this collapsable hand cart to carry this folding table and four folding chairs to the DC Dîner en Blanc
What Must I Pack for Dîner en Blanc?
The basics that you need are a chair for each attendee and a table 28″ to 32" wide. My sister has this table which is awesome because it's super sturdy but folds to half its width and has a built-in carrying strap. Chairs need to be white or else have white chair covers on them. I bought two of these chairs last year; they're lightweight and sturdy.
Table linens need to be cloth, all serveware, plates, silverware, and such need to be real, nothing disposable. We used melamine plates and unbreakable wine glasses to lighten the load, silverware from the kitchen, and my sister has footed water glasses that were sturdy yet pretty. For serveware, we all had various white trays and bowls (I often find these on clearance at Target).
Bring things for cleaning up. Paper towels and trash bags are a necessity and not provided by Dîner en Blanc. We pack up the plates and glasses in old dish towels to pad them but also to sop up dirty plates and any spills. Have quart- or gallon-sized Ziploc bags to store dirty silverware at the end of the night and if you wish to take home any leftovers.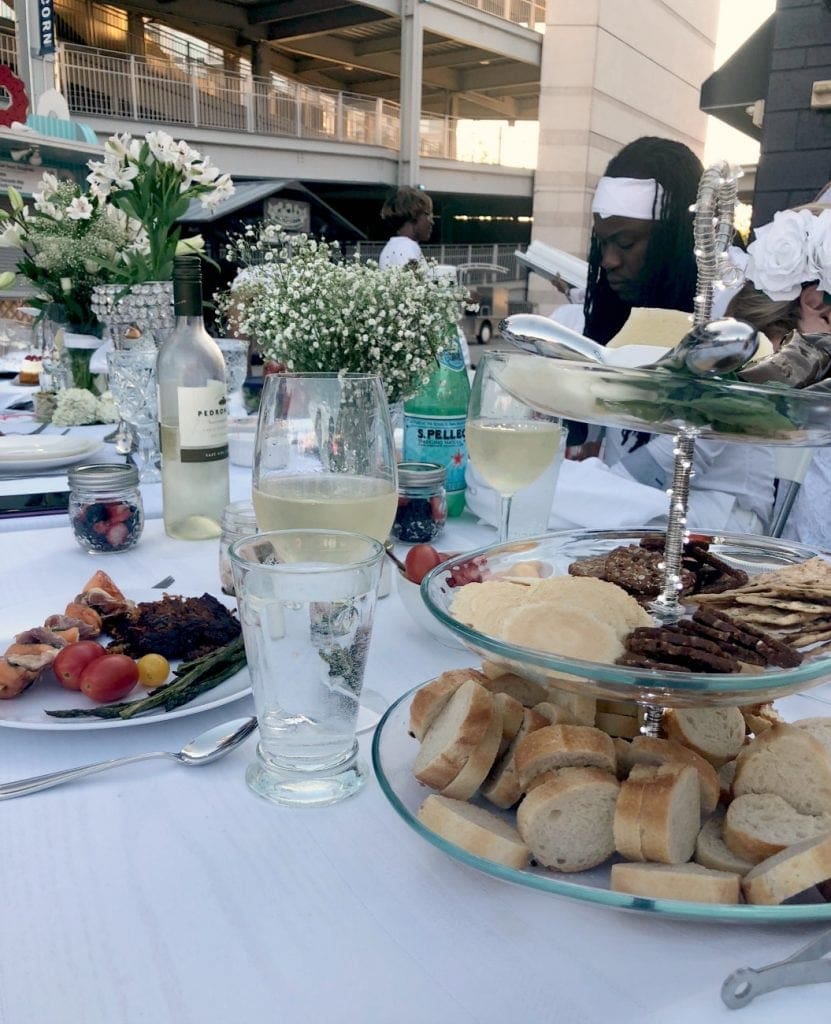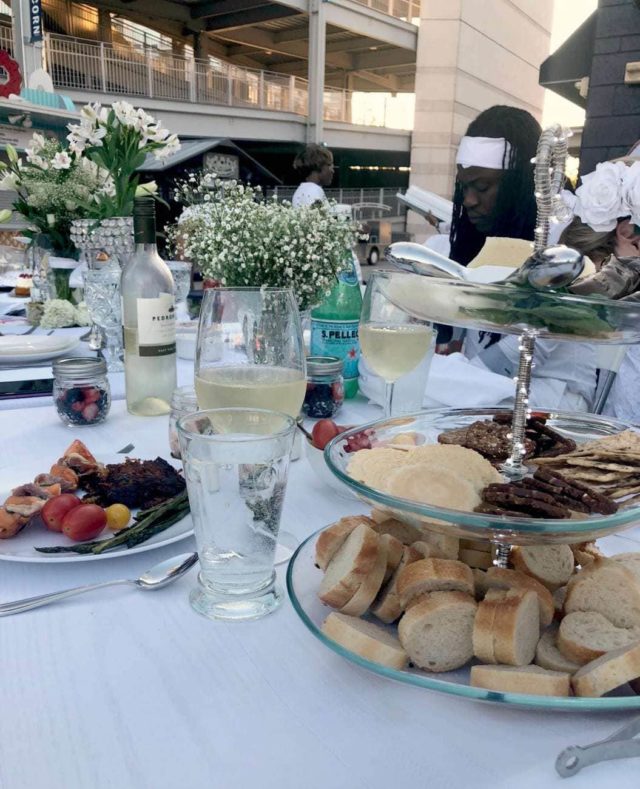 Using a three-tier server for more space for food on the table; wind fairy lights around the center for light and festive touch!
Is Food Offered at Dîner en Blanc?
Dîner en Blanc partners with wine companies and restaurants so you can order your dinner in advance and pick it up at the venue. However, the first year I stood in line for almost two hours to get ours and this year I heard again that people missed a good portion of the event waiting in line for their meals. I strongly recommend you bring your own food.
What Food and Drink Can I Bring to Dîner en Blanc?
This year we did a variety of foods that work well at room temperature. We brought a cooler for that which needed to be chilled. We had mason jars with chilled cilantro shrimp, prosciutto and cantaloupe skewers, pre-cooked sweet potato latkes, pre-cooked asparagus and crema, and a variety of crackers, cheeses, olives, and tapenades. We also had a brownie and fruit dessert also in mason jars. There's not a ton of time to set up and plate food, so keep that in mind and keep things relatively simple.
While Dîner en Blanc recommends you bring a three-course meal many just choose to have a selection of meats, cheeses, fruit, and crackers. Consider hitting the local Whole Foods for some yummies from their salad, cold, and hot bars. I've seen people bring take-out Chinese or sushi as well.
As for drink, Dîner en Blanc doesn't allow outside alcohol… however many people bring it. I don't wish to condone breaking the rules of the event, but if they don't see it (some Dîner en Blanc events do cursory bag checks) it's a way to save time and money and also have exactly what you want at the event. Please note this year we weren't allowed to have anything sharp and that included a wine bottle opener. These days you can find high-quality wines with screw tops (and champagne is always a great choice), so forego bottles with traditional corks.
Be sure to bring water as well as wine for the event; it's hot and the events do not usually provide water. We were not allowed any open containers with liquid inside which included reusable water bottles so plan accordingly.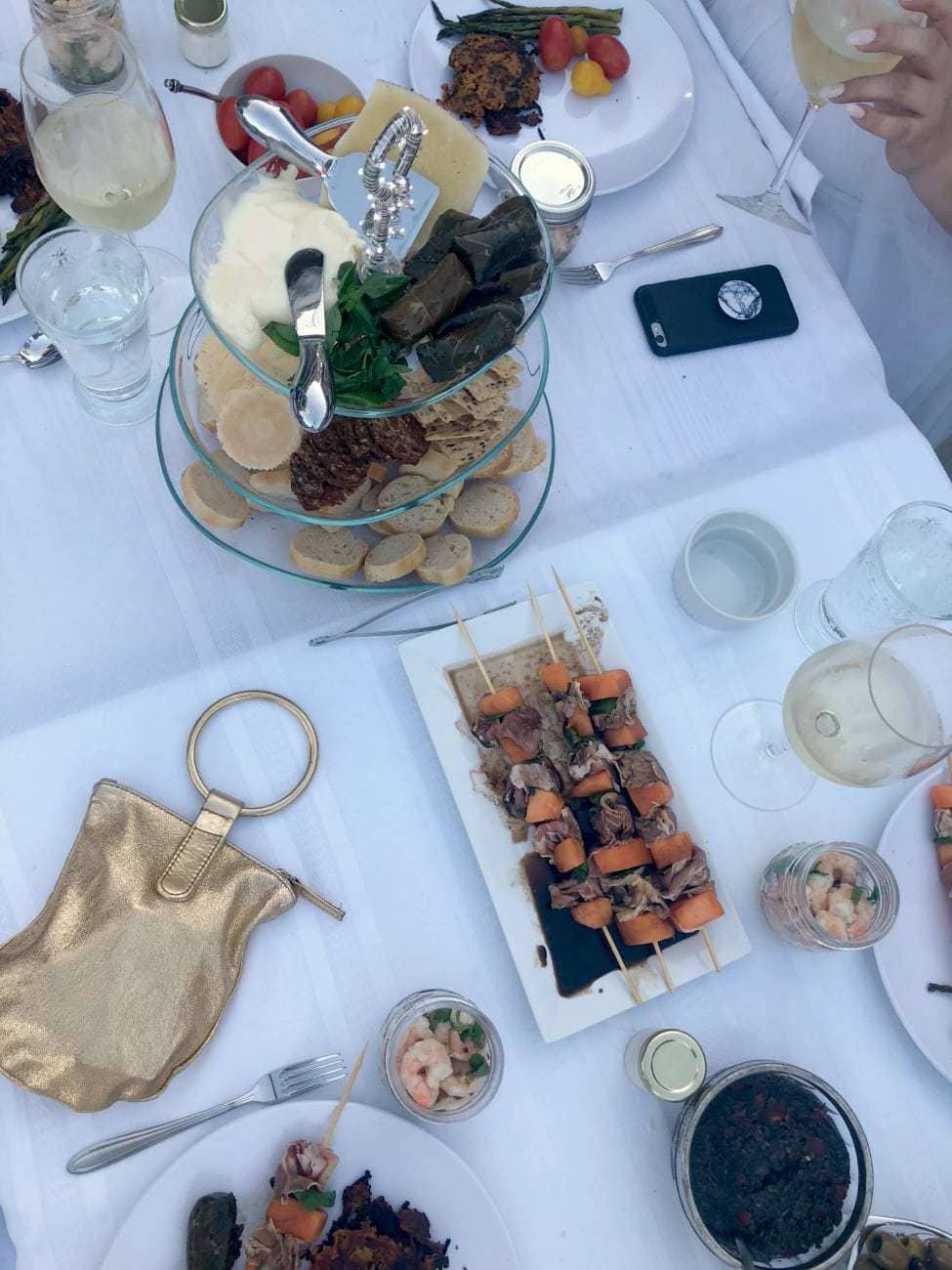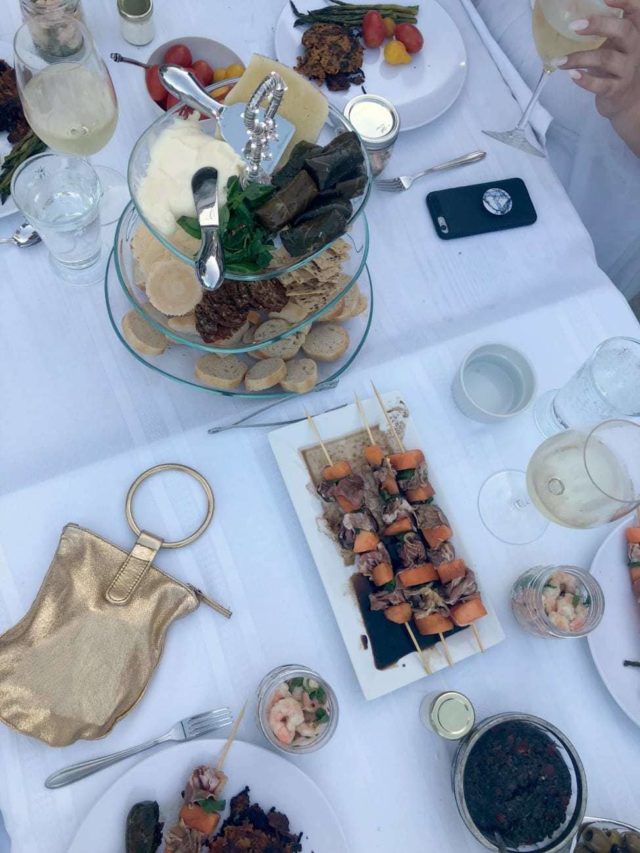 Tips for Dîner en Blanc Table Decor
Most people add decor to their tables, for appearance and also for lighting (there will not be lighting, your table will need to offer it). Last year my sister created the perfect tablescape – easy, budget-friendly, and festive. She has two cut glass vases the same size. Inside she put a string of battery-operated fairy lights. She bought two bunches of baby's breath at the grocery store. Once the tables are set up, she cut the baby's breath to the right length and put them in the vase (baby's breath doesn't require water to look fresh all night long).
This year there were four of us and therefore two tables. We had one tablecloth to cover both tables, put the vases on the outside edges and in the center had a three-tier glass server like this one and my sister wound more battery-operated fairy lights around the stand (battery packs were hidden by food and basil leaves we brought for decoration).
We used a simple polyester fabric tablecloth like this one and white napkins, though many people get fancy with overlays and napkin rings. I also saw many who had chargers under their plates to add glamour to the tables.
If you wish to get more elaborate with your table, that's fantastic. It's so much fun to be seated next to an elaborate setup. Keep in mind you may be wedged between strangers so your tablescape needs to be able to reside completely on your table. Also know it may be windy, people may bump into your table, and you may set up and then find you need to move your whole table six feet forward to perfect the rows so be sure it's durable and sturdy.
Flames are not permitted and there will not be any light except that which you provide at your table so look for flameless candles and fairy lights for your tablescape. A lot of people use a cinema lightbox or light-up letters to personalize their tablescape. Eiffel Towers are popular decor choices as well. I've seen elaborate poles holding lights, fringe, and more above the tables.
The most important tip is to do a dry run of your table set-up. Start with everything packed up and see how many hands and how much time it takes to get set up. Use Post-it notes to label which tray or bowl holds which food and take pictures to remember the actual setup. Doing this will make the actual Dîner en Blanc setup faster and less stressful.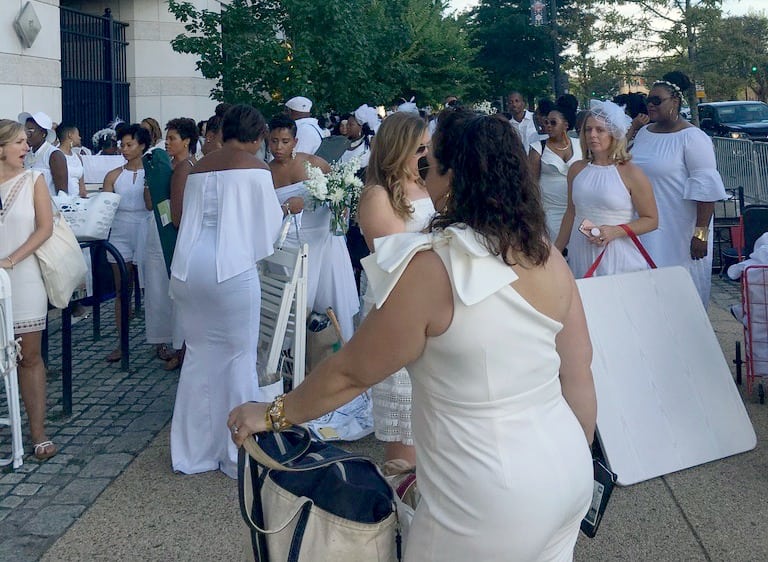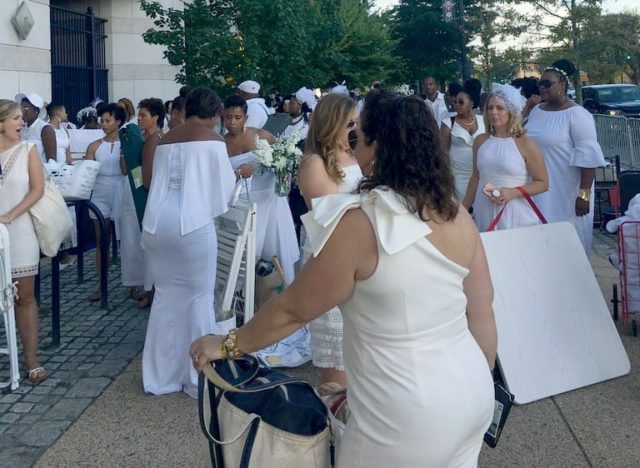 How Do You Find Your Group for Dîner en Blanc?
Don't be late! If your table leader emails you saying you need to be at the meeting spot at 5pm, be there at 4:50. There's often a lot of confusion at the meet-up point with new folks or those trying to change their assignment, and if you're there early you're making it easier for the table leader, thereby reducing the chance you'll be late to the venue. It also makes it easier to join up with those friends you plan to sit with.
Last year we took an Uber XL to our meeting spot, this year a friend with a truck dropped us off. Don't expect to have parking at your meet-up spot, and don't think you can drive to the secret location. Heck, part of the fun is filling the city streets with people all dressed in white!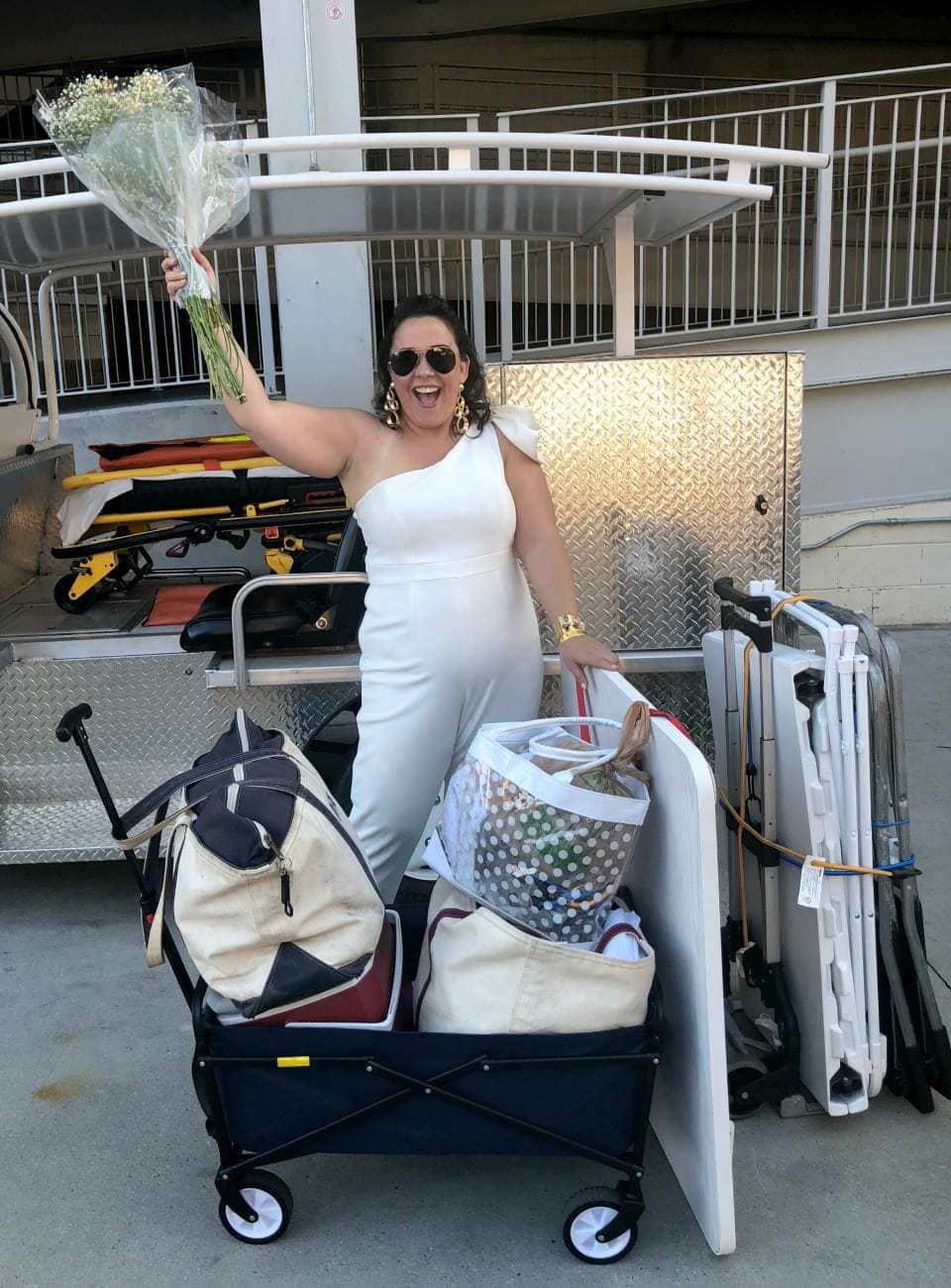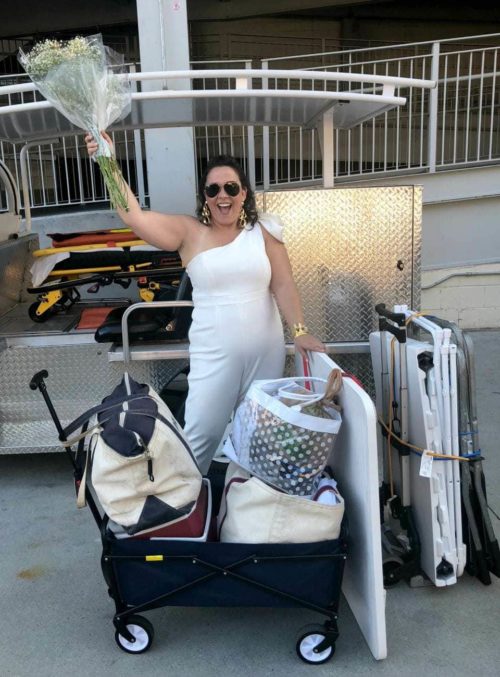 Everything we brought for four people to Dîner en Blanc; this cart was a lifesaver and holds up to 150 lbs yet easily folds down to fit under your table.
How Do I Transport Everything to Dîner en Blanc?
I think the most time should be put into how to get your stuff from your meeting place to the secret destination of Dîner en Blanc. So many times I see on the journey carts lose their wheels, bags break, items fall out of totes and shatter, and strapped-together contraptions collapse. You may be walking over bumpy terrain, up hills, and making sharp turns so whatever you use to carry your stuff needs to be ready to handle it.
This year I invested in this cart knowing I'll find so many uses for it beyond Dîner en Blanc. It was genius. In it, we had our cooler and a huge tote bag that carried all of our linens and plates and non-refrigerated food. The cart folds up super easy and small to slip under your table during the event and it can easily carry 150 pounds. The wheels spin easily making turns without anything tipping out.
Both years we used a folding hand truck like this one to hold the table and chairs. This year, it held four chairs and our folding table just fine. Use more bungees than you would expect to hold everything in place both vertically and horizontally so nothing slides off. Our second table was a classic folding table like this; we used some webbing and tied it to the legs to make a shoulder strap to carry it to the destination.
Not everything you use to transport your gear has to be white, however, if it isn't white it must hide completely under your table.I recommend bringing extra bungee cords just in case things get loose on the journey or things don't exactly fit back together to take everything home at the end of the night.
Keep in mind you may be standing in lines for long periods of time and walking up hills in the blazing sun. Prepare accordingly. Wear comfortable shoes, even if that means changing your shoes once you get to the event. Put on sunscreen, yes even at 5pm you can get a sunburn. This year I brought this little white umbrella; I figured it's still useful after Dîner en Blanc and it was a nice way to shield us from the sun without ruining the dress code.
A fan is also a nice addition and looks festive; this one I used last year with my dress. A few people had personal fans like this which were brilliant. If you want to drink water on the journey, be sure it's a small bottle you can dispose of before entering the venue.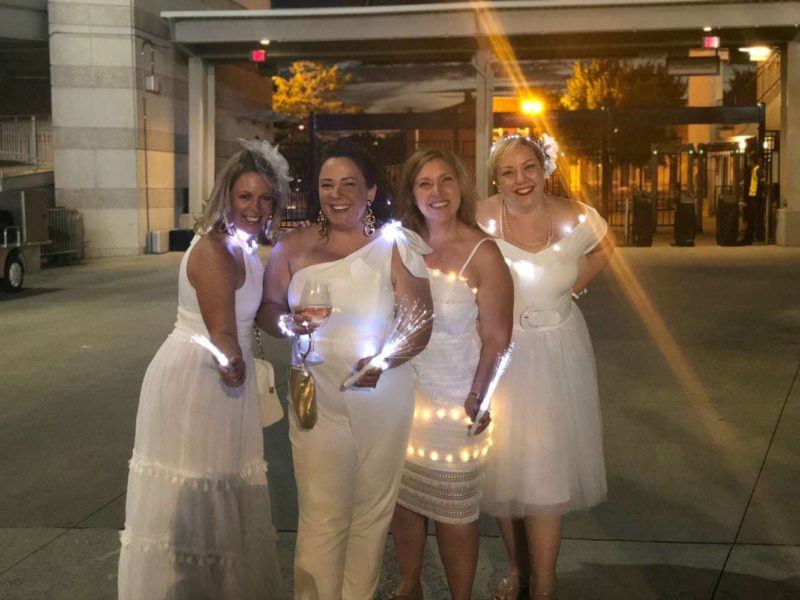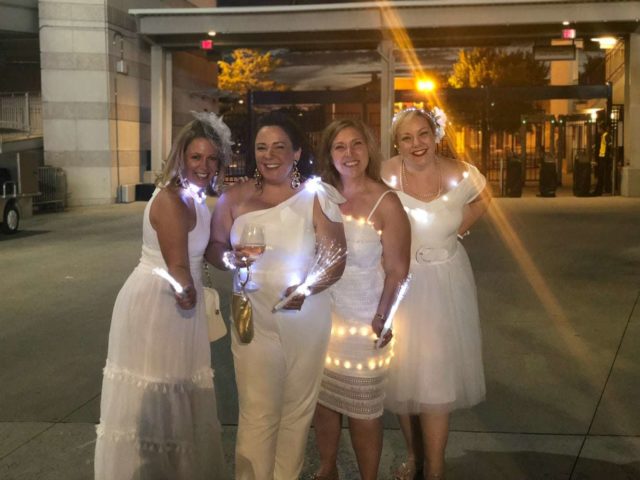 Adding light to our all-white looks for after the sun set; these fairy lights have a tiny battery pack easy to hide in your clothing!
What Does One Wear to Dîner en Blanc?
The dress code is white. No black piping, no pops of color, straight up white clothing. Over the years they have allowed tan shoes and belts and metallic accents (shoes, jewelry). As for what style and formality, it runs the gamut. You'll see individuals in white tank tops and white linen skirts, and others in white evening gowns. I recommend figuring out an outfit that is festive, can survive heat and sweat, and is comfortable. You will be walking and standing for at least an hour before arriving at the event. Then you will be doing a mad dash to set up your table and food. Then you eat, and then there's dancing. In total it will be about five hours of activity and that activity happens rain or shine.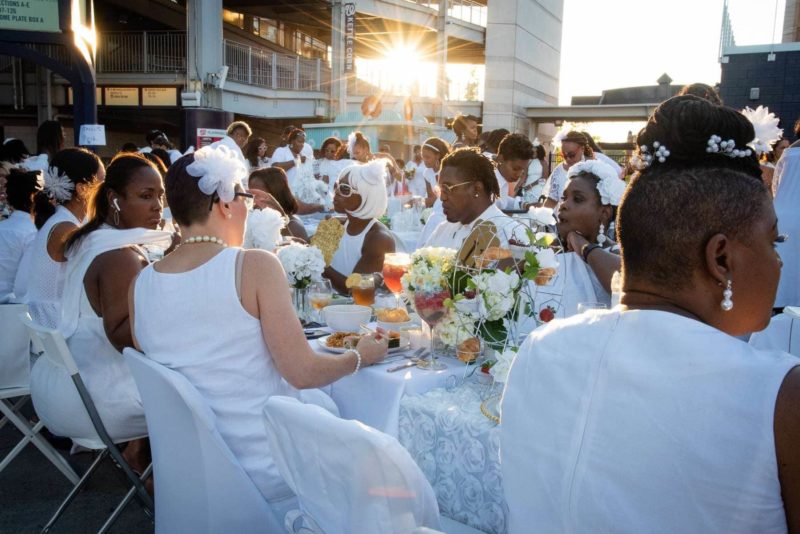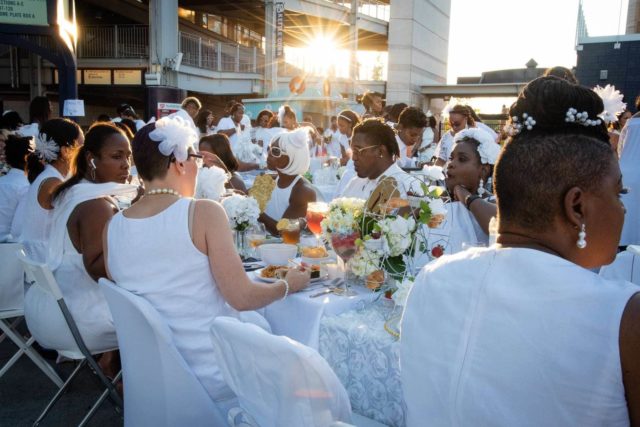 Image via Dîner en Blanc DC
Last year I wore a loose maxi dress with flat sandals. To manage humidity hair, I bought a large flower clip to hold back the side of my hair. This year I wore a jumpsuit with flat sandals and pinned back half of my hair and sprayed it in place so it would still look polished if I got sweaty.
Some people dress more like a garden party with linen trousers and cotton sundresses. Others go all out with tuxedos and fur stoles. There are always a few who steal the show in incredibly elaborate getups and creative looks (and if you want to be photographed, that's what the photographers will look for). If unsure, go more formal. No flip-flops, sneakers, jeans, shorts, or athleisure. I recommend having fun with a hat, fascinator, or some sort of "extra" accessory. You'll see some wear masks, some wear full-on costumes. While the dress code is strict for color, within that color most anything goes!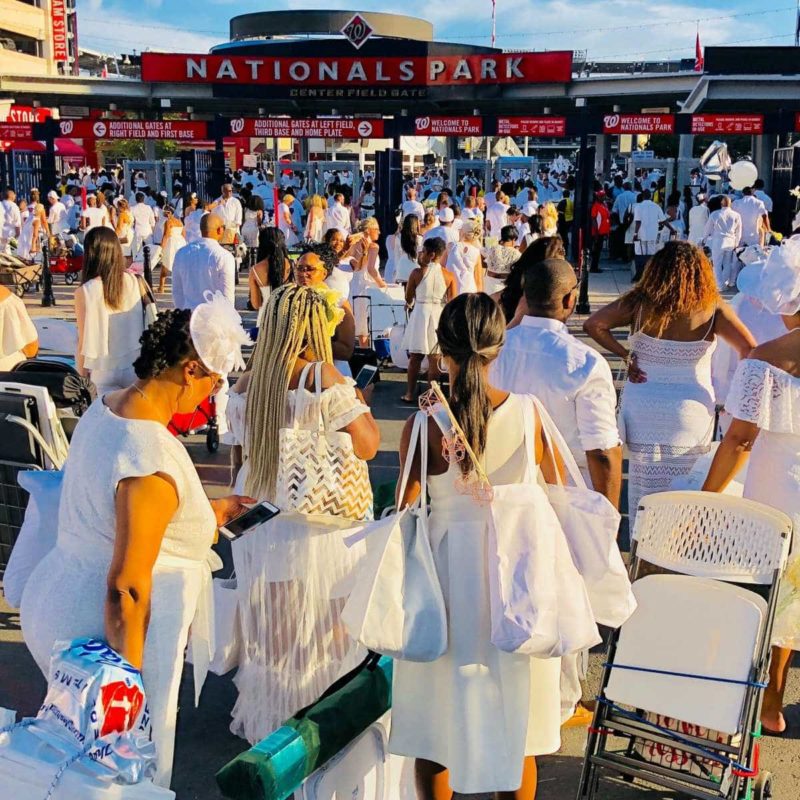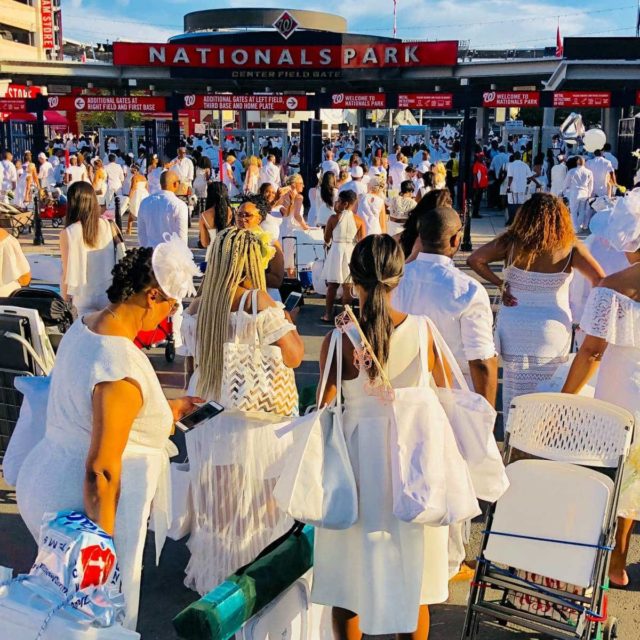 Image via Washingtonian
Bring safety pins and Tide to Go pens. I saw a few women have wardrobe malfunctions, and I know by the end of the evening my jumpsuit was positively filthy. Consider bringing a backup pair of shoes if the pair you're wearing are tall or haven't yet been broken in. White underpinnings show under white clothing, especially with flash photography. Instead, choose nude-to-you undergarments for a more seamless look.
Consider finding ways to light up your look once the sun goes down. My friend wore a sundress of an eyelet-like fabric and threaded fairy lights through the material. I had a giant bow on the shoulder of my jumpsuit and I wrapped fairy lights around it and made a bow from the wire and hid the battery pack in my bra.
My sister wore a headband with a large silk flower on the side and wound fairy lights around the band hiding the battery pack behind the flower. I bought this pack of fairy lights and all but one strand worked and the battery packs are super tiny and easy to hide in clothing. Sequins, metallics, and crystals are also fun ways to catch the light and look festive at Dîner en Blanc.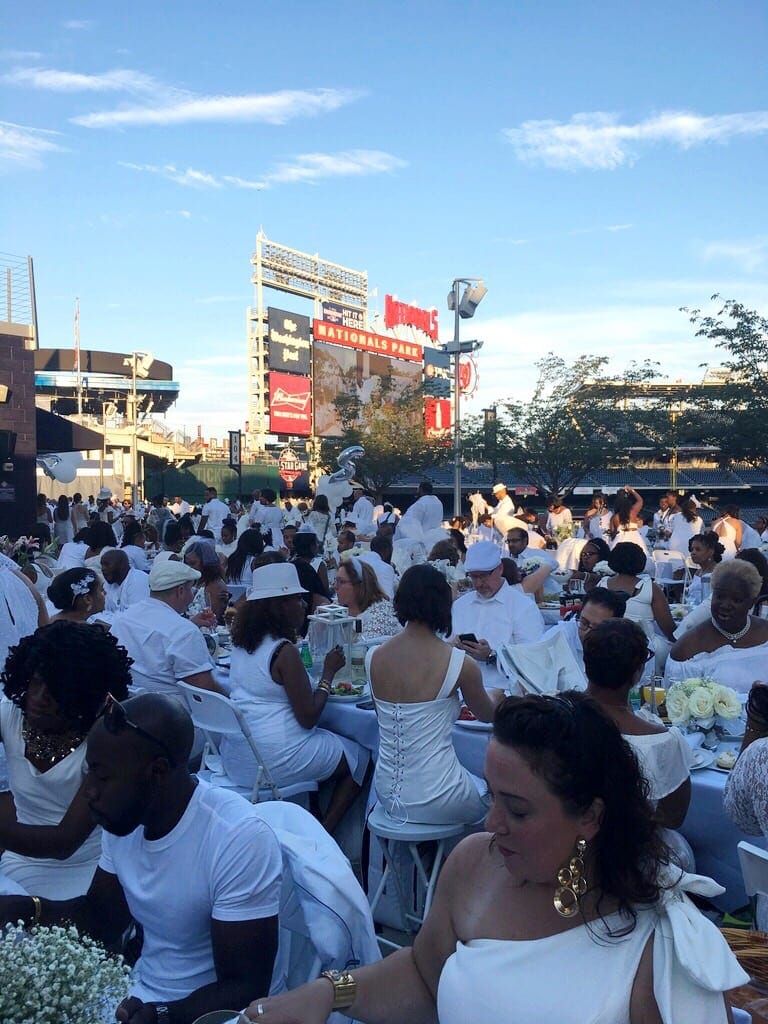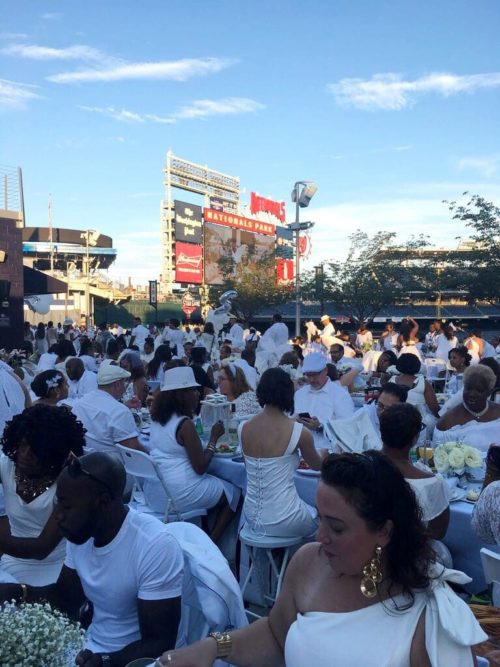 Additional Tips for First Time Dîner en Blanc Attendees
If you scroll through the hashtags on Instagram, Dîner en Blanc can look like the most elegant and posh event. Beautiful people in beautiful clothing sipping champagne and laughing near famous landmarks and monuments at sunset. However, to get to that point they walked up to a mile carting up to 100 pounds of gear and raced to put together their table and hide all their luggage with thousands of other stressed-out people. If you don't expect this aspect, you can find the event to be pretty awful. I've seen far too many people unprepared for the labor and planning it takes for a successful Dîner en Blanc.
My biggest tip for first time Dîner en Blanc attendees? Treat Dîner en Blanc not as a posh dinner but as a music festival. It's like going to Bonnaroo but in much nicer clothes.
Choose what to focus on, if it's your look consider keeping food super simple and forego fancy centerpieces. Maybe pack part of your look and add it when you arrive to keep it looking fresh and make it easier to walk to the destination. If you want an awesome tablescape and meal experience, wear simpler clothing and invest in sturdy carts and hand trucks to cart your supplies. If there's a lot of setup, strategize with your friends and assign roles so everyone is working to get it done quickly and efficiently.
Don't expect your first year to be perfect. Each year you attend you improve on your setup, you learn from others you meet at Dîner en Blanc, and it gets easier and more fun. I hope these tips for first time Dîner en Blanc attendees have helped. And truly, if this post hasn't scared you off then you WILL have fun at Dîner en Blanc. I hope to see you there!
This post was originally written in 2018 but updated for 2023 Dîner en Blanc