This article may contain affiliate links; if you click on a shopping link and make a purchase I may receive a commission. As an Amazon Associate, I earn from qualifying purchases. 
Our house was built in the 1940s; three years ago we decided to stay put and build an addition instead of moving to a larger home. The original home was a bit over 700 square feet – the size of a basic two-bedroom apartment but on two floors. After the remodel we are now around 1,400 square feet. One of the best parts of the remodel was the opening of the hallway. Originally where the banister is, we had a solid wall. That wall housed our entertainment center for the living room – now it opens to our dining room.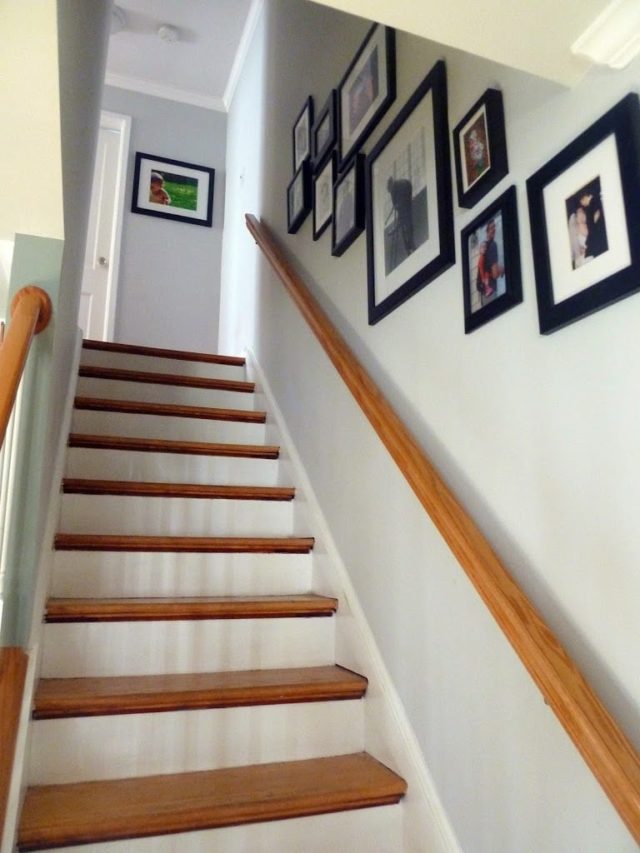 While this remodel was taking place, I was on bedrest for my pregnancy. Paint colors were chosen by my husband collecting a few paint swatches from Home Depot and asking me to pick which one I liked best. One color that I liked better in the swatch than in real life was the color for the hallway. I thought this color would be darker, but over time it has grown on me. If the bathroom and Emerson's room doors are closed, the hallway can be quite dark; the light color opens it up.
Before the remodel we were so frustrated with the stair risers. When we moved in, they were dingy white and covered with globs of glue from having stained carpet removed. We tried painting them white but they still looked dreadful. I then tried to be creative and painted them French blue, which was just as horrible. I then painted them over with red, which was fun, but still not right. One of the best parts of the remodel was that they sanded them down, properly painted the risers, and refinished the oak stairs. I would like a runner, but don't want basic beige Berber or an Oriental look and most runners I see are either out of my price range or not our style. Until I find the right thing, they stay bare.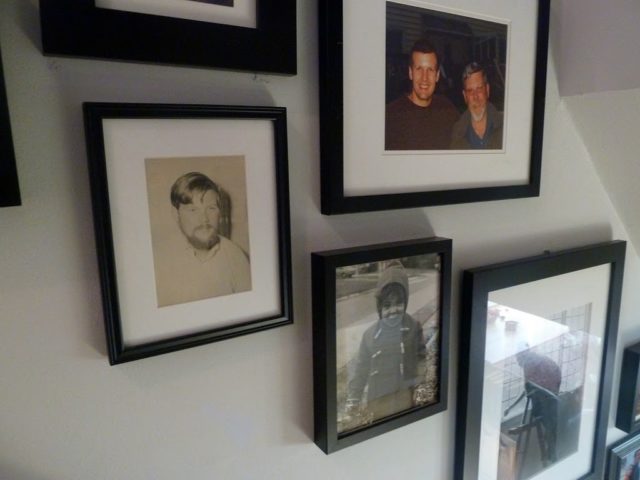 As soon as we had the hallway redone, I knew I wanted to do a collage of frames along the wall. My husband's dad died during the remodel and I wanted to display some great pictures of him, along with other great pictures of our family.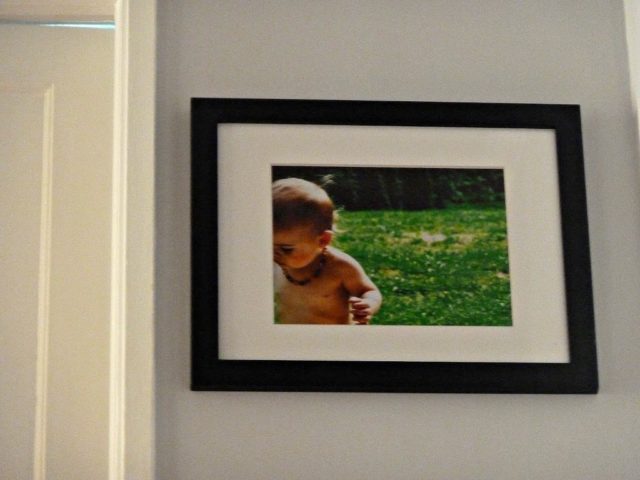 My cousin Arielle took this picture one summer and I just loved it so much I had it blown up and framed.  She totally captured the chubby cheeks and arms of that age, and how curious and newly mobile she was (she was examining a Slip N Slide at the time of the photo).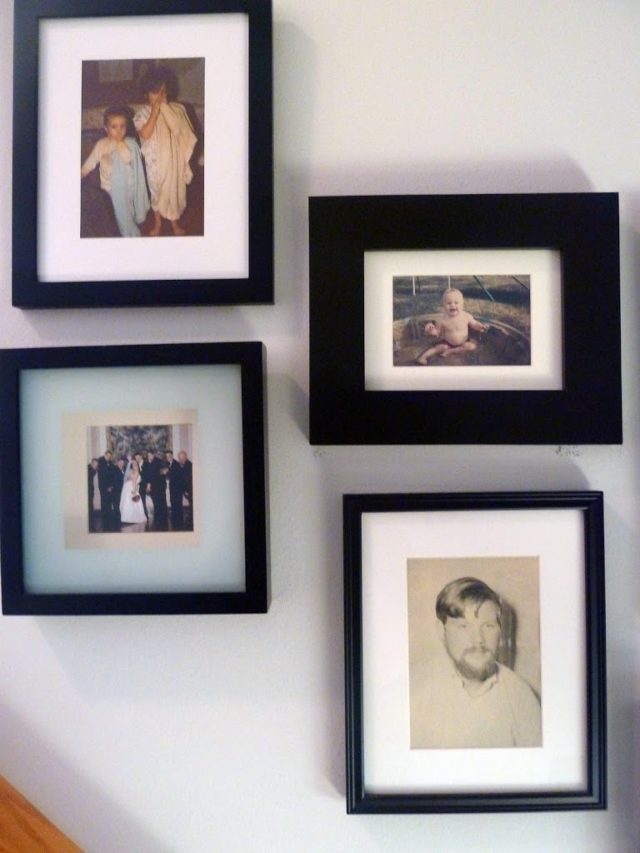 Me and my sister as kids, my husband as a baby, me and my husband with the groomsmen from our wedding making silly faces, a member of Kings of Leon (no not really, it's my father-in-law but I think he would fit in the band perfectly!).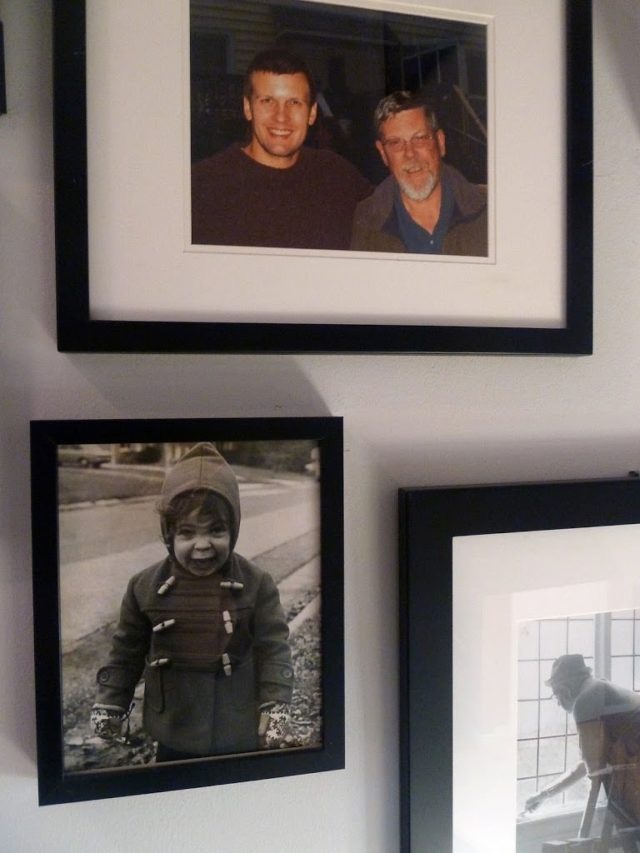 My husband and his dad, me throwing a temper tantrum as a toddler, my husband's maternal grandfather (picture taken by my father-in-law).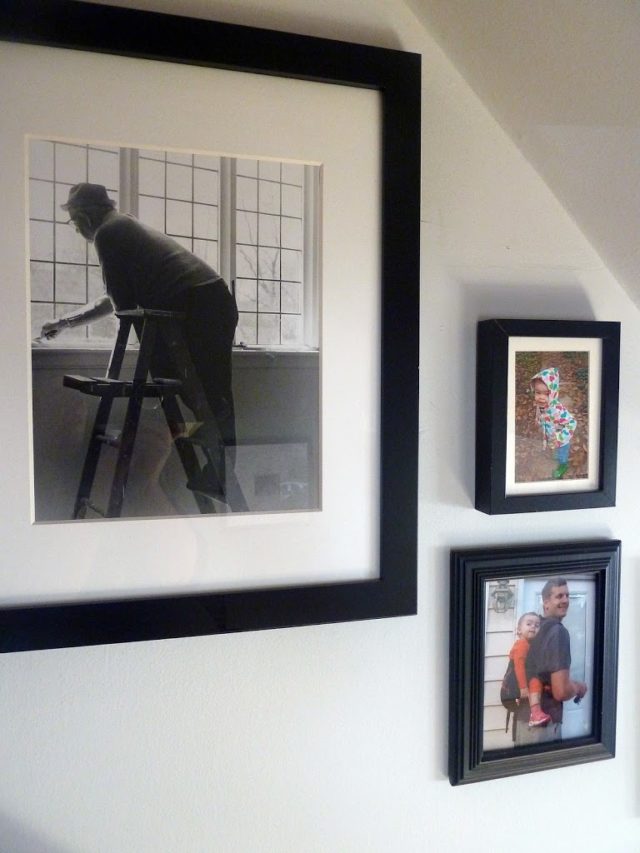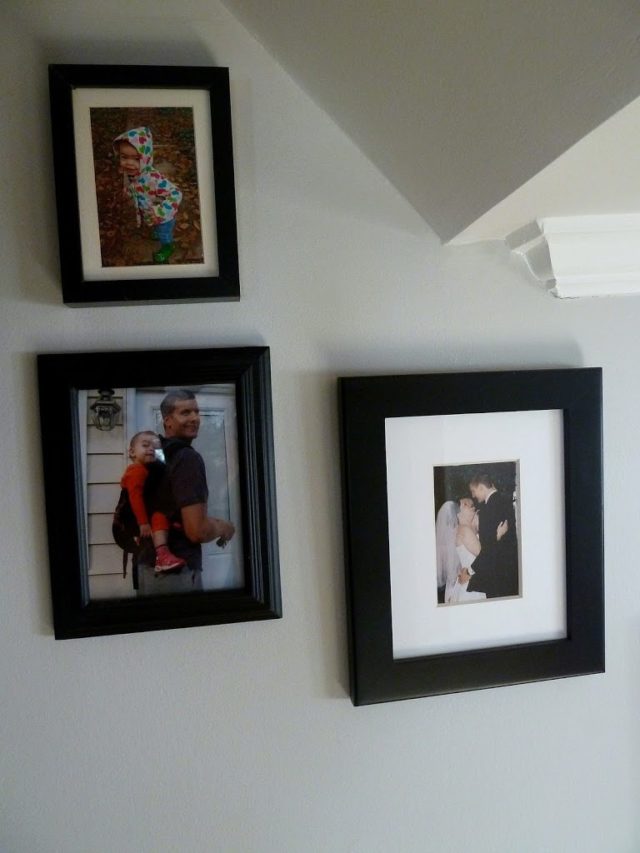 We don't have many wedding photos up, just the two in this hallway.  This is right after we were declared husband and wife, one of the only pics of the event where we were together.  Funny how a wedding is about the union of two people, but you get so busy greeting family and friends you often don't see one another except at the ceremony, first dance, toast, and cake cutting!  I guess that's what the honeymoon is for…
***
As you can see, I never finished this hallway project. In our home office I have a stack of black frames – ones I buy on clearance at Marshalls and Target or pick up when I stop by IKEA. I just haven't had the time to pick the photos and put them up in the right place. Maybe this post will inspire me to finish!
Follow Me | Twitter | Facebook