This article may contain affiliate links; if you click on a shopping link and make a purchase I may receive a commission. As an Amazon Associate, I earn from qualifying purchases.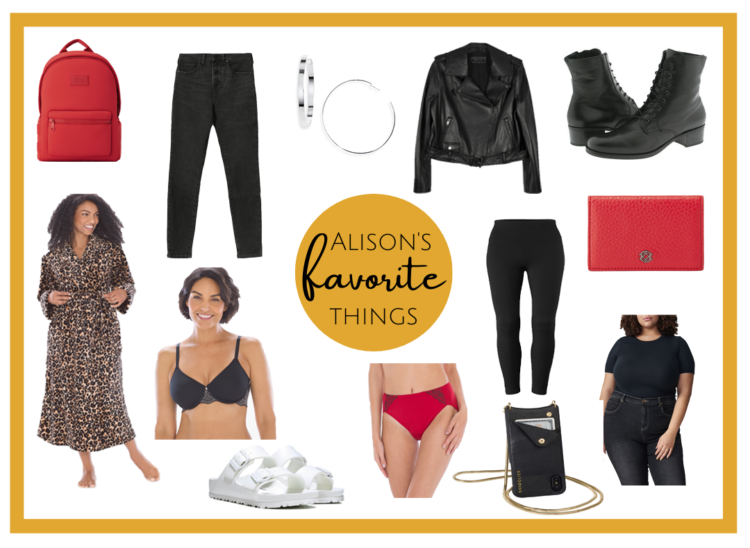 Last year, inspired by Oprah, I shared a post of my favorite things. It was fun to put together and you all really enjoyed it so I decided to make it an annual tradition. Below are Alison's favorite things – items new to my life this year or things I've loved for years that have changed my life for the better. I have them separated by category since it's a pretty long list!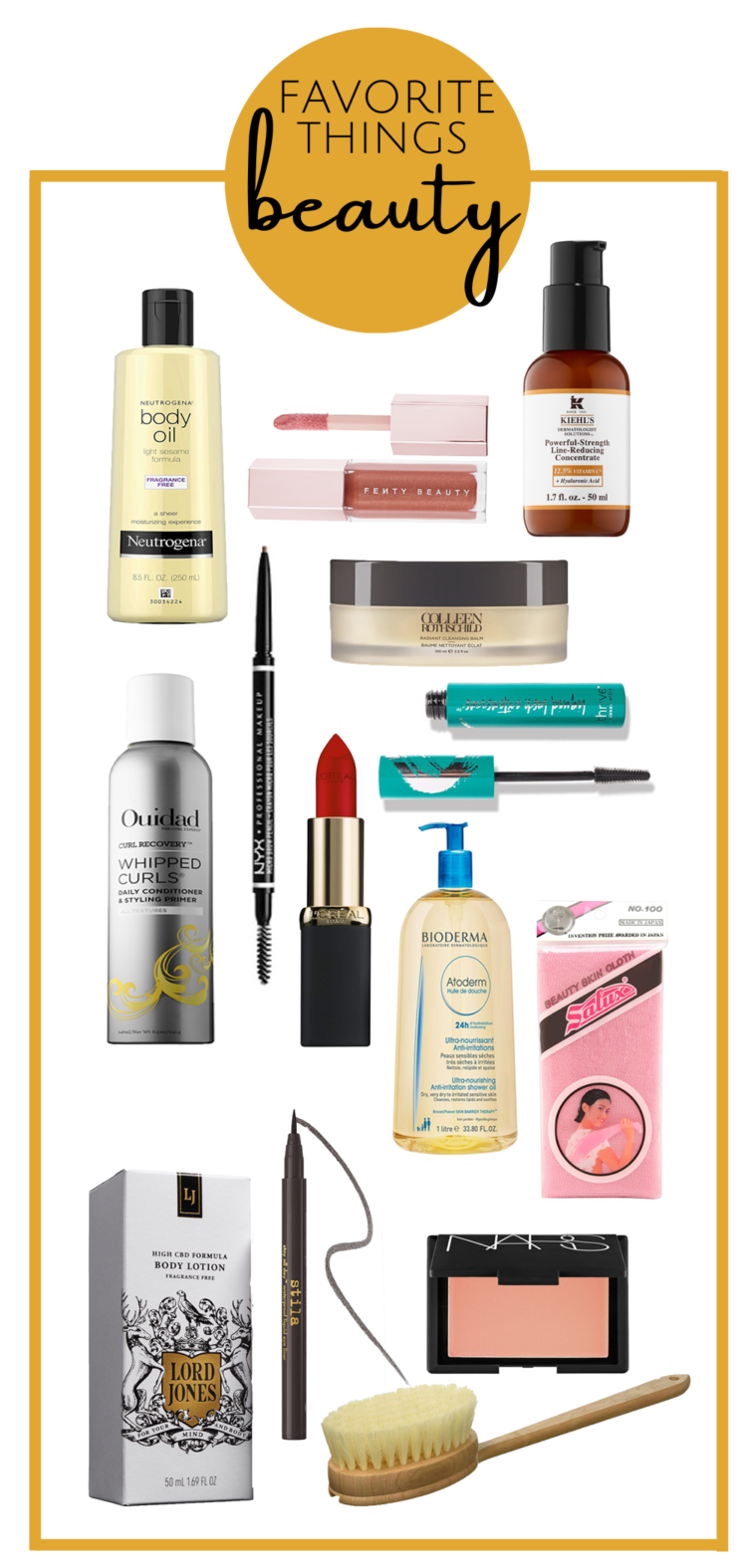 Beauty, Skincare, and Body Care

I don't buy fancy shower gel. I buy a big bottle of something that is universally accepted by the family. But my daughter deals with dry skin and this year I have noticed my skin has been drier than usual so I started looking for a more hydrating body wash. I came across Atoderm Cleansing Oil and was intrigued; I like Bioderma's Micellar Water and trust the brand so I got a bottle on Amazon.
We are now on our 8th bottle of Atoderm Cleansing Oil. The whole family loves it. No heavy scent, plenty of suds to feel like you're getting clean, yet it doesn't dry out skin. No greasy or filmy residue. Only a few pumps are needed to clean the whole body. It's so gentle it can even be used on babies. Many of you have shared you also tried Atoderm and it was great for your sensitive skin. Heads up, this is often on sale during Prime Day and Cyber Monday. Buy some now, but then stock up during those Amazon sales for the rest of the year!
I've had allergies since I was little and my eyes tell the tale. They itch, they water, they get red, they drive me crazy. That plus getting older and having gravity change the shape of my face, it seems no matter what I do I end up with mascara smudges under my eyes. Researching an alternative that wasn't waterproof mascara, I learned about tubing mascaras. Instead of painting lashes, tubing mascara creates tubes around each lash that is sweat- and cry- and rub-resistant while easily coming off at the end of the day with a wet washcloth. I reviewed several tubing mascaras and finally tried and fell in love with the one from Thrive Causemetics.
Not just tubing, Liquid Lash Extensions has fibers to thicken and lengthen your lashes without looking clumpy or gross. All this and Thrive Causemetics is vegan, cruelty-free, and gives back with every purchase.
I don't think anyone is surprised this is on my list for a second year in a row, especially after my review in Sunday's self-care gift guide. It's an amazing facial cleanser that has improved my skin so much and I can't recommend it enough!
I'm a blogger, but I'm also a blog reader. And blog reading has made me think CBD is a load of bunk. I am sick of seeing every single person in my feed, my inbox, and my Instagram hawking one CBD brand or another. I don't believe any of it. And yet here I am hawking a CBD product in my Favorite Things for 2019?
I bought this for my husband who loves woo-woo things. Supplements, herbs, baths, cold showers, meditating, special breathing, grounding mats… I could go on. He finds benefits, so for Christmas last year I got him a bottle of Lord Jones CBD lotion after he commented on it being featured in GQ. I loved the idea of marrying his love of woo and my love of Sephora. I never expected to find it so radically effective.
Mosquito bites. Sore knees after a hard workout. My husband's foot that has endured several stress fractures over the years and gets grumpy when it rains. An achy lower back when used in conjunction with traditional anti-inflammation or pain-relieving medication. It truly works. There is a version that smells like patchouli, and one that smells like absolutely nothing.
This was on Alison's Favorite Things for 2018 and likely will be on it for 2020. I am obsessed with the smell, obsessed with how it makes my skin gleam, and there's nothing I love more than slathering my skin with it and putting in a fab bathrobe (my recommendation is below) and letting it all soak in while I do my face and pick out my outfit for the day, breathing in the smell and feeling all silky and luxe.
Maybe it's my allergy eyes, maybe it's my impatience, but I have never been good with a pencil liner. I have come to love making a very thin line with a brownish-black non-shiny liquid liner right along my lash line to make my lashes appear thicker, my eyes more defined, without being too obvious. Last year I shared that Maybelline Line Stilleto was one of My Favorite Things, but since then Maybelline discontinued the product in Brownish Black. I was devastated, every brown was too light or too shiny. Then I found this one from Stila and I am again a happy camper. While it is waterproof, it comes off easily with my face cleanser. It's not shiny, it's not too warm or too light or smeary. I don't love the pen quite as much as Line Stilletto but it's still an awesome product. If dark brown isn't your jam this liner comes in a ton of other colors!
Now that I am over 40 and not baking my skin in the sun each summer, I need makeup to give my skin a bit of a glow. So many blushes are shimmery or glittery. With my skintone, I often find blushes too bright, too warm, too cool, too false. A blogger reviewed NARS 'Sex Appeal' years ago (forgot who) and it intrigued me enough to try it as 'Orgasm' had become too potent and sparkly for my taste. 'Sex Appeal' is the kinder, gentler sister of 'Orgasm.' It is a peachy pink that is translucent and seems to glow without a single hint of glitter, sparkle, or shimmer. You can do a light wash or layer for more pigment. It works with red lips, coral lips, or a cool mauvey brown shade. It stays all day, whether over a bit of tinted moisturizer or a full face.
Want to know the cheapest and easiest way to improve your skintone, make it less dry, wake yourself up, look all glowy even on too little sleep and have your moisturizer more effective? Get a dry brush. Brush your skin as soon as you wake. It may hurt a bit at first but your skin will come to love it. It has so many benefits, I've written about the benefits or dry brushing before. Thing is not all body brushes are created equal. I had the Bernard Jensen and then replaced it with one that looked the same. It wasn't as stiff and therefore I didn't get as good of an experience and ended up buying another Bernard Jensen.
This was one of Alison's Favorite Things for 2018 too! It continues to be my favorite red lipcolor because it's so easy to wear. I wear it, it doesn't wear me. It doesn't bleed or smear and the pricepoint is very nice!
I got a sun spot on my cheek when I was 29. I likely got it so young from spending my childhood at the pool wearing oil in place of sunscreen, and then my college years baking in a tanning bed. Dermatologists said they could remove it, but I was scared of the pain, the price, and ending up with a pale spot in its place like what happened to a friend. I just accepted it as part of my look. This year I began using Kiehl's Vitamin C Line-Reducing Concentrate just to make my skin look glowy and youthful. I loved the results, it was effective but also gentle. I used it every night for three months straight and one day I was editing photos for a blog post and realized… my sun spot was gone! I went through photos and realized that three months prior it was still there, and photos through that time period it had slowly been fading. Not only did Kiehl's Powerful Strength Line-Reducing Concentrate make my skin look great, it also faded dark spots! I am a convert and am on my second bottle. I use it every 2-3 nights now, switching between it, retinol, and lactic acid.
In the '90s you'd never see me without a thick coating of lip gloss. But with the change of trends, I stopped wearing it and grew to hate how it would either disappear immediately or be heavy and sticky and my hair would get caught in it. I had more than one friend share that they loved Fenty Beauty Gloss Bomb, and these were women my age who also had no patience for hair stuck in their lip gloss. When my friend Chelsea shared it in her beauty routine, I was sold and bought a tube. DANG I love this stuff! It's neither sticky nor disappearing quickly. It smells good, feels good. On its own, it's the perfect amount of shine, shimmer, and color to look natural. It enhances lipsticks when applied over them without causing them to fade away any faster. And one tube lasts forever!
This was also on the list last year. I love the very fine tip and how it's not too hard and not too soft to create hair-like lines without being too careful or taking too long or needing a well-lit magnifying mirror. Also, I love the price!
This is the BEST. It's of the same plastic as a traditional bath pouf, but woven into a super scratchy long washcloth. It's so long you can grab each end and scrub your back! You can ball it up and use it like a pouf or fold it into a pad and scrub the heck out of your skin. It dries super fast and it's an awesome price! Get this, the Atoderm, the body brush, and the Neutrogena oil and your skin will be aaaahhhhh-mayyyy-zing for less than $40!
This year I have been on a curly hair journey. I knew I had some wave but my stylist wanted to coax out my curls. I had no idea I could have a head of ringlets! I've used a lot of different hair products this year and nothing seemed quite right. I realized it was because my fine and thinning yet curly hair couldn't handle the weight of most conditioners. I switched to this conditioner, which comes in a can like mousse and has the consistency of custard, and it made all the difference. No frizz, no greasiness, no weight, and my curls last all day!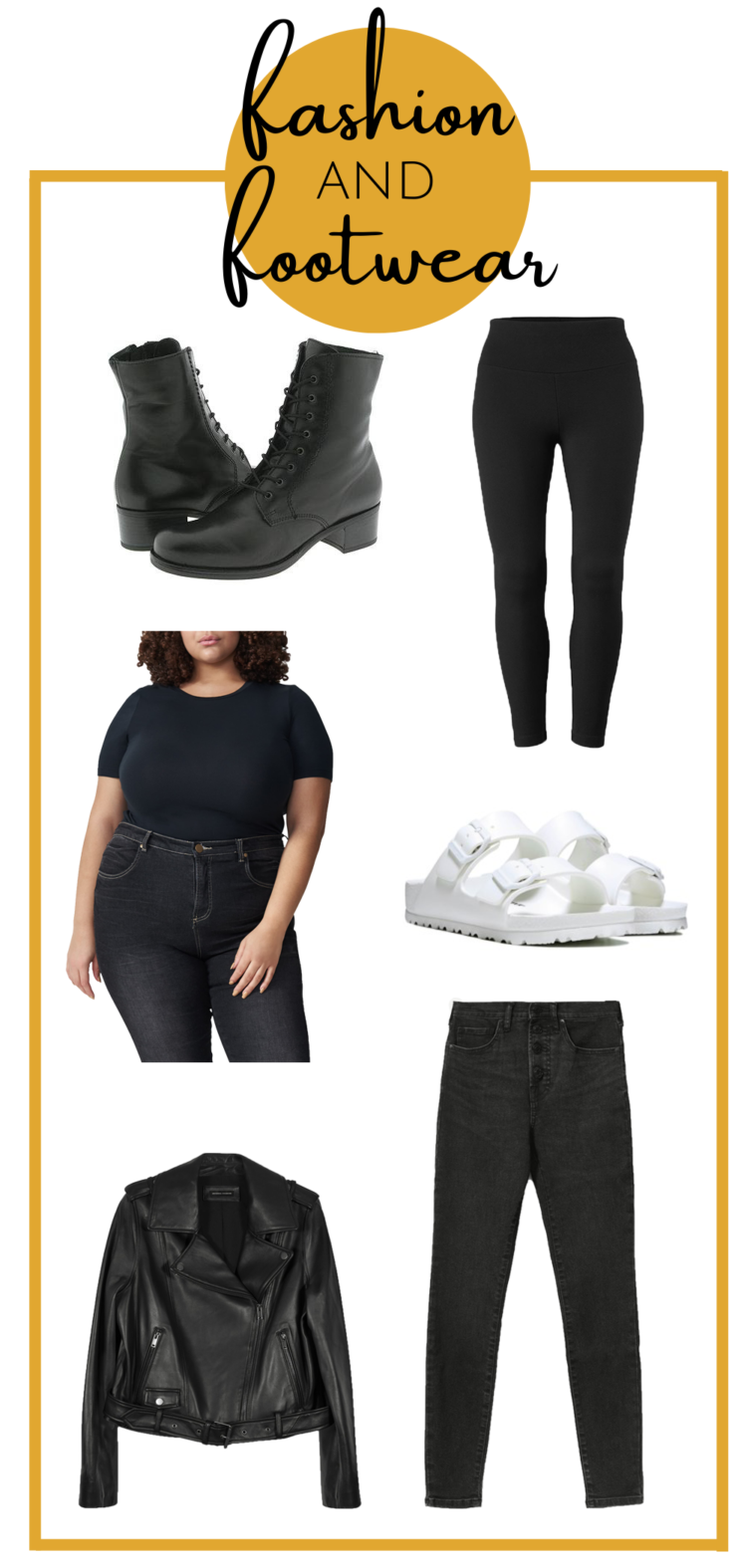 Fashion and Footwear

This fall the combat boot trend was in full effect. Considering I wore Doc Martens for over a decade in the '90s and I am now a short, curvy woman with strong legs and solid ankles, I just couldn't rock them again. But I loved the concept of them and went on a hunt for a "feminine combat boot." A boot that is more streamlined yet still practical that I could wear under trousers, over ankle boots, with midi skirts, and more. I saw these boots on Zappos and almost didn't order them because the price was way higher than I wanted to spend. In fact, I first ordered three other boots that were half the price and all three of them were a disappointment in regard to style, fit, or comfort. I returned them and got the boots from La Canadienne. I am SO glad I did.
These boots are buttery soft but lined for warmth and comfort. They have functioning laces AND a side zipper so you can create a custom fit but easily get them on and off. They come in widths. They're waterproof. And I am able to fit my favorite insoles into them even while wearing thick wool socks. They have been glammed up with beautiful dresses and they've tromped through muddy woods on hikes. They live next to our front door because they're my favorite shoe to slip on quickly and get on with my day. They look and feel and perform every dollar of their pricetag and I believe I'll be wearing these classic and stylish boots for many years to come, even after the combat boot trend has retired.
I own two pairs of these jeans, exactly the same color of Washed Black, same size. I wear them more than any other jeans I own. I ordered them with a zipper fly and they're just not as… fly (sorry, I had to). The button fly, the super stretchy yet not thin denim, the high rise… they're comfy and cool and stay in place and seem to work with everything. I love them so much while writing this I went to see if I could order a pair in any other color but they're waitlisted until the end of January. I put my name on the waitlist, they're worth the wait. For reference, I am usually a 12/14 and I have them in 32 ankle.
I got this shirt last year, it was a gift from Universal Standard when they launched their FOUNDATION line. I was like, when will I want to wear a tight black high crew neck t-shirt? I put it on and it was so long it could be a mini dress on me. But I was impressed with how stretchy it was, how soft it was, how it was snug but not at all transparent. The sleeves just the right length, and while it was tight it wasn't clingy or uncomfortable.
I wear this shirt all the time. I wear it with full skirts and pants. I wear it under blazers and overalls. I wear it as a layer to stay warm in the winter, and as my primary piece of clothing on the hottest days of summer. I've accidentally washed it with jeans, I've thrown it in the dryer, it's been laundered over a dozen times and it still is saturated black, still opaque, still soft, and fuzz ball-free. I am a huge fan of Universal Standard's Tee Rex t-shirts; this is not a replacement but a completely different piece. Different fabric, different fit, but still as high quality.
I am not the kind who wears leggings as pants on the regular. It just doesn't fit my personal style aesthetic. But I received these leggings this fall and I hate to admit they've turned me into a convert. What makes them different is they are heavyweight ponte knit without an iota of shine, they have back seams that make them look more like trousers and somehow make me feel less exposed, and they have a high waistband that doesn't roll, doesn't slide, doesn't fold over. I wear them with boyfriend jackets, with long sweater coats, and even with an oversized silky button-front shirt and tall boots. I size down in these, I wear a Medium. They've been in the washer and dryer several times and still look great and hardly have a fuzz ball on the inner thighs from wear and washing.
I don't want to admit how many leather moto jackets I've purchased over the years. As someone who isn't thin and is short, it's hard to find a real leather moto jacket that is high quality and fits. I want one that is soft buttery leather, looks good over a dress but also can be worn with a sweater. I want it to be able to zip up over my bust and not make me look like I'm wearing a straightjacket. I don't want any superfluous details – no extra zippers, no studs, no fake pockets, no embroidery. I want a moto that will get better with time, will mold to my body, will be a worthy investment.
I have found almost perfection with the Leeron from Universal Standard. Seriously, the only issue I have with it is that for my T-Rex arms, the sleeves are a bit too long. However, when it's fall, I just push them up (OMG leather so soft it can be scrunched!), and in winter when wearing a sweater and gloves it's not an issue. In 2020 I may invest in having the sleeves taken up from the shoulders to make the jacket 100% perfect. And several of you have bought this jacket and also agree it's darn near perfect. I'd say my search is over!
I love Birkenstocks, have worn them for decades and love that they're back in style. In the summer I wear them 99% of the time, with dresses, with shorts, with overalls. In the winter I often wear them around the house with socks because I love the arch support. And now with Birkenstocks available in EVA, I can wear them to the beach and the pool, I can wear them out in the muddy yard and then hose them off or get them white again with a Magic Eraser. Heck, I can even throw them on the top rack of the dishwasher to get them clean. I always have two pairs in white – one nice and crisp to wear everyday, and one old pair that I use for the yard and such.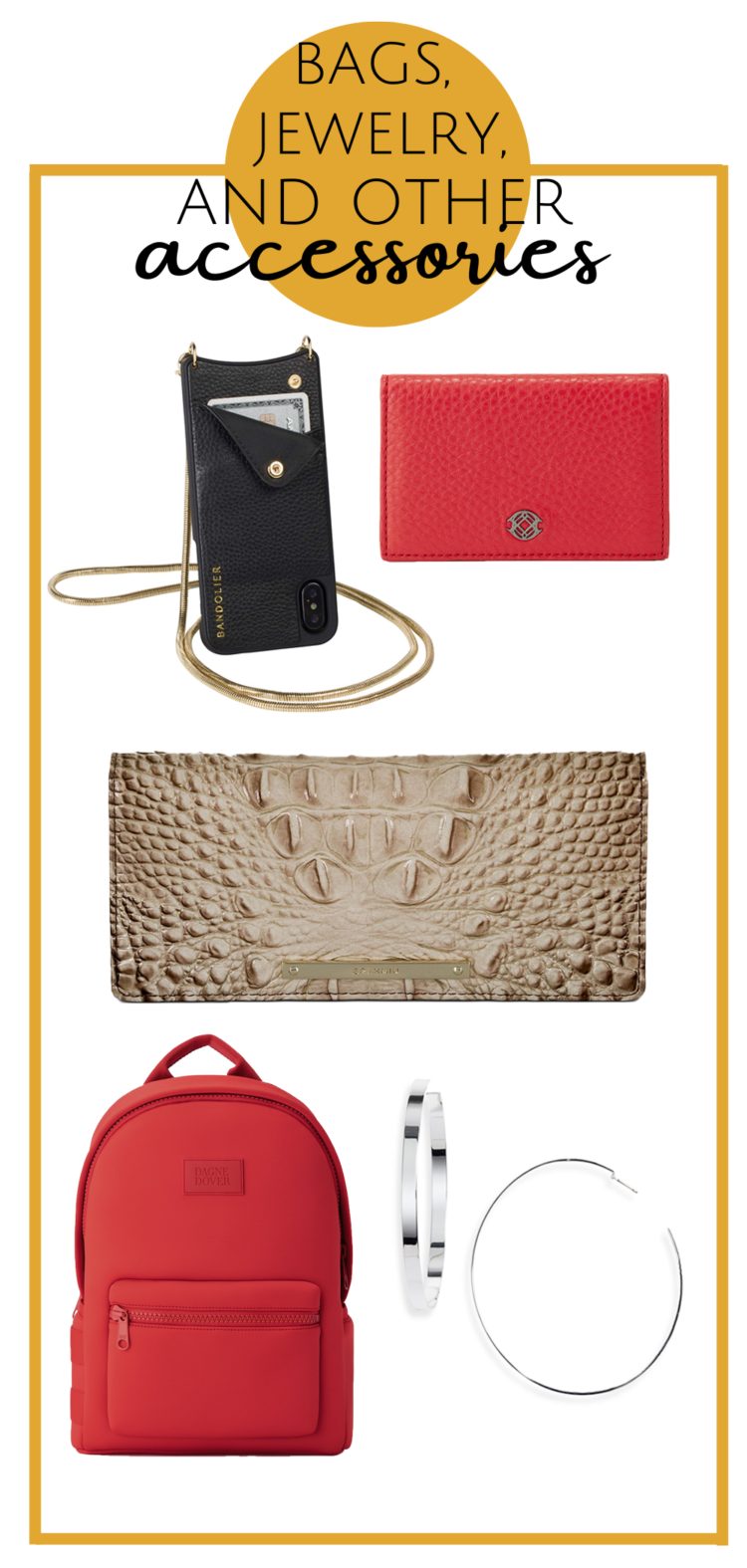 Bags, Jewelry, and Other Accessories

This was also one of Alison's Favorite Things of 2018. Bandolier is a brand that makes phone cases with a crossbody strap. The case also has a small pocket to hold your ID, some cash, and other small essentials. I bought my first one a few years ago and it has been such a gamechanger I buy a new one with each new phone I get. My trick is buying the cheapest plain black case I can find and reuse the old straps. I also bought this pouch when I got my first plus-sized phone and continue to use it with all the different phones I've had since. These cases are NOT cheap, but they work great. It's a good choice when sightseeing, at concerts, and times when you need your phone but little else. With a pretty strap (I have this one), it can replace a purse for many social occasions.
This year, Dagne Dover upgraded their backpack with a luggage sleeve making it even more awesome than when I shared it last year for My Favorite Things. I have the 'Dakota' in Large, and it's a bit bigger than my old Dakota. It has more pockets as well as the luggage sleeve making it a favorite carry-on bag. It's not heavy, it's padded, it can be shoved under a plane seat and fit completely yet hold oh so much. Because it's not covered with logos and hardware, it looks sleek enough that I can wear it for sightseeing and as my laptop bag for business meetings. I've already taken it on planes, trains, and plenty of Uber rides. My old Dakota traveled all over the country and took a beating while still being so great, I know this new one will do the same.
I was so lucky to have Jenny Bird gift me with a few pieces this year. The brand reached out after seeing I was such a fan and invited me to pick a couple pieces from their upcoming collection. When the box arrived with my picks, they also included a pair of their Cober Hoops, with a note saying they thought they looked to be my style. Boy were they right! I wear them several times a week, they are big but not heavy, simple yet not boring, and seem to make every outfit more "Allie." They are a true statement without being too over the top and have truly become a part of my signature style.
I like a big wallet like this for everyday. I want a pocket for bills, a pocket for receipts, a pocket for things like stamps. I want a zipper pouch for change that can also hold a safety pin or two. I want plenty of slots for credit cards and business cards and stamp this card at the sushi restaurant to save $20 off a future order. And I want my wallet to not be black and to be a texture so I can easily find it in the dark cavern of my purse.
I've had this wallet for a few years now. I always worried about design and not quality, because my wallets always got beat up and gross over time. I found that buying a quality wallet like this made my wallet look great longer, requiring a replacement less often. This wallet still looks new, even though I don't treat it well. None of the slots have stretched out, the zipper still functions, and it's so nice I'm proud to whip it out to pay the bill. I've linked to Macy's which has it in 12 different colors but you can find it at many different retailers and often last season's colors are on sale.
When my blog turned 10, my friend Rosana hosted an anniversary party for me. We reached out to some of my favorite brands to see if they would offer swag to add to gift bags for attendees. Dagne Dover was kind enough to provide their Card Case for all who came to the party, and of course I got one. I am still using that same card case five years later, as is my sister and many of my friends. While this is a fantastic business card holder, what I really love it for is a mini wallet. For clutch purses, for travel when I don't want my whole wallet, when I want to carry all my essentials in my pockets, this Card Case is perfection. It has three pockets, two under the snap closure and one on the back so you can separate your cards versus those you received, or you can separate your ID from your cash. The coated canvas looks elegant like Saffiano leather, but it's durable, can wipe clean, and doesn't stretch out. It's the perfect size and super streamlined making it great for small bags or your jeans pocket.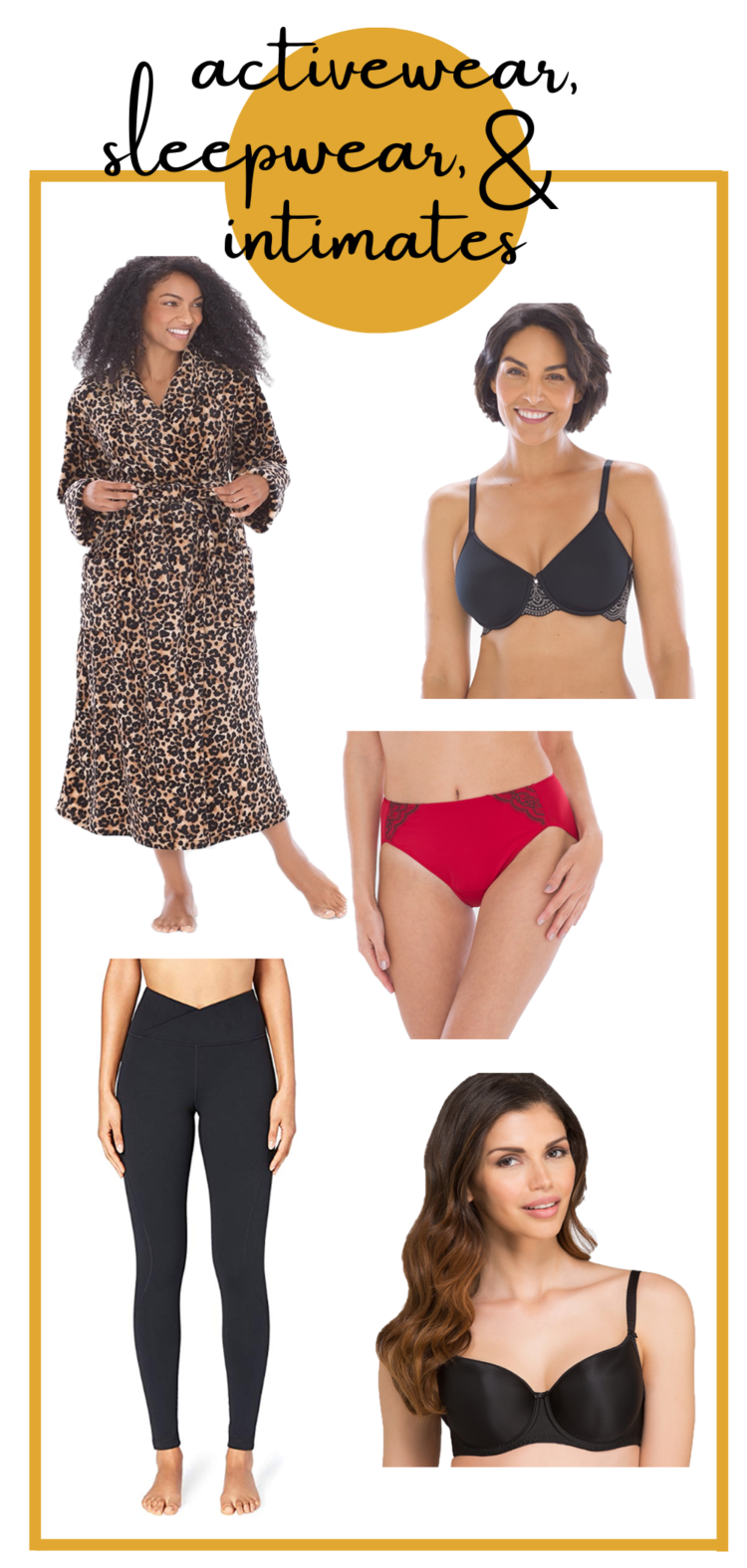 Activewear, Intimates, and Sleepwear

I have an amazing job that lets me try bras from so many different brands. Through that, I have found some phenomenal ones that truly lift, support, feel great, and look great. But I keep coming back to this bra as my everyday no-fail favorite. Why? Thin, simplistic straps that can be worn with a thin-strapped sundress or tank without looking obvious like my bra is showing. Molded cups that are the perfect shape for my bust – no gaping, no quadboob. Clean lines so it's virtually invisible under fitted tops. I hate using the word nude to describe a color because it's usually a beige and not the color of the majority of skin on this planet, but their "Nude" is almost exactly the color of my skin. The cups aren't too high, so I can wear a scoop neck or a camisole and not have my bra show. This bra starts off snug on the band but stretches and molds to your body. But because it needs this break-in period the bra does break down and needs to be replaced every 8-12 months. Even so, I have been purchasing this same bra in whatever size I am for over six years.
As I type this I am wearing this bra. I raved about this bra earlier this year and I still love it. It's so comfortable I can sleep in it but so supportive I can leave the house in it. It's amazing and I can't remember life before having it.
I'm short with a soft belly and a booty. Underwear is usually too high for me and peeking out from the waistband of my trousers, or too low so it rolls under my belly. If I can find one the right height, it usually gives me major VPL (visible panty lines) and is often frumpy. These are darn near perfect. They hit just below the belly button and seem to scoop in back a little bit so they are hidden under my jeans or pants even if I bend over. The Vanishing edge keeps the undies from riding up while also preventing VPL. The leg opening is perfect – not so deep that my belly is escaping but not so tight that it chafes. They stay in place no matter how active I am, no matter what I'm wearing over them. And this panty is sexy! How often can you find underwear that is both practical and pretty? Don't trust me, read the glowing reviews on the Soma site!
I know, more Soma but it truly is an amazing brand with quality products. I shared in my self care gift guide that I treated myself to a new robe this year, and this is it. I love how it's lofty and fluffy and soft but not heavy and thick. I have the L/XL and it isn't oversized but wraps enough that I can sit and not expose myself, and can curl up on the couch and tuck some between my legs and still be completely covered. It has deep pockets, a flattering collar, a fun print, keeps me warm without overheating, and has laundered beautifully.
These leggings were also on my 2018 Favorite Things list and are so great they're making a repeat performance. I go to the gym almost every weekday and have for two years. I don't spend a lot on my gym clothes, I don't care what I look like I just want clothes that fit and perform. I've had equal luck from $100 leggings that I have from $14.99 ones from TJ Maxx. I have leggings I love because they wick moisture, because they have pockets, because they have ventilation. However, these get a mention because of their amazing fit and durability.
I have washed my Core10 leggings at least 30 times, it's probably more like 60 times. They go in the dryer, they're not babied. Other leggings this old and worn have stretched out, have gotten covered with fuzz balls, or have become thin in places. Not these babies, they're still a great fit and in great condition. The cross waist is amazing because it doesn't roll over when I do crunches or bend over and stays in place not showing my undies in the back. The legging isn't shiny and thick enough that if I end up having them go from gym to the street I don't look like I'm wearing activewear. These aren't the ones you want to wear in the middle of July for a run, but they're fantastic for most any other situation.
Shop the List:

And now I'd love to hear from you – what would YOU put on your Favorite Things list? Do share in the comments for your favorite may be just the thing another is lacking in their life!
Dagne Dover Promo Code
Use ALISON10 at checkout to get 10% off your order at Dagne