This article may contain affiliate links; if you click on a shopping link and make a purchase I may receive a commission. As an Amazon Associate, I earn from qualifying purchases. 
Dear Nordstrom,
I love you. You KNOW I love you. The only store credit card I still own is for you. When I worked retail and had a stressful day, I didn't smoke a cigarette in the parking lot. I didn't get a drink at the bar. I walked into Nordstrom. I breathed in the cool perfumed air, listened to the pianist near the beauty department, wandered around the shoe department. This calmed me down better than anything else. And really, I would prefer an Ice Storm from your Espresso bar over a Frappucinno any day.
I love shopping online with you – your site has great customer reviews, it's clean and easy to navigate, you have a wonderful selection of larger sizes and shoes. Your return policy is fantastic, and truly it makes me spend MORE because you excel at customer service.
However lately you are upsetting me. A lot. So much, I am wondering if I should continue an online relationship with you. Nordstrom, it's not your quality or your service, it's your shipping.
A year ago, I knew I could place an order on a Monday and have it on my doorstep by Friday. Usually the order all came in a sturdy cardboard box, smartly packed with minimal supplies but maximum protection of my new goodies. Occasionally a beauty product or pair of shoes would come separately from a store instead of your warehouse. Even so, the item came quickly, and was packed well with minimal shipping supplies. I often kept the shipping boxes you sent – they were perfect for storing items in my closet or attic, and were far sturdier and reliable than shipping boxes from other online retailers. I felt good knowing that I could recycle or reuse most of the shipping materials.
I don't see this any more with Nordstrom. I will place an order and be told that everything is in stock, and then get an email a few days later telling me an item won't be available for WEEKS. Items come separately, and it sometimes takes over two weeks to get items from the date of supposed shipment. I can place an order on Monday and on Friday may get the top I ordered, the next Wednesday receive the jeans, then Friday maybe the shoes… if I am lucky. If multiple items arrive the same day, they are usually packaged separately. One in a UPS padded mailer, another in a lightweight cardboard box, another in your old-school sturdy well-made shipping boxes.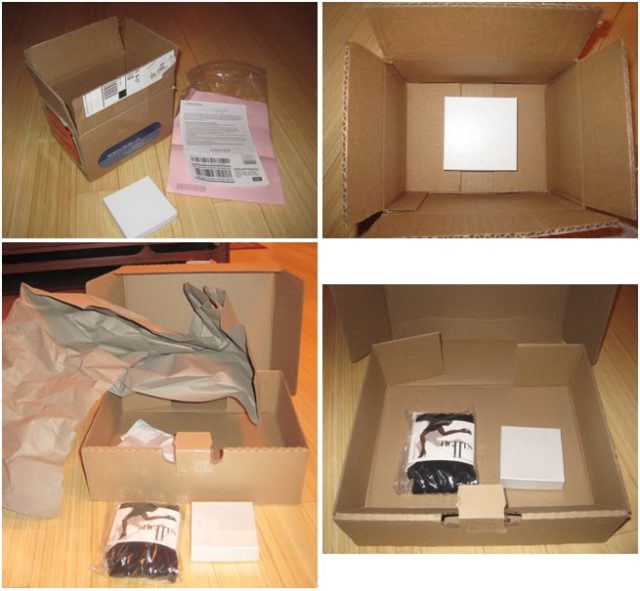 The two boxes I received from Nordstrom – all that packaging for those teeny-tiny items…
Take for example my recent purchase from you. On November 5, I placed an order for a bracelet, pair of earrings, pair of tights and a pair of leather booties. On November 10, I received two boxes on my doorstep.
The first one was a standard heavyweight box. Inside was… one little pair of tights and one little jewelry box with my new earrings. The other box was almost large enough for the booties and I thought maybe they arrived (was hoping they would come in time for the blogging event with Last Call). Nope, instead in that box was a lonely little jewelry box with the bracelet. Both boxes came from the Nordstrom warehouse, not a store. Today it is November 16 and I JUST received the booties at my door, in yet another separate cardboard box. I am not home, so do not know how these shoes have been shipped.
Nordstrom, I have to think that this process for shipping must be costing you a pretty penny. All these separate shipments from all over the country at different times. The cost for shipping, and all the cost for shipping materials. Not only that, but I am completely disgusted by the amount of materials you now use to deliver orders – three large boxes, shipping paper, plastic for these three separate shipments that could have easily all fit in one box. The amount of trees to make all this cardboard, the fuel used to manufacture the boxes and then to ship these boxes to me.
I hate having my items take so long to get to me, but I honestly would rather everything show up late and in the same box, than this stupid parade of cardboard. But then really, if you are going to start taking two weeks for shoes to arrive, I don't see the point in choosing you over Zappos or another online retailer.
I love you Nordstrom, I really do. Because I love you, I tell you this. I want to help, but I don't know how this relationship can continue if you keep going down this path.
XOXO,
Allie