This article may contain affiliate links; if you click on a shopping link and make a purchase I may receive a commission. As an Amazon Associate, I earn from qualifying purchases. 
With my first Project 333 post it got me thinking about what I should have in my closet versus what is currently in there. I love using Polyvore to feel out an idea or capsule wardrobe – seeing the pieces together sans models or distracting backgrounds helps me imagine mixing and matching and seeing them on my body instead of another's. After making the set of my current wardrobe choices if I did do Project 333, I made this set of what would be better choices: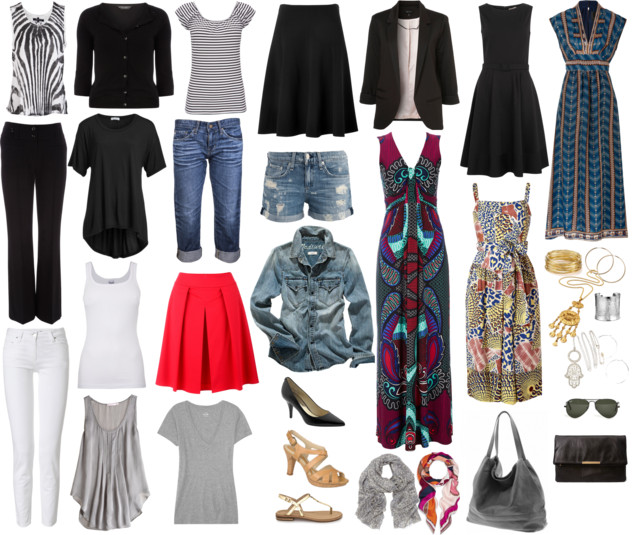 You can see it's not drastically different. Still have the white jeans, the black pants, the boyfriend jeans, the silky slouchy tee and of course an Old Navy Vintage v-neck tee. But I realized I needed what I had, but slightly different. Let's take the striped top for example. I have a TON of striped shirts, but none are quite right for the summer. I have short sleeved, but it's a boatneck, or it's a scoop but the stripes are too small, or it's sleeveless, or has too long of sleeves for the warmer months. Or black skirts – I have one in taffeta, or a pencil that's a bit too tight and short for versatility. My black ponte dress is cute, but a bit too low-cut to work at the office without a scarf or jacket.
I saw the need for more versatile tops.  I like having a drapey silky sexy top to wear with white jeans for a Date Night or concert, but my current one can't be worn really anywhere but there.  Something like the gray silk top in the collage above could be worn to work tempered with black pants and a scarf, or under a blazer.  I also realized how many times I wish I had a long gold statement pendant – something unique but no color so it can dress up or down and be a classic.  I recommend them constantly but I don't currently own flat gold sandals and need to replace them.
As I mentioned in my Summer SAHM wardrobe post I find printed dresses to be better for summer than solids, and I don't have many that are prints right now because I haven't found many I like. I realize the reason may because I am shopping by pricepoint more than actual style. The older I get the more I am realizing that sometimes you need to spend more on an item to get what you actually want, and in the long run you spend less because you stop buying "almost not quites".
I just don't want to shop like I used to. I could spend an hour scrolling through online shops for entertainment, for boredom. I'd look for something that would fit and flatter, but also look cool on the blog. Brighter colors, unexpected silhouettes, a statement accessory. While I love you folks, it's pretty silly to shop for the blog and not for life.
So this potential wardrobe is very very similar to the last one, but a bit harder working, versatile, and polished. It's inspiring me for this season to be more thoughtful with my shopping, be it quality, quantity, where it was made. Knowing I'm buying less means it's easier to stomach a higher pricetag.
Next step is gutting my closet.  Last week  I went into the back of my closet to get my black matte jersey maxi dress to wear to a wedding and I learned two things: the matte jersey maxi dress looks dreadful on me now (had it altered to fit the year Emerson was born and well, the breasts and shoulders are very different now), and I forgot about a black drapey handkerchief hem dress I got on clearance at Ann Taylor last fall. While I was thrilled to find the dress (and wore it instead to the wedding and loved how it looked), I was horrified to have items in my closet I didn't know about. Come on Alison, you know better and that's what you constantly preach! So a closet gutting is in order, knowing there will be huge holes and lots of empty space and possibly a panic attack about how few pieces I have for summer. But I think with closets less is more, fewer pieces means less drama in the mornings and fewer opportunities to make things work or buy things I don't need to make the "almost not quites" work.
As for the Polyvore set, it has transformed my shopping list and is a visual reminder of how my wardrobe SHOULD and CAN look.  I look forward to seeing how this exercise progresses…

Follow Me | Twitter | Facebook | Instagram