This article may contain affiliate links; if you click on a shopping link and make a purchase I may receive a commission. As an Amazon Associate, I earn from qualifying purchases. 
Someone asked me in the comments what I chose to purchase for the Ann Taylor Friends & Family which took place a couple weeks ago.
Not much. That's why I didn't respond.
However in the past few days, Ann Taylor has been offering 40% off the entire store (this promo is still going on today!), which led me to return, try a few things and make some purchases. Here's what I got during Friends & Family as well as a visit to my local Ann Taylor last Friday: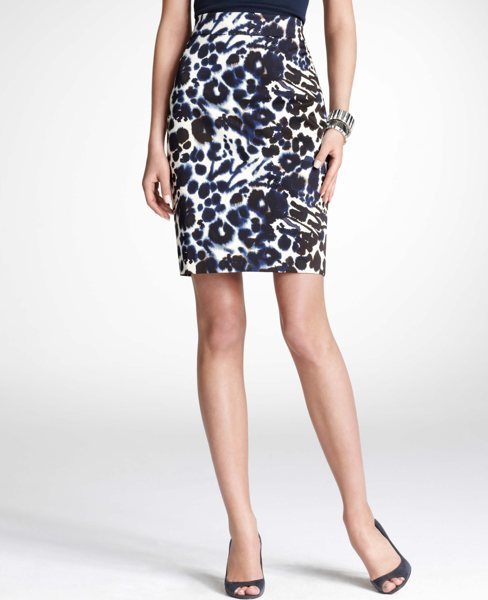 Heavyweight cotton/spandex blend that actually looks like silk. Fully lined. Nice wide waistband. Comes in 12 Petite, which is my perfect size in Ann Taylor. Has black AND navy in it. Can it be any more perfect? I didn't try on, I just purchased and dashed.
Well it fit great, but the print was dreadful on me, really emphasizing the mama pooch. Also on the body, the off-white background ended up looking a bit dirty and strange. I think this would look spectacular on a woman with less curves, and a woman with darker or more pale skin than I for better contrast.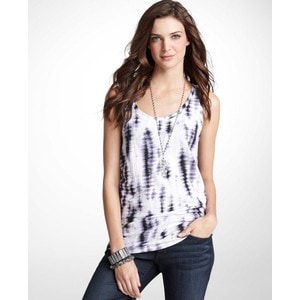 Another piece I just bought without trying on. It's a linen blend so it's more refined than a classic tank. I loved the colors that also had navy and black in it, as well as shades of purple and indigo.
This tank runs LARGE and LONG. I bought a large and almost returned it for a medium. Even though it's a loose tunic on me, it doesn't gape at the neck and armholes, and keeps my bra under wraps. The fabric makes it a great shell for work, but I can also see it with white jeans for a night out on the town, or with denim cutoffs and flat sandals for a weekend cookout. Big fan – if it came in another color, I would probably purchase it, though this time in a medium.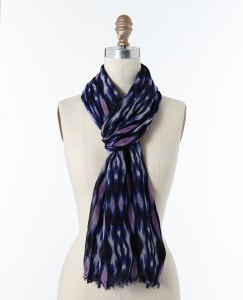 I loved this scarf as soon as it arrived at Ann Taylor but the $58 price tag totally turned me off. Come on, it's a woven scarf, why the crazy dollar amount? Then Ann Taylor put it on a mannequin in the window, taunting me each day as I walked to work. I started analyzing my spring wardrobe, and saw a need for a scarf that worked with navy as well as black. So when the store went 40% off, I went to try on the scarf.
The only Ikat Trance scarves left in the store were on mannequins, so I had to strip one. I tried it on in the fitting room with Friday's outfit and loved how it hung on me – not too floppy, not too stiff. I then tried it tied around the waist like a sarong over my jeans and thought it would look pretty cool like that with a white tank and a bunch of beaded necklaces come summer. Since I was returning the Shibori Print Pencil Skirt that day, I felt more justified in purchasing the scarf. Once I got home I thought of many more creative ways to wear it and make it worth the price!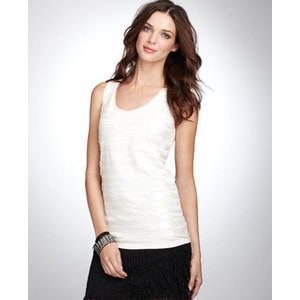 Thursday as I was scrambling to find something to wear to fashion:district I thought, "I wish I had a subtly sequined top." I then met Deb from Real Girl Runway for dinner before the show, and she was wearing one! I decided it was a sign and my mission to find a sequined top that would catch the light, but still be subtle, and even possibly work-appropriate (love the concept of daytime sequins though it rarely can be carried off).
I found this tank on the sale rack, and with the 40% off deal, it was only $24.00. The Petite Large fits perfectly – snug but not clingy, and not too long. I think it would look great with my black tux jacket and jeans, but also alone with vintage denim or even dressed up, tucked into a taffeta fuller skirt with wide belt and peeptoe heels (another concept I am loving and wanting for this summer).
***
And that's it. I know, would have expected more from me, being a self-proclaimed Ann Taylor addict. However I don't really NEED anything right now that they have in their stores. That's not to say they don't have some gorgeous pieces right now, it's just that I need to stick to my budget, and shop smart.
Have any of you found any scores at Ann Taylor with their Friends & Family or 40% off promotion? I would love to hear about them!
Follow Me | Twitter | Facebook