This article may contain affiliate links; if you click on a shopping link and make a purchase I may receive a commission. As an Amazon Associate, I earn from qualifying purchases.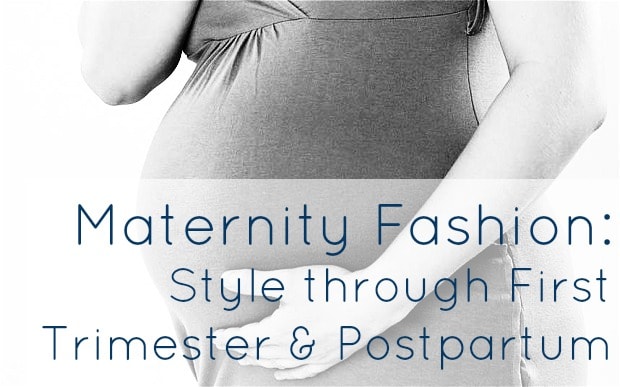 Happy news, my husband and I found out we are expecting an addition to our family at the end of this year! I am in the end of my first trimester and I am experiencing major bloating and even a bit of a belly. I don't look pregnant, I just look fat. To top it off, we haven't yet told our loved ones or either of our bosses. What can I wear where I can look chic and not like a whale? Also with the heat, my morning sickness and fatigue, can you suggest easy-care looks that make me look polished even though I just puked up my breakfast half an hour earlier?
Well first things first, congratulations! How very exciting for you and your husband!
Best choice, and that which is available in most any store? Dresses! Shifts, trapezes, empire waists, baby-dolls, maxis… all these dresses are very in style and not clingy to the tummy area. A dress is a great wardrobe item for any woman, pregnant or not. It's easy to slip on, in the right fabric it's easy to launder, and it's comfortable on the most humid and hot of summer days. Pair with some flat leather thongs, open-toe wedges or gladiator sandals and bold jewelry and you will look chic while hiding the boat and beginnings of a baby bump. Linen and cotton are great for shift styles because they breathe, have some structure so they don't cling, and can usually be tossed in the gentle cycle, hung up and wearable the next day as-is or with a quick swipe of the iron. Jerseys and gauzy cottons are good for the baby-doll styles because they are more floaty and won't stick straight out from your growing breasts. Pairing with a long necklace, more voluminous styles will be weighed down so you don't look like a whale, but still hide the belly.
Keep it simple and monochromatic. If you are wearing a navy blouse and navy capris, your tummy will be less obvious than if you choose khaki pants. Wearing a monochromatic outfit is an easy way to look polished – don't always stick to safe black, an outfit in all shades of brown, khaki, gray or even greens can be just as slimming but far more cheery.
Don't drown yourself in fabric. Your bloating and belly is far more noticeable to you than it will be to others. Most will just think you have packed on a couple of pounds – something they won't dwell on and very soon you will be able to explain! Baggy clothing usually makes us look bigger than we actually are. If you wish to have a little extra fabric at the tummy to hide the belly, loo9k for an open neckline, cap sleeves, a shorter skirt to counteract the fullness of fabric. Rouched and gathered fabrics at a hip or the side of the waist does great things to hide a bit of a tummy – wrap and faux wrap dresses and tops will whittle the waistline and distract one from the actual tummy.
Finally, take care of yourself! Spend extra time on your hair (maybe go get a cut that's easier to style), wear flat or more comfortable shoes, get yourself a supportive bra for those growing breasts, invest in an extra-moisturizing body wash and gentle body exfoliant and understand you are creating a wonderful thing in that expanding, bloated body – don't be so hard on yourself.
How is it possible to wear cute clothes while your body is changing shape without looking pregnant? Since the last thing a new mom wants to do is look pregnant! I have been living in nursing tanks from Target, yoga pants and jeans… my ass has vanished, but I have a muffin top that could take out the state of Delaware – I am the epitome of an apple shape right now. Oh and I need tops/dresses that allow for easy boob access. This is an equation that I have not been able to figure out the answer to- help me!
Congratulations, what an exciting time for you and your family! As that I know this reader outside of this blog, I know her style is very classic and preppy. I have them tailored my answers to that, though I think these would work for most any personal style and can be adjusted with color, accessories and necklines.
First things first, your body may not be the way it looked pre-pregnancy, but you probably don't look as pregnant or mushy/weird as you believe to be. 🙂 However there are many parts that are not the way they used to be, and with the nursing deal, your clothing choices will definitely be different! I know you weren't an apple shape before hand, but as a current and life-long apple I can offer a few suggestions:
Nursing tanks are fab for this time of year, try dressing them up with a cotton skirt with a drop waist or a-line shape. Amazing how a printed skirt in cheery colors can take a boring tank and make it look like an outfit. I know necklaces and earrings may get grabbed and pulled, so a chunky wooden or plastic bangle or a few metal ones will add a feminine and fun touch to the look.
Wrap dresses are awesome, I cannot stress this enough. The wrap style will whittle any waist and the top is easy to slide to the side for nursing. In matte jersey, you don't have to worry about wrinkles, throw it in the machine, let it hang dry and it will be ready the next day to wear. Matte jersey is also wonderful because it can be dressed up or down – with flops or sandals it's a quick outfir for running errands or visiting family, with heels it's a great look for church, work or a day wedding. Also great about these is that if you lose the tummy, the dresses are still cute and flattering – knit wrap styles usually work a size up or down from what you purchase.
I am a huge fan of drawstring linen pants. Just as comfy and washable as the yoga pants, but seem more chic. Victoria's Secret has them super cheap – like $30 each and they come in lengths. The white is completely transparent, but the flax color works with nude undies, the black and brown are pretty versatile, and with some gladiator sandals, gold bangles and a scarf headband you can rock safari chic while feeling as though you are in your PJ's.
Wrap tops are also great. You can usually find knits or matte jersey in a faux wrap or true wrap style. I have also been seeing quite a few pretty (and on sale!) wrap-style tops specifically for nursing in popular maternity clothing destinations. These tops look just as pretty as a classic wrap top, but are made to work well for the task at hand!
With your old wardrobe, pants and skirts that don't quite fit can be made due for now with a belly band, or one of those extenders they sell at maternity shops.
Floaty tops are an easy thing to run to, but they often make you look heavier than you are and make people wonder if you are still expecting. If you wear a peasant or babydoll style of top, it should be in chiffon or a very lightweight fabric so it doesn't tent out. Pair it with slim white or dark jeans to show your whole body isn't that size. Don't pair them with shorts, even slim bermudas because they really create an ice cream cone shape.
Steer clear of busy prints on top. People are drawn to them because they are fun and they think work as an optical illusion, but they often work against your curves. Keep the prints to the capris, the skirts, the Bermudas and solid knits on top and you will look more put together, and also slimmer.
As an apple, have your tops hit at your hip bones, not higher (emphasizes the tummy) or lower (makes you look heavier). Knit is your friend, not skin tight, but with a shape that skims your curves, a top this length will de-emphasize the midsection. Also look for creative necklines – v-necks, u-necks, halters, polos with buttons that hit lower than traditional length, wrap or surplice necklines all elongate and draw attention away from the belly.
Treat yourself to some fab shoes – nothing jazzes up an outfit of staples better than a cheery color of ballet flats, some gold sandals, something with a print or a quirky bow. It's a great way to get the Carolyn back into your wardrobe without spending a ton, and having to ditch it when your body starts changing again. Somehow an old tank and knit pants looks polished with great shoes, a piece of jewelry and some lipstick or a scarf.
Finally, become friends with your tailor. Some of your pieces that you already own can have a few modifications to make them more flattering to your current figure. Far cheaper to shop within your own closet!