This article may contain affiliate links; if you click on a shopping link and make a purchase I may receive a commission. As an Amazon Associate, I earn from qualifying purchases. 
I love me some Diane von Furstenberg. I think the woman is a total and complete badass. I recently was at a fashion-related event where I overheard two women discussing how Diane became a sell-out, how she's too into social media, bloggers, and branding and not enough into her craft. I felt like interrupting and schooling them on who Diane really is and what she's really trying to accomplish.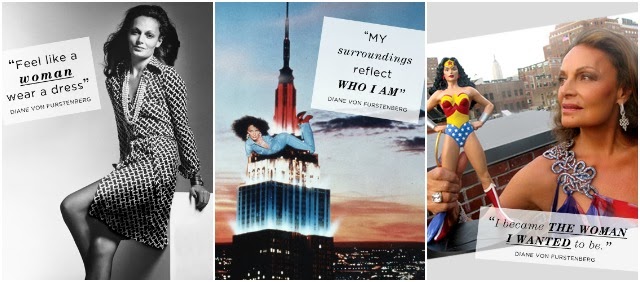 Girlfriend has always tapped into unexpected ways to promote her product. She would go to the department stores, get in the fitting rooms with the women and help style them in her clothing. When she had a cosmetics line, you could regularly find Diane at the counter doing makeovers on customers. She was receptive to licensing, and has often said one of her favorite partnerships was one with Sears for a Home line. All of this happened before her re-launch of her company in the late '90s, before social media, before bloggers. Diane has always been focused on understanding and connecting with the women who wear her clothing, buy her products.
Several years ago, I picked up Diane von Furstenberg's autobiography,
A Signature Life
, at a used bookstore. I took it on vacation, read a chapter or so during the road trip, and slipped it in the glove compartment when I took my turn at the wheel. I completely forgot about it until this fall when prepping the car for winter. I went to put an old pair of gloves in the compartment and came across the paperback. I finished the book that very weekend. A few weeks later, I came across
Diane von Furstenberg's Book of Beauty
at a thrift store. I loved the book, I could talk for days about what I learned from DvF with this book
(especially this chapter which I Instagrammed and re-read often)
, but the biggest thing I kept thinking as I read this how-to guide is that Diane von Furstenberg was the first lifestyle blogger. Diane's
Book of Beauty
was published at the end of the 1970s and excluding a few sections on cosmetic surgery and a dated phrases about traditional gender roles and that every woman wishes to dress to please a man, the content is still relevant today and better than what I find in women's magazines or many blogs. And just like blogs, Diane used this book to tastefully promote her beauty products, share her glamorous life experiences and photos of her looking chic with very chic people.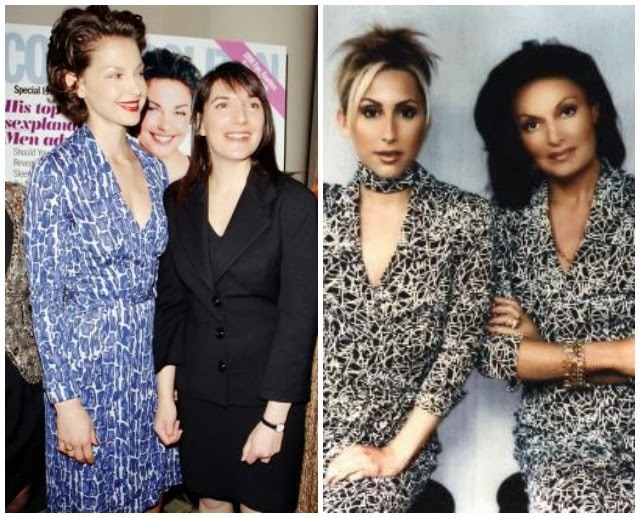 The two Diane von Furstenberg dresses I bought back in 1998, seen on Ashley Judd, and on Diane herself with her daughter Alexandra.
Sometimes I like a dress because it's a pretty dress. And sometimes a pretty dress helps me discover an amazing brand and/or human being. In 1998 I purchased two Diane von Furstenberg wrap dresses from Saks; they were on sale for $68 each, and all they had left was my size. I liked the blue print of one, and remembered seeing Ashley Judd wear it at an event. The other I couldn't pass up since it was Diane's famous signature as the print.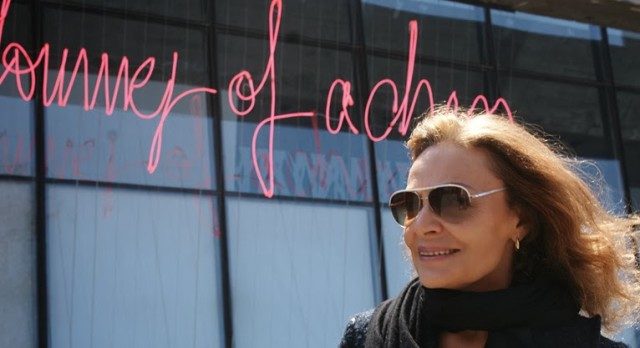 I knew a bit about Diane von Furstenberg back then, but not much more than knowing she was on the cover of Newsweek, Andy Warhol painted her, and I seem to see her suitcases in every Marshall's across the country.  I knew she had re-launched her line, and celebrities were clamoring for her dresses.  After buying the dresses, I began to research the woman behind the dress and found her to be so real, such a badass, and such an inspiration. And now that I have read almost every book about or by her and gobble up as many articles about her as I can find, I love that she truly is an independent woman, a woman who went about life and her business on her terms, with her signature style. And no one can call that being a sellout. Happy 40th anniversary of your iconic wrap dress, dear Diane!
Follow Me | Twitter | Facebook | Instagram