This article may contain affiliate links; if you click on a shopping link and make a purchase I may receive a commission. As an Amazon Associate, I earn from qualifying purchases. 
Do you know what stores carry camis that are work-appropriate and fit well over large busts? I have a go-to black cami that is always falling down in front and I'd like to minimize my cleavage for the office.

Check out Second Base – I have camis from there and LOVE them. Second Base's camis are made for women with large busts – they have a band to keep them from riding up, adjustable straps to properly cover on top, and a variety of styles to fit most any cami need for your wardrobe.
I always have a hard time finding button-down shirts that will actually button up past my cleavage without gaping. I love your silk Ann Taylor button-down shirts; do you just size up when you buy them or do they automatically fit well without gaping?
I usually go up one size, but then choose petite so it's not falling off my shoulders and covering up my hands. However there are brands that make shirts for curvy women – check out my post here for some suggestions!
I am on the chunky side and have a generous bosom, which causes a straight tunic to extend in front of me and hang in a way I find graceless (I hope I am describing this well). I suspect that many others have a similar problem. Any ideas on how to wear a tunic?
This is why I don't wear tunics, they make me look as though I am either expecting, or I am wearing a cardboard box under my shirt. If you do want to wear a tunic, choose lightweight fabrics that will drape nicely, and look for styles that have seaming or a band below the bust (not an empire waist, but one a bit lower at your smallest part) to show more of your figure. I also swear by a wide elastic belt – use it on tunics and place at the bottom of your ribcage where you are smallest – the ribs will keep the belt in the right place and will give you a shape.
I am 5'3″ and average-sized but a 34DD, and finding clothing is a total pain. One piece of advice large-busted women always get is to avoid turtlenecks and cowl necks. I view turtlenecks as a necessity because I live in Minnesota and it is freezing–I layer them under absolutely everything. Any suggestions for warm clothes that are flattering to a large-busted shape?
I have a few turtlenecks and cowl necks (see here and here) and I do agree they aren't the most flattering, but they can be quite lovely if you choose the right silhouette and fabric.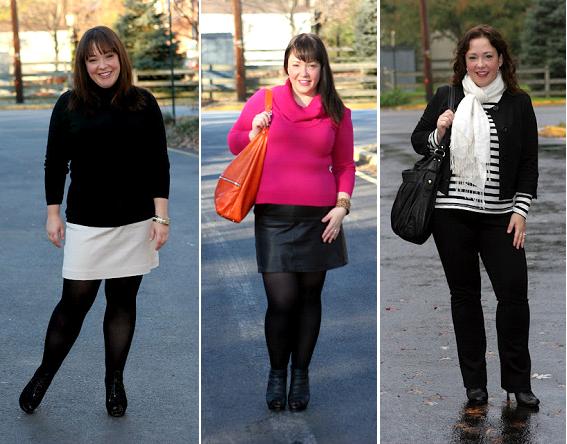 I choose turtlenecks that aren't too tight – traditional knit jersey turtlenecks and ribbed fitted styles can really emphasize a bust. However, a cowl or looser turtleneck will flatter the face and distract from the bust. Since you are wearing the turtleneck under other pieces, that can also help distract. A blazer or v-neck cardigan will elongate the body and draw emphasis from the bust.
I also am a huge fan of wearing scarves – a cashmere pashmina looped around the throat can be adjusted to keep you cozy when in a chilly space, and can be relaxed when in a toasty location.
I have a question – can you recommend any options for those of us more voluptuous types who want to wear long pendant necklaces? They all seem to dangle from my chest in a weird way. I'm looking for on-trend, and inexpensive accessories – something to dress up plain tees and cardi combos.
Oh gosh, I hate when pendants do this! I might as well be wearing a bolo tie, the way pendants slide between the breasts and hang in one long line! A great alternative is a statement or bib necklace. I have one on here, here and here – the wider necklace won't puddle in your cleavage but still elongate the frame.
Do you think I can wear horizontal stripes, because my top is quite wide in comparison to my bottom???? (size 8 pants, size 14/16 tops). I love your striped tops and am so lusting after them!
Hey, I'm pretty large on top and rock the heck out of them! I think it's important that there is more of the light color than the dark, and the stripes are wide or well spaced.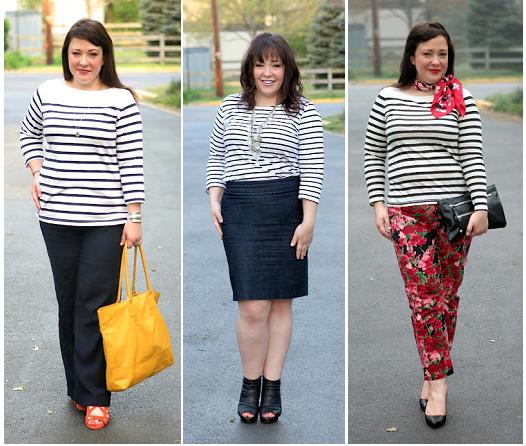 Very small stripes of even sizes can really make arms and the bust look big, but a classic "Breton" stripe can be quite flattering!
Follow Me | Twitter | Facebook