This article may contain affiliate links; if you click on a shopping link and make a purchase I may receive a commission. As an Amazon Associate, I earn from qualifying purchases.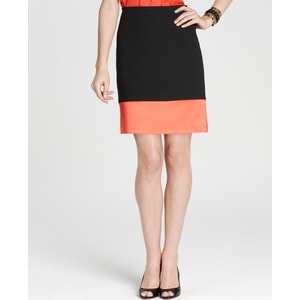 I am writing with a request for help… A couple of weeks ago I got a great skirt from Ann Taylor [see above, but the stripe is blue instead of coral], but I'm having a hard time figuring out what to do with it. This is my first venture into color blocking and I'm a bit unsure about what will work. I tried it on with a black sweater at the store, and liked that; I even tried it with a great shirt that was the same blue, but it felt a little too matchy/blocky. I have no idea of the "rules" for colorblocking, any thoughts?

-Martha
Ah colorblocking, one of the strongest trends of the past year. As you know, I am a huge fan of this trend – I am thrilled to see bright hues back in the stores, and that wearing more than one color has become acceptable and even fashionable! However, this isn't a trend for the timid, and it's hard to know how much can be stylish or if you go too far and look like a clown.
What is Colorblocking?
To make an ensemble colorblocked, it means incorporating two colors, and in my opinion, those colors are not neutrals (gray, tan, beige, cream), nor are they black or white. While the types of colors can vary, I think a true colorblocking is mixing unexpected colors together – many would expect pink with navy, but one wouldn't expect pink with bright turquoise, or navy with orange.
What is Monoblocking?
Monoblocking is having an entire ensemble in one shade. This past fall, red monoblocking was a hot look – wearing a red blouse, red pants, and red shoes. Another variation on monoblocking is to wear an entire outfit in one color story (magenta blouse, red trousers, hot pink belt, berry shoes).
Beginning Colorblocking:
With such a skirt that already has a bold look, it's not boring to wear it with black. Keeping the top simple and understated will highlight the bold choice of the skirt. You could even keep the simple look going with black opaque tights and black shoes or boots.
Choosing a blue top could end up looking too matchy, unless you incorporate another color. You could do this with a skinny belt in a warm color like orange or pink, or maybe a green statement necklace or heels. That unexpected pop of contrast will break up the monotony.
Intermediate Colorblocking:
If you're feeling bold, such a skirt could work with a top of a completely different color. I would steer clear of thematic color combinations (red and blue, red and green, red and yellow, black and orange) until you have a colorblocking comfort level. Instead, choose a color with the same level of intensity and clarity – such a blue would look great with hot pink, Kelly green, orange, a green-tinted turquoise, orchid. Pick a piece with a complementary fabric – this skirt has stretch, so it would pair better with a fluid fabric with a similar finish (another knit, merino or cotton sweater, Ponte de Roma, etc.).
To not have it look as though you dressed in the dark, it's important to pull in one of the colors from the skirt – a necklace or scarf at the throat with blue or black in it, black hosiery and shoes, a bag with black or blue. This small detail along with the right type of color and fabric will create cohesion and an ensemble.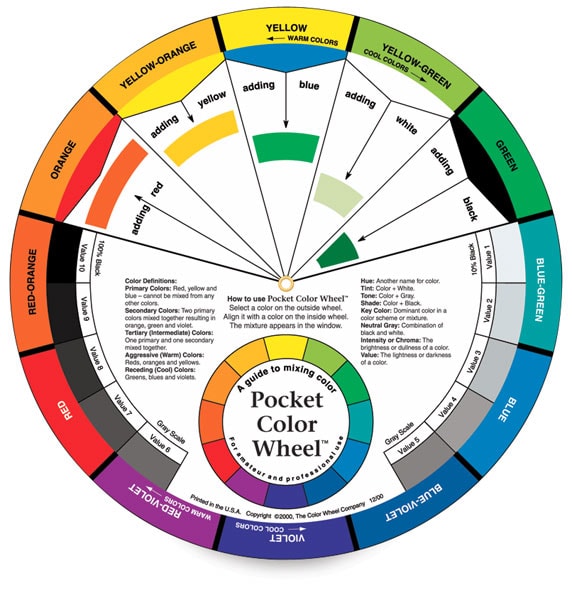 Growing up, my mom would have us use her painter's color wheel to choose complementary colors – I can recall having a purple sweater and skirt, and using the color wheel to choose a green necklace to balance the ensemble. If you fear mixing colors, you may want to pick one of these up at an art supply store to help you create your colorblocking outfits.
Advanced Colorblocking:
Yesterday as I left the office my boss stopped me, "I have to ask since you know more than I… pink with red? Is that now a THING?"
Yes… and no. We got into a discussion about how fun fashion is right now – most rules have been broken and you can really do what you want as long as you have a sense of style, sense of self, and confidence. And with that, you can mix pink with red, or wear previously-feared color combinations like red and green without looking like Kris Kringle's helper.
You can also incorporate more than two colors, though I really feel that if you add more than three you can easily end up looking like a box of Crayons. If you feel you have too much color going on, adding a print (leopard or polka dots are popular choices) or a metal (lots of bangles or chains, a metallic shoe) can balance the color and make it look more purposeful and cohesive.
Advanced colorblocking, you can get outside of the same color tone. Mix bright red with a muted plum, pumpkin orange with lavender, forest green with candy pink. This can be more tricky, it's important to have a good eye for color and texture. With your black and blue Ann Taylor skirt, you could pair it with a pumpkin-colored silk blouse and a pair of purple suede shoes, connecting the ensemble with brushed gold bangles and chain necklaces.
In Summary:
Choose similar or complementary fabrics for your separates
If new to colorblocking, choose colors with similar intensity
Use a pop of a contrast color to break up a matchy-matchy ensemble
Consider a color wheel to find complementary colors
Break up a high-intensity colorblocking ensemble with a classic print or metal
Have fun with color!
Follow Me | Twitter | Facebook