This article may contain affiliate links; if you click on a shopping link and make a purchase I may receive a commission. As an Amazon Associate, I earn from qualifying purchases. 
At my job, we share our bathroom with all the other companies on our floor. Today I stepped in and was surrounded by what looked to be several interns or new hires. How did I know this? Purely by how they were dressed or their beauty choices. I know I wrote about this recently, but I'd like to address this in a different manner – I'd like to talk about how to dress to gain respect or a sense of authority when you're a newbie.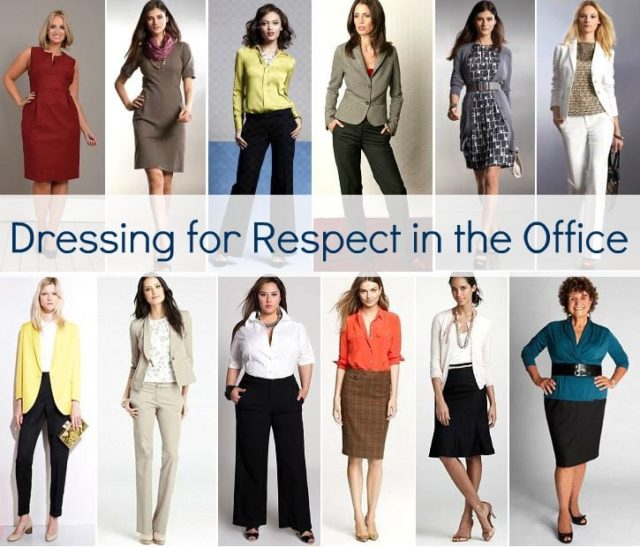 Maybe you're fresh out of college or an intern, maybe you're a seasoned vet in your field but changed companies. Possibly you have recently been promoted and work with and manage a whole new team of virtual strangers. Whatever it is, do realize how you look at the office will affect how you will be perceived. It is possible to look professional, credible, and still stylish no matter your age, budget, or position in the office.
Clothing:
Cover your Lingerie. Wear a skin-colored bra under light colored tops, wear high enough necklines that your bra won't show when you bend over to plug in your laptop, wear a thong or seamless underwear so you don't have visible panty lines, watch the rise of pants and the width of necklines to ensure you don't flash a bra strap or whale tail.
Stand in front of a window. Check to see the transparency of clothing when in natural light. Often, we get dressed in semi-darkness early in the morning and once we get to the office, we find our skirt leaves nothing to the imagination or a coworker can see the bow detail on the center of the bra. Check the opacity of all clothing by standing in front of natural light and checking out your reflection.
Sit in your outfit. Before you leave your home, sit in your outfit. Do your shirt buttons gape open flashing your bra or belly button? Does your skirt crease after only 30 seconds in a chair? Does your shirt ride up, exposing your lower back? Know these things before you leave the house and potentially embarrass yourself at the office.
Buy quality, not quantity. That $15 Forever21 pencil skirt LOOKS like a $15 Forever21 pencil skirt, especially when in a sea of suiting from department stores and higher-end retailers. It's better to have one black skirt than a dozen cheap polyester-blend ones from bargain shops. Same goes for cheap versions of work tops that pull at the shoulders, are made of obviously low-quality fabric, are ill-fitting or too trendy of a style.
A suit doesn't equal authority. Many people feel that to look like an authority, they should wear a suit. The opposite is often true for if you aren't comfortable in a suit, it will show. Also, a suit is harder to wear at a lower pricepoint. If your dress code allows, consider instead wearing a sheath with a cardigan or a button-front shirt with a straight skirt or trousers for an equally polished ensemble that will make you more comfortable.
Accessories:
Wear comfortable and well-maintained shoes. They say a man's style is judged by his shoes, well women's style is as well! Nothing ruins a look more than scuffed shoes with the heels worn down and Band-Aids all over your ankles to deal with cuts and blisters. Break them in before you go to work, and take them to the cobbler regularly to keep them in the best condition.
Buy a simple bag. You're wearing a classic gray suit from J. Crew, a pair of simple black Cole Haan pumps, and then you are carrying a turquoise crackle leather knock-off version of a Balenciaga. A cheap or overly trendy bag will destroy any credibility. No need to spend a ton, a simple bag with minimal details in black, gray, brown, or tan will get the job done and can be found at most any pricepoint. Look for structure instead of hobo, and a bag that is large enough to carry a notepad or file folders; a bag that can also carry your laptop can do double-duty for offsite meetings and business trips.
Buy quality, not quantity. Again, Forever21 is rarely the place to purchase office jewelry. Those fishing-line necklaces with strategically-placed plastic beads look as cheap as they cost at Target, and youthful accessories like rope or jelly bracelets, neon faux jewels, and feather earrings destroy any workplace credibility. This also holds true for shoes – it's better to wear the same two pairs of simple shoes each day than have a closet full of cheap brands that cause you to hobble down the hallway or make you look as though you're hitting the club after work.
Beauty:
Cut your hair. I'm not saying you can't have long hair, but waist-length beachy waves that get scraggly at the ends is not professional. When I entered the bathroom this morning, this was the first cue that these women were new – they all had long manes of tangled waves that look great on the beach but not in the office. While I too would love a lush head of hair, I know it's not a good look for Corporate America. Keeping it around your shoulder blades or higher, and having layers or bangs to give it an actual style will make you look more professional. If you wish to keep the length, consider topknots, ponytails, and twists that can manage the hair without you looking like Lady Godiva.
Color your hair. If you color your hair, get it touched up on a regular basis. If you can't afford the time or money to maintain your highlights, get a single-process color that matches your natural shade. When you let your haircolor lapse, it makes you look disorganized and as though you don't have attention to detail – not good traits for an office worker.
Have a polished face. I am not saying all need to wear makeup, but if you don't wear makeup you need to make a concerted effort to have your skin look fresh and well-taken care of. Exfoliate, hydrate, consider a product like Vitamin C that will even and brighten the skin. Wear sunscreen to keep your skin looking young and elastic. If you are okay with the idea of makeup, a little tinted moisturizer, concealer, and mascara can go a long way.
Tone down the trends. I discussed this in this other post but it bears repeating. When you're trying to create an aura of authority, a neon lip or colored mascara isn't a wise choice.
Just tone all of it down. This isn't a Miss America pageant, it is an office. Heavy makeup looks even more garish under fluorescent lights, and it won't help you look experienced or credible. Dark colors, intense blush, heavy foundation – none of these give a professional look in the office.
General Tips:
It's better to buy too large and have it altered for a custom fit than to purchase too small and have it pull at the hips or shoulders.
QUALITY NOT QUANTITY! No one is keeping score and tracking how often you wear your black pants or tan pumps. It's better to have fewer pieces of quality, well-fitting garments than a multitude of cheap pieces that make you look as though you don't care about your appearance.
Watch your length – too short skirts and pants dragging on the ground make you look unprofessional. A dry cleaner can do a simple pant or skirt hem for a few dollars.
Safety pins are your friends – you can pin shirts together between buttons, pin shirts to the inside of your pants or skirt to keep them from sliding out of the waistband each time you sit, and are great to have in your bag or desk in case of a fallen hem or busted seam.
Your iron is your friend. No matter the price or fit, a shirt that looks as though it was yanked off the floor of your bedroom will kill your credibility. If you don't like to iron, take your shirts to the cleaners or just choose another type of garment for the office. Throwing a shirt in the dryer for a few minutes is NOT a replacement for the iron, and even though your shirt may get creased en route to the office, it will never look as bad as a shirt that was never originally ironed.
Solids are less memorable and usually look more expensive than a print. If you're low on funds, stick to solids for more versatility and the ability to make a simple dress or blouse look classic and sophisticated.
For more tips on workplace attire please visit:
Follow Me | Twitter | Facebook