This article may contain affiliate links; if you click on a shopping link and make a purchase I may receive a commission. As an Amazon Associate, I earn from qualifying purchases. 
Reader Laurie asks:
When I wear jeans, I quite often reach for the athletic shoes simply because they are so comfortable. I know this is not the most stylish choice, but I'm not quite sure what to substitute. My standby ankle high boots look great with the jeans, but are really not comfortable enough for me. Any shoe suggestions (need to be comfortable enough for walking) for a casual jeans/sweater outing?
Hey Laurie:
For years I have gotten by with my black ankle boots for this situation, but lately (especially with this extra baby weight on my knees and feet) I desire an alternative. Like you, I need what I call a "weekend shoe", footwear that is more stylish than sneakers, but can be worn all day.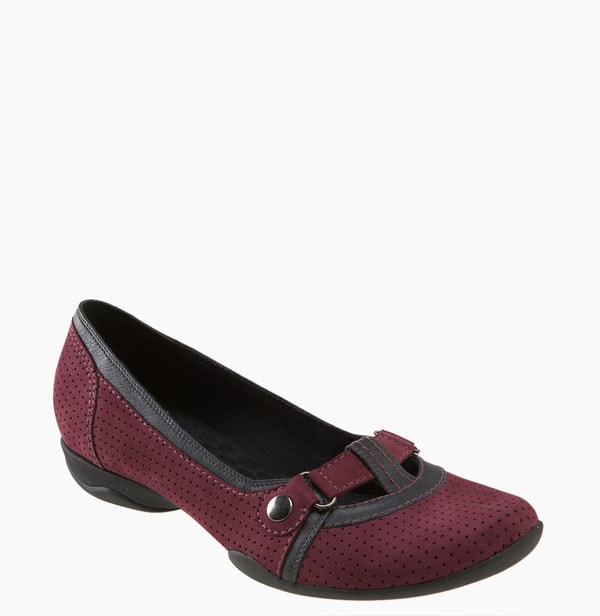 Flats seem like a likely choice, but are often more uncomfortable than heels. Flats force your foot into an unnatural position – a foot will be most comfortable with arch support and a tiny bit of lift at the heel. To have comfort while walking, it's nice to have decent structure around the foot and padding on the foot bed. Flats rarely have all of this.
Flats like this one from Privo take athletic styling and support and add it to the trendy silhouette of a flat. The perforated leather keeps your foot comfortable all day, and this styling could be worn with "no-see-um" socks, trousers socks or with bare feet and still look polished. I love the purple color – it is an unexpected neutral that can go with denim, neutrals, warm as well as cool tones. Pair with pumpkin, green, red or teal for a beautiful contrast. $84.95 at Nordstrom.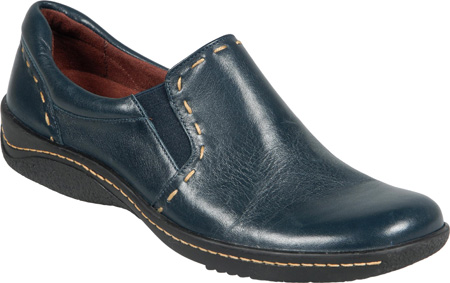 A loafer-style shoe is great with jeans and cords – easy to slip on and off, more refined than a sneaker but often just as comfortable. Having a wedge or athletic-inspired sole will make it far more wearable for long days than one that has a separate heel.
This loafer from Naturalizer has been rated often as being comfortable for walking and standing all day. The contrast stitching and athletic sole makes it a bit funky and artsy, and the blue color is another one of those unexpected neutrals. $59.98 at Macy's.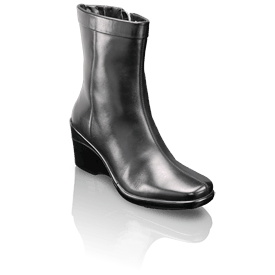 A boot is far more comfortable if it has a wedge heel. The wedge helps disperse the weight, and if the wedge is of rubber you have extra cushioning and shock absorption.
This ankle boot by Rockport is sleek, stylish but far kinder to your tootsies than a classic ankle boot. Rockport has been creating innovative and comfortable footwear for men and women since 1971 and I have always had luck finding great walking shoes from this brand. $119.95 from Endless.
Hope that helps!