This article may contain affiliate links; if you click on a shopping link and make a purchase I may receive a commission. As an Amazon Associate, I earn from qualifying purchases.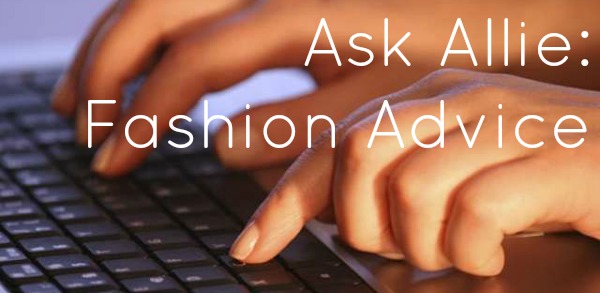 I must admit, life has been pretty hectic lately and your comments and emails have been piling up. Here's a post to address some of the questions I have received. If I haven't gotten back to you yet, hang tight!

I have professional head shots being done at work soon. What should I wear?! (I'm 31 and work in a 'typical' office setting. Our normal attire is business casual).
A solid color that is not white, black, or red. A neckline that is flattering but a top that is also flattering to your shoulders. A v-neck sweater may be nice for some, but if you have curves you may find a more structured jacket with a scoop neck top, or a collared shirt may elongate the neck and draw attention from your bust and shoulders.
I've received my first piece of Stella & Dot jewelry; I want to create a small display of my fashion jewelry – like seen on Pinterest – but I read on the little note enclosed with my necklace that I should keep it in its own little baggie. How do you store your jewelry?
I have a jewelry armoire with velvet-lined drawers, but my favorite costume pieces (Stella and Dot as well as my other pricier higher-quality pieces) I store in the armoire in plastic baggies. Air will cause costume jewelry to tarnish. While those pretty displays on Pinterest will look nice, they aren't very kind to your accessories in the long run.
I am a plus size knitter and have been looking at patterns for beautiful shawls and am currently working on a semicircular lace shawl. But, I have no idea how to incorporate a shawl into my wardrobe. Can you provide some suggestions?
That sounds so pretty! I'd say make it your signature style for a shawl can look great with most anything. I'm imagining it as some wear scarves or pashminas – just wear over your knit tops and pants or dresses. Keep other accessories to a minimum – maybe bracelets but low on necklaces and earrings so the shawl becomes the focal point. Also consider wearing it over your coat as an accent!
I was wondering if you might have some tips on nursing tops. My daughter is two months old and I'm starting to get out of the house more, which means breastfeeding in places other than my bedroom. It's not great to hike up my shirt in public, not least because it's cold! Everyone suggests button-down shirts, but the ones I already have won't close over my newly-larger chest and I don't want to have to buy a whole bunch more.
I nursed for two and a half years and hardly owned a single nursing top and never wore a button-front shirt. I swore by wrap styles, be they surplice neckline tops, wrap tops, or wrap dresses. Matte jersey or another stretchy fabric is best so you can just slide that one part of the bodice over and keep the rest of yourself covered. I had a few camisoles I cut short (and a few Second Base camis) that I would wear when I needed more cleavage coverage – I would slide the part of the top to the side, pull up the cami, and still be covered, warm, and it was easy to rearrange everything back in place. By steering clear of traditional nursing tops, you'll be likely to wear the piece after your finish breastfeeding, and be able to find such pieces at great sale prices at most any retailer!
I'm going to a country concert in Texas. I bought these gorgeous brown cowboy boots; they are between a tan and a dark brown. I also have a gorgeous curve hugging gray dress with a black sash that would be perfect for the venue. Can I pair the two together with even though there is a black belt and brown boots? Or should I just go ahead and put a brown belt on to go with the boots?
I say yes, there's no need to have the brown belt. While it used to be passé to mix brown and black, now it's the norm and seen on many a celebrity. By the dress being gray and not a strong color like a primary or white it makes the brown boots even better of a pairing. Not only that, cowboy boots are a neutral (at least I think so). They are like a cowboy hat – they can be paired with most anything and look good.
I'm 25 years old and 5'8" tall with very long, slim legs (I always need to order my pants in talls). I also do not have much in the hips. However, I am a little thicker in the middle (about size 14ish). Finding pants that fit is awful. If they fit in the waist, they are baggy and ridiculous looking in the thighs and hips. If they fit in the legs, they are disgustingly tight. I like my pants to hit a little higher (no butt cracks allowed!), but not creeping into mom/grandma territory. Do you happen to have any suggestions on where I could find some pants (primarily denim, and chinos) that might work?
Try Jag Jeans. They sell up to a 34" inseam on sites like Zappos and I have found that they have a good inseam, a straight torso, and reasonable leg openings. A slimmer style like their narrow bootcut may be better for your legs. Jag Jeans are already more reasonably-priced, but they often go on sale at Amazon, Nordstrom, and Zappos so you can get some pretty fab deals on them. Do note they run a bit big, so if you're between sizes you may want to size down.
Also consider Junior's brands of jeans. While you may first think that they all will have incredibly low waists, not all do (and the trend for higher waists is happening FINALLY!). A junior fit will have less allowance in the hips and thighs and usually has a slimmer leg opening. Alloy has an amazing selection of jean styles and washes and have inseams up to 37".
From readers, I have heard good things about Victoria's Secret and Old Navy for tall jeans that aren't also curvy. Old Navy has a more extensive selection of inseams online though you can still return anything that doesn't work quite right in their stores.
Can an A-line skirt/dress + boots be considered a classic (winter) look? The older I get, the less I want to fuss with wardrobe choices and my ideal wardrobe would be a highly versatile minimal capsule, but I do not want to look hopelessly passé or "not having a clue".
That actually sounds quite classic and chic. There are some silhouettes and combinations that stand the test of time, and an a-line skirt with tall boots is one of them. With a turtleneck sweater, a striped boatneck and scarf, a fitted blazer and shell… I love that classic look and think it looks great now and will look great years from now. The only thing to watch is skirt lengths and minor details over the years – it is possible to maintain this look for years, but stay tuned so your skirt isn't a dowdy length, you have too many details that can go out of fashion (pleats, patch pockets, double slits, etc.), or you're wearing too many colors or fabrics that were hot once and may not be now (various shades of green, red, camel, brown – true neutrals and jewel tones are less likely to go out of fashion).
Follow Me | Twitter | Facebook