This article may contain affiliate links; if you click on a shopping link and make a purchase I may receive a commission. As an Amazon Associate, I earn from qualifying purchases. 
I love the boho style, but I'm a 35-year-old teacher and want to implement this in my work-wear. I already do a lot of maxi skirts and loose cardigans (I have even managed to dress up my tie-dye skirts that I wore to music festivals this summer!). Any other suggestions?
As a fellow festie and boho style lover, I totally get the vibe you're trying to get. And I respect that you're wishing to make your boho style be appropriate for your career. Boho fashion gets a bad rap for being unprofessional, but I feel with careful styling it can work in a school setting without having you look like a leftover hippie. A few tips: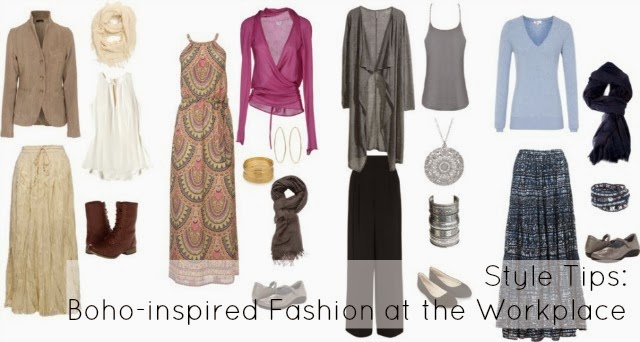 Example outfits to show how you can balance boho style with a workplace look.
With the first ensemble, a drapey chiffon tank and broomstick skirt are tempered with a structured knit blazer. Granny boots and a fringy infinity scarf keep the look boho without being extreme.
The second look provides an example on how to make printed maxi dresses work for the office; a wrap sweater in one of the brighter colors will tone down the print. Gold jewelry and a pashmina at the throat draw attention away from the dress and pull together the office-friendly boho ensemble.
The third ensemble is likely something you already wear; choosing a monochromatic look makes the outfit feel more professional and polished. '
The final ensemble is another example of how to incorporate a boho skirt and also temper a print with solids.
Be Subtle with Color. A maxi skirt, flowing cardigan, and tunic can look Mrs. Frizzle if you're not careful with color choice. Very bright colors can look cartoonish, while all black can appear goth. Soft neutrals (gray, taupe, ivory, navy, olive) are safe bets and give a boho vibe while making drapey fabrics seem lighter. A monochromatic look (all shades of blue, all shades of teal) is a tasteful way to incorporate bolder hues.
Condition Matters. When you wear a boho look, it's imperative that each piece is in excellent condition. With drapey fabrics and asymmetrical hemlines, it's already easy to look sloppy; any frayed edge or worn spot will be even more obvious with such a personal style. Keep the weathered skirts for the festivals, and only wear the best condition pieces to work.
Balance with Accessories. A boho look is more acceptable in the workplace if you accessorize with care. Keep the Birkenstoks and weathered cowboy boots at home, and invest in well-structured leather flats, booties, and tall boots. A pair of gray suede tall boots will make your personal style more Stevie Nicks than wookie; ankle booties are a hot trend this season and they look fantastic with skirts of every length as well as tucked under looser pants. Stick to neutrals that complement your wardrobe – brown, gray, black, tan. Be sure they are polished and reheeled when necessary to maintain a refined look.
Along those lines, be careful with accessories. Along with the Birks, leave your jingly bracelets and fringy scarves at home if you're wearing maxi skirts and loose cardigans. Balance the drape with a more solid cuff bracelet or necklace, consider modern-feeling leather and metal hip belts in place of a chain, smaller earrings with a more modern feel, bold pendants in place of beaded loops. If you wish to wear the craftier accessories, pair them with simpler and more classic clothing.
Balance Drape with Structure. I love blazers and jackets because they can make most things look polished. Balance a drapey maxi dress with a fitted leather blazer, full pants and a flowing tank with a blazer (roll the sleeves for a more relaxed look), a broomstick skirt with a belted soft blazer. I have a black blazer from The Limited that I purchased almost a decade ago and wear almost weekly because it has structure yet curved edges so it looks right with maxi skirt and softer lines.
Minimize Prints. If you choose to wear a printed dress or skirt, be sure to balance it with solids so your style doesn't scream flower child. Pashminas and infinity scarves are a great way to stick to your boho roots while tempering patterns.
Follow Me | Twitter | Facebook | Instagram