This article may contain affiliate links; if you click on a shopping link and make a purchase I may receive a commission. As an Amazon Associate, I earn from qualifying purchases. 
Welcome to the latest edition of things that arrived in Allie's mail and whether or not she liked them. For reference, I am 5'3″ and vary between regular and petite sizing. I wear a size 12, occasionally 14 and usually a Large. Below I will share what I ordered or was gifted to me by a brand, note whether it was a gift, the size I got, my feelings on the item, and a few pictures to help you see details that may be missing on the brand's website.
When Universal Standard launched their petites line they sent me several pieces to review. This is one of them. This is the Forest Green color. I know many of you have been asking how this dress fits.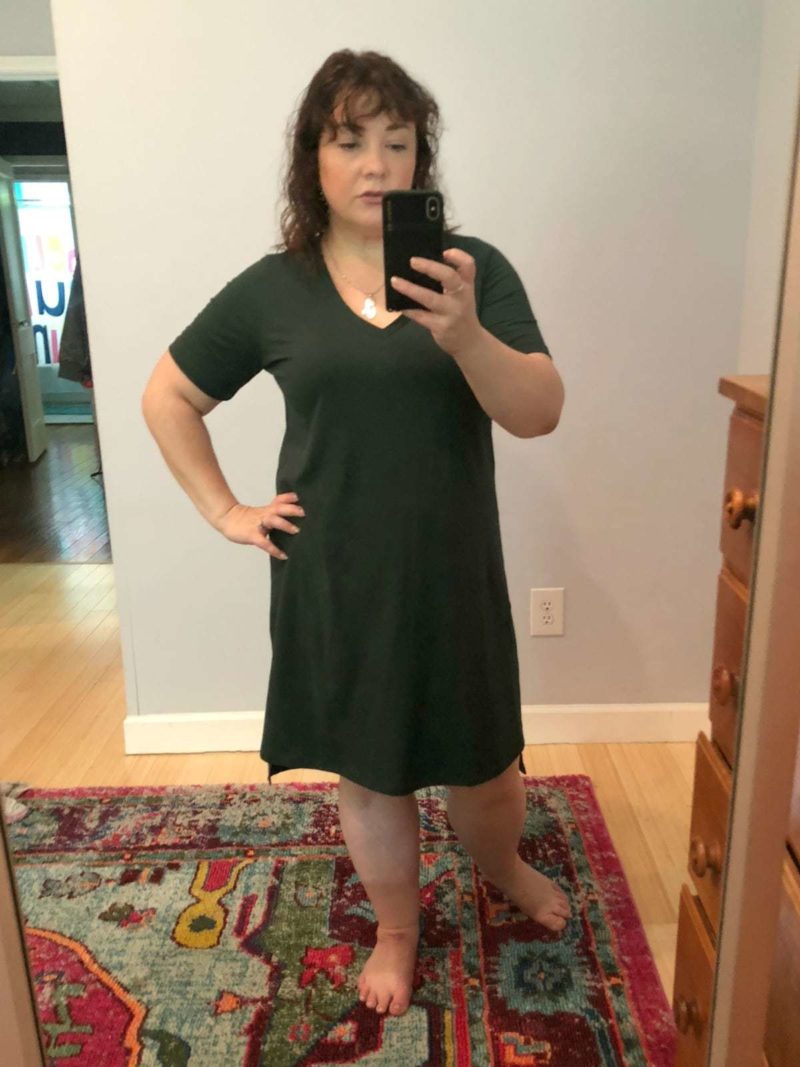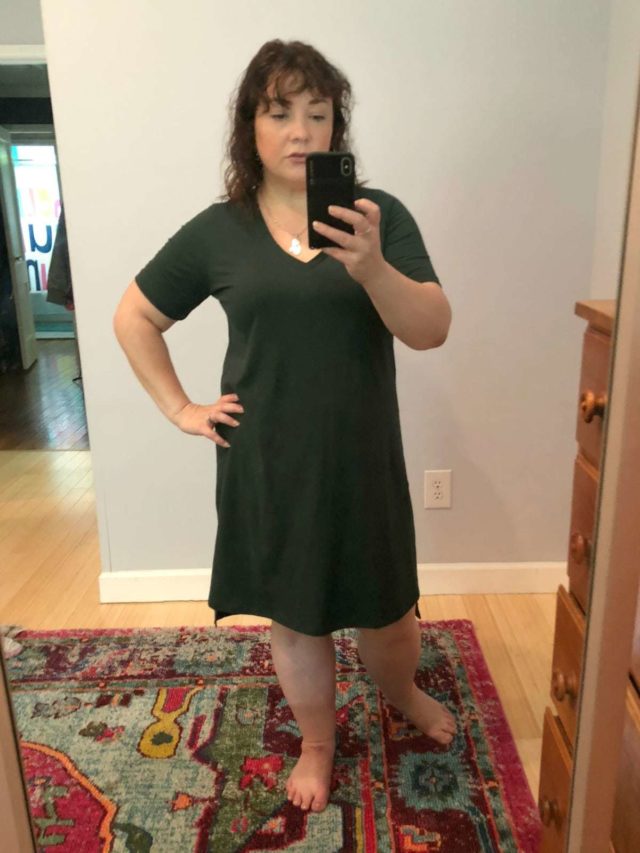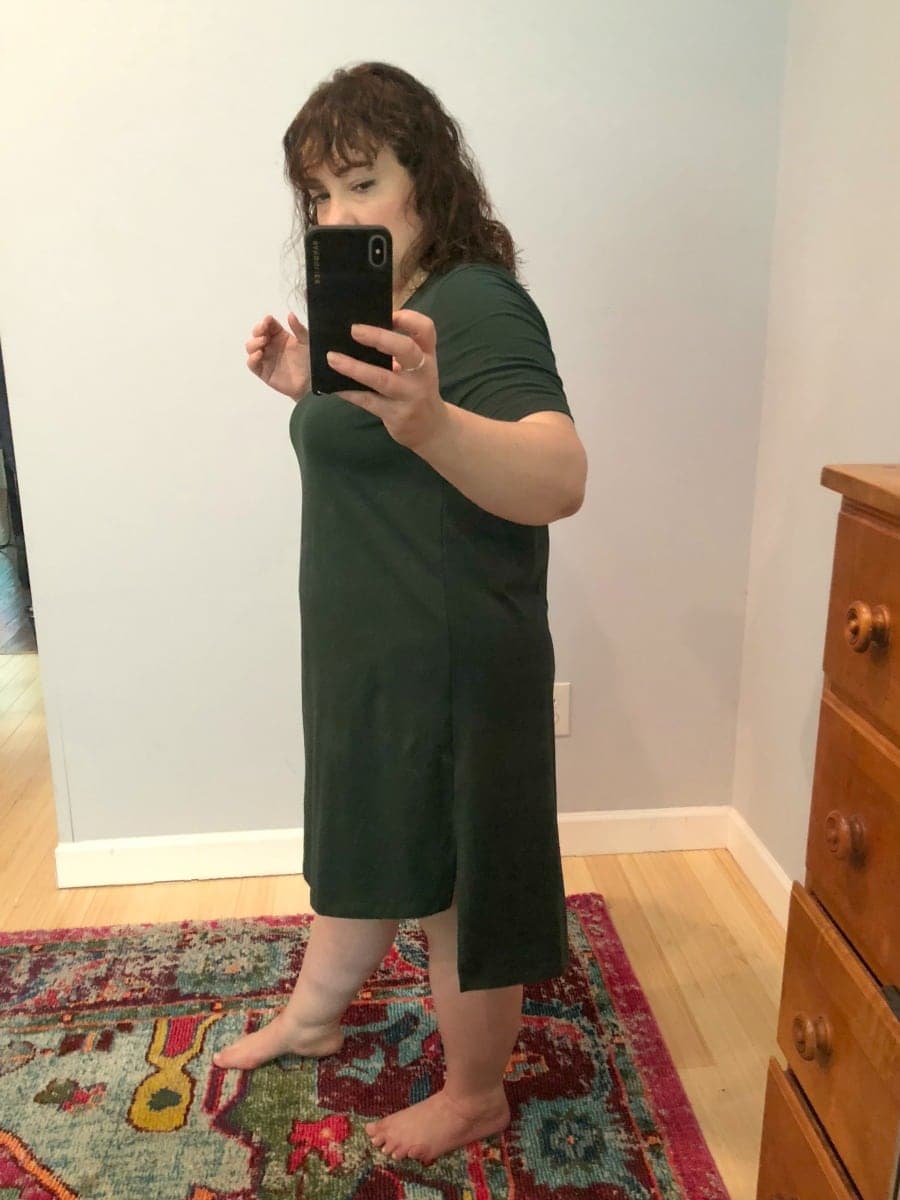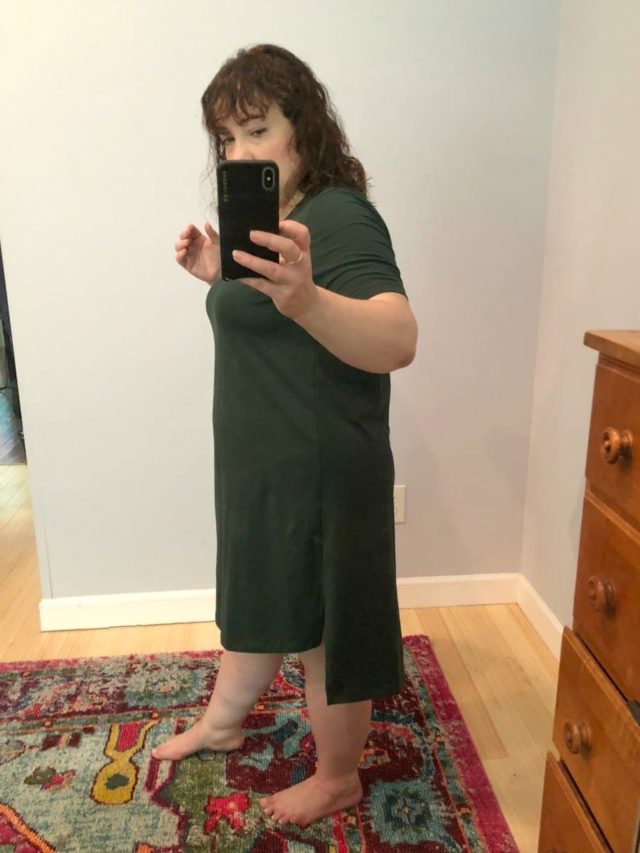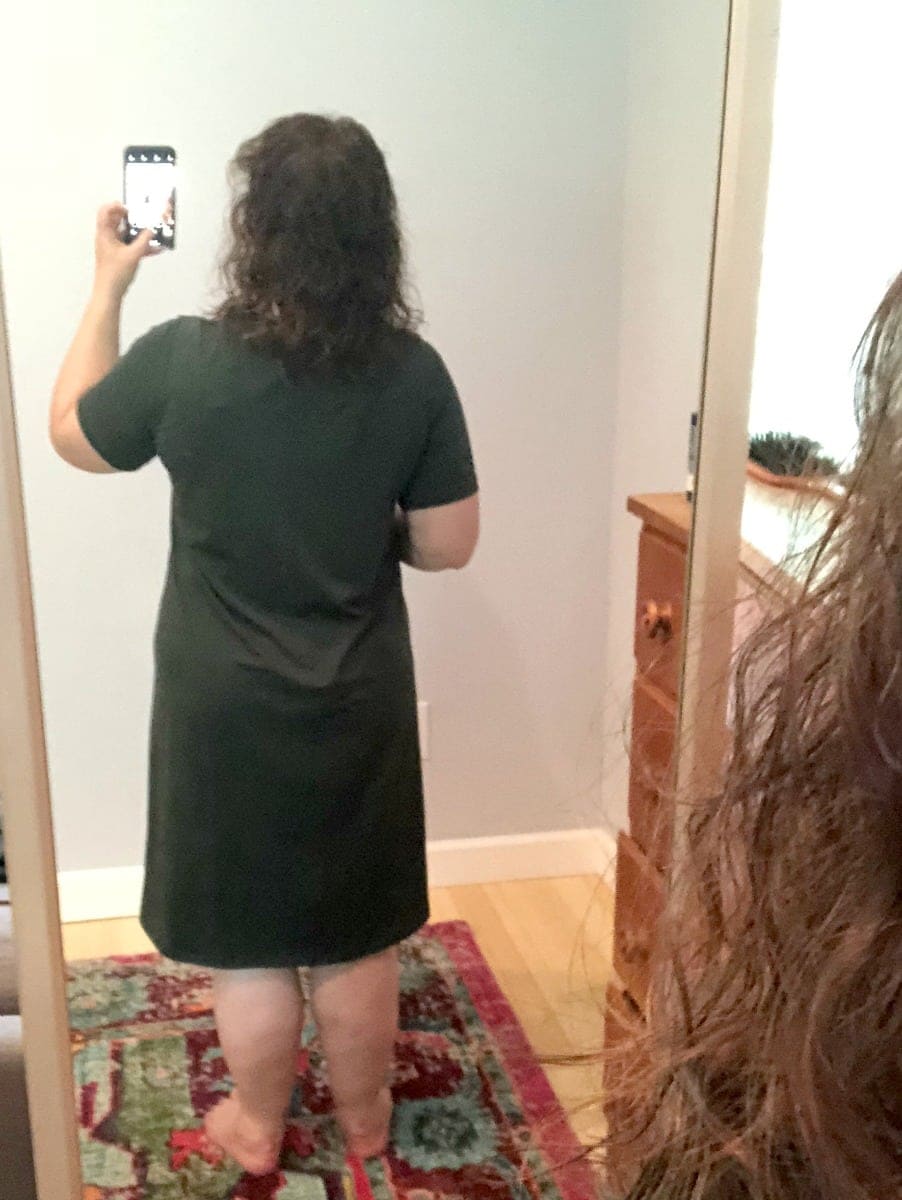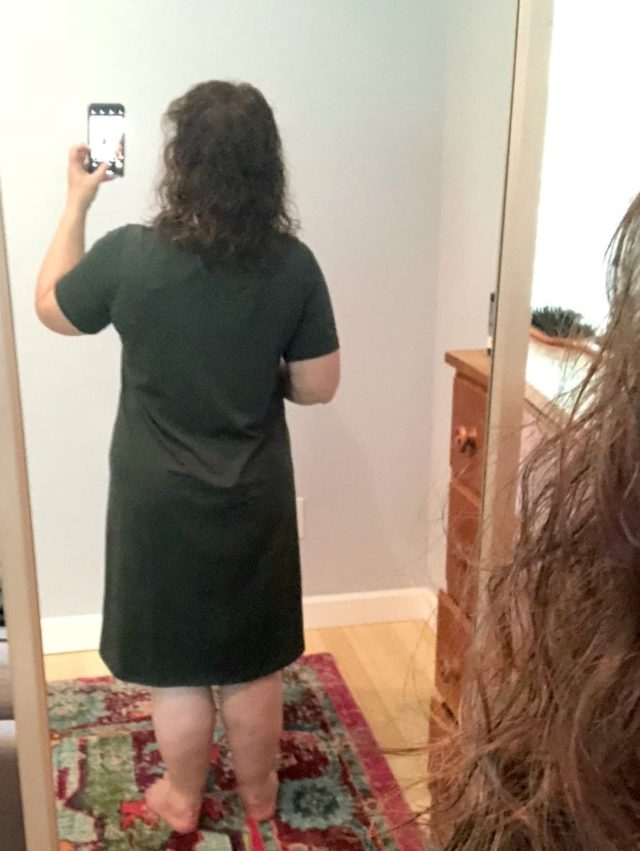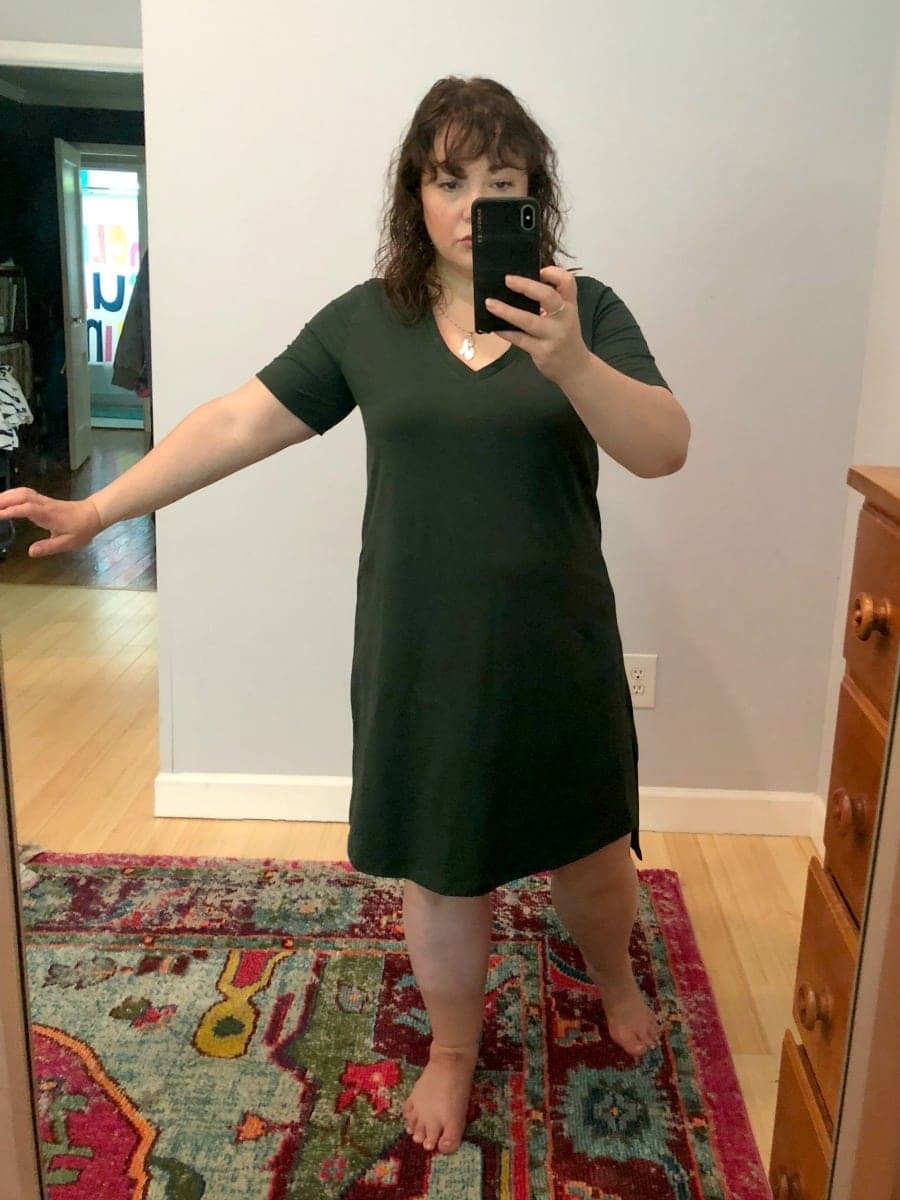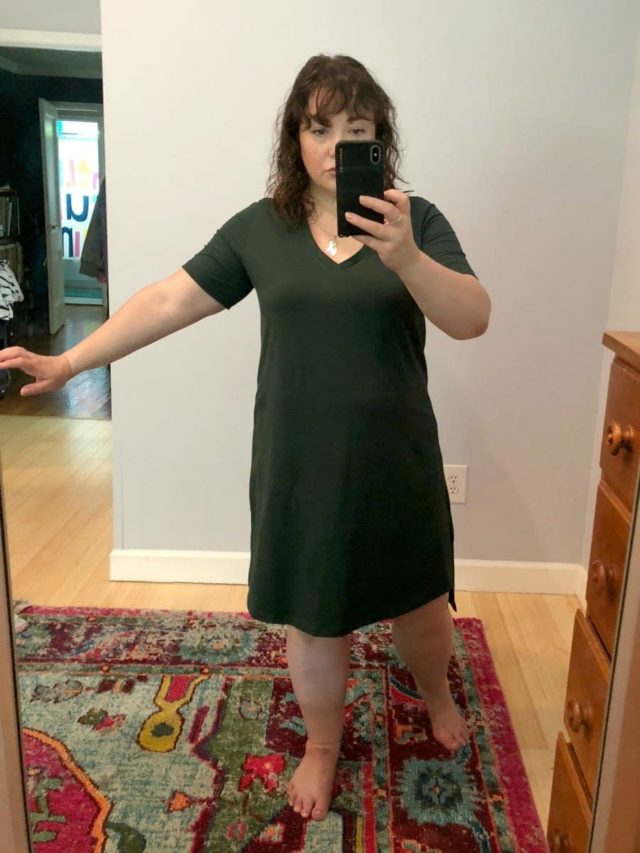 The fabric is stellar, the same refined knit of their Tee Rex shirts. The green is utterly gorgeous, hard to see since the lighting isn't the best but it's super pretty. The back of the dress is longer than the front, which is especially nice when you have curves, round rear and/or hips. I think this is a dress that would be more flattering on a larger and curvier frame. I don't think my current body is doing this dress justice and I think 2017 Summer Allie would have freaking LOVED this dress and would have worn it every week from May to September. But for 2018 Summer Allie it's… well it's not a hit but I did wear it last week with my Cole Haan sneakers and a few long necklaces so it's not a complete miss either.
I received a gift certificate from Universal Standard when I was in their petites video and I bought this top with part of it. This top does not come in petite; I figured it would be a nice alternative to a basic t-shirt this summer, creating a nice outfit with white jeans or a pair of shorts.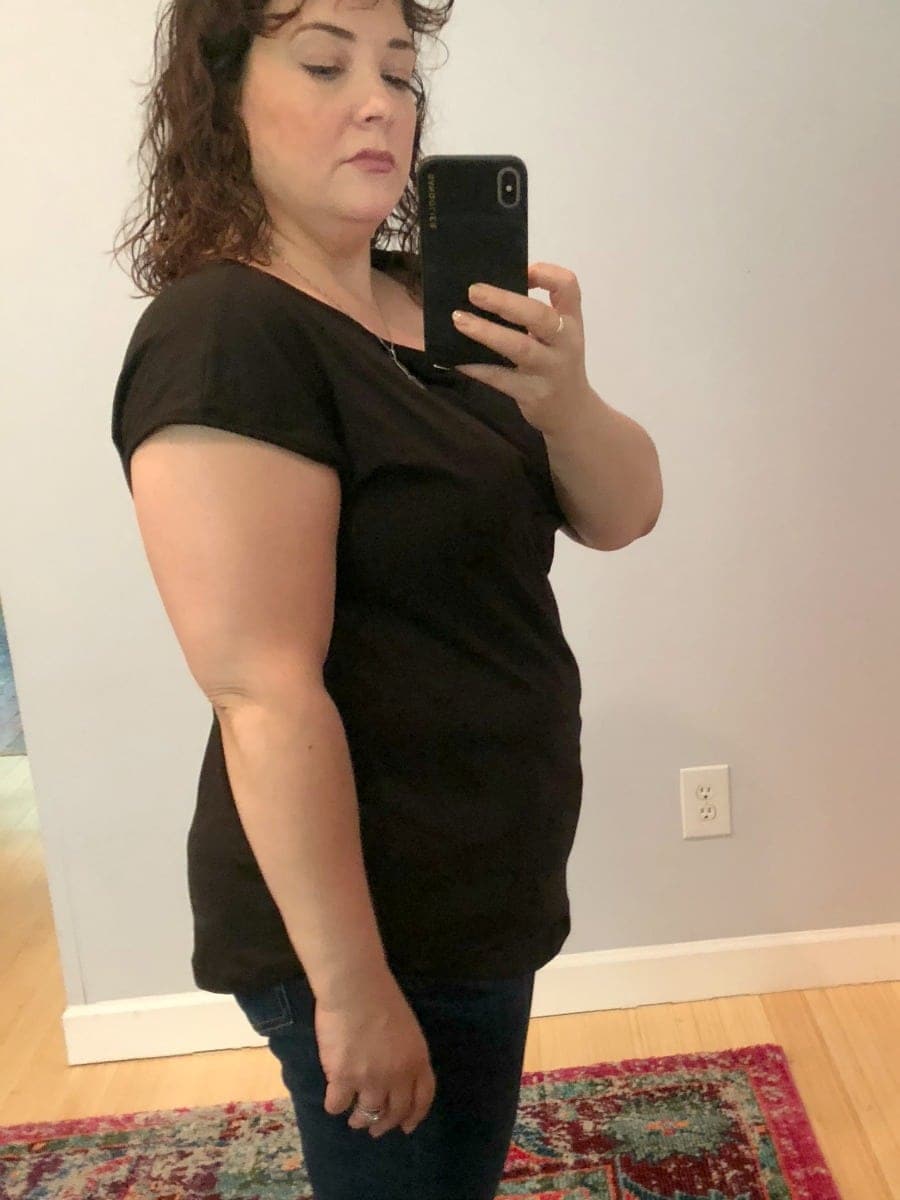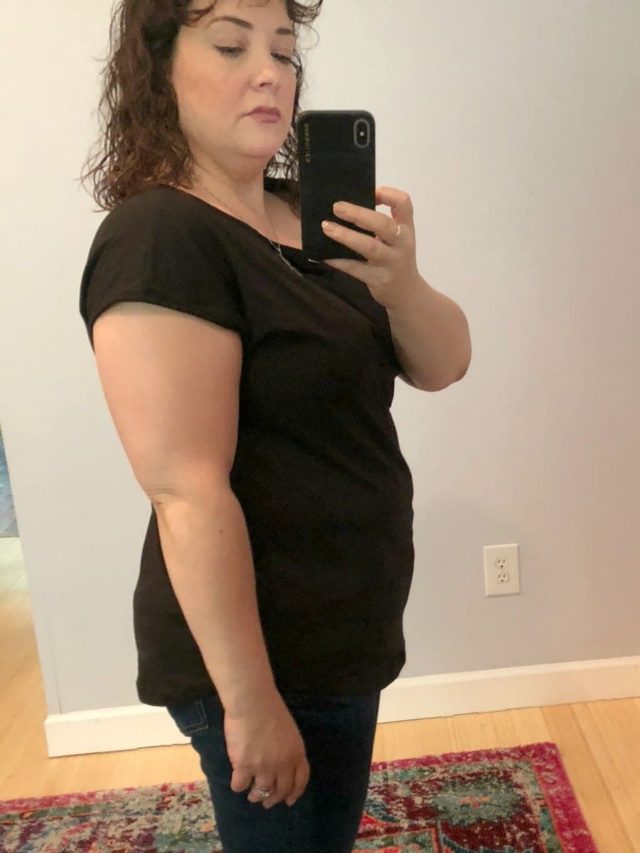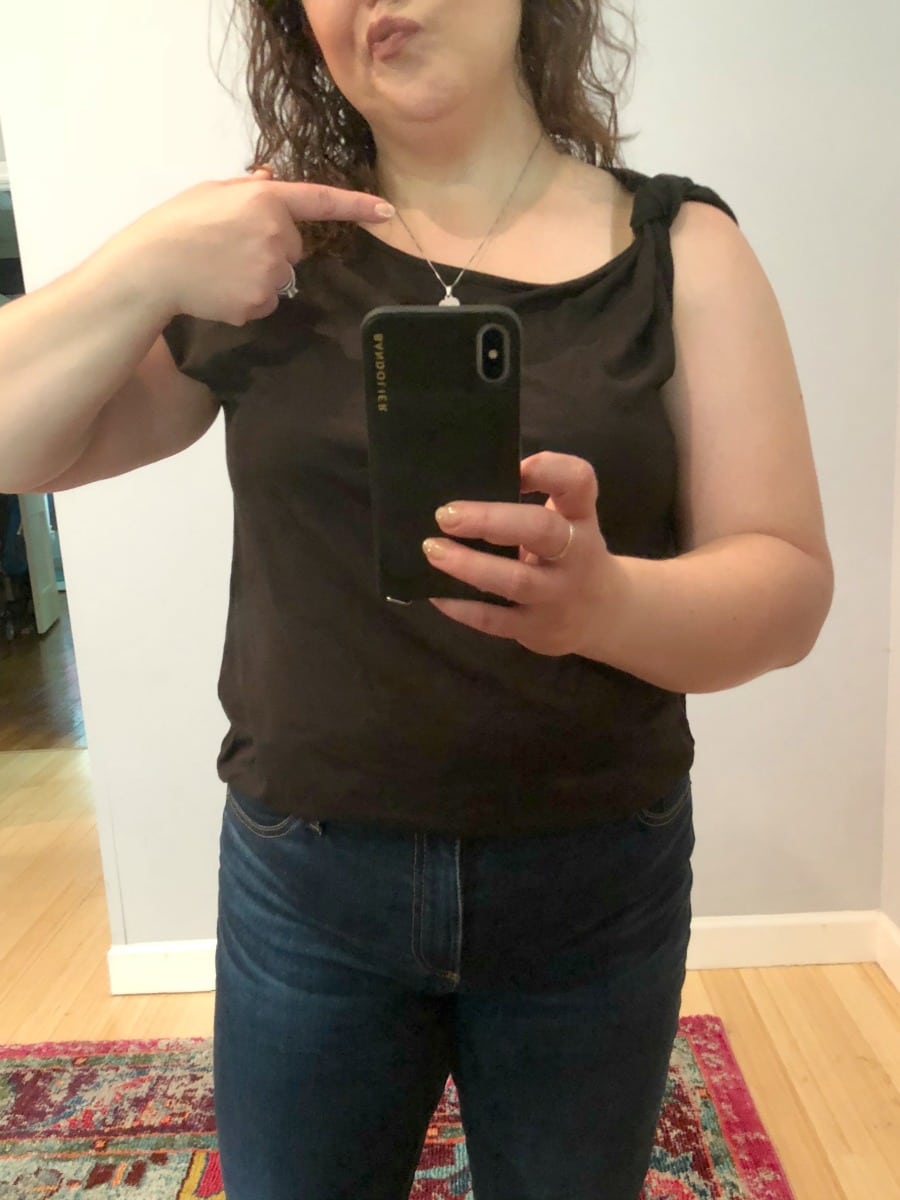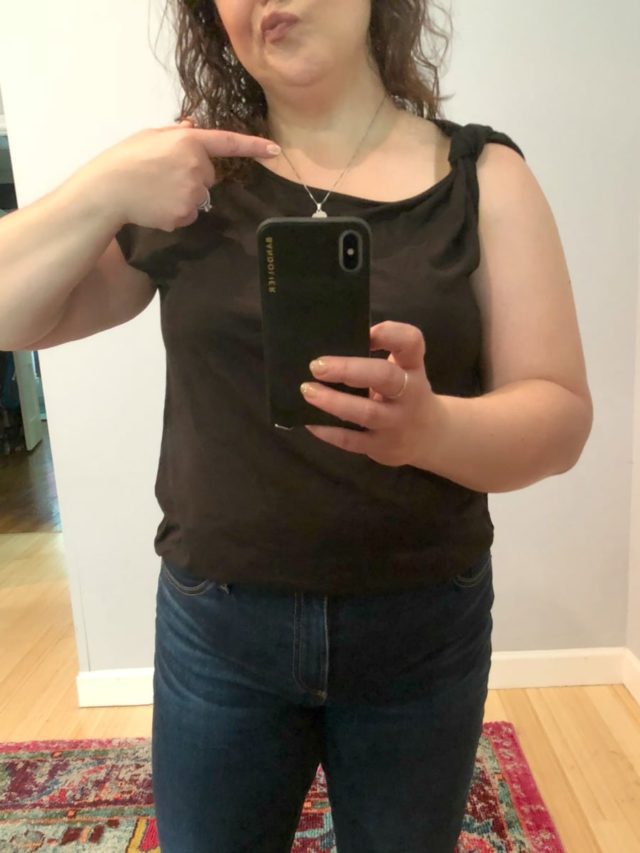 I am clearly a petite in Universal Standard. This top is too long to leave untucked with shorts, and it's a bit too roomy in the shoulders and torso. My bra strap shows. I wonder if it was petite it would lie in a better place to hide the strap. Sure, I could wear it with a strapless bra or somehow connect the bra to the t-shirt without having it show; but that's a pain and my goal was to have an easy top to throw on in a jiffy and look more polished than I would in a standard t-shirt. If you are taller, if you have a smaller bust so you have pretty delicate bra straps, or if you don't care about your bra strap showing this is a cute t-shirt. But it's not what I specifically was looking for so it's a miss.
I've bought Banana Republic shorts in the past and like the quality and fit. I was looking for a dressier short, something I could wear with a cute top and sandals for a casual summer party or running around town that was more elevated than denim. This fabric is super stretchy, doesn't wrinkle, and stays crisp.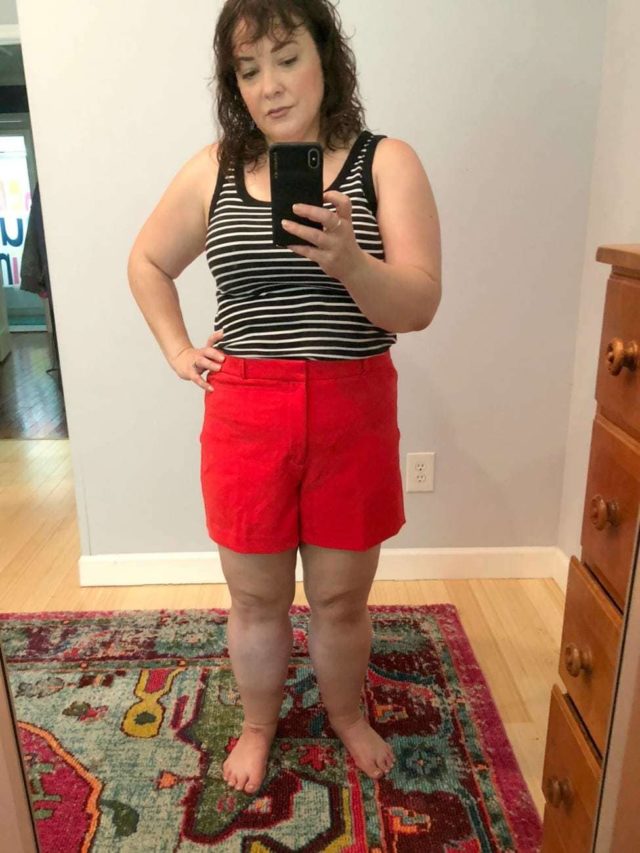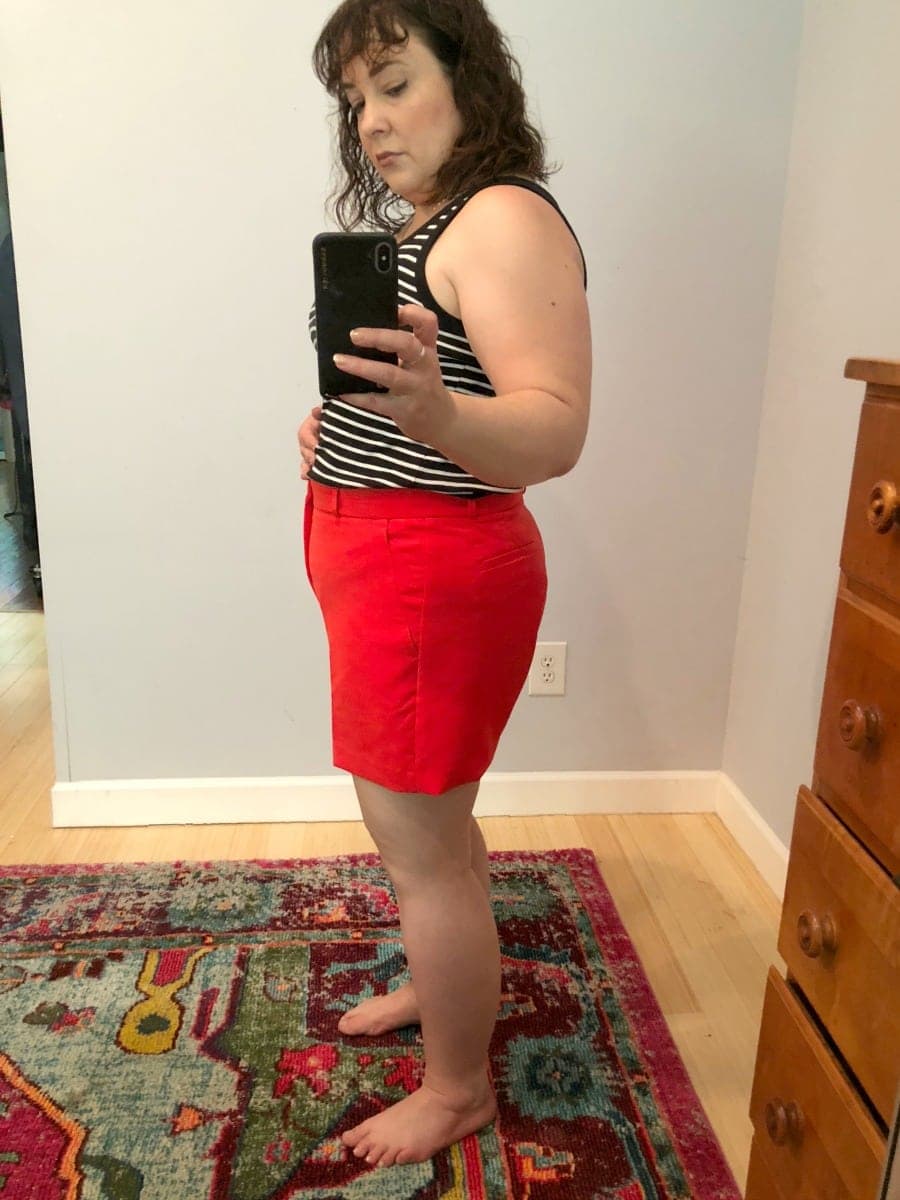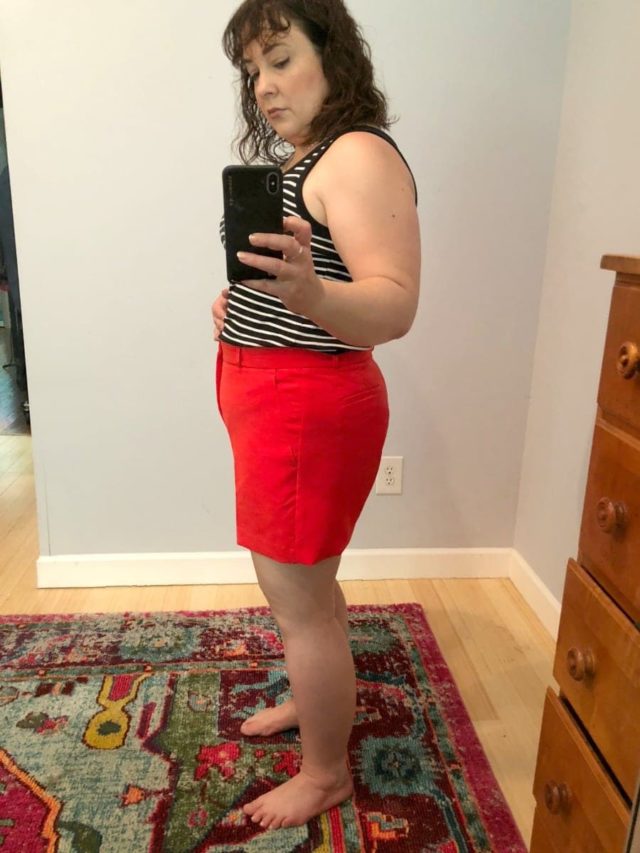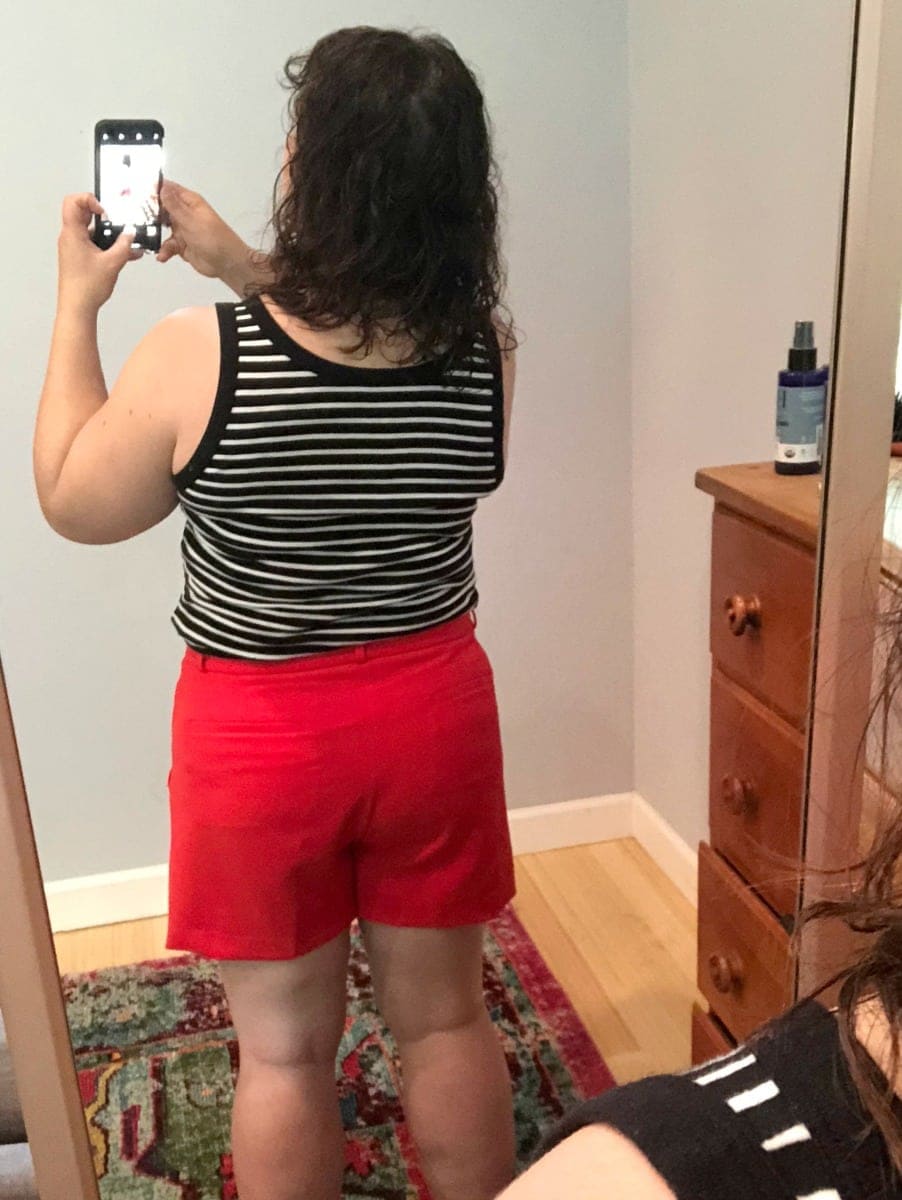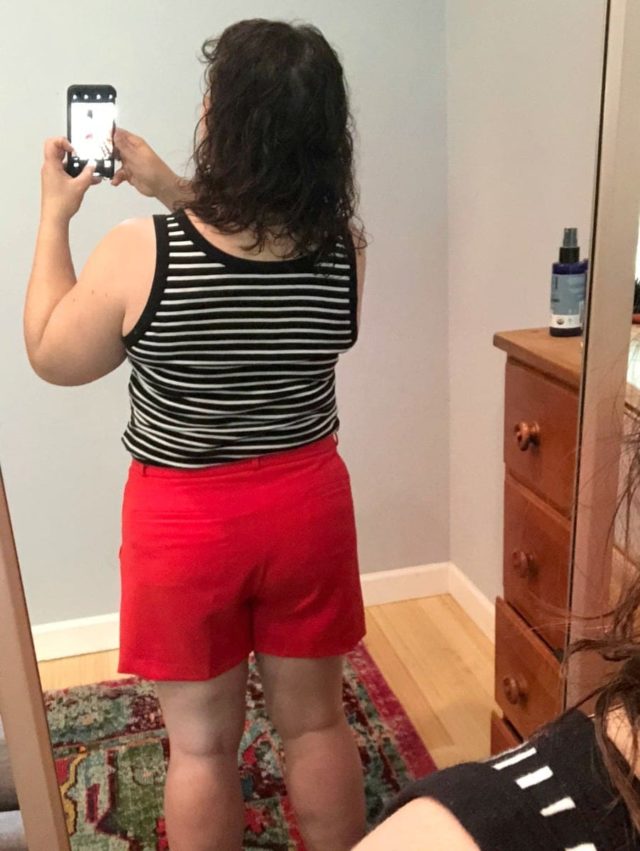 I ordered these in 12 and 14. I always recommend to size up with shorts. The 12 fit, but they FIT too well, showing all the curves, lumps and bumps. The 14 may ride a bit lower and looser, but it makes for a more flattering and comfortable short. They say they need to be dry cleaned, but I washed them on gentle in a lingerie bag, line dried, and steamed them to get out any wrinkles. Hit!
(and for those who are going to ask, the tank is from Caslon and it too is pretty great and only $19. This is a large. I also have it in white but found the white to be thinner and to not fit the same/deeper neck and long straps. This stripe tank has been washed and dried many times and holds up beautifully.).
I don't have photos of me in this dress because I sent it back as soon as I got it.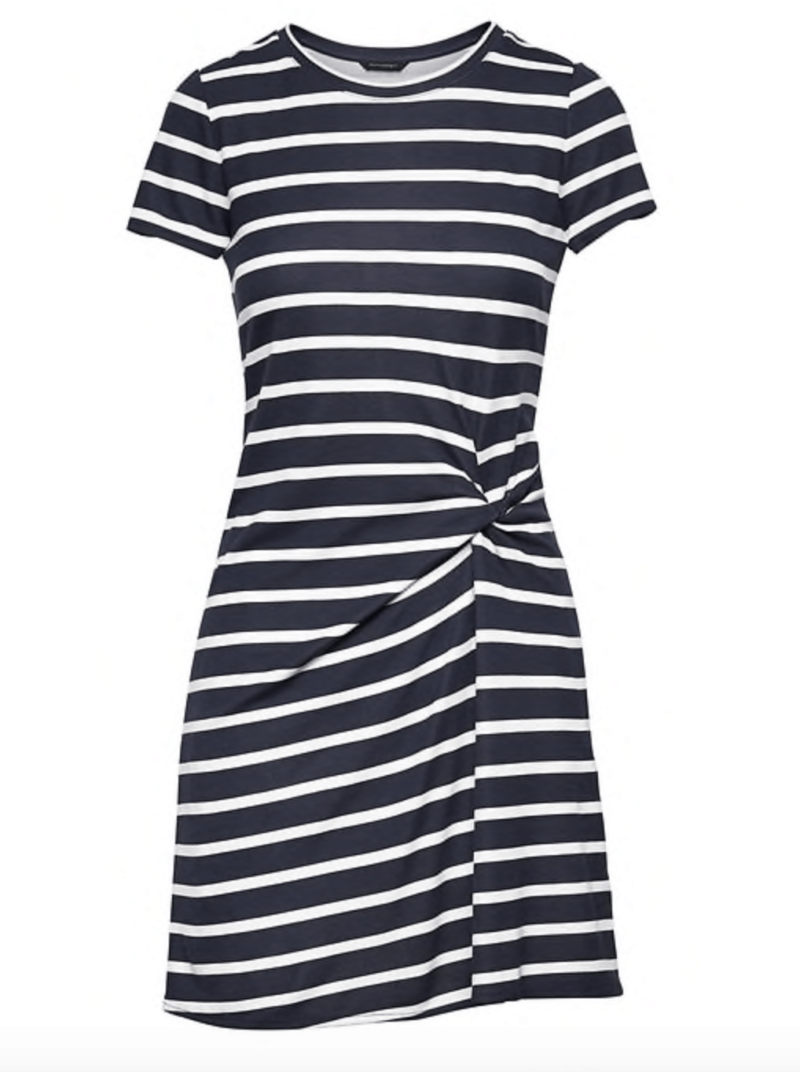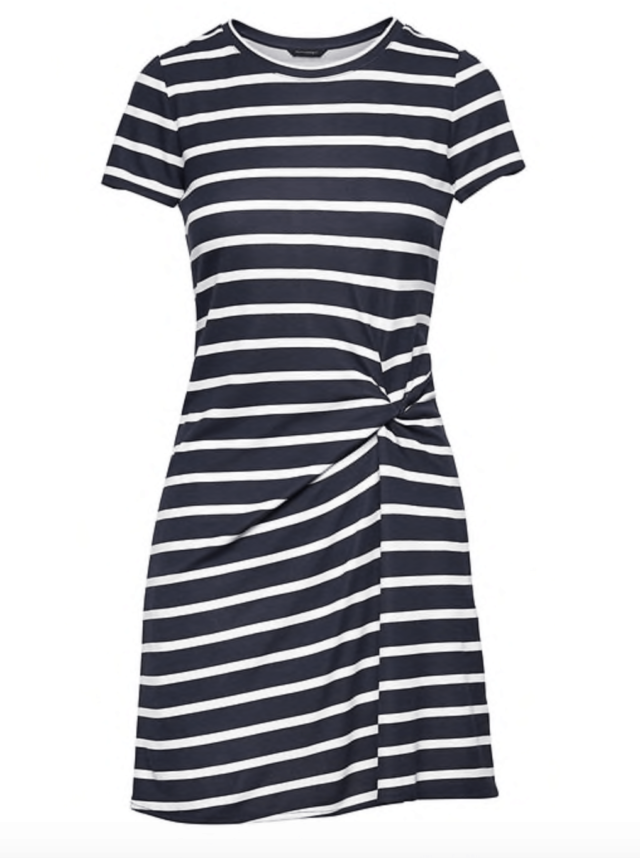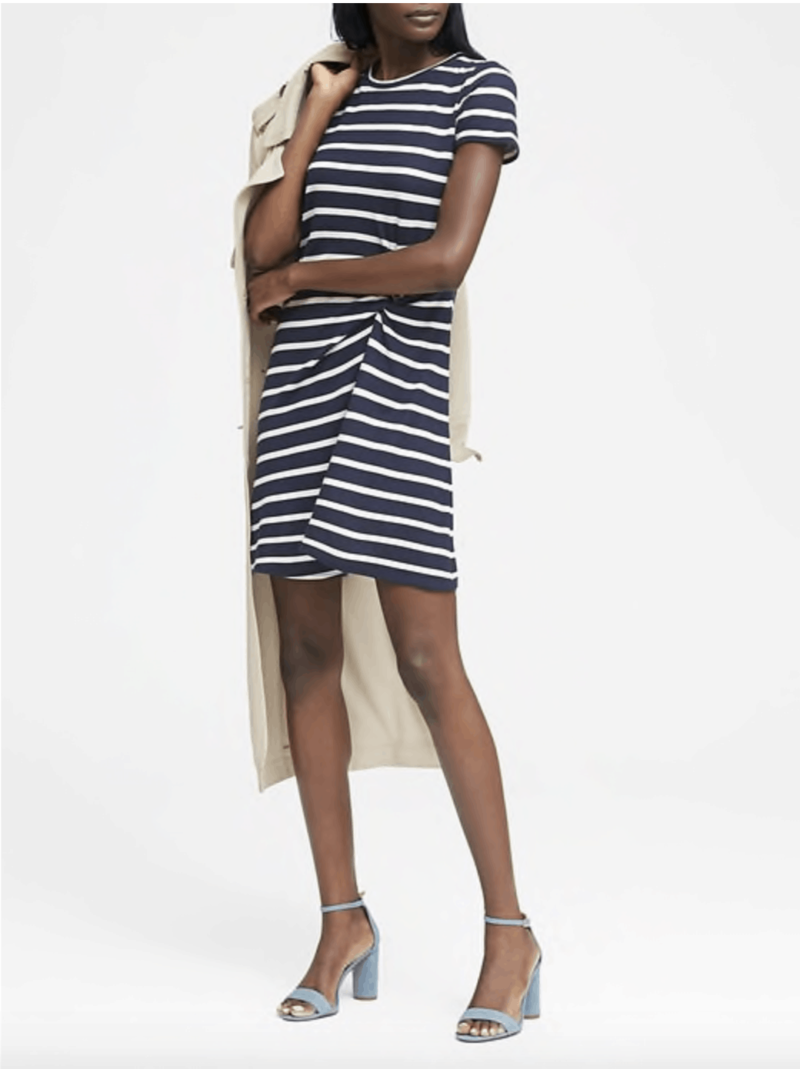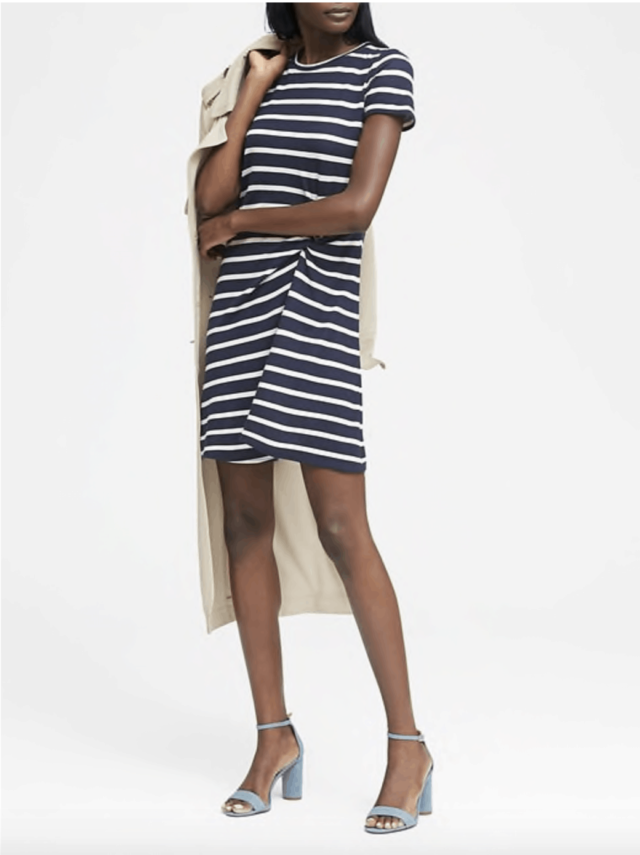 This looks like a t-shirt that has a bit of it caught in the waistband of your underwear. If you look at the video of the model walking in it, it looks like that on her too. But I ignored that thinking it looked like an easy summer dress with some flattering ruching. Nope, looks like a wardrobe malfunction. Miss.
I got these jeans when I visited the Trunk Club Clubhouse. I never tried AG Jeans before; they don't go above a 32 and they just seemed to be "skinny person" jeans to me. I was surprised that a 32 fit, and fit really really well. I would never have tried this brand or this style if it weren't for Kelsey, my Trunk Club stylist.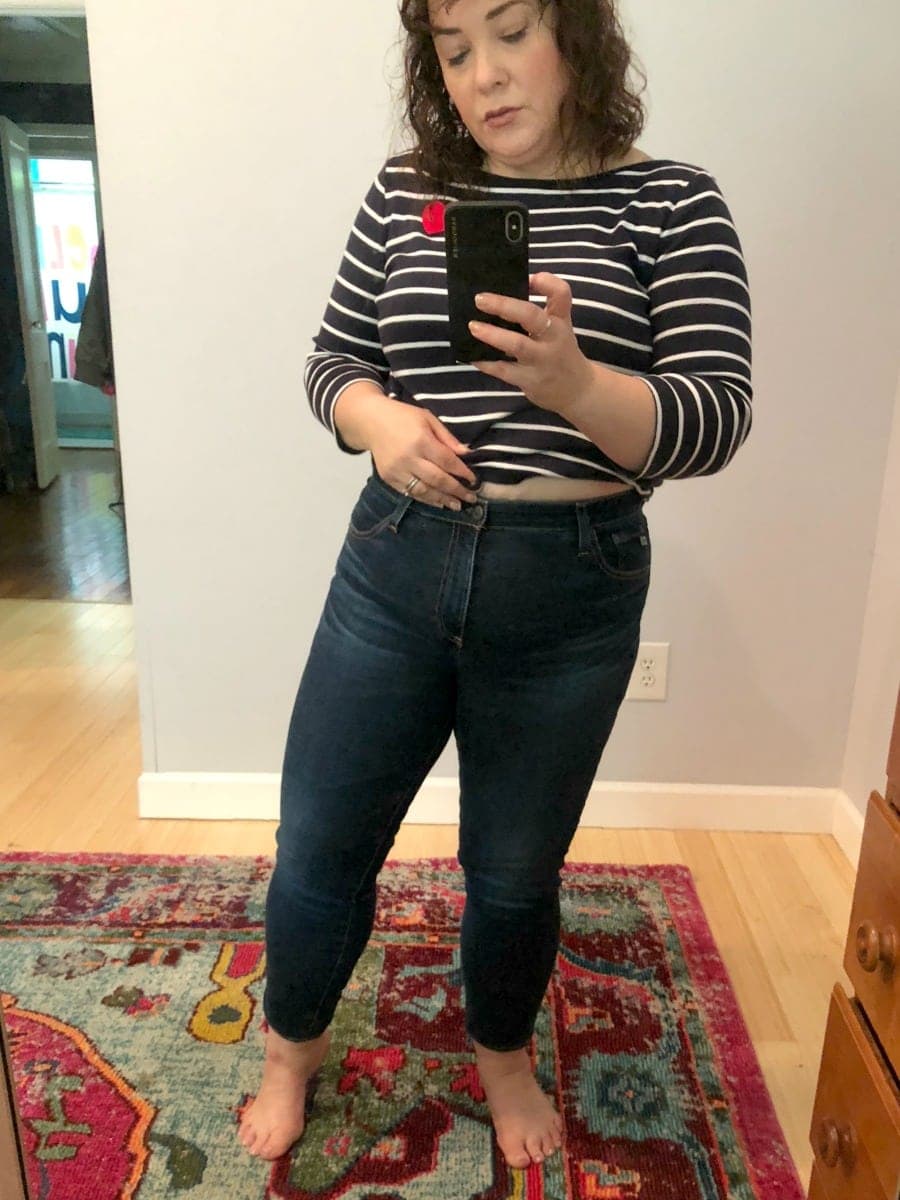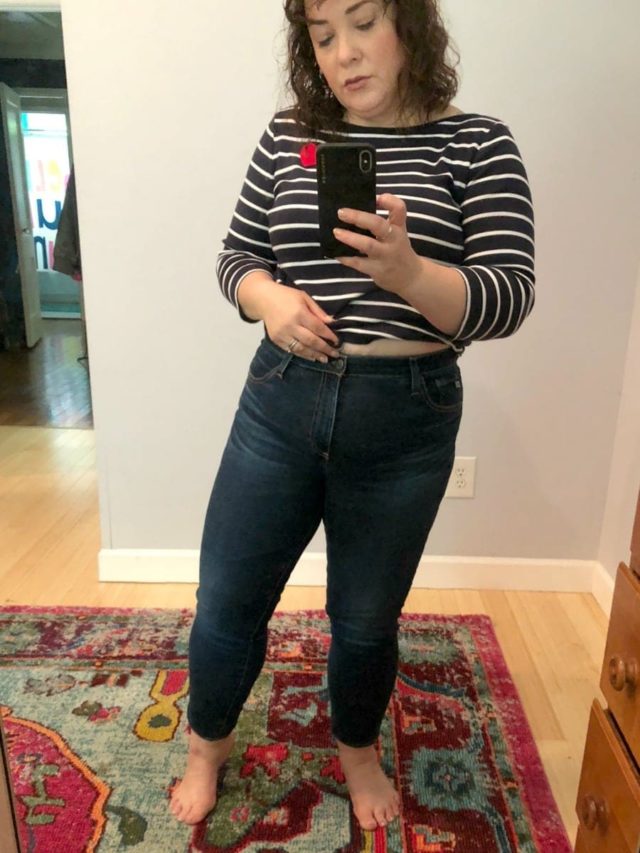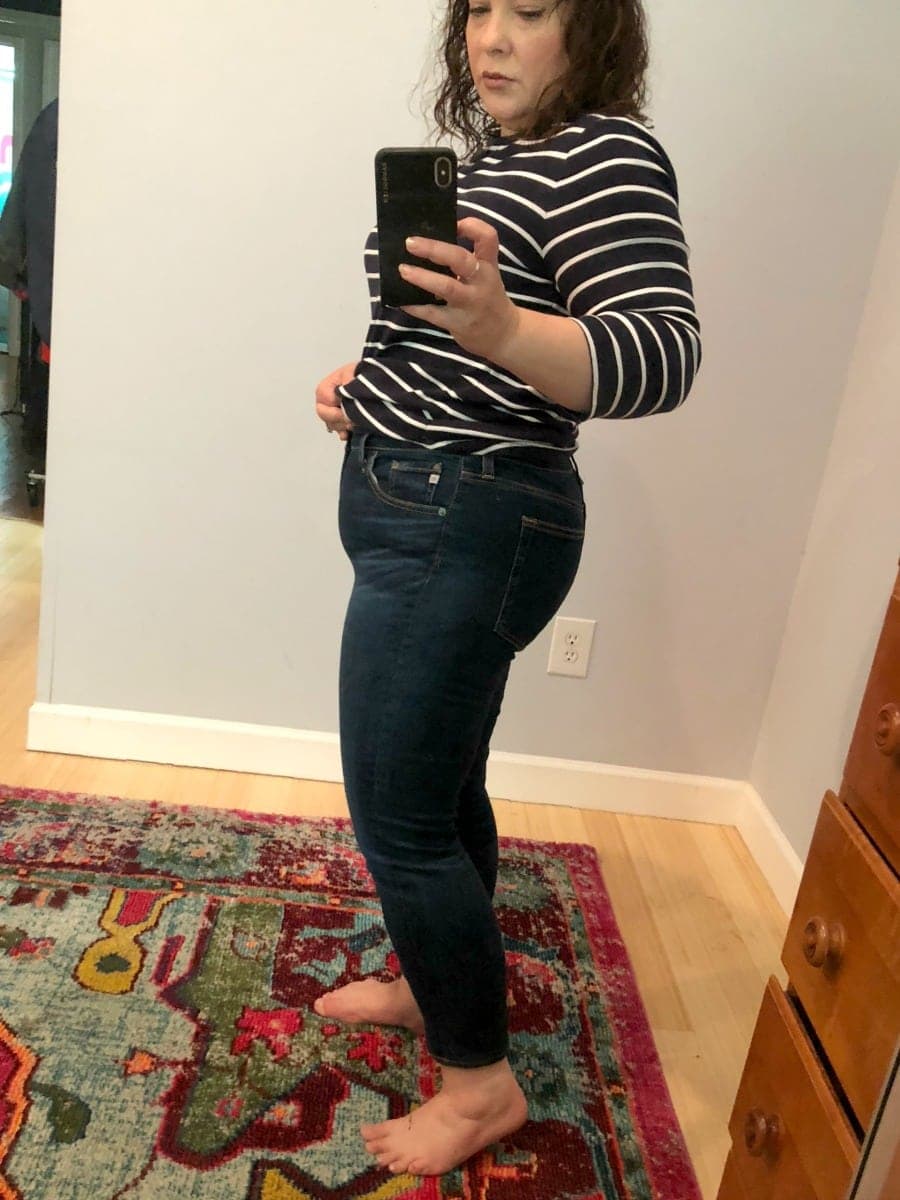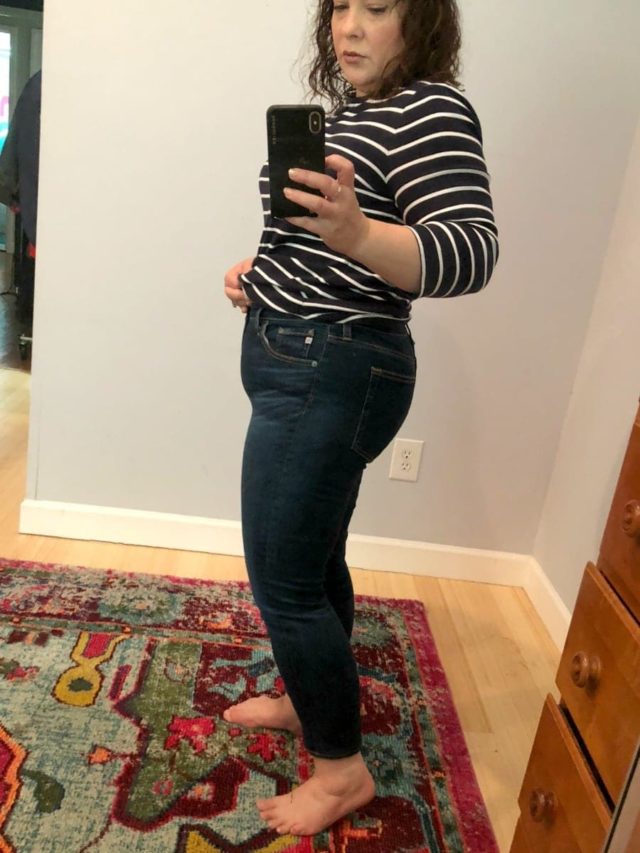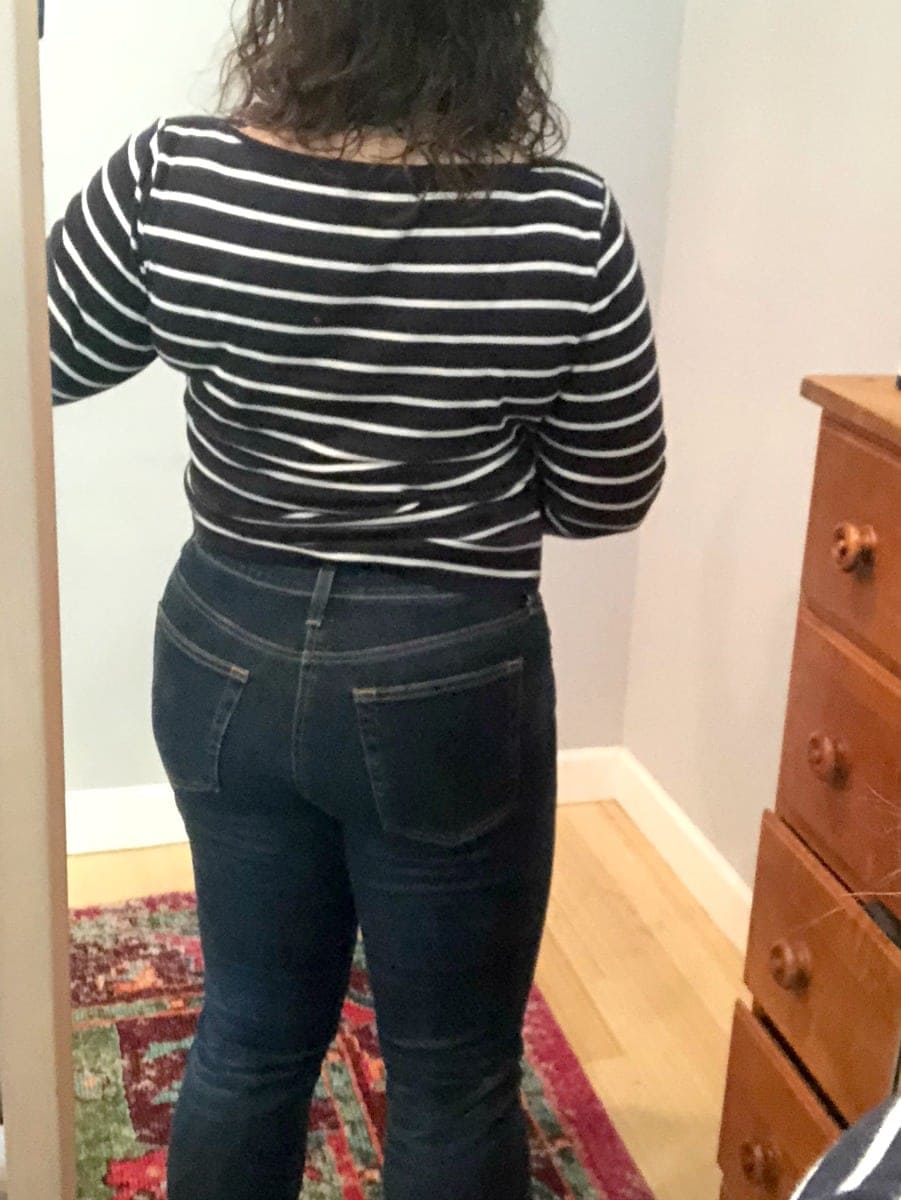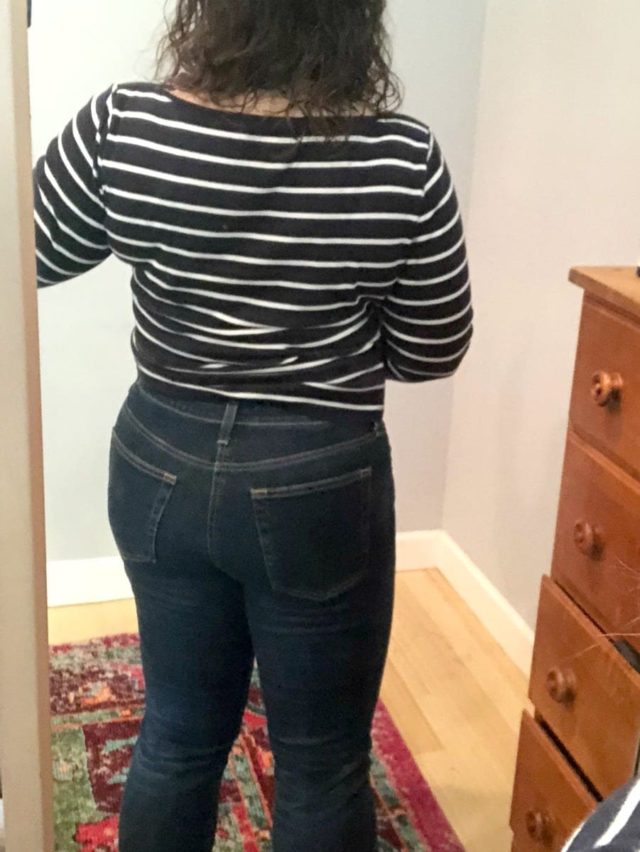 With purchases from Nordstrom and the Trunk Club Clubhouse, basic alterations are free. I had these shortened to a length that would work with sneakers and flats and they mailed them to me when ready. The denim is thick but stretchy and holds its stretch. I've worn these jeans on a plane, that's how stretchy and comfy they are. For these photos, they came straight out of the dryer. I like them so much I'm tempted to get another pair in a different color or wash. Hit!
This is another purchase I made when I visited the Trunk Club Clubhouse. Kelsey pulled this and I was ready to say no just because of the color. I don't do yellow, it's not a flattering color for me. But I tried it on a found I LOVED it! It looks great with a striped t-shirt, with a message tee, with denim, with white, with navy, with neutrals, with so many things. I like that the lining is white so it's easy to roll the sleeves. It fits well, it's not as heavy and bulky as a twill or suiting blazer yet it still can look professional.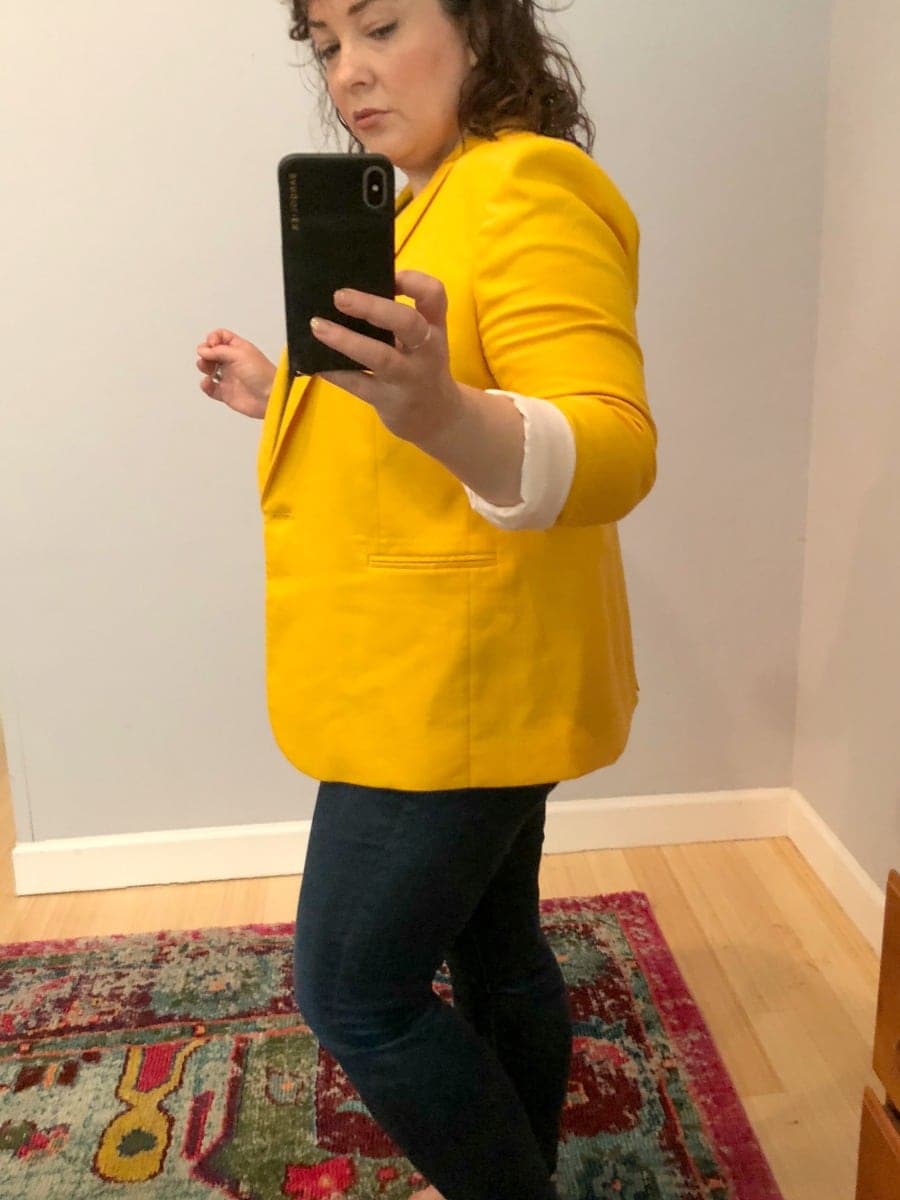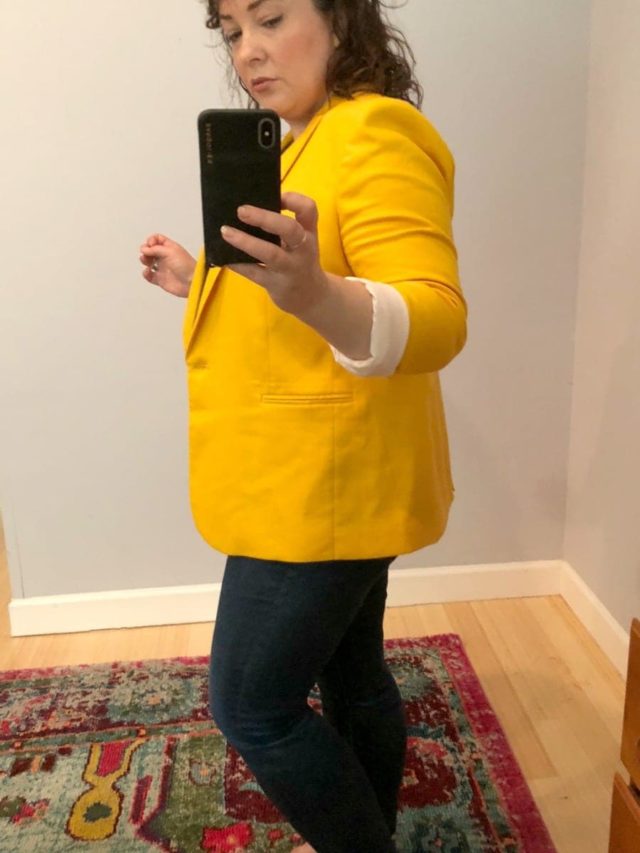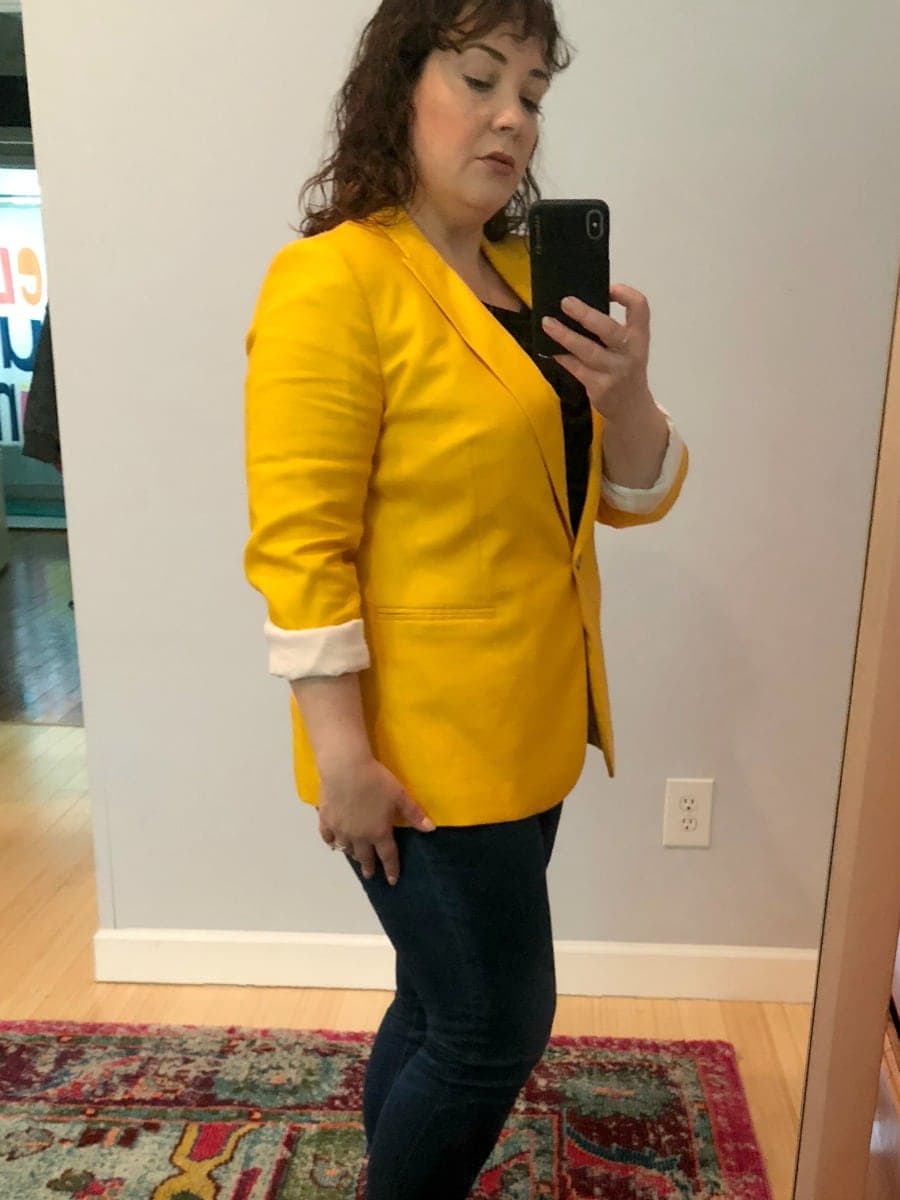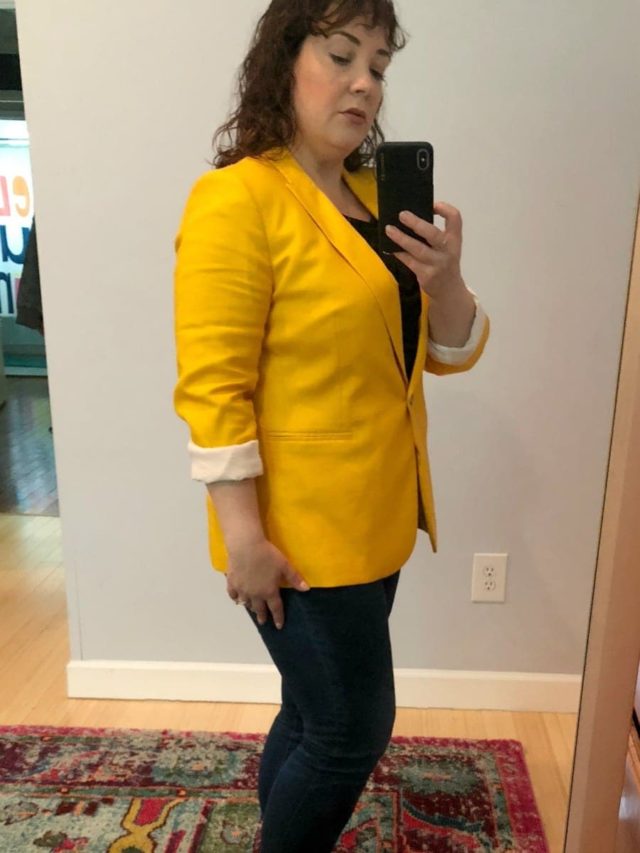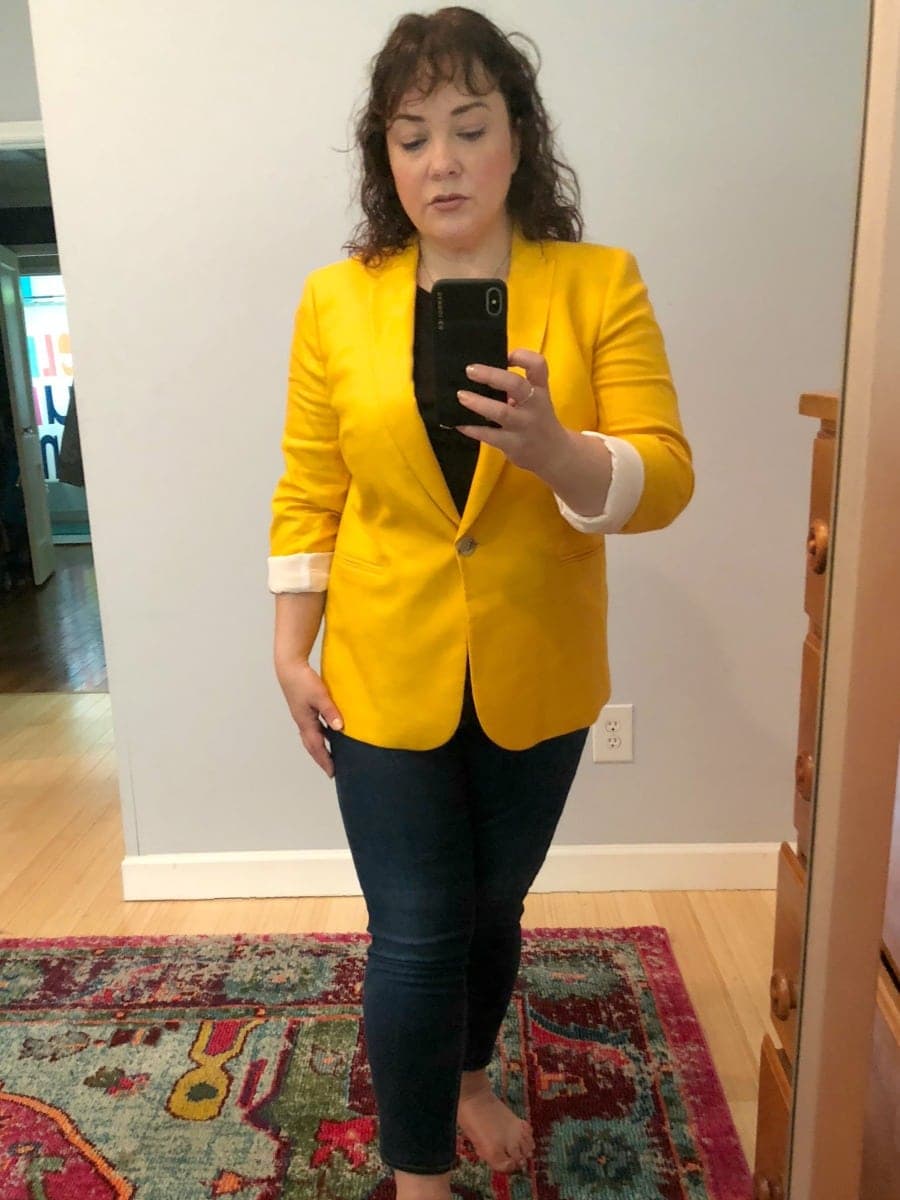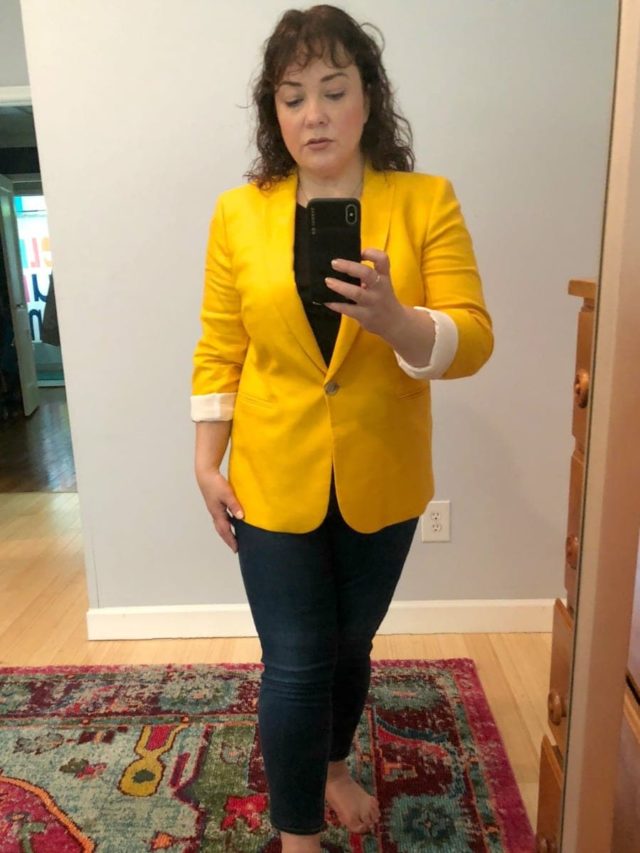 However, I have only worn it once. I got it so late in the season and since I no longer work in an office environment I have no need to sweat in a blazer right now. And I don't know what shape my body will be or what my personal style will be like when the temperatures cool so I sort of regret this purchase. So the piece is a hit but the timing is a miss.
I've already worn this striped tee on the blog and if you follow me on Instagram Stories you've seen it several times. So clearly it's a hit but I never gave it a proper review. Also every time I wear it someone asks where I got it.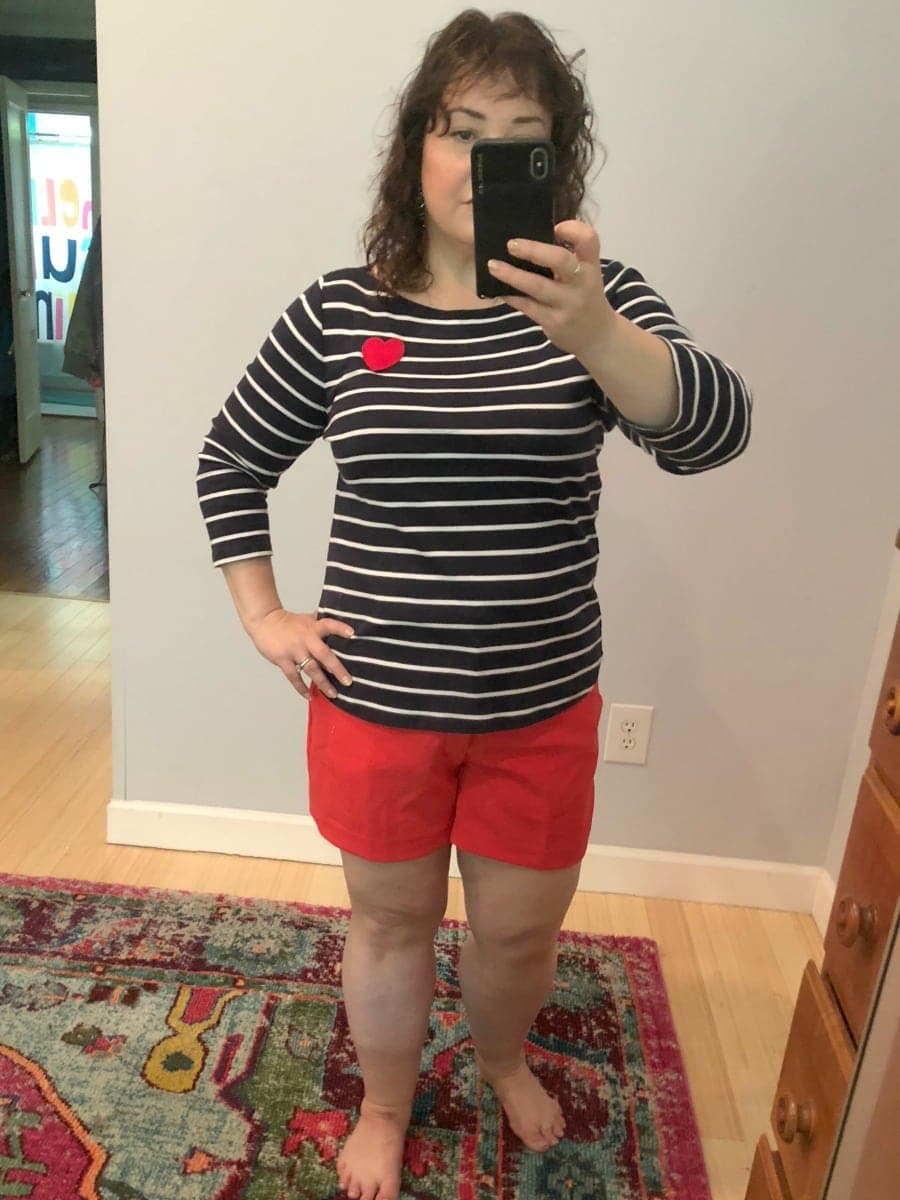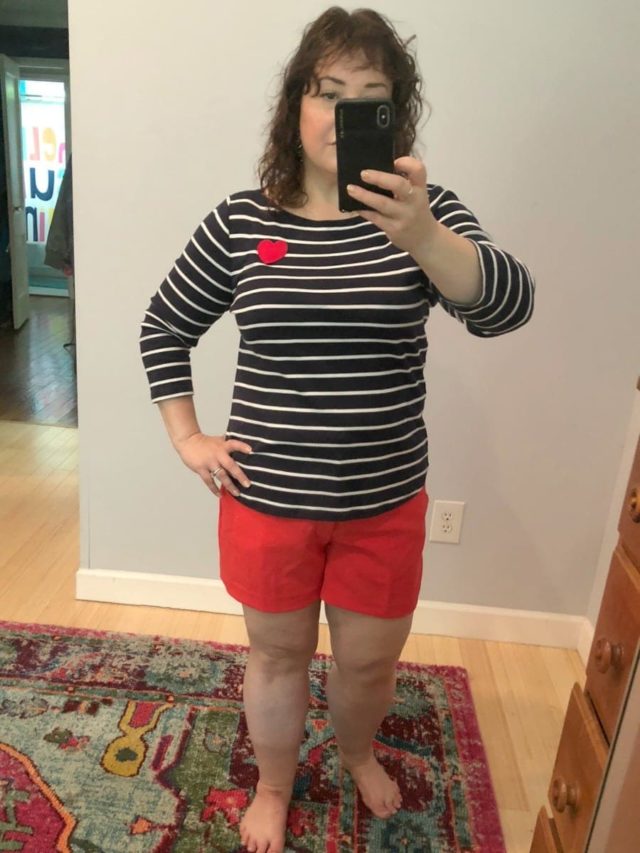 It's from Talbots, so it's well made. The heart is an embroidered patch that is securely sewn on. I have put it in the washer and dryer a couple times and it hasn't shrunk, bled, or done anything weird. It's a good buy. If you love striped shirts, this is one that's a little different but not too twee or trendy to not be a favorite for years. And it looks cute with the Banana Republic shorts I featured above. Hit!
I was so psyched for this shirt and asked Talbots if I could have one. They were kind enough to gift it to me. I've worn it with their white Perfect Crops that I wore in this blog post, with their pink skinny ankle jeans… but I don't love it. It's thinner and more fitted than the striped tee with the heart on it and especially in white, it feels a bit too snug. On top of it, the stripes being so narrow gives this a bit of a juvenile feel. Like, there's no way in heck I'd wear this shirt with overalls and under a denim jacket, I look like one of Emerson's classmates.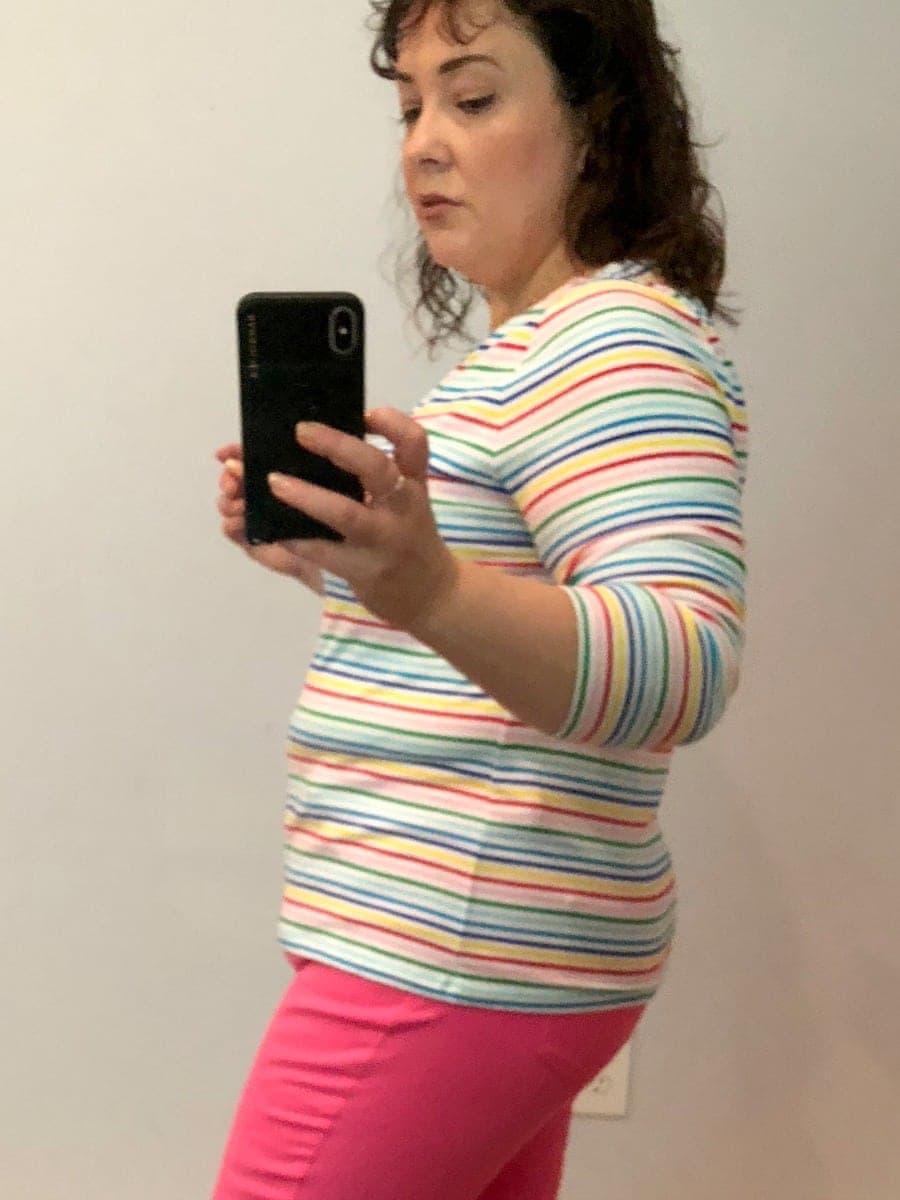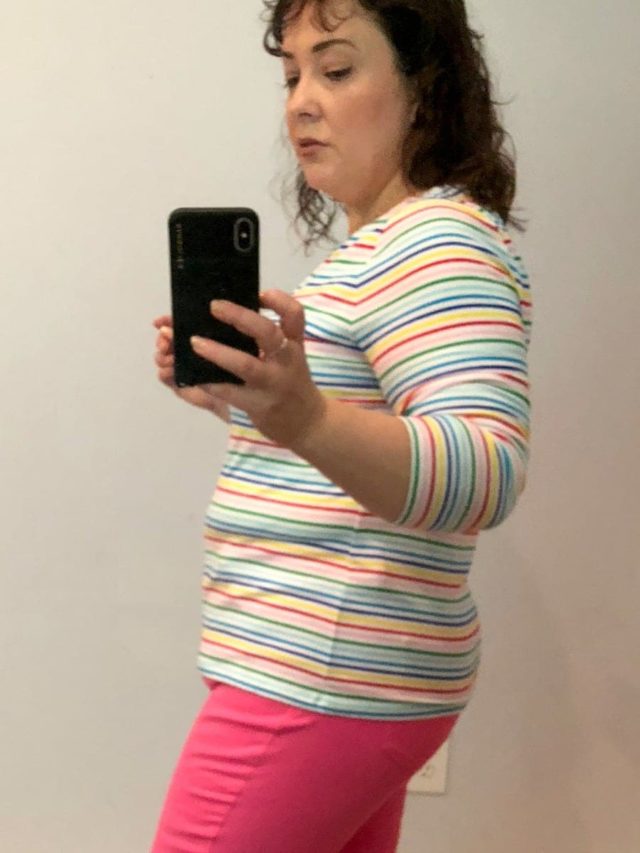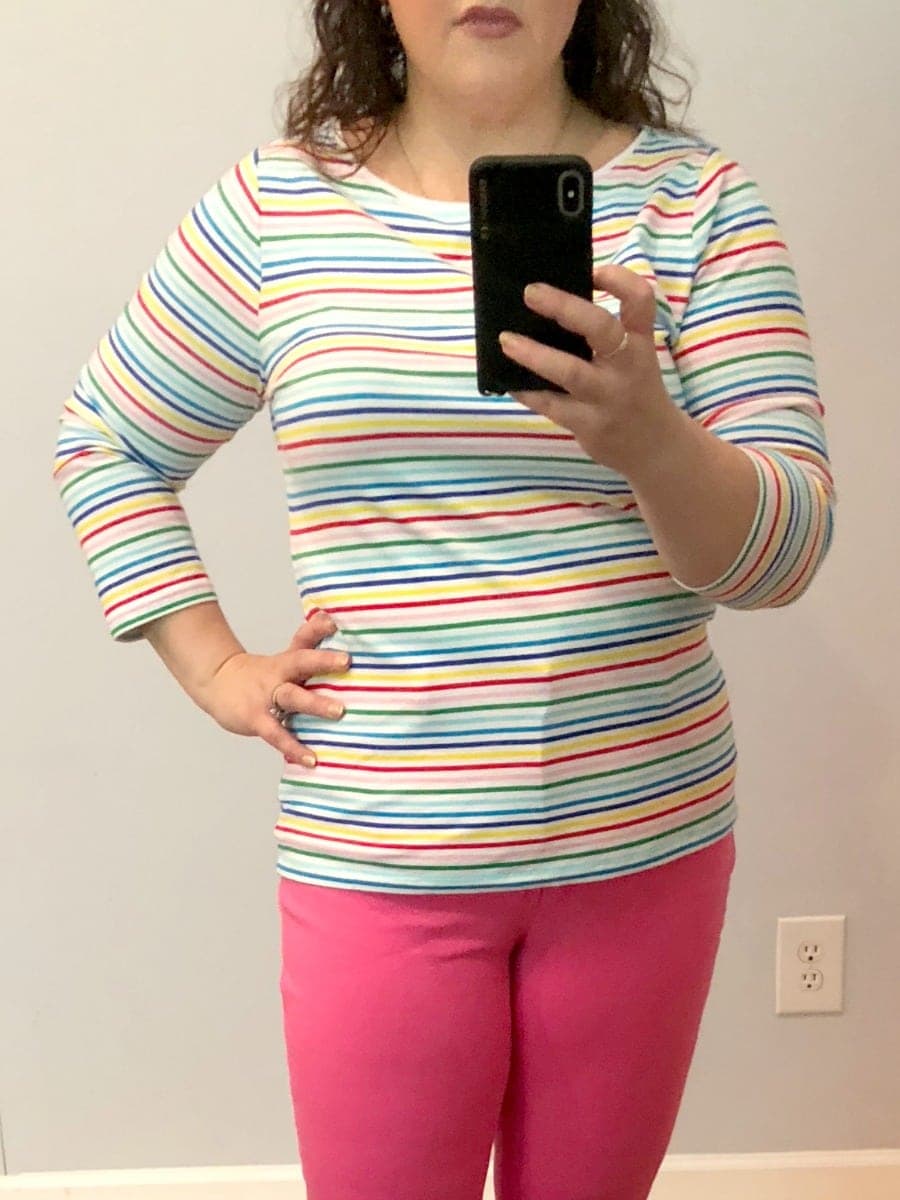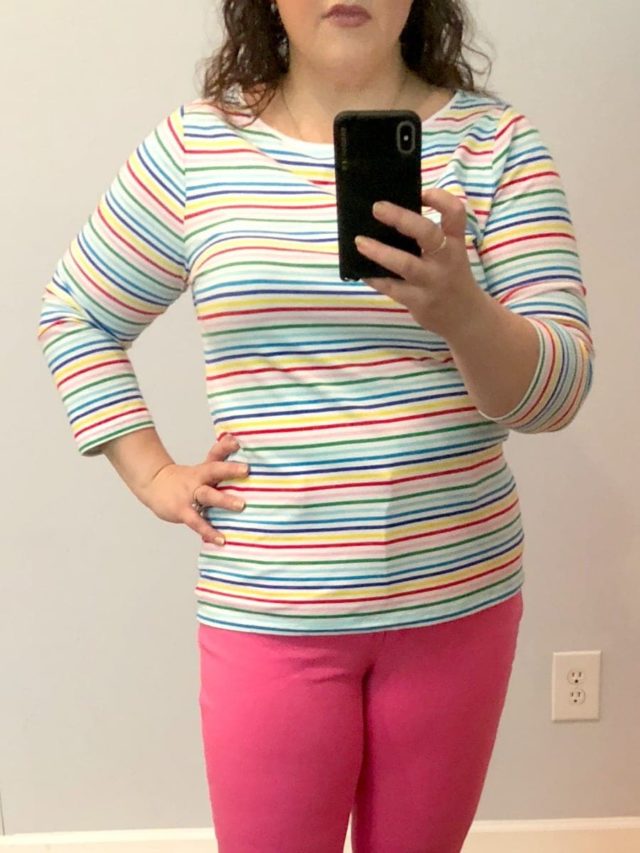 I wish I sized up, then I may not feel this way. But it's a top I pull out of the drawer, put on, then change my mind and put back. I wish the stripes were wider, that would give it a more sophisticated/non-Carters onesie feel to it. Hey Talbots, I LOVE that you embraced the rainbow trend, I recommend bringing this back this fall but in the fabric and cut of the applique tee and with wider stripes. I'll buy it, and I bet a bunch of people who never before wore Talbots would buy it and it would become a hit and would be on trendy fashion sites and styled all trendy with mom jeans and the shoe of the moment. But this one… this one is just off and therefore for me personally, a miss.
These were also a gift from Talbots. I thought they'd be skinny jeans, but these are true jeggings. They are lighter in weight than jeans, much more stretchy, and more fitted. Not a bad thing, but not the best thing when you have a thick curvy bottom and wanted to wear these like jeans with shorter tops.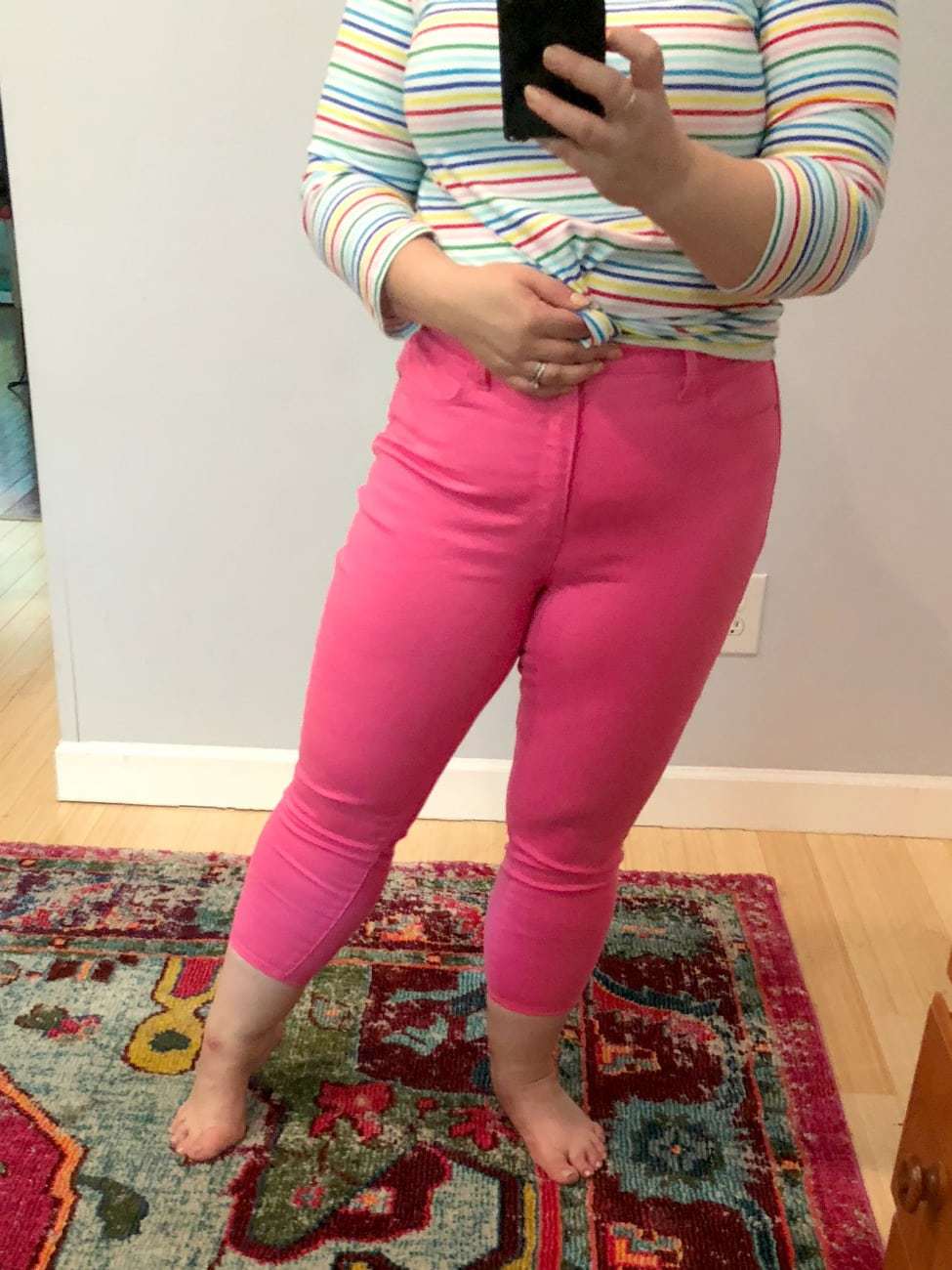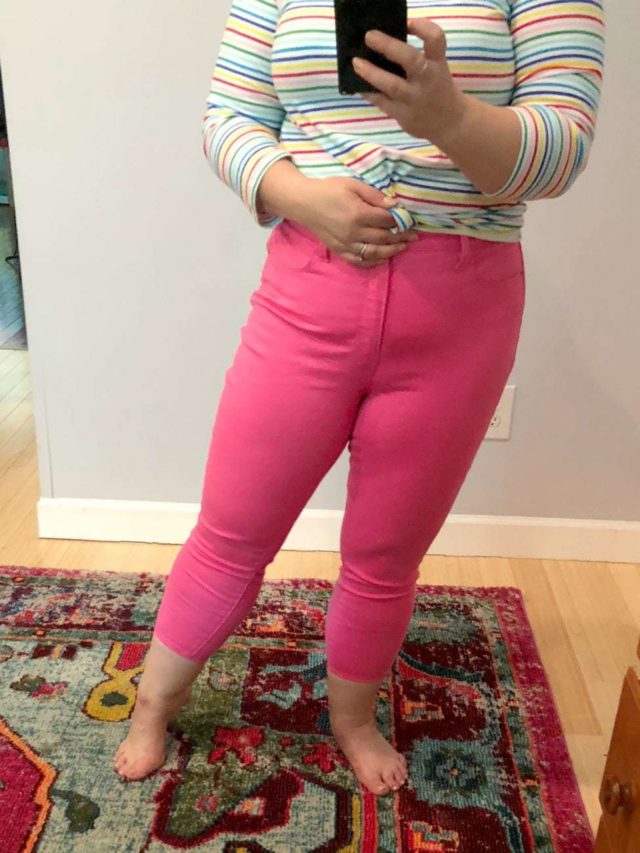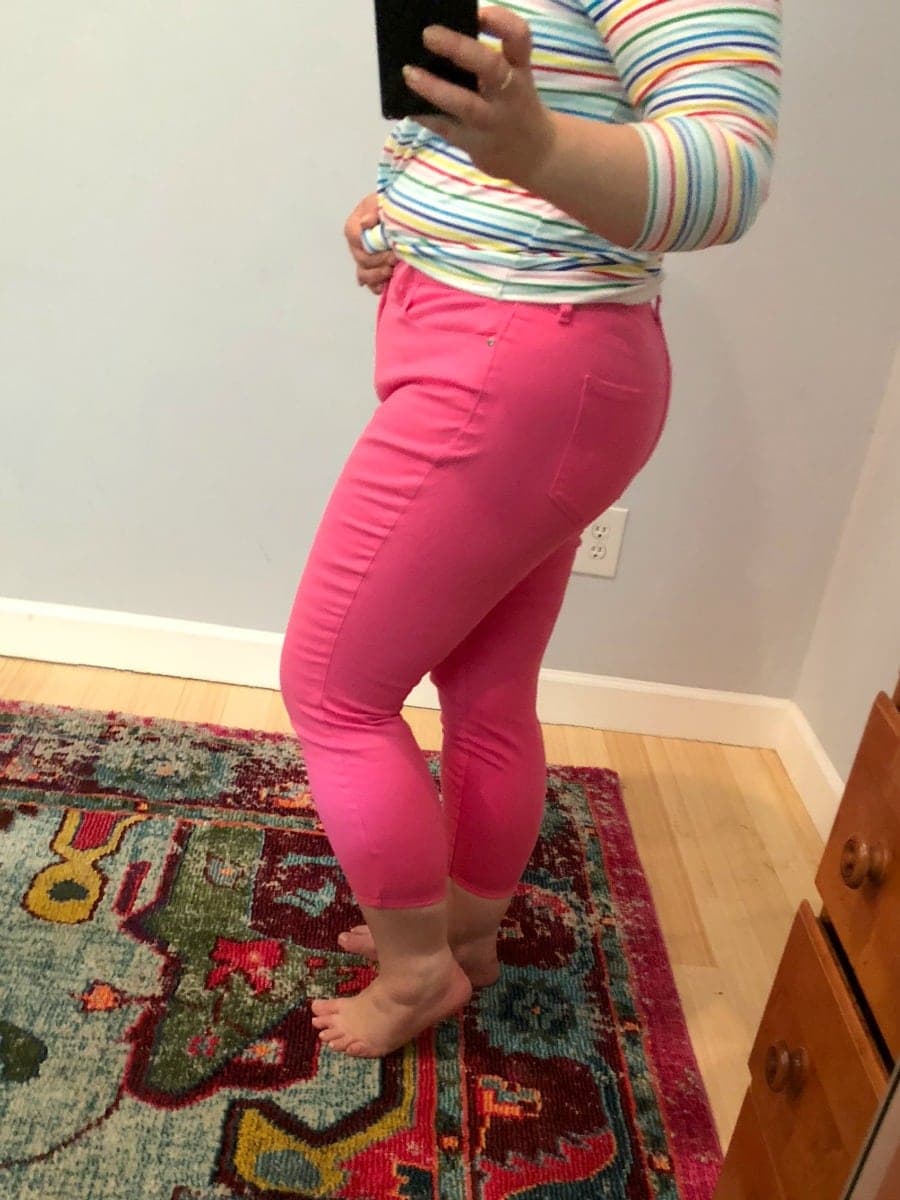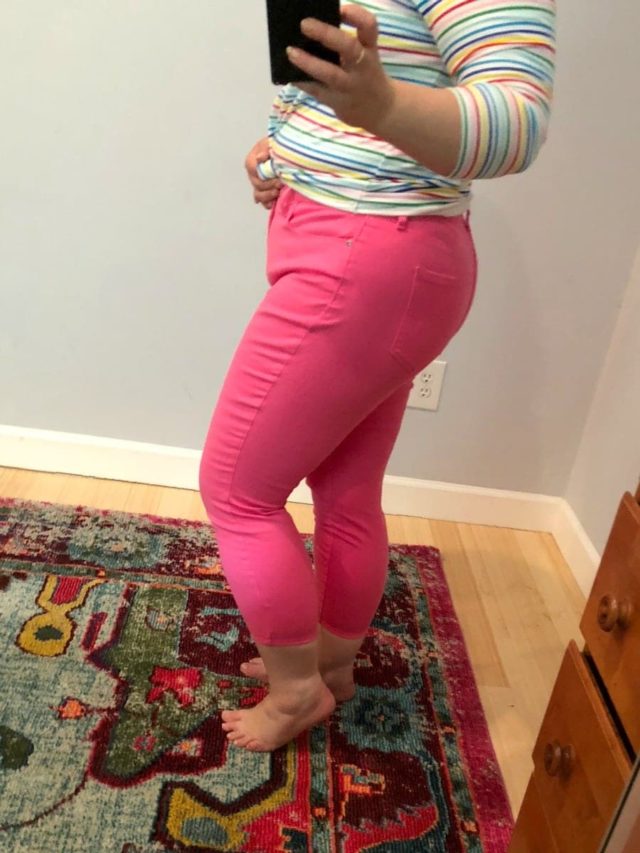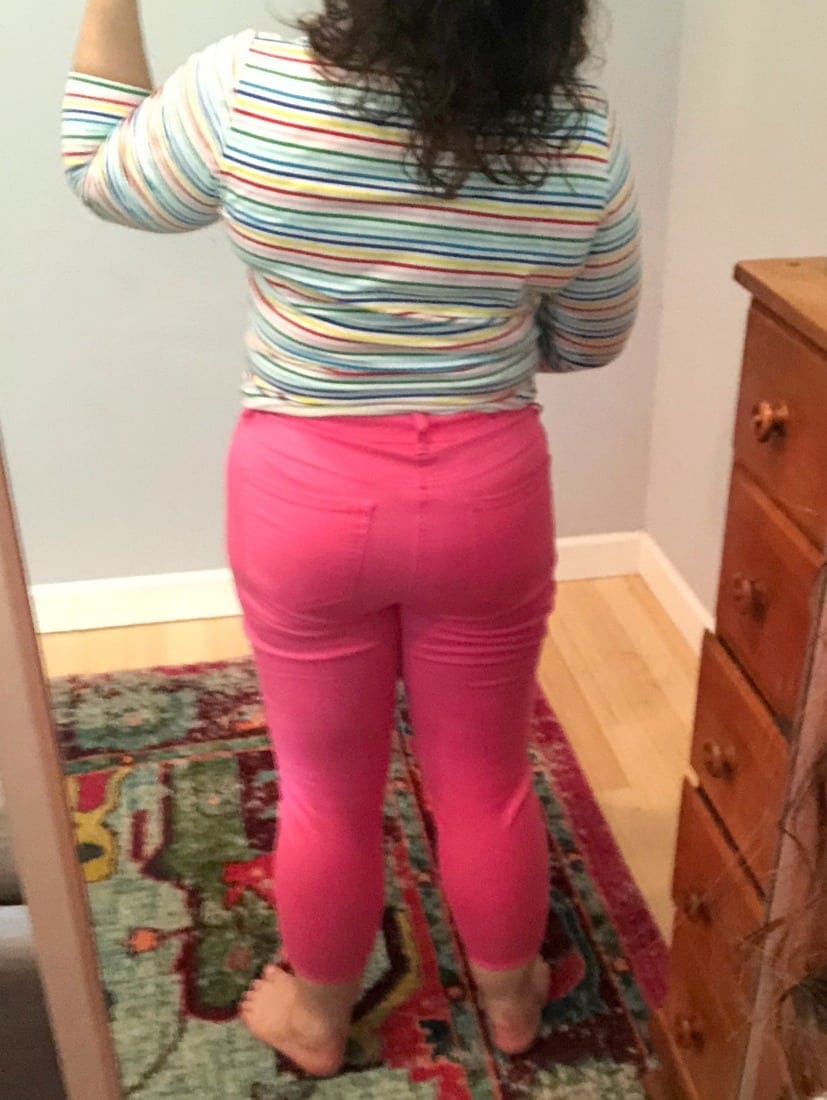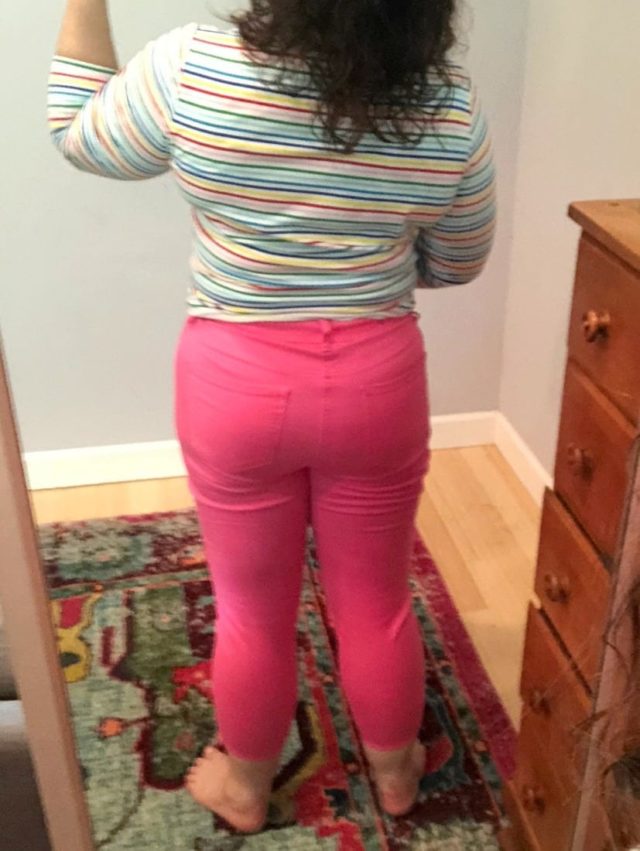 The color is gorgeous, they wash up really nicely, and I think if you sized up or didn't have such a soft and solid bottom half they could be fantastic. I usually wear these jeans with an untucked top or a jacket that provides more coverage, though they did make a cameo with a half-tucked tee in this blog post. I do like them; they hold their shape, they're comfy, and they launder like a dream. So while not what I wanted, for what they are they are a hit.
I've featured Needham Lane on the blog before. It's a small company in New England designed and run by a husband-wife team. They go to India to source their fabrics, and the quality of their pajamas, caftans, and other items is stellar. I love the idea of a lightweight caftan in summer to throw on when bumming around the house or to use as a beach coverup.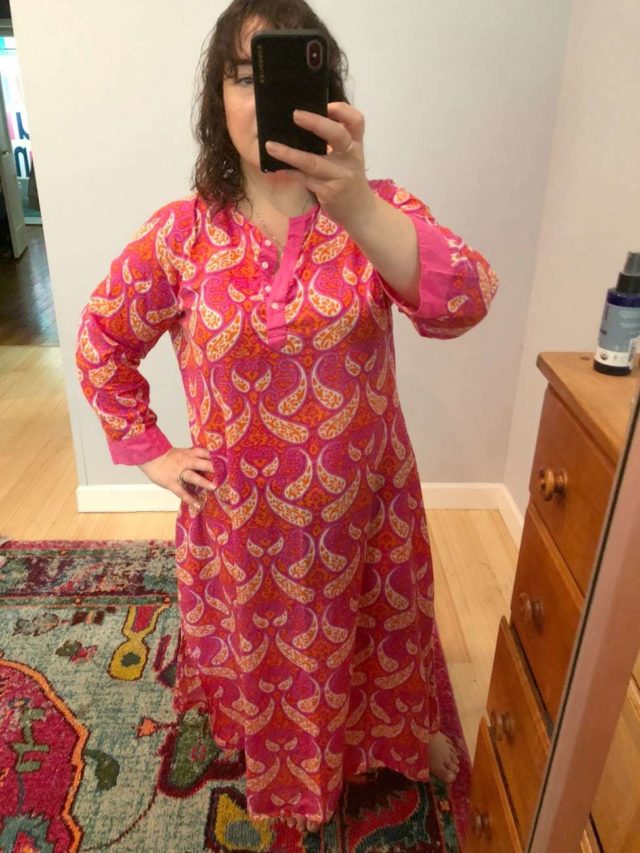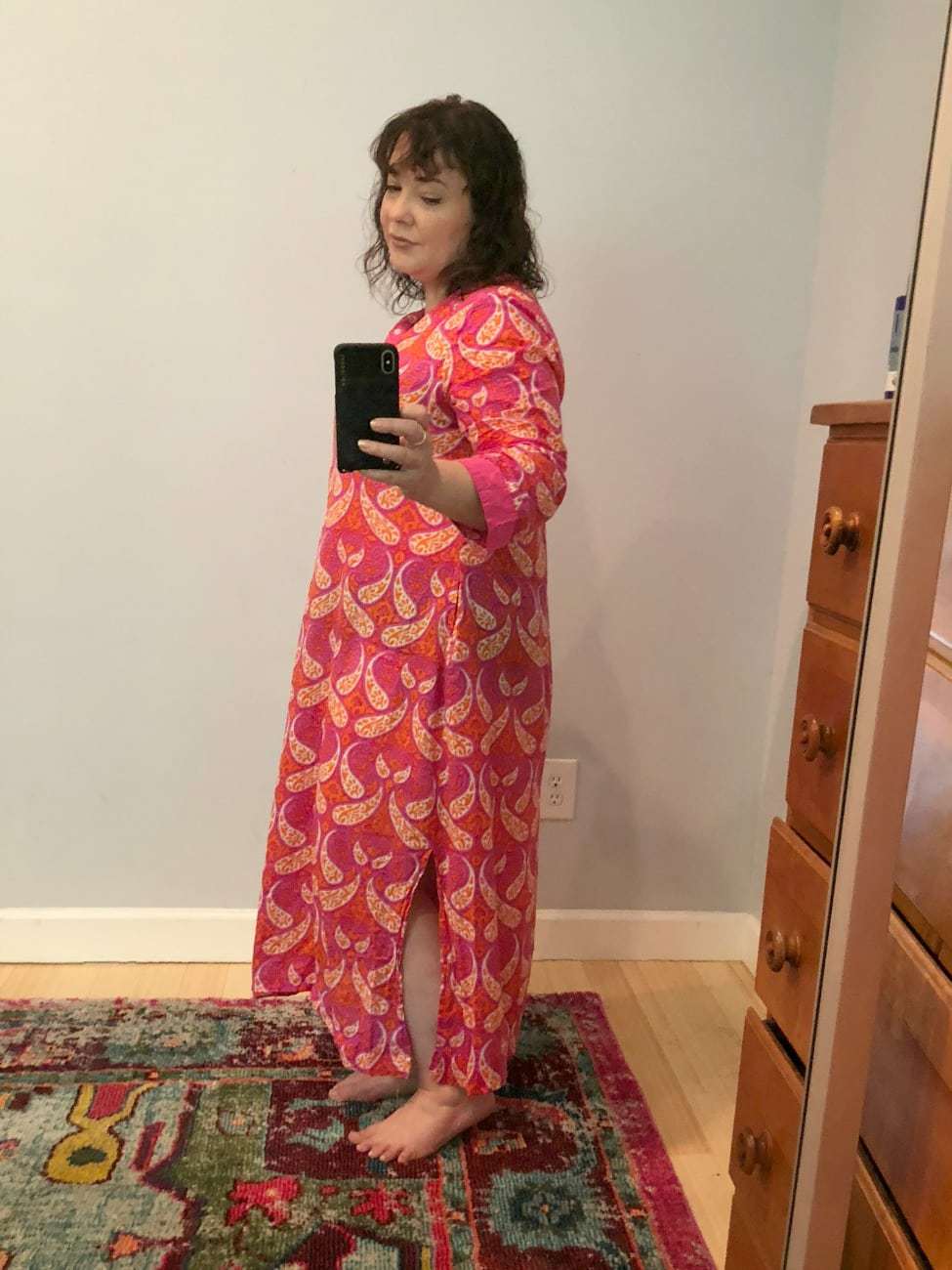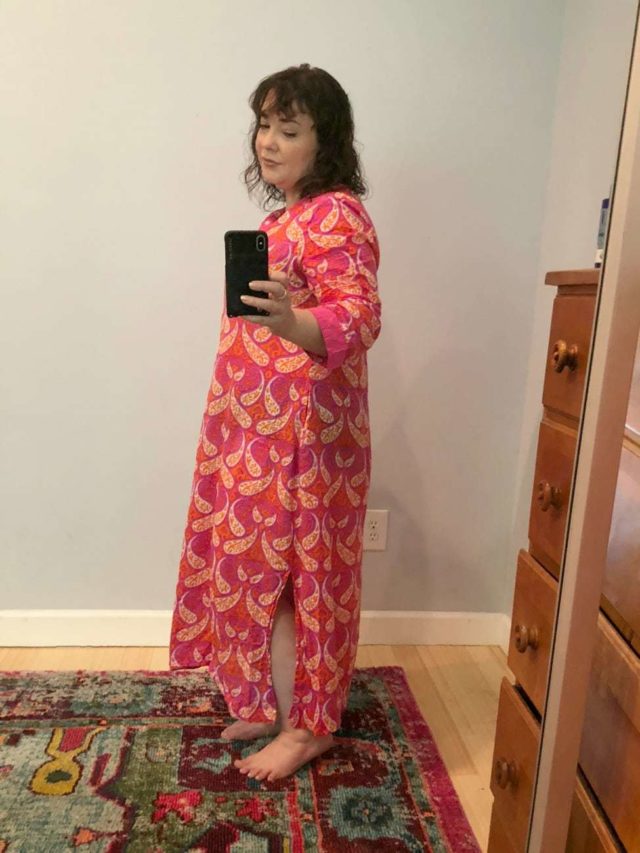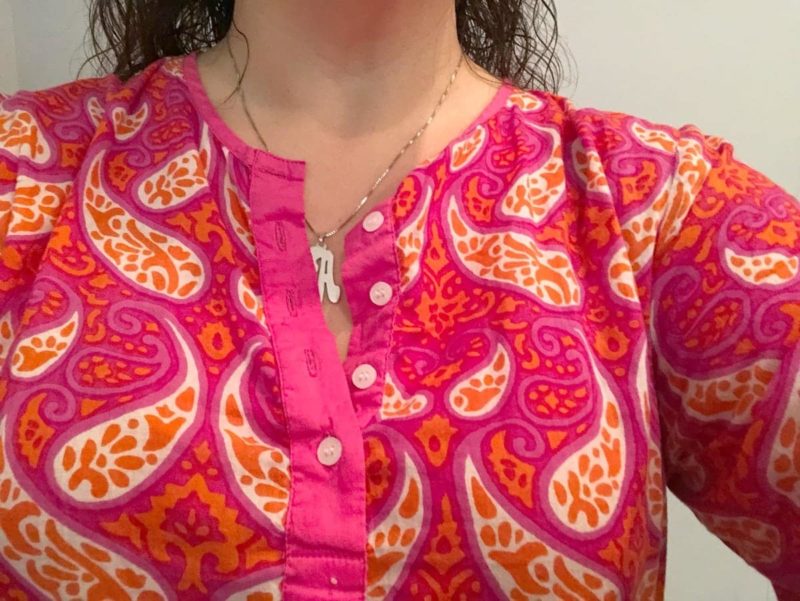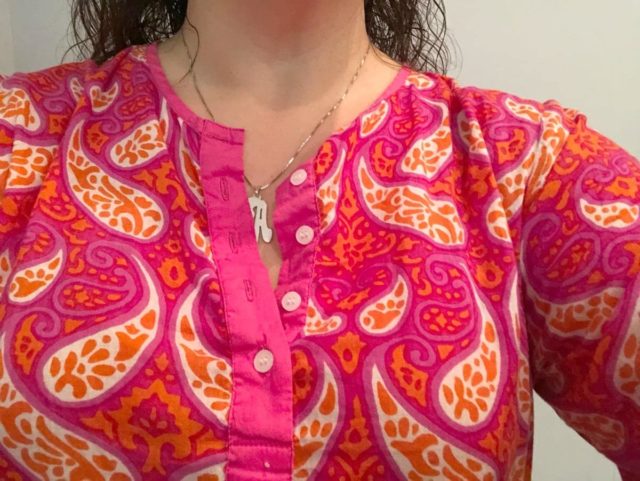 I've worn this caftan to death since I received it (it was a gift from the brand). it's a lightweight soft cotton, not the kind that gets linty. Each time you wash it (this has been washed and machine dried at least 6 times before these photos) it gets softer. It is lightweight but not transparent, has pockets, and buttons to adjust the neckline. Needham Lane has a variety of caftans with different necklines, prints, and lengths.