This article may contain affiliate links; if you click on a shopping link and make a purchase I may receive a commission. As an Amazon Associate, I earn from qualifying purchases. 
Hi Allie! I just bought this dress for an upcoming wedding reception (cocktail attire for women, black-tie welcomed for men). I would love to hear any ideas you have on how to accessorize it in order to glam it up. Thanks for any feedback! -Saundra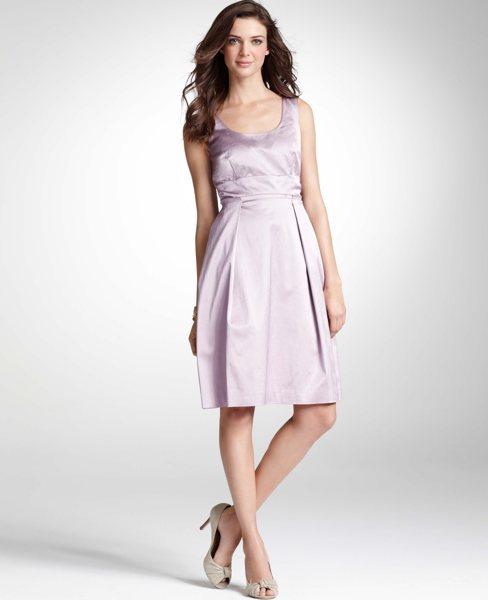 What a lovely dress, I love that icy lavender color! This is a great dress for such an event and very easy to glam up. A couple ideas:
– Silver Sparkle. Delicate silver strappy heels, delicate chandelier earrings of silver or white gold and diamonds (or CZs), a coordinating bracelet, be it a thin pave bangle or a chain of silver with crystals. Add a bit of subtle shimmer to your face with a highlighter on the brow bone, inner corners of the eyes, cheek bones, and the bow of your lips.
– Golden Glam. Some nude heels in a dressy fabric like silk – could be a strappy sandal, a D'Orsay heel or a platform peeptoe with a blingy shoe clip. Choose one accessory to make the statement – a large crystal-encrusted bangle or cuff, or a sparkly statement necklace; just have the metal be gold. Hair in a soft updo and a bit of shimmery golden tan hues used for the face.
– To-die-for Tonal. If you can find a great necklace with crystals or stones in the same pale lavender color, it can really glitz up this simple dress. Keep everything else very simple – nude dressy heels, simple hair, pretty makeup. If you really want another accessory, have it be your purse which could be a clutch in a metallic gray snakeskin or a subtle print that picks up the color of the dress.
This dress is of a formal fabric; if you have formal shoes and up the ante a bit with your makeup (darker lashes, bit of shimmer, etc.) you already are appropriate. Take a cue from celebs when they walk the runway – usually the dress makes the statement and the accessories only highlight. They usually only have one statement accessory, whether it's a jeweled cuff or a pair of fantastic chandelier earrings.
Though it's tempting, don't try to match the color of the dress with your makeup – this lavender is so beautiful and so icy you can go with a bronze/gold subtle shimmer concept, a classic face with liquid liner, a simple fresh face with stronger lip.
Don't be afraid to use a bag that doesn't "go" – this is a look that can add some real personality to your look. I have a pale yellow snakeskin clutch that I use quite often even though I don't own anything that color in my wardrobe. I find it is an unexpected pop of color that works so well, and the pale color makes it more dressy and versatile than typical black. A clutch in a texture (beading, embroidery) or print (snakeskin, a Pucci-inspired silk) can be far more versatile and stylish than a "basic" bag in black, silver, or gold.
Hi Allie:
I've been invited to two weddings this summer. Neither wedding is formal, but I would like to look nice. Do you have any suggestions for what would look appropriate, but fun?
I love being invited to casual weddings because it's a great chance to wear fun fashion that doesn't seem to have a proper place anywhere else in Real Life. As soon as I read your question I thought of maxi dresses.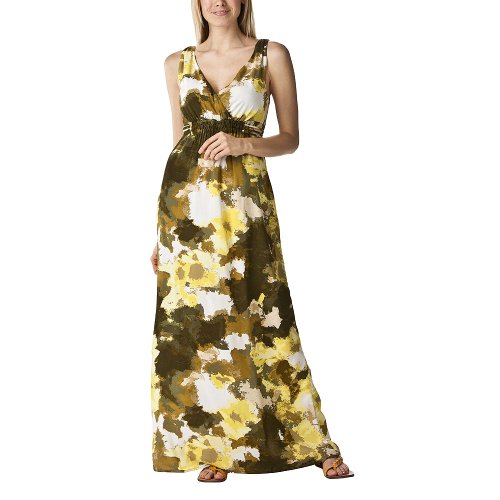 Last summer I had a cotton maxi dress from Target that was a bright coral and white print. Being cotton, it was comfortable and also very versatile. I wore it to many an event with flat sandals and a long strand of turquoise beads; I even would wear it sans jewelry with a pair of flip flops for hanging out with friends. A plus to maxi dresses is that you keep your legs protected from the sun and from mosquitoes, and it's easier to sit on the ground and not be exposed.
A maxi dress in a gauzy or cotton fabric would be festive choice for these weddings. To not try to overshadow the bride, keep accessories very simple and pair with flat sandals. Wearing your hair down and casual will make it feel more beachy and less bridesmaid.
Dear Allie,


I am a bridesmaid in a wedding this summer – it's a destination wedding on the beach. We are allowed to wear anything we want as long as it's black. Do you have any ideas on what would travel well, be comfortable in the heat, and would work with shoes that won't sink into the sand? Thanks so much! – Dana
When I read your question I thought of what I wore to my friend's wedding in November '09. It was a spaghetti strap black maxi dress from Calvin Klein, and I paired it with big gold earrings, a pile of gold bangle bracelets, and wore flat gold sandals and my hair loose at my shoulders. When I put together the outfit, I thought about how great it would be for a tropical vacation.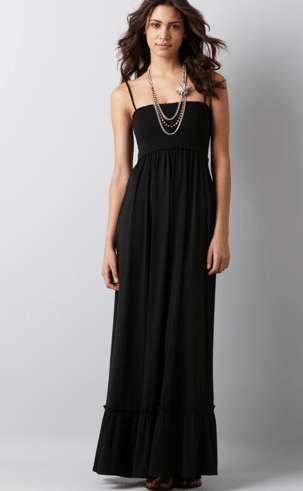 A maxi dress is a great choice for a beach wedding because you don't have to worry about the breeze taking your skirt for a ride, and it makes it easier to sit in the sand or a low chair without feeling exposed. With a long skirt, you also don't have to worry about a tall shoe to balance out the dress.
Matte jersey is a fabulous fabric for travel as that it doesn't wrinkle, packs up small, and is easy to spot clean with a Tide to Go pen (or a little Ivory soap and then an overnight air dry). Matte jersey is also figure flattering – it has stretch but doesn't cling to curves. It can be found at most any pricepoint and retailer – I have matte jersey dresses from Old Navy and Target, and found my black maxi dress at Macy's on sale for less than $100.
If you pair with dressier sandals and jewelry, a dress of this fabric can easily go from casual to formal. However, keep the location in mind and don't try to get too stuffy with heavy statement necklaces, formal updos, or lots of makeup. Embrace the beach and consider beaded chandelier earrings, stacks of bangles, or longer pendant necklaces and let the shore breeze have its way with your hair!
Follow Me | Twitter | Facebook