This article may contain affiliate links; if you click on a shopping link and make a purchase I may receive a commission. As an Amazon Associate, I earn from qualifying purchases.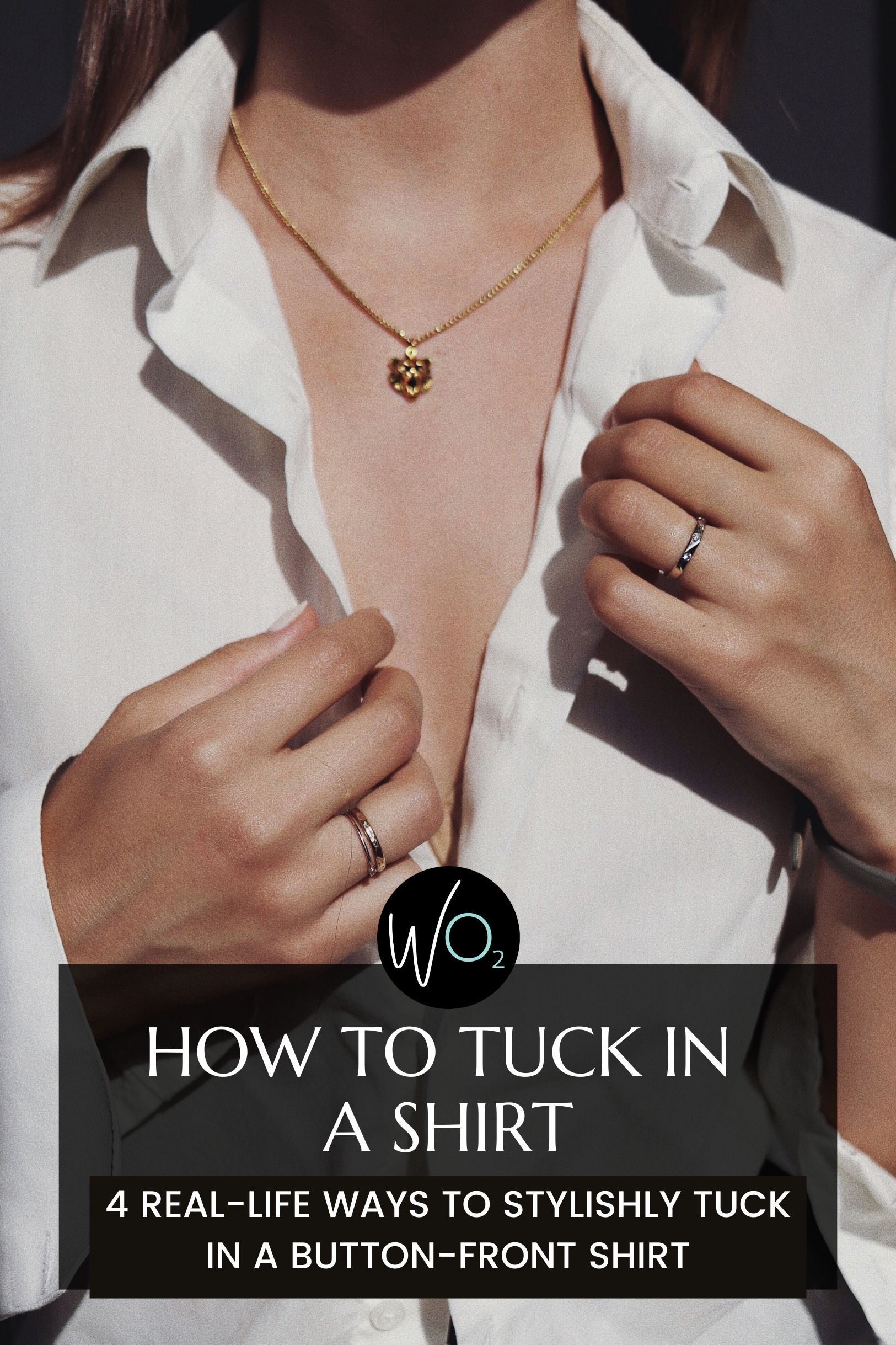 You may find the idea of writing a how to tuck in your shirt ridiculous, as most of us learned how to tuck in our shirts in grade school. However, there are a variety of methods of tucking in shirts that can add style, comfort, and ease to an outfit. And as a grown woman with soft curves, I know that some styles of tucking make me feel more confident than others. Below I share my 4 favorite methods for tucking in shirts, especially if you find traditional shirt tucking awkward or uncomfortable.
I'm keeping the photos very… real. No photoshopping, no fancy lighting, just selfies in front of my bedroom mirror so you see how these work in real life. And I promise you, all of these methods for tucking in your button-up shirt are easy, even when resetting your outfit after using the facilities.
Before I get into this, know you don't need a single button-up shirt in your closet to look great. I have spent many years of my adult life perfectly happy without a single shirt in my wardrobe. But for those who either need or want to wear a button-up shirt and want ideas on how to switch up the look, this article is for you!
How to Tuck in Your Shirt
Let's Start with Shirt Terminology
When the apparel you wear is a traditional style, especially if it is a type of garment also worn by men, it likely has a lot of specific terms. I will be using this terminology throughout this article, so I want to offer a quick glossary of terms. Knowing these terms helps you be an informed consumer and understand what you're looking for in such a shirt.
Button-Up Shirt:
This is the standard shirt we all think of, that has buttons running all the way from the bottom hem up the center to the collar. This shirt can have sleeves of any length or no sleeves. It can also be made out of a variety of textiles, though we usually think of cotton, linen, and other non-stretch lightweight fabrics. Since I am using a button-up shirt for my examples to tuck in a shirt, I will use the term button-up shirt throughout the article.
Button-Down Shirt:
A button-down shirt is exactly like a button-up shirt, except the collar is also buttoned down. Think of the oxfords you may have worn in the '80s or with a school uniform.
Button Front Shirt:
Any shirt with a placket down the front with buttons is a button front shirt. Unlike button-up shirts which button up to the neck, button-front shirts can include styles with notch necks or popovers that only have buttons from the neck down to mid-torso.
Collar:
A band that serves to finish the top of a shirt. We often think of the piece attached to the band as the collar, but that just determines the type of collar:
A Standard Collar is the traditional collar with pointed tips. Folks, especially those who care about menswear or are sewists will know the difference, but traditional, straight, classic, and spread collars are all essentially variations of the standard collar. This is the kind of collar that is featured in this article.
Cuff:
An additional piece of fabric sewn to the bottom of a sleeve to close it. As you can imagine, there are many different types of cuffs. The most popular ones are:
Barrel Cuff: This is the standard cuff where it is closed with a button. It creates a round "barrel" shape when buttoned closed.
French Cuff: A French cuff gathers both ends and presses them together, usually with cufflinks.
Hem:
The bottom of the shirt. There are different types of hems on button-front shirts:
Rounded Hem: This is the traditional hem on men's dress shirts. It is curved in front and back and scoops up on the sides. It's designed this way so it doesn't bunch up when tucked in.
Straight Hem: Exactly what it sounds like, the hem is straight all the way around and designed to be worn untucked. There will be slits (known as vents) on the sides of the shirt to provide ease over hips and rear.
Polo Hem: This is when the back of the shirt is an inch longer than the front.
Shirttail Hem: A rounded hem, but the curve is more pronounced and the back of the shirt more than one inch longer than the front. These can be extreme with a tunic-length shirt with curves higher up to the waistband and/or with the back of the shirt several inches longer than the front.
Placket:
A placket is the strip of doubled fabric where buttonholes are placed. The one down the front of a button-up shirt is usually called the front placket. There are different kinds of front packets:
A Standard Placket, also known as an American Placket, is the kind we see most often, where the doubled fabric is stitched down, creating a separation between the placket and the rest of the shirt.
A French Placket is when the fabric is folded inside but only held in place by the buttonholes. There is no other visible stitching. This kind of placket is most often seen with formal shirts or very delicate fabrics.
A Concealed Placket is when the buttons are concealed by a layer of fabric over the buttonholes.
A Sleeve Placket is exactly the same concept, but found above the cuff. It occasionally has buttons, but sometimes is just open to provide ease when putting on and taking off shirts.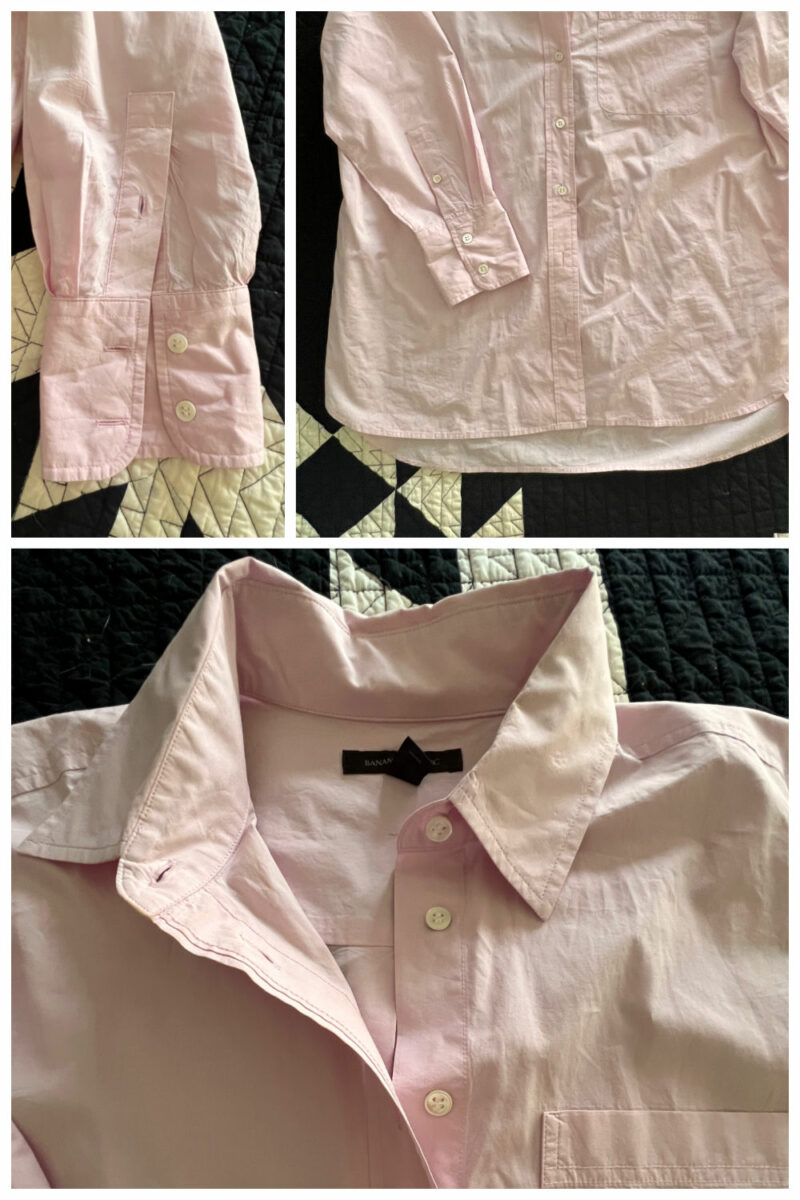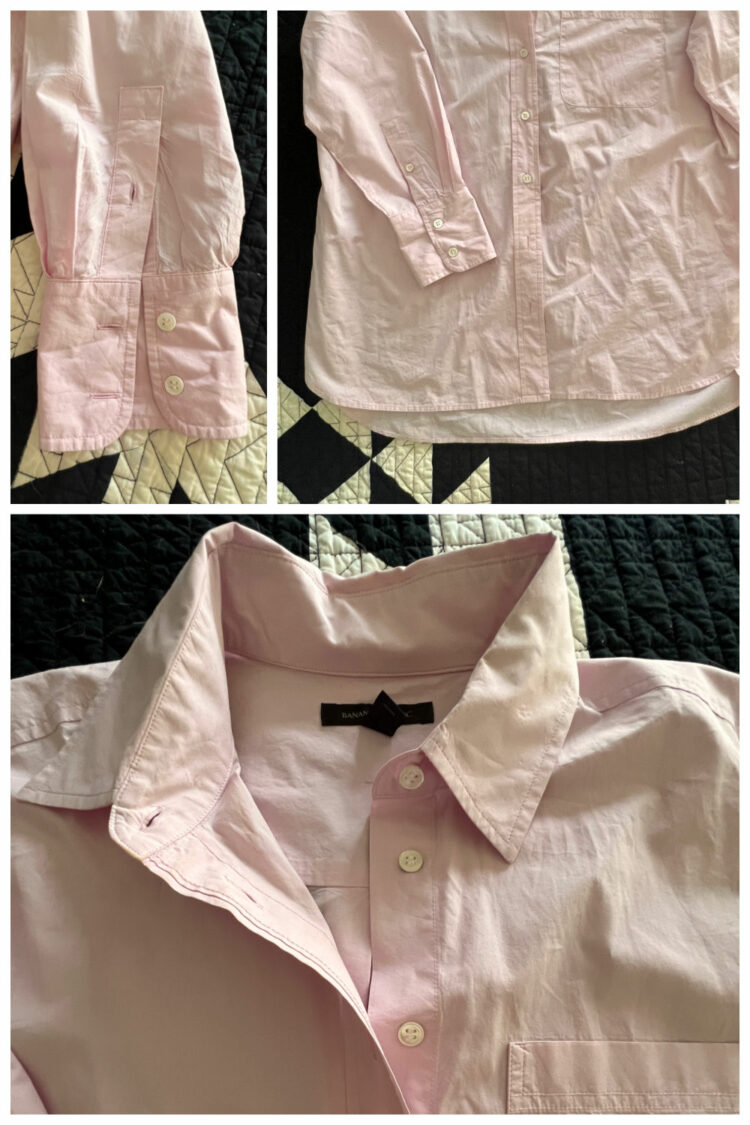 For this article, I am featuring a long-sleeve button-up shirt with a standard collar and barrel cuffs with sleeve packets and a shirttail hem. I feel like I now need the "the more you know" GIF. But really, it is nice to know the terms for what we're wearing. Knowledge is power!
Do You Have to Tuck in Your Shirt to Look Stylish?
First things first, you don't have to tuck in your shirt to look stylish. I personally like these three ways to style an untucked button-front shirt:
Button the shirt up completely, and roll the sleeves at least three times or until the cuff is above the elbow. Have a cuff 1.5-2″ wide and clean, not sloppily rolled. If you so desire, you can pop the back of the collar and have the front points folded down traditionally.
Unbutton the top three buttons and the bottom two. Depending on the fabric of the shirt, leave the sleeves down but the cuff unbuttoned, the placket buttoned and the cuff folded up once, the entire sleeve unbuttoned, folded up to the beginning of the placket and then that fold folded in half, or sloppily cuff three times and then push up over elbows.
Either leave the shirt completely unbuttoned, or button the middle two buttons only, and wear over a fitted tank or camisole. And then as for the sleeves, like the previous styling suggestion, do whatever option you find most comfortable.
How to Tuck in Your Shirt: 4 Stylish Methods
Tie Your Shirt Instead of Tucking
My favorite way to tuck in a shirt as a person with soft curves, is to not tuck in at all. Instead, I tie my shirt. And while you may have visions of Catherine Bach as Daisy Duke when thinking of tying a shirt, I can confirm you can rock a tied-in shirt without showing a single inch of stomach.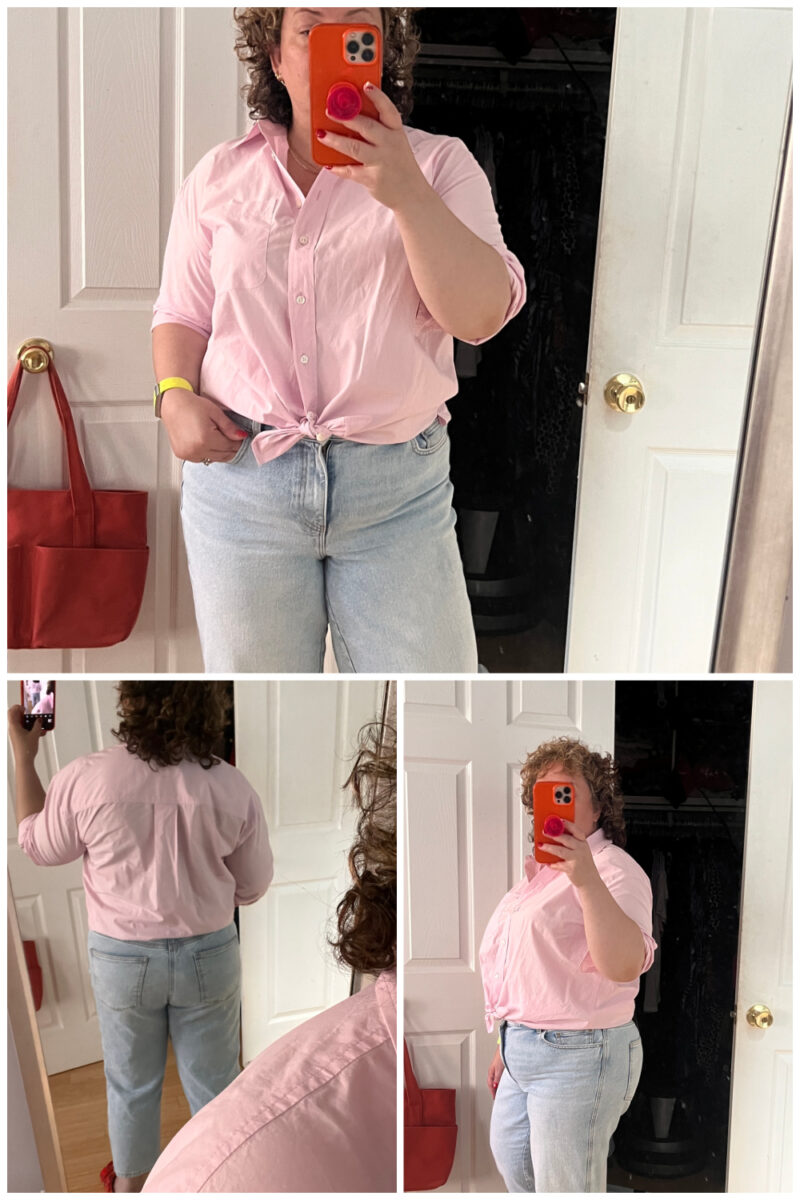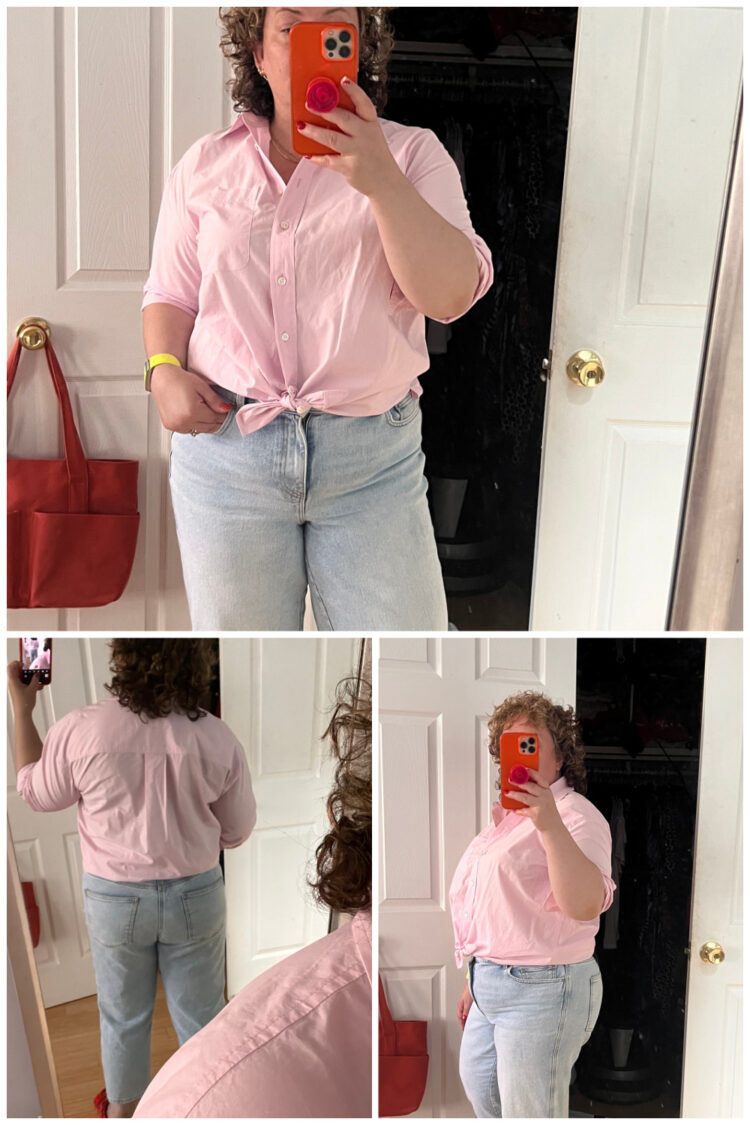 How many buttons you unbutton on the bottom of your shirt and the type of hem of your shirt determines how short your shirt will end up. As a size 14 woman with a soft stomach, I prefer a shirt with a shirttail hem and only unbutton one button. This way, the shirt will end up just below the waistband of my jeans. When I am tying a shirt over a high-waisted bottom or a dress, I will unbutton two or even three buttons to have the shirt end higher near my natural waist.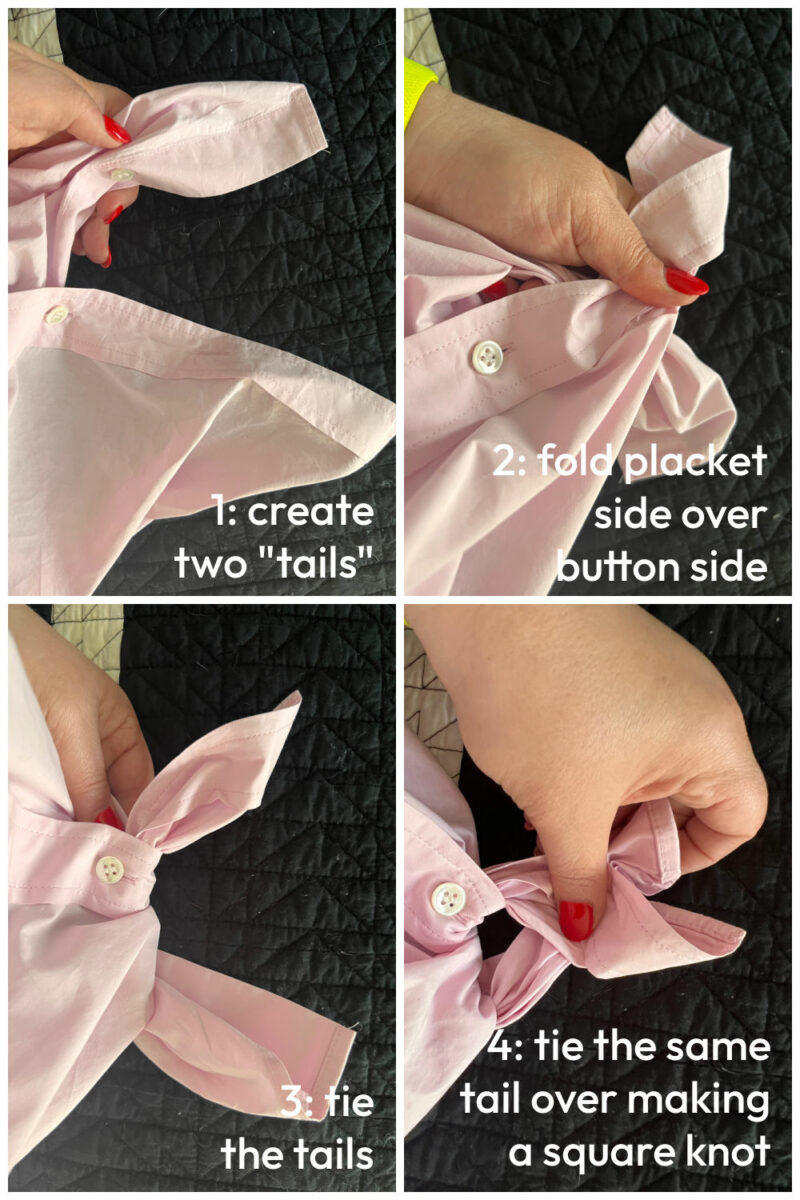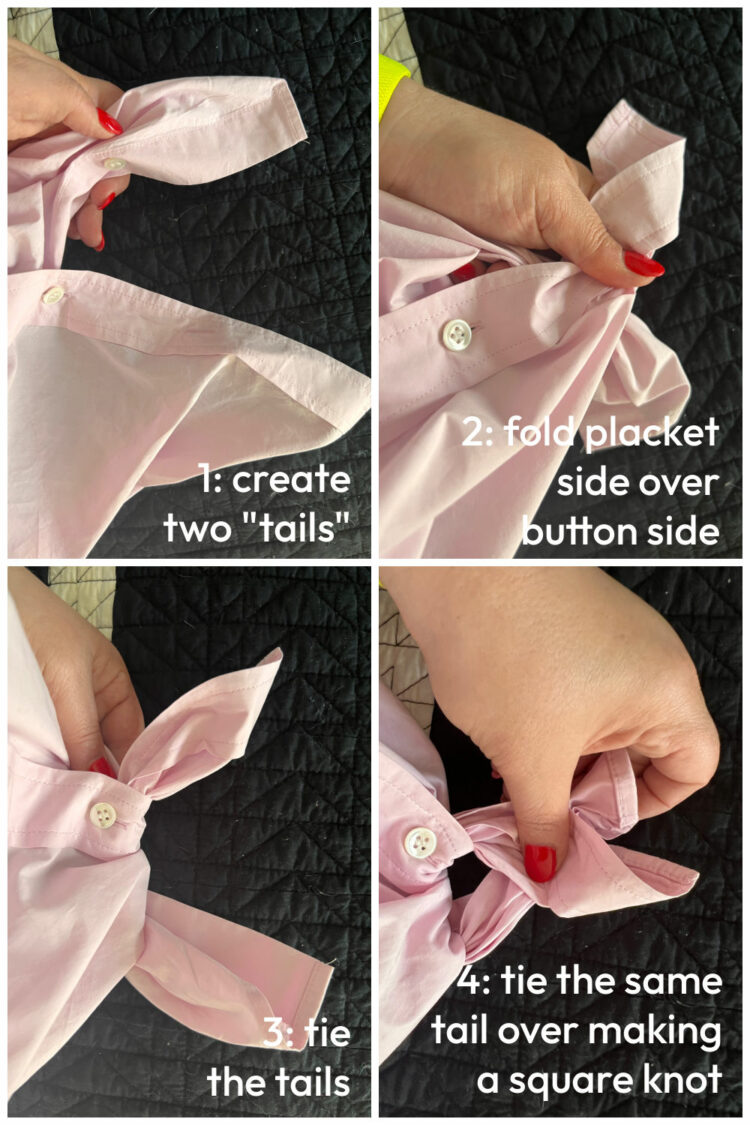 Grab the side of the shirt with the buttons in one hand, the placket side in the other. Fold the placket side over the button side and tie. Then take that same "tail" which is now on the other side, and fold it over the top and tie. This will create a square knot, which will look clean and keep the "tails" pointing side to side and not sticking out weird.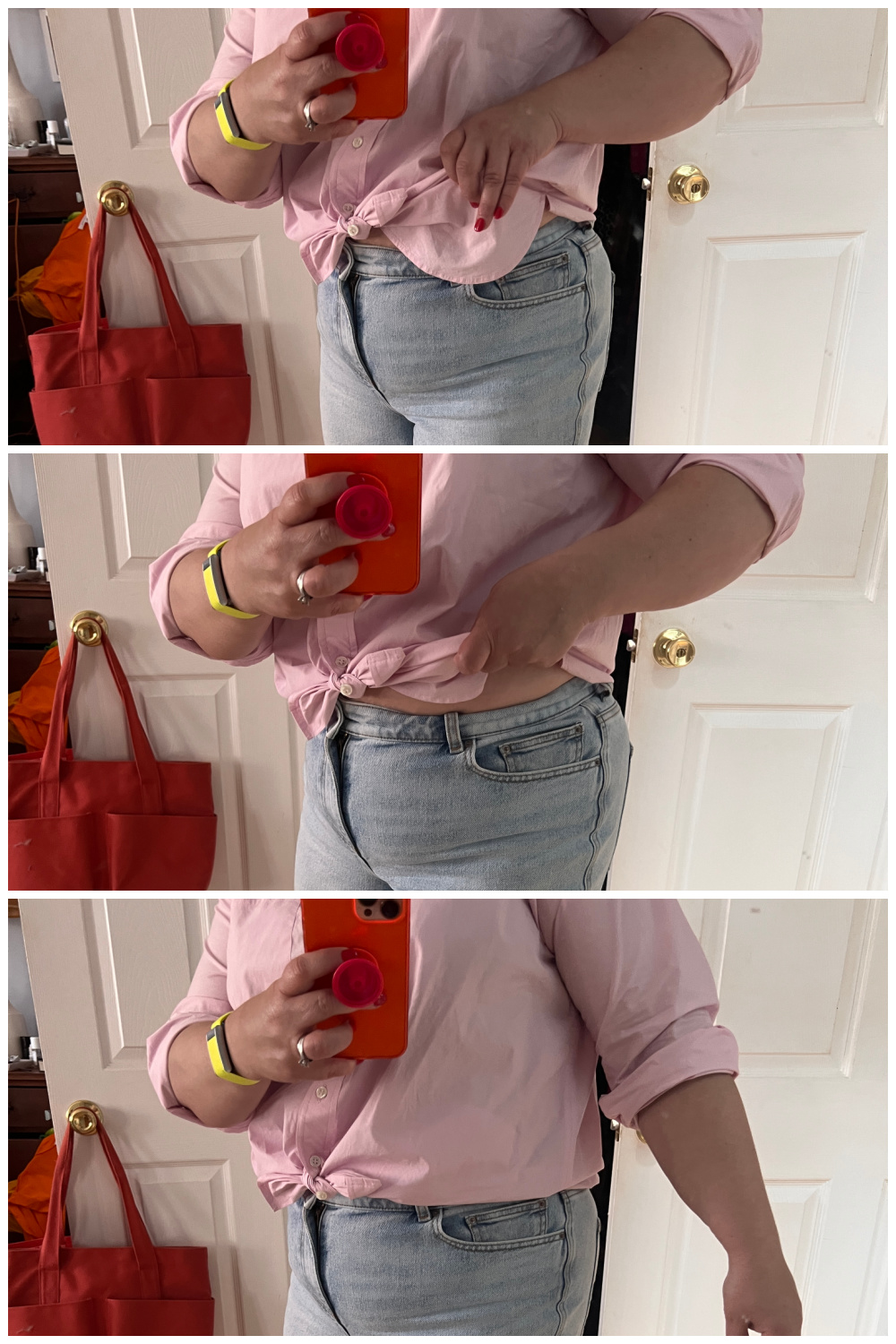 Now take the other parts of the shirt hem and fold them under and up smooth against the inside of the shirt. If the shirt has shirttails, you can decide whether to tuck in the back shirttail. I recommend if the back shirttail is snug, tuck it under. Only leave it out if it is an extreme shirttail and you have a lot of loose fabric in back.
The Twist Tuck
I shared this style of tucking in a shirt in a Reel on Instagram and I received so many DMs asking to break it down. Essentially, you button all the buttons of your shirt, grab the front and twist it several times in the same direction, and then tuck it into your pants.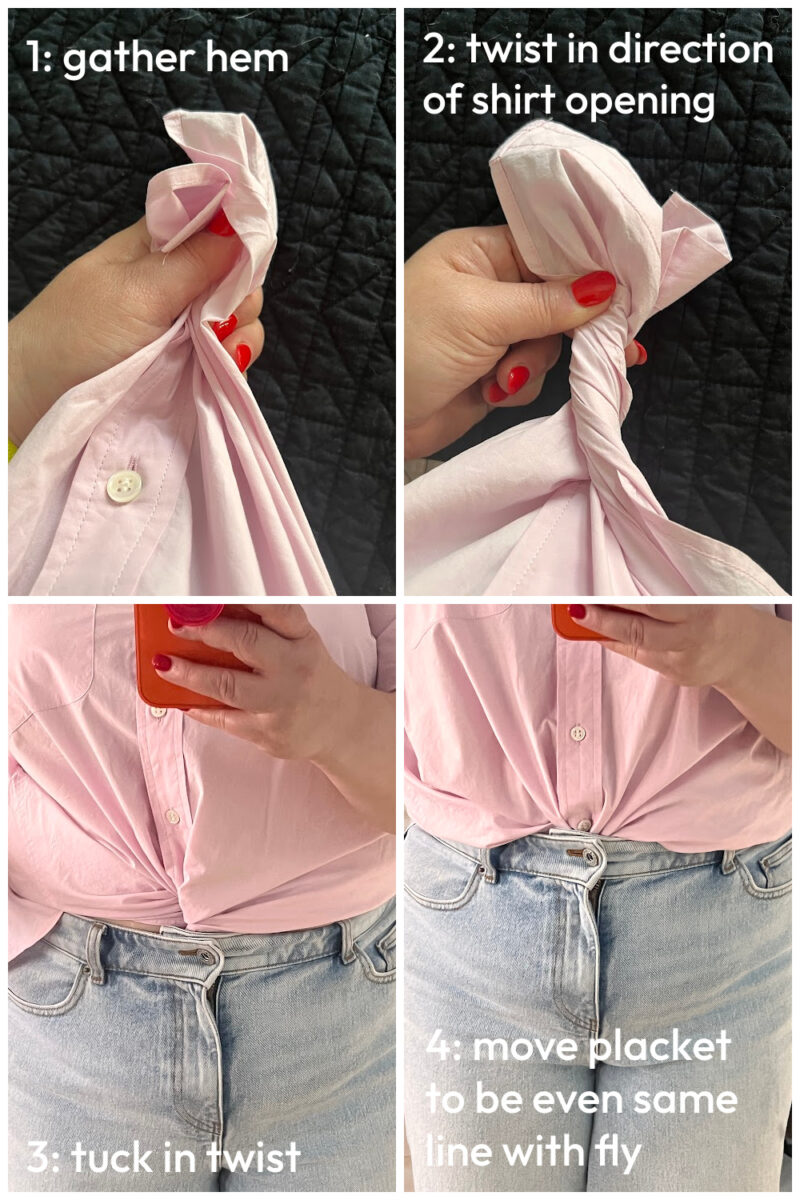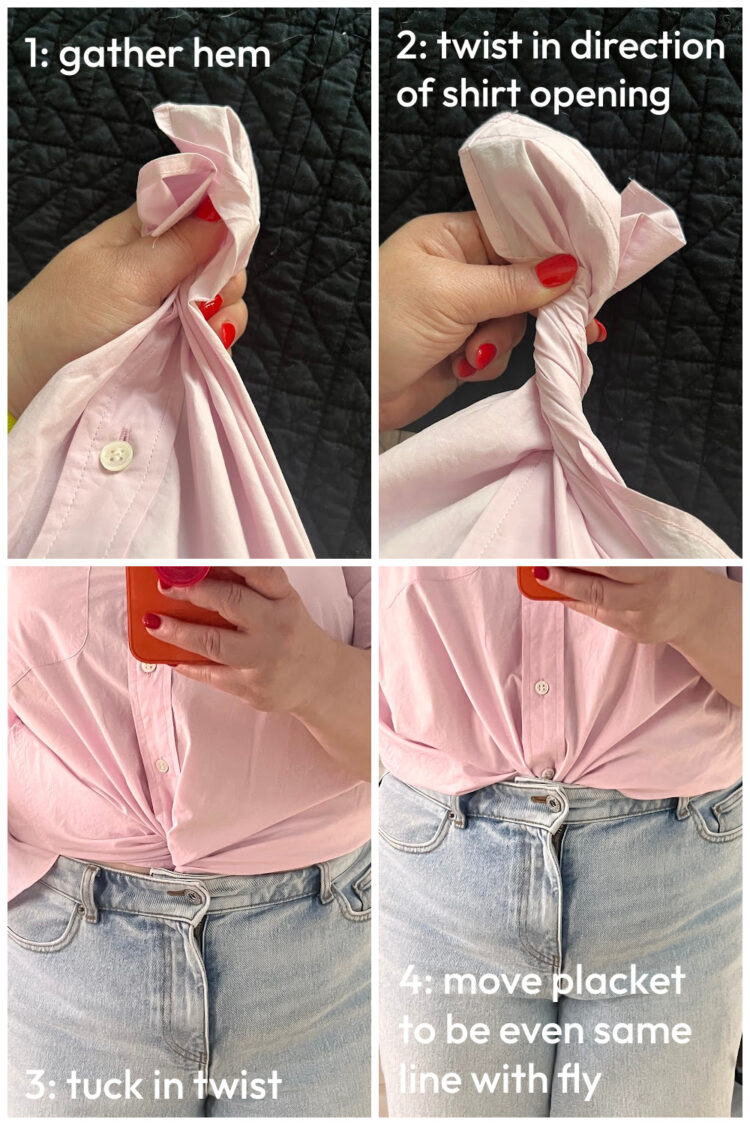 When you first tuck in the twisted part, it will look weird. Began tucking under the remaining hem of the shirt and just by doing this, the twist will relax a bit. Adjust it so the placket is in line with the fly of your jeans or pants.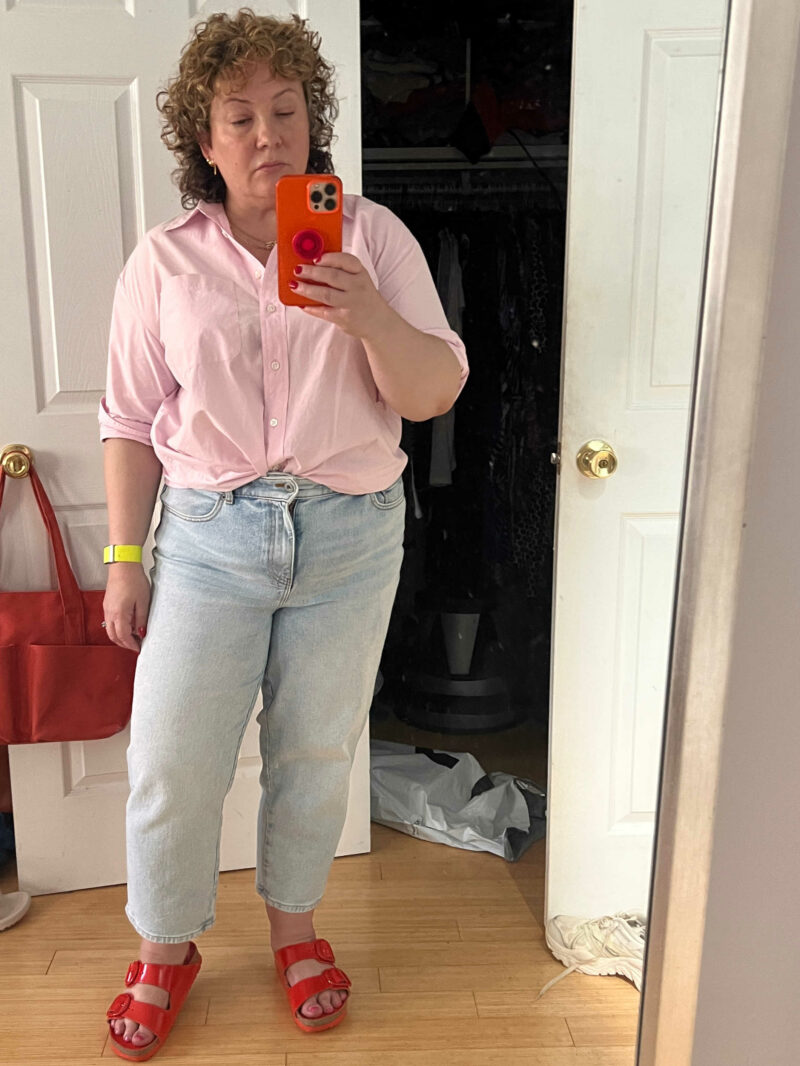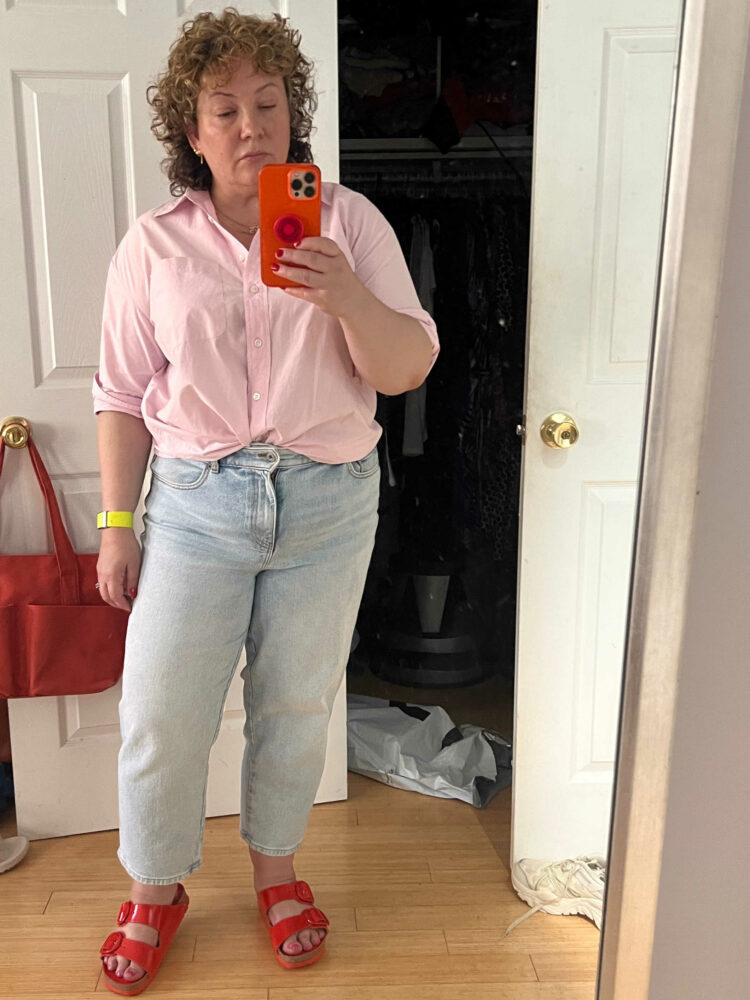 Do this in front of a mirror and adjust until both sides are even; in the process the twist will relax even further and blouse out a bit on the sides.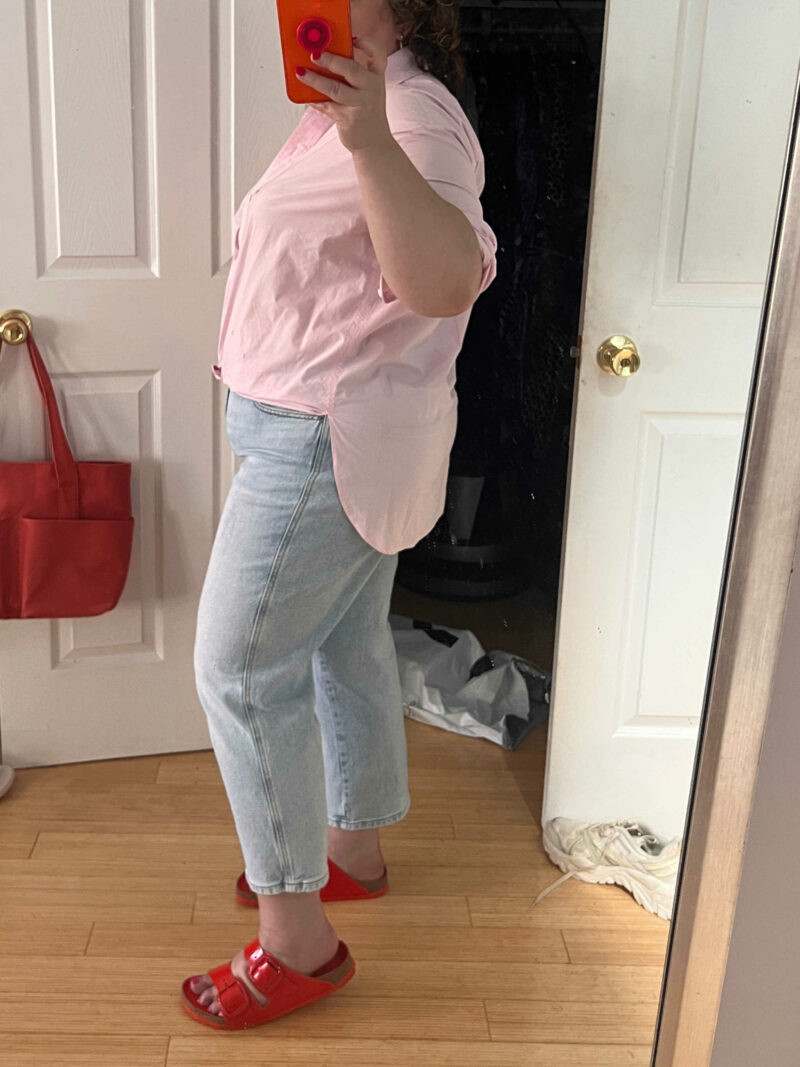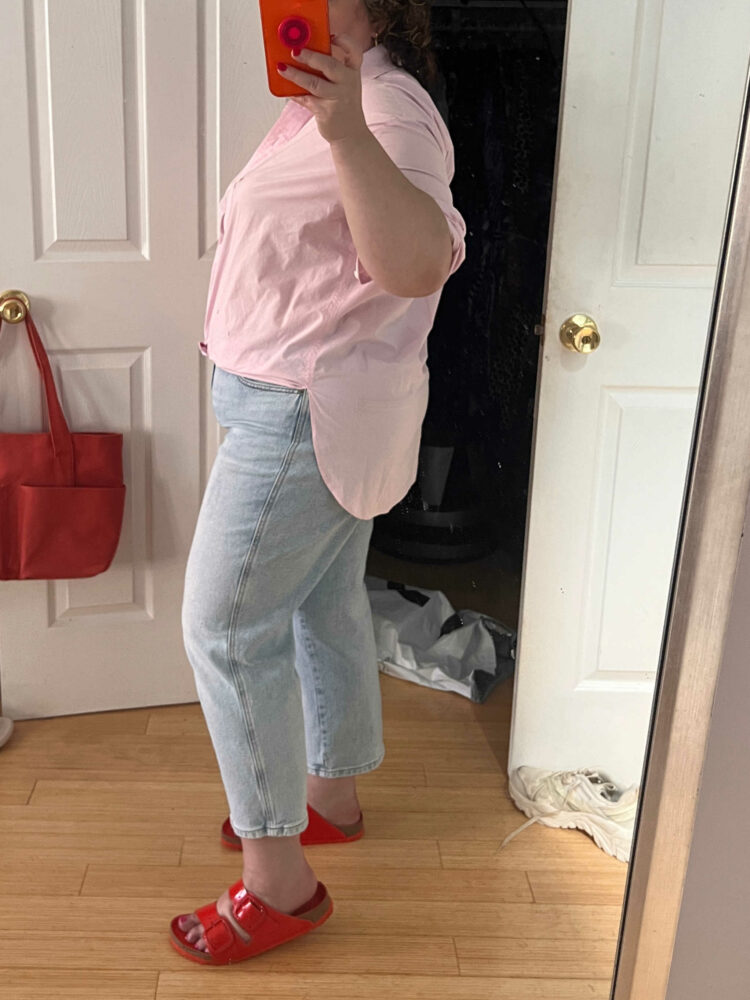 This method can also be done with the back shirttail untucked. The twist tuck method is best with a fitted trouser or skirt of a heavier or stiffer fabric that will hold the twist in place.
The French Tuck (Also Known as the Half Tuck)
The French tuck, also known as the half tuck is a popular method for tucking in a shirt, and like tying your shirt, it can easily be customized for length and volume.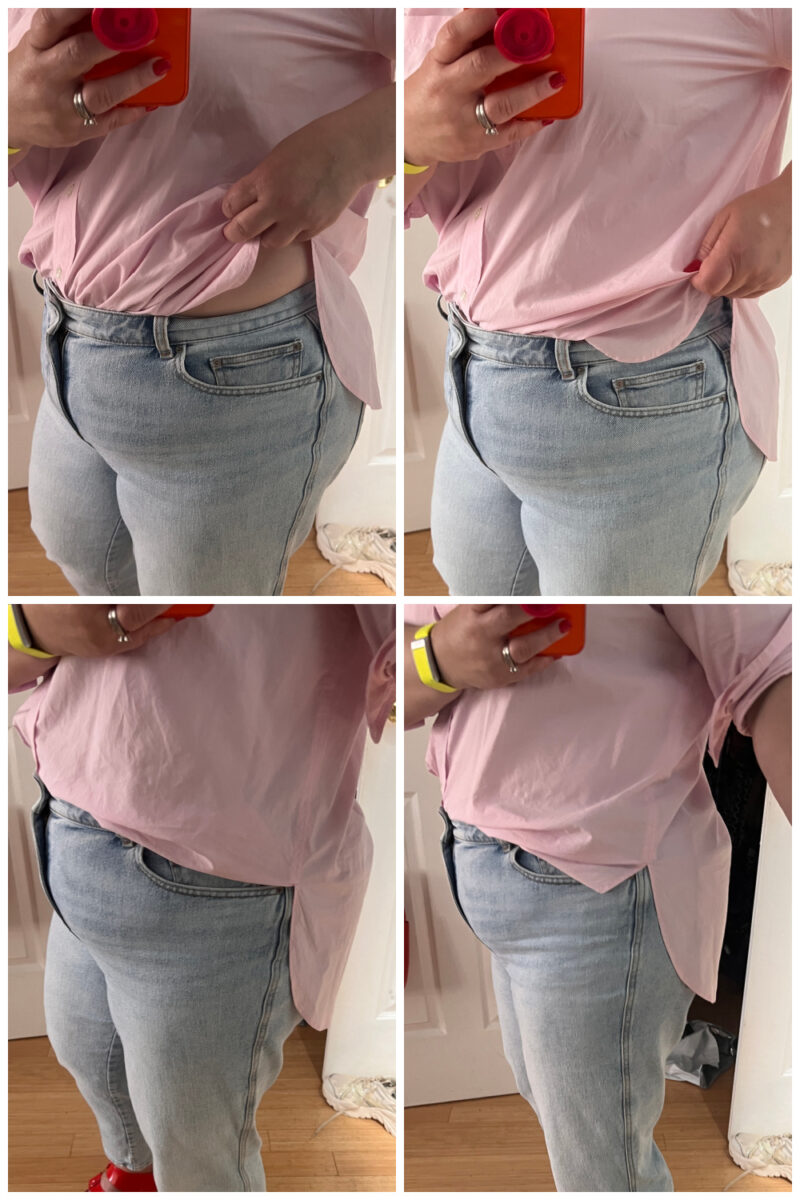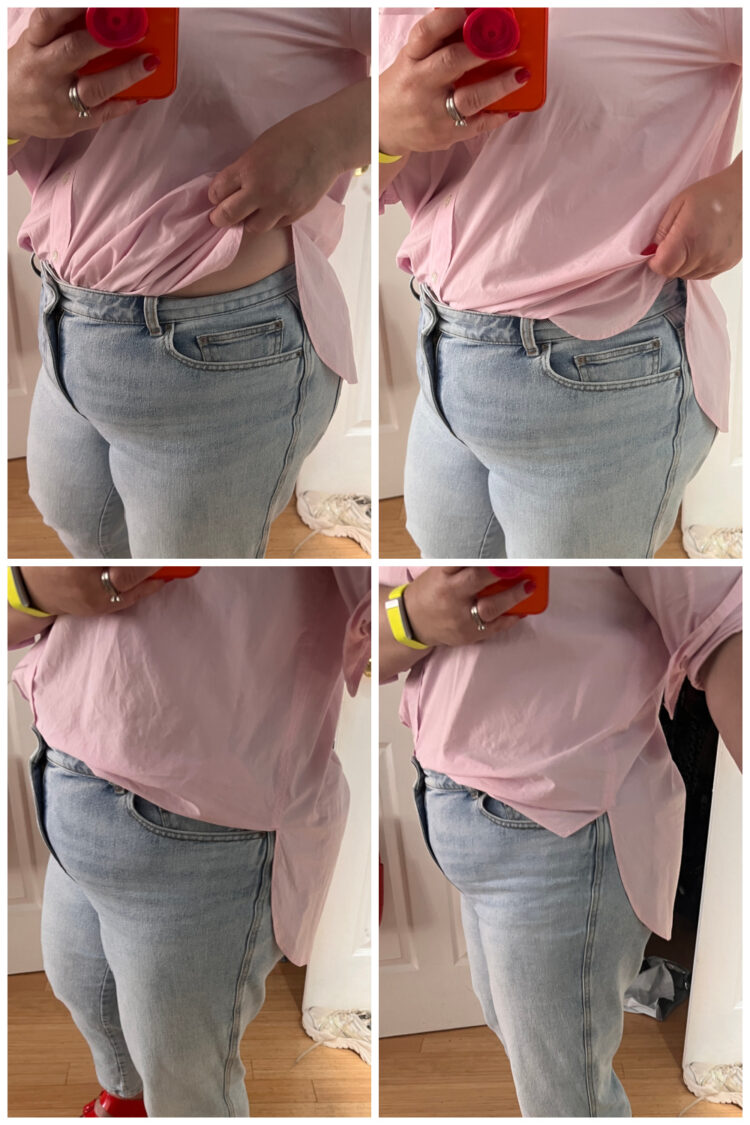 My favorite way of doing a French tuck of a button-up shirt is to gather the hem of the shirt and stick it in my already-buttoned pants or jeans. I don't want it smooth and perfect, the gathering will create really nice soft pleats that are a design element.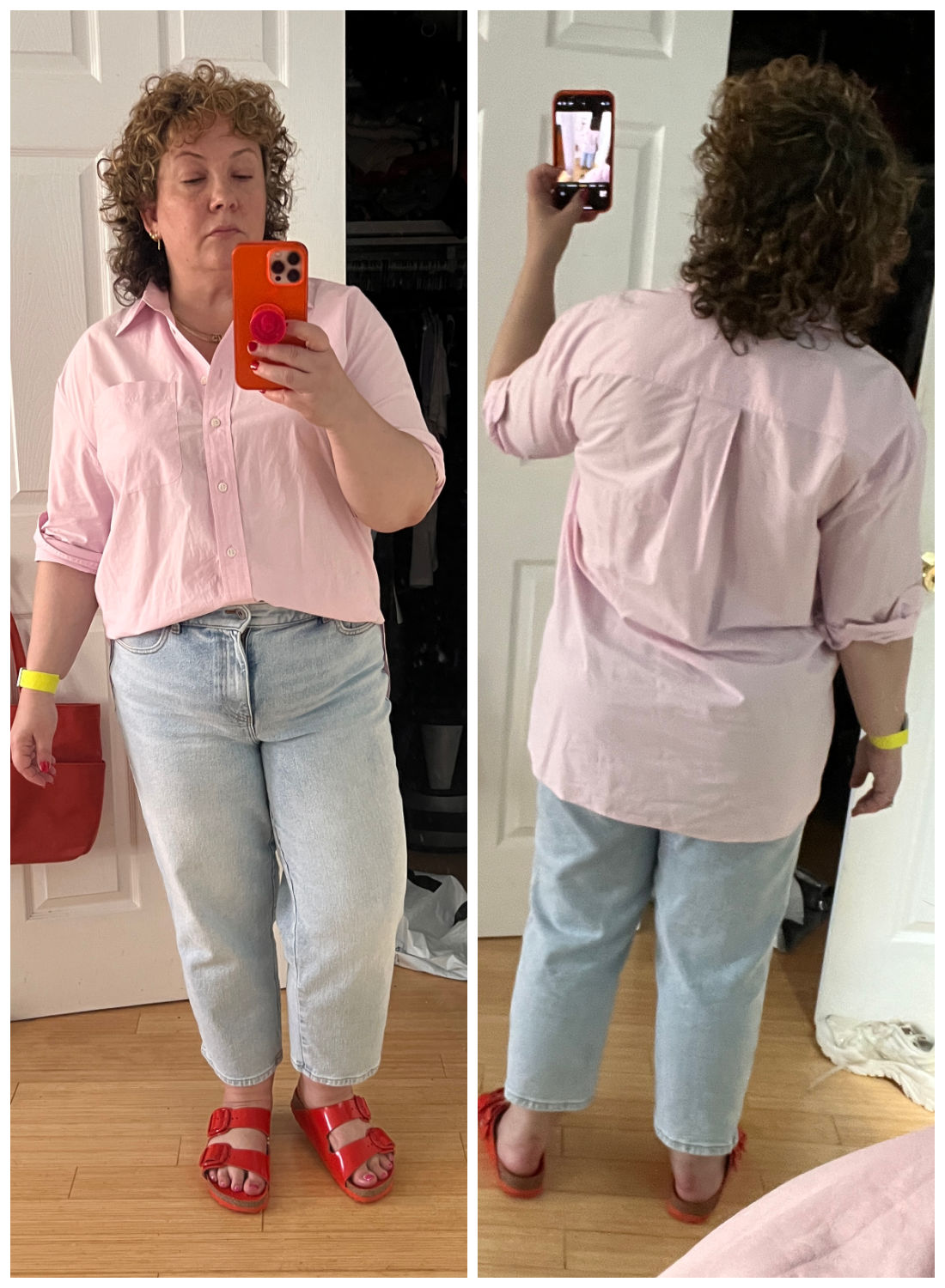 I then pull gently on the sides of the shirt and tuck under any front shirttail that isn't tucked in. With a shirttail hem, This untucked but tucked under part will blend nicely. And even if the front shirttail untucks on the sides, it still won't look as weird as a crisply tucked front and untucked back.
The Belt Tuck
I showed in an Instagram Reel how to do the belt tuck with a sweater, but you can do the belt tuck with most any sort of top or shirt. My personal favorite belt to use for this method is the Beltaway. For these photos I am using a narrower belt because one Beltaway is at my office, one I loaned to a friend, and the other my husband borrowed for his too-big gardening pants.
The classic-style Beltaway, IMO is one of the best style tools and the best choice for the belt tuck. The wide, firm, non-rolling elastic and lack of hardware makes it comfortable, reliable, and virtually invisible. The Beltaway is available in misses and plus sizes up to 4X.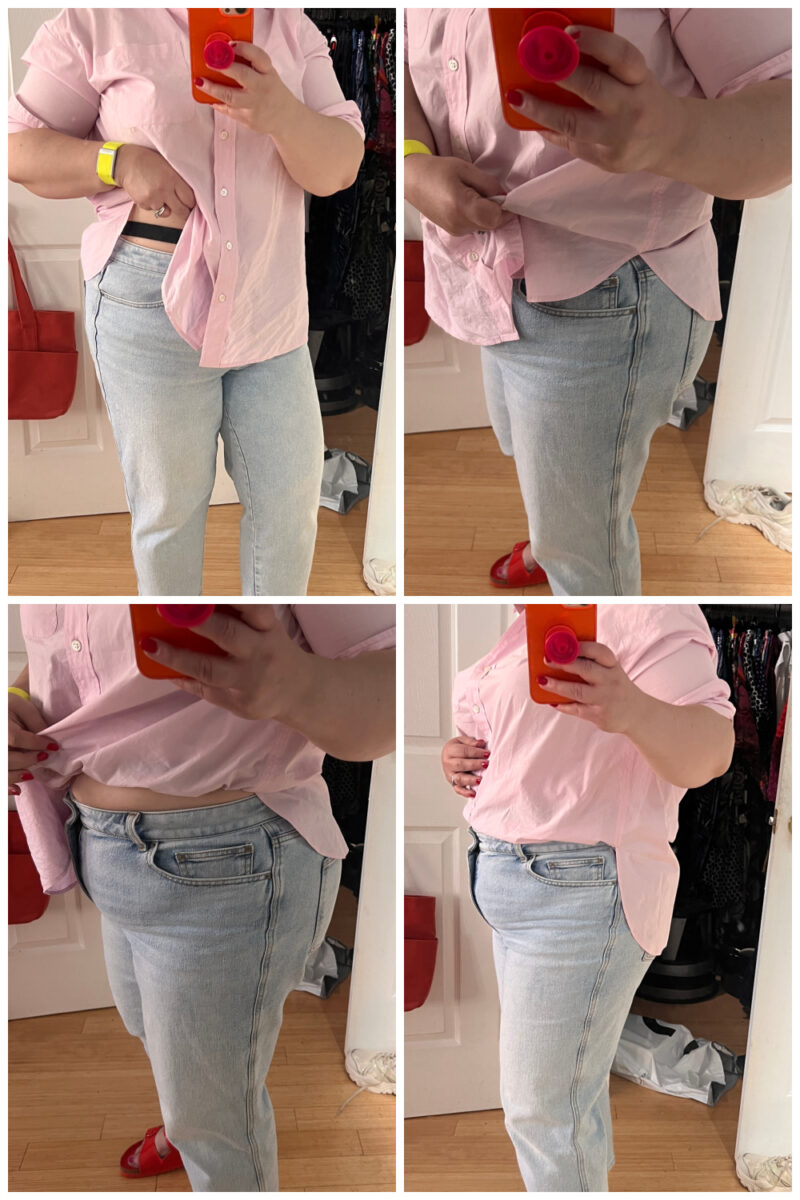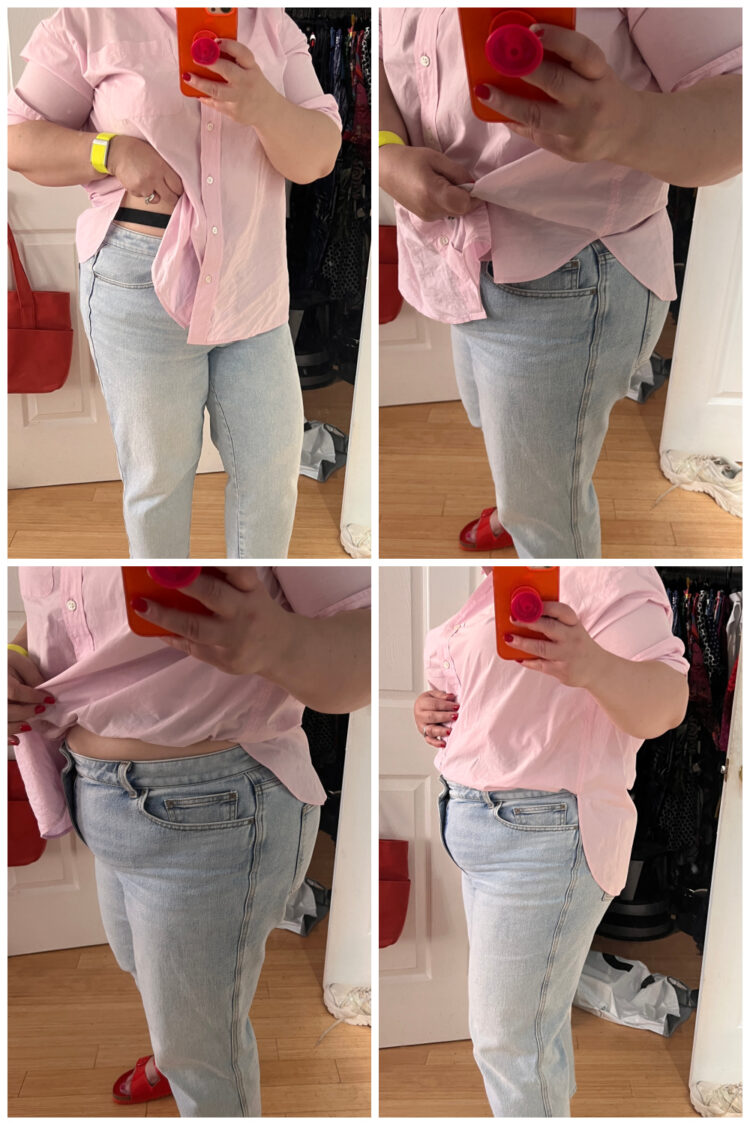 Put on your belt above your pants against your skin or underpinnings. The belt should be snug but not uncomfortable. Take the hem of your shirt and fold it under the belt and up along the inside of the shirt. You can do the entire hem of the shirt, or if you have a shirttail, you can do just the front.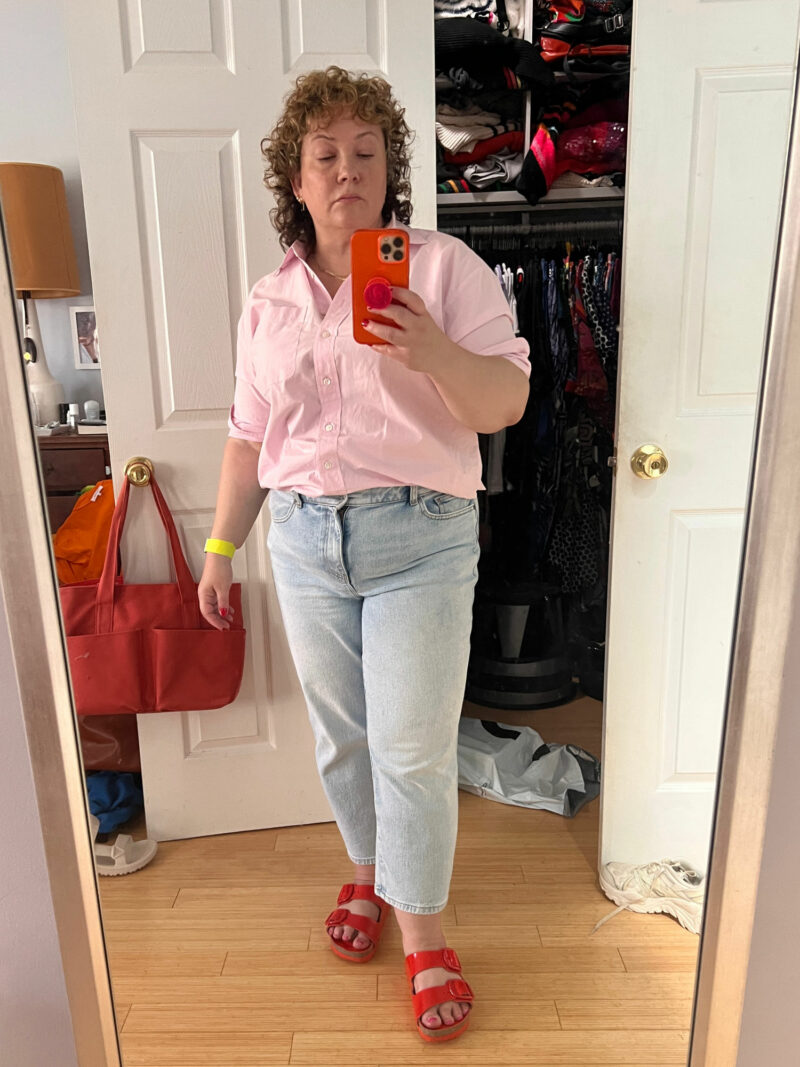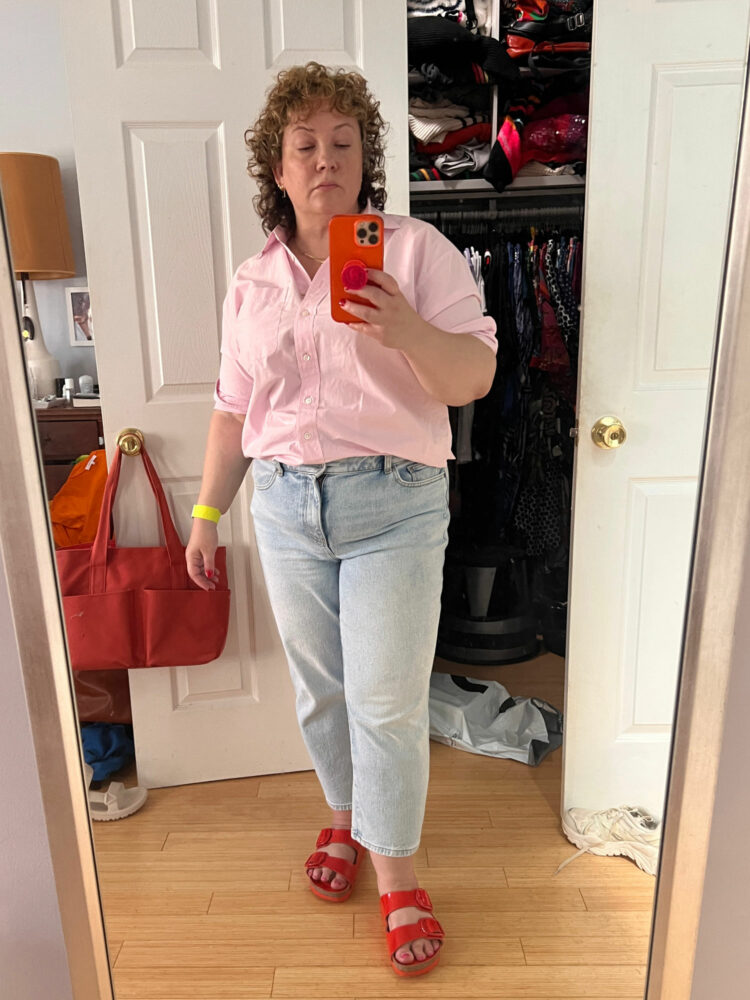 Once tucked in and smoothed on the inside (no balled-up hems, do this carefully), you can then adjust the gathering and also pull out more fabric to have the shirt hang lower.
In my Reel video tutorial, I did the belt tuck over a pair of jeans. You can also do this, but know each time you have to remove your jeans to use the facilities you will have to reset your shirt. While doing this above your jeans will make the shirt a bit shorter, it also means you shouldn't have to futz with it all day long.
What About the One-Sided Half Tuck?
I personally am against this one-sided half tuck. In catalogs and on influencers who have one hand tucked in a pocket, their knee popped, it can look chic. But in real life? It looks hella weird. I have yet to see a person in the wild with this tuck who doesn't look like they were in a rush after using the facilities.
The Best Button-Up Shirts for Tucking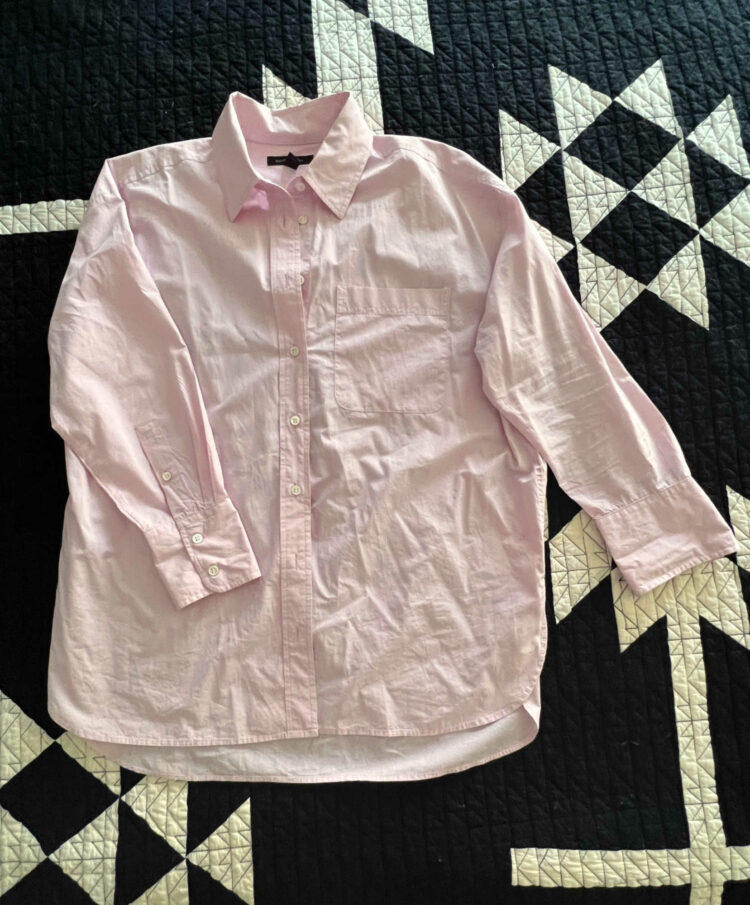 Last year, I was inspired to buy a pink button-front shirt and ended up getting the pink oversized poplin shirt from Banana Republic that I am wearing in this article. This looks to be this year's version of the shirt. I am wearing a size Large Regular. It comes in XXS-XXL with petite and tall options, but sadly pink is not currently available. This one from Madewell comes in misses and plus and a shade of pink.
I recommend cotton poplin, which isn't too stiff or heavy, and is easily found at most pricepoints. If you too have soft curves, choose styles either without chest pockets or with a single flat patch pocket (no flaps or buttons). A shirttail hem will provide the most versatility; an oversized or "boyfriend" cut will give you the volume to be creative without being too oversized at the collar and providing proper length sleeves. Below is a carousel of poplin shirts that look like great options:

While wrinkle-free options sound appealing, they are often coated and end up far stiffer. A few wrinkles and creases are chic and worth it for a better-draping shirt.
The exception to this is wrinkle-free linen. I am a big fan of Chico's No Iron Linen, which I find has just the right amount of stiffness to rival poplin for versatility while also being comfortable in summer. I have Chico's No Iron Linen shirts that are years old that I still love to wear. While the shirt is great, I find the tunic to have that extra fabric that provides more room for tucking versatility and creativity. Chico's offers these shirts in sizes 0/2-20/22; I wear a size 2.5 to accommodate for my larger bust. Below is a carousel of my picks:

Cotton voile is an even lighter weight cotton, and feels breezy in the summer heat. However, the fabric is so light that twists and tucks may not stay in place. The same holds true with rayon, Tencel, silk, chambray, gauze, and jersey. With such fabrics you may find tying your hem the best method for "tucking" in your shirt.
For those curious, my jeans are the Talbots High Waist Ankle Jeans, I am wearing 14 petite. And the sandals are from Birkenstock. The quilt on my bed is from Pendleton; it is the "Los Ojos" pattern and no longer available. However, there is a blanket in a similar pattern. I also found some similar Pendleton quilt sets at Wayfair.