This article may contain affiliate links; if you click on a shopping link and make a purchase I may receive a commission. As an Amazon Associate, I earn from qualifying purchases. 
I mentioned in a previous post that I wanted a Western shirt for spring/summer. Unlike my chambray shirt, a Western shirt would be heavier weight (actual denim, though a lightweight variety), more fitted, hopefully have pearl snaps in place of buttons, and some Western detail in the seaming and pockets. My husband has a Western shirt that he has worn for a few years and it just gets better with time; I was willing to drop major cash for such a piece knowing it would be a wardrobe staple for years to come.
My specifics: A shirt that can be worn untucked or tucked or tied and be flattering (meaning it is slightly fitted). Sleeves that can comfortably be rolled two to three times. Preferably pearl snaps, though if the buttons or snaps are dark and a bit worn looking it may pass. A wash that isn't too faded but isn't dark – something that already looks a bit worn. Not chambray, but not as heavy as a denim jacket.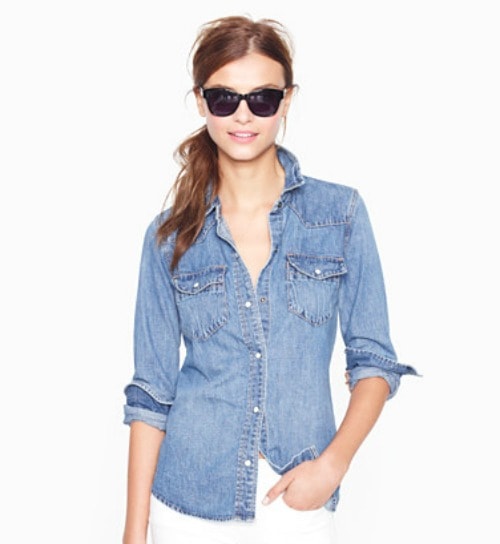 J. Crew's Western Denim Shirt is quite popular with fashion bloggers. I'll admit I haven't bought anything from J. Crew in a long while, finding their prices too high for their current quality. However, I figured since this shirt was a perennial blog favorite, it was worth a try and maybe was worth the $98 pricetag. In the past and with eBay purchases I have found J. Crew doesn't give much allowance for breasts, so I sized up with a 14.
The denim was heavier than a desired; with my curves it just looked bulky, almost like a jacket. While the 14 did fit my bust, it was way to big elsewhere and surprisingly short (hit just below my jean's waistband, no tucking and slight blousing out possible). It didn't have much shape on me and looked dowdy, though I really did like the color and wash of the denim. Returned.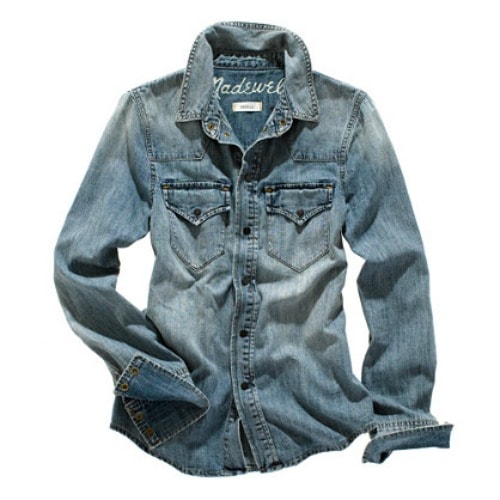 Madewell
When I was on the hunt for a Western shirt, many of you told me to check out Madewell. Gosh, I even used a Madewell Western shirt in the original post.  I have never bought anything from this company; I once went to a blogger event at their Georgetown store and everything just seemed too small and too expensive. This is another popular blogger brand and I've heard many well-dressed women rave about Madewell's denim and shirts so I decided to order the Western Jean Shirt in Willow Wash, size XL since I had a feeling this brand would run small.
This shirt was odd. While the site showed snaps, my shirt actually had buttons. And not only that, but it buttoned the opposite way, like a man's shirt. The button holes were a bit small so buttoning was tough, and the placket was very thick and heavy, making the shirt hang a bit funny. While the XL was too big in the body and neck, the sleeves were narrow, making rolling more than once impossible. Also I found this shirt a bit too short as well. Returned.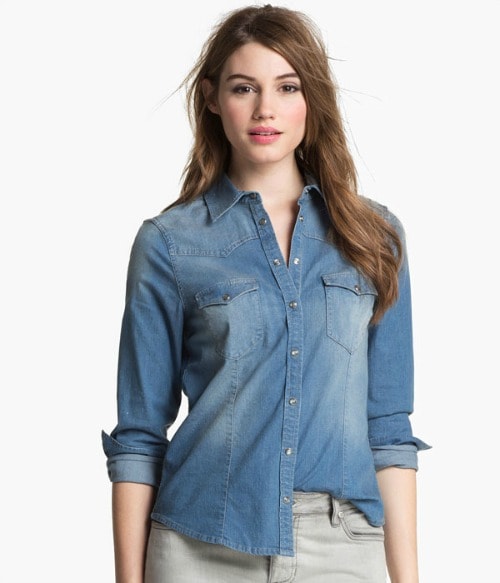 Two by Vince Camuto
I searched Western shirts on Nordstrom.com and was surprised by the lack of options. I decided to try the Two by Vince Camuto Denim Western Shirt. I have had success with Vince Camuto in the past finding the brand to have good quality and nicely incorporate current trends. I ordered it in a Large, knowing Vince Camuto fits true to generous in size.
This shirt was so bad, I didn't even take it out of the plastic when it arrived. Weird wash of denim, ugly buttons, I could find more style and quality at Target. Returned.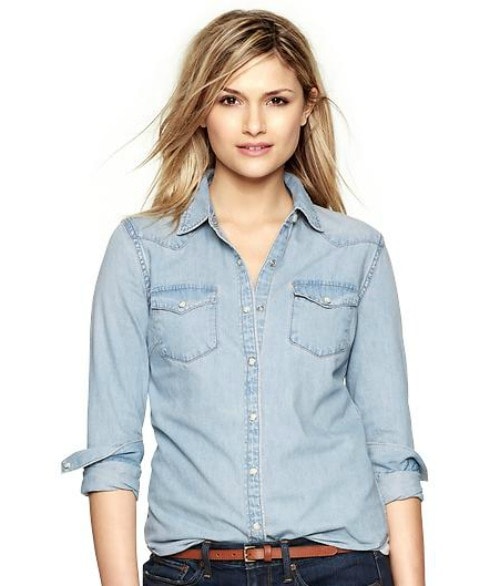 Gap
I haven't been wanting to buy from Gap. Not thrilled with their inconsistent quality and fit (and possible sketchy manufacturing), and I think they're trying to go the route of J. Crew and seem more cool with higher prices. However, they sent me a coupon for 30% off and I knew they had a Western shirt in two washes. I put the darker one in my online shopping cart at 11pm the evening before my coupon was valid. 6am, the shirt was sold out online in both washes so I stopped by the location near my office after work.
I circled that location three times looking for the Western shirts and finally asked a salesperson who confirmed they were sold out, but I found the lighter wash in a Large tucked between a bunch of chambray shirts. I had wasted all my time searching for the shirt I didn't have time to try on before buying. It wasn't the color I desired, but figured I could at least try it and then maybe search eBay if the fit was right.
Got it home… and I liked it. While the wash is lighter than I had envisioned, I like how the light really contrasts with my jeans for a denim on denim look. It also makes it easier to pair with dark colors like navy and black. While it's a bit snug over the bust, it has the pearl snaps I desired, the right weight, I can comfortably roll the sleeves, and it's that length I desired to be versatile. I've now seen the darker wash in person and it's not what I desired, I think this lighter color is a better option. Best part is that this shirt is substantially cheaper than any of the other shirts I tried. Kept, and worn on the blog here and here, off the blog I wore it untucked with distressed darker jeans, and open over a band tee shirt with ponte leggings and boots. It washed and dried nicely, no shrinkage.  Keeper!
I may still try to find the female version of Karl's shirt (which is also Gap, though years old). A bit darker with some fading in just the right places and those classic silver and pearl snaps. But until then, I'll be rocking the unexpected winner in the search for the perfect Western shirt.
Follow Me | Twitter | Facebook | Instagram