This article may contain affiliate links; if you click on a shopping link and make a purchase I may receive a commission. As an Amazon Associate, I earn from qualifying purchases.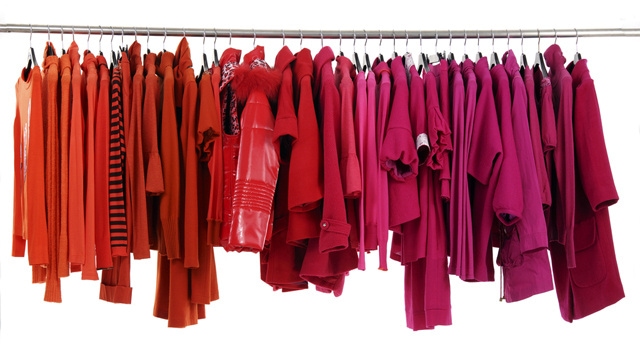 How do I find inspiration? How do I know what to buy each season and how I know it will flatter not only my figure but my personality?
Fashion is a form of art, just like painting and sculpture and music. When you look at it as a form of art, it's easier to see what you like and don't like. Instead of looking at what is hot for the season, just look. So Pantone has decided that honeysuckle (a bright pink) is THE color for 2011, that doesn't mean you need to wear it to be stylish. Feel silly in maxi skirts and dresses? Don't wear them!
We live in a great time for fashion – a time where one can find her personal style. There isn't one single denim wash or leg opening that everyone wears, there isn't just one silhouette of dress that is fashionable this season. Though certain silhouettes, fabrics, and colors are deemed by fashion authorities to be "hot" or "not" each season, it doesn't mean the rest are unwearable. It really is possible to find that which flatters you and your personality.
Where I Get Inspiration
Fashion Blogs
As a blogger, I love following fellow fashion bloggers. I find them just as inspirational as the issues of Vogue and Bazaar that arrive in my mailbox every month. With fashion bloggers, you are able to see how clothing works on non-model bodies, how creative women can make couture street fashion, creative ways to mix high-end with Target or thrifted pieces, and unique ways to style pieces to flatter curves, a petite frame, a conservative work environment. Some of my favorite blogs for fashion inspiration:
Atlantic-Pacific – When you want to see how to do a trend right, visit this blog. She is able to pair polka-dots with leopard print and make it look chic, not desperate. I love her mix of clean lines and strong colors with her armful of random bracelets and watch, her bold use of lipstick, her ability to make Hunter willies look downright chic.
Stylish White Female – Rarely do I find a fashion blog whose personal style I could actually see myself wearing. Terra from Stylish White Female is one of those bloggers. Like Atlantic-Pacific, she has a very clear voice – bright clear colors, lots of solids, great use of accessories. Ensembles that are unique yet very wearable for real life. For expecting women, Terra is currently pregnant and total proof that you can be a fabulous and fashionable woman, no matter the trimester.
Extra Petite, Petite Early Morning Style, and 9 to 5 Chic – Three wonderful blogs if you are working in Corporate America but don't want to look like a cubicle drone. I hate to lump these stylish women together, because they are very unique women. However, they are favorites to visit because they are able to make classic pieces look elegant, unique, and always appropriate. I know that I can always find an excellent Ann Taylor review from Extra Petite, and one for LOFT from Petite Early Morning Style; and I know from all three they will give inspiration on how to make the mass-produced look unique and personal.
Artfully Awear – Have you ever created an outfit inspired by a Matisse or Rothko? Artfully Aware states on her blog, "Plainness in clothing is the enemy of art." Each post shows her fabulous eclectic style, and then the painting that inspired her ensemble. I doubt I would ever wear what she wears (or be able to pull it off), but I love her sense of color, her joy for life and her passion for art.
Fashion for Nerds and Style Odyssey – Stephanie at Style Odyssey and Audi at Fashion for Nerds are so clearly aware of their personal style, it's impressive. They don't dress for society, they don't dress for others, they dress to express themselves and please themselves. By doing this, they have a very clear message and always look so utterly chic. Both women have personal styles drastically different from mine, but through their blogs I find inspiration on how to simplify, and try unusual combinations while staying true to myself.
FutureLint and Work With What You've Got – I suck at thrifting. I head to a local shop and get overwhelmed by the racks of randomness. Christine at FutureLint is my hero – she is able to take an almost completely thrifted wardrobe and make it work for her job, for parties, for dates. Erin at Work With What You've Got and I seem to have been separated at 9th grade – she makes me wish I didn't do a major purge of my clothes when I went off to college for she is able to make Doc Martens and Smiths tee shirts look absolutely cool, modern, and fresh. I really like both of these women for their unique senses of style and great voices – it's awesome to read a blog for years and still want to meet them IRL.
I love so many fashion blogs, but when thinking offhand of my faves without looking at my Google Reader or Blogroll, these were the few that came to mind. My faves often change with the seasons, and with my life. Blogs I adored before Emerson may seem inappropriate now, blogs I followed when I worked in a different field may not be as inspiring now that I have my new job. It's important to notice when your tastes change and think as to WHY that is happening. It's impossible to stay stagnant in fashion – you as a human being change and adapt to your environment, your wardrobe should also adapt.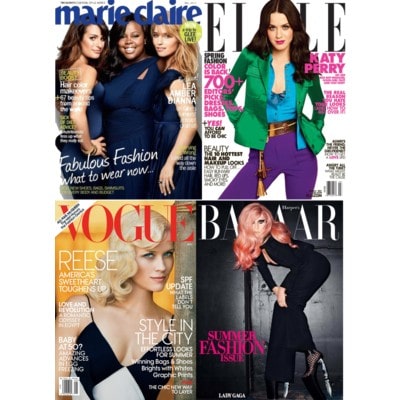 Fashion Magazines
I know in a previous post I said one should get rid of the fashion magazines to save money. However, if you have a grip on your finances, fashion magazines still are an amazing way to be inspired by current fashion. We may have Style.com and Fashionista, but paper magazines will always be one of my favorite sources for fashion inspiration. I can tuck one in my purse and read it on the Metro ride to work, I have them in my bathroom so I can read them while straightening my hair, I have them on my bedside table so I can flip through before bed or on a lazy Sunday morning.
I flip through magazines not really looking at details, but looking at colors and silhouettes. Bazaar had a page of blue and white printed pieces – Ikat and batik and tie dye and even toile. I loved how the trend looked, envisioned a dress or lightweight cotton top in such a print with my current wardrobe – with my gold flat sandals from Lands End, with white jeans or denim cutoffs. I thought about how I could make it work for the office setting.
With fashion magazines, I treat them like a coffee table book for an artist. I don't take it literally, I look at the clothing as art. Instead of examining who the designer is, I examine the drape the silhouette, the choices of color and fabric. I can't afford designer, and I don't want to try to get the same look for less. However I do know that if a designer shows a certain type of fabric or color on the runway, within a year that choice will be available at chain stores for a price I can afford.
Television
I find a lot of inspiration on television. Of course, you can get fashion advice from shows like What Not to Wear and How Do I Look, but inspiration can be found on non-fashion shows. My mom often gets fashion and hair ideas from watching Days of Our Lives, I decided to finally get bangs after watching an episode of Fringe, and I always get makeup and fashion ideas from Gossip Girl and reruns of Sex in the City. Shows like How I Met Your Mother and Modern Family show you very simple wearable weekend style for regular folks – yes the character may be wearing a simple cardigan and jeans, but it can often be inspiring to see the choice of footwear, how a belt is placed, the unusual color pairing.
What's great is that often when you see a piece of clothing worn by your favorite host or actress, it's pretty easy to find out online where to buy a version for yourself. As with fashion magazines, it's less about knowing WHO created the piece, but HOW the piece is worn, how it hangs, the choice of fabric and color and accessory.
Online Stores
I love Nordstrom.com. I love to just look at 'What's New Now" and see the models wearing the fashion. Somehow, Nordstrom's images of items seem more relatable than the same dress on a different model at Saks or Macy's. I see what sort of shoe they decided to pair with a dress, how they styled a bag for a display or on a model.
Some retailers may have gorgeous clothes, but I hate shopping their sites because I find them boring and uninspiring. I may love Ann Taylor's clothes but I hate their site – it's gloomy and the photos are uninspiring, far too simplistic for my tastes. I was a visual merchandiser in a past life, and I like to see very subtle styling that not only enhances a garment, but encourages the customer to purchase additional pieces to recreate the same look.
I look for base inspiration – models that look to have eaten a sandwich in the past week and got at least six hours of sleep last night. White, light, or natural backdrops that either highlight or add interest to the subject. Good lighting. Good styling – the piece fits the model properly, doesn't hang off her bony shoulders, looks as though it could be worn with traditional underpinnings.
Then I look for ideas – colors, draping, fabric choices. If I like a dress from a designer, say Milly (who I am loving the past couple of seasons), I will Google Milly and check out other pieces from the line, and how it is styled on the Milly site versus Nordstrom versus Neiman Marcus. I use online stores the way I do fashion bloggers – lets see how different bloggers style the Tucker for Target dress; let's see how different retailers style Milly's 'Caroline Maxi' dress.
The Street
I don't live or work in the most fashion-forward part of the globe, but that's actually a good thing. I can find inspiration on the street not just with what I may want to wear, but what I should not wear. I see fellow petite curvy women in cropped pants and ballet flats and see it as a constant reminder of what I should never wear. I see a pale blonde look washed out in blood orange but think I bet I have the coloring to be able to wear it and should try it. I see a woman wear a silky cocktail dress with colored tights and find it an odd pairing, but do get inspired with trying to merge more "After 5" pieces into my work wardrobe.
Life
I am always drawn to bright green, whether it's the logo for a Healthy Choice
frozen entrée, the color of the chain-link fence around my neighbor's yard, or the straw in my morning Starbucks. Whether or not green is popular, it is a color I seek out for my wardrobe.
The other day I was looking at a painting that my cousin Amy painted for me and my husband as a wedding gift – she was inspired by Gaugin and there is this beautiful blood orange color in the picture. I started thinking how a deep red-orange color is so beautiful, and how it can look great with other colors. In my head I imagined it with white, with denim, with hot pink, with purple, and with my beloved Starbucks Green. I started thinking about my current wardrobe and what piece in blood orange would work with my current collection. A scoop tee or tank and/or a pencil skirt seemed the most logical – a way to add the pop of color without changing the concept of my closet.
Love the look of the pale yellow honeysuckle against its green leaves? Try that color combination on your body. Drawn to street graffiti that combines orange, purple, and cobalt? Why not incorporate that trio into your next ensemble. Love the liquid-look of your grandmother's favorite vase? Consider a Grecian-inspired dress for your wardrobe. Fashion is not black and white, and inspiration can come from anywhere.
What I Do With My Inspiration
I am not rich, I cannot purchase each item that tickles my fancy. I have to figure out what to do with my inspiration – what do I need, what do I want, and what to think of my ideas.
I always use my current wardrobe as a launchpad – what do I have now that works? What do I need to make it work even better? I like this current trend, but can it play nice with what I already own? How much work does it take to make it work with my wardrobe/how many additional items do I need to make it a cohesive part of my collection?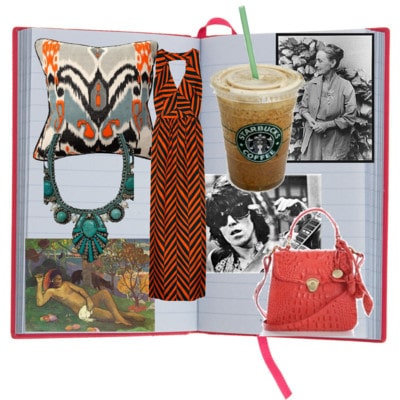 I love having my inspiration notebook. This is a tiny little hardcover reporter's notebook that I bought at the grocery store several years ago. If a stranger opened this notebook, they wouldn't understand the scribbled randomness inside. I write down song names, recipes from the back of a package, Website URLs, lists of clothing that I am seeking to complete my wardrobe, notes of beauty products and books to research and albums to download. This notebook reminds me of my inspiration, and keeps me on track. If I am out and see a woman with a great dress or bag, I will describe it, sometimes ask her who made it and jot down the info in my notebook. Later, I can go online and search for the item and see if I still like it when it's not on her body. Then I will think about my current collection and lifestyle and see if that item would fit. If so, I then look for the item at a price I can afford – usually it's a similar piece and not the original (hate to say it, but I have expensive tastes and not the wallet to support them). If I can't find it, I remember it for future inspiration.
I often make lists on the same little netbook I am using to write this article. If I had unlimited funds and access to any clothes I wanted, what would I get? I rarely write down specific brands or designers, more so actual garments. A blood orange pencil skirt, fully lined, fabric slighty textured, back zip. A purple silk blouse – sleeveless or very short sleeves, ruffles or detail on the front and around the scoop neckline. A white blazer of stretch twill. Dark rigid straight-cut jeans free of adornments. A canvas wide belt with brown leather (preferably croco or snakeskin) buckle. Chambray shirt with feminine details – puffed sleeves, ruffles, or bow neckline. A long statement necklace of silver and turquoise. Black scoop or boatneck dress with flared midi-length skirt. Tan peeptoe heels.
Making this list, freeing myself of what is on trend, what is hot by what designer, and what I can afford gives me a good look into my true personal style. The list above shows bright solid colors, crisp lines with a touch of femininity, classics with a hint of current trends. When I see an item that doesn't fit with the rest (cue, "One of these things is not like the other") I stop to ask WHY is it there. Am I swayed by a fashion blogger or celebrity? Is it my alter ego trying to step out (I have a hidden rock star, hippie, and prep inside me)? Is it something that my alter ego would love but I can make work with my classic, clean collection? Am I in a rut? Before I shop, I analyze.
Finding Your Own Inspiration
Fashion is art – there is great art, there is awful art. With art, you can see the progression of the artist – the difference between his art school sketches and his oversized oils from his '40s, and the pastels from his '70s. How an artist changes his style based upon finances, lifestyle, environmental influences. Don't be limited by what "they" tell you is en vogue, what "they" tell you is a must-have for every wardrobe. Not everyone likes the same home décor or art or even food; why should we women all like the same designers or trends? Embrace your opinions and tastes. Write them down, look at them, analyze them, embrace them.
A stylish woman is one who is confident in her skin, her wardrobe. If you choose pieces not true to your self, you will always feel awkward. One reason I hate makeover shows is that the subject doesn't have the time or the power to cultivate a collection – she is swiftly stripped of everything familiar and left in a foreign closet. Personal style doesn't happen overnight – it is something you learn like any other skill. Take time, listen to yourself, get to know yourself. Start small with an accessory or a simple dress that can be worn for many different situations. Begin with a blank, yet properly primed canvas with wardrobe staples and then grow from there.
My inspiration will not be yours, and that is a good thing. Use fashion to help express the amazing and unique person that you are!
Please check out the previous posts from my How To Shop Series:
How to Shop: An Introduction
How to Shop: Sticking to a Budget
Follow Me | Twitter | Facebook