This article may contain affiliate links; if you click on a shopping link and make a purchase I may receive a commission. As an Amazon Associate, I earn from qualifying purchases. 
I am looking for your advice on some ultra-casual weekend looks. I want to look tidy enough to run to the grocery store or walk the dog in my neighborhood, but I want to be comfortable enough to do my household chores and lounge. I know a lot of people default to athletic wear like a tracksuit on a lazy Sunday, but that's not my style. I've got to admit, though, that the idea of an elastic waist is appealing!

My current weekend "uniform" is a dark denim knee length skirt (I like the NYDJ Emma), a knit top with some flowiness and enough length and drape to obscure my tummy bulge, and a long cardigan or hoodie. In winter I wear tights and clogs or boots. In spring/summer, I wear flats or sandals. I am currently at the point where I hate, hate, hate pulling on tights, and spring/summer means I transition to spanx-type bike shorts – otherwise I suffer from "chub rub" in my skirts. I want something a little easier to wear some days.
I LOVE your comments. We bloggers focus so much on what to wear to work, a wedding, or a date we forget about the moments when we just need to get things done. Some days, you just don't want to wear heels and belts and things that require ironing or proper posture. We just want to be dressed, comfortable, pulled together but EASY. I hear you, and I too have found this to be a more difficult challenge than what to wear to work.
But I love your comments because it's important to consider what you wear all the time, whether it's for a company holiday party or a trip out to Home Depot. If your entire wardrobe is full of pieces that fit and flatter and work with your lifestyle, you have more confidence and are less likely to hide behind the mini blinds display when you see a neighbor or ex-boyfriend at the store.
I'm going to take a page out of a magazine, where they suggest a low-calorie alternative to a donut or bagel. Hopefully my alternatives are a bit more appetizing…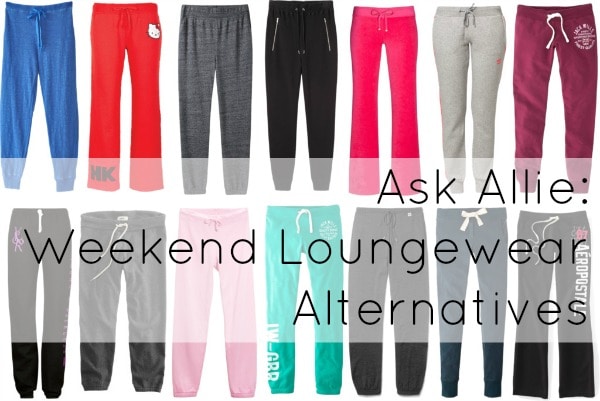 Instead of Sweatpants… try Ponte Pants
Here's my chance to rave YET AGAIN about Lands' End. They ROCK when it comes to casual lounge pants. Whether they are ponte (which is one of my favorite fabrics year round), or a heavy refined jersey they call Sport Knit, Lands' End makes straight, boot cut and wide-legged knit pants with a smooth waistband and stylish leg opening that are as comfy and washable as sweats.
Instead of a Baggy Tee… try Refined Knits
It's easy to throw on your husband's tee shirt or that one your Aunt brought back from her trip to Hawaii, but then you feel schlubby when a neighbor pops in or you have to do a quick run to the grocery store. I like stocking up on solid tee shirts with feminine silhouettes when they are on sale so I am not tempted to grab something from my husband's drawer. Again, I'll rave about Lands' End who makes fabulous durable tees in gorgeous colors that don't shrink or fade with washing. I am a huge fan of Old Navy Vintage V-neck tees which are usually on sale for less than $10 and look trendy, a bit sexy, but are still comfortable and cheap enough that I won't cry if I spill something on them. Target often has really pretty tees for a low price, and I also recommend checking out the Talbots sale department for some gems.
Instead of an Old Tee… DIY It!
I love music, I love attending concerts and festivals, and I have a few tee shirts to prove it. The thing is, those tee shirts are often the most unflattering things I own in my closet. I now DIY my favorite tees to make them more feminine and flattering. For me, I find it flattering to cut out and stretch the neck so it's almost off the shoulder and trim the sleeves so they are a bit shorter and roll a bit. For some, it's cutting the bottom for a looser fit, for others it's just putting a notch in the neckline. I love the blog Wobi Sobi for really creative ways to DIY tee shirts to get a custom and flattering fit.
Instead of Sneakers… Try Flats!
I hate flats. I think they make me look squat, my ankles and calves even bigger than they are. But they are darn convenient when you need to slip on a shoe and get out the door. Think about it, sneakers are comfortable for sure… but do you need all that padding and support and lacing and such just to take your child to school? It's amazing how a quick switch of footwear changes an outfit so dramatically.
At my door there's always a pair of flats so I can slip them on and go. Leather ones can be cleaned up and polished easily to look nice again. A simple flat can work with dresses, pants, skirts, and shorts almost year-round.

Instead of Clogs… Try Flat Boots!
I get the awesomeness of a pair of clogs in winter. Sturdy, warm, solid. Slip them over your socks and you're good to go. I've found the past couple of years I can get the same from a pair of tall riding boots. I love DUO Boots for custom calf sizes, prices equal to department stores, and stylish silhouettes. All winter long I lived in my black riding boots from them; like the ballet flats above I often kept them at the front door so I could just pull them over the socks I was wearing bumming around the house and be warm, comfortable, but have a bit of polish. Speaking of polish, do this often to keep them in great shape, put rolled magazines in the shafts so they won't crumple and crease, and if they get wet let them dry naturally and don't put near a heat source. Consider getting a protectant spray, I do that at the beginning of each winter to keep them looking good all season long.

Instead of Separates… Try a Dress!
I wear a lot of dresses to work, but I also wear them for play, be it running errands or just hanging out in my living room watching TV. Heck, I'm wearing one while I write this at 6am on a Saturday!
I look for dresses that come at least my knees for modesty when chasing after Emerson or when I head out to the market, a style that works with a standard bra, and something that is truly machine washable and will survive the clothesline as well as the dryer. For some, this may be a tee-shirt dress that's as easy as its shorter knit cousin. For others, it may be a surplice dress that can even go sans bra if you're small busted. Others like peasant-style dresses that float on the breeze yet cover the legs. I like knit dresses with an elasticized waist which is still super comfy but gives me a bit of shape; I can lounge around in them barefoot, slip on sandals or even flip flops to grab the mail, and easily jazz it up with some ballet flats or tall flat boots and a skinny belt. Come winter, pair with leggings for a warm, cozy, comfortable yet polished combination. Though I don't wear it on the blog anymore, I still wear this dress quite regularly on weekends for lounging and don't feel a mess when I need to make a run to Target and this dress shrank in the wash so I now wear it with black leggings and flats from fall to spring.

Instead of Leggings… Try Jeggings!
Karen Kane makes great dresses that are travel friendly. They make their clothes in the USA. Even so, one of the biggest reasons I love them is because they gave me the first pair of jeggings that didn't suffocate my calves. They have a wide elastic waistband that lays smooth under fitted knits, has a dark classic rinse that looks like traditional denim, and they have held up for over a year of washing and the occasional dryer drying. I could wear a gray v-neck tee, black leggings and ballet flats and look as though I went to the bank in my pajamas; or I could switch to jeggings and tall flat boots and suddenly look polished even though I am just as comfortable.
I now have jeggings in black and dark rinse, and live in them on fall and winter weekends. Around the house I pair with my slippers, a tee shirt and a long sweater jacket or cardigan; when I leave the house I slip on flat boots and maybe a necklace or a scarf to make it all look more cohesive.
Follow Me | Twitter | Facebook | Instagram