This article may contain affiliate links; if you click on a shopping link and make a purchase I may receive a commission. As an Amazon Associate, I earn from qualifying purchases.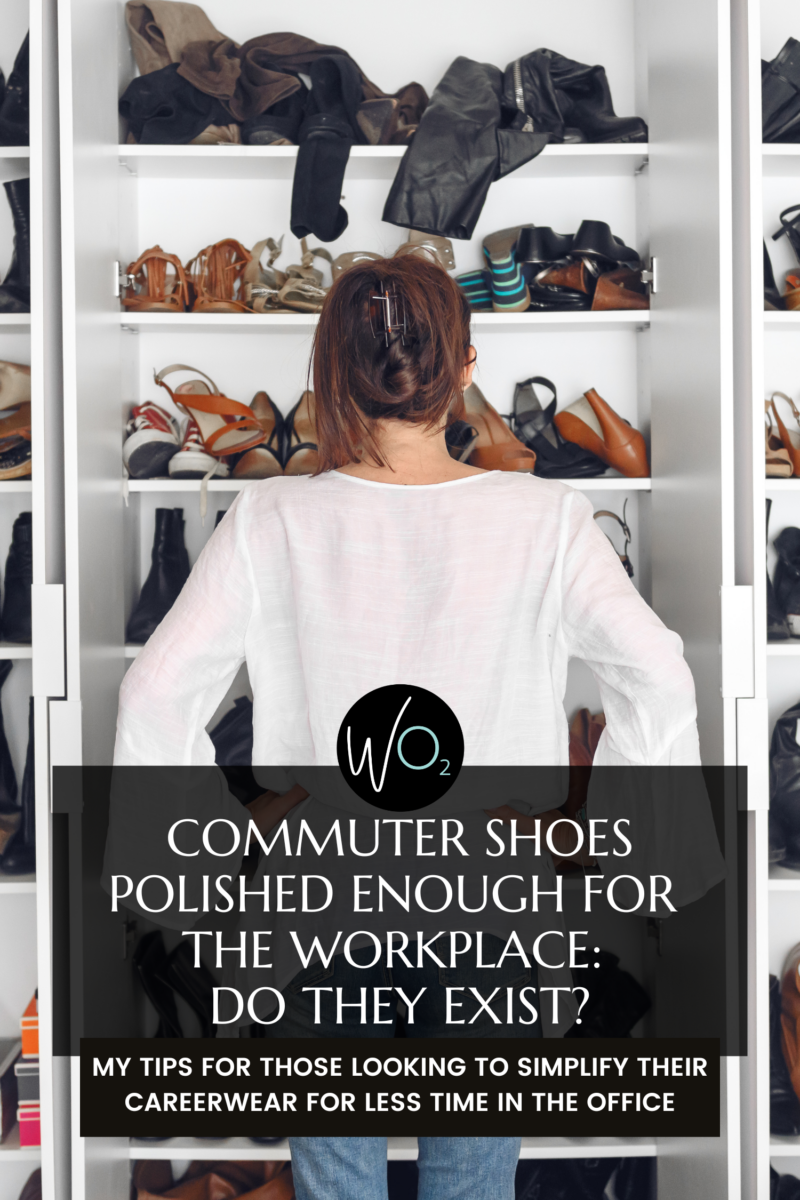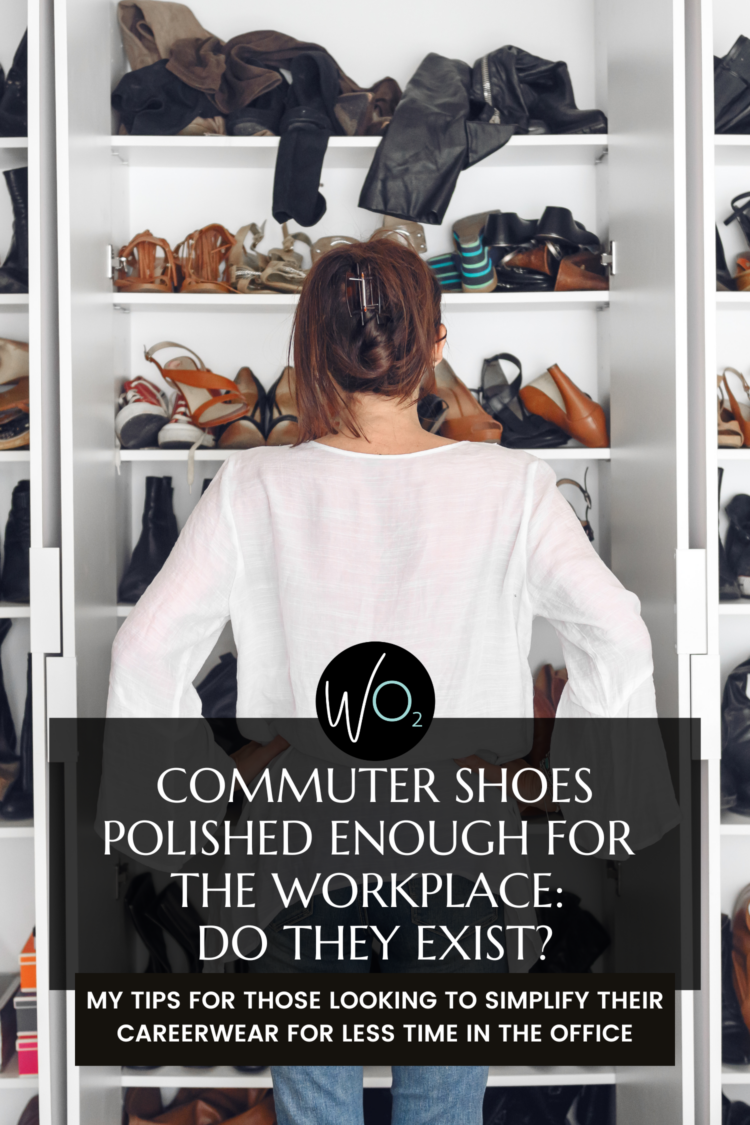 In the Wardrobe Oxygen Community on Facebook, a discussion took place regarding work shoes. What do we do for work shoes in this new normal? What work shoes for women can get us to our destination while still looking great with our professional work outfits?
This post was written earlier this year but reader Emily R. reached out asking if I could revisit it with fresh links and some work-friendly commuter shoes appropriate for summer and warmer months. Therefore some content will be familiar, but some will be brand-spanking new.
Let's Discuss Work Shoes for Women in 2023:
Before 2020, many of us would wear commuter shoes to work. We'd have cushy flats, waterproof boots, and supportive sneakers to get us from our homes to our office buildings. Under our desk or in a drawer would be work shoes – pumps, flats, or loafers that worked great for the workplace but not for pounding the pavement or battling the elements to get to the said desk.
But now, many folks who worked Monday through Friday in an office now only need to be in person once, maybe twice a week. Many offices have gotten rid of assigned desks and you sit where you fit for your in-person days. A shoe wardrobe under the desk is no longer feasible. The discussion was about finding shoes that could perform double duty since many don't need a large work shoe wardrobe. Do work shoes exist that are durable and comfortable enough for a commute but still look office appropriate?
The discussion below is for traditional office environments where business attire to business casual dress code is still expected. Those who have more casual or creative workplaces may find they do not have this issue.
Do Practical Commuter Shoes Stylish Enough for the Office Exist?
Sure, such shoes exist… if your personal style aesthetic fits such footwear. I'm going to be brutally honest with you. I am betting that especially if you are still wearing your PrePan work wardrobe a pair of double-duty work shoes will not fit with that aesthetic.
Even if you bought a new work wardrobe since March 2020, if your outfits are in line with workwear go-to work fashion retailers like Ann Taylor, J. Crew, LOFT, and M.M.LaFleur, you won't have an easy time finding footwear that matches that aesthetic and can comfortably get you through eight blocks of slush and asphalt on a cold gray morning.
Yes, you grown-ass woman, you can wear whatever the hell you want. If you want to rock snow boots with your suiting trousers and silk blouses, I support you. But the majority of us know if we show up to the office in a midi skirt with Merrells we're going to look like we got dressed in the dark. In my opinion, you have two options:
Option One: Adjust your Work Wardrobe to your Footwear
Honestly? I think this option sounds pretty terrible for both the wallet and the environment. Especially if your need to dress for the office has been reduced, it makes more sense to wear what you own and choose the second option below for your work footwear. But maybe you have decided since Lockdown to eschew any delicate footwear and go 100% practical. I get it, and I'm here to help.
Think back to the times before when more practical footwear was on trend. Those times were when activewear became streetwear, and when thrifting and army surplus were stylish. When grunge, streetwear, and athleisure were mainstream. You will want to keep those concepts in mind when creating your practical footwear work wardrobe.
How to Style Sneakers for the Office (if they are permitted in your dress code)
Sneakers are the easiest when looking for comfort and support on your walk and style in the office. A pair of polished sneakers can look great with suiting and work separates. A low-profile pair will work with ankle pants and skirts, and a more solid pair can be worn with wide-leg trousers.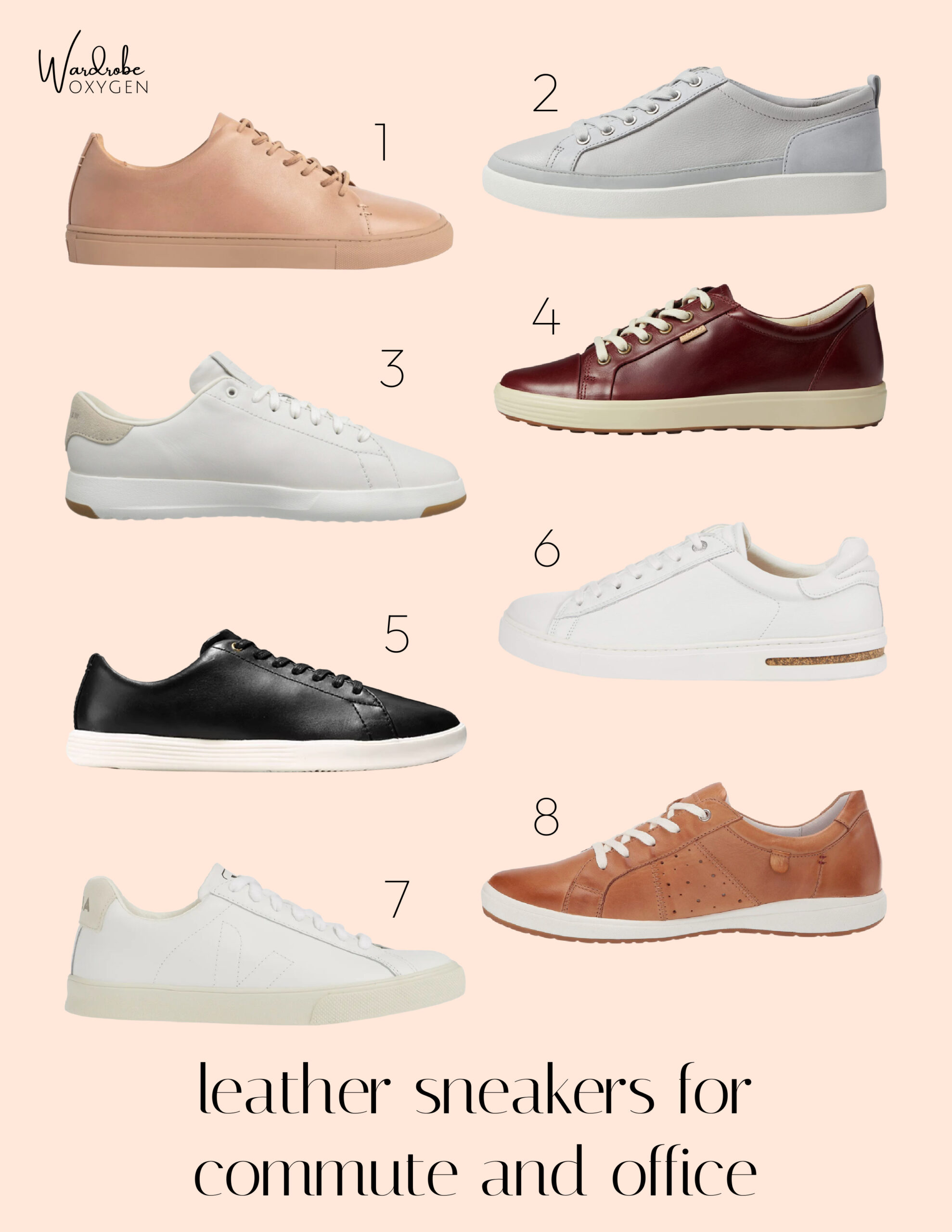 A few leather sneakers that could work in some office settings, from brands known for comfort and durability:
one | two | three | four | five | six | seven | eight
The concept of sneakers with suiting and corporate attire won't fly in every workplace, but most offices have become more lenient since Lockdown. If you know sneakers are acceptable but not the norm, go super simple and smooth. Choose white, off-white, or a neutral color low on logos and adornments, with a smooth sole (no grippy trail runners). Leather will look dressier than canvas or knit.
I am a fan of the Birkenstock Bend sneakers. Offering the same support and comfort as the brand's sandals, these sneakers are a smooth leather that looks polished with dresses and trousers alike. You can read my Birkenstock Bend sneaker review at this link.
Keep these sneakers clean and polished; throw the laces in the wash on the regular and hit the white walls (if applicable) with a Magic Eraser to remove any scuffs. Clean with traditional leather shoe polish, or use an old toothbrush and white toothpaste or laundry detergent to scrub out spots and quickly rinse and blot dry.
When styling sneakers, think of post-9/11 style. We wore hoodies under blazers, sneakers with skirts, joggers in place of suiting trousers, and things were a bit slouchy and relaxed in fit. The looks were more Normcore which meant no visible logos, not a lot of colors, and very clean and simple. While in 2023 you can wear any kind of color you desire, simplicity and fit is key in making sneakers work in the workplace.
Sneakers are great with wide-leg trousers. I love wearing a pair of sneakers with my Universal Standard Stephanie pants; a wide-leg Ponte that looks polished but is hella comfy. Add a sweater or a blazer and it's work-friendly and lets me walk several blocks comfortably.
Pants should be hemmed so they fall about 1/4″ to 1/2″ from the ground. Yep, that means your pants, even with your comfy dual-purpose shoes, may get wet or muddy on your commute. Another reason why I prefer Option 2, which I detail below.
Sneakers are great with trim ankle pants and no-show socks. A low-profile sneaker (not too chunky, not too thick of a sole, cut low at the ankle) gives a modern classic vibe. Here, depending on your office environment you can get a bit more creative with color. Adidas Gazelles are a great option for a non-white sneaker that is low profile and looks great with pants.
Sneakers can work well with dresses and skirts if you have the right office environment. For the less creative offices, I'd stick to sneakers with fuller midi-length skirts and dresses so they don't steal the spotlight. Pleated and bias-cut midi skirts with sneakers are very on trend; sneakers also look good with the prairie/nap dress/midi shift dresses that are currently popular.
How to Style Supportive Sandals for the Office (if they are permitted with your dress code)
During the warmer months, it can be uncomfortable walking to work and spending the whole day in closed-toe heavy shoes. If you have an office culture where open-toes are acceptable, sandals may be a norm at the workplace. However, most styles of open-toe shoes and sandals don't provide the support, comfort, and protection needed for a commute. Most, but not all.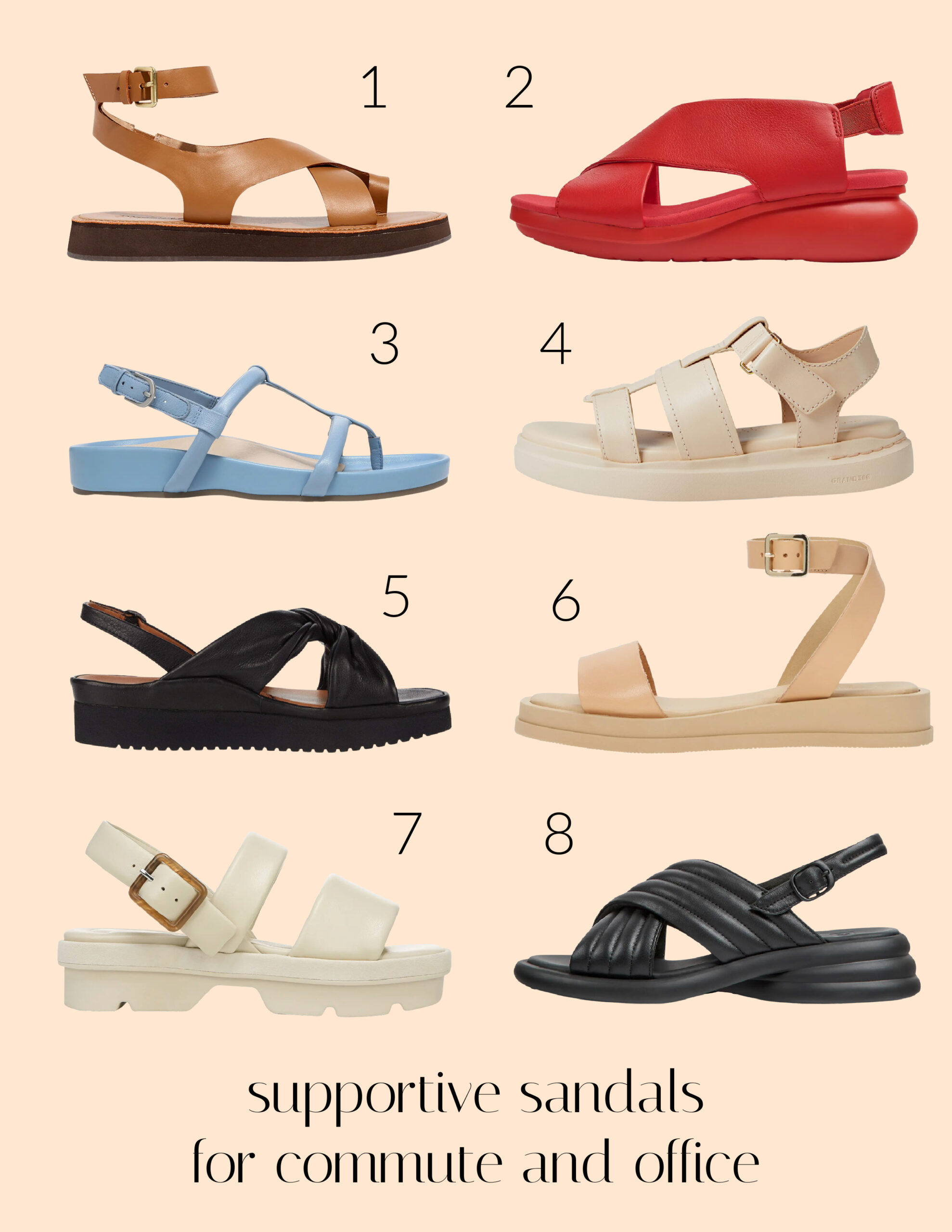 A few styles of supportive sandals that may work for a commute and the workplace:
one | two | three | four | five | six | seven | eight
This year, the "dad sandal" is back in style, as are athletic-inspired sandals and Birkenstocks. This means you are more likely to find stylish sandals that provide enough comfort and structure for your office commute. As with sneakers, look for styles made from smooth leather, and steer clear from lots of visible Velcro, webbing, reflective tape, contrast soles, and anything else that makes the sandal better on the trail than the office.
To have a sandal be appropriate for a commute, you need solid enough a sole to offer cushioning but also protection from the sidewalk. Most sandals like this have contrast, cork, or athletic-inspired soles which won't read professional enough for most workplaces. You also want a shoe that stays on your foot; slides aren't safe if you have to run or are on slippery ground.
As for styling sandals for the office, treat them like sneakers and pair them with wide-leg trousers and below-knee to midi-length skirts and dresses. Flowing fabrics will look most elegant when paired with chunky sandals.
Things To Consider When Looking For Commuter Shoes For Women
Ladies, if you're a commuter, you know that choosing the right shoes is essential to your daily comfort. Whether you're walking, taking the train, or driving, your feet need to be supported and protected. For those with a lengthy walk to work, shoes with good arch support are a must to prevent foot fatigue and discomfort. And if you're hopping on and off trains or subways, slip-resistant shoes can help prevent any embarrassing spills on slick surfaces.
For those living in areas with unpredictable weather, non-slip soles are a lifesaver on rainy or snowy days. And if you're driving, consider shoes that are easy to slip off so you can switch to sandals or slippers for maximum comfort during your commute.
No matter how you get to work, choosing the right shoes can make a big difference in your daily comfort and well-being. By keeping your specific needs in mind and prioritizing comfort and support, you'll be able to find the perfect pair of commuter shoes to keep you looking and feeling your best on the go.
How to Style the Elevated Combat Boot for the Office
The second most accessible look is the elevated combat boot. While I love a pair of Docs and own a couple of pairs, the silhouette isn't always easiest to wear with work trousers and skirts. Since the combat boot trend has been back for a bit, there are now a lot of versions that are more streamlined and more conducive to a work wardrobe while still being comfortable, supportive, and practical.
I recommend a pair that is smooth, not tumbled leather, has no contrast stitching, no contrast hardware, and laces the same color. You also should consider whether or not you want a steel toe depending on your work needs. If possible, also choose a style with the soles the same color as the shoe (no contrast or gum soles). Black is the easiest to look dressy, and the easiest to polish up and keep looking fresh.
The "Connie" from La Canadienne is a great example. I own a pair of La Canadienne boots (the Palmina). I got them several years ago, added my favorite insoles to them, and they still look and perform like new. I highly recommend this shoe brand.
Such a boot, depending on its silhouette, can work with wide-leg trousers and midi- to maxi-length skirts and dresses. It can also work with elevated joggers, creating a bit of a flight-suit effect.
The chunkier the boot, the sturdier the fabric of your pant. Your trouser may get caught up on the lacing or the edge of the sole; a heavier fabric (chino, wool, heavier Ponte fabrics) can hold its own on such terrain. Boots can be worn with shorter pants as long as they slide under the hem to create a continuous line and the hem doesn't get caught up on the top of the boot when you walk. Otherwise, you want your pant 1/4″-1/2″ from the ground.
For skirts and dresses, remember your grunge days. Floral dresses that skimmed your shins, loose dresses that hit near the knees, slip dresses that grazed your ankles. You're going to want to use that for inspiration. Right now, you're going to find a lot of feminine skirts with ruffles and sheer layers, and lots of floral dresses that look straight from the set of Little House on the Prairie. Both will work with such boots.
Polish these shoes often so it's clear they are for the office, and not that you forgot to change your shoes after shoveling your front walk. This kit has the basics for black leather shoes. And if you need hosiery to stay warm, have it also black so you provide a continuous line and do not have the boots steal the spotlight.
How to Style Chelsea Boots for the Office
I hesitated to include Chelsea boots as an option because while they are fantastic, not all Chelsea boots are created equal, or serve the same purpose. Some Chelsea boots are just as rugged as a pair of combat boots, and some are more for fashion with delicate soles and uppers.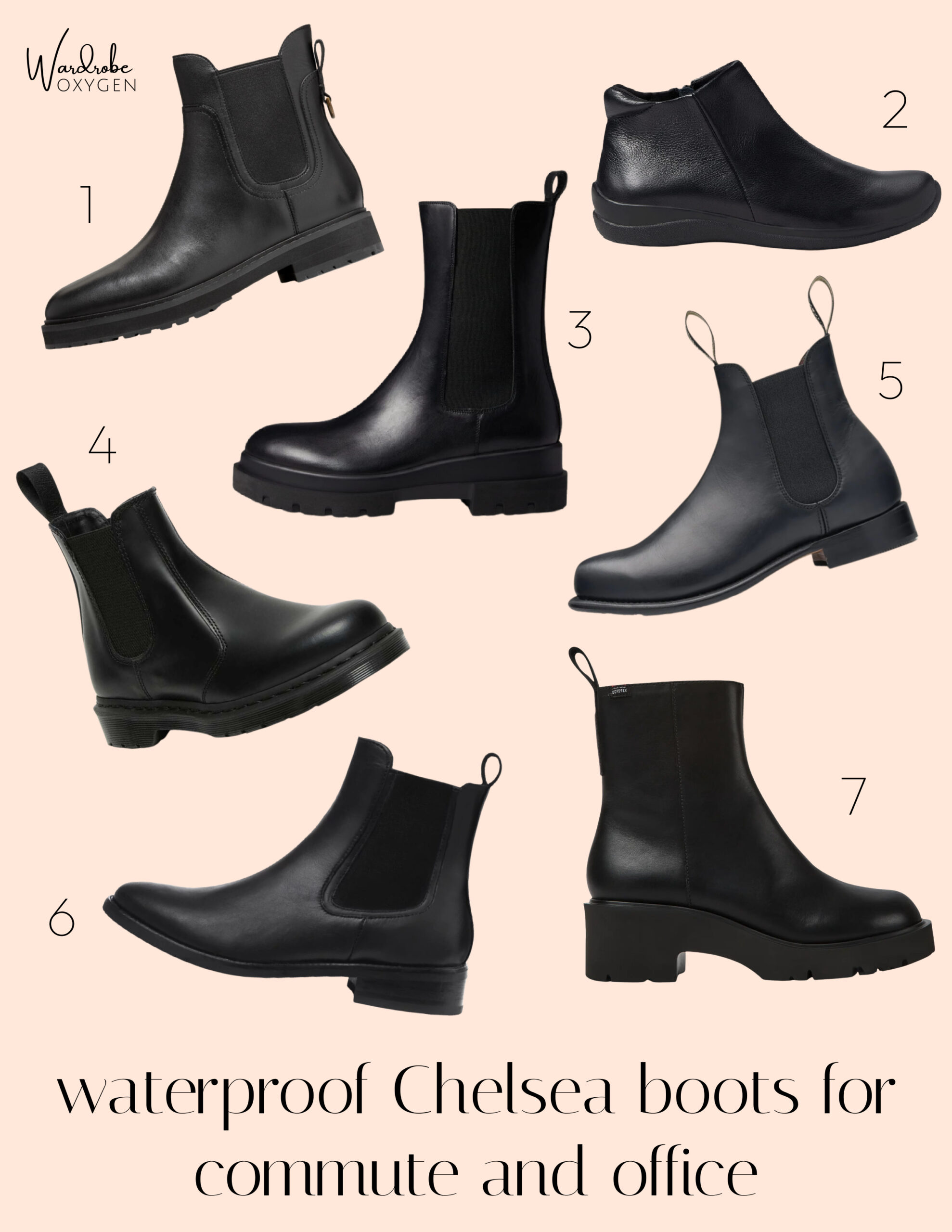 Some waterproof Chelsea boots I found that appear to have durable soles for your commute:
one | two | three | four | five | six | seven
If you love Chelsea boots, use the advice above for refined combat boots. You want smooth leather, soles that are the same color as the boot, and you want to keep them polished and in great condition. For Chelsea boots that are durable enough for your commute to the office, they likely will be cut that will look best with pants, not skirts. If possible, find styles with trim toe boxes so they don't look too bulbous peeking out of your wide-leg trousers.
As for other practical footwear… it's not as simple. I really don't have generic advice on how to style snow boots, hiking boots, and other such footwear in a work wardrobe. It's on a case-by-case basis and has a lot to do with proportion, the style of the boot, your style, etc. For such boots, I recommend option two:
Option Two: You carry your office shoes in your work bag
I get it, you want to keep things simple. You're dreading the commute already, your bag is the perfect size to carry what you need, to have to make room and lug around another pair of shoes is annoying AF. But my friend, I really don't know of another option and I am not going to lie to you. Those hiking boots do not work with your Old Navy Pixie Pants.
Grab one of those many many reusable totes you have shoved in a closet and turn it into your shoe bag. Instead of keeping your work shoes in a drawer in your office desk, keep them in this tote. And since you're not going into the office as often, create a capsule wardrobe of looks that all work with that one pair of shoes so you can just keep them in your laptop bag ready to go.
For example, in the discussion, the Naturalizer boots I'm wearing in this post were mentioned. I love these boots, but I don't want to walk more than a couple of blocks in mild weather in these boots. But they are good work boots as they are so versatile and look great with a range of skirt and pant lengths and silhouettes.
These boots are soft leather with leather-covered heels that will get destroyed in mud, rain, slush, and salt. That thin sole provides no cushioning and will get torn up on asphalt and concrete. While they are technically boots, they should be treated like a pair of pumps and not worn for your commute.
To keep such boots nice, switch into them at the office. Polish them, stuff them with some pouches like these to keep them dry and well-shaped. Get them resolved at the end of the season so they're looking like new for next fall. Treat them well and you can get years, even decades of wear out of them.
When it comes to simplicity, the simplest thing is to not have to replace it. Wear what you own, and take good care of it so you can continue to wear it. And if you need to carry a second bag with a pair of loafers in it to keep wearing the wardrobe you already own, it's a minor inconvenience compared to having to start your closet over to accommodate those commuter shoes.
If you are able to rock the hell out of a pair of snow boots with a suit, I tip my hat to you. Until you can make that work on a 5'1″ size 22 woman in Ohio who has a closet full of fit and flare dresses and Pixie Pants and a 6'1″ size 12 woman in Maine who rocks the only halfway decent work pants she can find with a long enough inseam I don't want to hear about it.
Wardrobe Oxygen offers a real-life style for grown-ass women, and I am not going to lie to you to make you feel better or try to wow you with some convoluted look no one else can recreate. I am going to offer the easiest route to style, even if it requires additional carry-on luggage.