This article may contain affiliate links; if you click on a shopping link and make a purchase I may receive a commission. As an Amazon Associate, I earn from qualifying purchases. 
Dear Allie, I'm having a hard time shopping. I may be old, but I'm not dead! I'm 55, in pretty good shape though my midsection does show age and giving birth to three wonderful sons and I don't feel confident in short skirts or sleeveless blouses. I want to look fun and cool and hip but I don't want to look ridiculous or that I'm not happy with my age. Where can I shop, what shapes should I look for?

I'm 45 and suddenly feel that Talbots and Ann Taylor are too old for me. Does that make sense? When I was in my thirties I could wear a suit or sheath dress and feel chic but now it just makes me feel frumpy. I'm not ready to be frumpy but I can't wear H&M any more. Advice please.

Would you do a capsule wardrobe for women over 50? We can't wear the skinny jeans and spike heel ankle boots and sheer blouses but also desire to be stylish.
I am so glad to read your letters because fashion should not stop being fun just because of an age on your driver's license! While you may not feel comfortable in a lot of the popular current trends, you'll be surprised at how many styles, fabrics, and brands out there can be quite flattering to your figure, lifestyle, and personal style without making you feel frumpy.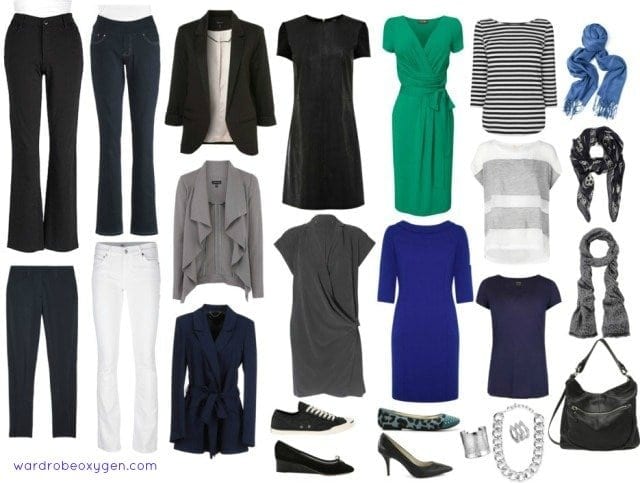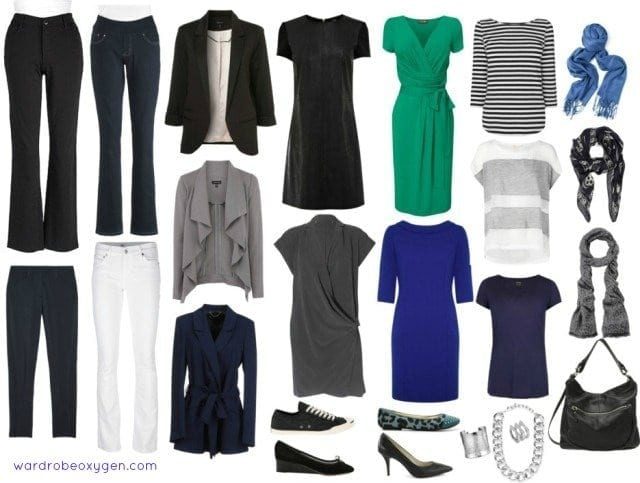 THE ULTIMATE CAPSULE WARDROBE FOR THE STYLISH WOMAN IN HER 40s
This capsule wardrobe was created for the woman who wants to look modern but not a fashion victim, wants comfort but also a polished style. I kept the color palette very simple – black, grays, and pops of cool jewel tones. This way your wardrobe stays in style for many years; no having to update each season with the new hues. Minimal prints – some stripes and blocks of color, with interest in the accessories – scarves, shoes, and jewelry.  Between the paragraphs below are widgets that have links to similar pieces currently available online; there are regular, plus, and occasionally petite and tall sizes available.  Click the arrows to activate the carousel to see all the options; hover over the graphics to see prices.
Shop Scarves:

Speaking of accessories, you're likely in a better situation financially than you were at 25 so shop with care, looking for quality, and occasionally considering a higher-end brand for longevity of quality but also style for your capsule wardrobe. While a pashmina
is always a smart choice (loop around the throat or wear as a shawl or even use as a blanket on a plane flight), lighter-weight scarves of silk and fine linen will have less bulk at your neck and bust. I specifically chose some designer scarves because such details, if in your budget, show you're aware of trends, care about style, and shop with purpose. If you cannot afford, don't choose a cheaper copy – it's better to choose something completely different than try to fool people into thinking you have the real thing.
Shop Bold Silver Jewelry and Leather Bags:

Bold silver accessories are also purposeful – bold, confident, clear in your message. A bag that has a current silhouette without being too trendy will also make your capsule wardrobe outfits look more hip, current, purposeful.
Shop Shoes:

For your capsule wardrobe shoes, I chose styles that won't cause pain but will add style. A low wedge works with most any length of pant or skirt; a mid-heel pump will dress items up for evening or a special occasion. I chose a sneaker that is also on-trend and hip, but not too trendy (Jack Purcells, Converse, Superga) – pair with jeans or even cropped pants for an on-trend but not too trendy vibe. A pair of flats are always a wise choice – instead of sticking to a safe neutral consider an unexpected color, print, or embellishment so they aren't just footwear but an accessory; pointed toes look more current than round.  With sandals, choosing a wide, modern strap and black or a metallic will look modern and chic.
Shop Jeans and Pants:
For bottoms, I chose pants that have classic silhouettes and comfortable fabrics. Ponte trousers, stretch jeans with a waistband that won't dig into your midsection, classically cut white jeans. Yes, white jeans! White jeans are extremely versatile, chic, modern, and if in a heavyweight denim just as flattering as darker shades. For cropped pants, keep them closer to the ankle bone than calf, have the cut slim or straight (no super wide or tapered) so it's modern and crisp.
Shop Dresses:

Dresses are an easy way to dress for day or evening. Choosing unusual fabrics, silhouettes, details, and colors will show you're aware of trends and have a specific sartorial point of view. The same holds true for the gray dress – it's something that will look like an old grocery bag on a hanger but will look very modern and architectural on and can dress up and down (even pair with leggings) with ease. The other two dresses are more traditional, but the colors keep them from looking dowdy.
Shop Jackets and Layering Pieces:

Layers in your capsule wardrobe are a great way to transition between seasons and also to flatter the figure.  A soft blazer out of ponte is not only comfortable and flattering, but will easily make your ponte bottoms into a suit. Soft jackets add interest and in a lightweight fabric with stretch will flatter the figure. For tees and tops, look for softer fabrics (silk, poly, rayon blends) that will drape nicely and not add bulk. Instead of a classic crew neck which can look severe, consider rounder necks, surplice and drape necklines.
To look modern but not a fashion victim, it's important to shop with a clear sartorial message in mind. Create a mood board or use Pinterest to collect images of the personal style you have or want. Celebrities, clothing pieces, vacation spots, makeup that inspires you. Keeping it very specific will make it easier to add to your wardrobe, mix and match, and get your point across to others.
This capsule wardrobe was created a couple years ago so the exact items are not available; I have updated links and the carousels every season for similar pieces currently available.  For more inspiration, shop these shops and retailers:
Nordstrom, Macy's, Dillards: Check the brands Vince, James Perse, Leith, Eileen Fisher, Alexander Wang, JAG Jeans, NYDJ, Theory, and Rag & Bone.
Bloomingdale's: Bloomies has a great selection of clothing that is modern, on trend, chic, but not too twee for an adult woman.  They're also a great store to shop in person as they have personal shoppers and salespeople dedicated and knowledgeable about their departments.
ASOS: You need to dig a lot and it can be overwhelming, but they have amazing ponte pieces and interestingly draped dresses for great prices. I often start with their search function and put in a keyword like ponte, jumpsuit, or shift dress and go from there.
MYHABIT: They often have brands like Rick Owens and Alexander Wang at steep discounts and I have gotten some amazing deals on scarves, stylish leather bags, and shoes
The Outnet: Another fantastic resource for on-trend designer pieces for less
Amazon: Yes Amazon! If you know a specific item, search for it on Amazon and often they will have it from a reputable seller, often with free returns and shipping, and quite often for less than other retailers!
Like this Capsule Wardrobe for the stylish woman in her 40s? Click here now for more Capsule Wardrobes content!