This article may contain affiliate links; if you click on a shopping link and make a purchase I may receive a commission. As an Amazon Associate, I earn from qualifying purchases.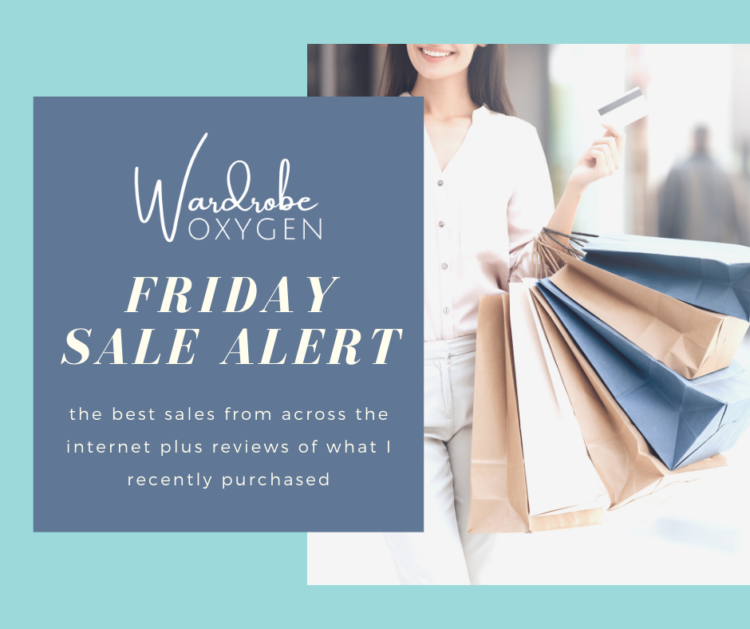 If you forgot this is Memorial Day weekend, you're not the only one.  It has become one of the biggest sale weekends of the year and while many retailers have been pushing sales to stay afloat during this time, they're bringing on the big sales this weekend before we use Monday to honor those in the military who have died defending our country.  Below I share my favorite pics from the Memorial Day Weekend sales.  Remember to check return policies before purchasing from a new-to-you retailer, be understanding that shipping times and return confirmation times will be delayed, and retailers are doing their best to serve you while also trying to keep their employees safe.  And if I missed any great sales, please share them in the comments so others may take advantage of them as well!
Universal Standard: $65 Denim!
Universal Standard makes great denim.  Good quality denim, well designed, more consistent in sizing than a lot of other retailers, size-inclusive, good variety of cuts and washes, and this weekend what is usually $90 is on sale for $65.  This even includes the Hannah denim dress that I own and love.  I highly recommend if you've been interested in Universal Standard jeans to take advantage of this sale and if you know US denim and love it, now is the time to get that pair you've had your eye on!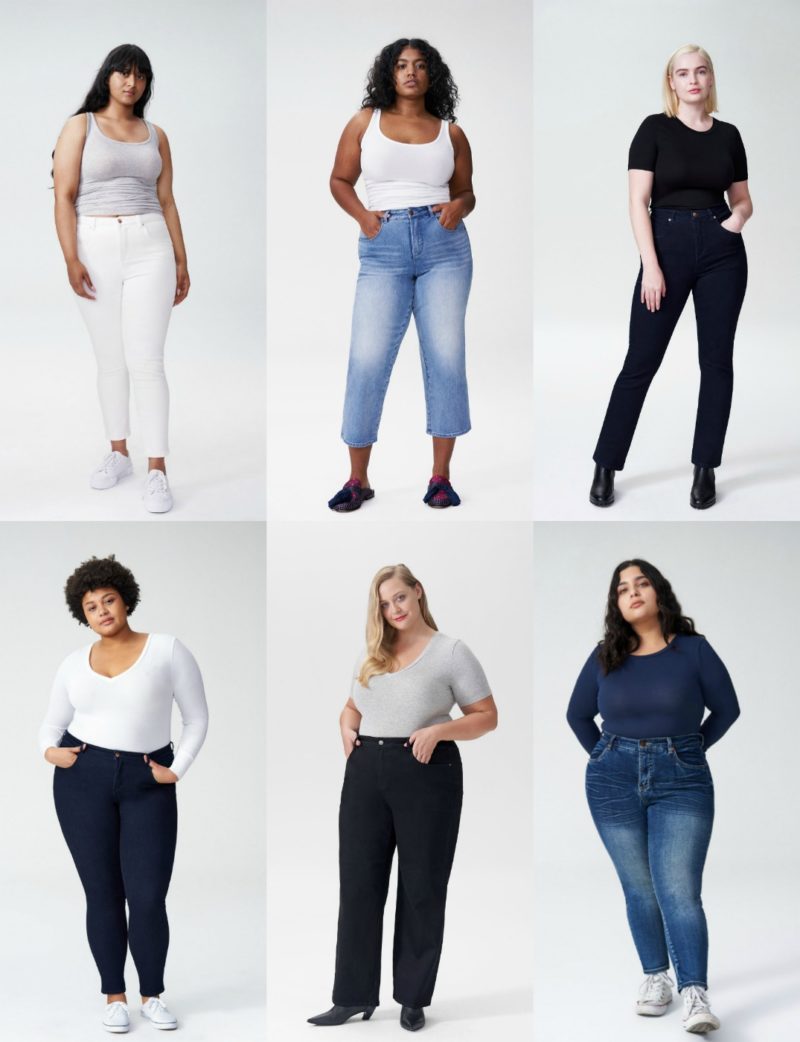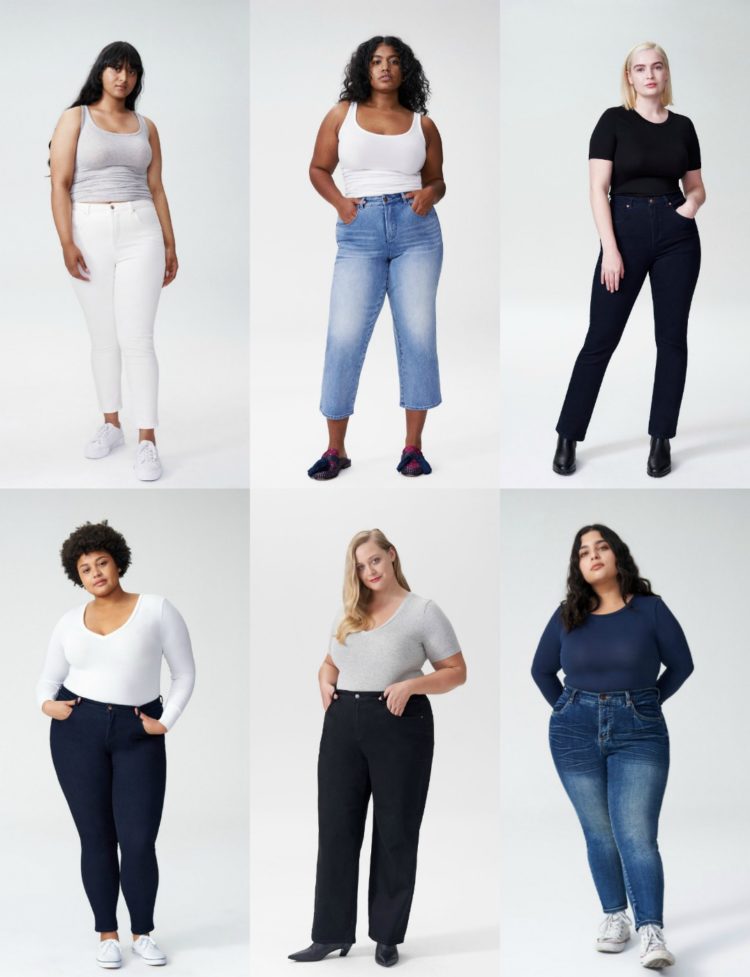 TBH the only US denim I have is the Seine.  The petite Seine fits me like it was custom made from waist to calf, but I find them too short for my taste.  My second favorite is the Seine 27″ which is a perfect length on my 5'3″ frame and still fits better than most jeans I've tried from other brands.  If they carried more of their denim in petite, I'd own more.  I wish they'd offer a petite version of the cropped Bae because I'd be allll over it!
Lands' End: 50% off Your Order!
I think I make a Lands' End order every Memorial Day weekend because it is THE destination for summer gear and even better with it all 50% off.  Swimsuits, shorts, water shoes, beach towels, totes, and more; Lands' End makes classic quality basics for this season that I reach for year after year.  Shopping Lands' End requires a bit of creativity because their styling is crap and everything looks frumpy and sad.  So hopefully these descriptions below will help you see the beauty beyond their got dressed in the dark and got photographed before that first cup of coffee looks:
Let's talk swimsuits.  Either you won't have a need for one this summer, or you will likely want to add to your collection a swimsuit that is more… practical.  One good for visiting the river or the lake versus sunning at the community pool.  One that can work as you hike to your destination, or one that can let you weed the garden while the kids are in the blow-up pool in the backyard, or one that can double as streetwear.  Or you want something that is beautiful but works with, not against your body.  You have spent weeks in knits and the idea of donning a stomach-sucking suit that forces you to constantly pick a wedgie or adjust your breasts sounds like torture. Head to Lands' End.  They have cup-sized suits, suits with modest tops and bottoms with pockets, rashguards, swim skirts, chlorine-resistant and snag-resistant fabric, and pieces that can go in the water and then go into the grocery store.  Also, if you have a tankini or bikini top you love, Lands' End is a great place to find a solid-colored bottom in a cut that you desire.  From skimpy bikini bottoms to knee-length board shorts; high-waisted briefs to cute skirts, with and without tummy control, Lands' End has it and in a great range of sizes.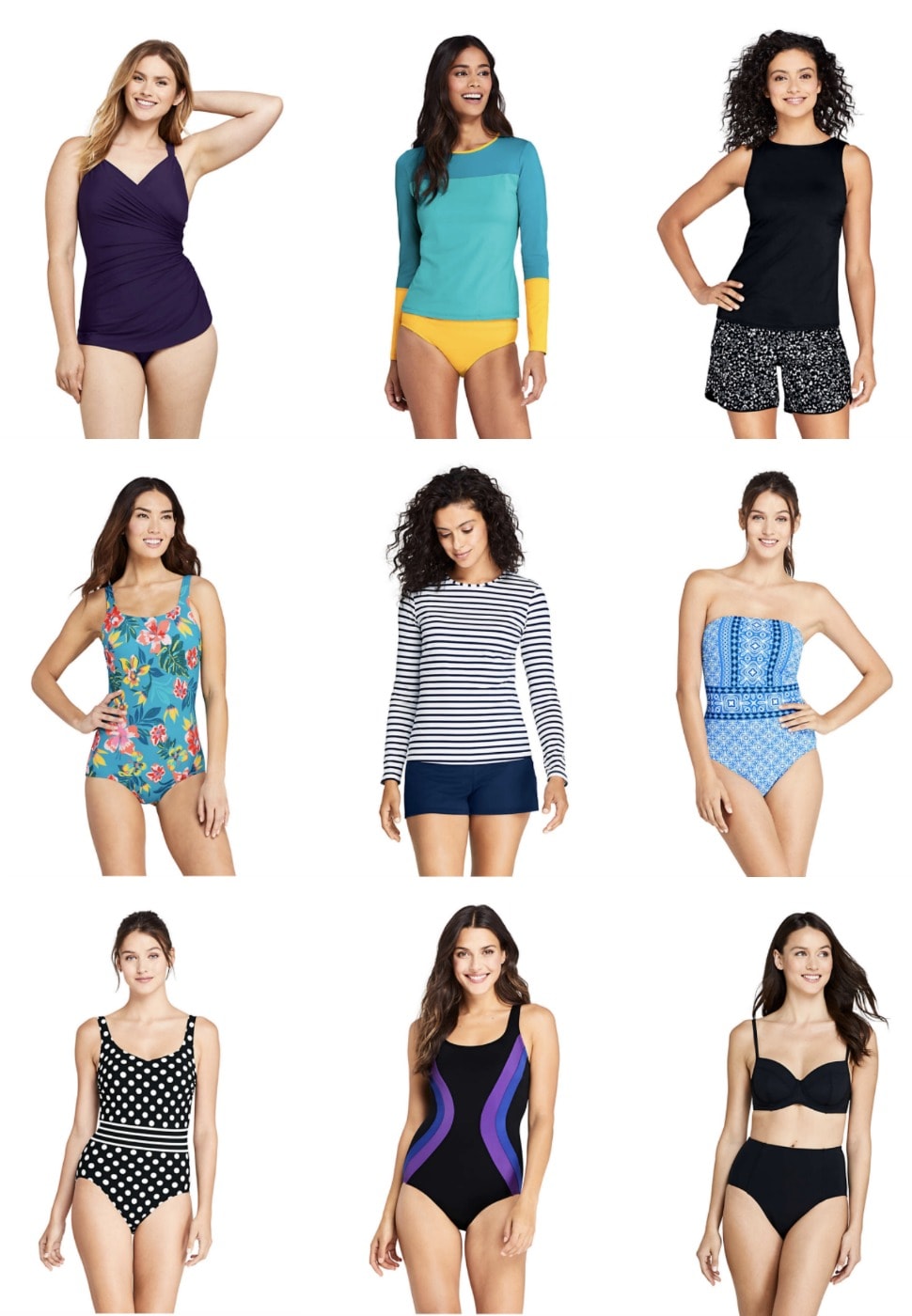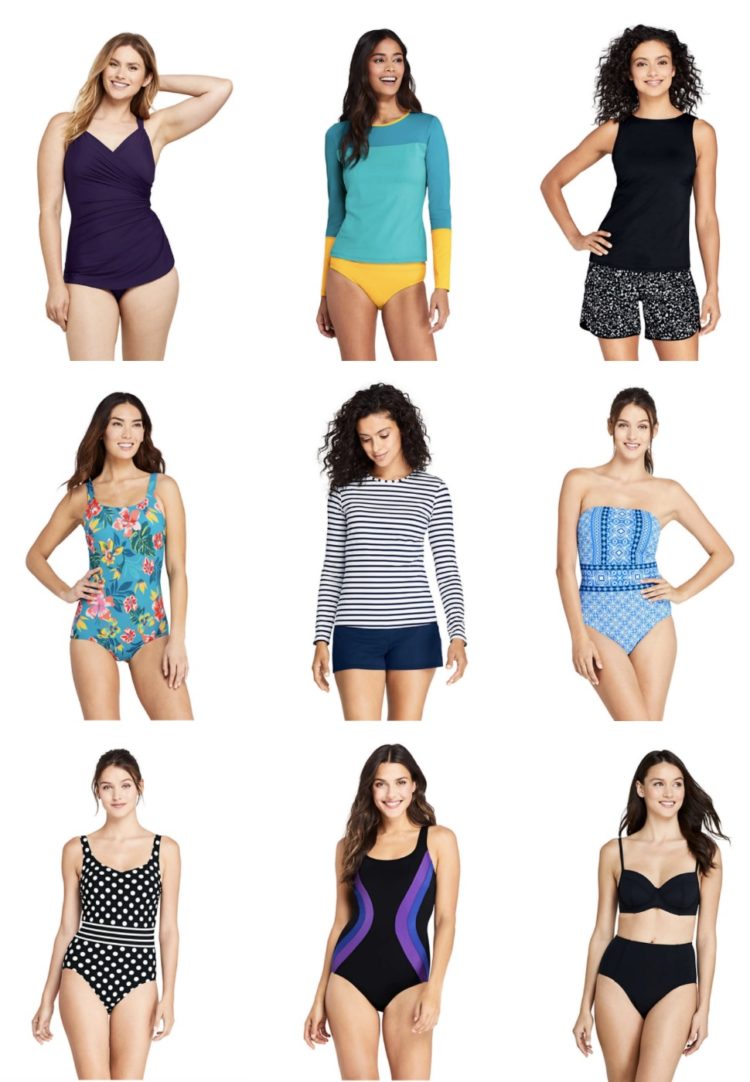 Tummy control, petite and long options, and up to DDD cup | A rashguard chic enough for street wear also available in petite, long, and plus | tankini top with plenty of coverage, built in bra up to DDD, petite and long options
IMO the must-have suit (I have one). Stays in place, classic, cup sizes, lengths, all sorts of solids and prints | I own this very rashguard and love how it can look pulled together enough to head to the store or a restaurant for lunch after a day on the beach. Multiple prints and colors, petite and long and plus options. | super chic suit, comes in long lengths and a variety of prints
Flattering and cute suit with adjustable straps | Perfect for laps, kayaking, and just looking classically chic on the beach | Super elegant bikini in cup sizes
Lands' End is best for their classics, whether it's for your closet or for your home (BTW the shorts in my at home capsule wardrobe? From Lands' End and on sale). I have Lands' End beach towels that are a decade old and still are thick, absorbent, and beautiful. My Lands' End totes are hardworking, whether it's carting returns to the UPS store or bringing home purchases from the farmers market. We're seriously thinking of getting their all-season Adirondack chairs during this sale as they don't need to be sealed and primed and packed away for winter. Some of my picks: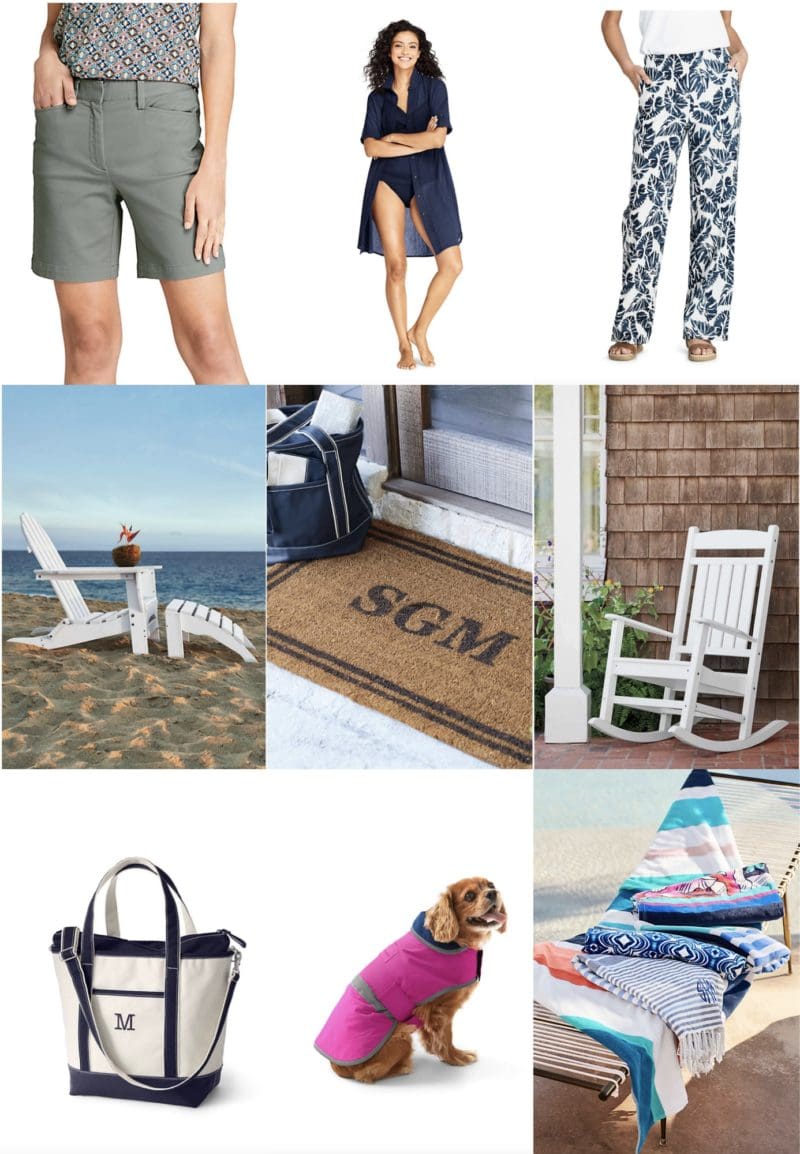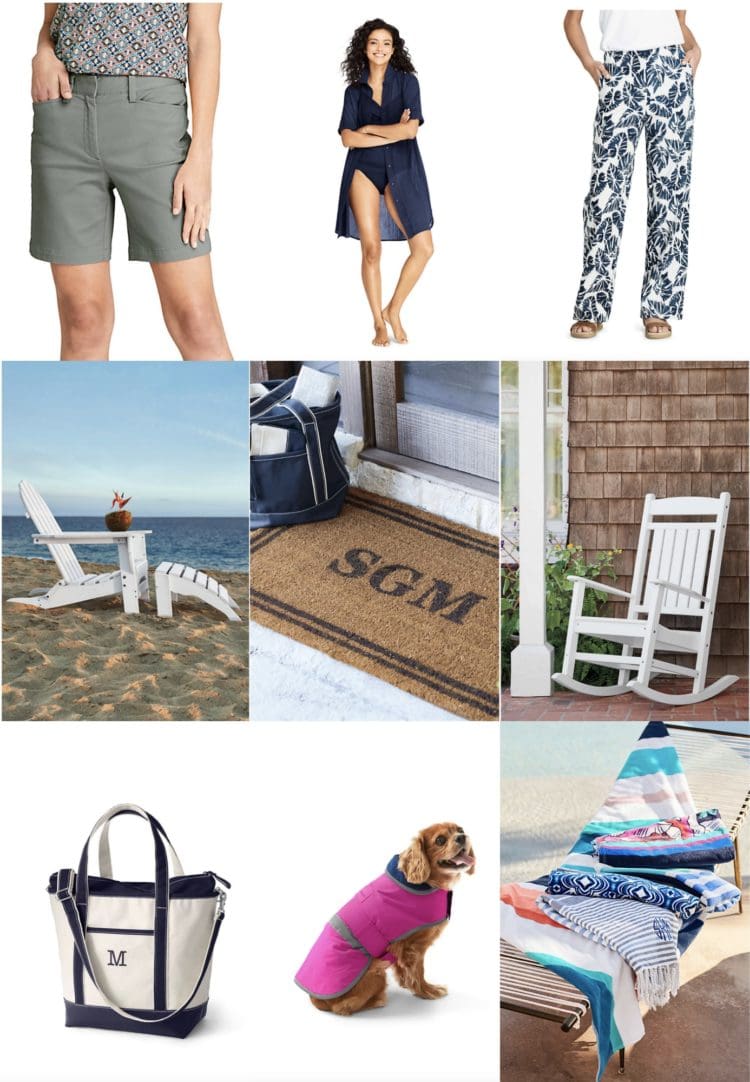 If you don't love shorts and find them too long or too short, these are a good style to try.  Here is the link for the same shorts in a curvy fit. | Classic and chic swim coverup in three colors and petites (would also be smart looking over a tank and jeans and shorts) | Imagine these linen pants with a graphic tee or a linen tank and denim jacket
Didn't make the collage but worth mentioning: Eco-friendly straight leg ankle jeans in a variety of stylish washes in regular, petite, tall, and plus options 
The Adirondack chairs I mentioned, available in 9 colors.  They also have footstools, side tables, and more in this material. | Coir doormat that can be personalized with a name, monogram and more for less than $20 | Same recycled all-weather material in a rocking chair available in 5 colors
The classic tote, but this one is actually a cooler and less than $35! | Cute and practical coat for your pooch, six colors, can be personalized with their name or monogram, and less than $15! | Lands' End beach towels are the best, I love getting them personalized. On sale for less than $20 and most are under $15! 
Other Great Sales this Weekend:
Things I Bought and What I Think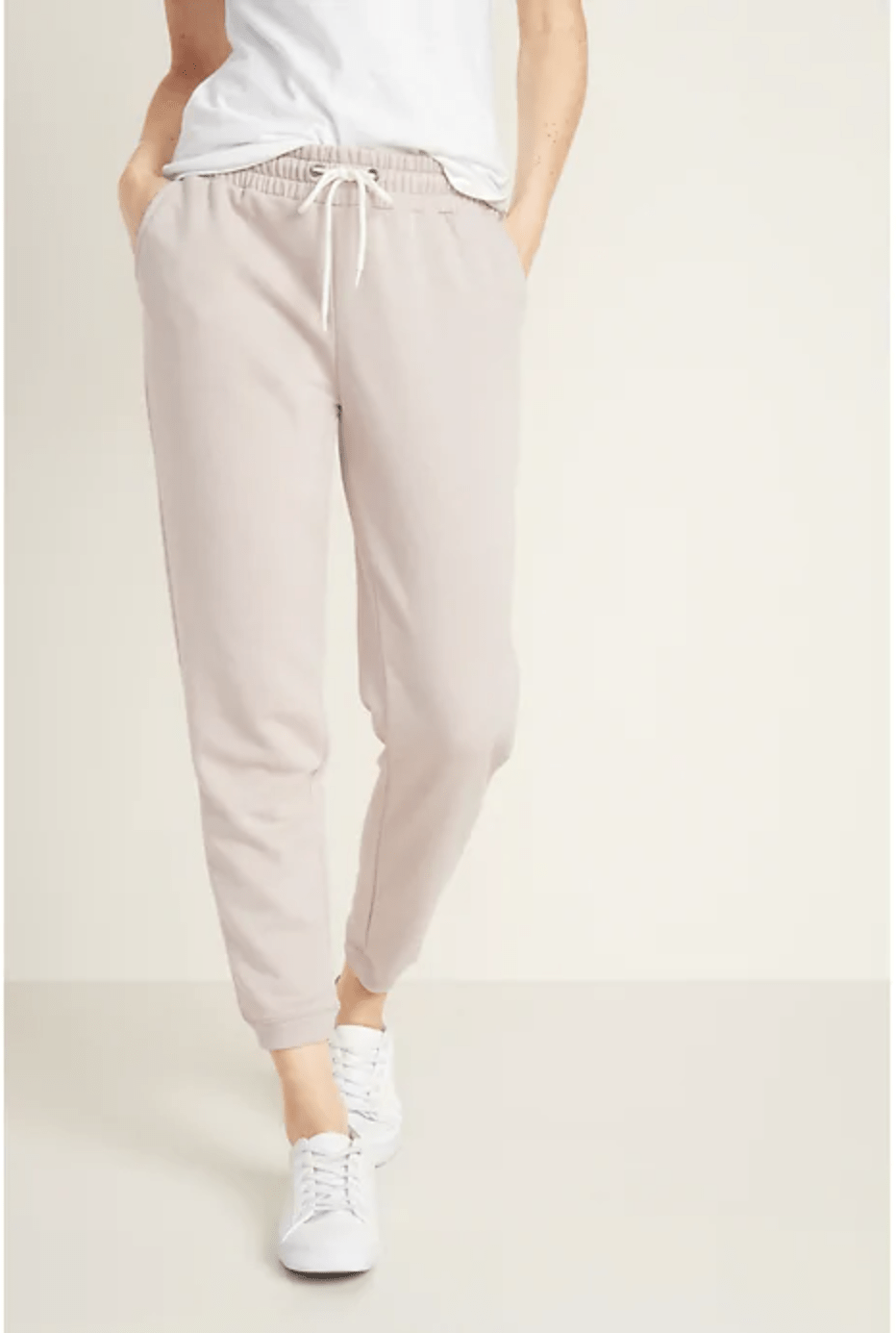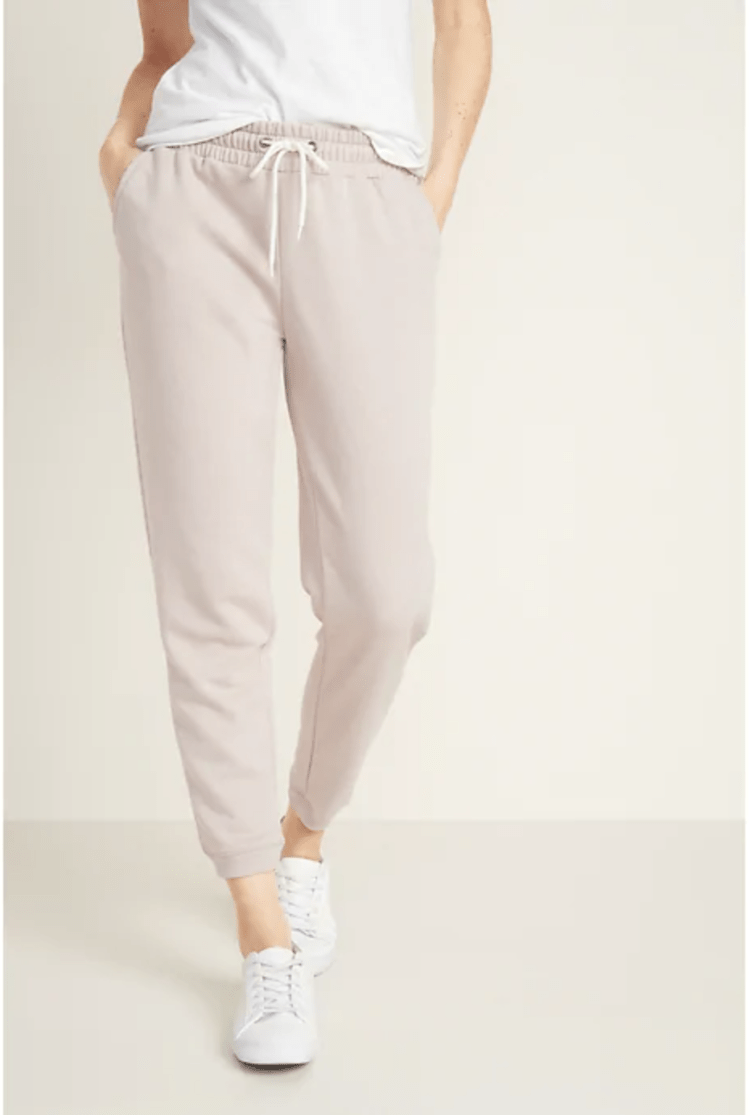 Wanting a switch-up from my three pairs of black joggers, I ordered these French Terry Joggers from Old Navy in size Large, and in a camo print that is no longer available. They come in regular and tall and in a few solid colors now, and at the time of writing this and the time of buying them they were less than $20.  Here is the link for the same joggers in plus sizes.  They're not bad, but they're nothing to write home about.  As a 5'3″ woman I find them surprisingly short; they are full-length on me (I'll have them on the blog Monday and have shared them in my Instagram Stories this past week) and would be cropped on most humans.  When I put them on I was like oh no, these are going back because they were comfortable in the waist but snug everywhere else and I was sure when I sat down I'd have major plumber's crack.  They have stretched with wearing and became more comfortable.  I don't have plumber's crack as long as I tie the functional drawstring waist.  The pockets are deep enough for a large SmartPhone.  The weight is heavy like traditional sweatpants with a loop terry not fleecy interior.  There's no way these will be worn past June unless we have the A/C cranking.  I think if it was normal life I would return them, but instead I'm typing this while wearing them with a white v-neck tee and a hoodie.  I hope they don't shrink in the wash.  After this latest Old Navy order I think I'm going to pass on shopping there again.  I often catch myself buying what I don't truly need and getting what I don't truly love and nine times out of ten, what I keep I end up getting rid of at the end of the season.  I think of all the money I could have saved from mediocre Old Navy purchases, I could have bought something really fabulous that I am still wearing.  That being said, I score some great things for my kid from Old Navy.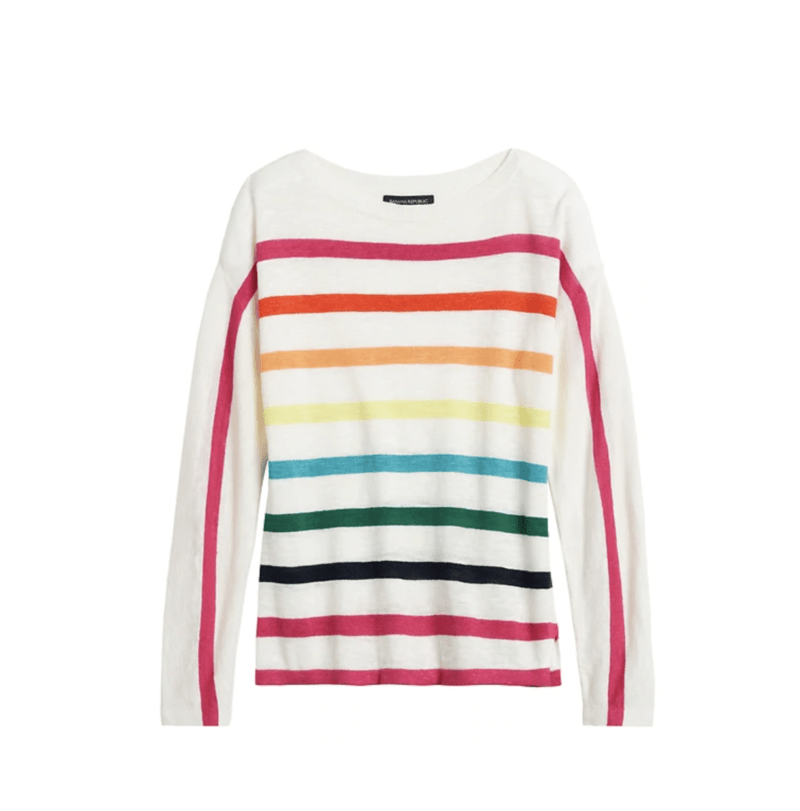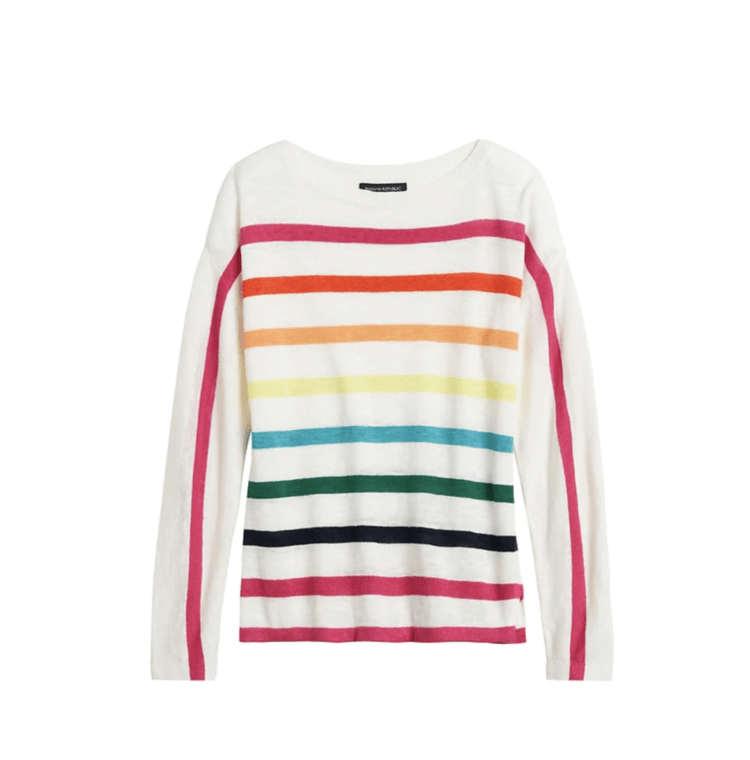 I also got this sweater from Banana Republic.  I love stripes, I love rainbow, I felt this was a sure thing.  Nope, this sweater is so wrong for me.  It's transparent.  It's too tight in the arms and the sleeves are crazy long.  The body is not shaped and too boxy and too short.  The neck is so wide it needs one of those strings across the back of it to keep it up on the shoulders which doesn't look right with a linen sweater.  The top stripe that goes down the arms goes under my arms and doesn't connect to the stripe on the body.  I can't imagine what sort of dishrag this sweater will be after it gets laundered. This sweater… looks like it came from Old Navy but even on sale was over $60.  I'm packing it up after I write this to send it back.