This article may contain affiliate links; if you click on a shopping link and make a purchase I may receive a commission. As an Amazon Associate, I earn from qualifying purchases. 
I am headed on a 2-week trip to India. I want to be comfortable sightseeing and spending lots of time on trains and planes, but still stylish. Any ideas for a capsule wardrobe for keeping cool, covered up, and stylish?
I am glad you are asking this. While many first think of the temperature when traveling to other countries, the first thing you should be considering is the culture of that area and dressing in a manner to respect it. While women in the more cosmopolitan and touristy parts of India like Goa will be seen in jeans, sleeveless tops and even bikinis, a more conservative look is the best choice to have a versatile wardrobe for every stop on your trip to India.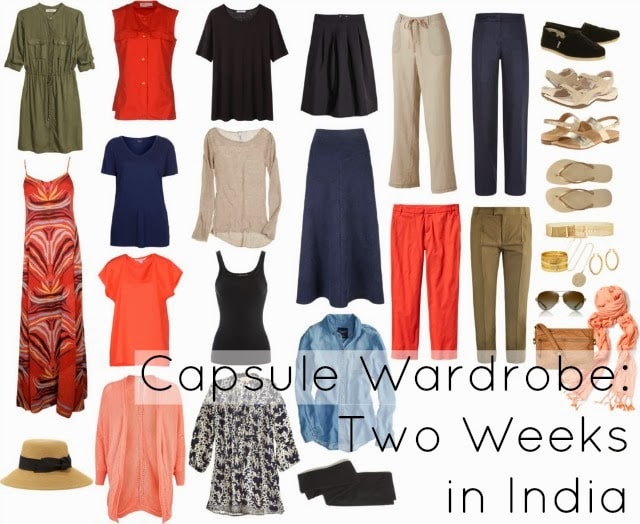 We often think conservative in regard to length, but when packing for India, it also means fit. Clothing should cover at least the shoulders and knees and not have low necklines, but pieces should also be loose so the curves of your figure are not on display (loose clothing is also more comfortable in the heat). Consider the type of fabric and avoid those that may be transparent in the sun or cling when you sweat or walk. Cotton or cotton/silk blends are the best for opacity and comfort in the heat.
Wearing Indian fashion (appropriately) won't make you look like a poseur, it will instead make it more likely that you won't stand out or offend. But if you're hesitant, this is something you can decide once you arrive on the ground and have had a chance to assess your personal comfort level. You can find ready to wear kurtis (tunics), kurtas (longer tunics that are around knee length), selwar kameez (kurti or kurta with pants and a shawl) in India at prices lower than here in the US. If you're not an off the rack size consider finding a local tailor – pieces can usually be made in a day or two for a very low price. A Western alternative would be a dress that hits below the knee with leggings, a loose blouse with cropped or full length pants, a loose tee with a calf to ankle length skirt. In more rural areas, your bare legs will stand out more, so consider packing a pair of lightweight pants or leggings to slip under dresses to be more modest.
When it comes to color, anything goes. My capsule is mainly neutrals because they're less likely to show dust and dirt, mix and match, and are comfortable in the heat. However don't be afraid to pack an entire wardrobe of brights, pastels, or jewel tones.

Sample outfits from the capsule wardrobe featured above, click to see larger.
I focused on pants since they offer more modesty than a skirt. Don't be afraid to pair a dress with a pair of pants; this is similar to a selwar kameez and will be conservative and comfortable. The black skirt is below knee, the navy skirt full length. Either can be worn casually or dressed up. For day, pair with an untucked top and sandals, for evening tuck in, add the gold belt and accessories. The olive dress can also be easily dressed up with the addition of gold accessories.
Speaking of accessories, it's important to pack a few not just for style but for comfort in India. A scarf or dupatta will be your best friend on this trip. It can be worn over your head when entering Sikh temples, as a wrap when you're wearing a short sleeve top or if you get a chill, and can protect you from the sun. Another great accessory to have is dark sunglasses; direct eye contact may present the wrong impression and a pair of shades will let you see all the sights comfortably.
Finally, focus on the experience, not your appearance. As long as you dress sensibly for the culture and climate, it doesn't honestly matter what you wear. A stylish world traveler enjoys new experiences, delves into unknown cuisine and cultures, and lives her life fully, no matter her attire!
Follow Me | Twitter | Facebook | Instagram