This article may contain affiliate links; if you click on a shopping link and make a purchase I may receive a commission. As an Amazon Associate, I earn from qualifying purchases. 
This year I think I made some smart purchases. I bought less (an arm in a cast can curb anyone's shopping habit), and I bought smarter. While I narrowed the color story in my closet, I don't think it narrowed my style or personality. The things I am most glad I purchased this year and why: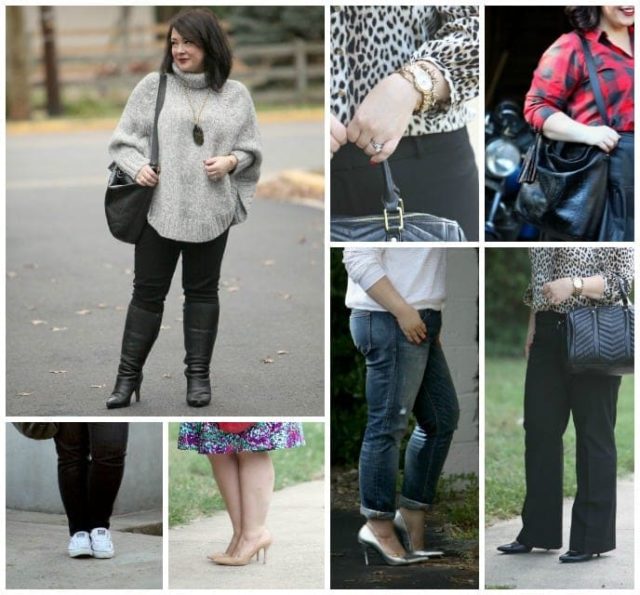 I was wearing this sweater when I wore the Swag Edition of this series, and I'm wearing it now as I write this post. I wear this sweater at least once a week… okay I wear it all weekend long, just changing out the shirt underneath. This morning I wore it on a hike with Karl; I put a windproof top underneath and it was that perfect not-too-warm combo that let me sweat a bit, but also not be chilly when still. Every time I wear it someone stops me to rave about it and ask where I got it. It wasn't cheap but it's one of those sweaters that is worth the cost because of the ROI.
Well, I did use MYHABIT credits for it so it was only $40 instead of like $150, but I did still pay for it. And I admitted in this post that I didn't NEED it but man, it is the hardest working bag in my closet, rivaling my brown Banana Republic hobo that I know I'll will own and love for many years to come. The funky mandala embossed on the front keeps it from being boring, the heavy rich leather keeps it from getting stretched out when filled to the rim, and it still smells like delicious new leather even though I have used it almost daily for many months. It's the kind of bag that will still look cool when it gets worn and beat up, I look forward to the memories I will make carrying this bag.
Skinny jeans rarely work on my frame. I can't get them over my large calves, and they're often a lower rise creating an uber muffin top. Not these babies. They're more twill than denim which makes them dress up a bit better for the office, and they are comfortable over my thighs and calves. I hate when they're dirty because I wear them so often. I like the sucking in feature of NYDJ jeans but haven't found it in their pants or twill jeans… except for these. They do a bit of smoothing of the tummy without feeling like Spanx. Oh, and they've been laundered many times, sometimes accidentally being put in the dryer and they're still in great shape and a saturated black color.
I bought them last year in silver and peacock; this year I bought them in nude and black. For me, they are the perfect pointed-toe pump. A comfortable yet slender heel height, a pointed toe that isn't too pointy, and a reasonable pricepoint. I recently found them on Amazon in black leather for under $50 and bought another pair because I know I'll funk up the pair I have within a year and know I will want a replacement pair. I've learned over time that if a shoe becomes a workhorse and you can find it cheap, get a backup pair (hello Miss Sixty booties, I wore them just this week and am on my third pair). This style of shoe has been discontinued by Nine West, but you can still find it on Amazon, Zappos, and 6pm.
I totally succumbed to the trend and I'm not ashamed. When trends come that appeal to you, there's nothing wrong in including them in your wardrobe. I loved Birks in the early '90s, I love silver, it made sense. And I wore the HECK out of these shoes all spring and summer long. I loved them with dresses, I wore them with boyfriend jeans, and they were my slip-on weekend shoe waiting at the front door for me to run errands or take Emerson to dance class.
Why pay $56 for a piece of costume jewelry when you can find similar at Forever21 for $5.99? Because sometimes it's worth the money. I don't know why this bracelet called out to me, it's nothing flashy or terribly unique. But I couldn't stop thinking about it and bought it full price. And I have worn it several times a week ever since. I love how it's simple but not, edgy yet classic, and that through the year of wear it's still shiny, no fading or wearing of the gold. It's small but it packs a punch and constantly gets compliments and comments. The bracelet is discontinued though I have seen it since a few times on Gilt.
I bought fleece tights last winter and they were… fine. I felt they looked pilled right out of the package and the crotch was by my knees after an hour or two of wear but it seemed from reviews online as though that's what you get with fleece tights. This year I ordered a pair from Oroblu and I am a fleece tights convert. I ordered an XL fearing knee-crotch, but would have done better with my height by choosing L or even M. That being said, these are comfortable, warm, a rich black color, and don't sag. They are opaque enough that I can wear them with shorter dresses and not feel half naked. I also wore them over a pair of traditional tights for Halloween and I was toasty warm all night, even when outside.
These aren't skinny or stovepipe or slim or narrow. They're not a bootcut or a baby boot or a flare. No stretch, no embellishment, no funky details. They are just classic straight jeans and they are my jam. The 12 Ankle is a great fit, the length that works with flat or low shoes. I have a classic wash and a distressed pair and both get worn on a regular basis. Finally, a pair of non-stretch jeans that fit and flatter my curves!
I have them in black, navy, and ivory tropical wool and I adore them. They have a flat, straight look but flatter my curves. No pockets jutting out, no cuffs or pocket flaps or anything to make them stand out. Just a simple work trouser that looks great with untucked or tucked tops. A 14 Petite hangs perfectly, not tight, completely work appropriate. The fabric matches some blazers in my closet. Oh, and you can machine wash them!
I've been wearing Chucks since middle school, but I have never found them comfortable for a long period of time. They always rub on my big or pinky toe, and dig into the curve above my heel. That is until I tried Converse Shorelines. They look just like Chucks but have a different shape which gives my toes more room, and an elasticized back that makes the shoe have a lower profile, more comfort, but a more secure fit. They look classic, feel great, and will be worn quite a lot once the weather improves!