This article may contain affiliate links; if you click on a shopping link and make a purchase I may receive a commission. As an Amazon Associate, I earn from qualifying purchases.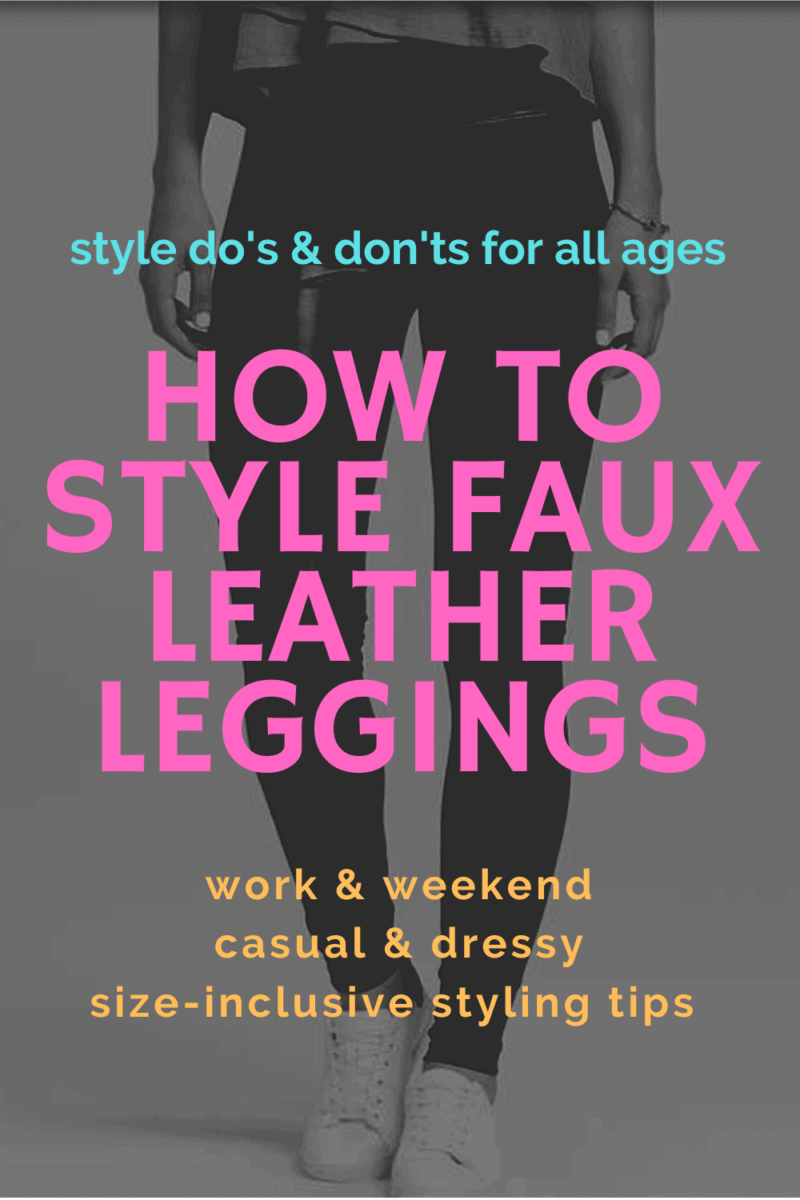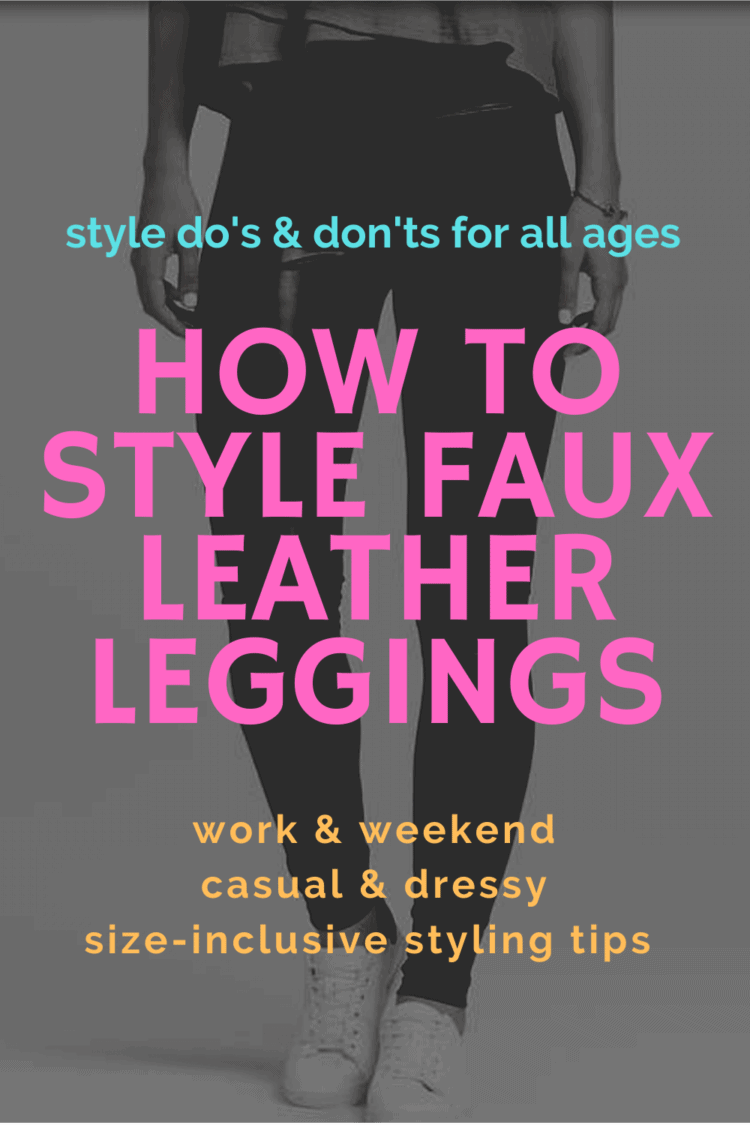 Faux leather leggings have been a fashion trend for several years (seriously I was discussing the style merits 0f faux leather leggings way back in 2016) and they don't seem to be going away any time soon. In fact, I originally wrote this post in 2018 but updated it as faux leather leggings are still stylish. But what to wear with leather leggings, be they real or faux? Below I share how to style faux leather leggings for a range of personal style aesthetics and clothing sizes.
How to Style Faux Leather Leggings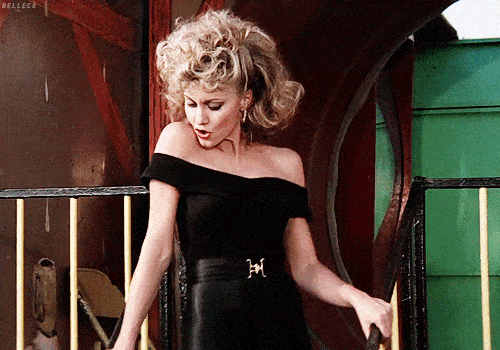 Faux leather leggings are a bold move, and not one that can be worn anywhere and with anything. One false move and you end up looking like Sandy at the end of "Grease" (no shade on "after" Sandy, that was my dream look for most of my tween and teen years). But let's focus on the everyday…
How to Style Faux Leather Leggings for the Weekend
Keeping it real, this is the most popular way that I and most women I know wear their faux leather leggings. They're easy and comfy but elevate weekend basics so you don't look as though you're running around town in your pajamas.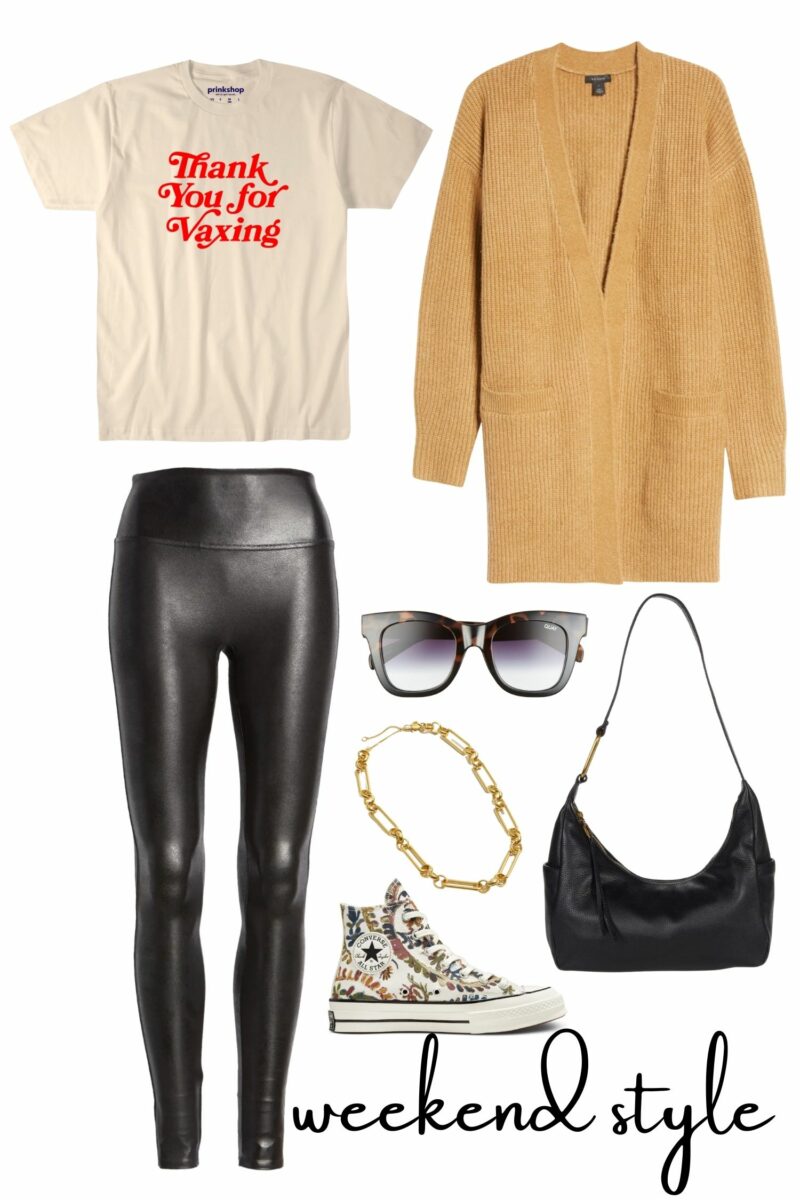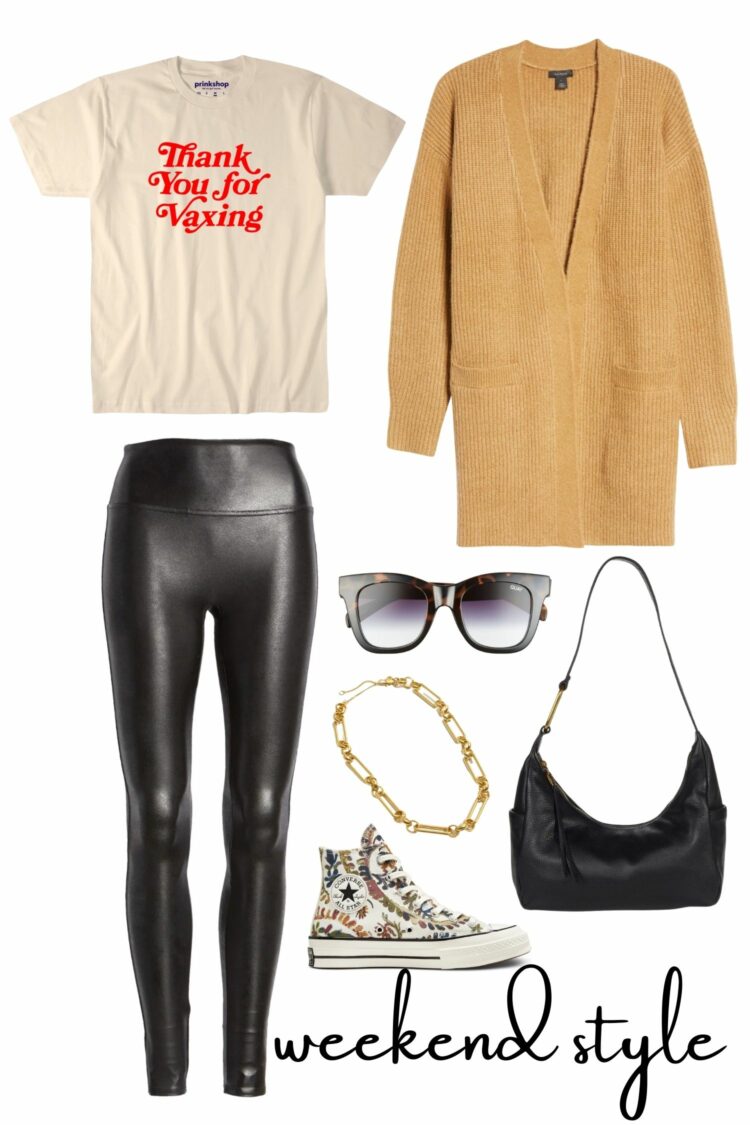 t-shirt | cardigan | sunglasses | necklace | bag | sneakers
Oh the power of a pair of faux leather leggings… if the leggings were regular knit, this outfit would take a very different turn. But it's still super comfy and easy, but the faux leather gives it a bit of a rocker vibe and makes everything else feel super purposeful. And how fun are these Converse high-tops?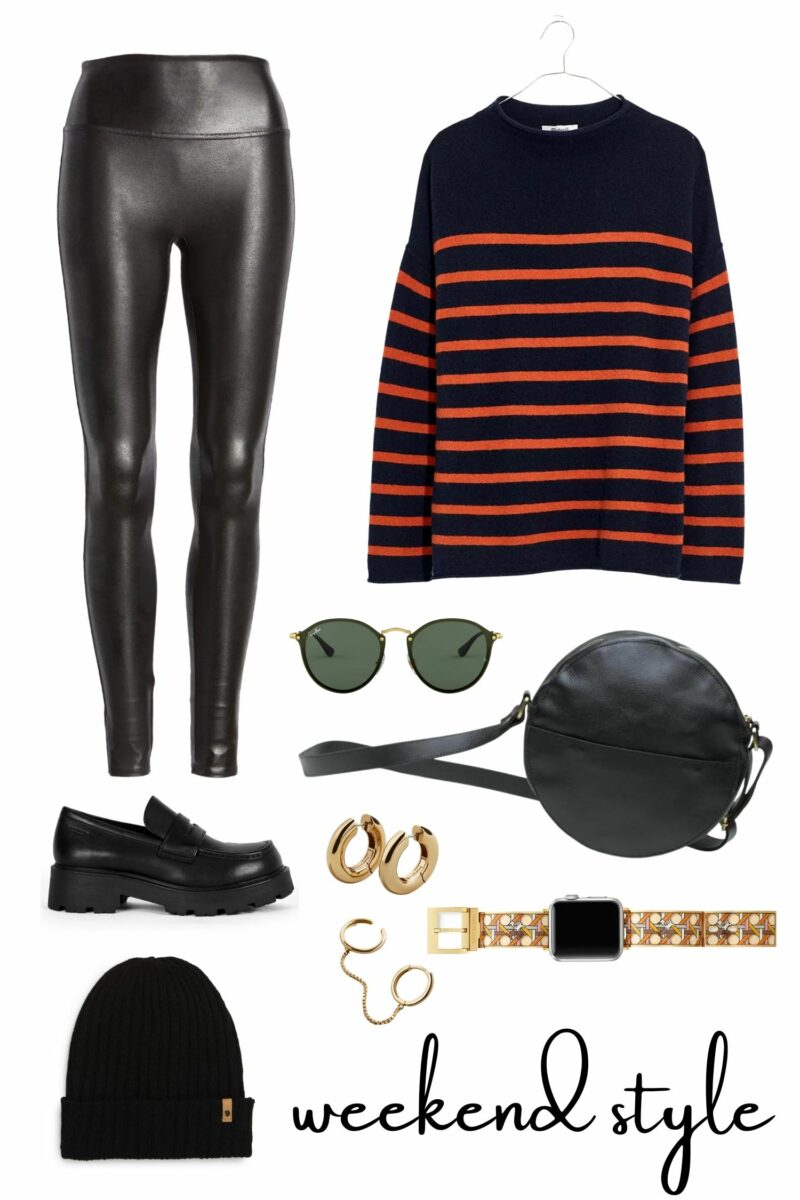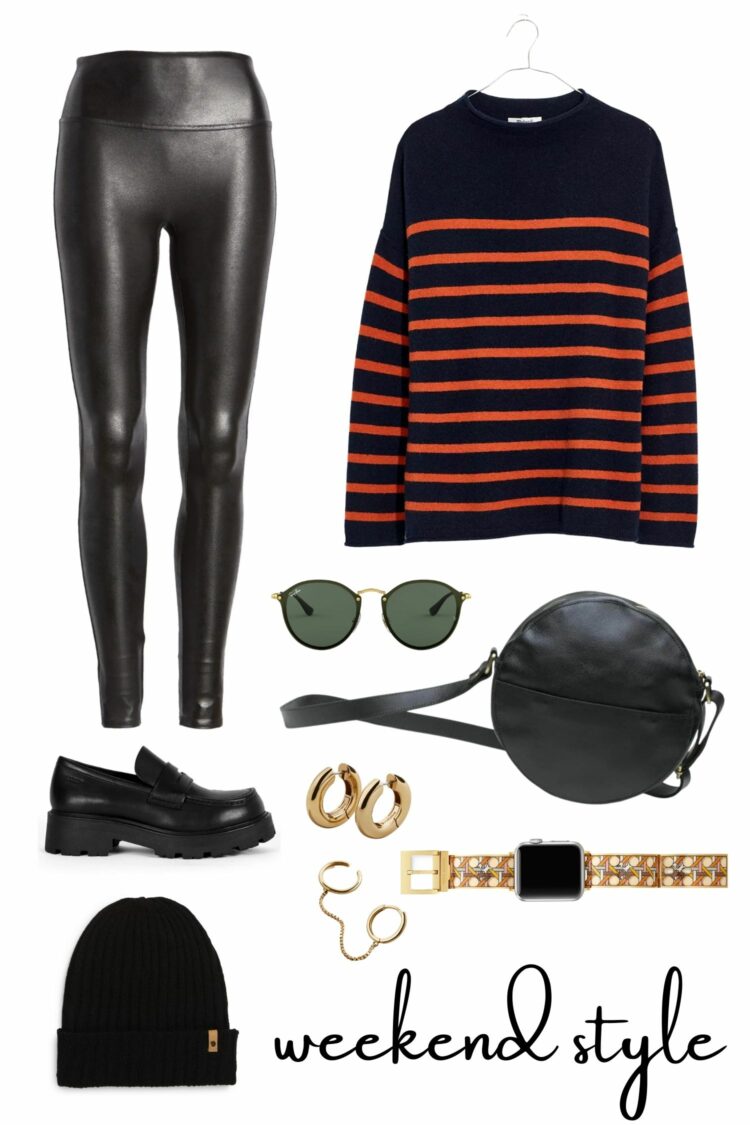 loafers | hat | sweater | sunglasses | crossbody bag | earrings | earring cuff | smartwatch band
Bad hair day? Throw on a beanie and faux leather leggings will make it look like a style statement, not a morning of struggle. A striped sweater is classic and is a nice contrast to the faux leather finish. Consider a pair of lug sole shoes as an alternative to sneakers – they can be just as comfy but give a more polished vibe. And this crossbody bag can hold all your essentials while the round shape adds a cool visual detail to any ensemble.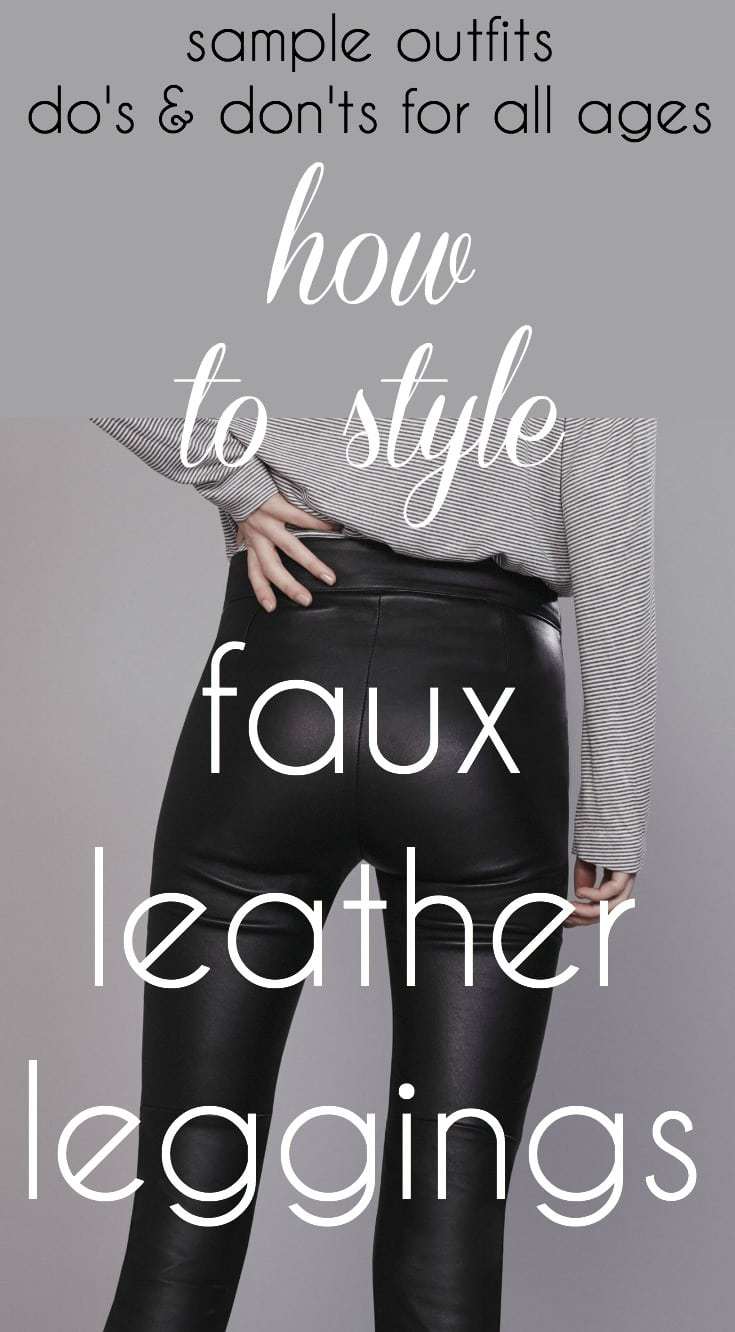 How to Style Faux Leather Leggings for Creative/Business Casual
Not every office is the kind where a pair of faux leather leggings can work, but for those who have more casual or creative offices, there are ways to make them look chic, not casual or club.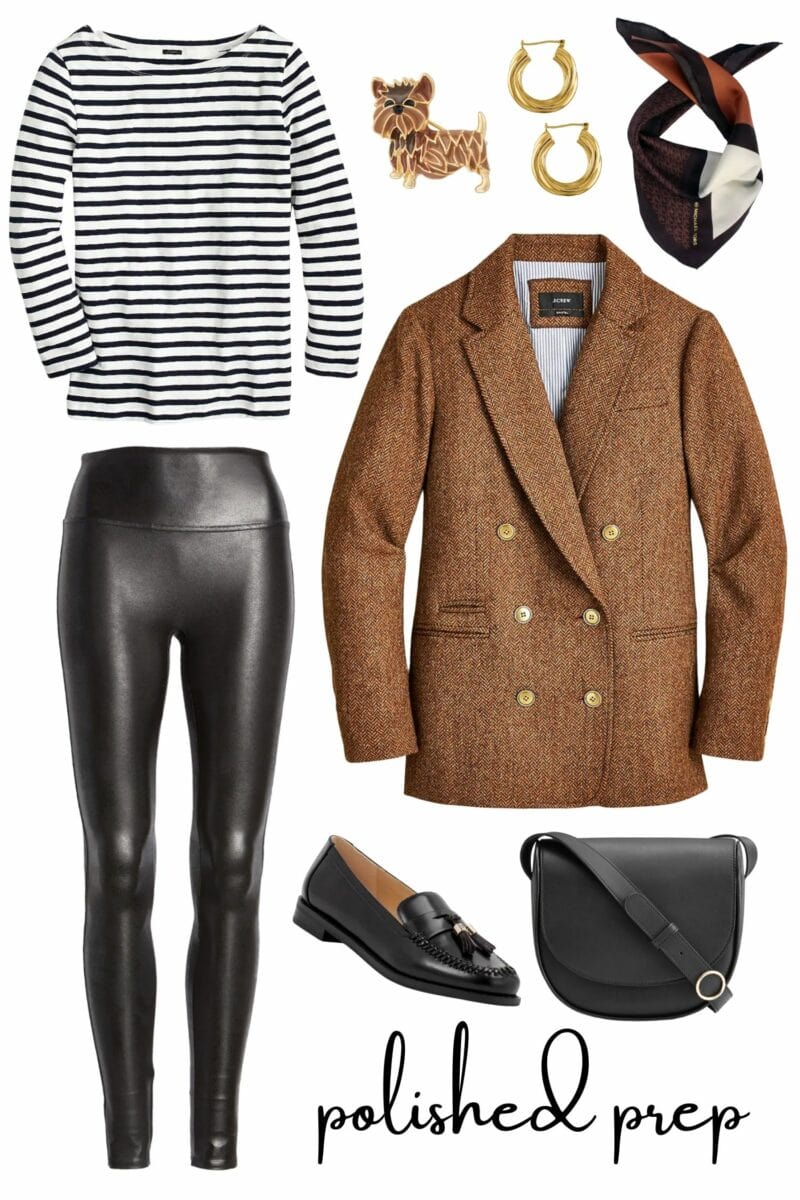 striped top | blazer | dog brooch | hoop earrings | scarf | loafers | bag
I have the 2020 version of this J. Crew blazer and it's a relaxed fit and longer silhouette that works well with faux leather leggings and skinny jeans. I love the juxtaposition of tweed and Breton stripes with the faux leather; it fits very well with this fall's trends while also being quite classic. Speaking of classic, up the classic styling with a neck scarf, tassel loafers, hoops, and a traditional saddle bag crossbody. And how cute is this adorable pin? I just had to find an outfit where I could include it!
How to Style Faux Leather Leggings for A Night Out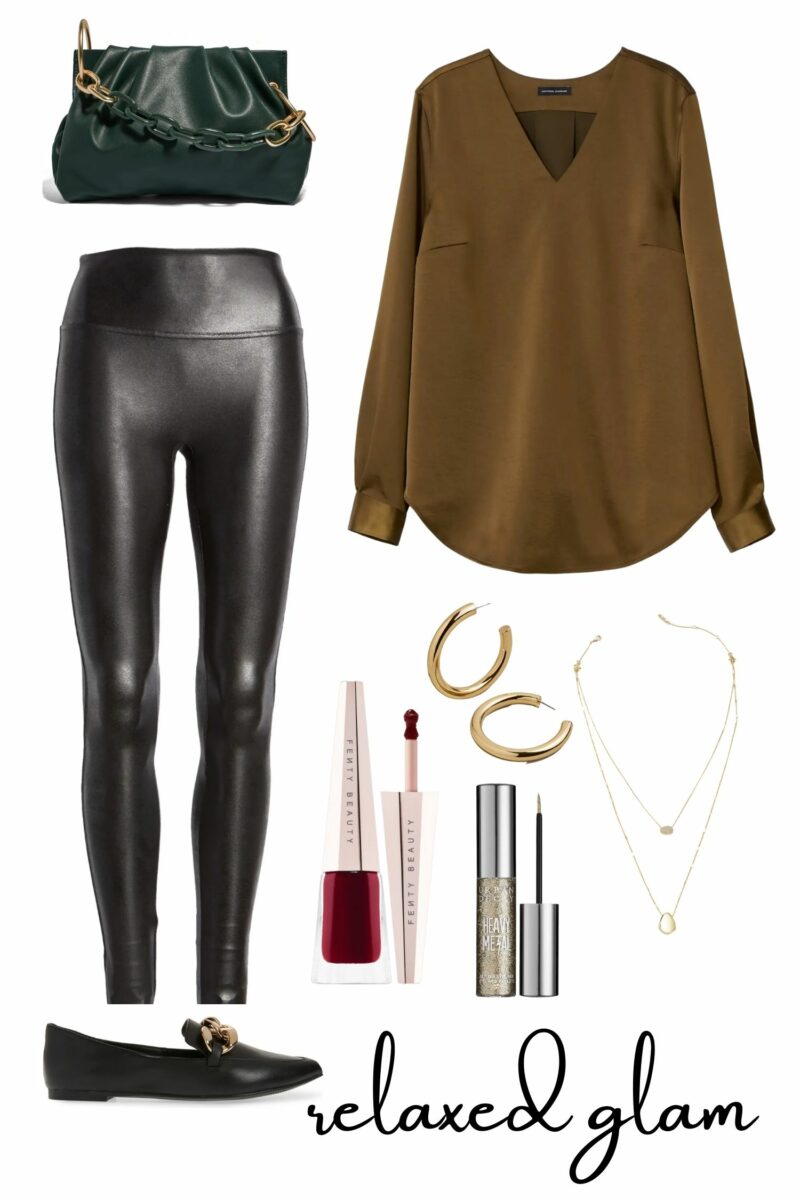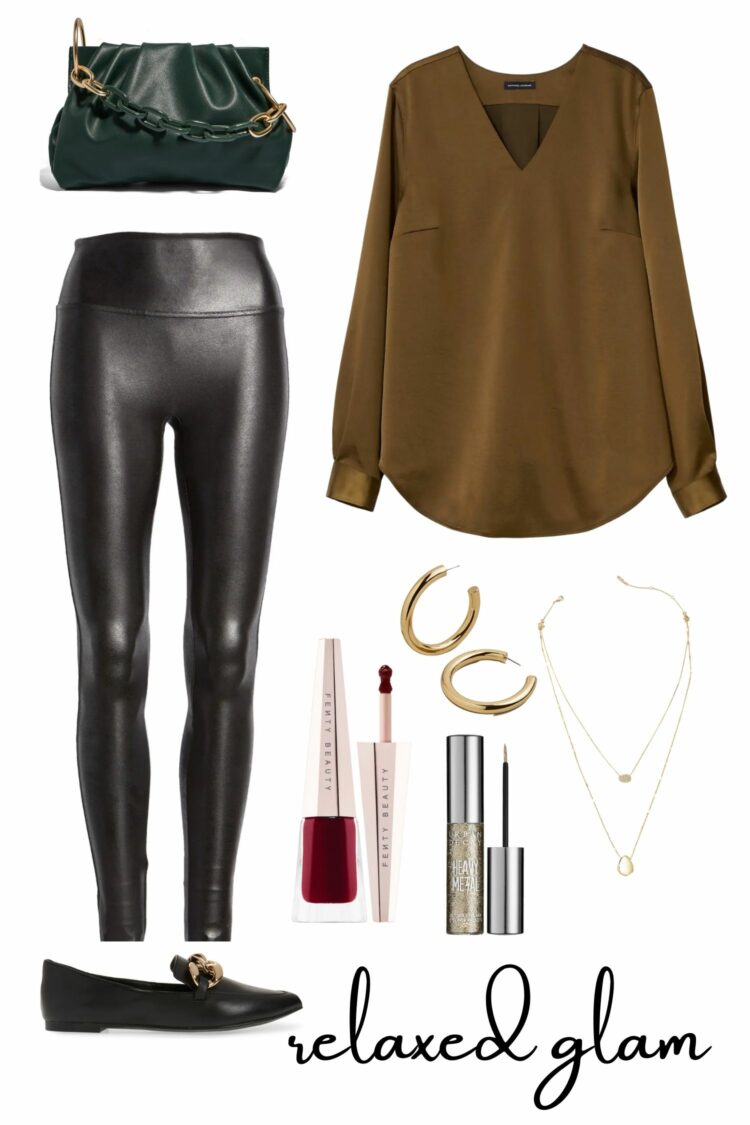 bag | shoes | blouse | hoop earrings | layered necklace | lipcolor | eyeliner
Going out for dinner, or to a bar, or a get-together at a friend's house? Want to be comfortable but also look polished? Can't go wrong with a pair of faux leather leggings with a blouse. This blouse has a bit, but not too much shine. Too satiny or sequined and you can look Vegas, too bright of color and it can look dated. But a neutral or soft metallic like this one is elegant and feels festive without being over the top. Want a bit more drama? I cannot recommend these metallic eyeliners enough; I own at least four. No need to have super skills, you dab it along your lash line and it adds a hint of sparkle that looks so fun without being extreme.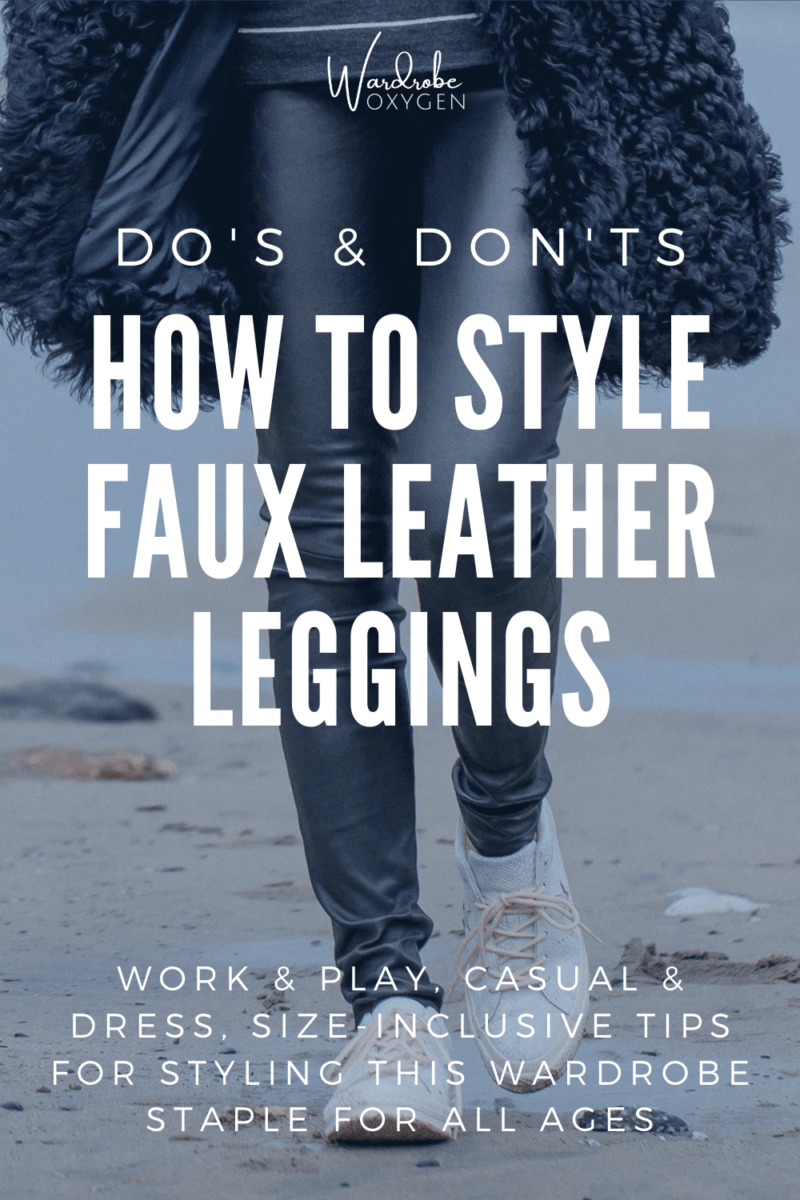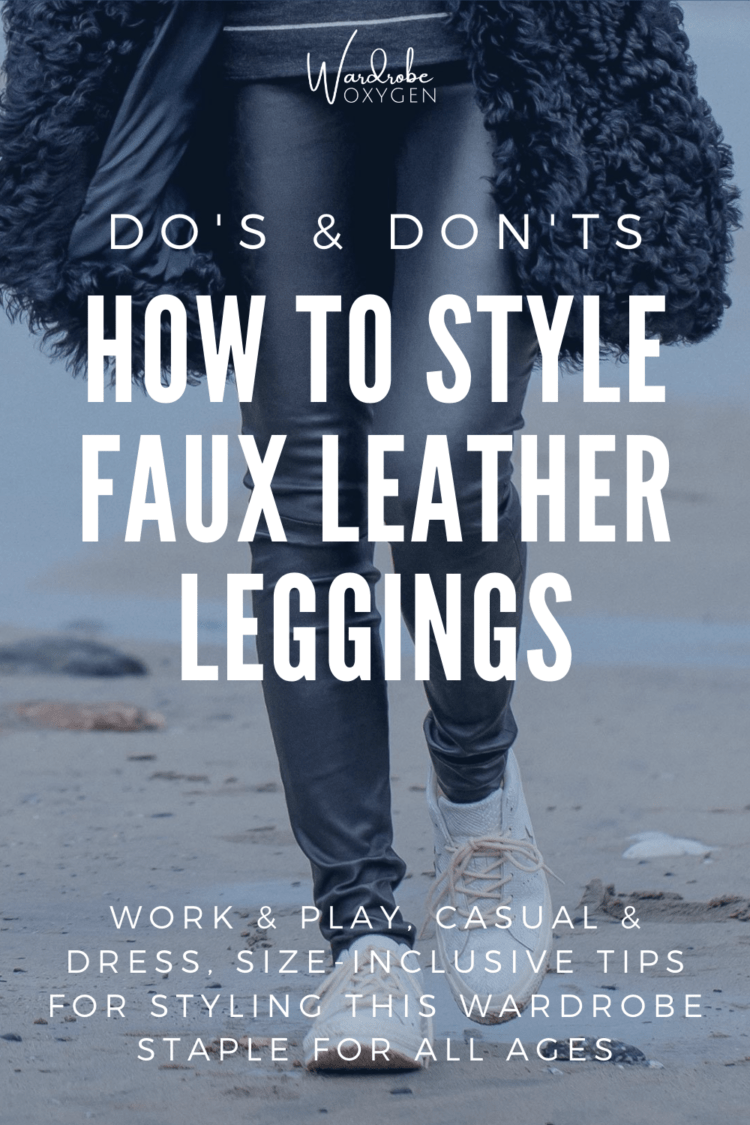 What Shoes to Wear with Faux Leather Leggings?
The easiest and most universally stylish choice is a pair of sneakers. Whether they're trainers or a trendy pair, the juxtaposition of athletic gear with leather is quite chic and will steer you clear from "Sandy" territory.
This season, the lug sole shoe is on trend and can look quite good with faux leather leggings. Consider a lug sole loafer with no-see socks or a lug-sole lace-up leather boot with your leggings tucked inside. The juxtaposition of the sleek leggings and the chunky shoe is very modern while also harking back to the '90s.
If you're looking to dress up the leggings for work or evening, consider a pair of pointed-toe flats or a boot in the same color and similar finish to create a continuous line. A sleek boot that can fit under the leggings will look more dressy than one that is on the outside.
What To Wear (and What Not to Wear) with Faux Leather Leggings
While you can wear whatever the heck you want and I will completely support you and root you on; if you're unsure how to style leather leggings here's some tips on what not to do to make them look as stylish as possible.
Don't pair your leather leggings with a leather jacket. This will take you from "Sandy" territory to Leather Tuscadero territory. If you need to wear a jacket, consider a cargo jacket in a neutral like olive, a denim jacket, or a menswear-inspired blazer.
Balance the shine with other textures. Faux leather leggings with shiny satin or sequins are only appropriate in Vegas or on stage. For every day, you want to temper the shine of leather. Fleece, chunky knit sweaters, cashmere, denim, and angora are all great fabrics to pair with the leggings to keep the look luxe yet relatable.
Keep Jewelry Delicate. Big, bold pieces paired with shiny black leggings can end up being too much of a look. Delicate chains, small rings, a single watch or chain bracelet, thin hoops or studs is often the best choice when styling leather leggings.
Don't Be a Trend Salad. Leather leggings are a lot of look, and usually looks best with more subtle of pairings. If the rest of your outfit is a bit quieter your leather leggings then can sing.
Think Contrasts Not Costume. Some examples? Envision rocker leather leggings with a classic tweed or plaid blazer. Black leather with cashmere or angora. The shine of the leggings paired with chambray or a plaid flannel. The way to make faux leather leggings look great is to treat them as though they aren't leather; style them as you would a pair of skinny pants or ponte leggings and you'll have the best results and not look like you're wearing a costume.