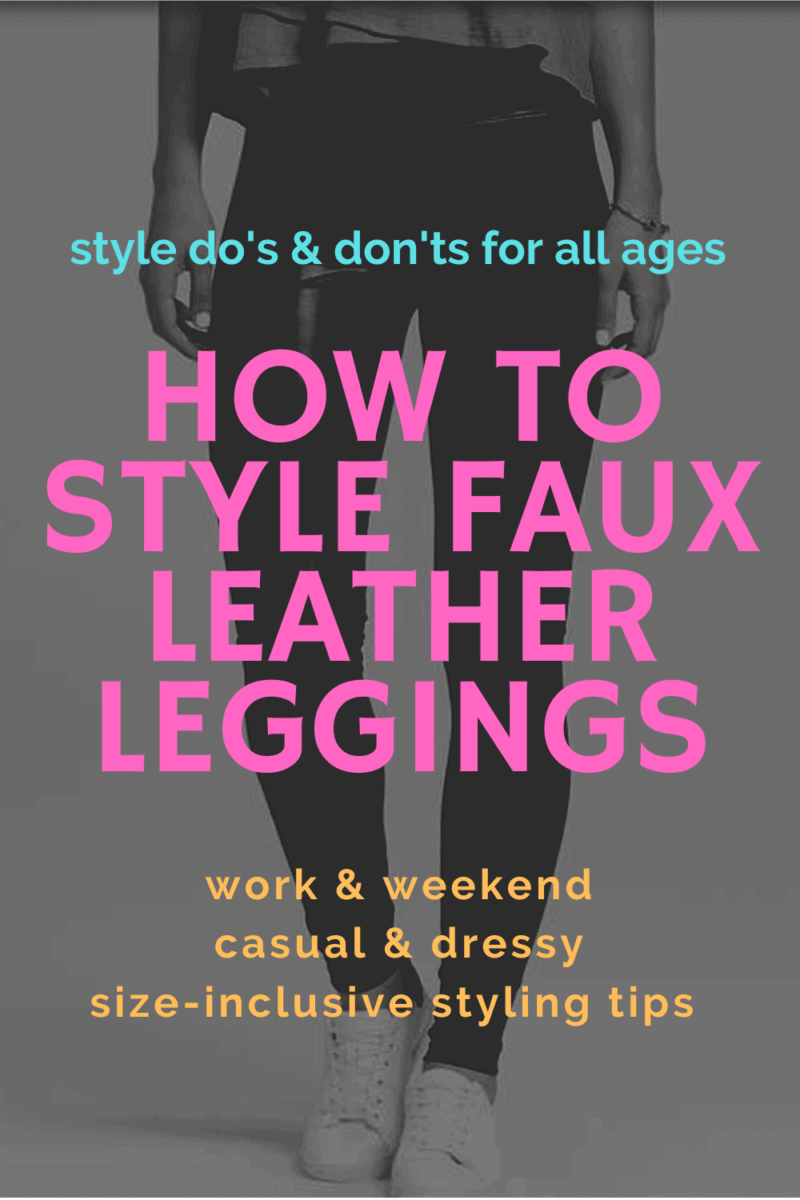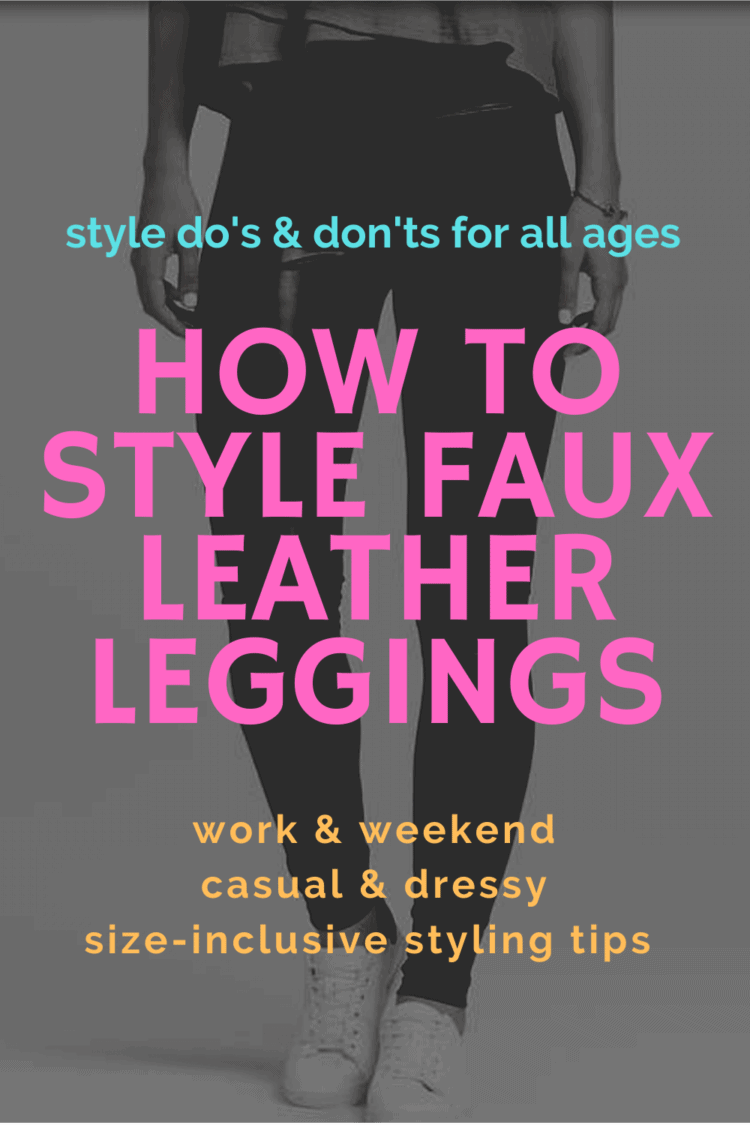 Faux leather leggings have been a fashion trend for several years (seriously I was discussing the style merits 0f faux leather leggings back in 2016) and they don't seem to be going away any time soon. But what to wear with leather leggings, be they real or faux? Below I share how to style faux leather leggings, with a focus on the styles of faux leather leggings from Spanx.
I chose Spanx because they are by far the most popular style, come in plus sizes, and many have purchased them the Nordstrom Anniversary Sale. However, in the widget below I have faux leather leggings from a variety of retailers and pricepoints.
This post originally was published in 2018 but because this trend is so popular, I updated it with looks appropriate for this year.
How to Style Faux Leather Leggings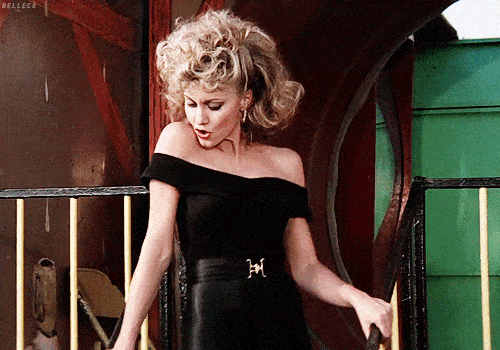 Faux leather leggings are a bold move, and not one that can be worn anywhere and with anything. One false move and you end up looking like Sandy at the end of "Grease" (no shade on "after" Sandy, that was my dream look for most of my tween and teen years). But let's focus on the everyday…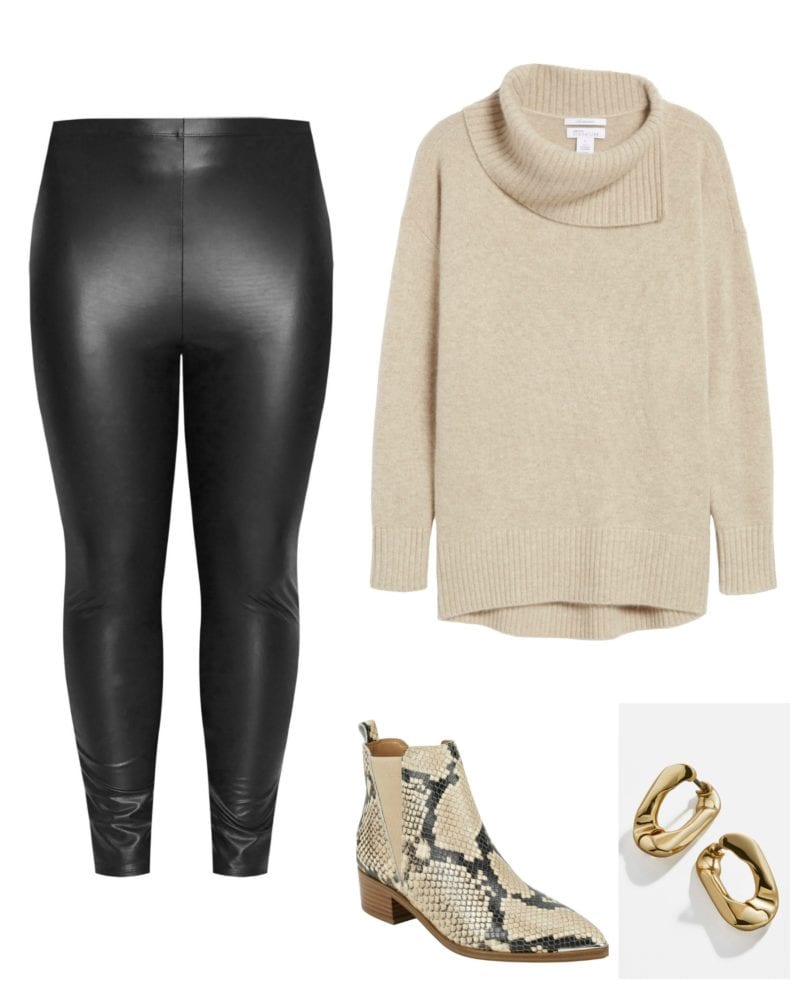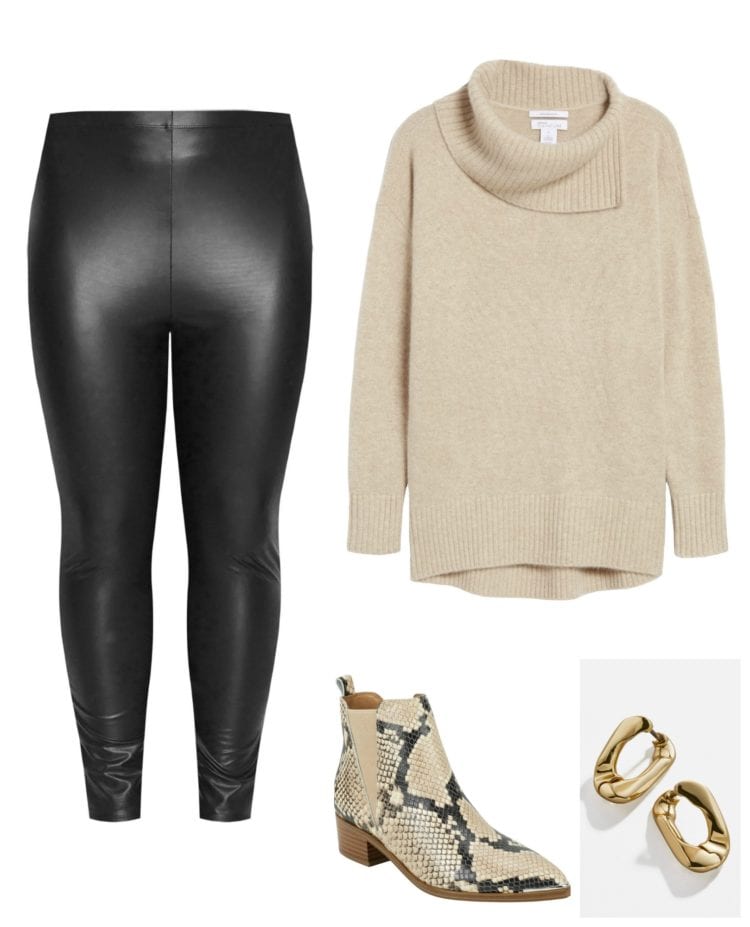 leggings (available in tall and petite up to 3X) | cashmere sweater (available up to XXL) | booties | earrings
This is a classic way to style faux leather leggings – with booties and a sweater. What makes this look work is the details. The sweater is roomy with a statement collar which balances the slick and fitted look of the leggings.
If cream isn't your thing this sweater is also available in a deep merlot color. Instead of trying to match the faux leather of the leggings, consider a print. Snakeskin is a hot trend this season and a way to add texture and trend to a simple ensemble.
These booties are available in seven different colors or patterns and are highly rated for comfort. Curb chain-inspired hoops add a bit of shine without competing with the other details of the look and are small enough to work with any style of face mask.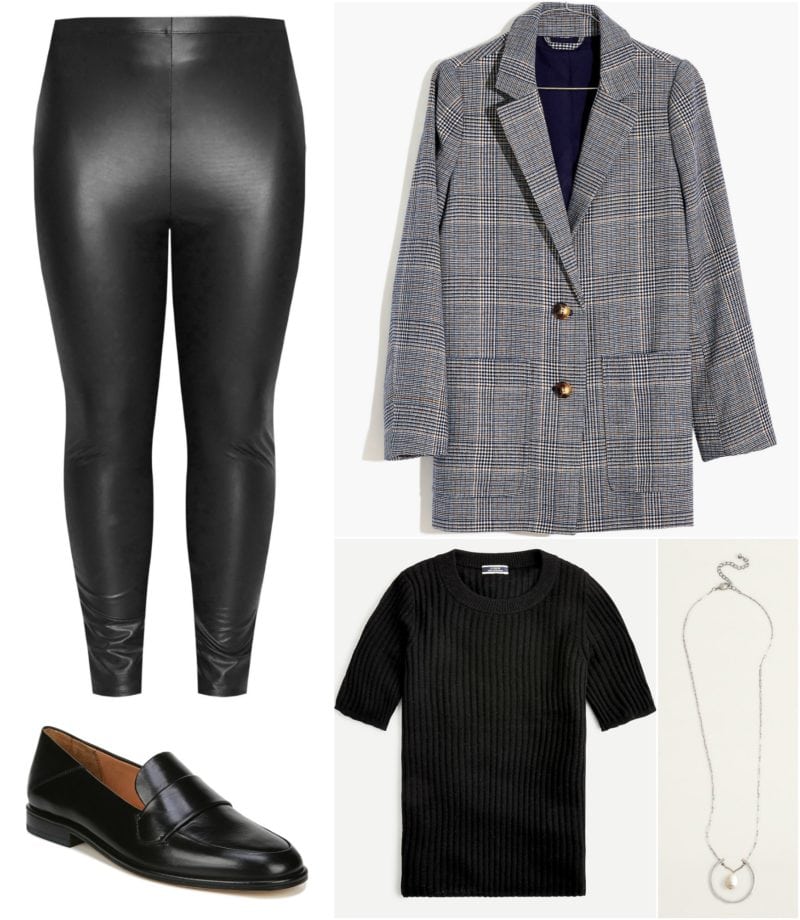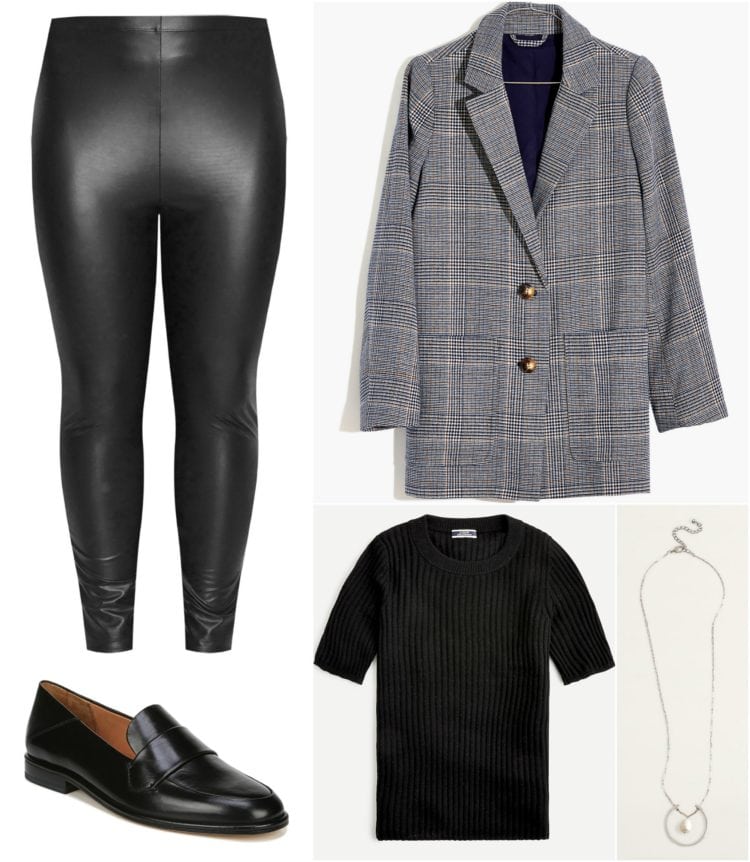 leggings (available in lengths and sizes up to 3XL) | blazer (available up to 3XL) | sweater (available up to 2XL) | loafers| pendant necklace
If you work in a creative office, you may be able to get away with leather leggings. The key is to ensure your rear is properly covered. Look for boyfriend-style blazers to cover beyond the waistband without adding bulk. Go sleek and sophisticated by pairing the blazer with a short-sleeved sweater (wear untucked with the jacket open or buttoned up).
Consider a loafer with no-see socks to add a level of professionalism with a hint of punk and a comfortable low heel. If your office is more casual, such shoe can easily be replaced with a pair of trendy sneakers.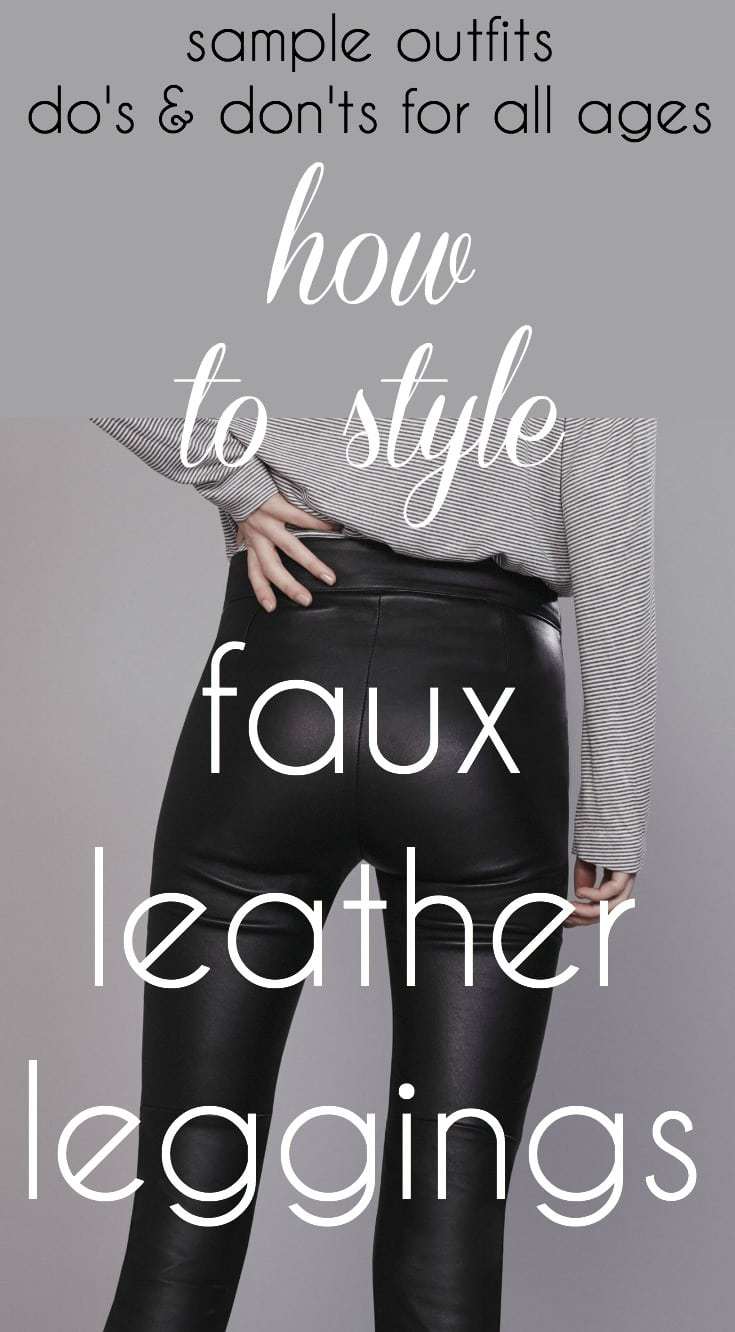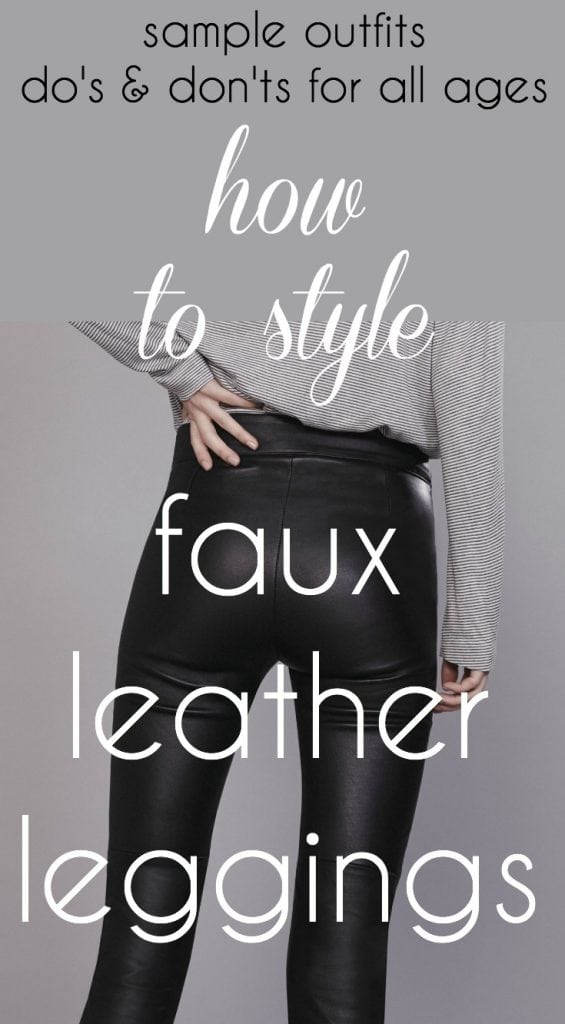 leggings (available in lengths and sizes up to 3XL) | tunic | flats (available in widths) | earrings | bracelet
Because faux leather leggings have such a trim fit, they're great to wear with longer tunics and shorter dresses. A pair of flats with a pointed toe will elongate the look and keep it from looking like loungewear. A pair of earrings can add a pop of color and interest, especially if your meetings are on Zoom.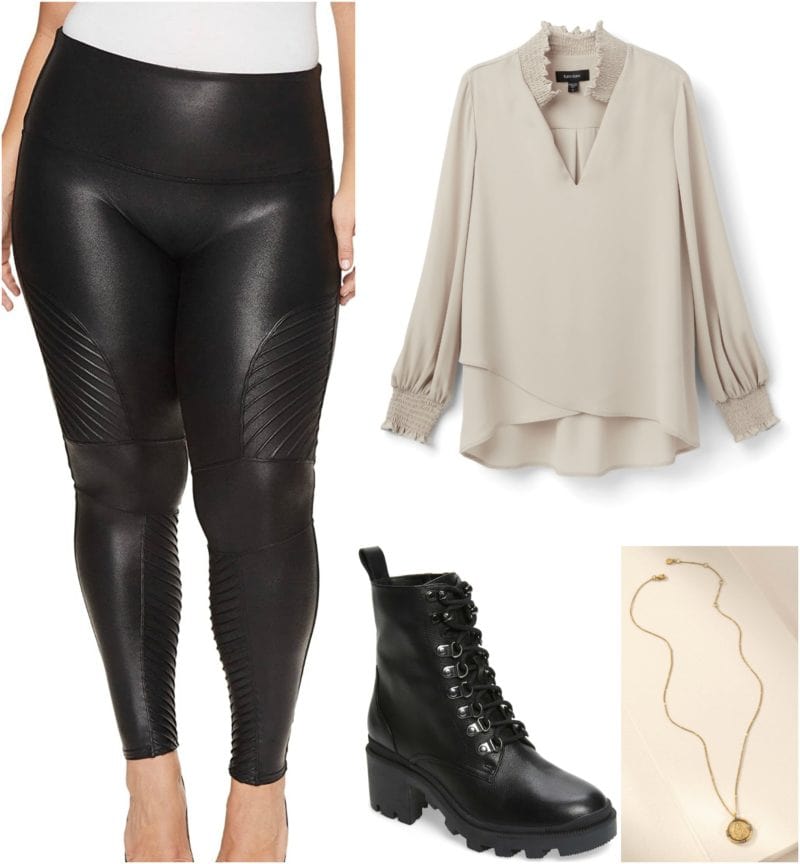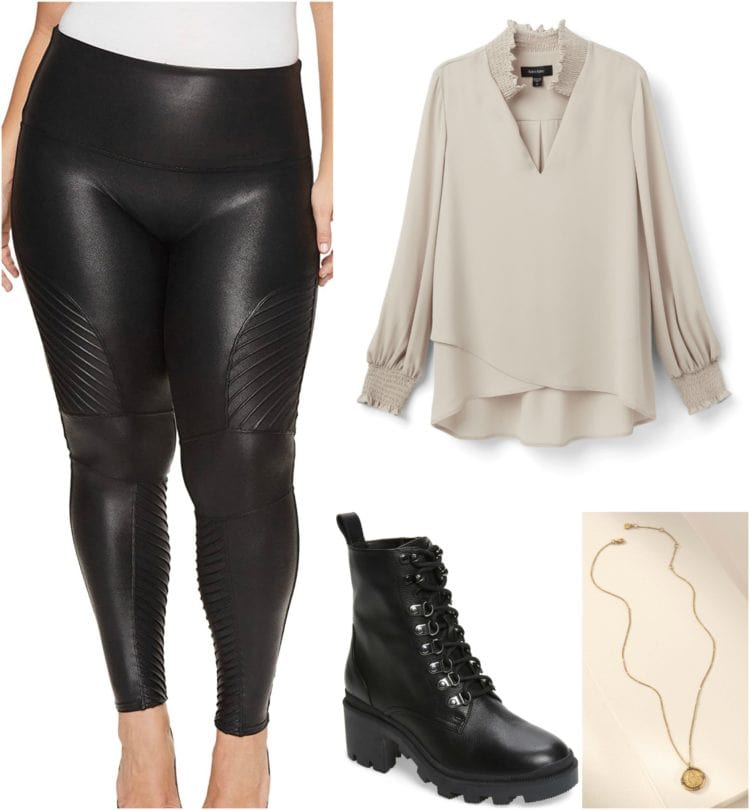 leggings (available in petite and sizes up to 3XL) | blouse (straight-sized version) | boots | earrings | necklace
Skinny faux leggings are great for balancing out a top with plenty of volume. This blouse works because it is a lightweight fabric with layers that catch the breeze; a heavier fabric may cling to the leggings and feel weighed down.
As for the boots, the combat-inspired style continues to be on trend this season while providing comfort and practicality. Add gold accessories to complete the look and to help the romantic blouse balance the toughness of the boots and leggings.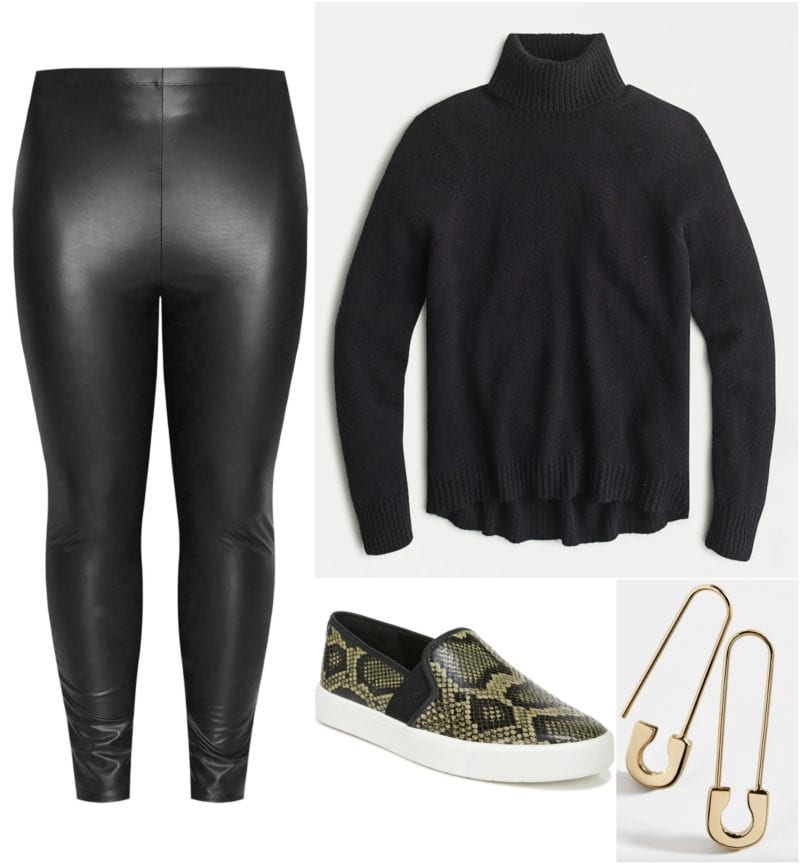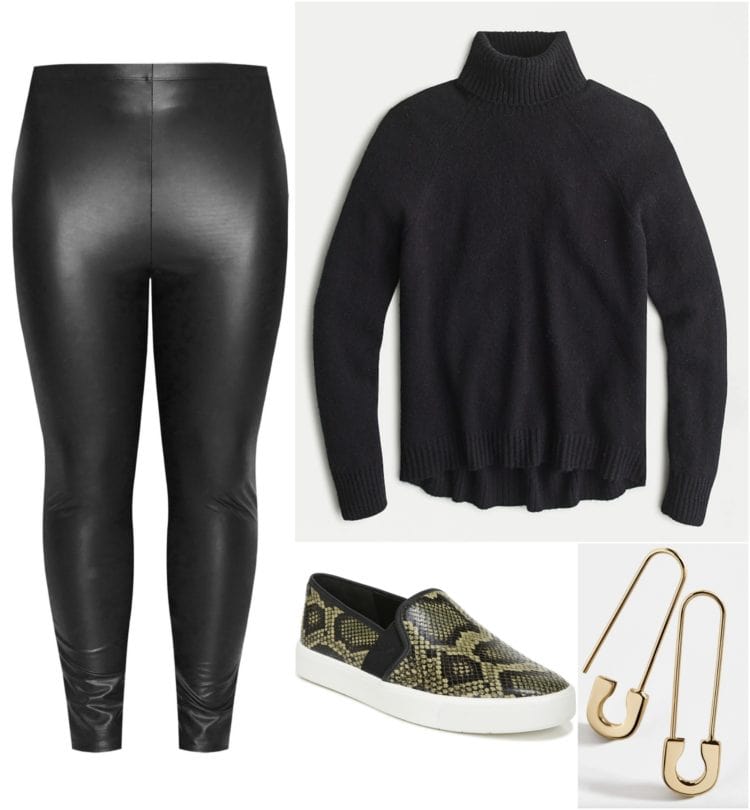 turtleneck (available up to 3XL) | leggings (available in lengths and sizes up to 3XL) | earrings | sneakers
Faux or real leather leggings are so sleek and chic. Play up these characteristics with more of the same. A turtleneck sweater pairs nicely with the shine and brings elegance to the leggings. For a downtown cool factor, pair with trendy sneakers and small yet sassy earrings.
A look this chic can work with a fresh face and messy topknot, or maybe a swipe of red lipstick.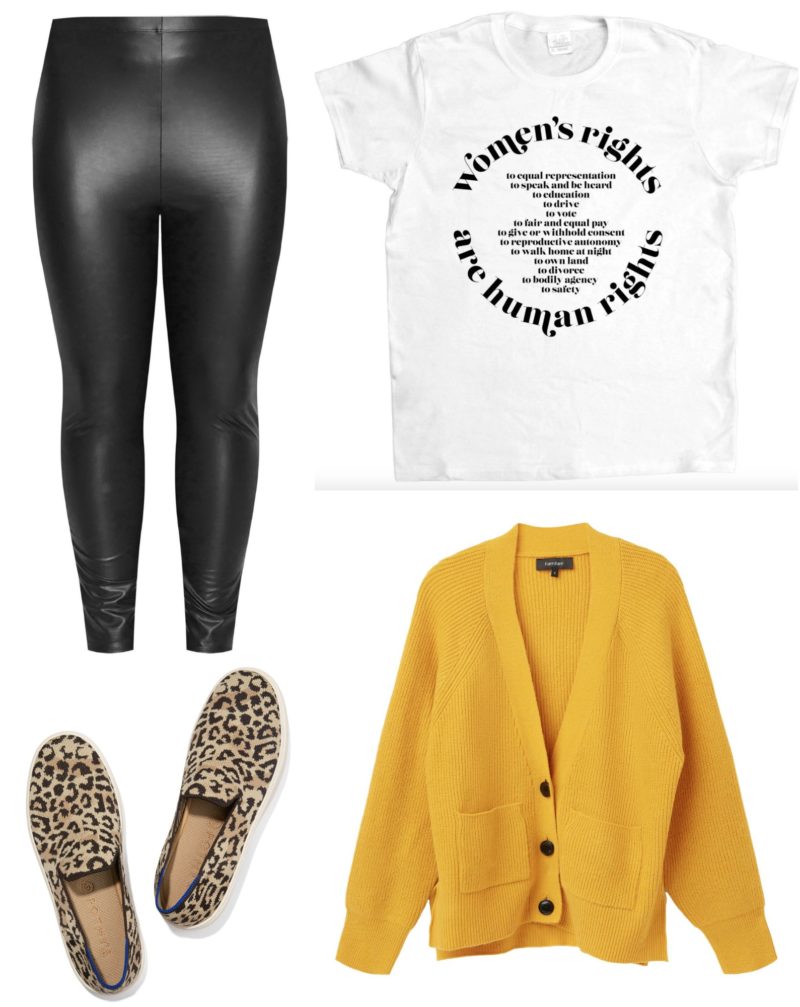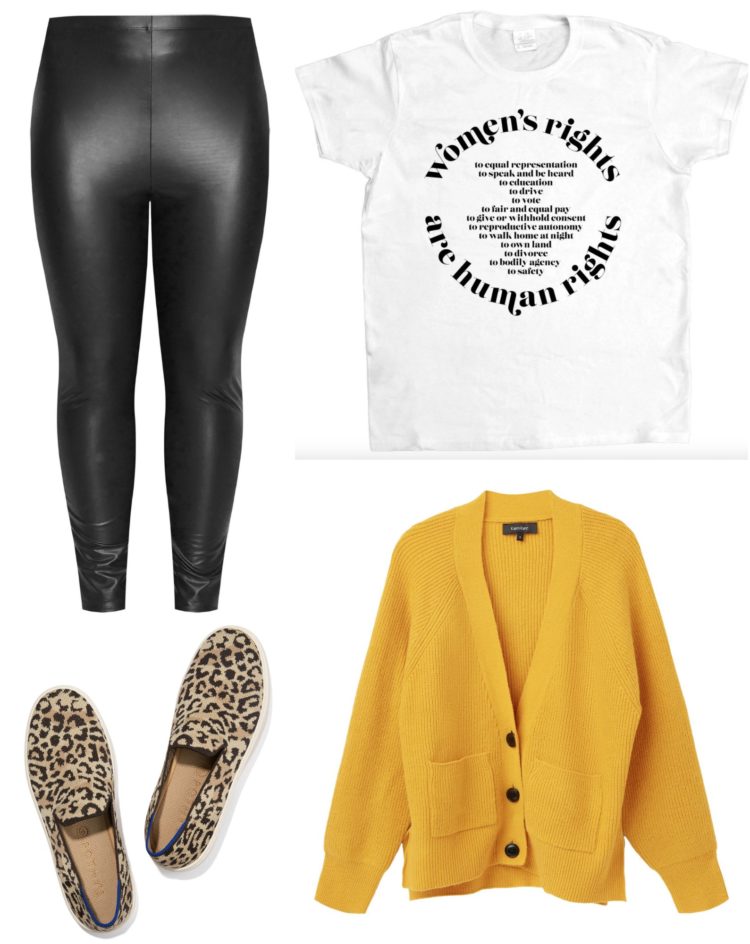 leggings | sweater (available up to 14/16) | t-shirt (available up to 2XL) | sneakers
With our new normal, you may be looking for ways to style your faux leggings in a more relaxed manner. In past years, faux leather leggings were styled with plaid flannel or denim shirts or lightweight very long cardigan sweaters.
This season, switch it up with a cozy chunky sweater with a more relaxed silhouette and a bit shorter of a length. From hip- to thigh-length, it will be long enough to feel covered while having a modern look.
Rock those t-shirts stating your views; look for shirts that have descriptors like, "flowing," "soft," and "women's cut" to find one that you may like better with your curves. If it's a unisex t-shirt, don't be afraid to customize it to better suit your unique body.
A good start is turning the t-shirt inside-out and cutting out the collar and cut off the hems of the sleeves. Pull a little at the shirt, try it on, and you may wish to trim each a bit more but do a little bit at a time so you don't ruin the shirt.
A pair of slip-on stretchy sneakers (these are washable and comfy) at the door ready for your next socially distant event!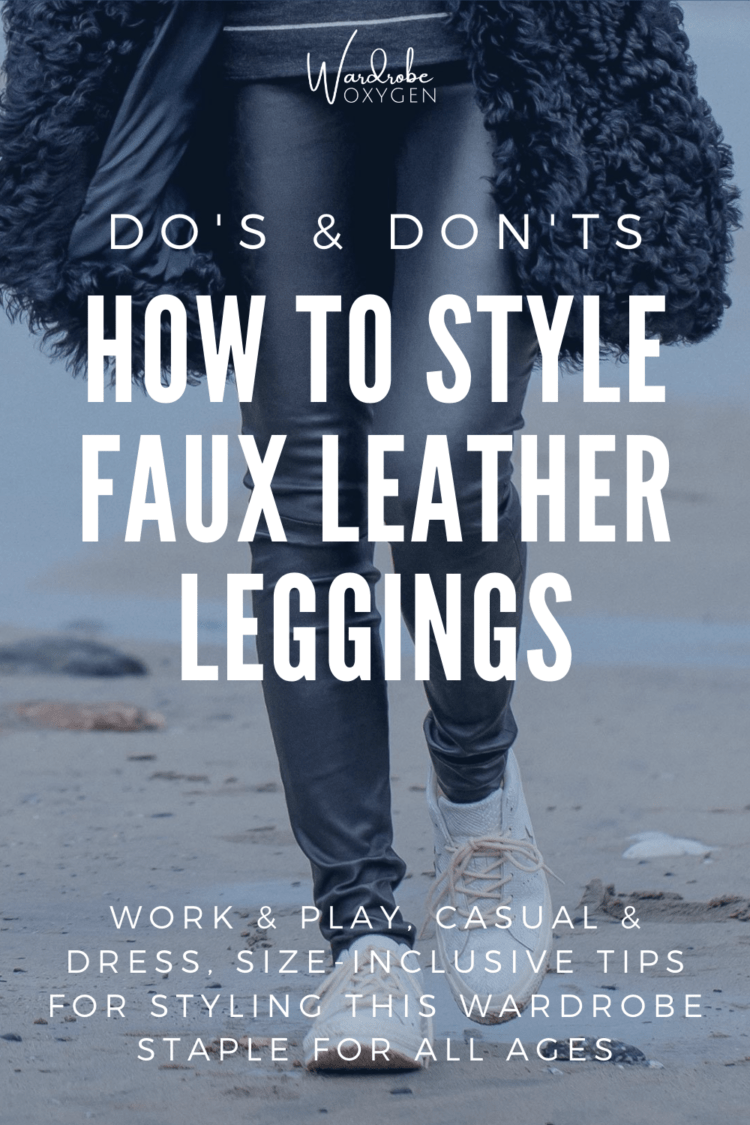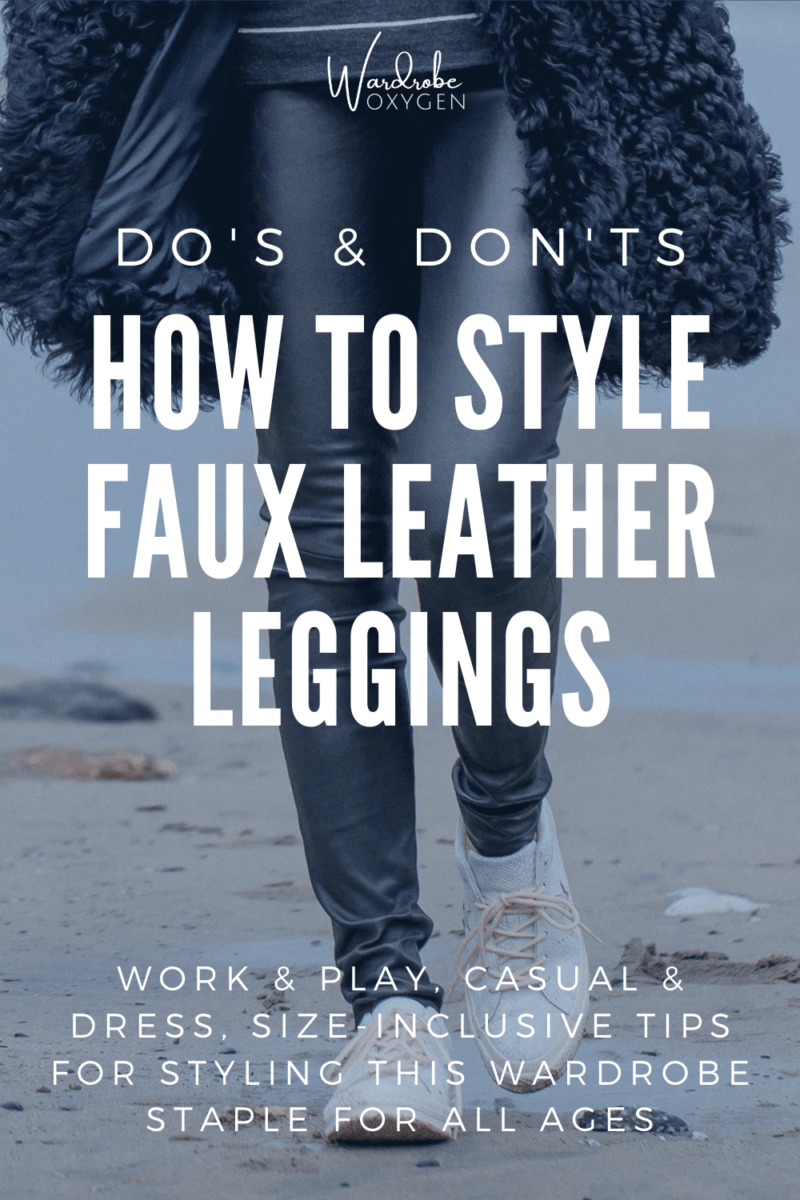 What Shoes to Wear with Faux Leather Leggings?
The best choice is a pair of sneakers. Whether they're trainers or a trendy pair, the juxtaposition of athletic gear with leather is quite chic and will steer you clear from "Sandy" territory.
If you're looking to dress up the leggings for work or evening, consider a pair of pointed-toe flats, or a boot with a bit of toughness.
Sleek ankle booties and pumps in black leather may be a safe bet, but the look can be too superhero. If you choose this kind of shoe, be sure to balance the look with a clearly professional and polished or relaxed and voluminous top.
What To Wear (and What Not to Wear) with Faux Leather Leggings
While you can wear whatever the heck you want and I will completely support you and root you on; if you're unsure how to style leather leggings here's some tips on what not to do to make them look as stylish as possible.
Don't pair your leather leggings with a leather jacket. This will take you from "Sandy" territory to Leather Tuscadero territory. If you need to wear a jacket, consider a cargo jacket in a neutral like olive or a denim jacket.
Balance the shine with other textures. Faux leather leggings with shiny satin or sequins are only appropriate in Vegas or on stage. For every day, you want to temper the shine of leather. Fleece, chunky knit sweaters, cashmere, denim, and angora are all great fabrics to pair with the leggings to keep the look luxe yet relatable.
Keep Jewelry Delicate. Big, bold pieces paired with shiny black leggings can end up being too much of a look. Delicate chains, small rings, a single watch or chain bracelet, thin hoops or studs is often the best choice when styling leather leggings.
Don't Be a Trend Salad. Leather leggings are a lot of look, and usually looks best with more subtle of pairings. They're not the thing to wear with a cold shoulder or sheer blouse or statement shoes. If the rest of your outfit is a bit quieter your leather leggings then can sing.
Add Polish. While faux leather leggings look more refined than traditional leggings, they can easily veer into athleisure if styled with more relaxed pieces. Oversized sweatshirts, cocoon cardigans, and sweater coats can make you look as though you just rolled out of bed. Add a bit of tailoring or an accessory to make it clear this is not loungewear.
Think Contrasts Not Costume. Rocker leather leggings with a corporate blazer. Black leather with cashmere in a soft pastel color. The shine of the leggings paired with chambray or a plaid flannel. The way to make these leggings look great is to treat them as though they aren't leather; style them as you would a pair of skinny pants or ponte leggings and you'll have the best results and not look like you're wearing a costume.