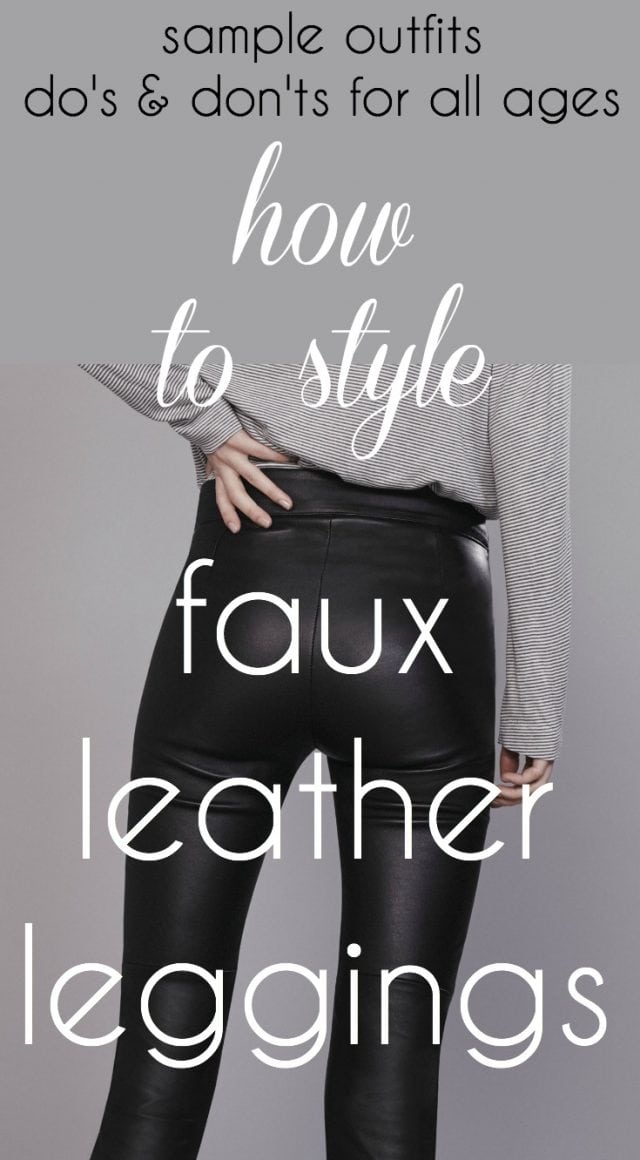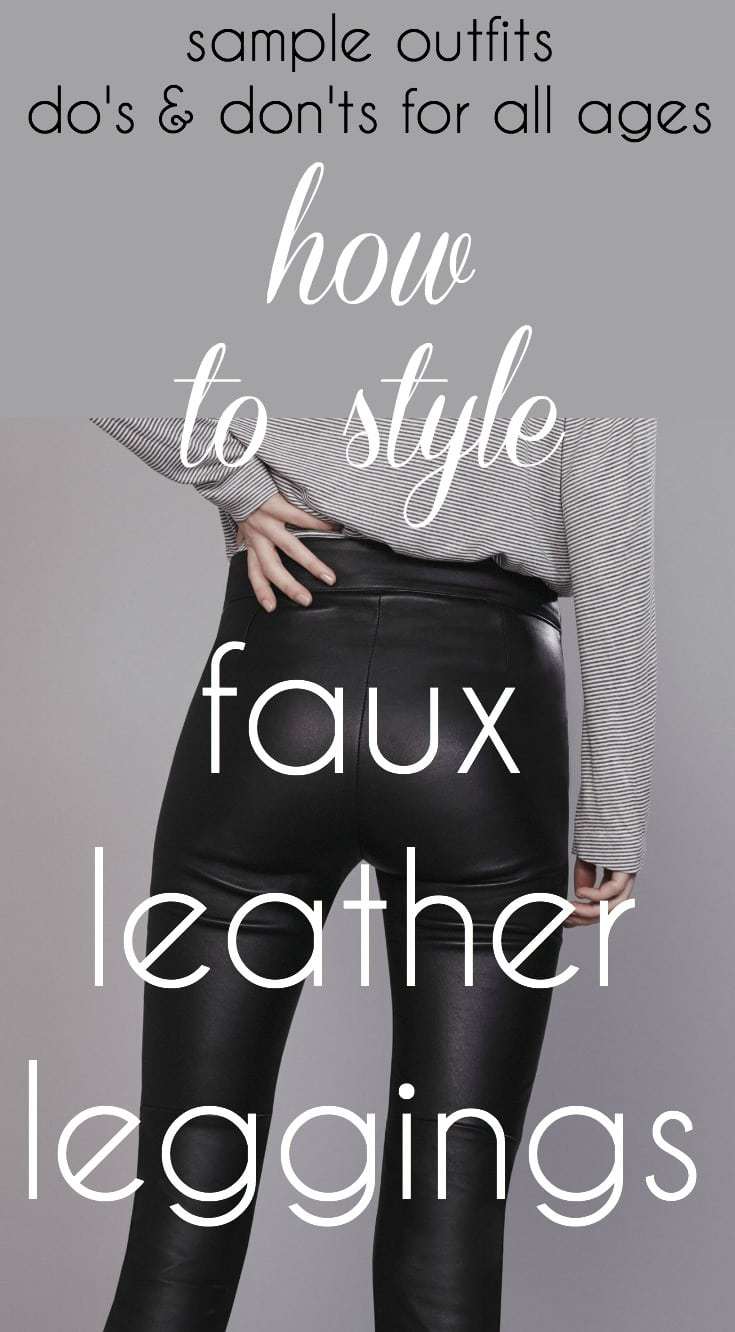 The Spanx Faux Leather Leggings have been a Nordstrom Anniversary Sale mainstay for a couple years now, and they continue to get rave reviews from those who purchase them. Unlike real leather leggings, these from Spanx are machine washable, stretchy, comfy, and far more wallet-friendly. Faux leather leggings have been a fashion trend for several years and they don't seem to be going away any time soon. But what to wear with leather leggings, be they real or faux? Below I share how to style faux leather leggings, with a focus on the styles of faux leather leggings from Spanx.
Shop Faux Leather Leggings:

How to Style Faux Leather Leggings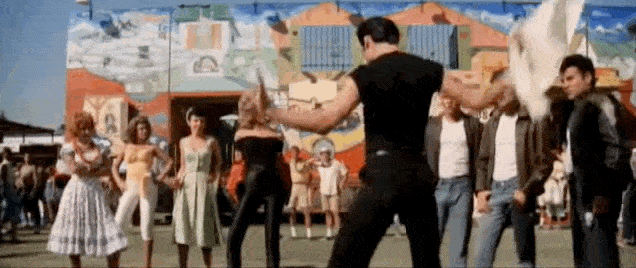 Faux leather leggings are a bold move, and not one that can be worn anywhere and with anything. One false move and you end up looking like Sandy at the end of "Grease" (no shade on "after" Sandy, that was my dream look for most of my tween and teen years). But let's focus on the everyday…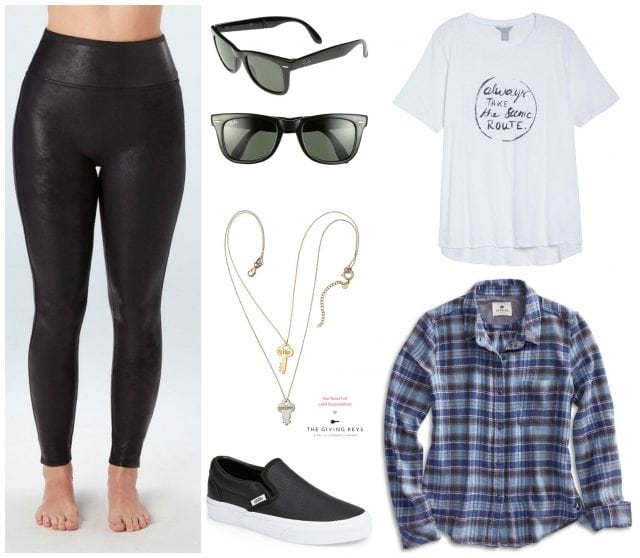 Shop This Look:

Faux leather leggings are a great alternative to regular leggings or jeggings.  They sill have the comfort and the slim silhouette, but add a badass edge or bit of shine.  This look is perfect for running errands, hanging out with friends, and enjoying a relaxed weekend.  Since the leggings are very fitted, I recommend a longer top, or bring out your '90s grunge side and tie a lightweight plaid flannel around your waist.  Add a bit of shine with a necklace (this one is from the cabi partnership with The Giving Keys and a portion of the proceeds supports the Heart of cabi Foundation). A slip-on sneaker in perforated leather is relaxed but polished and provides a different texture to the ensemble.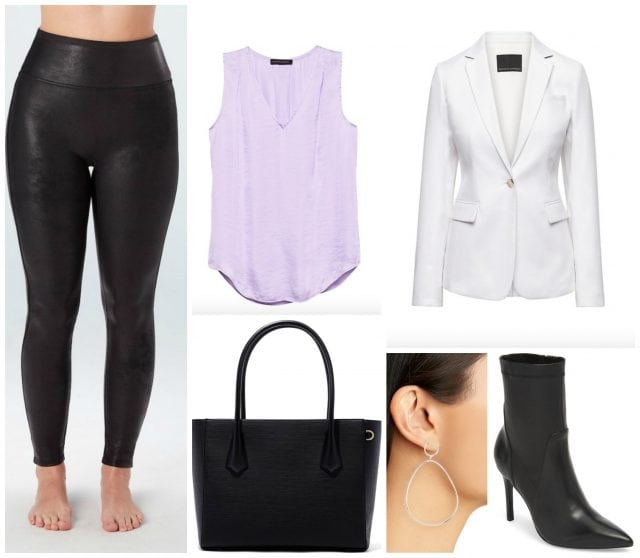 Shop This Look:

If you work in a creative office, you may be able to get away with leather leggings.  The key, as mentioned with the previous outfit, is to ensure your rear is properly covered.  Look for boyfriend-style blazers and longer lightweight silky blouses with great drape to cover beyond the waistband without adding bulk. To keep from being too Sandy from Grease, balance the rocker black with white, pastels, and delicate yet not shy jewelry.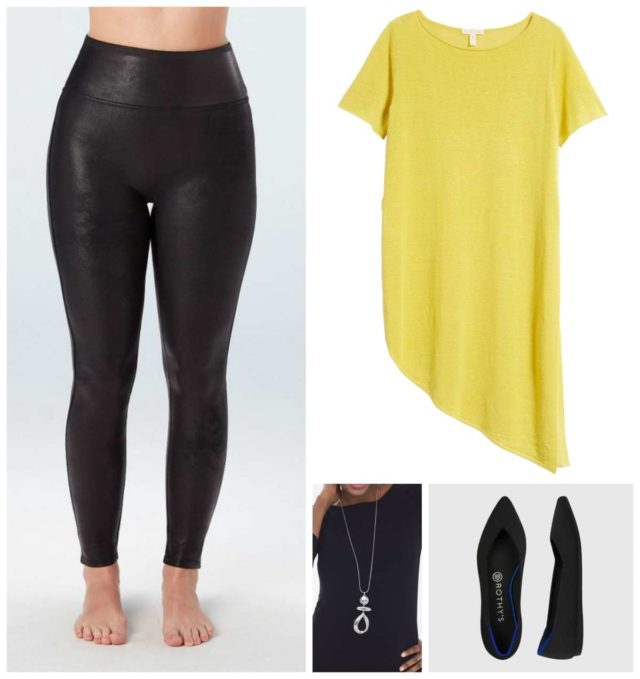 Shop This Look:

Because these leggings have such a trim fit, they're great to wear with longer tunics and shorter dresses.  The black shine of the faux leather leggings can stand up to a bold color. However, keep other accessories relatively simple and clean so it's not statement overboard.  A pair of flats with a pointed toe will elongate the look and keep it from looking like loungewear. A long pendant necklace in silver cools the citron and also breaks up the color.
Shop This Look:

Skinny faux leggings are great for balancing out a top with plenty of volume.  The column of black also provides balance.  With a patterned top, keep accessories simple.  Some shine at the ears is all you need.  As for the boots, they're an unexpected pairing that works with the moto details of the leggings without veering into "Sandy" territory.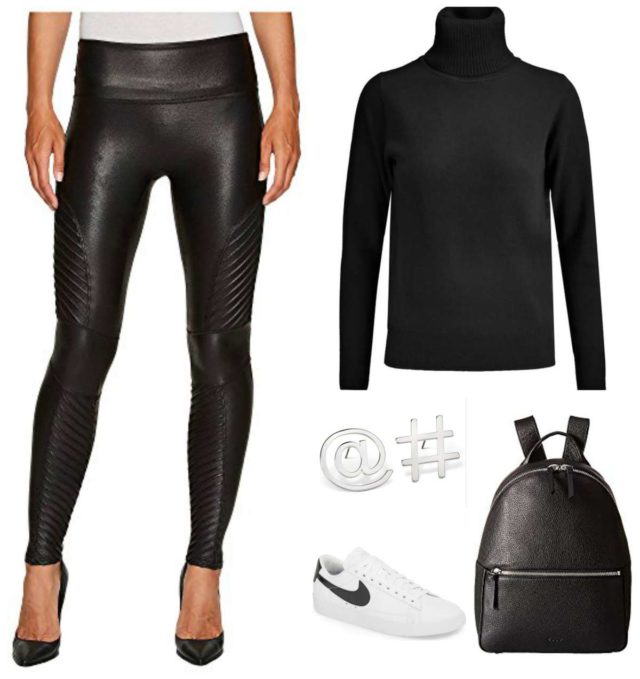 Shop This Look:

Faux or real leather leggings are so sleek and chic.  Play up these characteristics with more of the same.  A black cashmere turtleneck (again look for one that is a bit longer) pairs nicely with the shine and brings elegance to the leggings. For a downtown cool factor, pair with classic sneakers, small yet sassy earrings, and switch out your handbag for a backpack.  A look this chic can work with a fresh face and messy topknot, or maybe a swipe of red lipstick.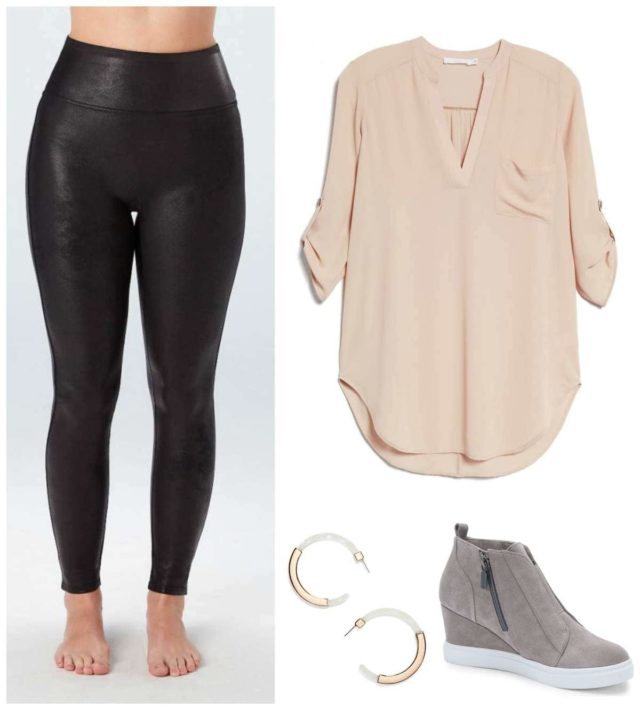 Shop This Look:

This is what I'd consider the most everyday way to wear the Spanx faux leggings or any leather leggings.  A silky longer blouse and a pair of comfortable shoes in a material that contrasts with the leggings.  I think sneakers are the best pairing, but a suede bootie or bootie/sneaker hybrid like the ones in the image is a great alternative.  Don't go crazy with the accessories; the shine of the leggings make so much of a statement that too much jewelry will veer into Las Vegas or evening territory.  I love how these hoops mix lucite and metal for a hint of elegant shine.  With colors, keep them simple.  Primary colors can look too dressy or bold for casual situations.  Soft pastels, neutrals, and muted shades will beautifully balance the sheen of faux or real leather leggings.
What Shoes to Wear with Faux Leather Leggings?
The best choice is a pair of sneakers.  Whether they're trainers or a trendy pair, the juxtaposition of athletic gear with leather is quite chic and will steer you clear from "Sandy" territory.
If you're looking to dress up the leggings for work or evening, consider a pair of pointed toe flats, or a boot with a bit of toughness.
Sleek ankle booties and pumps in black leather may be a safe bet, but the look can be too super hero.  If you choose this kind of shoe, be sure to balance the look with a clearly professional and polished or relaxed and voluminous top.
What To Wear (and What Not to Wear) with Faux Leather Leggings
While you can wear whatever the heck you want and I will completely support you and root you on, if you're unsure how to style leather leggings here's some tips on what not to do to make them look as stylish as possible.
Don't pair your leather leggings with a leather jacket.  This will take you from "Sandy" territory to Leather Tuscadero territory. If you need to wear a jacket, consider a cargo jacket in a neutral like olive or a denim jacket.
Balance the shine with other textures. Faux leather leggings with shiny satin or sequins is only appropriate in Vegas or on stage.  For the everyday, you want to temper the shine of leather.  Fleece, chunky knit sweaters, cashmere, denim, and angora are all great fabric to pair with the leggings to keep the look luxe yet relatable.
Keep Jewelry Delicate. Big, bold pieces paired with shiny black leggings can end up being too much of a look.  Delicate chains, small rings, a single watch or chain bracelet, thin hoops or studs is often the best choice when styling leather leggings.
Don't Be a Trend Salad. Leather leggings are a lot of look, and usually look best with more subtle pairings.  They're not the thing to wear with a cold shoulder or sheer blouse or statement shoes. If the rest of your outfit is a bit quieter your leather leggings then can sing.
Keep it Casual. An oversized denim shirt with a pair of sneakers can be the best things to wear with faux leather leggings.  Unlike regular leggings, the faux or regular finish will elevate your weekend basics and make the look chic, not as though you just rolled out of bed.
Think Contrasts Not Costume.  Rocker leather leggings with a corporate blazer. Black leather with cashmere in a soft pastel color. The shine of the leggings paired with chambray or a plaid flannel. The way to make these leggings look great is to treat them as though they aren't leather; style them as you would a pair of skinny pants or ponte leggings and you'll have the best results and not look like you're wearing a costume.