This article may contain affiliate links; if you click on a shopping link and make a purchase I may receive a commission. As an Amazon Associate, I earn from qualifying purchases. 
Man it's hard to look stylish with only one working arm! The cast is too thick to work with any blouse, shirt, coat, blazer, or many sweaters and knits in my wardrobe. Dresses ride up with the sling or when brushing against the cast. I can't button jeans or pants that are fitted, can't maneuver a belt or sash or shoe laces, and can't tuck or blouse a top without looking as though I got caught in a tornado. Yeah, all of these things are standards in my wardrobe.  After a couple of weeks of just trying to function and heal, I began to care about my looks. Here's what worked, essentially a capsule wardrobe for a broken arm: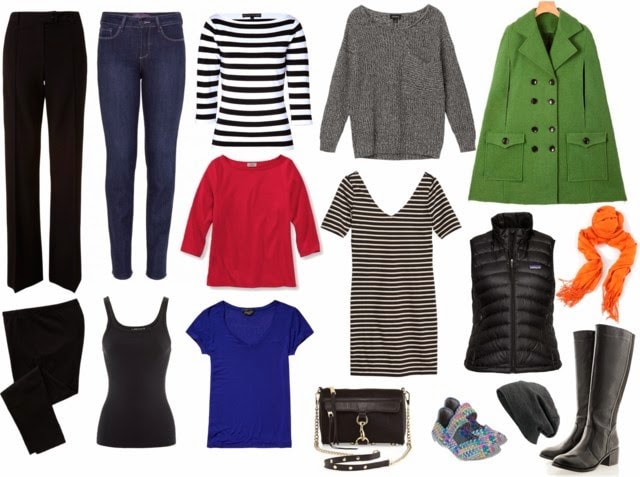 Bottoms: I bought NYDJ ponte pants and the NYDJ Hayden straight jeans in petite (to work with flat shoes) and a size larger than I need (extra fabric to be able to zip and button closed on my own). I also have worn my Spanx Star Power leggings quite often; pants with built-in slimming features help me look a bit more pulled together (literally and figuratively).
Tops: Boatnecks with elbow-length sleeves have been perfection; the longer sleeve covers the top of the cast, keeping it from riding up into my armpit or having the entire shirt twist. Lightweight v-neck tees have also been great and regularly worn as a base layer. A simple black ribbed tank is a lifesaver, especially when shirts shift and ride up and necklines get stretched. I have two sweaters – a slouchy black merino and a slouchy marled gray tunic that fit over the cast; both are oversized so they work with leggings and jeggings and also fit over base layers.
Dresses: 99% of my dresses are unwearable, but I do have a bracelet-sleeve stretchy black and white dress from Ann Taylor (seen here) that fits over the cast. It is fully lined which helps prevent riding and shifting. I wear it with leggings and tall boots or flats.  Not pictured but terribly awesome has been a brightly-printed caftan I thrifted; one-piece dressing and far more cheery than faded stretched out sweats!
Outerwear: It's darn cold outside, too cold to throw a coat over my shoulders. My mom made a thick wool cape back in the late '60s and loaned it to me during this time. I also have a black packable down vest that I wear over tees inside or under the cape for extra warmth.
Shoes: Shoes should to be flat for security and balance, have decent grip, easy to slip on but unlikely to slip off. I've been wearing tall boots with dresses, jeans, leggings, and jeggings, but recently got these stretchy Mary Janes that aren't subtle and don't really match, but will work this spring and summer after the cast is removed.
Accessories: A pashmina is excellent as a wrap to ward off chill, especially since I can't fit a lot of sweaters. I then loop it around my neck to make my winter scarf. A beanie traps body heat… and also hides bad hair days. There's no way I can lug around my heavy day purse; I switched to my Rebecca Minkoff purse which is light and is a crossbody. Finally I recommend a bold lipcolor which makes all the cozy knits look cohesive and shows you're stepping up your style!
One of my favorite accessories are my two CastCoverZ, they hide the grody cast and show my personality.  Also great for sleeping since a cast can be scratchy.   Get two so one can be in the wash; I got leopard and a sparkly gold but sort of wish I also got something more subtle to blend in when I'm wearing a print or don't want strangers to ask about my injury.
Tips:
A molded cup bra is easier to get on by yourself.  For the first couple of weeks  I had Karl help me with my bra, but I hate feeling helpless so I figured out how to do it myself.  Using a piece of furniture about hip height to hold one side against your body, wrap the bra below your breasts, hook in front.  The furniture holds that side in place, and then use your good hand to do the hooks (you'll get better with practice).  Then rotate, pull up the straps and wiggle breasts into place.
Necklaces are a pain in the neck… literally.  With a sling, necklaces get tangled and dig into your skin.  Scarves are a great alternative to add interest and not sacrifice comfort (or a delicate chain).
Go up a size.  Be it a dress, top, pants or underwear, extra fabric means more give over a cast, less riding up, and easier to put on and take off with your non-dominant hand.
Consider a caftan.  A couple weeks before my accident I bought one but never wore it.  Then I broke my arm and wore it all the time.  It's easy to pull on and off alone, you can get away with going bra-free, it's easy to slip up when you use the bathroom, and doesn't stick to the cast.  It was the BEST right after the surgery when I spent most of my time on the couch.  There's plenty on eBay and at thrift stores; choose a heartier fabric like polyester or cotton so it doesn't cling, won't snag on the cast, and can be tossed in the washer and dryer.  Go shorter than you think (calf to ankle bone, not a true maxi), you don't want to trip or have it tangle around your ankles.
With this, a kimono-style robe is also nice to have.  The only robe that fits me now is a shortie, I was super temped to cut the sleeve off my terry robe so I'd have SOMETHING since I can't even wear a cardigan or sweater coat.  Someone wants to buy you a get well soon gift or want to give one to someone who broke their arm?  Simple jersey calf-length robe with wide kimono sleeves will make their month!
If you have long hair and want to tie it back, I got this tip from my neighbor who broke her wrist shoveling snow this summer… take and old-fashioned scrunchie and loop it around your hair.  Then stick a pencil in the middle and twist around and poke into the new knot to keep it in place.  Not terribly elegant but times like this you gotta do what you gotta do!