This article may contain affiliate links; if you click on a shopping link and make a purchase I may receive a commission. As an Amazon Associate, I earn from qualifying purchases. 
Key West was just what the doctor ordered.
The past couple of months have been pretty hectic, the type where you blink and a week has passed, where you need coffee three times a day just to get through the day, where you dream about work, where tension causes ridiculous and pointless arguments with those you love the most. I was feeling very on edge, stomach issues and sleeping issues and feeling a bit paranoid and on the edge of a meltdown. Then we had plenty of travel drama to get to Key West – SuperShuttles not arriving, flights being changed without us being notified, but we got there on time to beautiful weather and friendly people.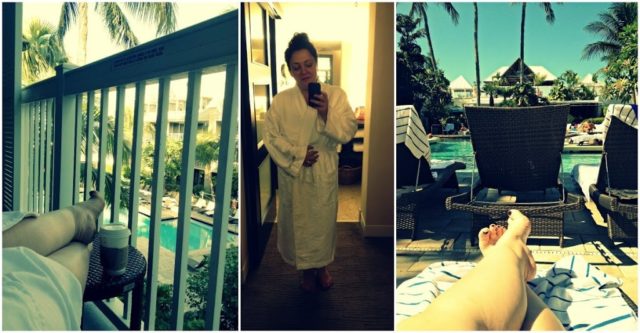 The weekend was a wonderful break. Emerson stayed with my mom, our neighbor watched our dogs, my Out of Office Assistant was on for work, and I decided to not blog (or even bring my laptop!) while there. The only task at hand was Sunday afternoon and evening – photographing our dear friends' wedding. The rest of the time we could wander through Key West, sleep when we wanted, drink what we wanted.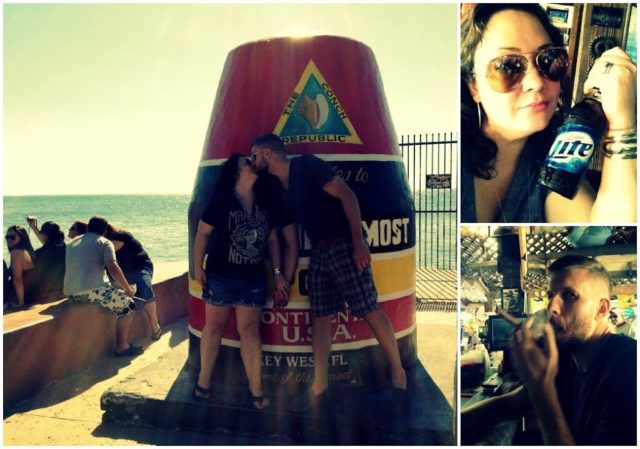 And well… we drank. While we're not teetotalers by any stretch of the imagination, I can't recall the last time I was properly drunk. I may have a glass or two of wine with a meal, a cocktail to celebrate a much-needed weekend, get a nice buzz on a night out, but this weekend I actually got drunk, and I think it's the first time I had gotten that drunk since before I was pregnant. And I didn't miss it.
We ran singing through the streets, we met crazy and weird and wonderful people.  We ate oysters and did shooters and took a pedicab tour of the whole place.  We kissed at the Southernmost Point and saw the sunset and smoked cigars and did a LOT of sleeping and hand holding and taking of pictures.  We caught up with old friends, reminisced a lot, and shared a bunch of funny stories.  Did I mention that we drank (totally detoxing our systems this week!)?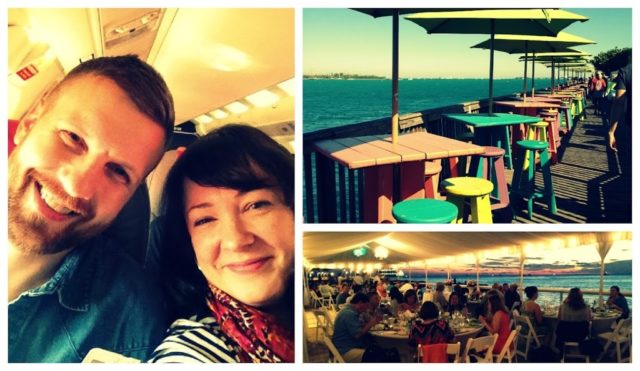 We had so much fun with our friends and the wedding was both one of the most beautiful and most fun weddings I have ever attended. The bride was phenomenal – never got wigged out, never stressed, never got upset, and looked so beautiful and HAPPY and SURE the whole time. Since it was a destination wedding, there wasn't a huge crowd and the couple was surrounded only by people who truly love them and wish them well – no obligatory relatives, distant cousins, and coworkers. We knew probably 80% of the attendees, many my husband or I grew up with. It was proof that you can have a dream wedding without being a Bridezilla, and that you don't have to be addicted to Pinterest to have a perfect event.
Key West was a blast – the weather was amazing, the people so nice, plenty of fun bars and beautiful homes and the gorgeous water and sunsets. But the best part of the trip was coming home. While we found Key West a ton of fun and were so glad we had the opportunity to attend and for such a great reason, we realized we are NOT Key West people. We missed the changing seasons, the leaves on the ground, the dry air. We missed our home, our dogs, our own bed (yes, we like it more than a Westin Heavenly bed!). We missed Emerson, our friends and family back home. It made me miss my job, my routine, my responsibilities… all the things that stressed me out so very much.
Thank you Key West (and fab friends who chose to marry there) for getting me out of my funk, for rejuvenating me, for reminding me how very lucky and blessed and happy I am in this life I have. Thank you Key West for reminding me that there really is no place like home!
Follow Me | Twitter | Facebook