This article may contain affiliate links; if you click on a shopping link and make a purchase I may receive a commission. As an Amazon Associate, I earn from qualifying purchases.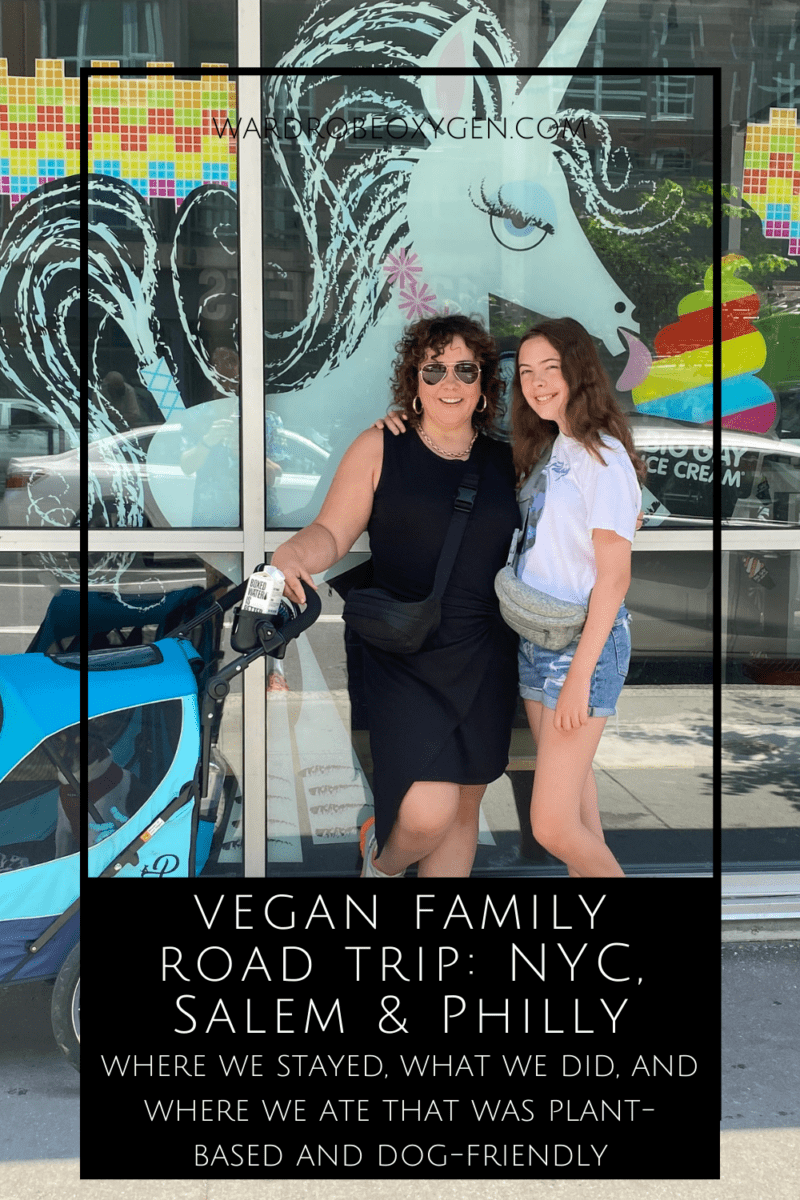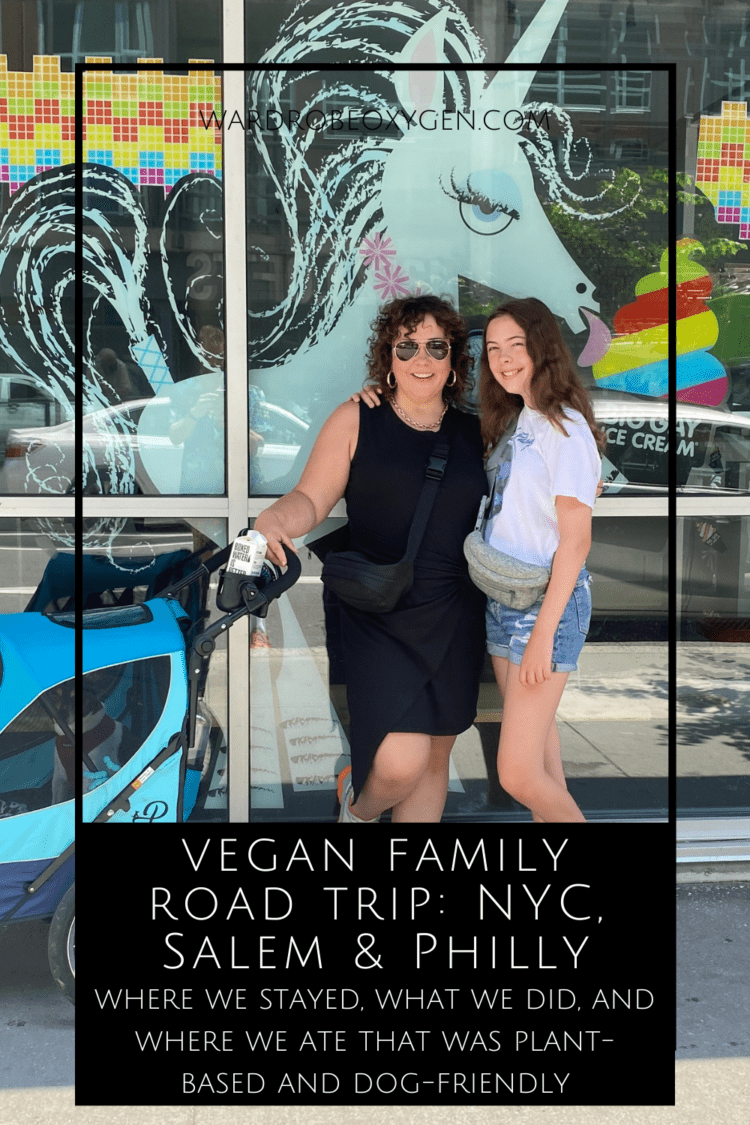 Last month, my family and I went on a 12-day road trip. We took a similar trip in 2019, but this time we visited some different cities. This time we were dealing with COVID, and also we are now a vegan family. Below I share where we stayed and where we ate on our vegan family road trip.
In 2019 we visited Philadelphia, NYC, and Boston, before heading to Vermont. We then drove straight home; about 10 hours. This year we switched it up a bit by visiting NYC and Salem, MA before Vermont and Philadelphia on our way home to Maryland. Below I share our visit excluding our time in Vermont. Because that part of the road trip was longer and more unique, I am going to make it a separate article and once it's live, I will link it here.
Our Vegan Family Road Trip: Where We Went, Where We Stayed, and Where We Ate
We is me, my husband, our 12-year-old, and our 18-lb dog who hates to walk and enjoyed sightseeing from his stroller. My husband is 100% vegan, our daughter and I will have the occasional dairy and seafood. We live in the Maryland suburbs of DC so the drive to New York City is around four hours.
Two Nights at the Kimpton Hotel Eventi, NYC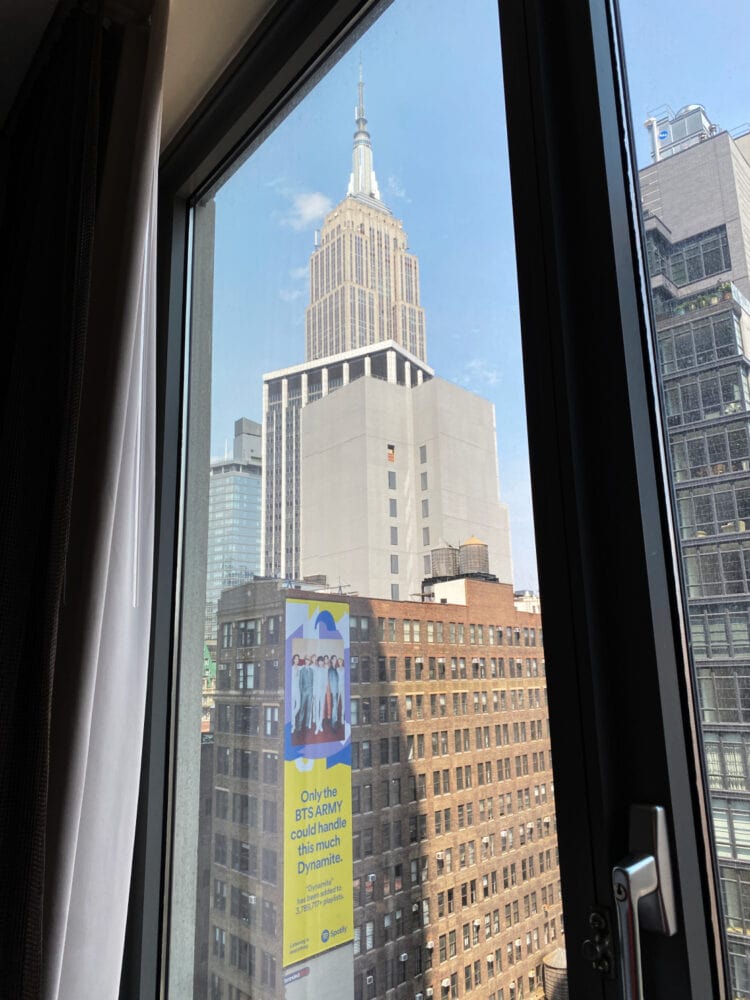 Our family tries to visit NYC at least once a year. Living right outside DC, it's a four-hour drive or bus ride, or a relatively short Amtrak trip. We didn't go in 2020 for obvious reasons, but each year we try to stay in a different part or borough to get to know all aspects of the city.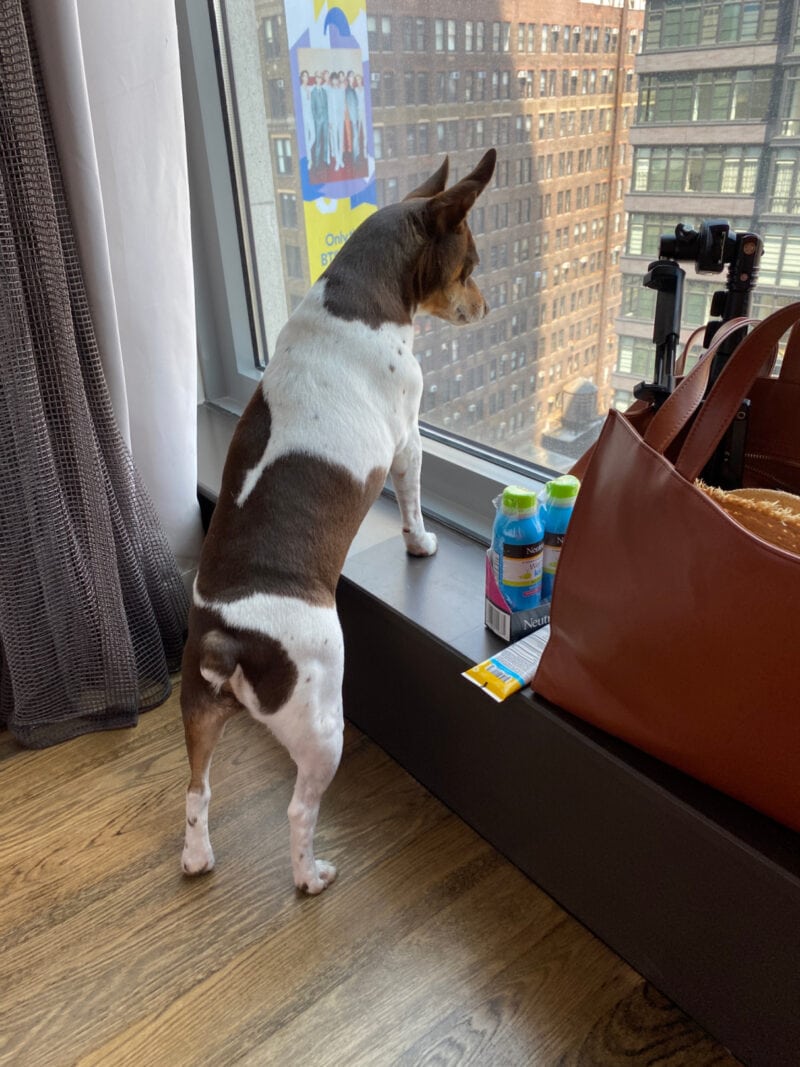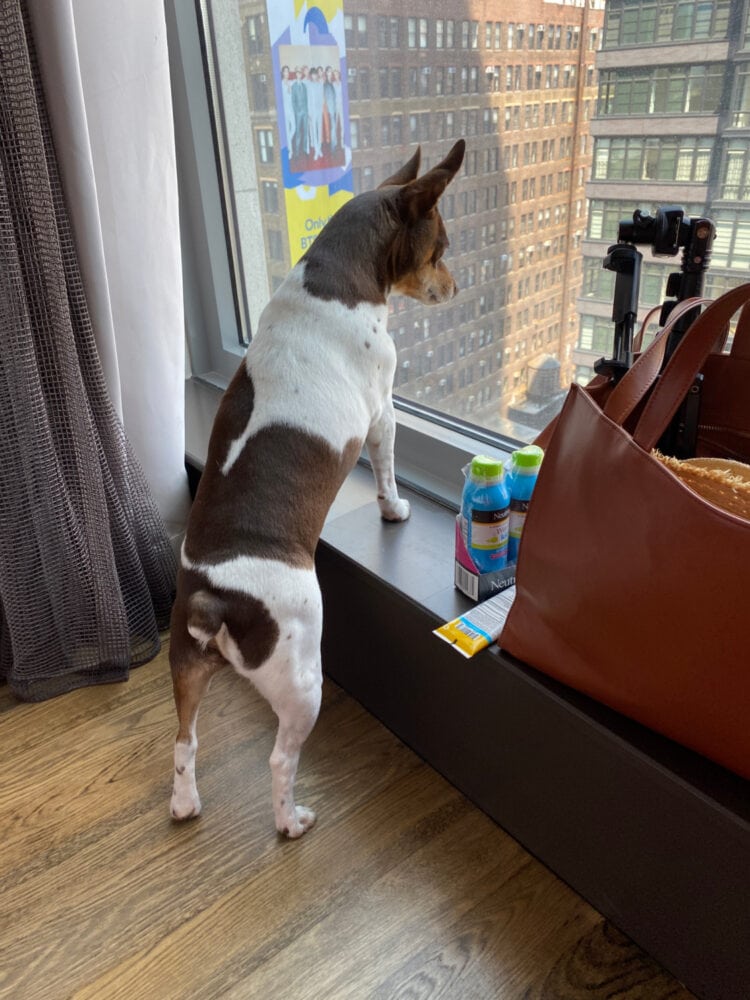 This year we weren't trying to visit any tourist attractions or places full of people. We just wanted to enjoy some time in the city. The Kimpton Hotel Eventi was a convenient location in Chelsea. You can walk to Penn Station, Hudson Yards, the Empire State Building, Madison Square Park, and more.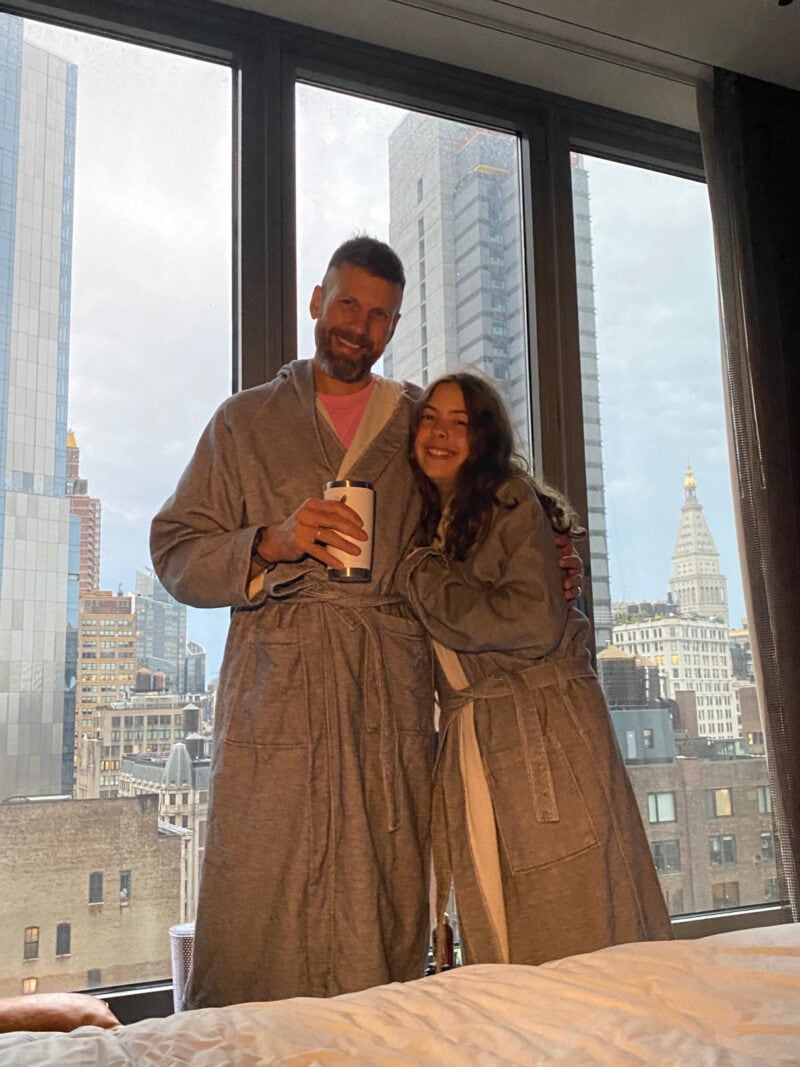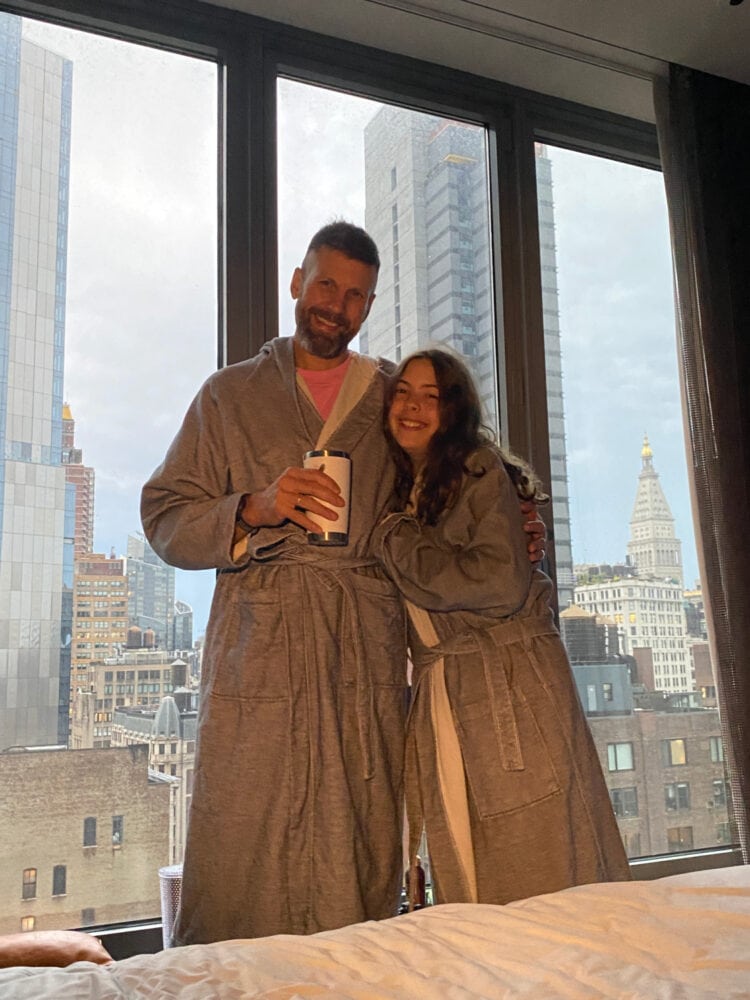 I like Kimpton hotels because you get a lot for the cost. The hotels are beautiful, stylish, and usually have at least one attached restaurant with room service and spacious, clean gyms. Kimpton hotels are dog-friendly and the rooms come with cute perks like yoga mats and bathrobes. They also usually have great art. The Kimpton Hotel Eventi was no exception with gorgeous art and art-like furniture in the lobby and cool pieces in our room.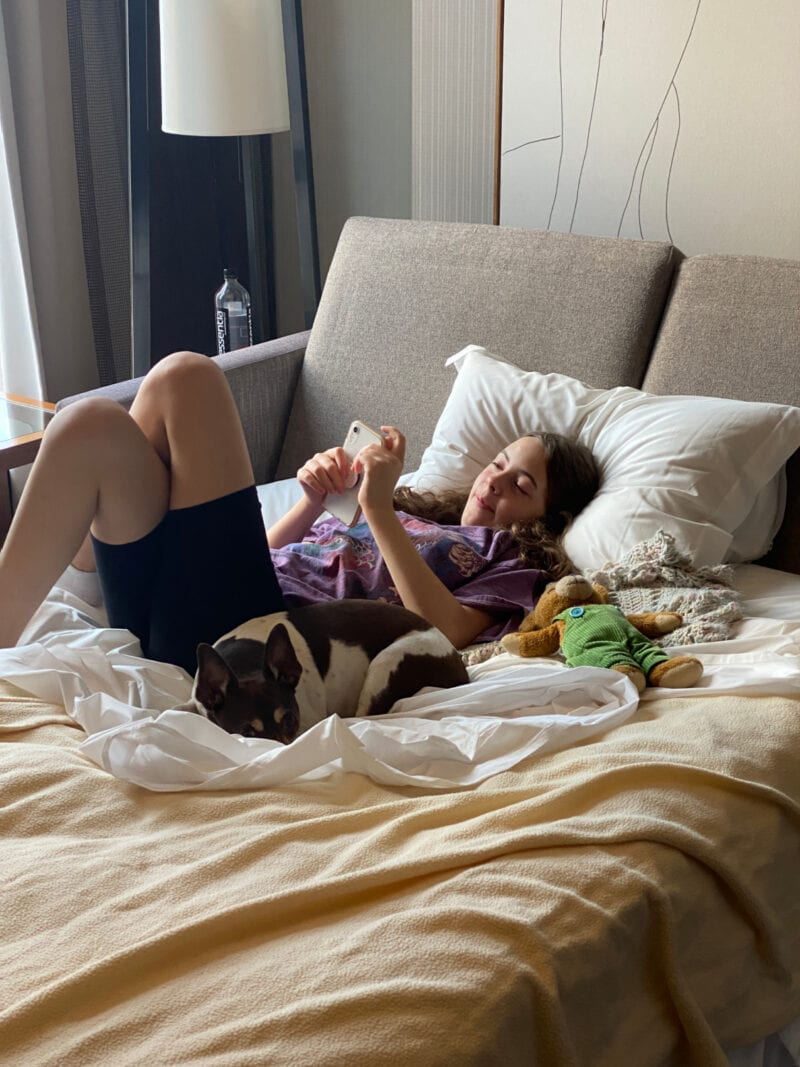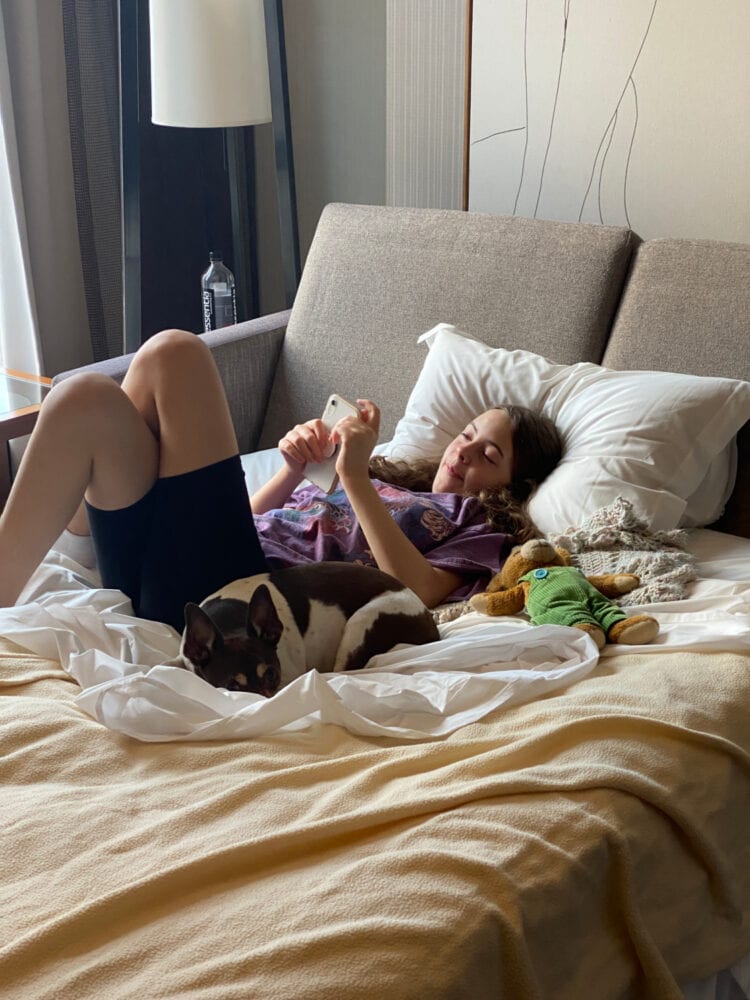 Right now, hotels are having a lot of deals to compensate for the months without customers and we were able to score a smaller suite for the regular cost of a double queen room in NYC. We had a living area with a sofa bed and large TV and a closet. A barn-style door led to the bedroom which had a king bed and another barn door to the bathroom. The bathroom was huge with a walk-in shower that also had a soaking tub. The room had views of the Empire State Building, MetLife Tower, and the New York Life Building.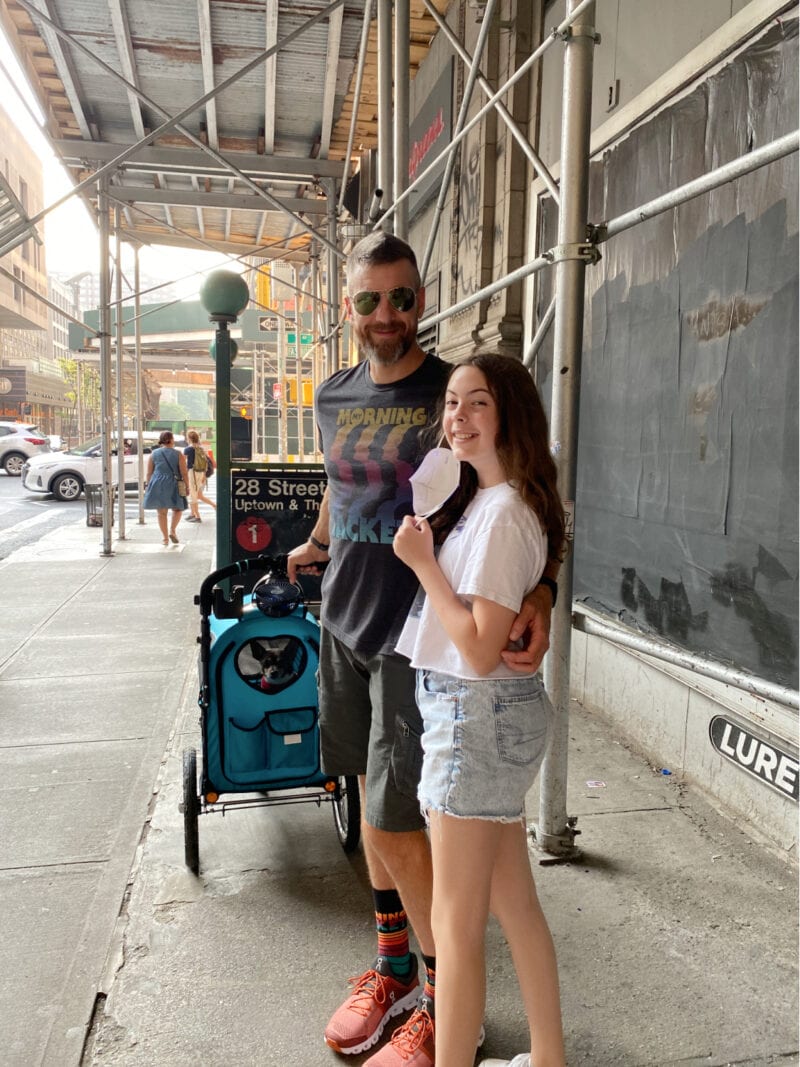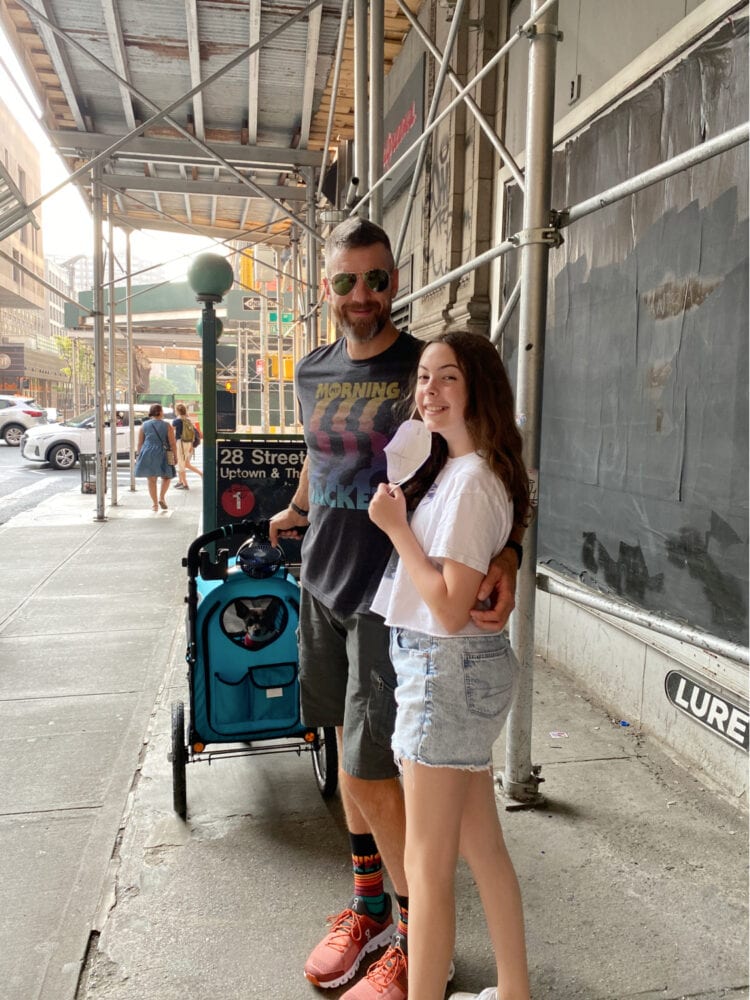 Because of COVID, there was no room service. The Kimpton Hotel Eventi had two dining establishments open – L'Amico an Italian fusion restaurant with an active bar scene and outdoor dining, and The Vine. The Vine is a cocktail bar in the evening and a casual place to grab a pastry and a latte in the morning.
The Kimpton Hotel Eventi has valet parking for $50 a day ($65 for SUVs and oversize vehicles), which I found quite reasonable for the city.  The staff was wonderful; super helpful and charming and friendly. I would not hesitate to stay at this hotel again or recommend it for others to visit.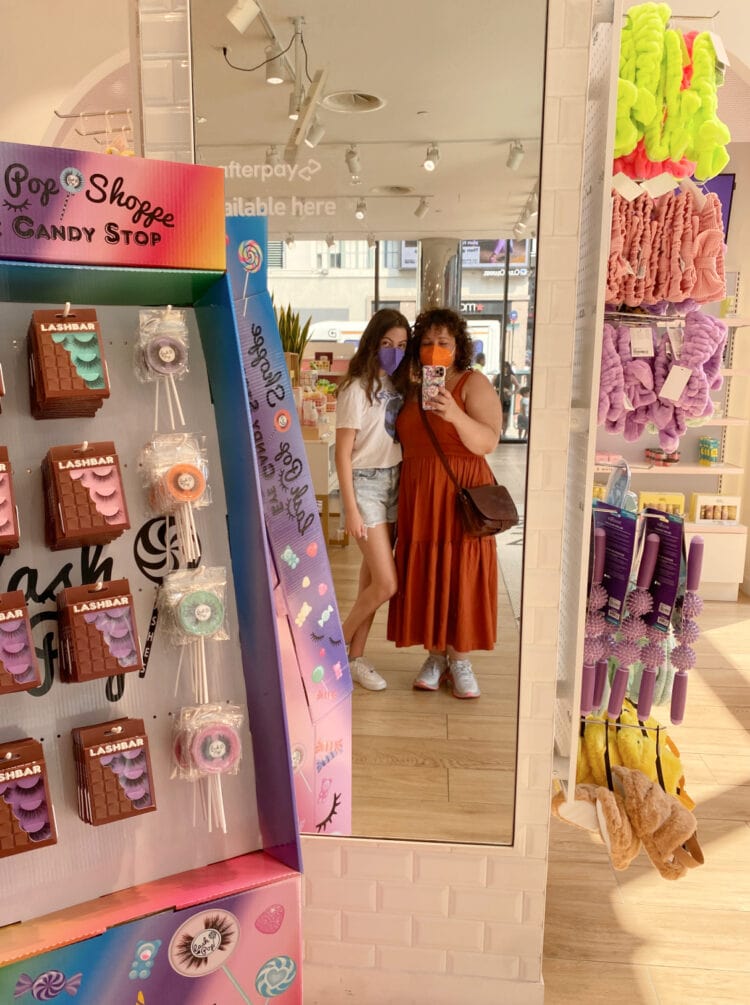 NYC in July is HOT, and we walked everywhere. We didn't focus on specific activities and kept our schedule loose so we could just enjoy the city. We visited Hudson Yards and The Vessel, went to see the Moynihan Train Hall, visited the brand Pari Passu in the Garment District, and did plenty of wandering and shopping.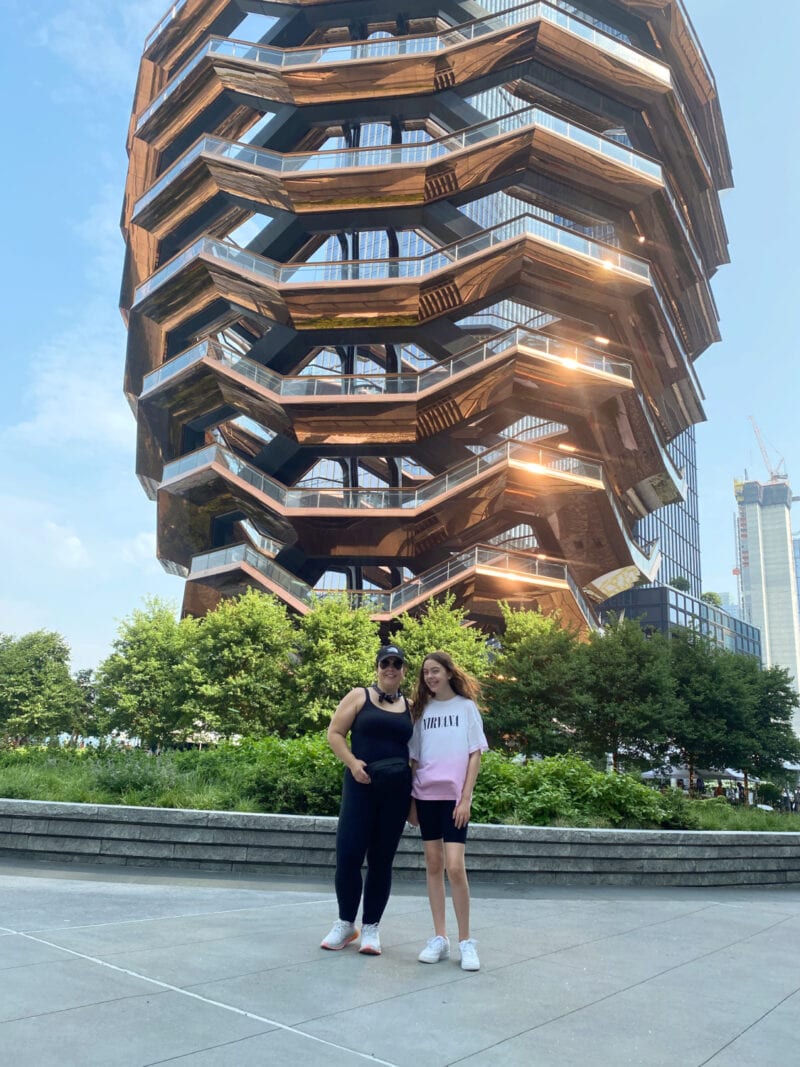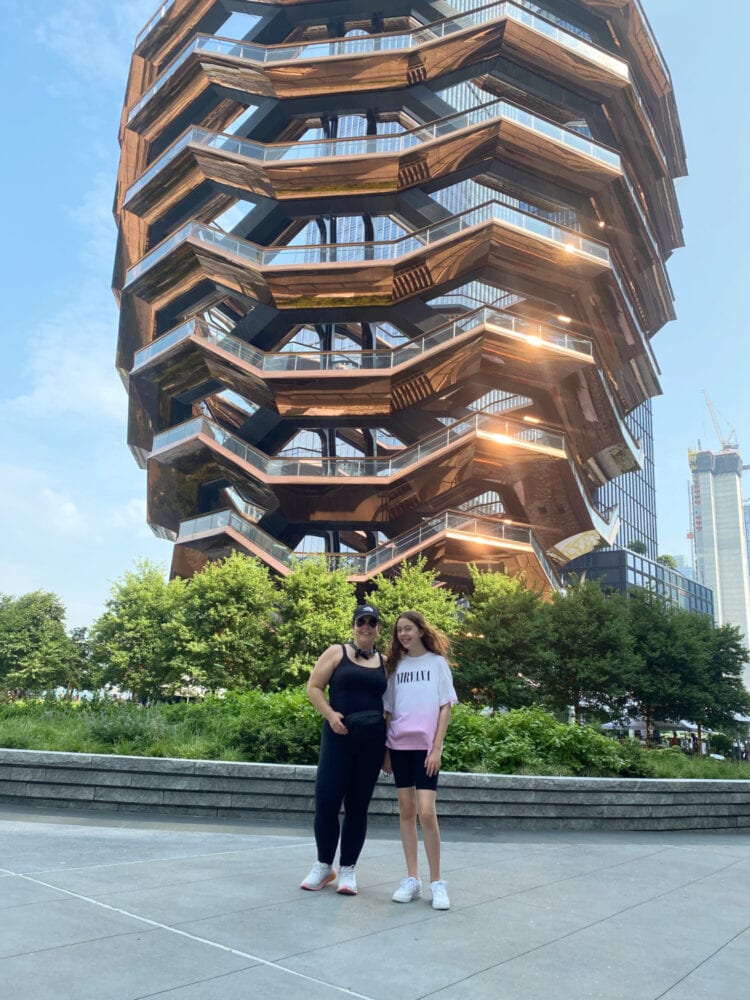 At the time we were there, masks were required in some establishments but not in all. We chose to wear them every time we were indoors as did many others. Mask wearing on the streets and outdoor parks was about 25%.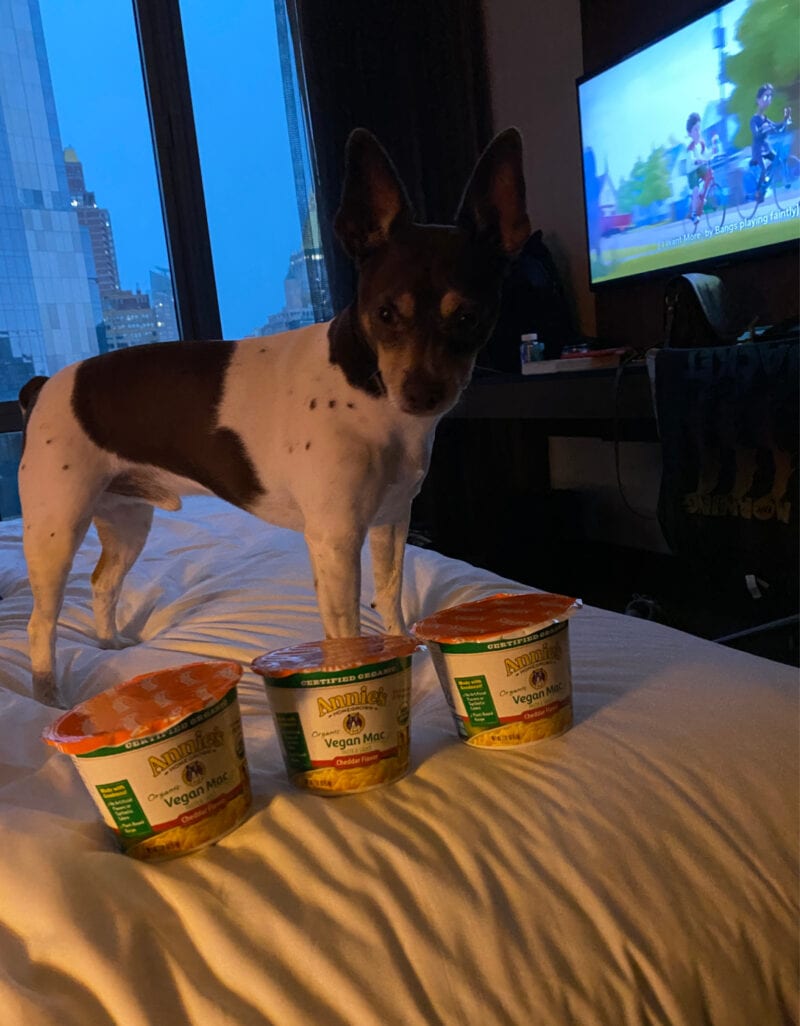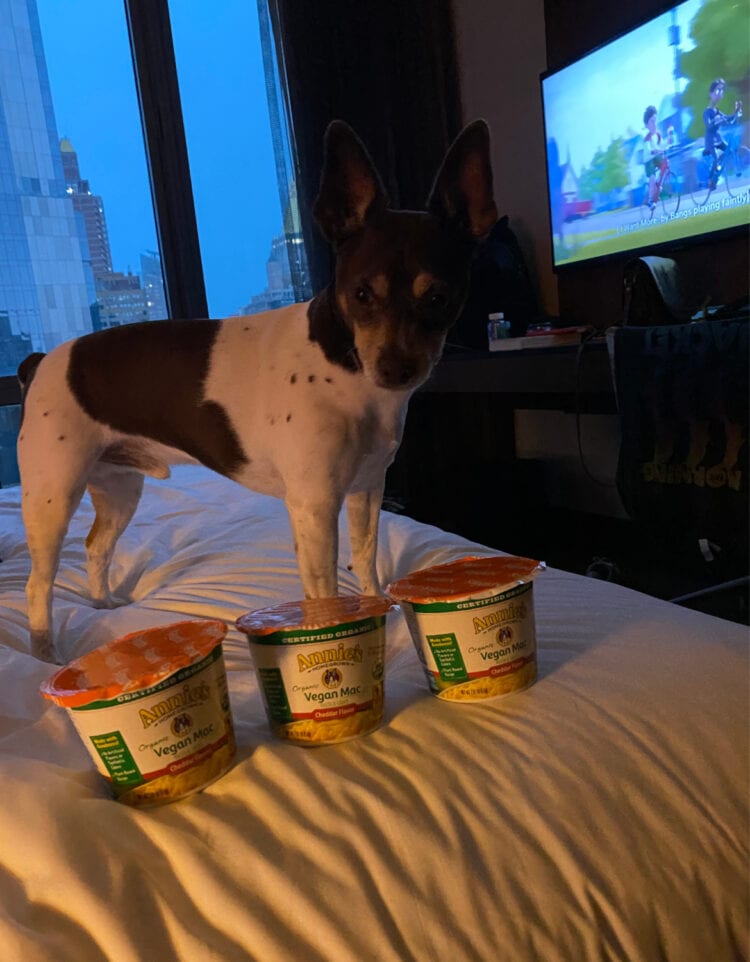 The first night we were in NYC it rained buckets, more than an umbrella could handle. Due to COVID, there wasn't room service. We didn't even try to go out to get something for dinner; we made do with the random stuff we brought on our trip. A benefit to being vegan; you bring your own food! We had Annie's Mac and Cheese, tomatoes from our garden, and chips with guacamole as we watched The Mitchells vs. The Machines via the screencasting TV in our room.
The day we left it began to get cloudy and as we drove to our next city it began to rain. Looking at the news that evening, we saw that parts of NYC were flooded. So glad we scheduled just the right window of time in the city!
Vegan Dining in NYC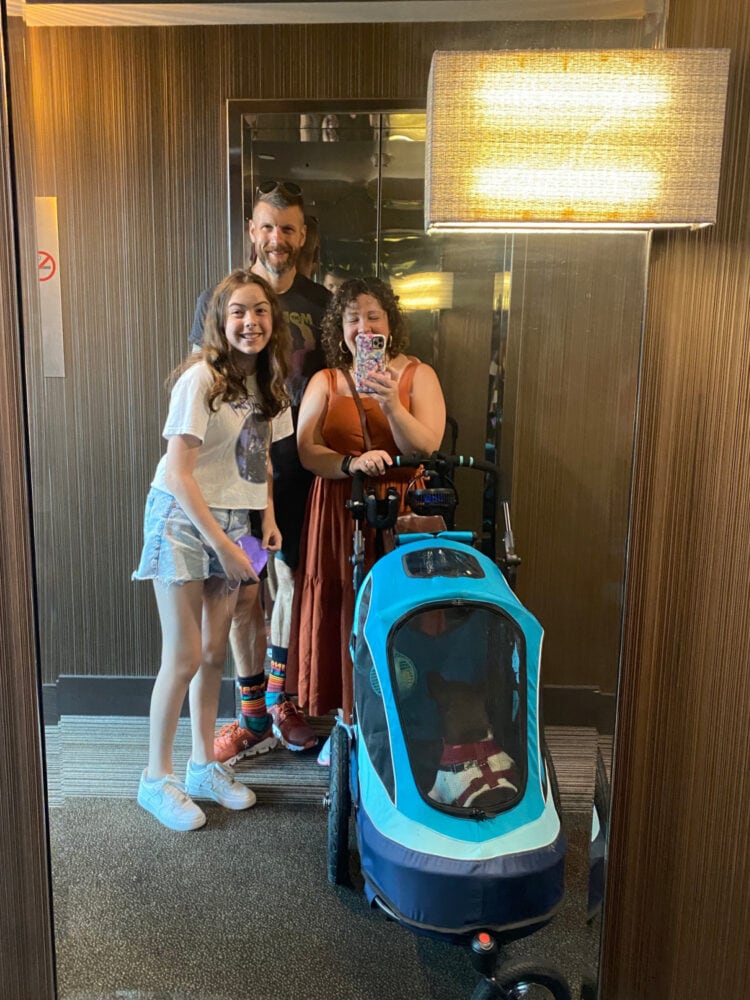 NYC is a great city for those who eat a dairy-free, vegan, or plant-based diet. Walking distance from our hotel we found:
Two Nights at the Salem Inn in Salem, Massachusetts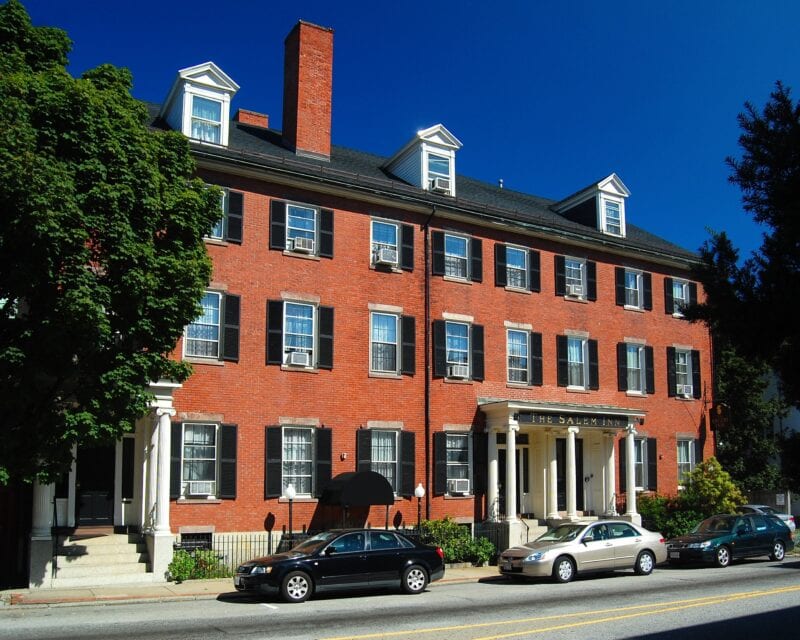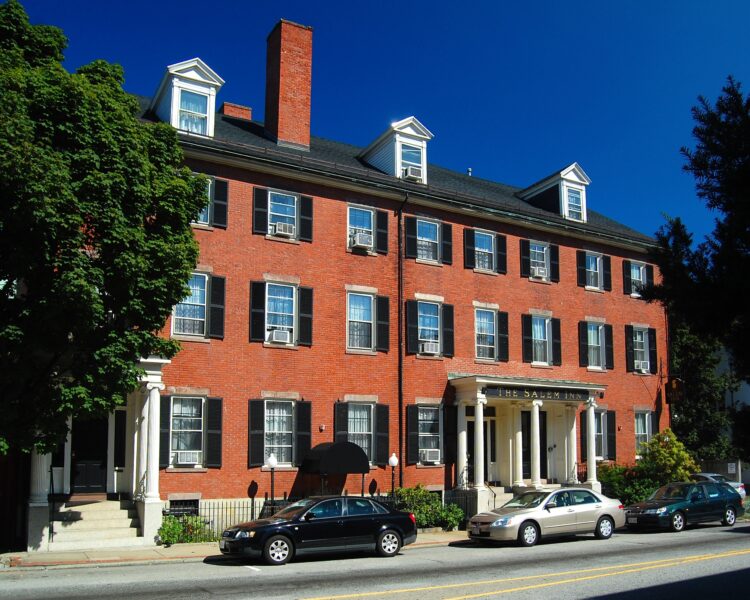 When looking between NYC and Vermont for a place to stop and check out, we chose Salem, Massachusetts. Our daughter is 12 and an age where she's into witches and ghost stories and old enough to appreciate history. I remember going to Salem when I was around her age and liked it enough that I still recall it today!
Looking for dog-friendly hotels in Salem, we checked out The Hawthone Hotel and The Salem Inn. The Salem Inn offered a family suite while the Hawthorne Hotel only had a queen with a sofa bed in the same room. We've learned from previous trips that if we can afford it, it's worth it to have more space to keep us all getting along and so everyone can go to sleep when they are comfortable.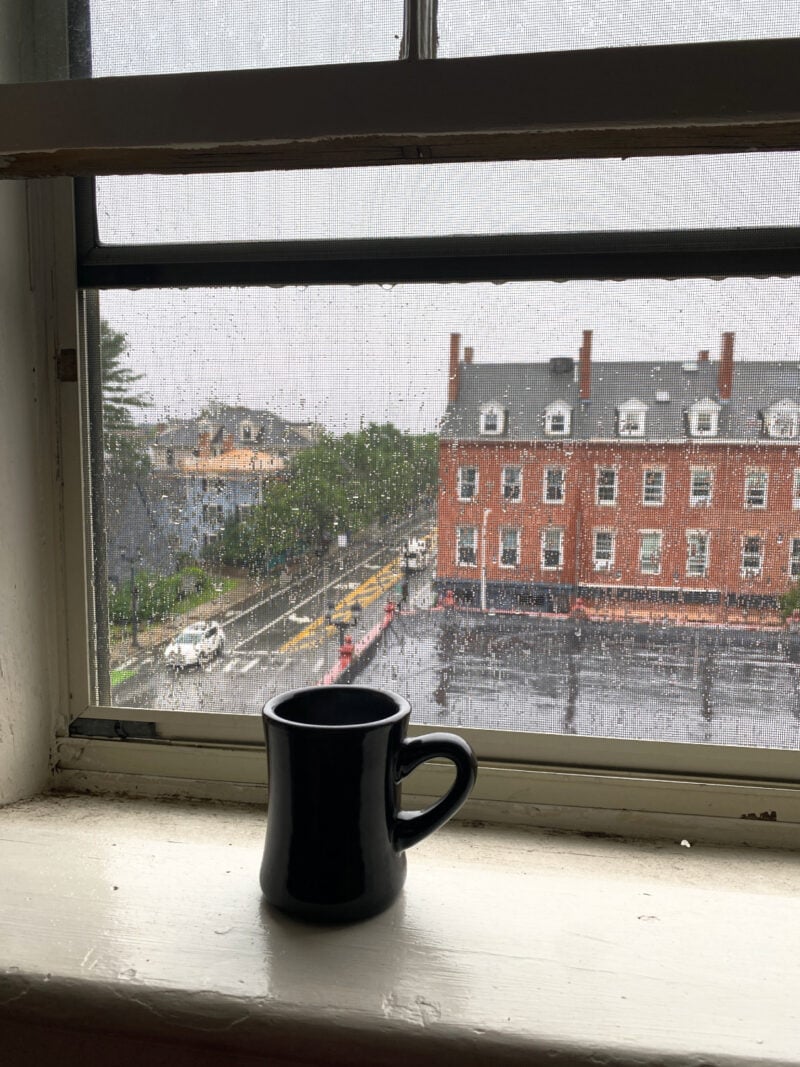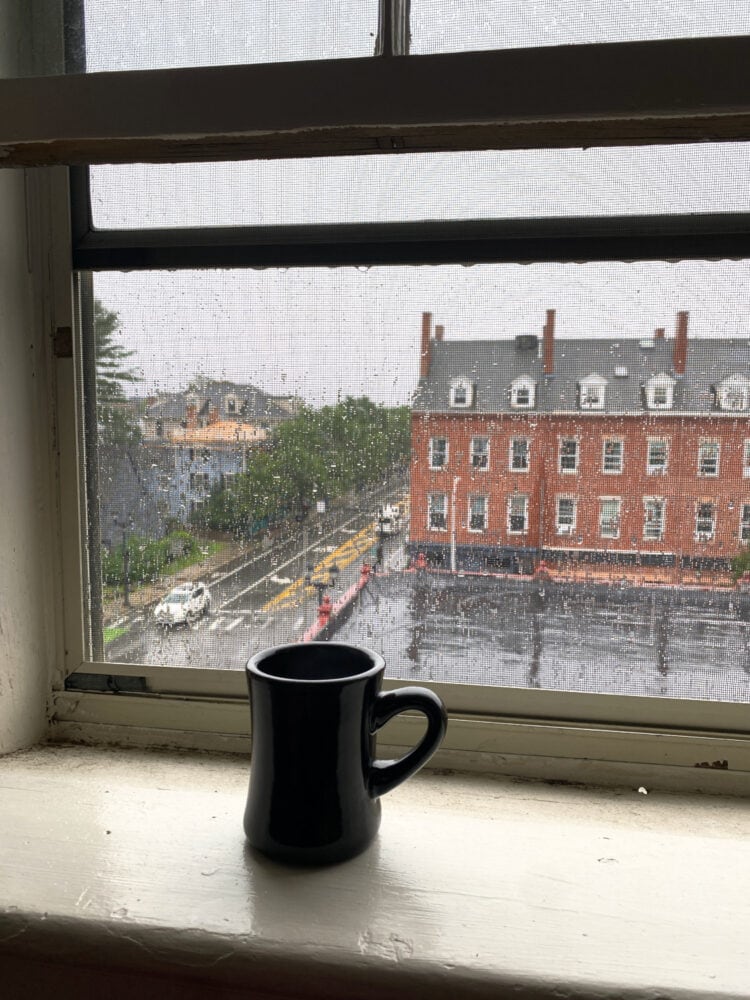 At The Salem Inn, we booked a family suite, but you don't know which exact suite you get until they send confirmation a couple of days before you arrive. The Salem Inn is a grouping of historic homes converted into hotel rooms and suites. We ended up in a suite in the main house where the lobby is located and where they offer complimentary breakfast each morning.
The Salem Inn has set everything up to be contactless. You check in online and provide your number for texts. Through texts we got our code to unlock our room, and we also used it to reserve our spot for breakfast each morning. That being said, The Salem Inn has a proper front desk that is staffed and happy to chat and offer assistance.
When you enter the suite there was a recently renovated bathroom with shower stall, a bedroom with a gabled window overlooking the street with a view of The Witch House, a closet and a fireplace. Through an open doorway, there was a multi-use room that had a living area with a daybed and TV and a fireplace, and then a kitchenette (toaster, coffee maker, mini fridge, sink, and all the cookware, flatware, etc. needed for proper meals) with a round dining table and four chairs. There were more windows. There were minisplit A/C units, one in each room.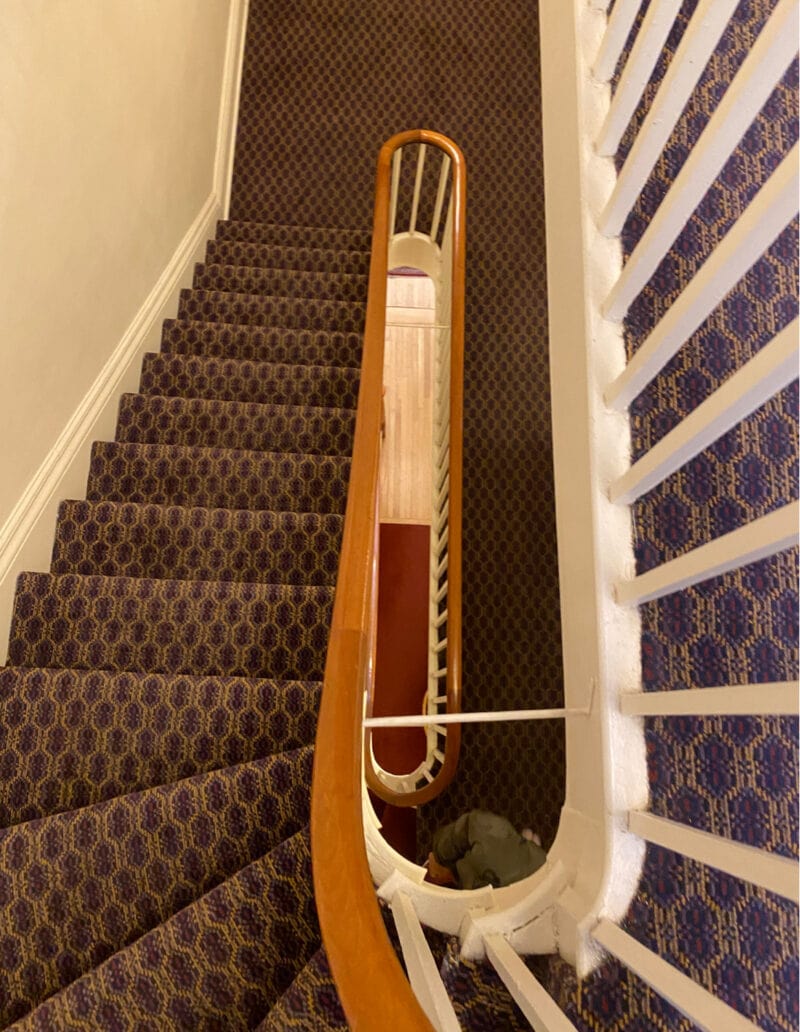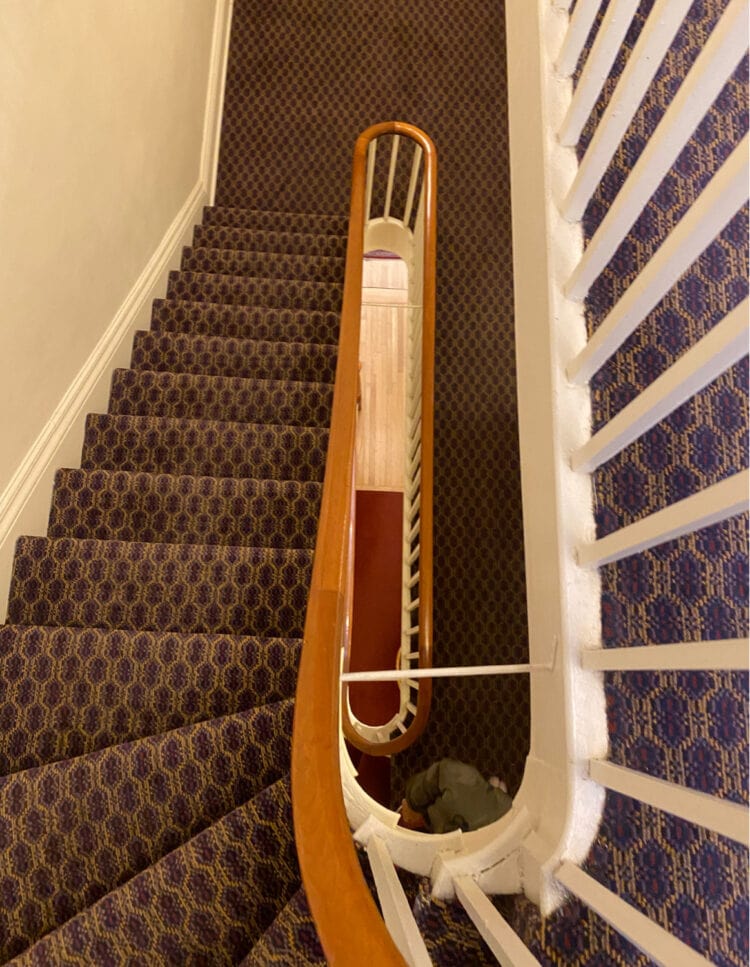 The room was decorated with antiques, the bedding white and cream, the whole vibe very relaxed and airy but cozy. The only problem with the room is it was on the 4th floor of an historic home. No elevator. This wouldn't have been an issue but we brought this electric cooler so we'd have plant-based food options, and we also had a dog that isn't good with stairs.
We lucked out finding street parking right in front of The Salem Inn so we kept the dog stroller and other things in there so we didn't have to go up and down the stairs with or for them.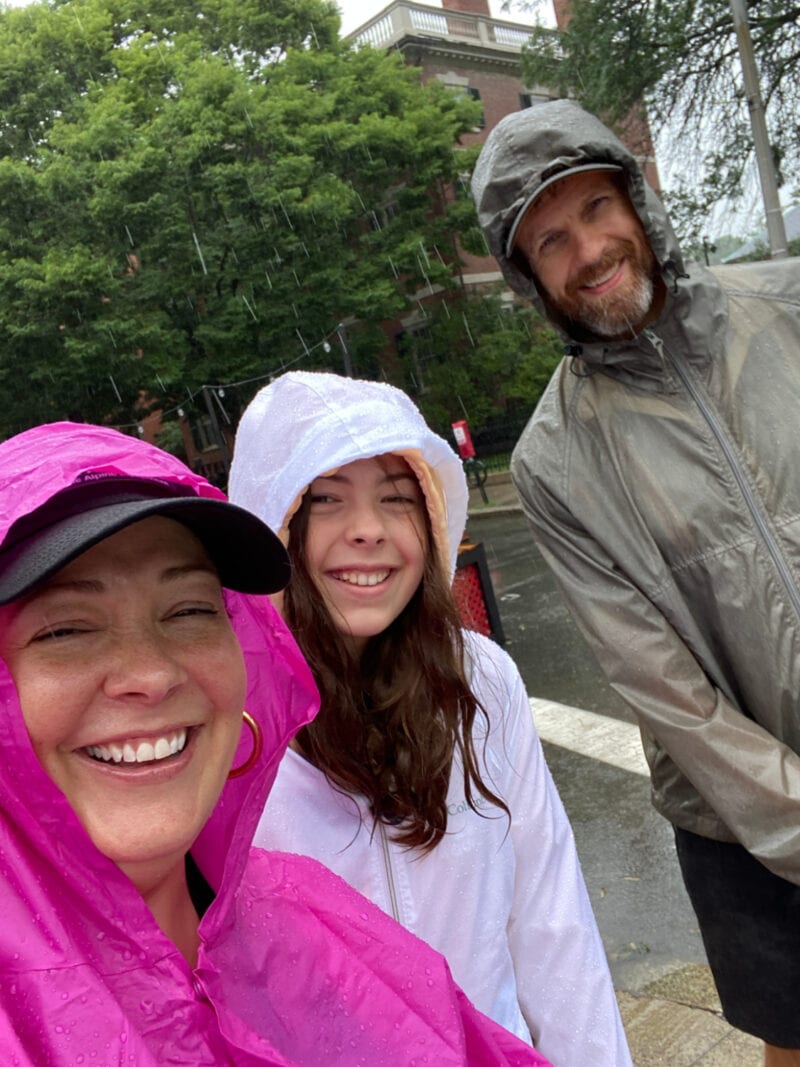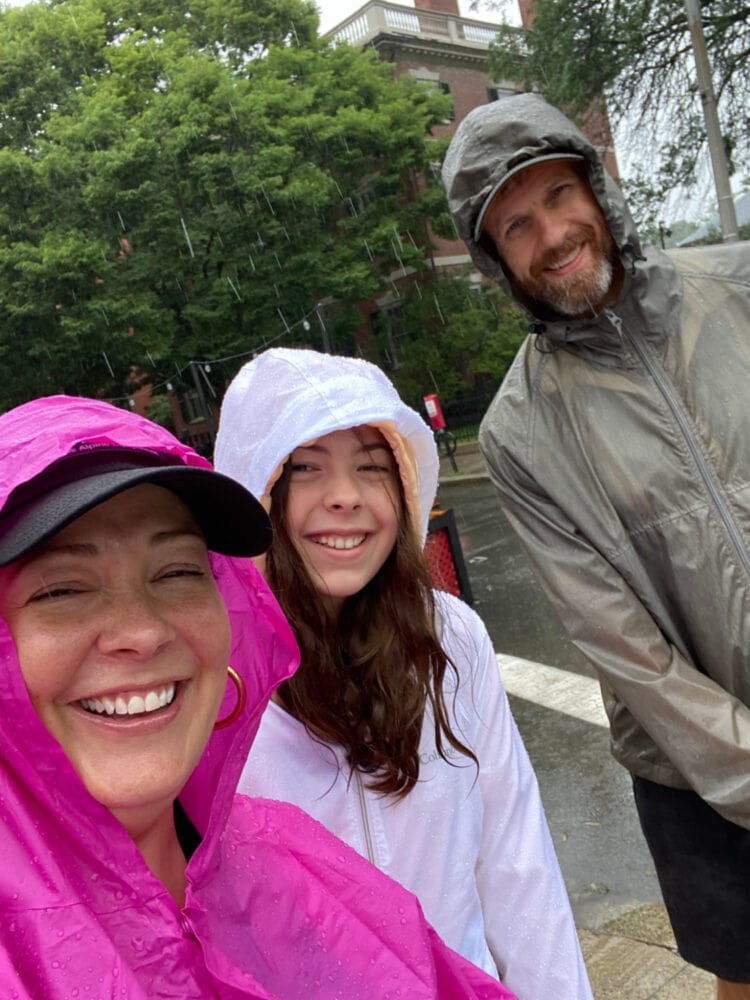 It rained almost the entire time we were in Salem. It rained so much the power went out in the whole city for a couple of hours. We tried going out, putting on our rain jackets and ponchos, but in less than an hour, we were drenched from head to toe. If we didn't have our dog we would have gone to the Peabody Essex Museum which was a short walk from our hotel.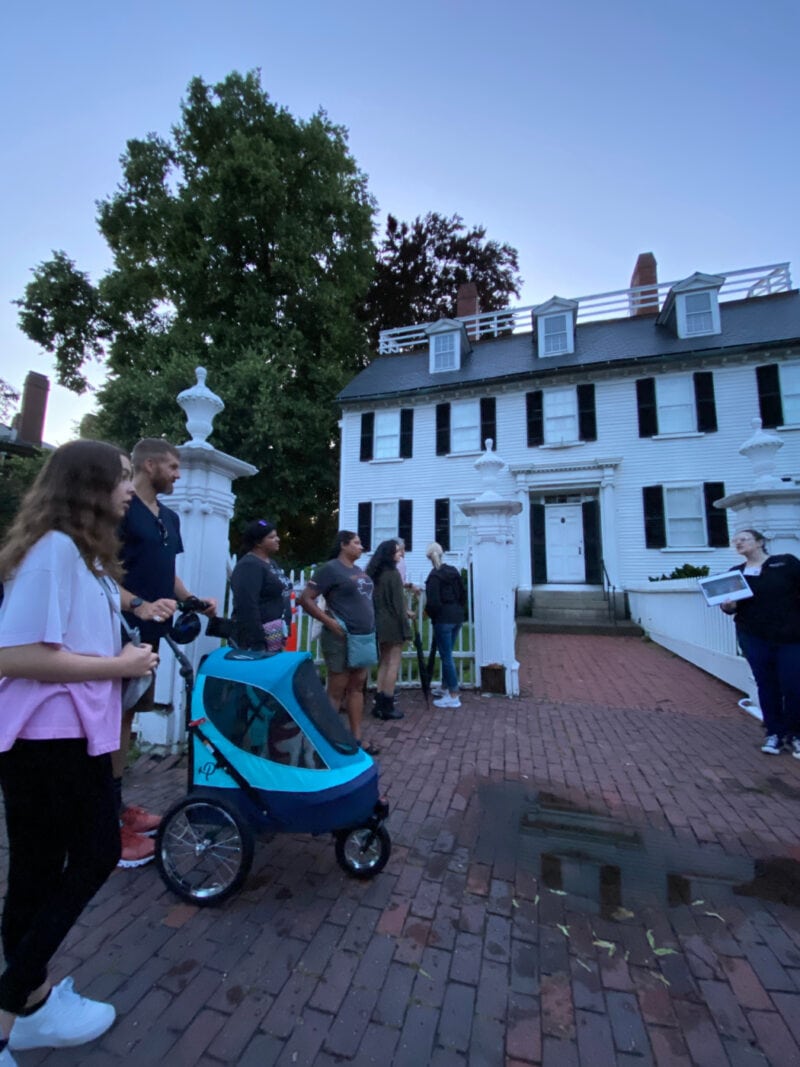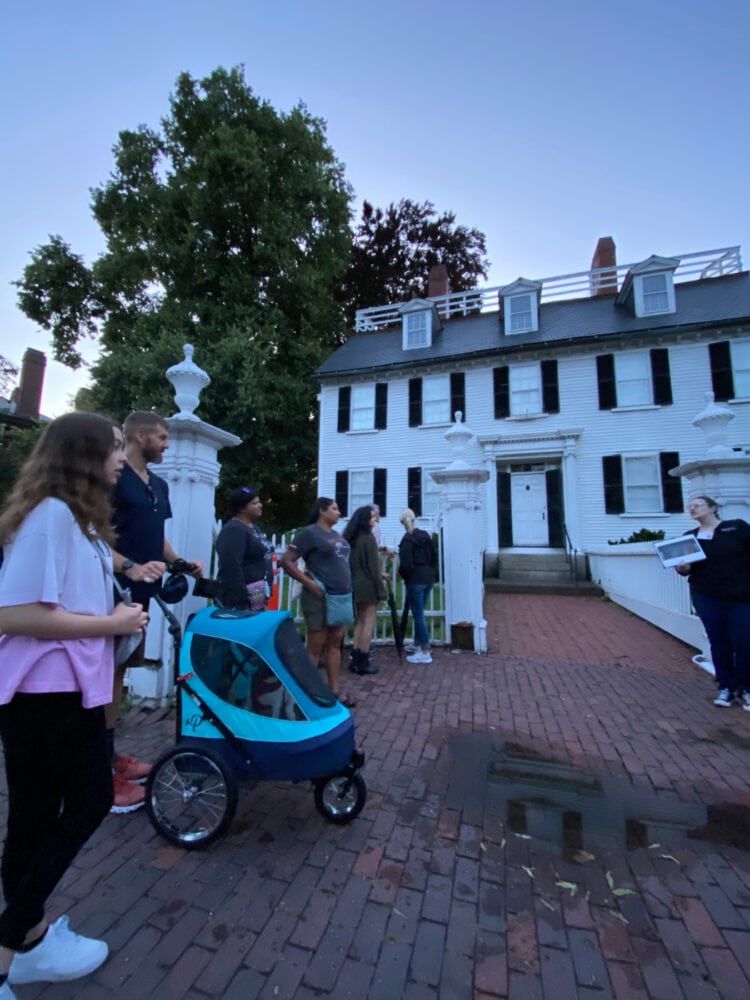 We booked a haunted history tour our second night with Witch City Walking Tours, a woman-owned company. Luckily it stopped raining in time to enjoy it. It was the perfect length, a nice mix of ghost stories with true history, and as we walked by many other tours with guides in costumes using spoooooky voices to tell tales, we were glad we made this choice. Our guide was smart and funny and knew Salem well. She also bounced off our vibe (we were a group of maybe 12 folks in total) and seemed to tailor the tour to our interests.
As for mask wearing, there was almost none in Salem in mid-July, indoors or out. I only saw one establishment with a sign requiring people to wear a mask to enter.
Salem wasn't what we hoped for due to Mother Nature, but we still enjoyed this adorable city and now want to return, maybe in the fall (but not October, when it's like a music festival with hundreds of thousands of visitors).
Vegan Dining in Salem, MA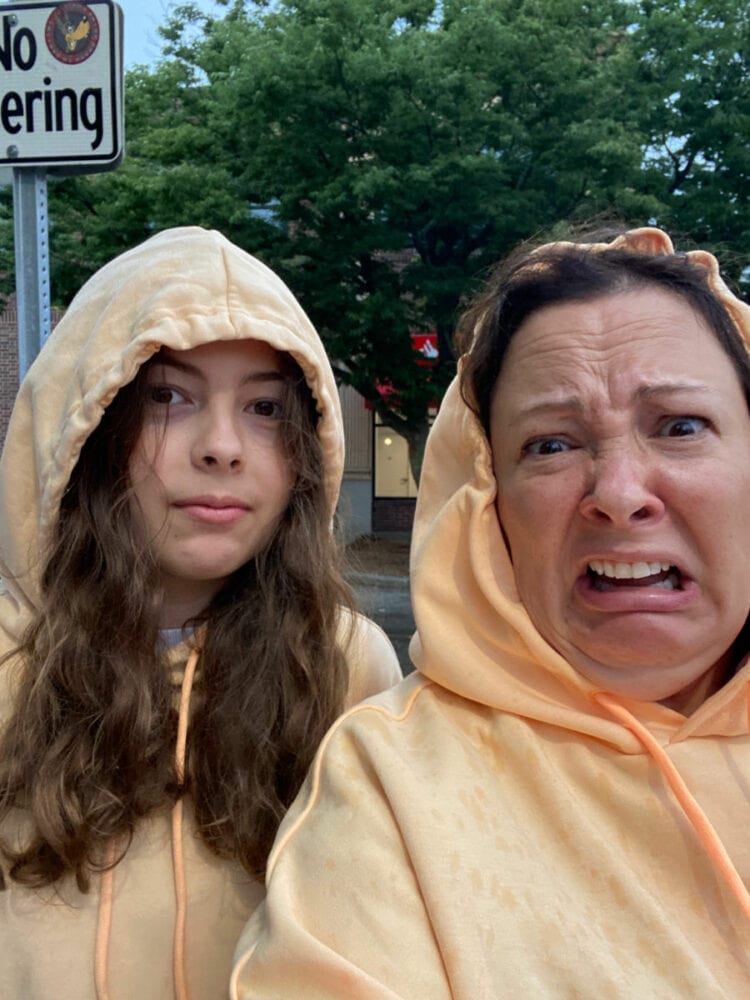 Salem is very vegan-friendly and we had some delicious meals.
Two Nights at the Sofitel Philadelphia at Rittenhouse Square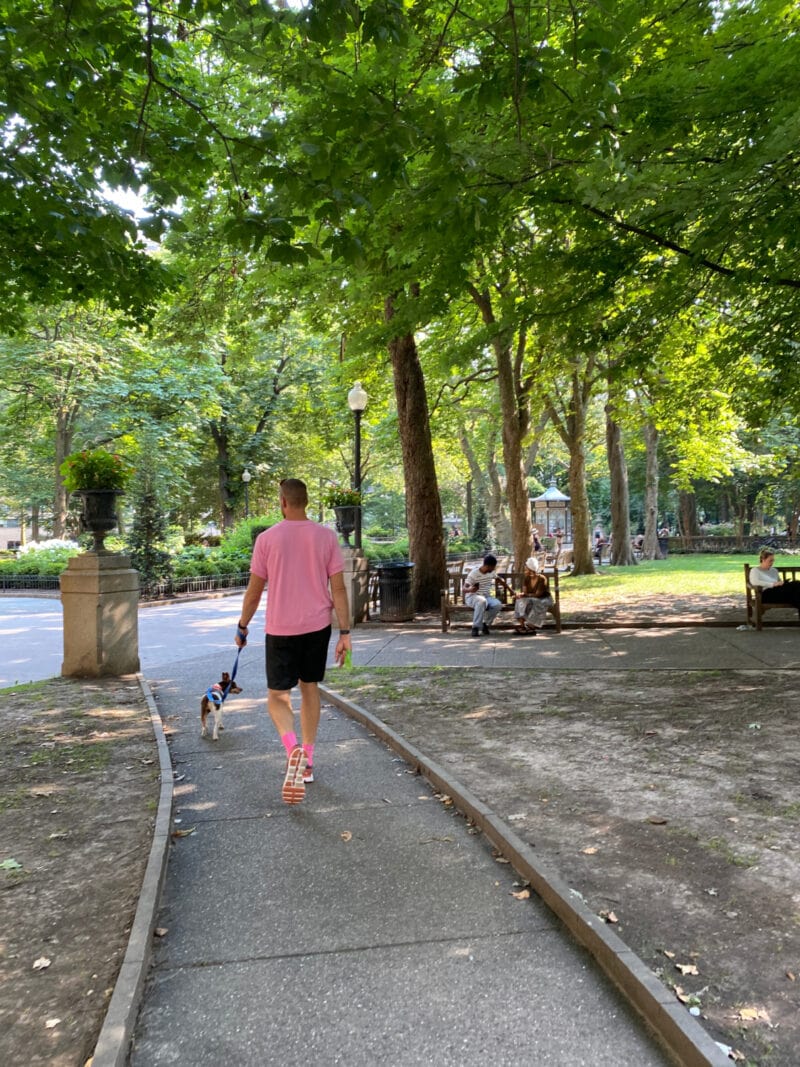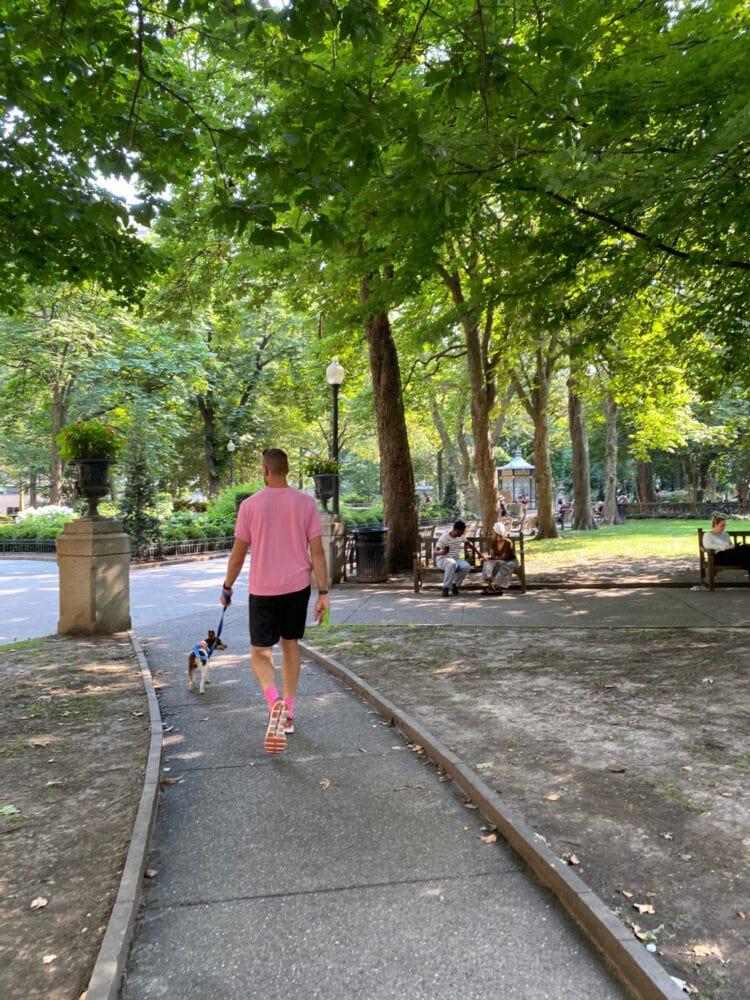 Our last day in Vermont, my husband said he didn't want to drive straight home but would like to stay a night or two in another city. He was in the Navy and for part of that time was stationed in Philly as his aircraft carrier was drydocked there. I visited him once while he was stationed there, and we as a couple and family have visited a couple of times.
In 2019 we also visited Philadelphia as a family and did a lot of touristy things like the Liberty Bell and the Franklin Institute. This time we decided to do Philly like we did NYC: no tourist attractions, just enjoying the vibe of the city.
We chose the Sofitel Philadelphia Rittenhouse Square because it was pet friendly, in an interesting part of the city where we hadn't stayed before, and they had a suite that wasn't a kazillion dollars. It was my first stay at a Sofitel hotel.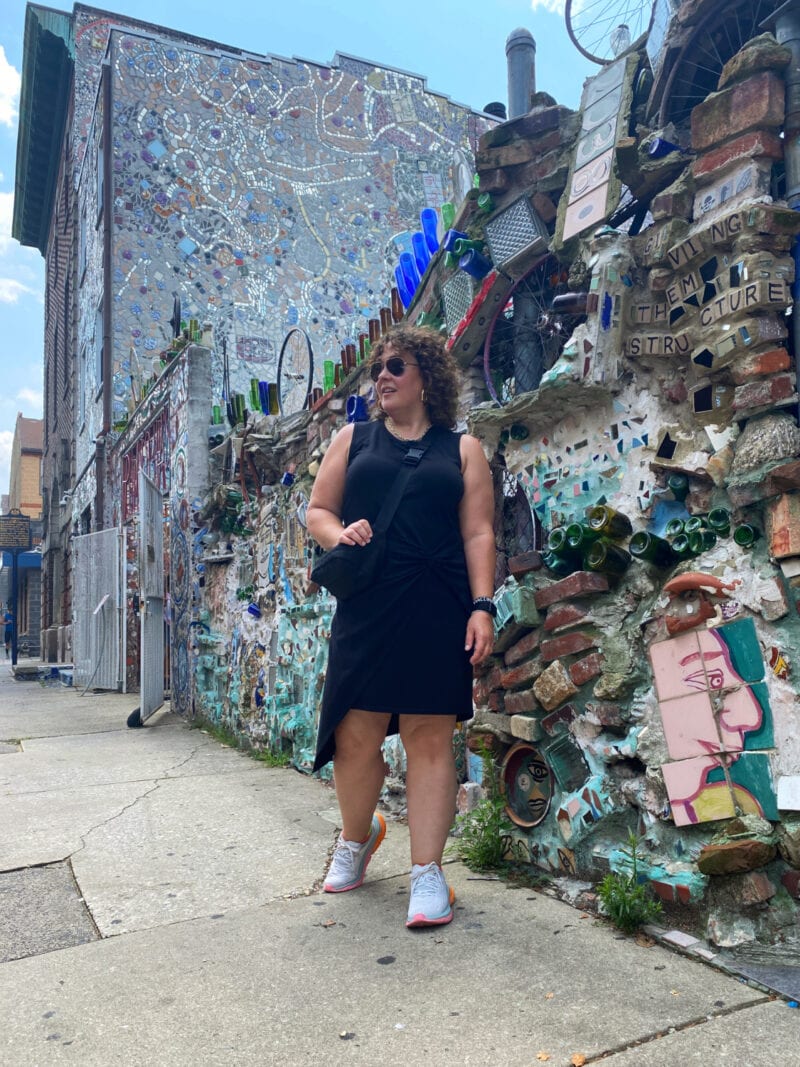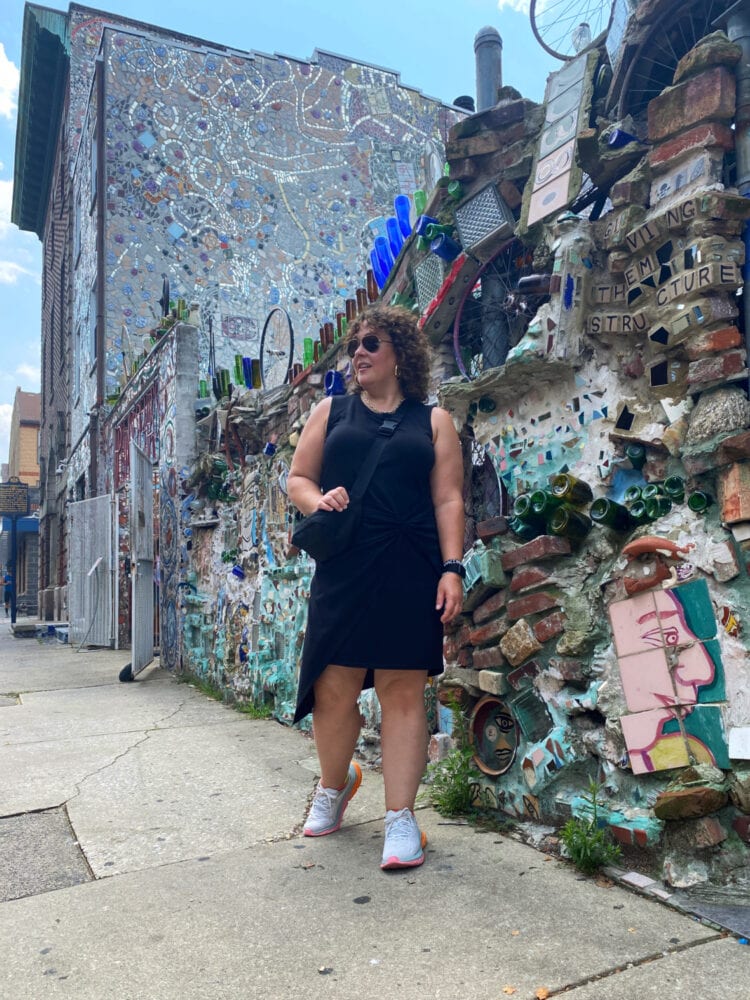 We were right near Rittenhouse Square, which is a lovely park. There is also great shopping in this area. We were able to walk to most anything and enjoyed a day strolling down South Street without having to get our car and could do a walk to Love Park, City Hall, the Mutter Museum, Pennsylvania Academy of Fine Arts, and more.
There was less mask wearing in Philadelphia than in NYC, but several establishments required masks to enter. Also, the streets weren't as packed with people as they were in NYC.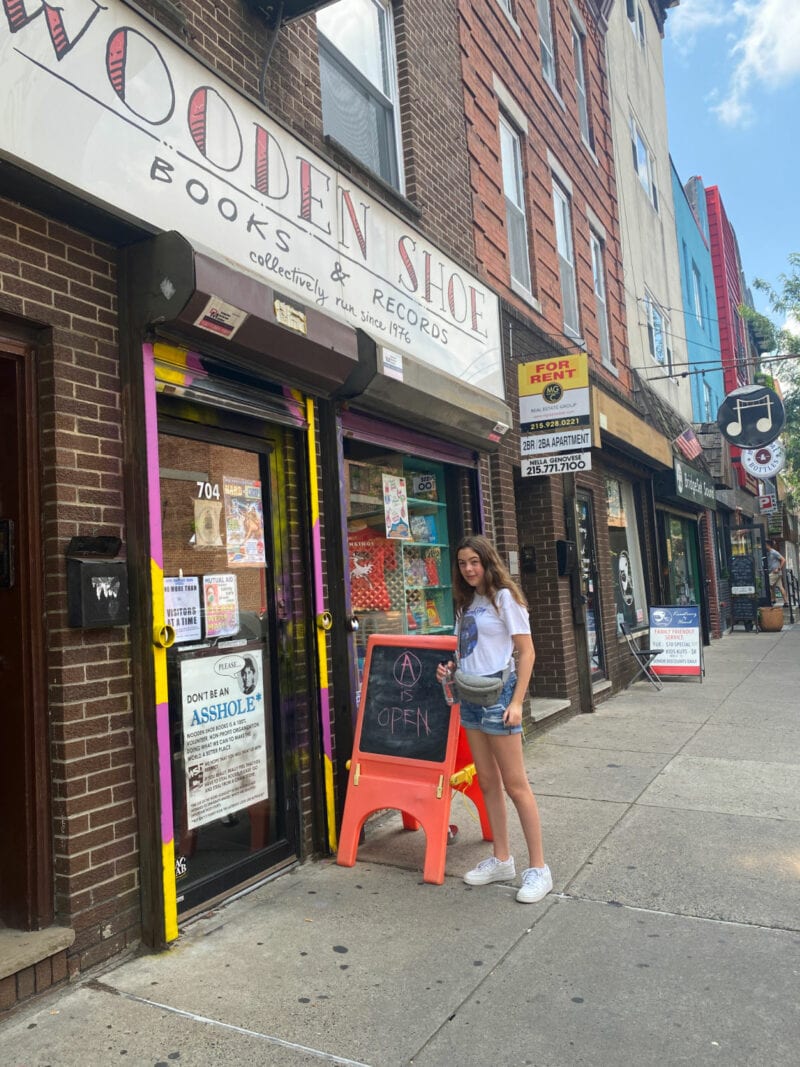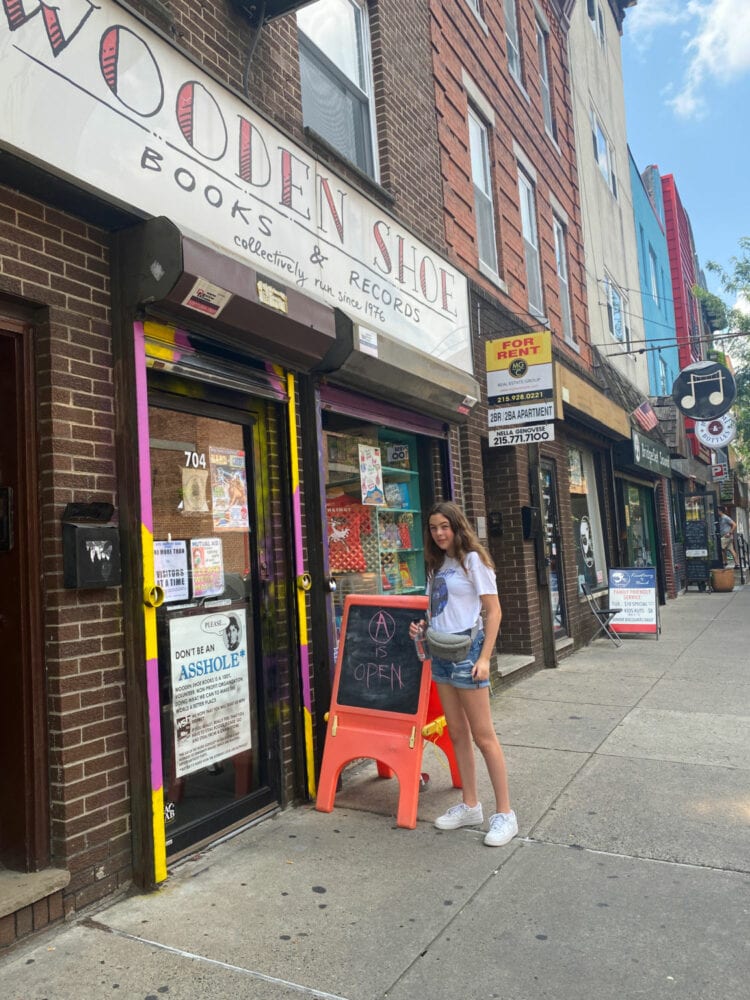 Our room at the Sofitel Philadelphia was huge; there was a hallway to the living room which had a sectional that opened up into a bed and a large TV. Screen-style pocket doors opened to the bedroom which had a king bed and another large TV. A nook had a table with mirror and the closets, and then the hallway and that nook both had doors to the bathroom, which had a shower and a separate soaking tub.
The Sofitel Philadelphia has both a lounge and a restaurant and offers room service. The hotel is large and has a big gym (though we didn't use it) and valet parking for $50 a night. However, note that the hotel cannot park tall vehicles or vehicles with a roof rack (which we had). We ended up parking in an open lot near Rittenhouse Square for half the price.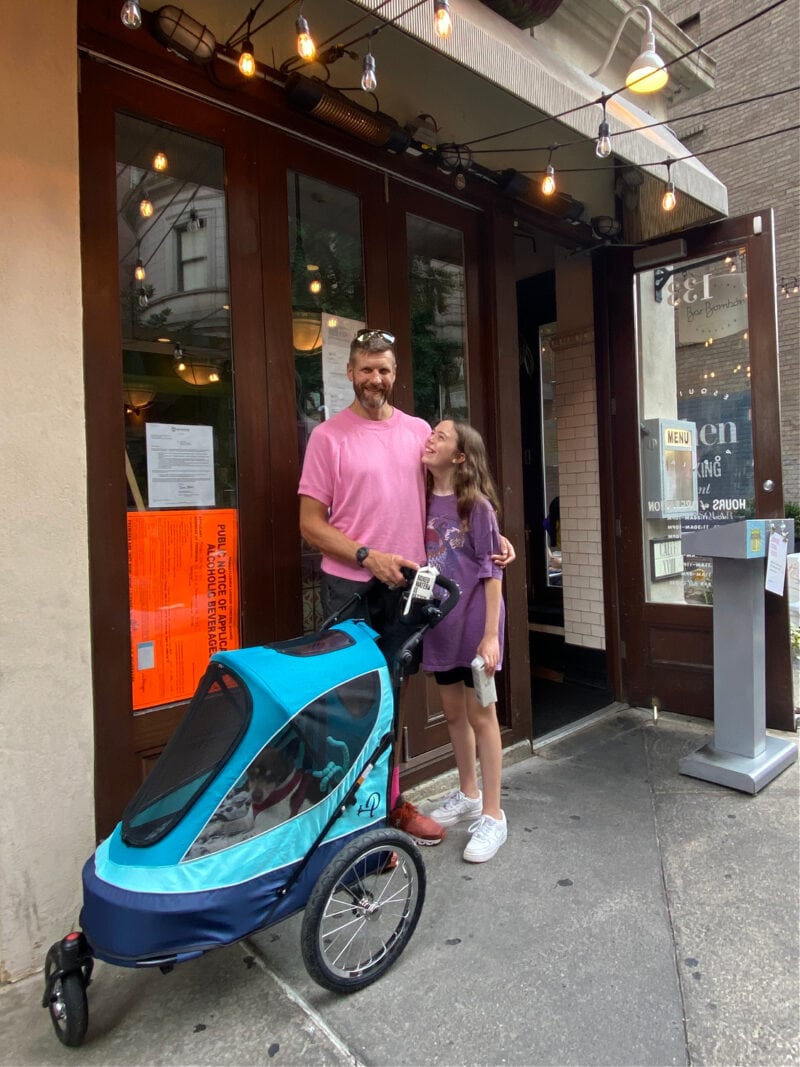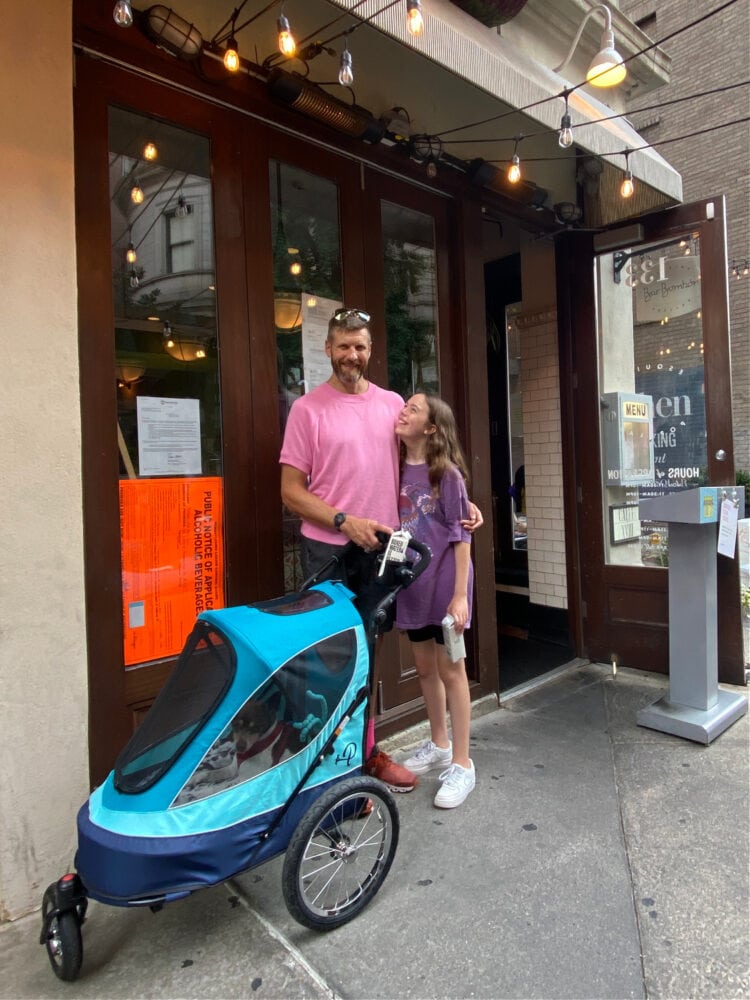 The hotel is extremely clean (though we found the décor a weird mix of genres and ostentatious/dated), the staff super nice, and I ordered room service for breakfast one morning and found that experience excellent – lovely staff on the phone, good food, quick contactless delivery. We had an excellent experience at Sofitel Philadelphia and I'd recommend it to others!
Vegan Dining in Philadelphia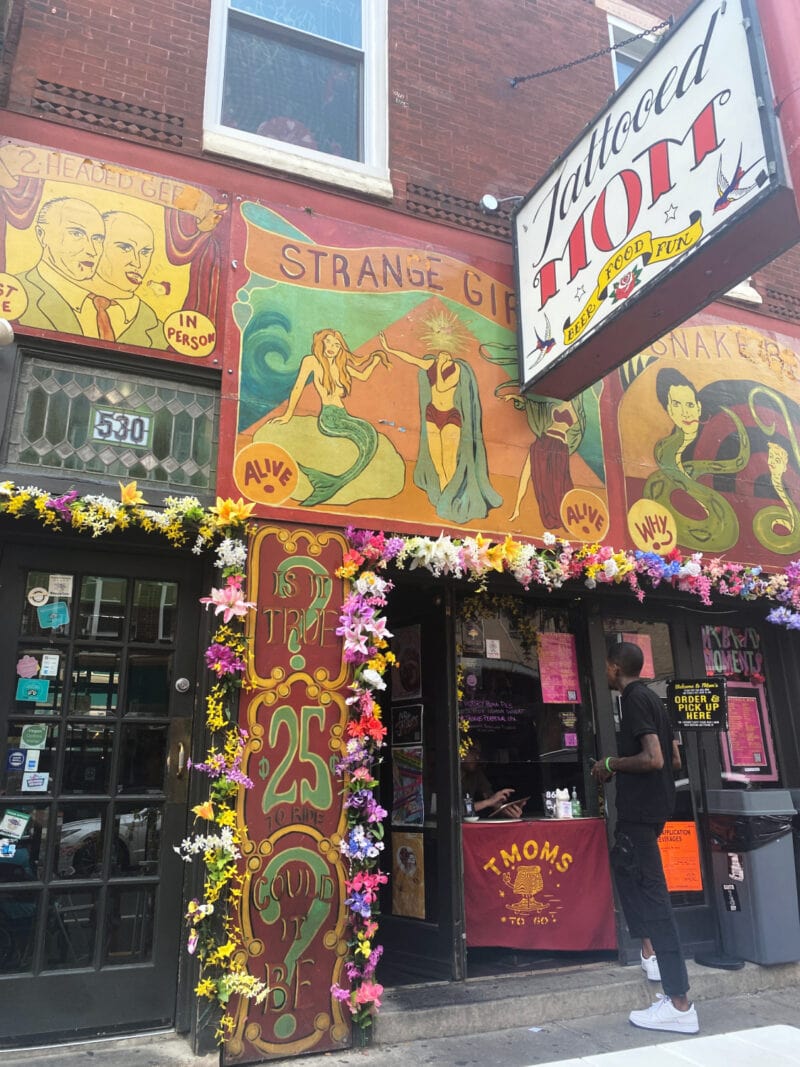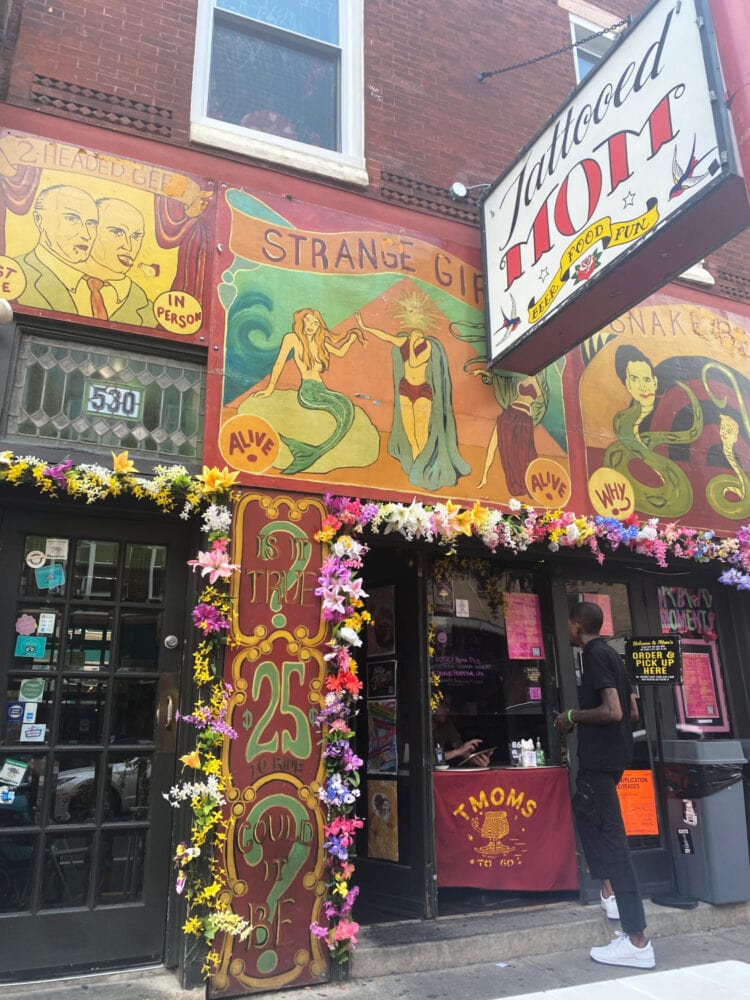 DUDE. DUDE. There were at least six plant-based restaurants within a couple of blocks of our hotel. And the food was GOOD! We also found great vegan dining in other parts of the city. Philadelphia felt like a plant-based heaven, IMO better than NYC! This is just a fraction of the good dining near where we stayed:
HipCityVeg is vegan fast food that blew us away. Delicious sandwiches, fries, and you must try their shakes! No outdoor seating at the location we went to, but we took it to go no problem. FYI DC, we also have a HipCityVeg!
Bar Bombon is a cute restaurant and bar with an extensive and creative Puerto Rican vegan menu. They have outdoor dining.
Charlie Was a Sinner is a plant based restaurant that gets rave reviews and has outdoor seating. I booked us a table while we were still in Vermont and could only get a weird mid-day time. It's popular; plan ahead.
Goldie is a vegan, Israeli-style falafel shop known for their tahine shakes and fries, as well as their falafel. It is currently only available for pickup and delivery.
Tattooed Mom on South Street was only set up for ordering at a window and dining at the tables outside. They have a delish vegan cheesesteak and awesome ice cream treats.
Spread Bagelry has awesome wood-fired bagels and vegan options like Kite Hill cream cheese and hummus and avocado toast.
---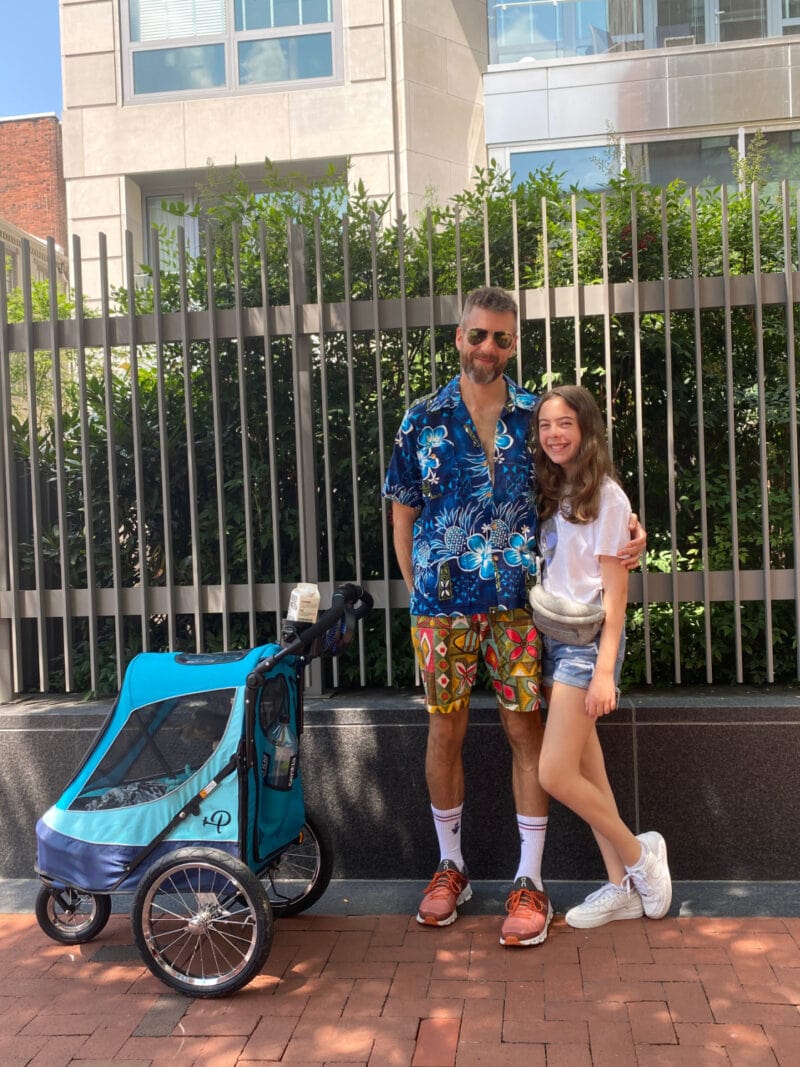 Our trip was hot and at some points rainy, but it was a fun adventure especially after a year at home. It was so nice to see cities we knew and loved as well as new places. While we were still concerned about covid (even though all three of us are vaccinated, there is still a risk), we felt comfortable taking a road trip and staying in hotels. We can't wait to return to all of these places, hopefully in cooler and drier weather!