This article may contain affiliate links; if you click on a shopping link and make a purchase I may receive a commission. As an Amazon Associate, I earn from qualifying purchases. 
This past weekend was my sister's 40th birthday. It's a milestone birthday and the start of what I've found to the best decade and we wanted to do it right. Looking for a weekend getaway that isn't too far away, has a nice combination of R&R and activity, a good nightlife and foodie scene we decided on Charleston, South Carolina. Just a two-hour flight from DC, Charleston is an amazing destination for history buffs, foodies, those looking for a fun evening out, or a bit of pampering. Constantly rated as one of the friendliest, charming, and most beautiful cities in the world, Charleston is also rated one of the 30 best cities for foodies around the world and considered one of the best cities for shopping. Perfect for a girls' long weekend getaway!
While January isn't peak season for Charleston, it is still a bustling destination this time of year and 20-30 degrees warmer than DC. We looked forward to smaller crowds but still all that Charleston can offer any other time of the year. We also found the flight to Charleston to be a super nice price (we flew Southwest out of BWI). We arrived in Charleston Thursday afternoon and flew home Sunday afternoon. I found this to be the perfect length of time to not have to take off too much work but still have time to enjoy much of what the city has to offer.
Travel Tip: When you travel Thursday through Sunday, you have a day and a half where the city is all yours. Thursday night we had our pick from the trendiest bars and restaurants, Friday was a breeze for finding a great lunch or breakfast venue, and I iknow from previous trips that museums and tours are less crowded. Once you have the lay of the land, the city will get more busy with weekend visitors and locals off work.
Staying at the Belmond Charleston Place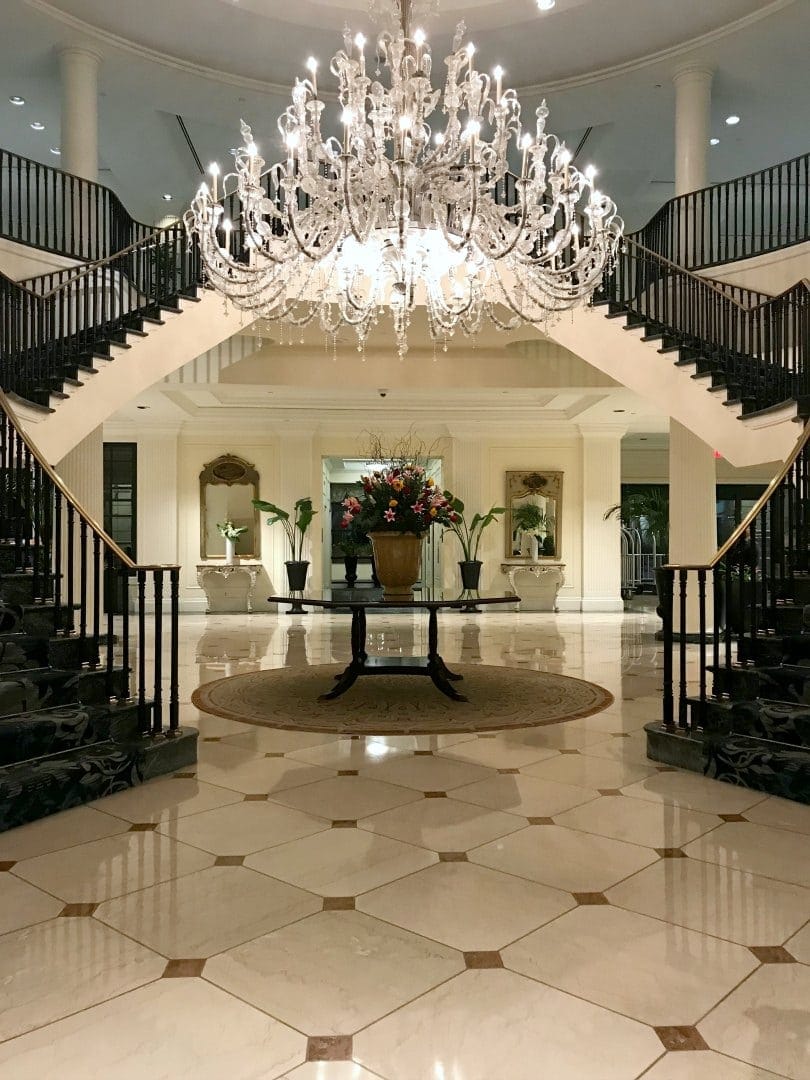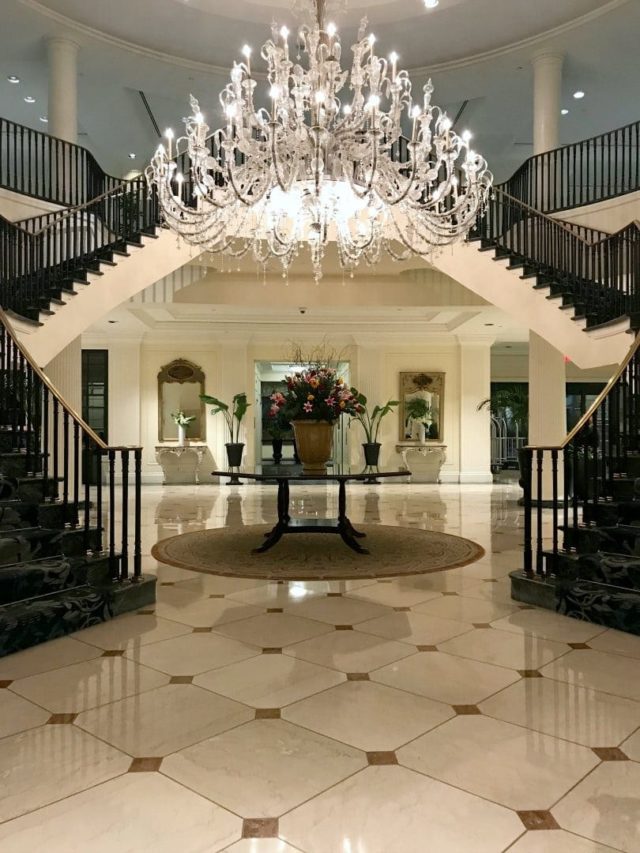 Since it was such a special birthday, I wanted to stay at a really special hotel. So many people recommended the Belmond Charleston Place. A gorgeous hotel, the Belmond Charleston Place has been rated as a Reader's Choice Top Hotel with Conde Nast every year since 2007, is a USA Today Reader's Choice, has received the Four Star Award from Forbes Travel Guides every year since 2005, and has been awards Four Diamonds from AAA every year since 1992. The Belmond Charleston Place is not just a hotel, but a destination. The hotel houses an award-winning spa, phenomenal shopping, two restaurants, and three bars. The hotel has several sizes and setup of rooms, we stayed in a Deluxe Double, which was roomy enough to handle four adult women (and four women's wardrobes). Our room was on the 2nd floor and had French doors opening to a small private courtyard and a standing shower in the bathroom with an amazing rainfall shower head, separate handheld shower head, and phenomenal water pressure.
The room was elegant and classic in soft shades of grey, cream, blue, and green. It had a large wardrobe, refrigerator, mini bar, and a seating area. It has one-touch lighting system; from the comfort of either bed you could control the lights in the entire room. The hotel has speedy free internet and the outlets in the room have USB chargers built in. The bathroom was gorgeous and I'd want it in my home. Featuring Italian Carrara marble and herringbone patterned marble floors and shower, the bathroom was spacious, plenty of mirrors and flattering lighting. Do note the beds are doubles, not queens. We're good friends who have spent years traveling together everywhere from seedy beach hotels to spacious suites and were comfortable, but it's important to note for those who may not have the same sort of relationships or comfort level.
While our little courtyard was charming, it was without furniture. Knowing there was no chance for rain during our weekend, we moved the two armchairs and two desk chairs outside so we could enjoy the courtyard. This also made the room more spacious. I slept on a side of a bed that didn't have a nightstand so I took the accent table that was between the two armchairs and pulled it over to hold all my necessities. The refrigerator has beverages that are part of the mini bar, but there's no sensor so you can move them to the side to fit your own drinks or doggy bag from last night's restaurant. The staff is amazing and were super quick to bring up extra towels, more hangers, and two more robes. The hotel does turn-down service in the evening which includes a bottle of water for each guest. The hotel also has 24-hour room service.
The lobby of the hotel features a gigantic Venetian chandelier that is positively stunning, It's set between a Georgian style open-arm staircase. This sort of staircase is rich in southern history not just for its welcoming style, but because it allowed men to walk up one side and women the other. This way a man would never accidently catch a glimpse of a woman's ankle. The open-arm staircase at the Belmond Charleston place is placed perfectly under the domed ceiling so that a person on either side can carry on a conversation no louder than a whisper and be able to hear perfectly well. We of COURSE had to try this out… and it works!
Three of us flew in together and arrived Thursday; we unpacked and got settled in and then headed out for the evening.
What I Wore:
Black satin wrap-style tunic blouse (same blouse, straight sized option) with dark grey skinny jeans (same, straight sized option) and black boots. Gold bracelet (same) and earrings (same). Green croco-embossed clutch (same).
Travel Tip: Do restaurant research before you visit and make reservations early. Especially in popular cities and trendy new restaurants, reservations can be hard to get. Consider making multiple reservations in case your schedule or tastes change.
Drinks at Prohibition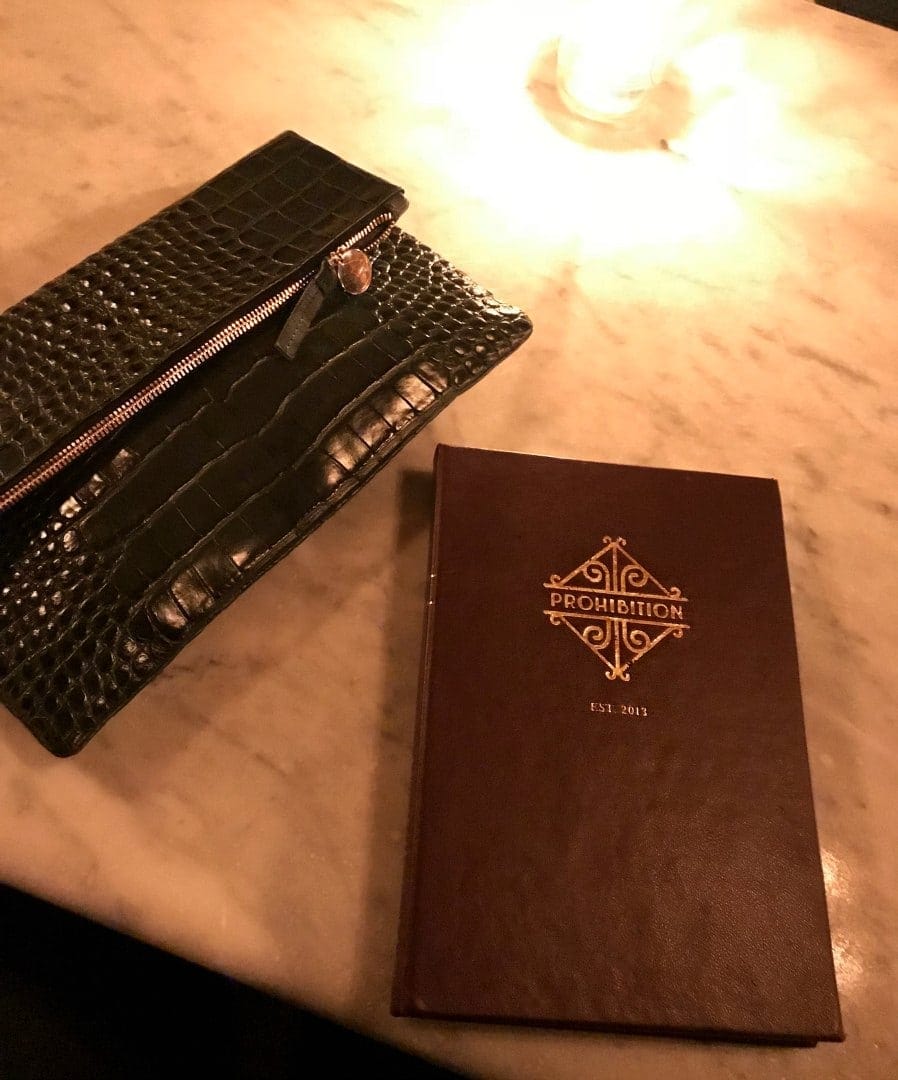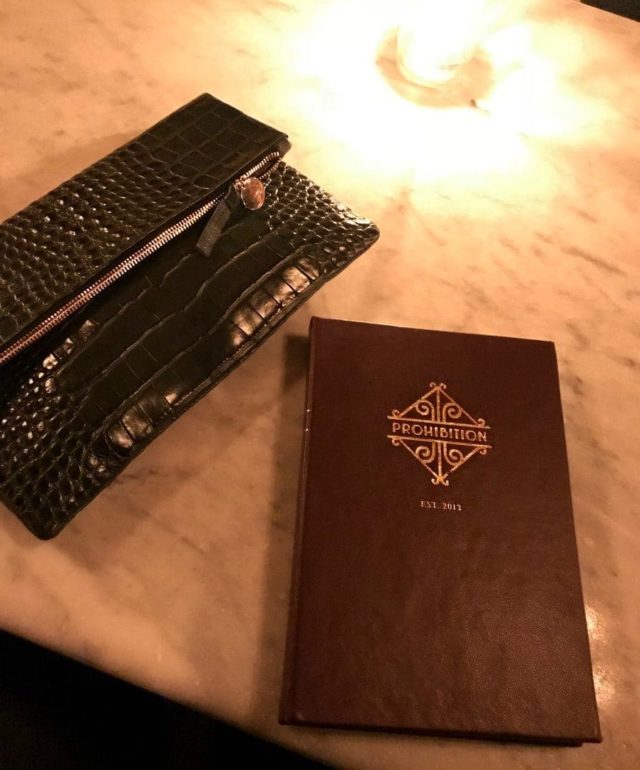 We had a bit of time before our dinner reservations so we stopped in the first bar that looked appealing to us – Prohibition. On a Thursday before dinner time, Prohibition wasn't crowded and we were able to easily find three seats at the bar. The bartenders were friendly and unpretentious, the drink menu creative but an option for all tastes, and we never felt rushed or pressured. With reclaimed wood, Edison-style bulbs, and plenty of copper, the décor is beautiful, warm, and inviting. Prohibition offers dinner and weekend brunch along with libations, but we didn't eat anything on this visit.
Dinner at The Ordinary
Our dinner reservations were just down the block at The Ordinary. Read any blog by any stylish 30-something who has visited Charleston and they likely will say The Ordinary is one of their favorite places to dine. I wanted to check it out and see what all the hype was.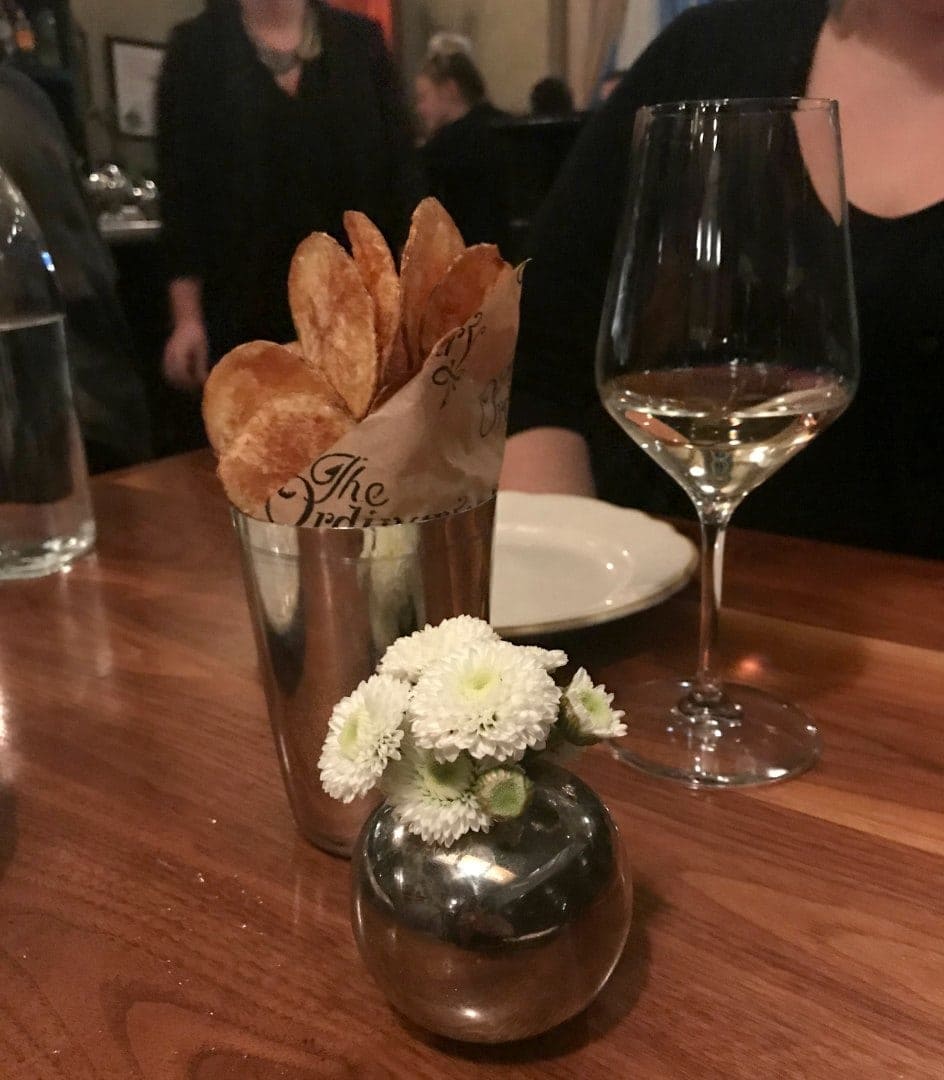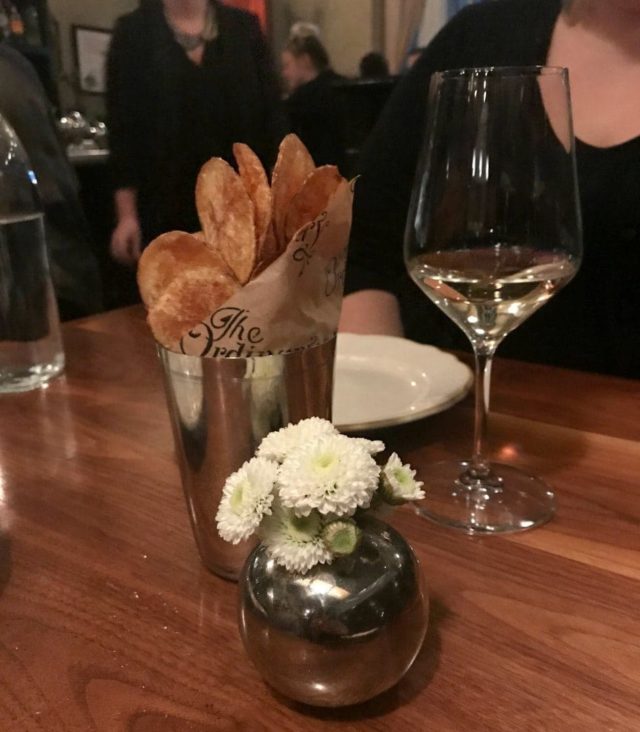 If you are a seafood fan, The Ordinary is worth the hype. Built in 1927, the building used to be a bank and it's clear once you enter and view the square space and vaulted ceilings. We had to wait just a minute or two for our table and there was room to the side next to the bar. We were seated in a booth with a view of the bar. The room is well-lit, charming, classic, not formal. You could easily come here in a pair of jeans and a sweater, and the bar environment looked friendly and inviting.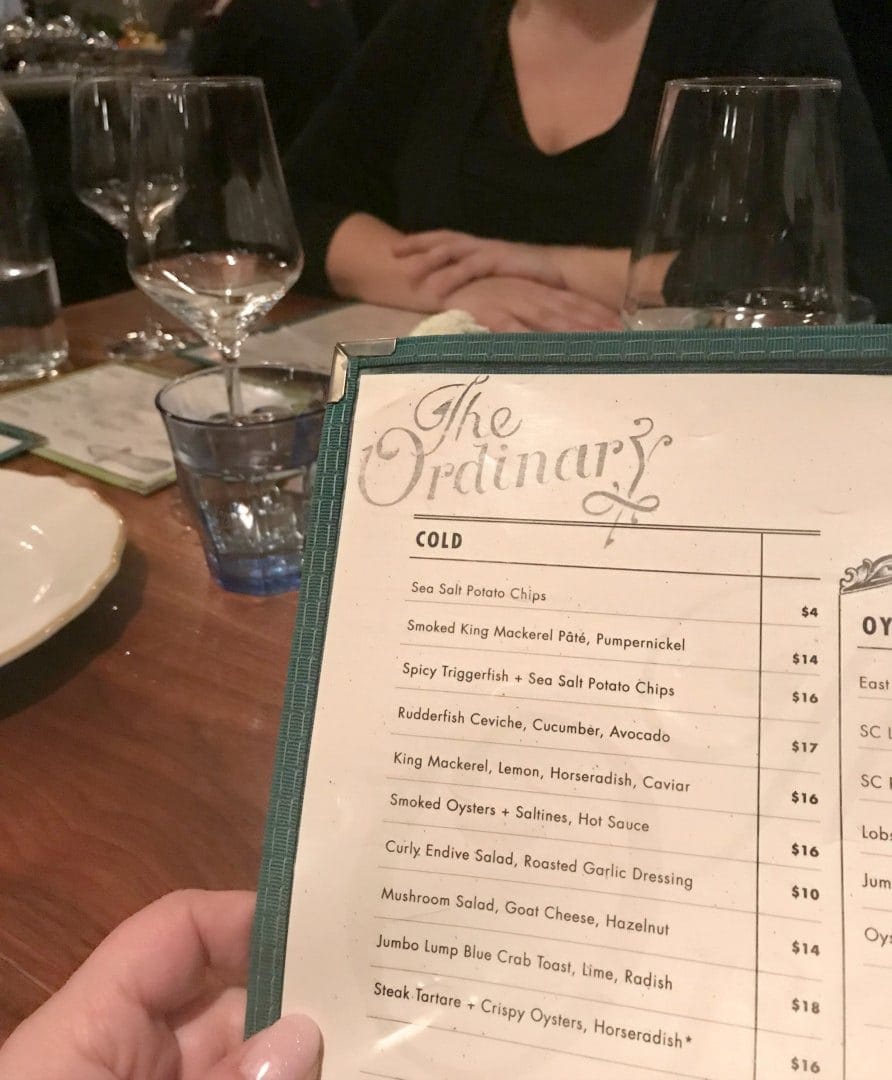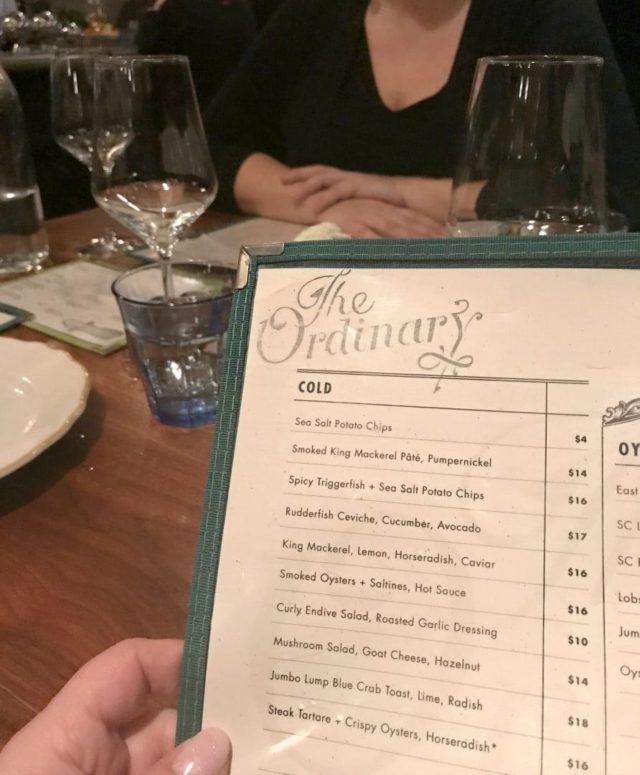 The menu is one page, split into cold and warm options (chilled seafood dish versus a cooked entrée) and their raw bar. Each day there is a special, and those are also noted on the menu. The Ordinary is known for their raw bar, and they have an option for a one-, two-, or three-tier tower of raw bar offerings. We chose to try their house chips (sooo good), one-tier seafood platter, and each got soup (my sister and friend asked to have the daily special's soup split into two bowls to share and they did so without blinking an eye).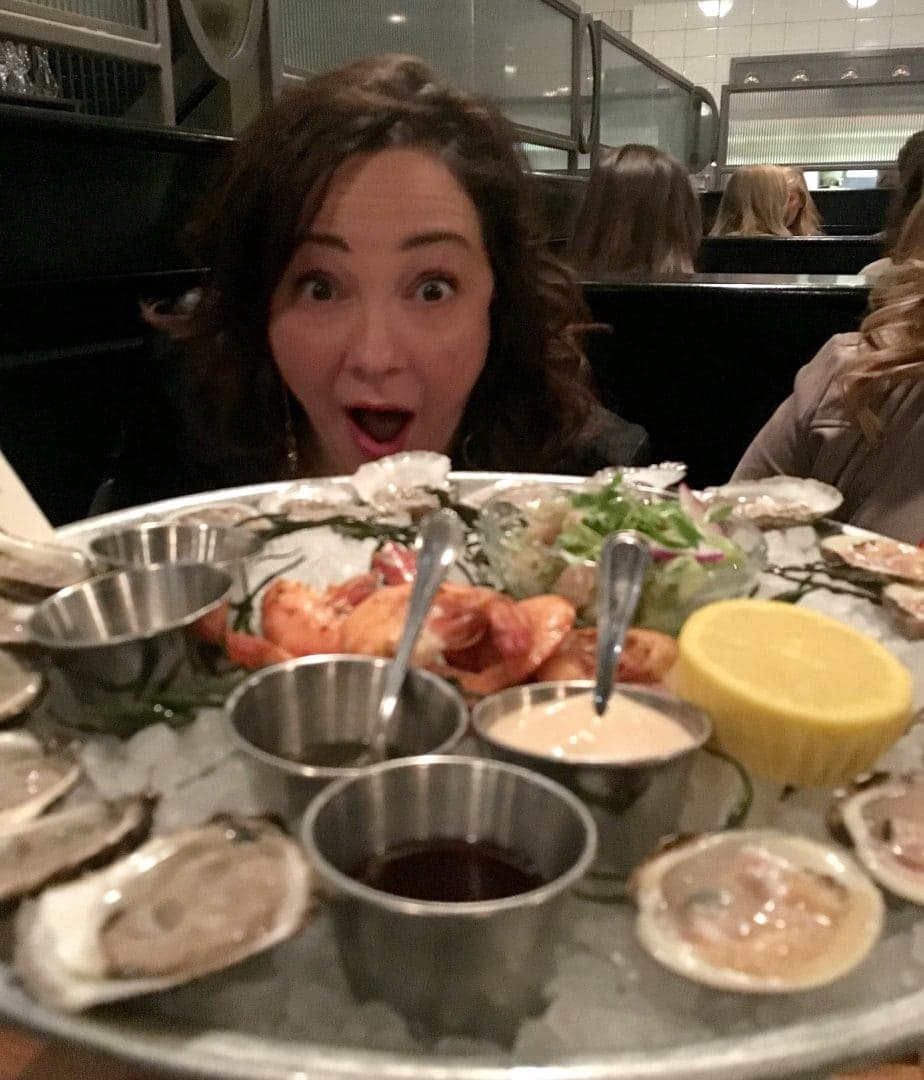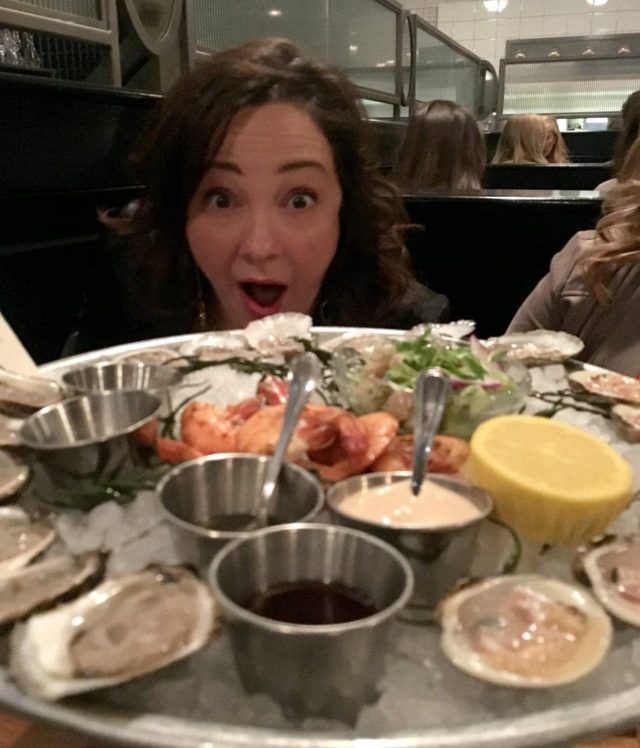 The food was phenomenal. I come from Maryland and am used to fresh seafood, and was still highly impressed. The ceviche on the tower was the best I have ever tasted. My friends couldn't stop raving about their stew. The service was attentive but not overly so, we never felt rushed. When recapping the trip, my friends decided their meal at The Ordinary was the best from the whole weekend. I would go back in a heartbeat.
After dinner we decided to walk down King Street and find a place to dine. We kept forgetting it was Thursday and wondered why the crowd was so young (college kids party all nights of the week) and not that crowded. We stopped in one bar but immediately left, not liking the vibe. We walked past Prohibition again and it looked like a completely different place. It was hopping! We walked in and there was a live band, the bar was full, and there was amazing energy. We grabbed a hightop table with a great view of the band. Come to find out, we were there during Charleston Jazz Fest and Prohibiton was one of the venues for the festival! We shared a serving of their donuts (puffed balls of yumminess) and a cup of coffee before heading back to the hotel.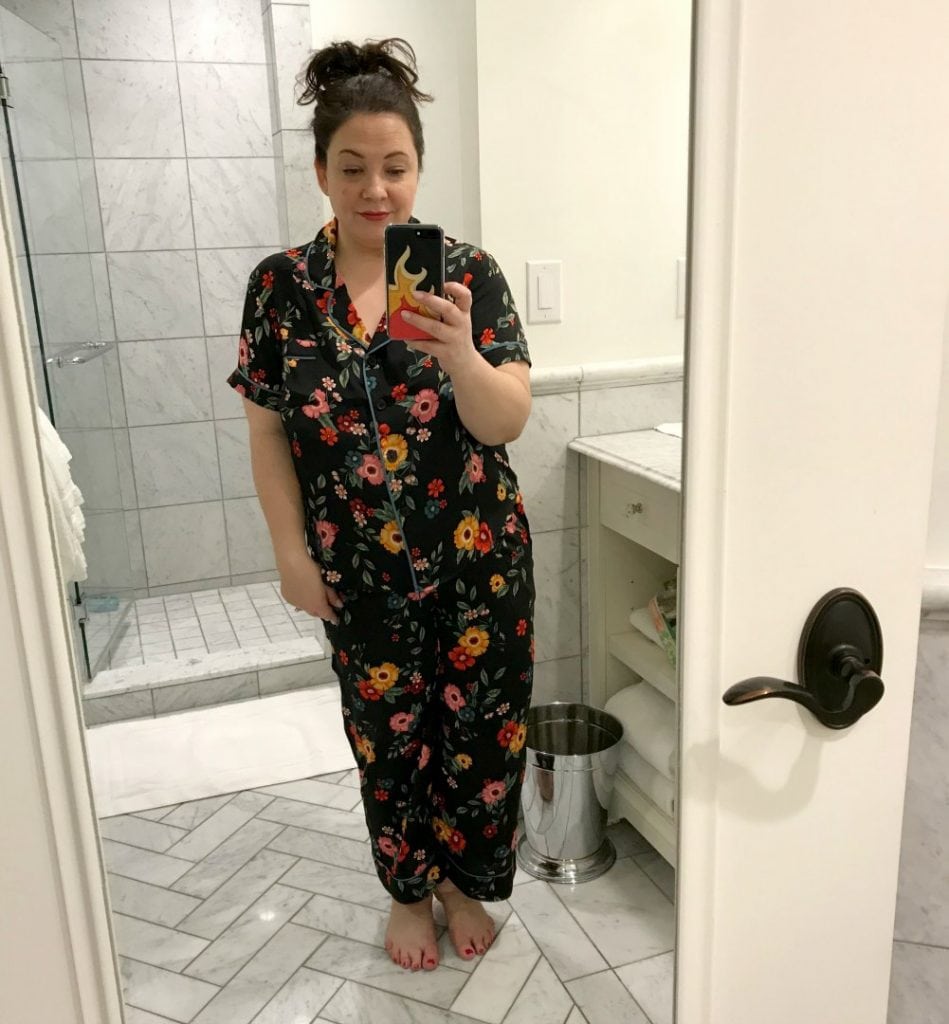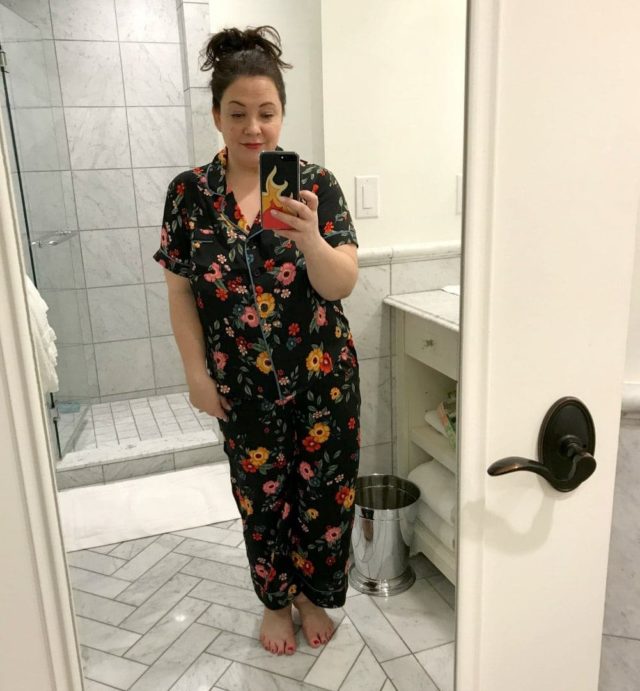 Back at the hotel we put on our pajamas (I wore this top and pants both in an XL), did face masks, and watched bad TV.
The Spa at Belmond Charleston Place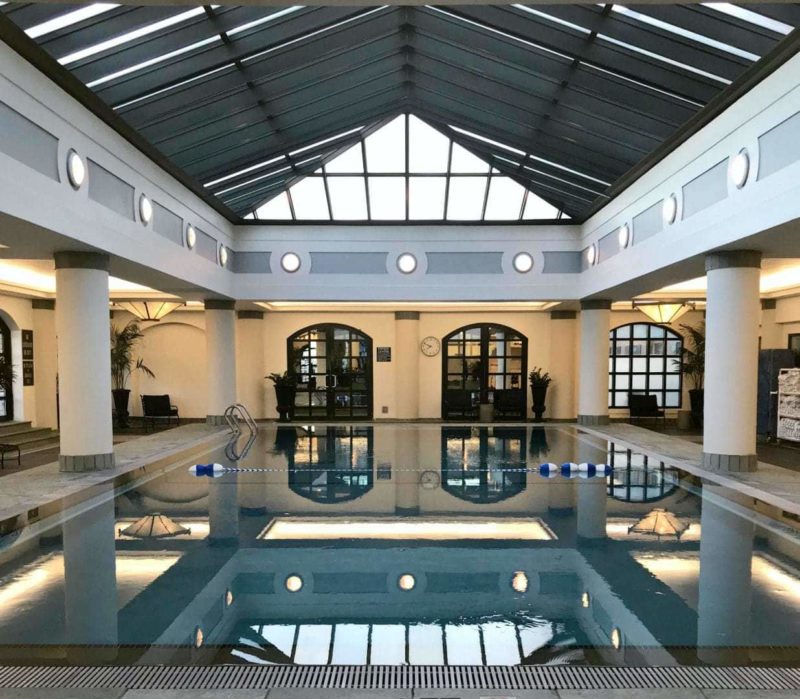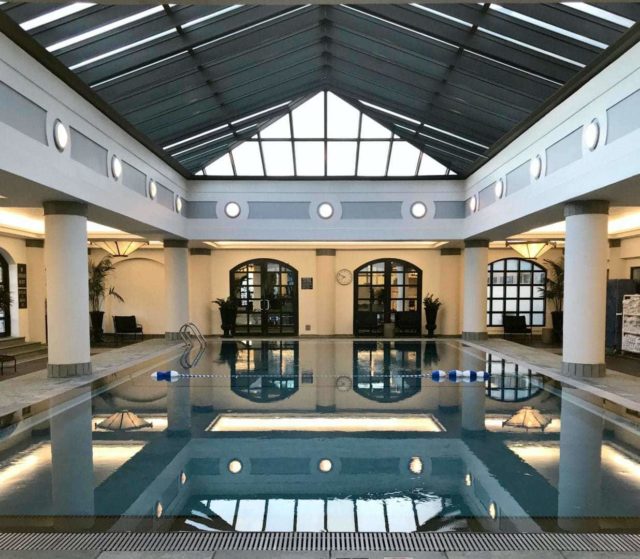 The next morning we donned our workout gear and headed to the hotel gym. The Belmond Charleston Place has a spa, and that is also where you will find the pool, hot tub, rooftop patio, and the fitness center. All of it is positively stunning. The fitness center is clean, modern, and well-equipped with a half-dozen treadmills, several ellipticals and bikes, and a separate area for machines and free standing weights. The gym offers chilled moist towels, filtered water, headphones, apples, and juice. The gym wasn't too busy, it was easy for all of us to find a machine and the weight area was empty enough that we could pull out some of their mats and stretch and do exercises on the floor in front of the window wall. We didn't try the pool but it's large and positively gorgeous.
After the gym, my sister and I headed across the street to Starbucks and then met our friend in the room where we all showered and got ready for a day exploring Charleston.
What I Wore: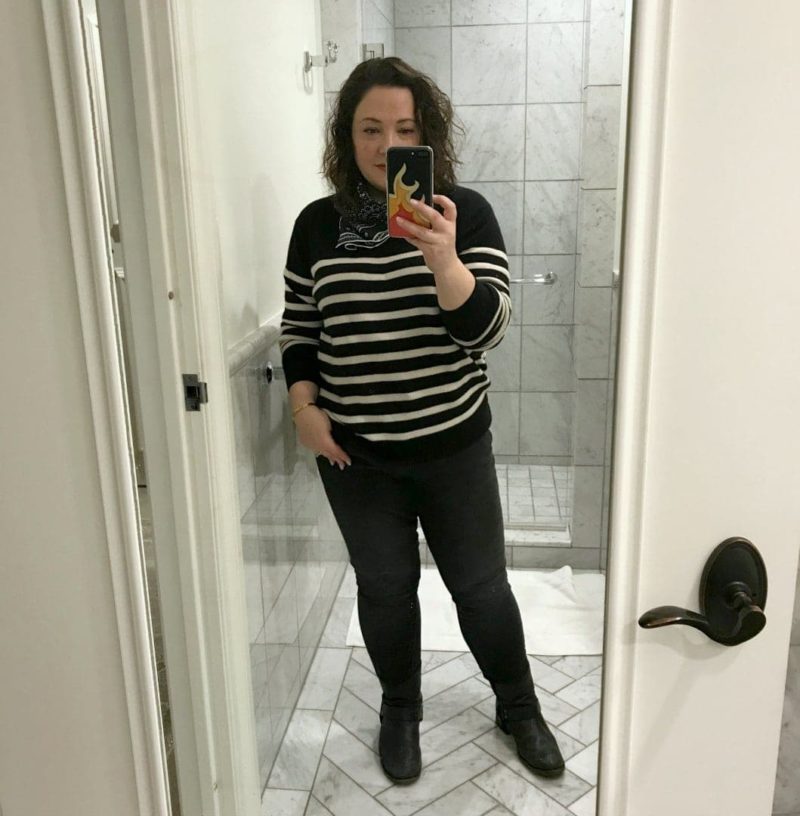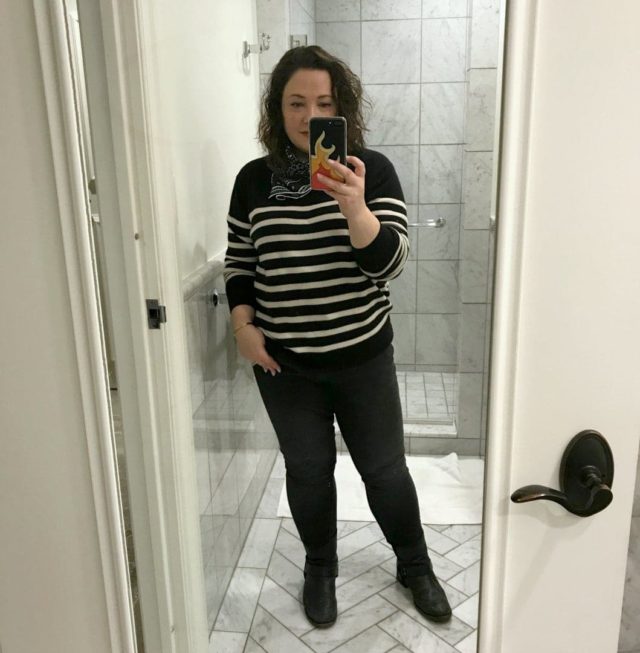 Black and white striped cashmere crewneck worn in this outfit post (similar, plus size option), same dark grey jeans from the night prior, black enginner boots (similar), my black leather tote-style purse (same, budget-friendly option), black silk bandana tied "cowboy style" (similar).
Lunch at Jestine's Kitchen
Since we slept later and went to the gym, we ended up doing an early lunch in place of breakfast at Jestine's Kitchen. Another place we heard rave reviews from so many. It was just around the corner from our hotel so we decided to pop in when they opened. We were greeted by a sunny woman wearing a Bad Brains ski cap, Agent Orange hoodie, and a Thrasher tee shirt. That's my kind of woman! Come to find out it was Dana, the owner of Jestine's Kitchen. My sister complimented her on her hat and we ended up bonding over shows at the 9:30 Club in DC.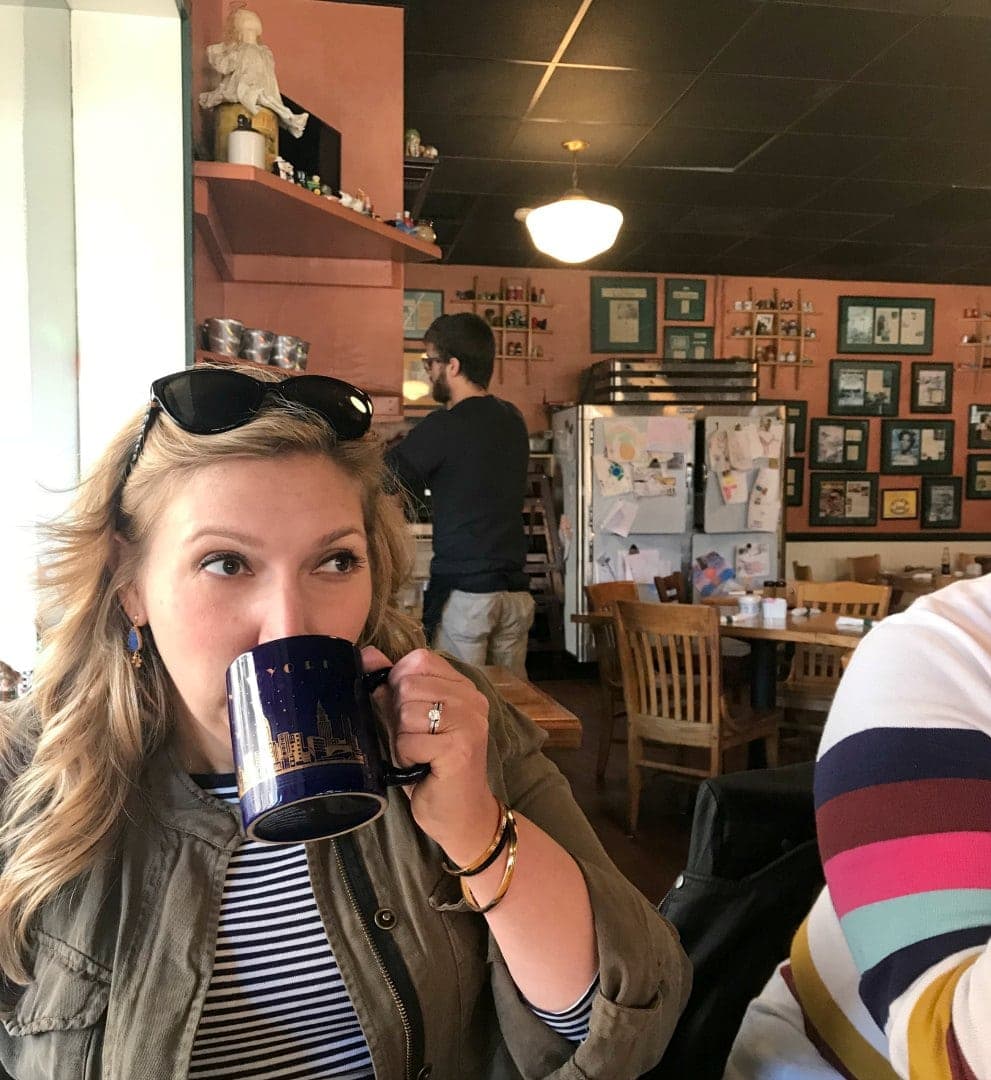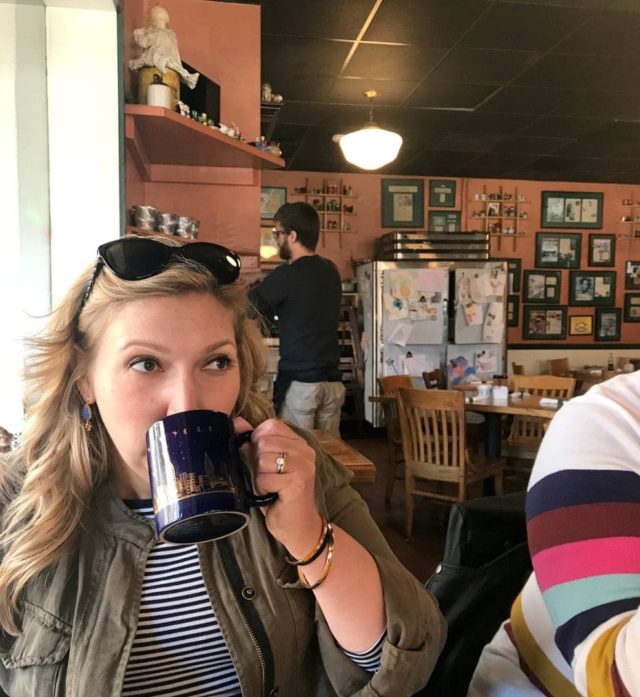 This is a cute, quirky, and casual restaurant with classic Lowcountry dishes. Here's where you can find authentically cooked shrimp and grits, okra, and fried green tomatoes. We got a table near a window and our waiter was super charming and friendly. We tried the okra, the fries, the fried chicken, fried green tomato sandwich, and a salad with pecan-crusted chicken and it was all delicious. Dana sent out a piece of their legendary Coca-Cola cake for us to enjoy and we hugged her goodbye. This place can get super crowded and have a line around the block during peak season; we lucked out going this time of year and on a Friday.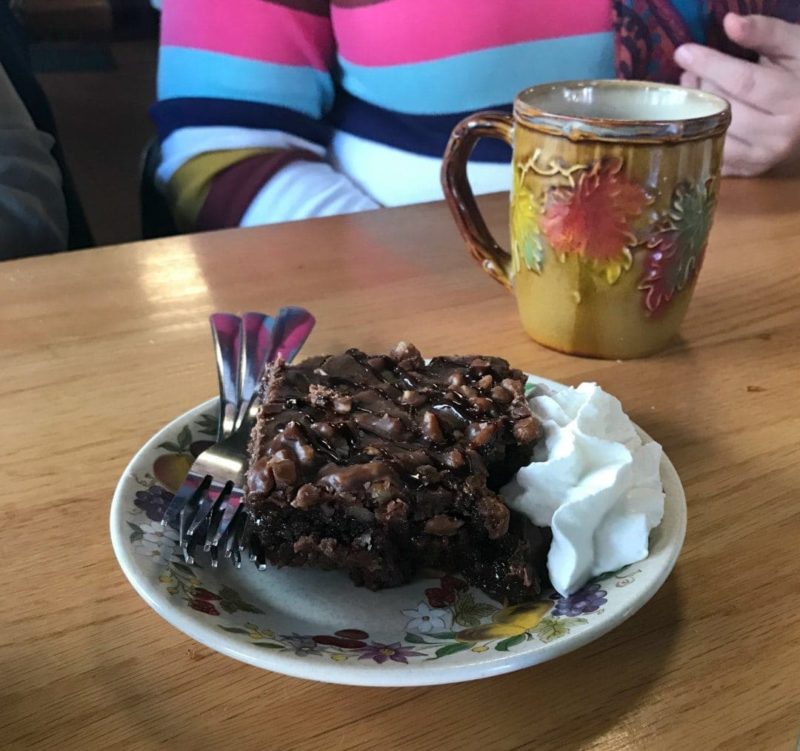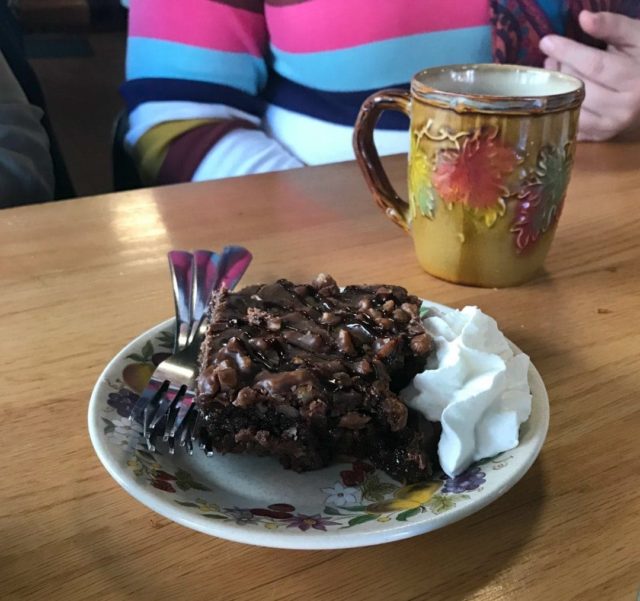 I found the recipe for Jestine's Coca-Cola cake online. It's super rich but one of the most delicious cakes I have ever tasted; a must try when visiting and maybe a fun thing to try in your own kitchen.
Walking around Charleston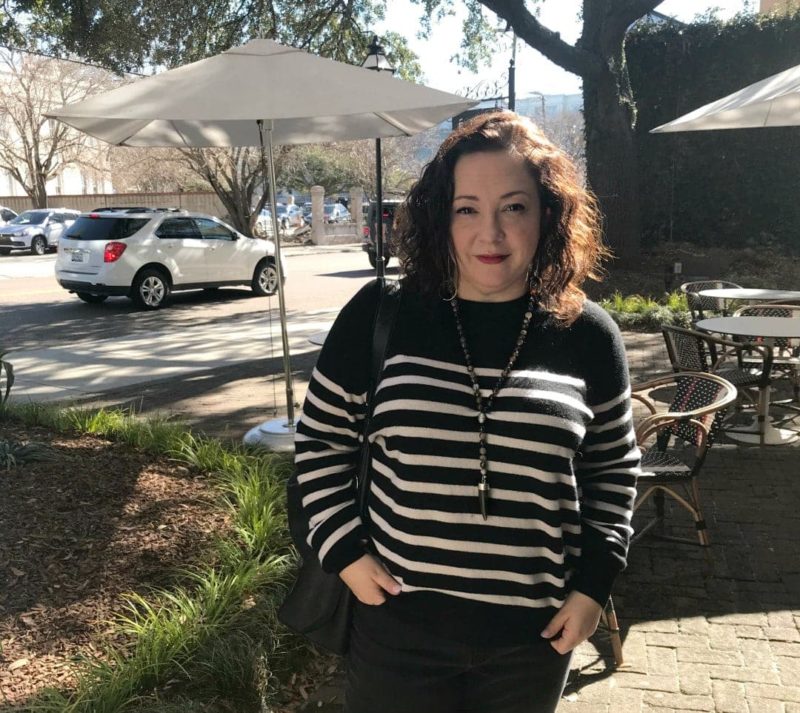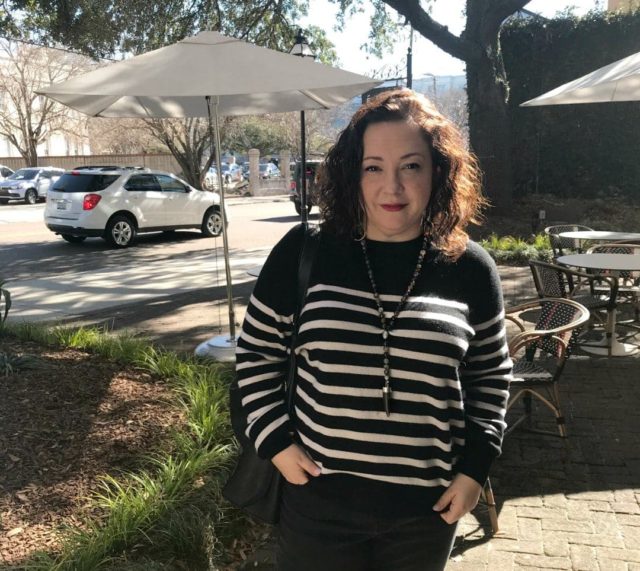 The fourth member of our group was set to arrive around 2pm so we decided to roam without a plan. One friend saw a cool purse in a gallery window so we went in to explore. She left with one of the purses, and I ended up buying an agate necklace from Molly Jane Designs. We walked down to the water, wandered through alleyways, visited the Charleston City Market.
Travel Tip: Carry a purse large enough to hold small purchases and comfortable enough to wear even if it gets a bit heavy. Not only is it easier to carry than multiple bags, it makes you look less like a tourist and you're less likely to lose something on your journey. Props to the bag having a zipper closure which keeps the contents more secure.
Charleston City Market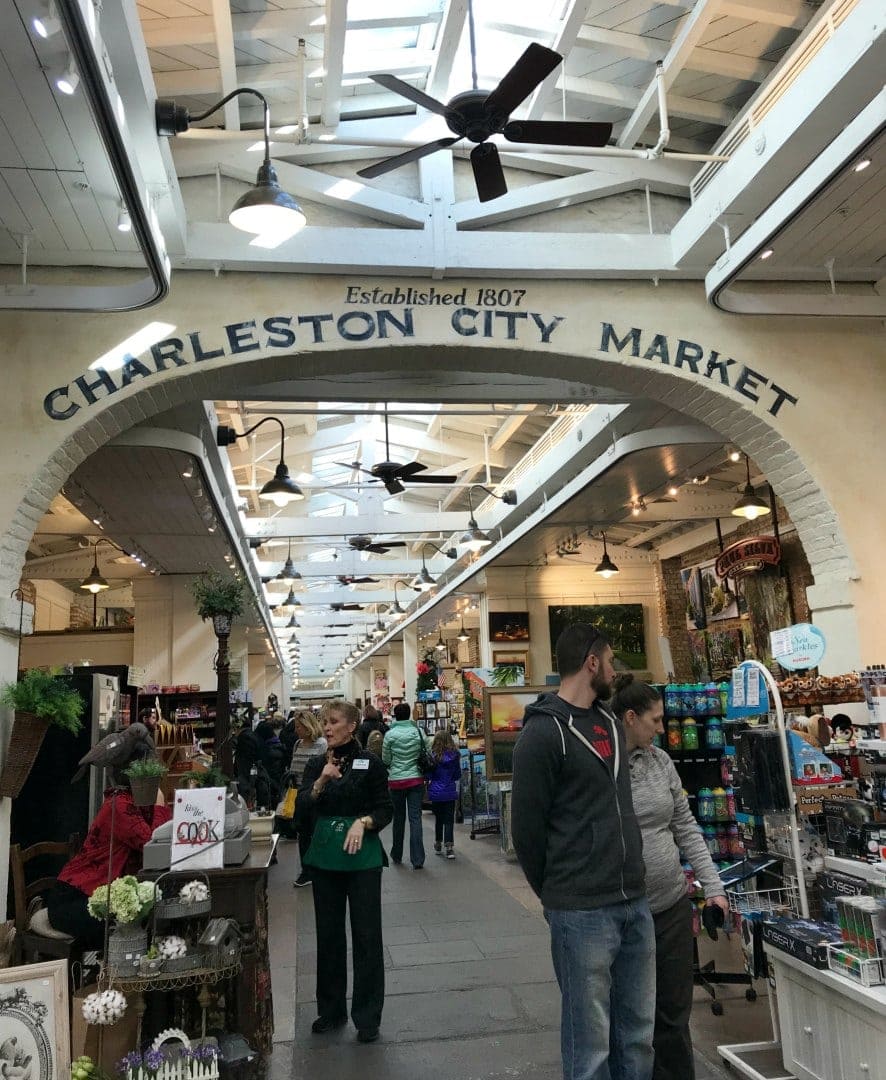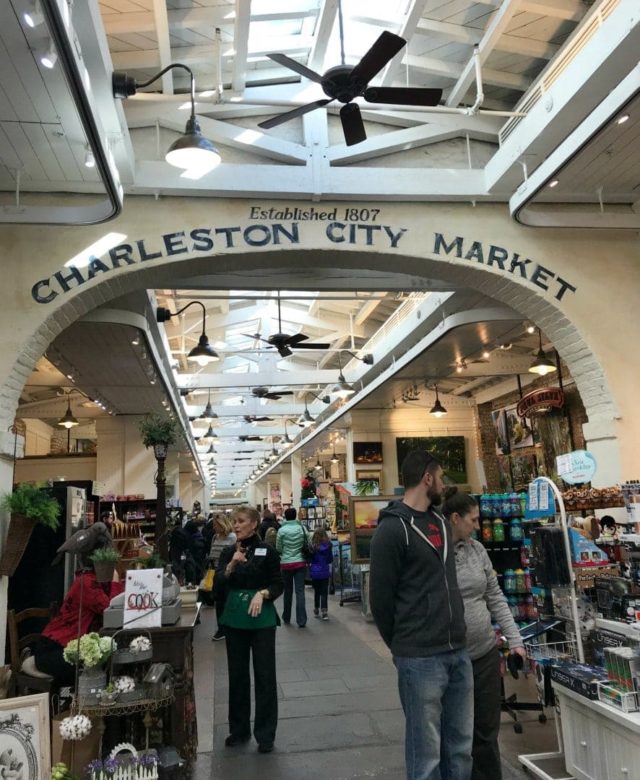 Sure, go and visit the Charleston City Market but don't necessarily expect to find unique items or good deals here. The stalls hold a lot of the same wares found at any city market anywhere across the country and a lot of it was overpriced. However, it's fun to wander and there's relatively clean public bathrooms and a Caviar & Bananas (a chain that offers pastries, beverages, and other treats) where you can get a drink (wine and water side by side in the refrigerated shelving). The Market also has plenty of vendors offering Charleston tourist items so if you wish to go home with a magnet, mug, dish towel, or bag of rice you can find it here.
R&R
When our friend — coming from Chicago — said she was in her Uber heading to the hotel, we did the same. When I checked in, I put her name on the roster so the hotel let her into the room. We met up with hugs; while my sister sees her regularly, I hadn't seen her in years. It made me realize how great trips like these are not just for the friends in town, but a way for friends across the country to get together.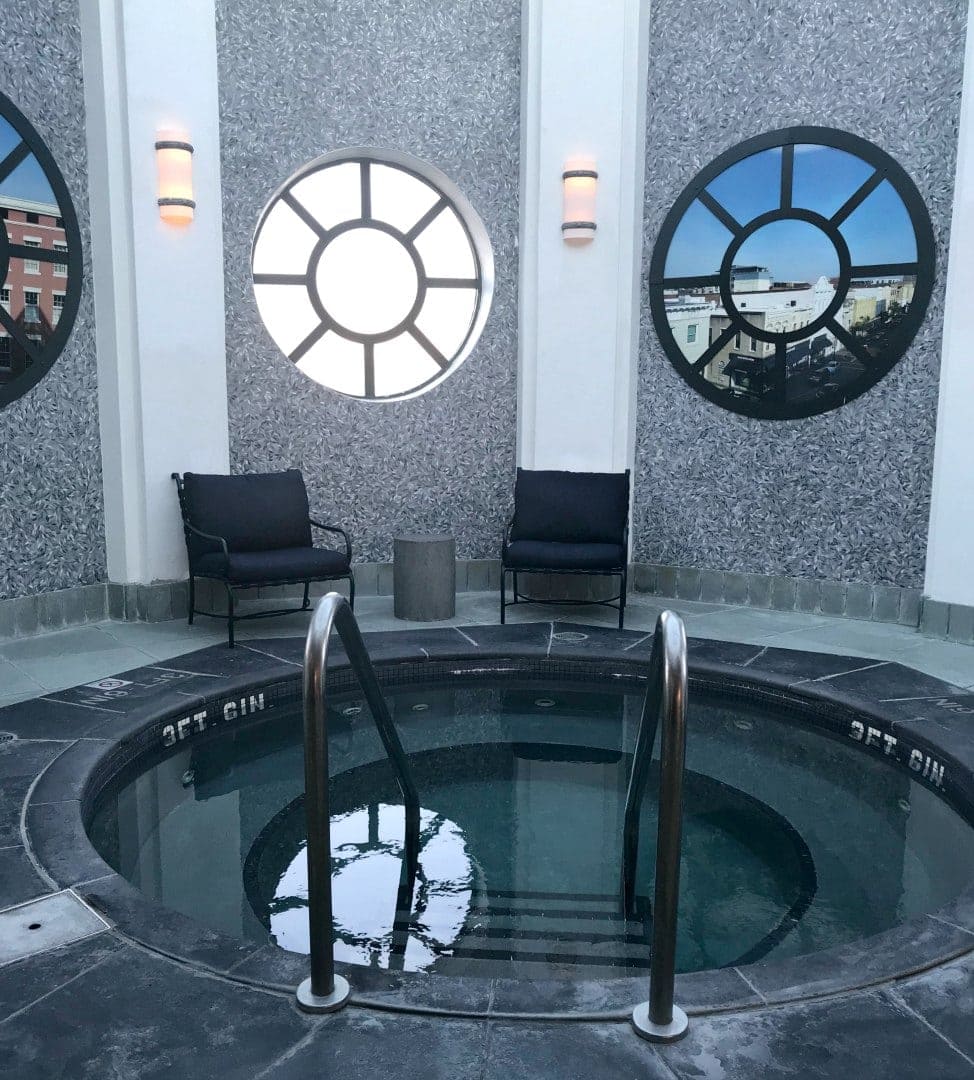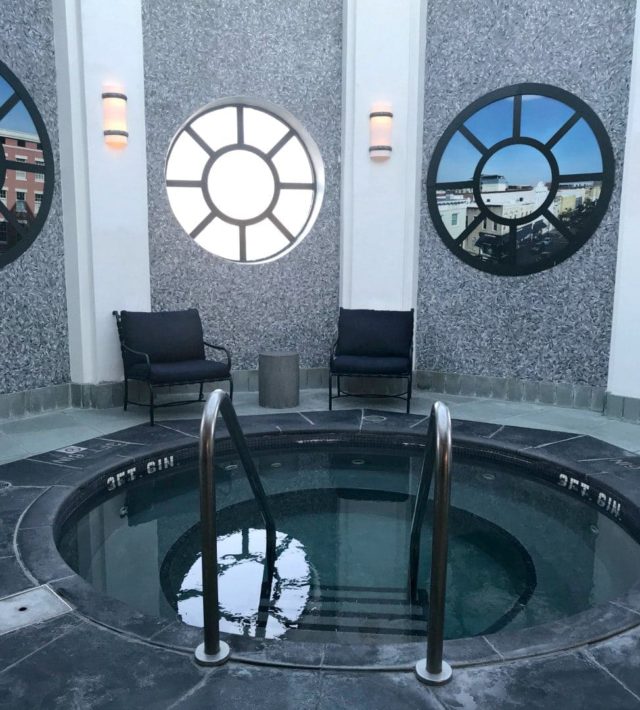 The three of them decided to split a bottle of bubbly and check out the hotel's hot tub; I decided to catch up on some sleep so I could survive another evening out. The beds and pillows at the Belmond Charleston Place are so comfy it was easy to sink in and drift off. When they returned I woke and we all got ready to go out for dinner.
What I Wore: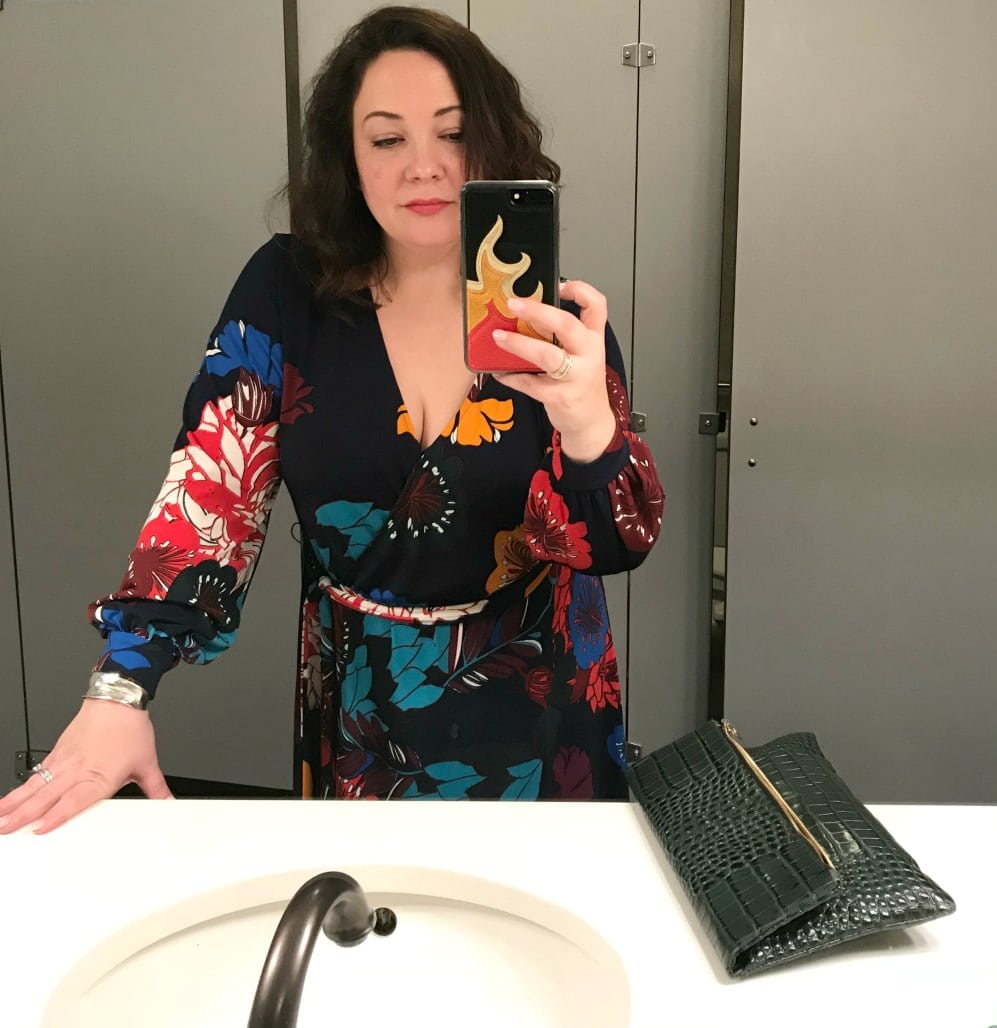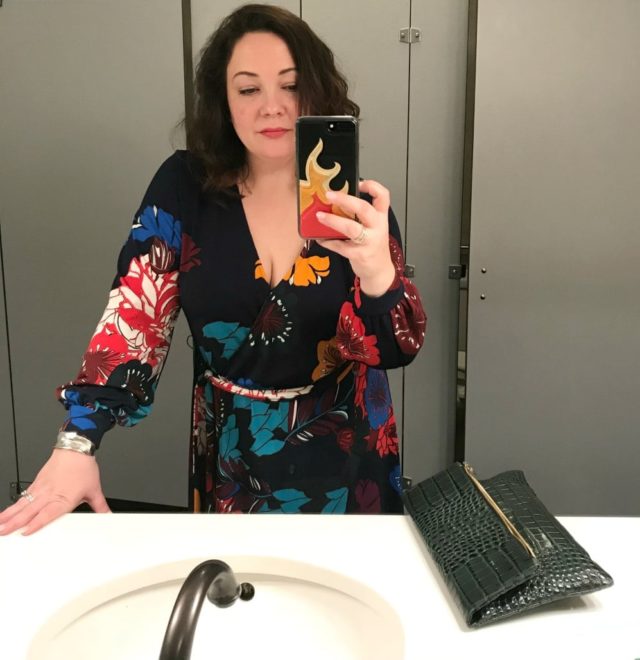 This same printed matte jersey maxi dress (same, straight size option), silver statement earrings (same), black heeled knee-high boots (similar), the same green clutch from the previous night, my wool coat (same, straight size option).
Dinner at Poogan's Porch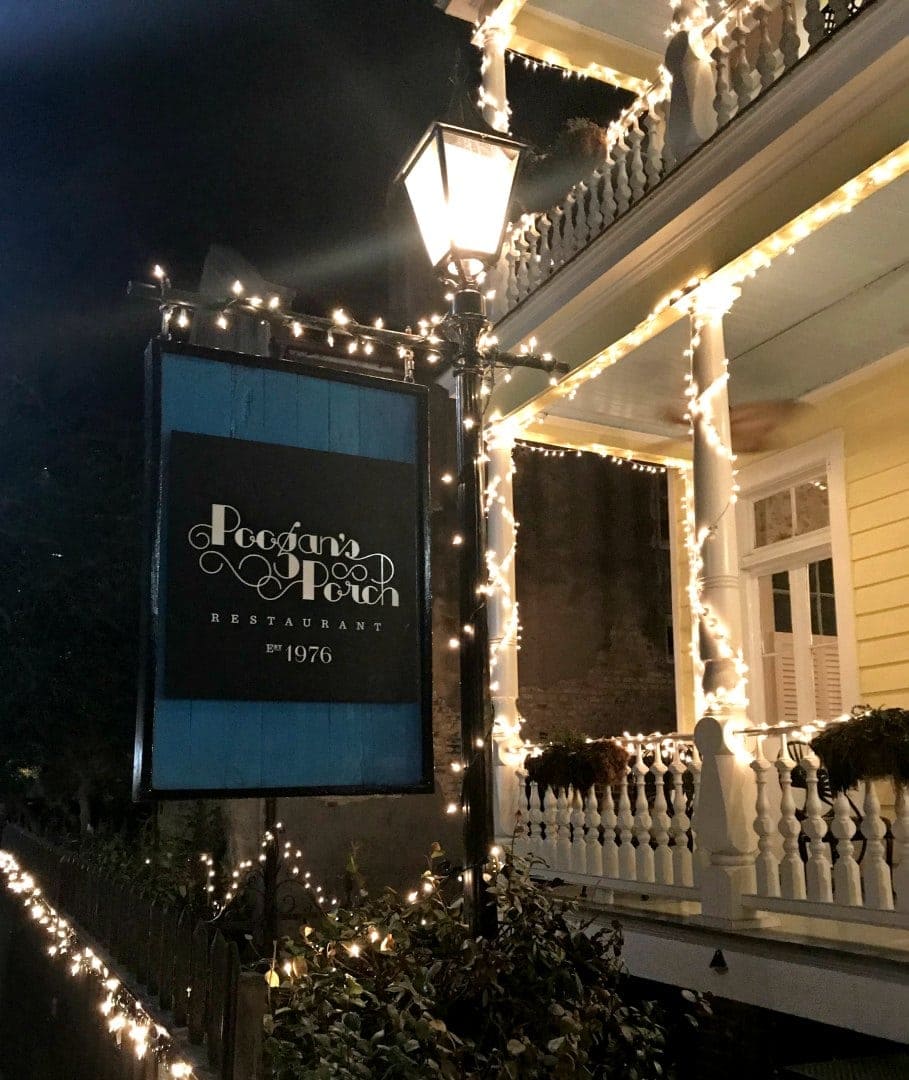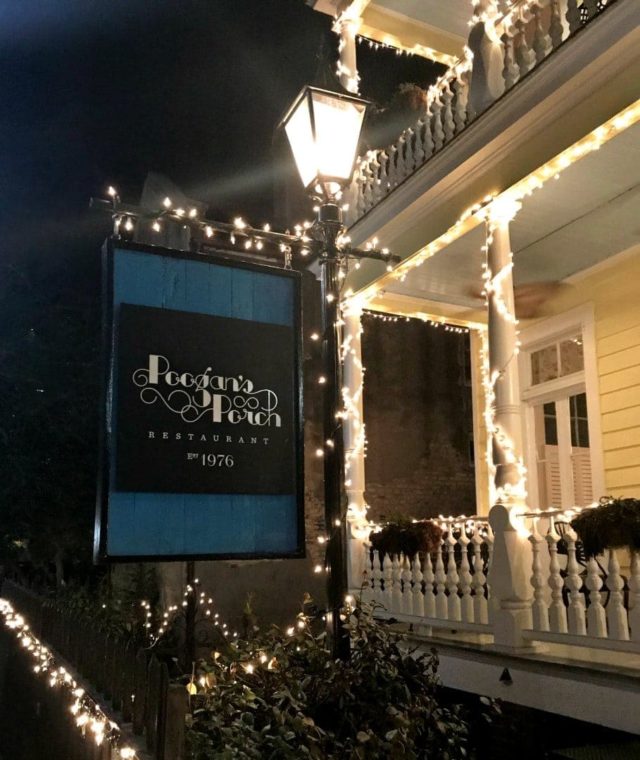 Our friend from Chicago has visited Charleston several times and her favorite restaurant is Poogan's Porch. So much so, once her husband and she drove three hours just to have dinner there. The rest of us had never been so we were game for trying it out. We ended up having a weird bit of time – not enough to have a drink elsewhere beforehand, but too much time to hang out in our room. Luckily, Poogan's Porch was able to seat us early!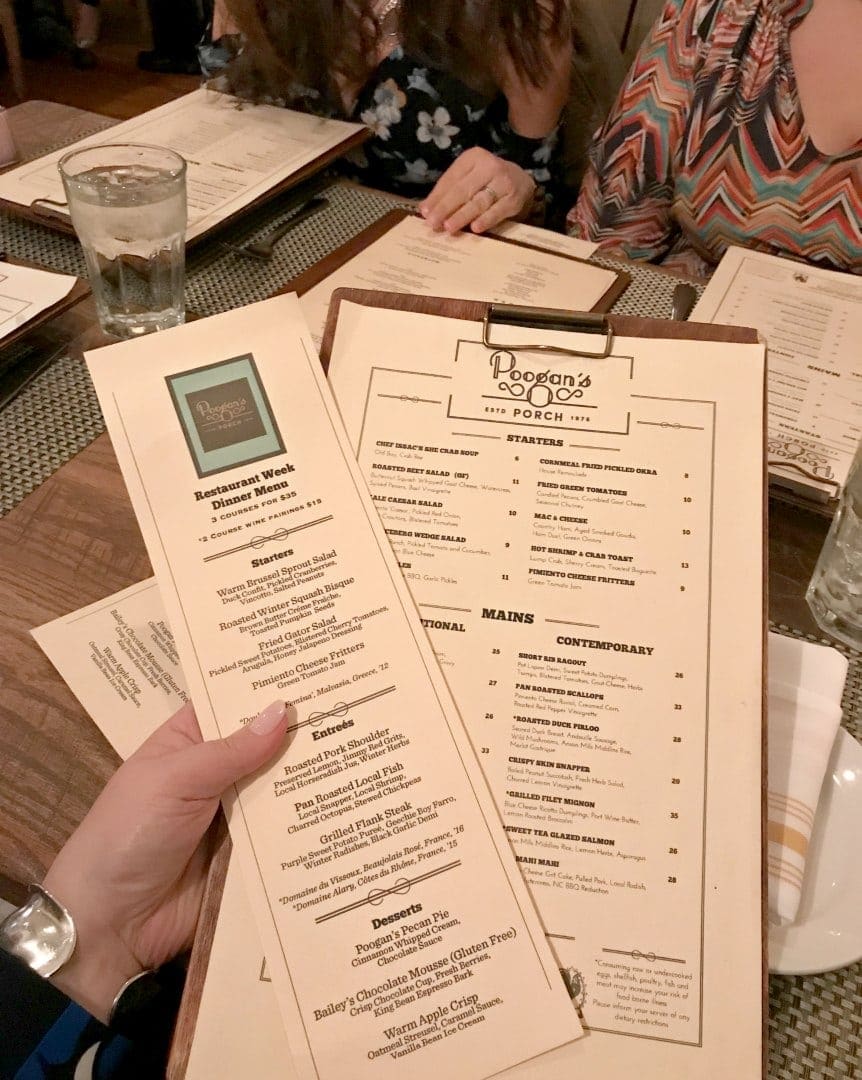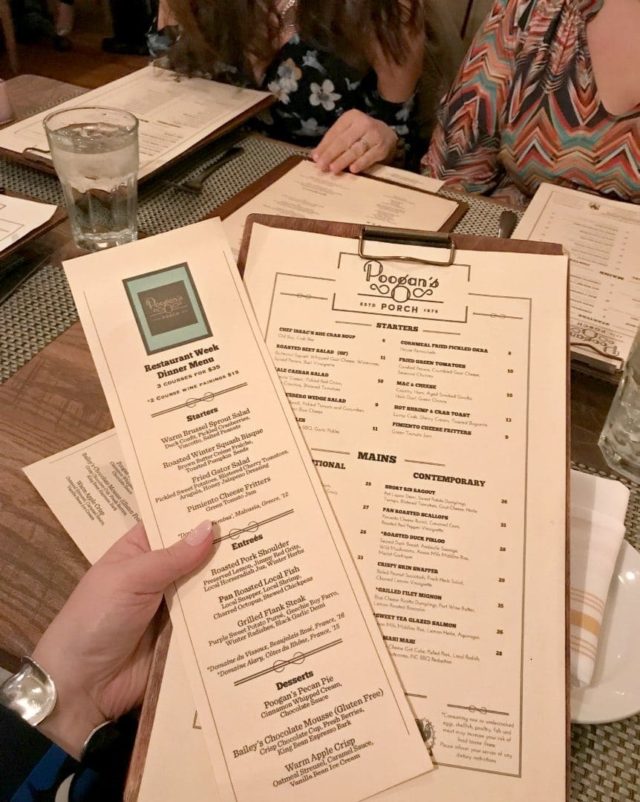 Poogan's Porch resides in a restored Victorian home built in 1888. When purchased in the 1970's to become a restaurant, the previous owners left behind their dog named Poogan, and that's how the name came to be. The interior is still like a home, with small rooms throughout and a cozy dining experience. We were seated at a table next to a fireplace, there was a mix of couples on dates, families, and groups of friends like us. This is not a place to dine and dash, service is relaxed and friendly. The menu has a mix of traditional Lowcountry fare dressed up for evening, and more unique options. While the entrees looked good, we were especially interested in the appetizers and ordered a few to share family style. Everything was delicious. My friend would like to recommend you try the peanut butter pie, her absolute favorite!
Drinks at Vendue Rooftop Bar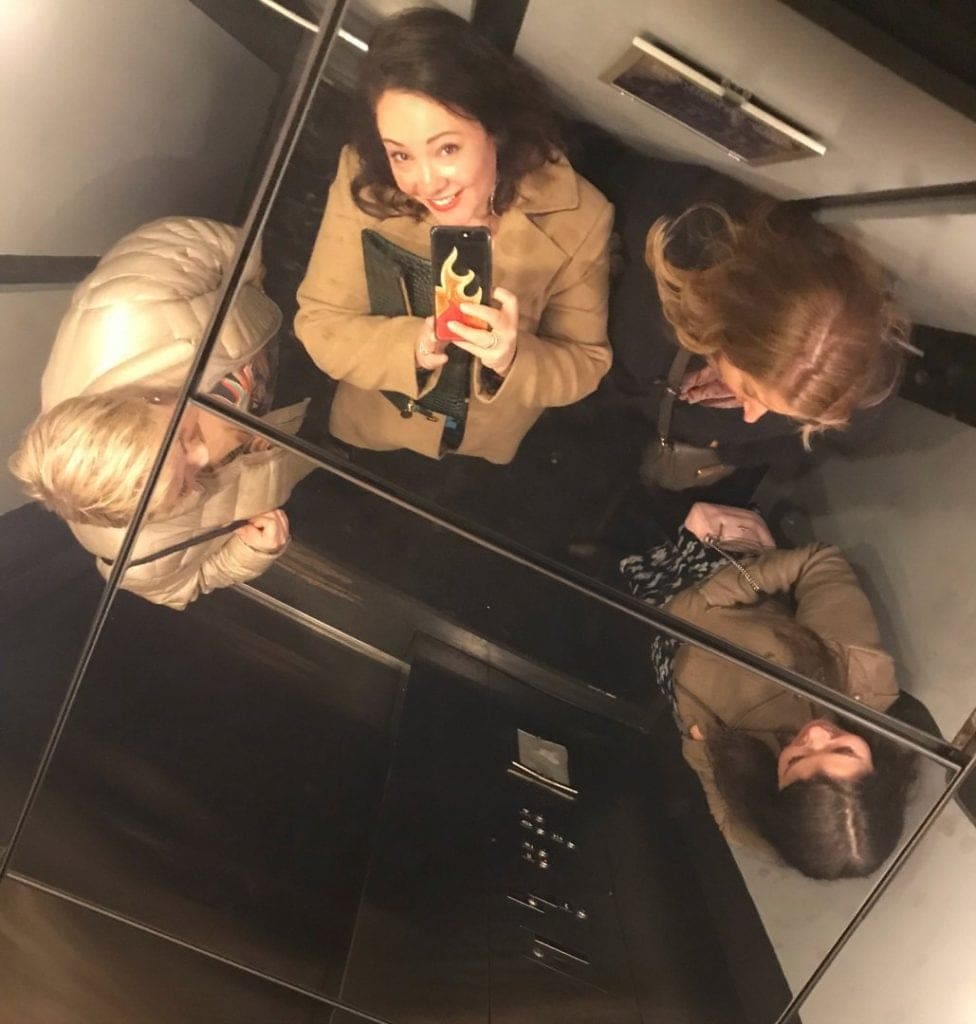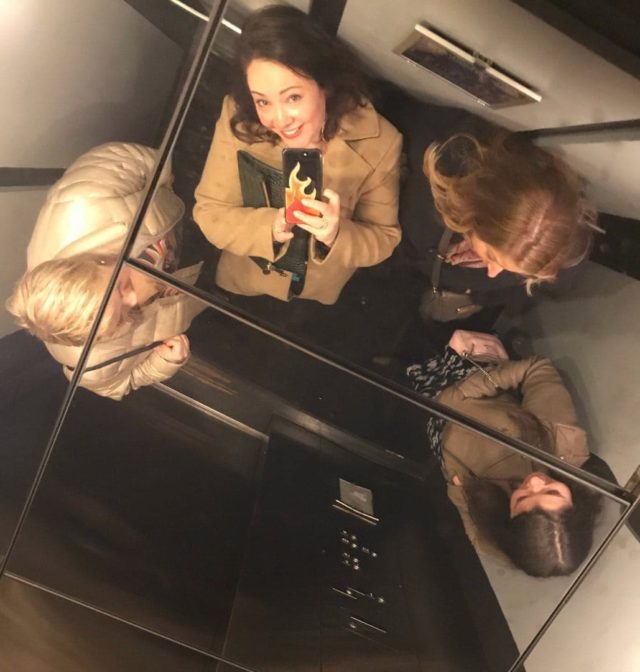 When walking around Charleston earlier, we had several locals tell us to check out the rooftop bar at Vendue. I had found other rooftop bars when researching before our trip, but decided to take the advice of those from Charleston and check this place out. I bet it's amazing warm weather, but in January most of the rooftop is closed off, the bar itself is surrounded by plastic walls, and it wasn't crowded at all. However, we were all in the mood more to catch up and laugh together than socialize, so it turned out to be a pretty perfect place. The bartenders are nice and there's a creative cocktail menu. When they found out it was my sister's the next day (well in 10 minutes as it was almost midnight) they bought us all shots!
The next morning we bypassed the gym for extra sleep and then got ready for the day.
What I Wore: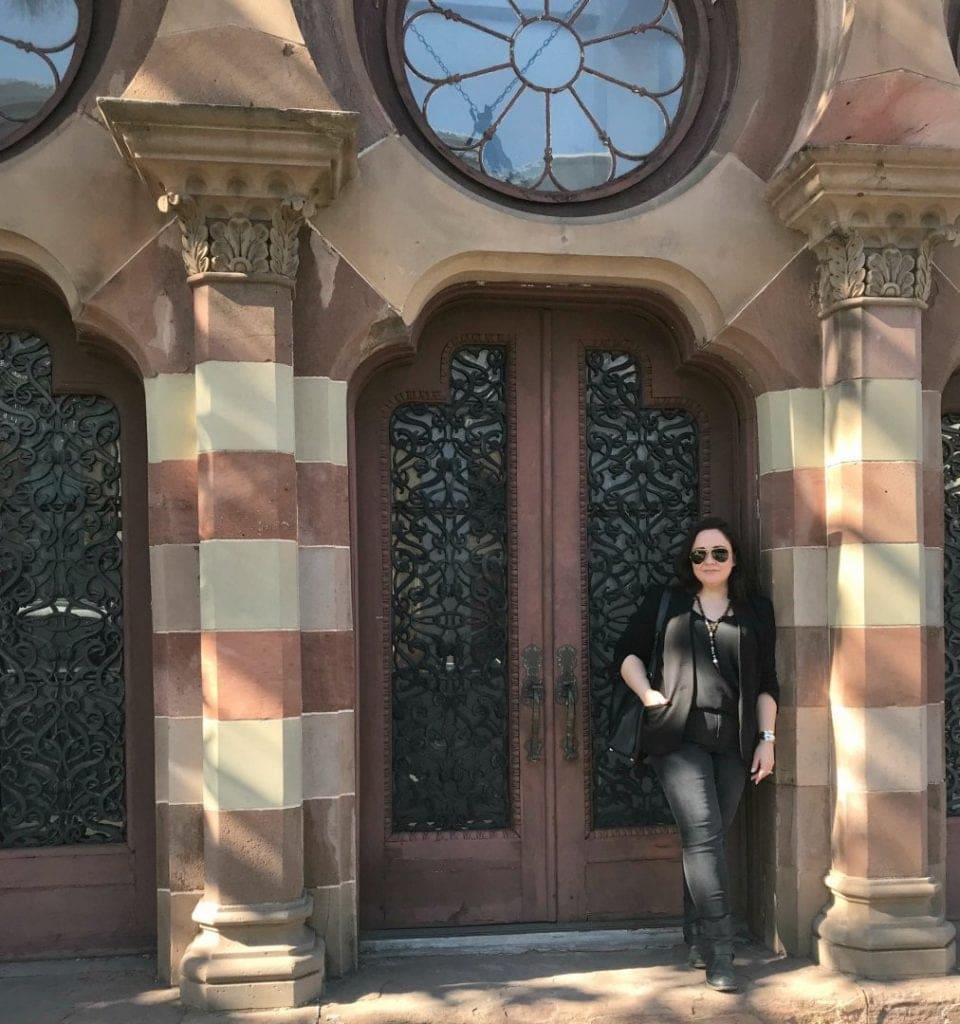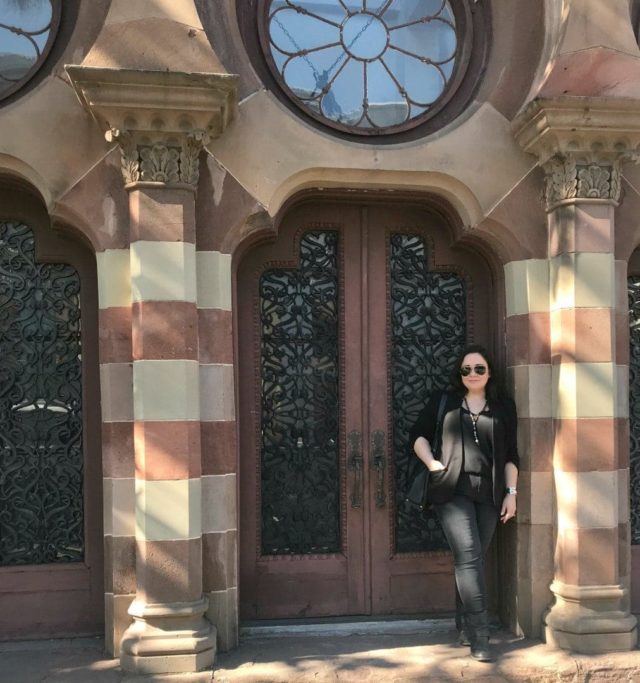 Black inverted collar blazer with a hint of stretch (similar, plus size option), black drapey camisole (similar, plus size option), my new necklace (similar), the same dark grey jeans previously worn, the same black harness boots, my black leather tote.
Breakfast at High Cotton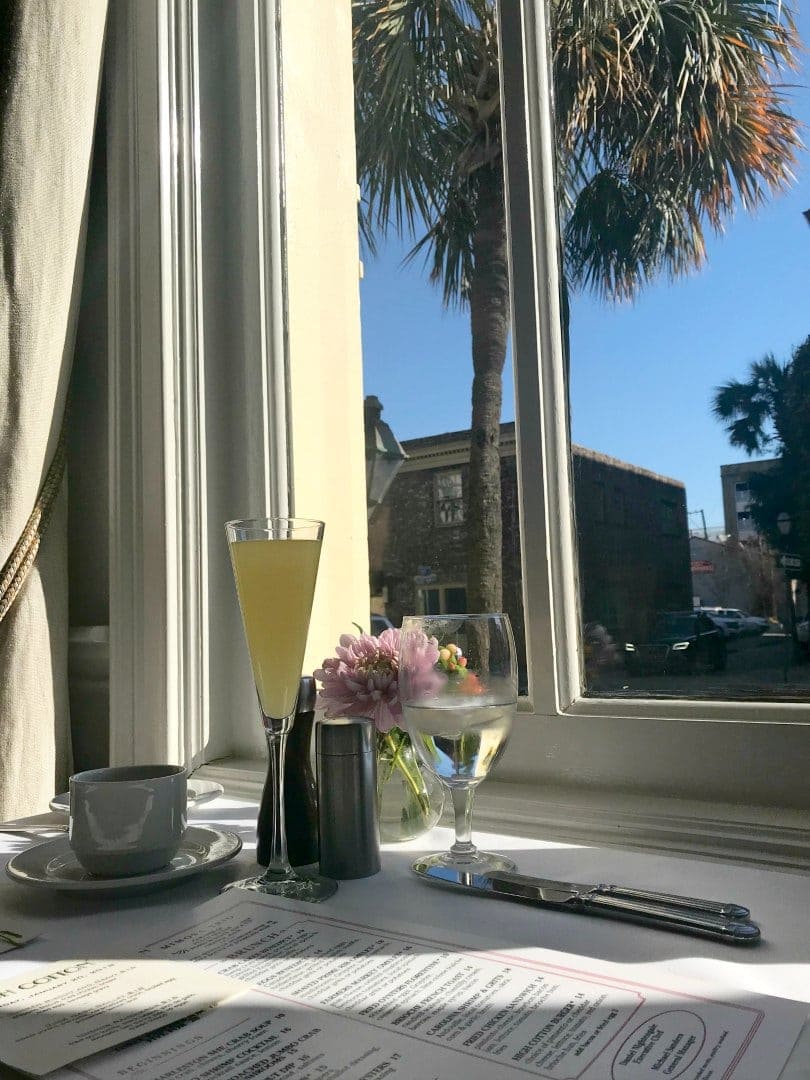 Another place our Chicago friend recommended while in Charleston was High Cotton so we made a reservation for 10am Saturday brunch. We got there right as it opened, so while they continued to get prepped for the day, we sat in their entryway and they offered us drinks while we waited. Entering I realized I had been there before – my sister and I went to Charleston almost a decade ago! That trip was for a friend's wedding and I had the flu so the trip was all a blur. It was nice to be able to try it again without being on death's door.
High Cotton is quite a treat, and I recommend if you're visiting Charleston. The restaurant is gorgeous. The staff is friendly and charming. The food is delicious. When we went they had a live blugrass duo in the bar area and we could hear them throughout the restaurant. The whole experience is beautiful. They found out it was my sister's birthday and brought out a piece of their chocolate cheesecake with a candle and her name written on the plate in raspberry sauce. So sweet!
(MORE) Walking Around Charleston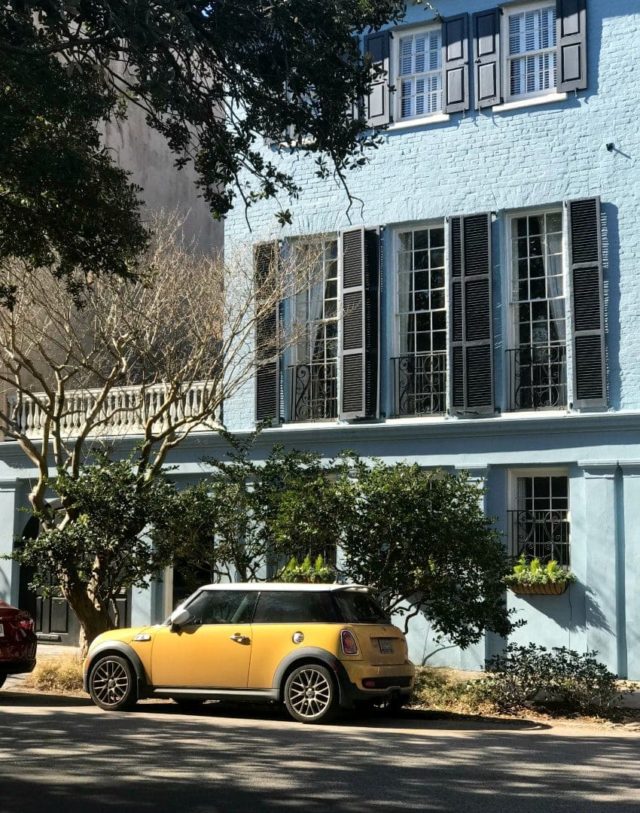 After Poogan's Porch we continued down the street, enjoying the view and each other's company until we hit the water. We had a tour already scheduled so we didn't get to get as far as we wished to stay on schedule, but we did walk through the residential area to get back to our tour. It was about 60 degrees and not a single cloud in the sky.
Slavery to Freedom Carriage Tour with Classic Carriage Works
Charleston is a city of tours, some walking, some carriage. Carriage tours are controversial in many cities because of the treatment of the horses. Charleston has strict regulations how many weeks and days carriage horses can work and how to deal with their elimination. We decided to go with Classic Carriage Works because they go beyond the city's rules to care for their horses. Their horses only work five to six days out of the week, and do an average of about three hours of work a day. Their work rotation is six weeks in the city, and then a three- to six-week vacation out at the company's farm. At the farm the horses are allowed to be horses – they run around, roll in the mud, and socialize. Our horse was Connor, he had been doing tours for ten years and was strong and handsome.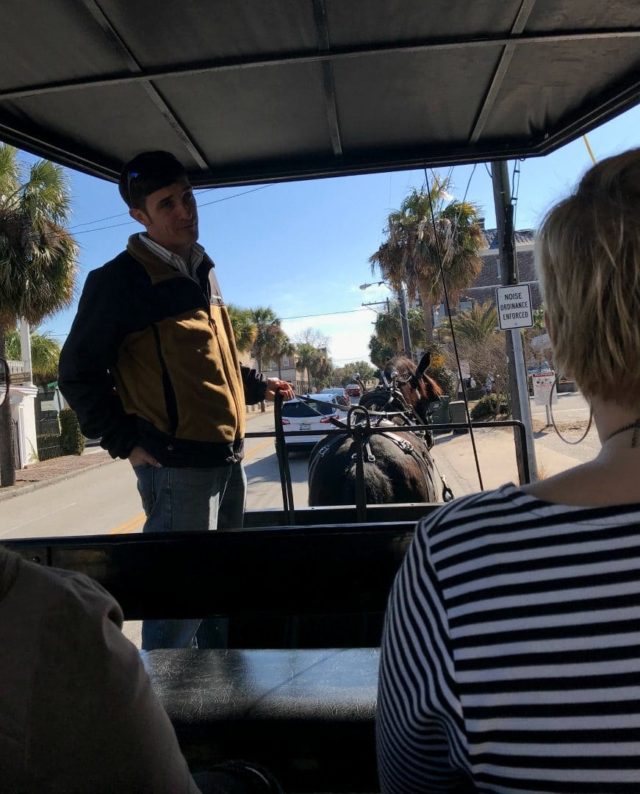 Classic Carriage Works offers a variety of tours – history, a focus on the Civil War, tours only for adults, private tours, and a Slavery to Freedom tour. Since the beginning of the colony, slavery was a part of Charleston's history. Over 40% of all slaves in America came through Charleston's harbor. This may not be part of the pretty history that tourists wish to see when they visit Charleston, but one is doing a disservice to ignore it as it defines so many aspects of this city and our country as a whole. Our tour guide was Dave, who has been leading tours for over 17 years and did his dissertation on the subject of slavery and free blacks in Charleston. He was personable, open to questions and to switch up the tour discussion, extremely knowledgeable and passionate about the subject during our 60-minute tour.
Travel Tip: When you book a tour on the spot, there's a lottery where you don't pick your tour to ensure fairness. We booked our tour online ahead of time and not only did that ensure we got the tour we desired, we ended up being the only four people in our carriage!
After the tour we headed back to the hotel and all took a power nap. I had trouble falling asleep so everyone woke and I had yet to lie down. So half of us stayed to rest more, and the other half returned to the hotel hot tub. While at the hot tub a waiter stopped by and took drink orders. Seriously, staying at the Belmond Charleston Place is like staying at a resort!
After we got ready for dinner. I had booked a few reservations for the evening, including one at 7:45 and another at 10:00pm. We decided to keep those two because both restaurants were intriguing to us. Apps at one, meal at another!
What I Wore: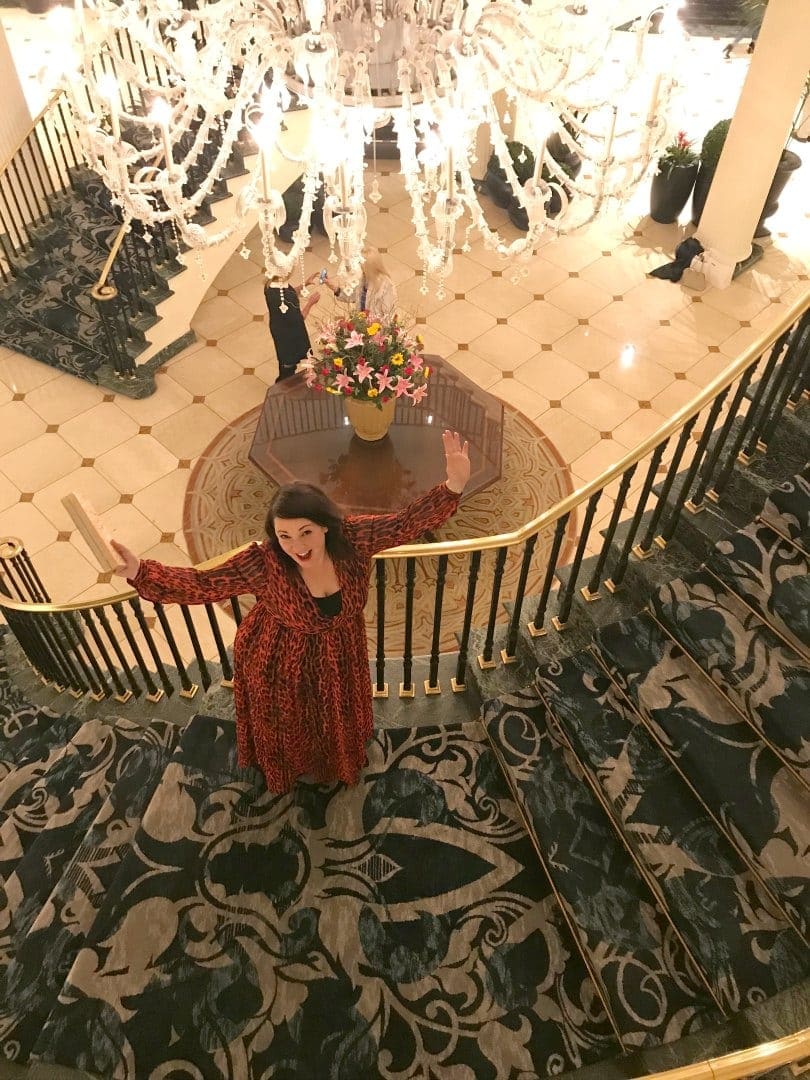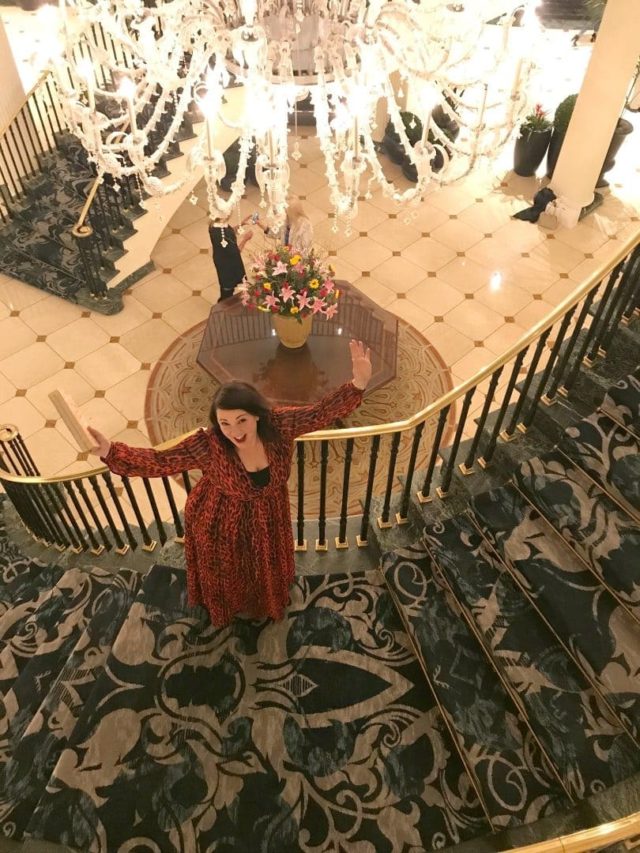 This maxi dress (no longer available, another cool one in plus sizes, and another cool one in straight sizes), my black knee-high boots, my wool coat, and a marble lucite clutch with my name on it that was a gift from ShopStyle Collective (similar).
Dinner at Felix Cocktails et Cuisine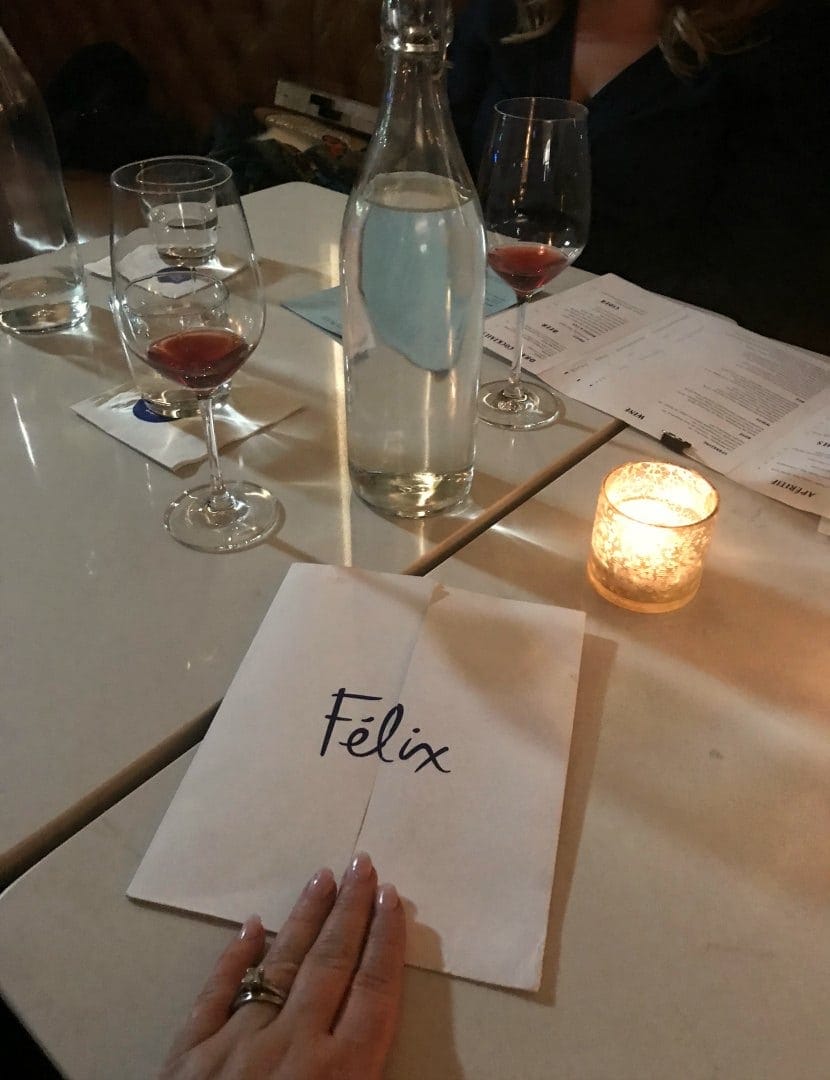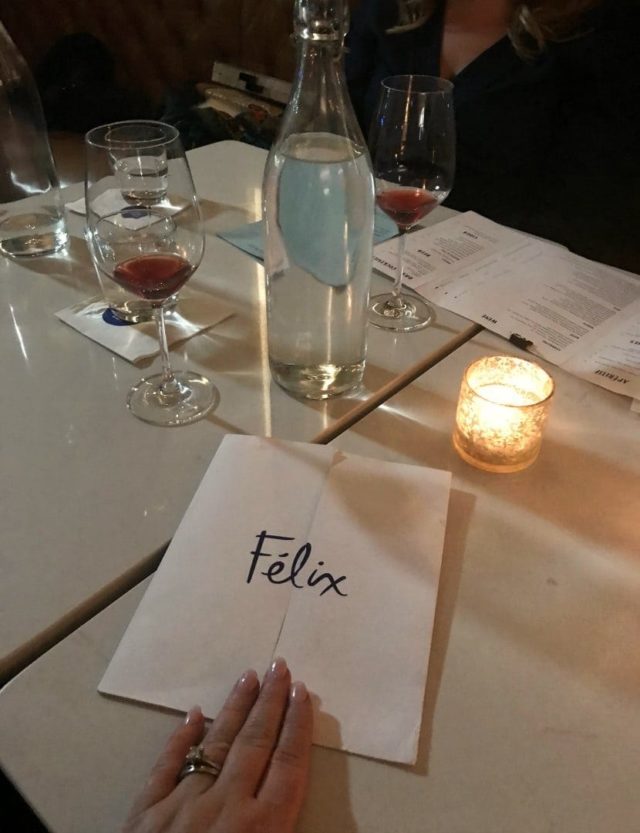 Our first reservation was at Felix Cocktails et Cuisine. Located right next door to The Ordinary, it's a chic destination with an open kitchen, small bar, and cozy tables. Perfect for a dinner with friends or a date. The menu is small creative plates of food, the staff is extremely knowledgeable and personable, and I felt terribly chic eating here.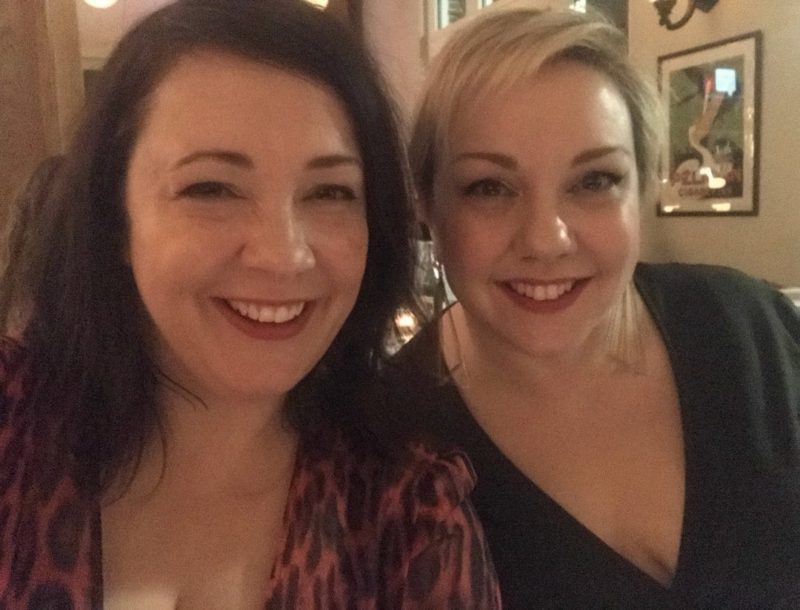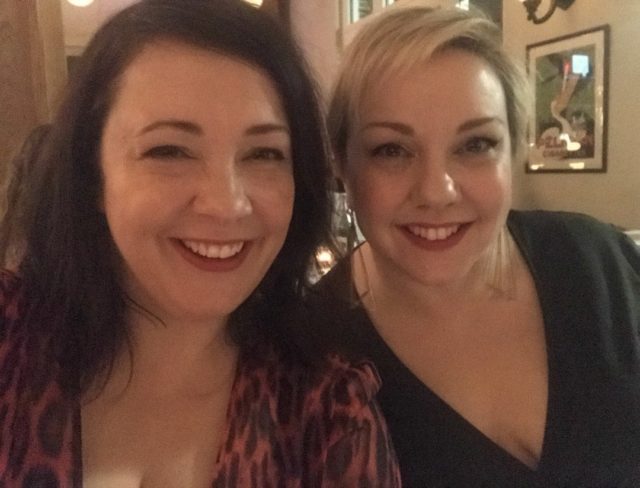 We ordered four different plates and shared them. Our waiter had great suggestions for what to order off the menu, and great suggestions on where to go out after our meal.
Dinner at FIG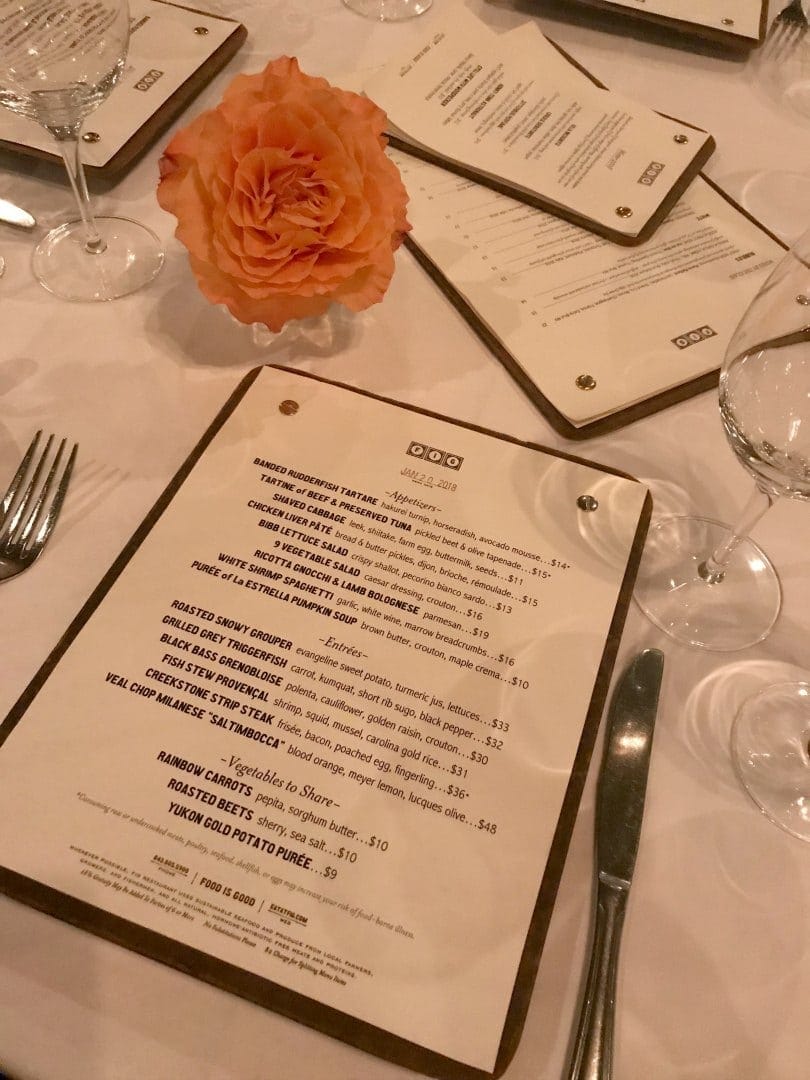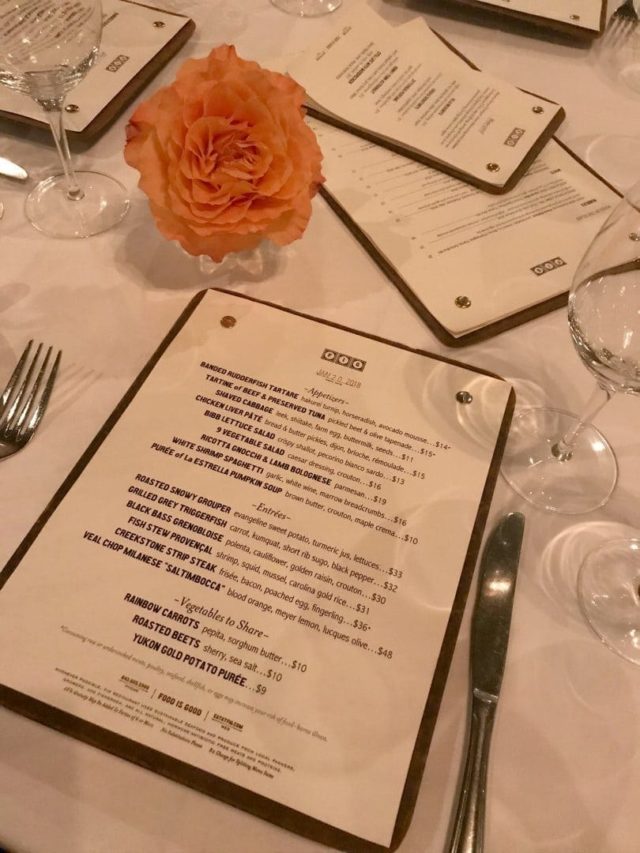 We left Felix and caught an Uber to our second restaurant, FIG. When I shared on Instagram Stories that I was in Charleston, over 20 of you told me we HAD to go to FIG. It was the first reservation I made before we even went because I heard how amazing it was. With a menu featuring local ingredients and changing with the season, FIG is an unassuming building on a corner that houses a warm, comfortable, yet beautiful restaurant full of fresh flowers and staffed by friendly knowledgeable staff. The menu is stamped with the date and offers a variety of appetizers, entrees, and soups. They have a varied wine list and waitstaff is great at helping you find the perfect meal and beverage for you. I had an amazing appetizer of gnocchi with a lamb bolognaise and my friends all enjoyed their meals. However, as the meal progressed, my sister started feeling under the weather. While we originally had plans to check out some of the bars and clubs our waiter at Felix suggested, we all were happy to head back to the hotel and get a good night's sleep.
Our Last Day in Charleston
Our friend from Chicago left at 4am to catch a plane so the trip ended with the original three. We didn't have a ton of time before our flight so we headed to the Palmetto Café in the lobby of the Belmond Charleston Place for breakfast. It opens at 6:30am and at least on the day in which we dined, they had breakfast entrees as well as an extensive breakfast buffet full of fruit, pastries, meats, dishes, and an omelet station. When you order coffee you have your choice of roast and you receive your own French press. It was a lovely meal and I bet would be even more gorgeous in warmer weather when the patio is open. We left our luggage at the front desk so after breakfast we grabbed our suitcases and a taxi and headed to the airport. I cannot wait to visit Charleston again, it's an awesome city!
Transportation in Charleston
Charleston is a walking city, we didn't rent a car and never wished we had one. While the Charleston airport has a shuttle and taxi stand, we found an Uber to be half the price and available almost as quickly. While in Charleston, we walked to most destinations but found it easy to catch an Uber for $5-$7 for any destination that was a hair too far (or our heels a hair too high). Do note the police do not let Ubers stop on parts of King Street so you may wish to catch your ride at a cross street. Our hotel offered a shuttle to the airport for $20/person. We were unable to find an Uber to take us back to the airport so we used a taxi which ended up costing us around $50.
Travel Tip: Before you go, see if the city you are visiting has Uber or Lyft, and Google some reviews. There's cities where you definately want to use one over another, and some major cities that don't provide either. Have the apps on your phone and connected to your credit card before you leave for your trip.
Fashion in Charleston
Honestly, anything goes. My friends and I are more the type where if in doubt we overdress but no one looked twice at us in maxi dresses and cocktail jumpsuits on my sister's birthday night. We saw sequins and denim side by side. It's a college town so there's plenty of short skirts and high heels but plenty of tourists and residents of all ages, sizes, and personal styles. We didn't visit a single restaurant where denim wouldn't be acceptable if at least styled with a nice blouse or sweater and boots instead of sneakers. However, I am always of the mindset of dressing up a little bit on vacation. It helps you get in a special occasion mood and you often receive better service.
You will be walking a lot. There's some cobblestone, but mostly smooth sidewalks. A pair of comfortable boots or loafers can get the job done but if you have foot issues go ahead and wear those sneakers, no one will notice or care. You'll get more sun than you expect; we got a bit even in January. Especially in the warmer months, wear a hat and sunscreen. This is a town where you can wear that sassy wide-brimmed hat when sightseeing and not look crazy pants. I carried my everyday bag without issue. There's plenty of places to grab a snack or a bottle of water and the city isn't gigantic, so there's no need to load up with supplies each time you leave your hotel.
Travel Tip: I've found if I don't have to carry my luggage anywhere, I don't try to fit everything in carry-on. Especially if it's a direct flight and Southwest (where you can check two suitcases for free) I pack a lot of options, check my suitcase, and go on the plane with just my carryon basics in a small bag. I do carry most of my liquids and a change of clothes in my carryon just in case, but I've stopped trying to be a minimalist when it's not required. It's nice to have options, especially if the weather or plans change.
Since we went when it was cold, I took my knee-length wool coat which looked equally nice with jeans and maxi dresses. I brought gloves but never wore them. A pair of knee-high heeled boots were my friend with maxi dresses in the evening as they provided warmth and were reasonably comfortable while still dressed up. During the day a light jacket or fleece is a good idea; while it was warm enough for a sweater or blazer and top in the sun it got pretty chilly in the shade and it was breezy.
This was not a work/blog trip. I did reach out to Belmond Charleston Place and ask for and receive a media rate (discount on the room only) in exchange for exposure on my social media channels. However, no other part of the trip was sponsored.
SaveSave
SaveSaveSaveSave