This article may contain affiliate links; if you click on a shopping link and make a purchase I may receive a commission. As an Amazon Associate, I earn from qualifying purchases.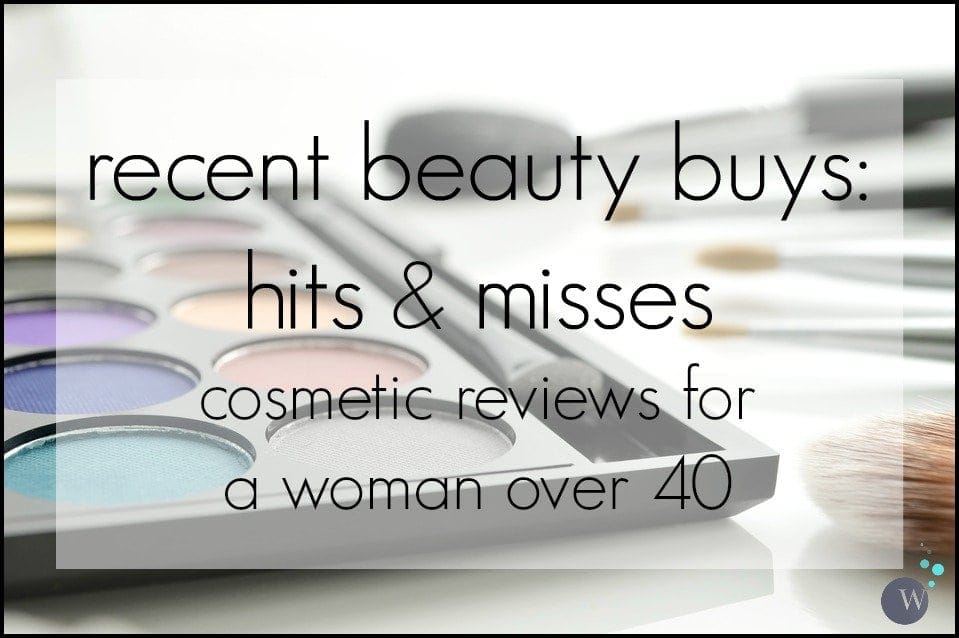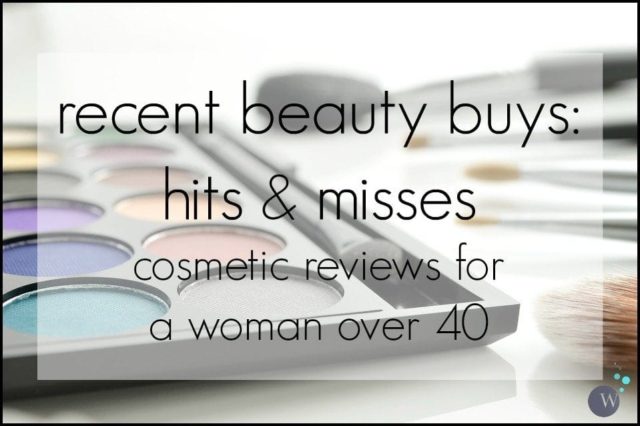 Every January, I get uber melancholy. I feel fat, I feel old, I feel tired, I feel stuck and stagant. There's something wrong with me, I need CHANGE! A tattoo! A haircut! Skydiving! A trip to a different country! But it's Emerson's birthday, then my mom's birthday, then my sister's. And this January had work changes – my department became part of a different division, moved to a different location, and had a very high-pressure project to complete.
Then my birthday happens on the 28th of the month and I realize it's not something wrong with me, it's just me getting older and putting too much pressure on myself to accomplish something that would look really impressive on paper. When I think about it, I feel pretty damn good about my station in life. I'm healthy, I'm happy, I'm surrounded by love, I have a good job, I have this wonderful blog… tons of blessings in life.
All I need is some new makeup!
So since I turned 30 and had these "woe is me my life sucks" feelings as soon as the New Year begins, I have battled it with a makeup splurge. When I turned 30, I bought my first compact of NARS Orgasm blush and a brush that wasn't from Target. Since then, I have used my birthday as a time to try something new and exciting in beauty. Through the year, I will budget for makeup, buy drugstore options, make do with what is in my dressing table before purchasing but for my birthday I buy that It Product that every vlogger claims is a gamechanger, the mascara that costs more than dinner, the primer that will make my pores disappear.
Shop The Items Mentioned in this Post:


While I have my beloved Mary-Lou Manzier from theBalm, I was looking for a highlighter that would be a liquid. Something I could put on under my foundation for very subtle dewy-ness, blend with foundation or tinted moisturizer, and have more creative control. I bought something from NYX, something from Revlon, and both made me look greasy so I decided to go high-end. This product from Becca gives me exactly what I was looking for.
While I have fair skin, I found the colors Pearl and Moonstone to be too light and obvious for daytime. I've been playing with the product and there's a lot of ways to wear it but I find the most success for everyday is to put it on after my foundation but before my blush. I squeeze the absolute smallest amount on the top of my hand and apply with a foundation brush to my cheek bones and blend. I then use my ring finger and dab a small amount on my brow bones and inner corners of my eyes, the cupid's bow of my mouth, and then if there's anything left I put it up at my hairline. It doesn't make me look glittery or shimmery, just dewy like I have happy hydrated skin. It looks more natural than my pressed highlighter (less shimmery) but it doesn't make me look sweaty or greasy. Applying blush over it helps blend it and also diffuse it; putting it under my foundation often blended it too much so it hardly showed. You really need very very little, one squeeze is often too much so I expect this bottle to last an extremely long time. Price is painful (though I linked to Amazon where it's far cheaper than Sephora or Ulta), but results are exactly what I wanted. Hit.
I watched a YouTube video that recommended this concealer for those over 40 because it blended so nicely and didn't emphasize fine lines. The video (can't find it now!) used the Sigma brush I mention below and it blended so beautifully I was mesmerized and immediately bought the pair.
And it does blend beautifully, especially with the brush. However, this is not a product to hide a pimple or a dark spot. It's a liquid, and it is sheer. I am using it under my eyes and in the inner corners to lighten the dark circles and reduce the appearance of the bags and for that, it's brilliant and doesn't look like I used concealer. It stays all day, it doesn't irritate, and it's a natural finish. Hit!
I have never used a brush like this for concealer. It's quite large and fluffy, I've always used a flatter and smaller brush for concealer, but then I have always used a cream or stick concealer. This brush made me feel like a YouTube beauty vlogger and I was floored that in my little makeup mirror I saw myself buff away dark circles and minimize the bags under my eyes.
If there's one beauty product I splurge on, it's brushes. I've tried all the cheaper brands that are supposedly as good as department store brands and they rarely are worth their cheap price. I have brushes from MAC and Trish McEvoy that are almost two decades old and still in excellent quality – you can only tell their age from the style of the handle. Brushes are something you don't have to keep replacing if you treat them well, so it makes sense to buy the best you can afford the first go-round. This brush is quality. The shape, the feel, the weight, the blendability… it's my first time buying a Sigma brush but it likely won't be my last. Hit!
I've been using NARS Orgasm for over a decade and while it's versatile and awesome… I find with age it has become too strong a color and too shimmery. A reader told me once her favorite is Sex Appeal, it's a softer, less sparkly Orgasm. I prefer a peachy tone to my blush so decided to give it a try.
This is daytime blush. It gives a very subtle flush, which is something I didn't desire at 30 but I do find far more flattering at 41. It looks extremely natural, as though I just woke up with this lovely subtle flush. Paired with the Becca highlighter, my skin is still 41, but it looks healthy and happy at this age. And speaking of brushes, my favorite for a flush of blush is the Bobbi Brown blush brush. Over the years I have accumulated a ton of blush, bronzer, and face brushes and I think the Bobbi Brown blush brush is the softest, best quality, and best shape to give the right amount of color for my face shape. Another hit!
I needed a new mascara, and I bought this thinking it was the one Phyllis reviewed and liked. Nope, different drugstore mascara in a yellow and black tube. But it seems to be the same concept – big thick spiky lashes but online reviews that say it actually works well for normal lashes that are just long and thick looking.
The plus: You really can get thick, lush, long looking lashes that don't have any hint of spider or Twiggy to them. Wipe the wand with a Kleenex the first couple of times, wiggle through the lashes while applying, and the effect is awesome. The mascara stays in place all day, even if you sweat or cry or rub your eyes.
The minus: This mascara doesn't want to come off. Coconut oil, Neutrogena wipes, old-school oily makeup remover, a steamy shower, even cold cream and you THINK it's all off, and then you wake up with crunchy sticky eyes and you washy again and think it's all off and then you put in your contacts and it feels like there's sand in your eyes and you take out your contact and it's coated in little black flecks. For me, the negatives outweigh the positive. Miss.
I'm always on the hunt for a lipstick that is my lip color but a bit more intense. Everything is always too orange, too purple, too pink, too something. I did love Laura Mercier's Sparkling Pink but it's discontinued (and Sarah I know you were going to get me one in the UK, I have my pile of magazines for you I haven't forgotten!) and I wanted something a hair darker. When I was in New York this summer my friend and beauty guru Sarah recommended Bite's Lipstick in Shiraz and it was the closest I had found to what I wanted (you can see it in this post, with NARS gloss in Viva over it), but still a bit too dark and too cool. I've liked NARS lipsticks, I have Dolce Vita and it's a bit too light so I went with Tolede, thinking if my blush is warm my lips should be too.
And Tolede is pretty fantastic. It's semi-matte, so it doesn't look dry and cakey but it stays on really well. And the warmer color isn't orangey or weird, it's like my lips. In fact it's a bit too much like my lips and I don't feel "done." I usually wear it with my 'Viva' gloss over it so it looks more purposeful, and the formula plays nice with gloss and stays in place. But I need something a hair darker and this tone or slightly cooler. Still looking… so this isn't a miss but it's not the biggest hit.
This is also a nice "my lips but better" color but it's a bit more shimmery than I usually like. I don't mind a gloss, but when it has shimmer and it's a soft pink, the look can be uber dated. I feel this is so pink and shiny I need to be careful when I wear it. It's also a heavy formula; when I put it on I can feel the lipstick, my lips feel heavy, sticky, and I feel more dried out after wearing it. Though I do wear this sometimes I'd have to say it's a miss.
I didn't buy this one. Lancôme was kind enough to send me this amazing box of products at the end of October and this lipstick was in there. I'm always on the hunt for a new red, and it was the first item from the box I tried. It hasn't left my makeup bag since. This is the red I am wearing in the "after" shots for my Clairol post and I've worn it several other times. Each time I wear it someone asks what lipstick it is. It's a pretty perfect classic red with a pretty perfect finish that isn't too matte, too glossy, too anything.
As for the actual product, this is what an expensive lipstick should feel like. It's velvety, doesn't dry my lips, doesn't feel like I'm wearing lipstick. It's not long-wearing, but it fades nicely and evenly so I don't end up with a red line around my lips. It smells like lipstick, which I like; it adds to the luxury experience. The case is divine; it's pretty and it has a magnet built in so the cap snaps on and stays on no matter what.
Have you purchased any recent cosmetics worthy of a mention (or a warning)?