This article may contain affiliate links; if you click on a shopping link and make a purchase I may receive a commission. As an Amazon Associate, I earn from qualifying purchases.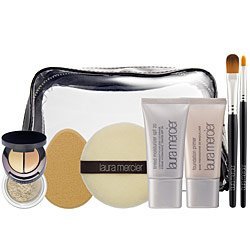 Laura Mercier Flawless Face Kit
– I bought this kit completely on a whim. I had used the Laura Mercier tinted foundation a couple of years ago and didn't like it. I found it to be a bit greasy and not really do much to change my skintone or complexion. The thing is, for years I have looked for products that would give me a truly flawless face – hide the circles, the bags, the zits, the redness, and pretty much give me a mask of perfection.
Funny how the older I have gotten the less I want to cover. Maybe it's the pregnancy, maybe it's taking better care of my skin, but I now find the heavy foundations to be fake and uncomfortable. I wanted instead to get a natural, healthy look. Laura Mercier
always receives rave reviews so I figured I might as well try the kit…
The kit includes
:
1.0 oz Foundation Primer (Step 1)
1.0 oz Tinted Moisturizer (Step 2)
Translucent Loose Setting Powder (Step 3 and 4)
0.21 oz Undercover Pot Shade #3
Secret Camouflage Brush
Camouflage Powder Brush
Velour Puff
Egg-shaped Sponge
This seemed super fancy to me, who usually works with foundation, one concealer and her ring finger. However I was in need of a change, and was loving the small sizes and good deal ($159 value, for $65).
The kit
comes with instructions, telling you how to apply each product, in what order, when to use the tools. The first few times I used the kit I followed the instructions to the letter. Once I got the hang of the line, I modified the routine to fit my time and needs. I have occasionally switched out products with non-Laura Mercier ones (L'Oreal foundation, Make Up Forever powder) and have had success.
So I guess you guys can tell by me wearing this kit almost every single day exclusively that I LOVE IT!!! No, I do not get a flawless face from this kit
, but my goal (and I think the kit's goal) is to give healthy, natural skin.
The Foundation Primer is not drying, gummy or greasy. I currently apply it with my fingers all over the face. It does seem to help the rest of the products lay better, and last a bit longer through the day. The Tinted Moisturizer has grown on me – it does give more color and coverage than the Cover Girl tinted moisturizer I used this summer, and doesn't feel greasy when combined with the primer.
The concealers are great colors for me – the darker one is a bit more yellow than my skin and almost the same tone I am (L'Oreal C3, Bare Escentuals Fairly Light). It is creamy, but not oily or too thin – blends great with a brush or finger (yes, I have returned to using the ring finger to dab on concealer). The darker concealer is used under the nose to hide redness, and around the mouth where I get occasional acne and have a bit of discoloration. The lighter color is perfect for the eye area – it's a bit more dry than the darker one, but still quite easy to blend without tugging the skin. It's a shade lighter than my skin, provides a very matte finish and can go on sheer or layer nicely for true coverage.
The powder is quite nice. I usually hate powders and find loose powders a mess. This one has a shaker container (just like Bare Escentuals); I tap it once on the included powder puff and it's enough to set the concealers and mattify half my face. Second tap, the rest of the face is set. I am not matte, powdery or ashy looking – the powder just makes it all seem satiny and finished.
No shock, the brushes are nice quality. I just am far better with my hands than with brushes. The sponge is egg shaped but flat, which helps with getting around eyes and noses. Other than that, it's nothing to write home about. The puff is soft and fluffy and gets the job done; I actually prefer the puff to a powder brush (my usual tool for applying loose powder).
I have been using this kit almost daily for a couple of months and I am not even halfway through any of the containers. I am tempted to order another one to have on hand for travel, but it doesn't seem as though this kit is a Limited Edition. All the products are small enough to be able to go on your airplane carry on bag, which I LOVE. The bag it comes with is big enough to hold the whole kit, plus your lipstick, shadows, mascara and pencils. It's also a well-made bag with a sturdy zipper and constructed of heavy plastic (no cheesy just-for-show bag here!).
The only con? It's not cheap. However I think the finish, the look, and the quantity makes it worth the price tag. I chose the kit in Sand and found it perfect for my skin (though almost getting a touch dark since I have almost completely lost the bit of tan I picked up this summer). But really, this kit is pretty fab. It makes makeup application understandable, the products have not caused any irritation or breakouts, it's travel friendly and gives my face a healthy look for many hours.