This article may contain affiliate links; if you click on a shopping link and make a purchase I may receive a commission. As an Amazon Associate, I earn from qualifying purchases.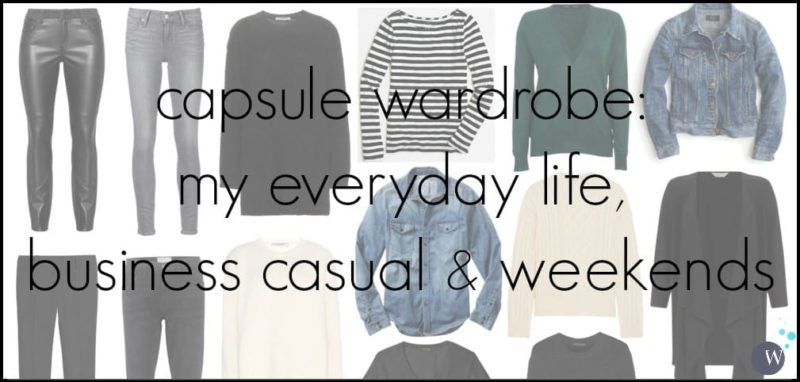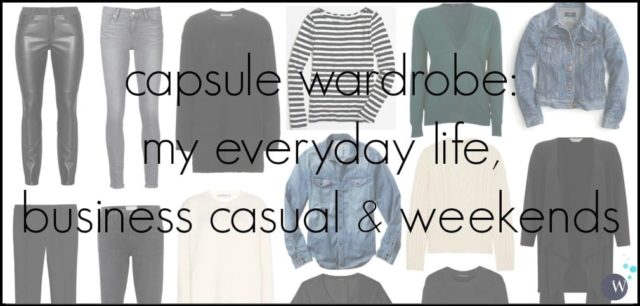 I've been noticing lately that while I have a closet full of clothes, I'm only wearing a few pieces on a regular basis. Without even realizing it, I have started dressing in a capsule manner. While I don't stick to only these pieces, 80% of the time you will find me in these clothes and if I had the desire to pare down completely, I think this mix would have me dressed for most situations that come my way. I work in a business casual environment that is okay with me being creative or relaxed in my style. Weekends I'm usually in Mom Mode, running errands and playing chauffeur. My social life is the occasional party or blogger event but usually a casual get-together at a restaurant, café, or friend's house where anything goes. This is for winter; as the temps rise I know the look will change drastically.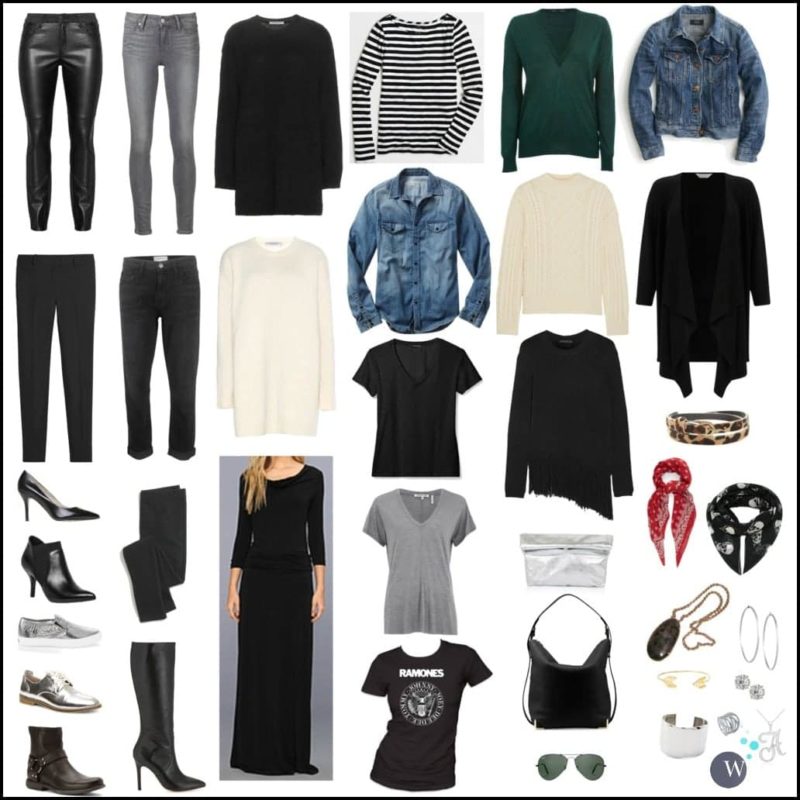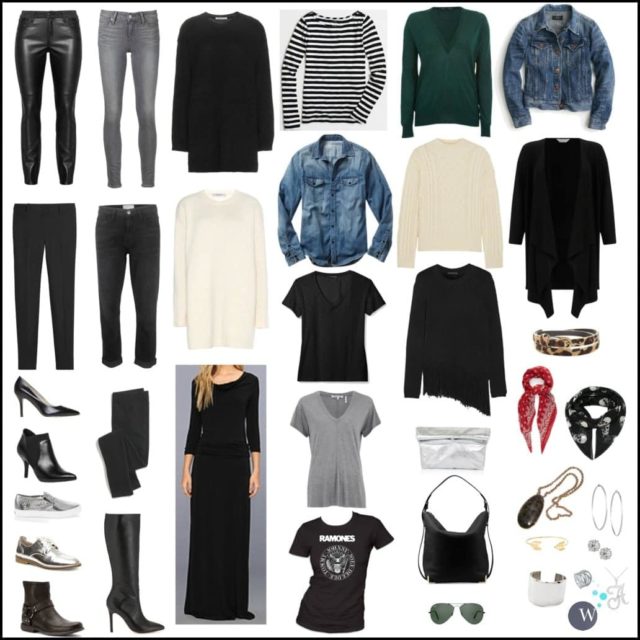 Leather-front ponte pants – Ann Taylor (years old; similar) | Black ankle pants – Banana Republic | Grey jeans – Gap | Dark denim straight jeans, usually worn cuffed – Gap | Black ponte leggings – Hue | Black cashmere sweater dress – Nordstrom Collection (old; similar) | Cream chunky knit sweater dress – Glamorous (sold out; similar) | Black knit off the shoulder maxi dress – Tart Collection (years old; similar concept) | Black and white striped tee – J. Crew Factory | Denim shirt – Gap (old; this year's version) | Black v-neck tee – J. Crew | Grey v-neck tee – Old Navy (years old; similar) | Band tee – had forever (similar) | Black cashmere and leather waterfall cardigan/jacket – Nordstrom Collection (old; similar) | Denim jacket – J. Crew Factory | Teal slouchy sweater – LOFT| Cream cable-knit sweater – Lands' End (old; similar) | Black fringe-detail sweater – Trouve | Black pumps – Nine West | Black ankle booties – VANELi | Silver slip-on sneakers – Superga (sold out; similar) | Silver oxfords – Bass (old; similar) | Black ankle harness boots – L.L. Bean (sold out; similar) | Black tall boots – Ros Hommerson | Silver leather clutch – Topshop | Black leather hobo bag – Rough & Tumble | Black aviators – Ray-Ban | Leopard calfhair belt – Ann Taylor (years old; similar) | Red bandanna – had forever (similar) | Skull bandana – Saint Laurent (budget-friendly alternative) | Gold and stone pendant – Stella & Dot (years old; similar) | Gold bracelet – Rebecca Minkoff (old; similar) | Silver cuff – had forever (similar) | Silver hoops – Amazon | Stud earrings – Ann Taylor | Statement ring – Amazon | Silver initial necklace – Etsy
(images are examples, exact items are linked whenever possible)
Capsule Wardrobe for Work
Since my work is relatively relaxed and they're used to me wearing some odd things, I can get away with leather-front pants and scarves with skulls on them. To balance more quirky of pieces I wear my makeup more subtle (no red lips or smoky eye on those days).
Leather-front Pants: These are slim, but with the back being made of heavyweight ponte and having pockets and the front having a proper fly, they aren't too tight or trendy for my office. I pair with the pumps or the ankle booties Monday through Thursday and on Fridays I sometimes style them with the silver oxfords or even the silver slip-on sneakers. On top, I've worn every single piece, keeping the denim shirt (untucked) for Fridays and then paired with the oxfords and silver jewelry so it's not too schlubby looking.
Ankle Pants: I usually wear these with the black pumps, though I have occasionally also paired with the oxfords. With the denim shirt, striped tee, and teal sweater I'll tuck in the front (half-tuck) and often add the leopard calfhair belt to make the look more finished. I don't wear the longer pieces (waterfall cardigan, fringe sweater) with them because it looks unbalanced on my short curvy frame.
Jeans: I wear both pairs with my silver oxfords or else my black ankle booties (I uncuff the dark jeans when wearing the booties). I usually keep the longer pieces with the grey jeans because they give a longer, slimmer line to balance the weight. With the cuffed jeans, I have half-tucked pieces as I have with the ankle pants, sometimes adding the belt. I have also slipped the grey jeans into the tall boots and paired with one of the longer sweaters.
Dresses: I never wear the maxi dress to work. It's off the shoulder, and I just don't think maxi dresses give off a professional vibe. The other two dresses, I wear to work with opaque black tights and either the tall boots or the ankle booties. The cream one is more oversized so I balance it with a heavy pendant and a more polished face and hair.
Tops and Toppers: The only top I don't wear to work is the band tee. I'm quirky, but as a manager and being over 40, I find the band tees look too try-hard and casual. If I worked in a more creative field, I may wear them with a blazer. With the other tees, I only wear the ones in the best condition; the grey tee is hardly ever worn because it is heathered grey and a vintage look and the black tee I wash on gentle and line dry to keep its rich color.
Accessories: I don't usually wear the red bandana to the office because I think it's a bit too casual (and those not familiar with fashion trends may find it strange or costumey), and I never wear the skull scarf if corporate will be in the office or I'll be working with clients. My day purse for work is the hobo since it can fit my lunch; when I need my laptop I add to the capsule with my Dagne Dover blue tote.
Capsule Wardrobe for the Weekend
Leather-front Pants: By switching out my shoes to the slip-on sneakers, these pants are weekend appropriate.
Ankle Pants: I don't normally wear these on weekends because I like to keep them fresh for work.
Jeans: I wear them with the oxfords, the sneakers, and slide the grey jeans into the harness boots (one could wear cuffed jeans with such boots but it doesn't look right on my legs).
Leggings: These are a heavyweight ponte legging with a tummy-slimming front. I only wear the leggings on weekends, and with the longer sweaters or the dresses. I usually slide them into the knee-high boots or the harness boots to have some weight to balance the skinny legs and longer sweater. I have been known to wear the cream or teal sweater, leggings, harness boots, and tie the denim shirt around my waist to cover my bum and not look so naked in leggings.
Dresses: I wear these dresses often on weekends; I'll pair with leggings and the sneakers, or tights and the harness boots. I sometimes wear the denim jacket over the black sweater dress. If I'm going out, I'll dress these up with the knee-high boots. I wear the maxi dress quite often on weekends, especially when hanging out with friends. At home, I wear it barefoot, going out I usually pair with my silver jewelry and the silver sneakers so it's not too fancy feeling.
Tops and Toppers: I don't wear the fringe sweater very often on weekends unless it's a social occasion since it's more delicate, but everything else goes. Sometimes my red plaid shirt makes an appearance for a pop of color; sometimes I wear buttoned up, sometimes open over a band tee, often tied around the waist with leggings. I didn't add it to the capsule because I realize I can get away without it.
Glamming it Up: The quickest way for me to make a look appropriate for a night out is adding the silver clutch and a stronger eye or lip. The silver clutch is soft metallic leather and has a rolled top like a lunchbag. It's trendy but big enough to hold anything I could need and tucks well under my arm. With my shorter hair, earrings have more impact and I find a smoky eye, silver hoops and cuff, a sparkly statement ring (this one comes larger than an 8!), silver clutch and my pumps will make almost anything in this collection pop. I do often veer from the capsule when there's a social event and incorporate silver heeled shoes or one of my printed maxi dresses.
Laundering the Capsule Wardrobe
The two sweater dresses, fringe sweater, and waterfall cardigan are dry clean only. I usually spot clean and wear layers underneath to spread out cleanings as long as possible.
Everything else is machine washable. To keep it looking nice, I wash all of it on the gentle cycle and hang dry. Saturday mornings, Karl teaches yoga. While he's gone I do my load or two of delicates and hang them all in the bathroom from the shower curtain bar. The maxi dress, I will hang on three hangers – one as usual, and then the skirt draped over two others so it doesn't stretch out. The denim shirt and band tees will sometimes go in the dryer because I don't mind them looking worn. The cream sweater will often go into a load of whites that has oxygen bleach to brighten it, then is line dried.
Dream Additions to the Capsule Wardrobe
I don't love the teal sweater, but it works for now. I do love the slouchiness, how it's not too heavy, and the color that works so well with everything. If I could replace it in cashmere or merino and have a richer color (this one has a heathered/vintage finish) it would be better.
I wish the denim shirt was a hair longer. I love the color, I love the Western-inspired style, but when worn untucked it hits at not the most perfect length. I've tried the men's version of the shirt but it is too long and straight. This works for now.
I would love a sweater in vermilion or orange. I'm torn between wanting something soft and cozy and off the shoulder, or a more versatile merino or washable fabric in a crew or v-neck.  I'm really digging off one shoulder these days, I think it's a great way to look casual, sexy, and on-trend without showing too much skin and since I have a relatively comfortable strapless bra, it's doable.  But it's not something I can wear to the office so if I want to stick with a capsule, I'd likely go with a v-neck.
I have this black ponte dress and this leopard ponte dress and love them both but for this capsule neither are quite right. The leopard one is a hair long to wear with any of the shoes in this capsule, and the black one is starting to show wear and is a bit too fitted for versatility. I'm not in the market for another ponte dress as I have these, but if I was going to do a true capsule I'd likely find a ponte shift above the knee with bracelet-length sleeves that was in something like indigo or dark teal which could dress up with black pumps, look stylish with tights and boots, or be casual with leggings and sneakers.
I bought my leggings in an XL fearing a L would be too tight on my legs but now I wish I got an L. They're too big. However, I can't justify buying another pair this season as leggings aren't a big part of my wardrobe and these get the job done. Since I usually wear them under layers, I've been wearing my leggings with my Beltaway and think I may just sew the waist smaller since no one will see it.
I wouldn't mind replacing the black v-neck with one that is metallic. I had my silver one and I wore it so often (still looking for a replacement) and I have a navy one that's nice (though would prefer one without a pocket), but I haven't found a black one that I like. A metallic tee, especially one with linen that's drapey, is surprisingly versatile and looks more polished than regular cotton.
I'm still looking for a replacement pair of tall boots, though the ones I have right now get the job done.
I have two leopard calfhair belts; one has a gold buckle and one has a silver and gold one. The silver and gold buckle is a bit goofy looking; I prefer the look of the gold one but wish it had a silver buckle since that's the metal I wear the most often. But really, the buckle is so minor I just ignore it when styling an outfit.
I wouldn't mind a black tux-inspired blazer. Not satin, but dressier than my Vince Camuto blazer and a bit longer in length. I have this one, but it's a 12 and too tight. I don't need one and I haven't seen one that really calls out to me so I have held off. But if I found one, I think it could be a very useful addition.
***
While I have a closet full of clothes, I do find certain things get more wear. By acknowledging that, I have been able to be more careful with my purchases, working off that core collection to create a hard working capsule wardrobe. I don't think a true capsule wardrobe would work for me – I'm a fashion blogger for crying out loud, clothing is my hobby, my creative outlet, and my part-time profession. But examining my wardrobe and striving to have more style with fewer pieces has really helped me see that living within a capsule wardrobe is possible and not at all boring!
Previous outfits: 1 | 2 | 3 | 4 | 5 | 6
These previous outfit posts do feature some of the pieces mentioned in this capsule; while I have worn this capsule a lot in everyday life I realize I haven't featured the outfits on the blog.  While I'll continue to have a bigger variety of looks on the blog, I will try each week to have one look from this capsule to show how the pieces work together and how the collection can be versatile for work, weekend, and beyond!