This article may contain affiliate links; if you click on a shopping link and make a purchase I may receive a commission. As an Amazon Associate, I earn from qualifying purchases. 
In 2013 I did fewer outfit posts, but they were more true to my personal style than the year prior. In trying to simplify blogging, I decided to dress for life instead of the blog, and take outfit posts when the stars aligned. It was a year of many early days at the office, and many weeks where I was pretty proud just to be wearing my clothes rightside-out. But the plus to all this is that there were outfits I documented that I recall fondly, and have as much a mark on my memory as a great night out with friends or a mind-blowing concert.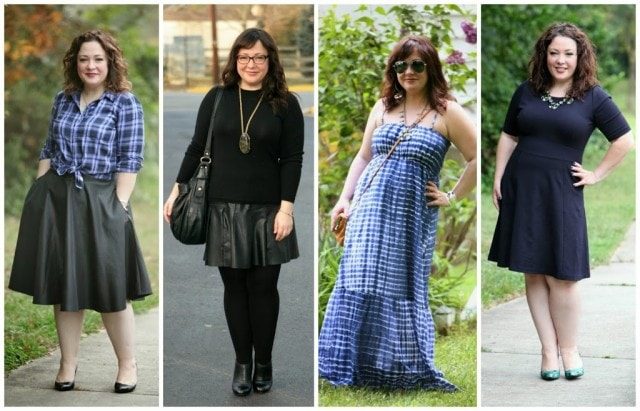 The New Style
I said I was going to simplify my wardrobe's color story with shades of black, gray, and blue. Many of you were concerned by this, but few of you noticed I really did trim down the amount of color in my wardrobe. While I would occasionally rock a colorful frock from Gwynnie Bee or a statement piece in a bold hue, I purchased almost no new brightly-colored pieces in 2013, focusing on the simpler color palette and choosing quality and interesting details. Be it a plaid flannel or a boho maxi dress, I bought far more blue than in the past, and was pleased by the results.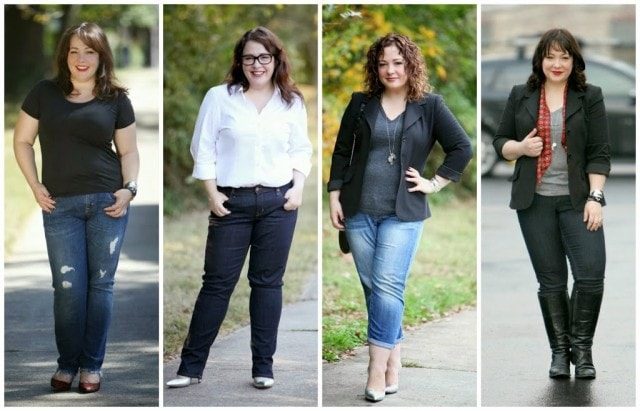 Blue Jean Baby
There was a staffing change at my company, and denim became a tad more acceptable on Monday through Thursday. I took full advantage of this and looked for ways to incorporate jeans into a work-friendly look. After many years of finding no jeans to fit, I had luck with Gap's Real Straight, which I purchased in dark rinse (ankle and heel lengths), and distressed. My Gap Sexy Boyfriend Jeans had another year of being well-worn, as did my NYDJ Hayden and Marilyn jeans, which slipped into tall boots quite nicely.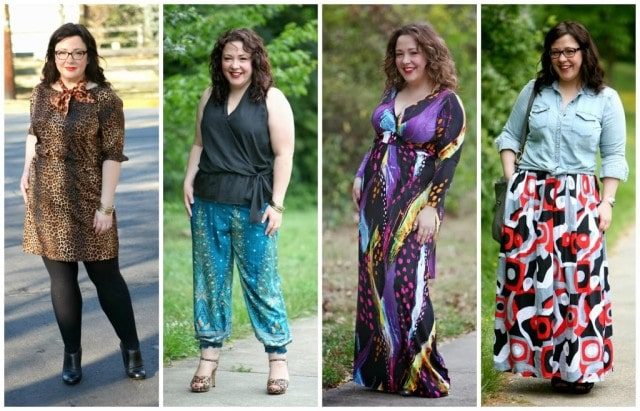 Fashion can be Fun!
Though I simplified my color palette and tried to purchase fewer pieces, I still had a ton of fun with fashion. The leopard MICHAEL Michael Kors dress was one of my best purchases from the end of 2012; I wore it to work, to blogging events, even out to dinner for my birthday. When I saw these harem pants at a street festival booth, I HAD to have them and wore them quite a lot through the summer and early fall. The crazy dress from Gwynnie Bee was a show-stopper and a reminder of why I love their subscription service. The maxi skirt was one of many purchases I made this year at Etsy, trying to support smaller businesses and show you don't have to hit the mall for fabulous style.
I look forward to 2014 in regard to my personal style. The blog has really helped me to see what I wear with fresh eyes, and help me balance my personality, lifestyle, figure, and age. I'm buying with more care, after a couple of years purchasing fun things that made me feel good, reminded me of my life before becoming a mom. But I've grown into my new life and love it, and want to dress it appropriately and with joy. And I'm glad you're here with me for the journey!
Follow Me | Twitter | Facebook | Instagram