This article may contain affiliate links; if you click on a shopping link and make a purchase I may receive a commission. As an Amazon Associate, I earn from qualifying purchases.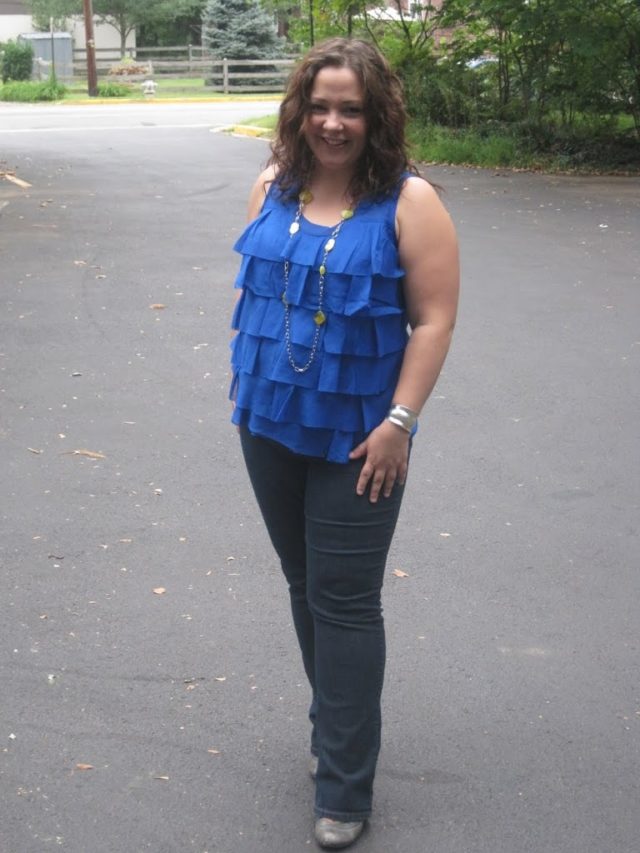 Happy Friday before Three Day Weekend! I am so excited for the weekend – Sunday our friends are having their annual Tiki party, and Monday I will be heading to my town parade with family and friends. The rest of the weekend is pretty open and I couldn't be happier about that!
Top – Ann Taylor LOFT
Necklace – NY & Co.
Jeans – NYDJ
Shoes – Miz Mooz
I am in DESPERATE need of new jeans. These are the only ones that fit me right now. And these are starting to get a bit thin and faded with wear. I am toying with getting another pair, but sort of want a more rigid/heavyweight pair of denim that looks more like classic jeans, but still has a trim leg and is straight at the ankle. On the hunt (as you will see below).
So yesterday I got two boxes of new clothes – my 30% off goodies from Gap/Old Navy and some stuff from Ann Taylor LOFT. Other than the ADORABLE new things I got for Emerson from Gap and ON, this may be the only thing that I keep.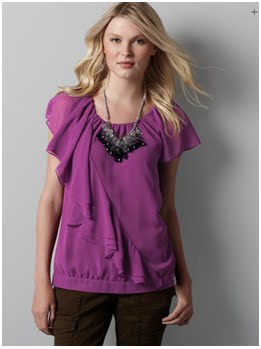 With LOFT, I am on the fence about this top – I don't know if it looks matronly or chic. It's a bit too blousy and the color is a bit too… girly for me. Not sure, will try again today and if I am still on the fence I will return it.
I also got the top I am wearing today in a blue and yellow print and it looks awful in the print – very matronly and boxy.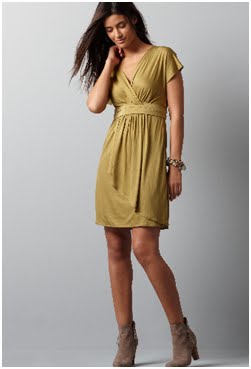 I got this dress and actually like the weird greenish-gold color on me, but the dress has too high of an empire waist so my boobs end up hanging over it. Also the picture doesn't show that the band around the waist is a self-belt made of a weird sateen cotton, while the rest of the dress is silky jersey. The self-belt is sewn onto the dress so can't be removed without a little pair of scissors and some care, and if you tie it in back like the photo, it would look messy. Making a bow in front isn't bad, but makes the dress look less my style and more fussy.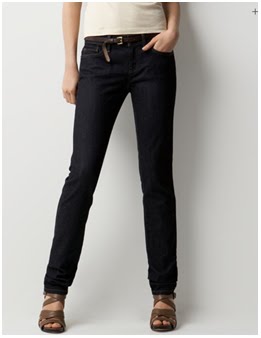 I also got these jeans. Yeah, can't even get them over my ankles. They are tighter than the jeggings I got from Old Navy.
Speaking of which, I ordered these from Old Navy in black and dark denim. Omigoodness, these are pretty comfy! I got the denim color in 14, the black in 12 and got both in ankle length. Last night when I got the boxes I only tried on the 14, and it's great in the waist – as comfy as regular leggings. The legs are also as slim as leggings, and the ankle length was perfect for me – a bit of gathering at the ankle, so not cropped but not dragging. The thing is, I have large legs. Leggings look a bit crazy on me because of my thick ankles, large calves, chunky knees and thighs. They don't look hip on me, they look more like what soccer moms would wear with Crayola-colored sweater tunics in 1986. However these could be pretty fab when it gets colder – I can totally see with longer sweaters, boots, lots of layers on top and sturdy boots or booties on bottom for balance. So right now I am holding onto them, and I do think I could wear a 12 in a couple pounds and may like the variety of the skinny skinny black look and the more jeans-looking dark pair. For less than $30 each, I am tempted to keep and think I could enjoy them. Again I will try them on another day when I am not hungry, tired and cranky. From Old Navy, I also got this belt in black and brown. It's just like my purple one that I wear all the time with my "Lilith Dress" from Gap and I adore that belt. The purple one I got in XL and it's a hair too big so I got these two in Large and they are fab!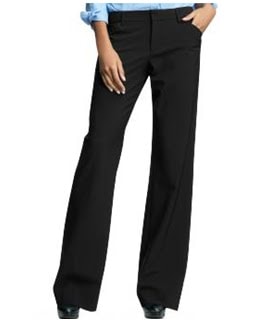 From Gap, I got their Perfect Trouser Pants. And yeppers, they are pretty perfect. They are a stretchy fabric with a slight bit of sheen – the type of pants that would be fantastic for work, or out on the town with the girls. Also the type of fabric that I bet can handle the gentle cycle of the washing machine, and the sort of fabric that won't wrinkle with wear. I bought a 12 Ankle and the length is perfect for my heels, though they waist is tight. They fit, I can zip them up and sit down, but they are too tight right now. I have pants that currently fit, and I know I will fit these in a few pounds, so I bought them for a month or so from now. I am tempted to also get them in gray, but will hold off until I truly am a size 12. So yeah, I will keep these but they won't be worn in the near future. And I have to say today's top looks really fabulous with them and will most likely be a Night Out outfit by Halloween time!