This article may contain affiliate links; if you click on a shopping link and make a purchase I may receive a commission. As an Amazon Associate, I earn from qualifying purchases. 
Fashion blogs are wonderful resources for fashion inspiration. Real women wearing real clothing from off the rack. It's far easier to replicate a look worn by your favorite blogger than to imitate the fashion of Sienna Miller or the latest spread in your issue of Vogue.
However, not all blogger fashion is flattering on everyone, and just as with shoots for your favorite glossy magazine – that which is in a photograph may not translate well into real life. As with fashion magazines, one must use fashion blogs for inspiration, but not gospel.
Recently, I have seen a few fashion trends that have been widely accepted by fashion bloggers. They are fun and a great way to mix up the wardrobe, but don't always translate well into the real world.
Layering
Bloggers will pair tall boots with knee socks and tights, a skirt, an oxford, a sweater, a blazer, a scarf, and a belt. Maybe the fashion blogger will cuff the blazer so the sleeves of the sweater and shirt are highlighted, the scarf looped around their throat with the collar of the oxford peeking out at their chin. The layers look amazing, the combination of textures and colors are inspiring and fresh.
You're motivated, and head to your closet. You pull out that button-down shirt that gaps at the bust, knowing it won't be a problem under your merino v-neck. You grab your navy twill blazer that always looks a bit frumpy when worn with a simple shell, your denim skirt, those argyle tights you haven't been brave enough to wear, your Frye Harness boots and a pair of gray cashmere knee socks. Put it all on, and top with a red skinny belt and that amazing scarf you got last Christmas from your Aunt.
You look like a combination between a homeless woman and Ralphie's brother Randy from A Christmas Story.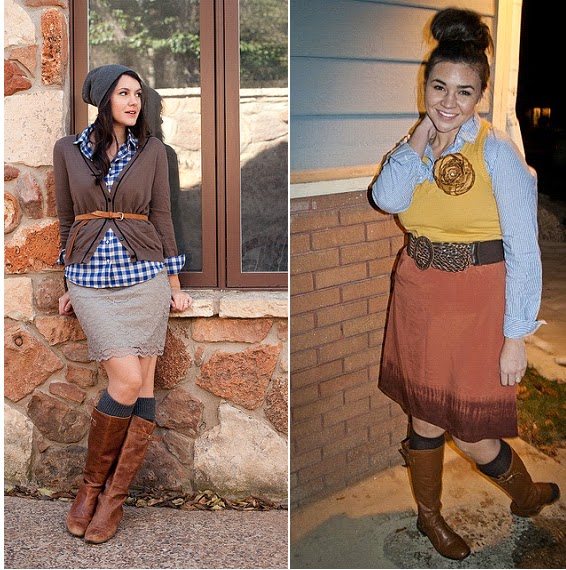 It's okay, it's not just you. Many women can't carry off layers and look as lovely as Kendi Everyday or Sarah from Wearing it On My Sleeves. I can't. I have large breasts and full upper arms and a short neck. I too would look like Randy from A Christmas Story if I wore more than two layers. It's okay – it doesn't make us flawed and it doesn't mean we can't learn something from their personal style.
If you can't carry off multiple layers, you can still find inspiration from the look of layering. I love wearing a pashmina or scarf at my neck – this will give the look of layering without the bulk on my torso. An embroidered scarf with a smooth sweater, a silk patterened scarf tucked into the neckline of a crisp oxford – you are still getting that combination of patterns, textures, and color but you're working with your own personal figure.
If you are petite and/or curvy, you may find that layers shorten your figure. To elongate your legs but still want the layers for warmth, consider having your layers all in the same color. If you have black tights and black boots, your legs will look longer and slimmer than if you have multiple colors. I have wide calves and know that the tights with socks with boots look is NOT good on me. To stay warm I still wear all three, but just have the socks short enough that they are hidden by the shaft of my boot.
Colored Tights
Visit the We Love Colors Friends blog and you will see tons of gorgeous fashion bloggers showing off their personal style incorporating candy-colored tights. Fashion bloggers are famous for taking a very simple, muted outfit and adding pop to it with legwear in ruby, garnet, emerald, or amethyst. What a great way to jazz up your old LBD and a pair of black shoes? You follow suit and buy yourself some tights in mustard, teal, and magenta.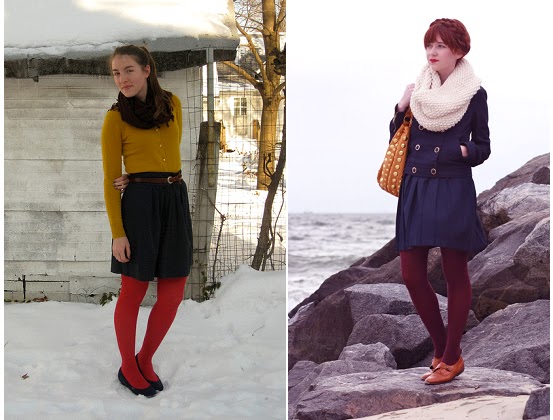 Tania of What Would a Nerd Wear or Rebecca from The Clothes Horse ROCK the colored tights look. However I have many a time seen a woman on the street who has colored tights on, and it just looks bizarre. The other day, a woman was next to me, waiting for the light to change so she could cross the street. She had on a black wool coat, a brown plaid pleated skirt, bright pumpkin-colored opaque tights and brown T-strap pumps. Sounds cute? Well in real life, those orange tights looked a bit strange and cartoon-like and totally took away from the adorable shoes (and possibly the rest of the outfit hidden under her coat).
This doesn't mean colored tights don't translate well into the everyday – it just means you need to assess your entire look. When you look at yourself in a full-length mirror, what do you see first? If your tights are screaming for all the attention and you don't notice your lovely face, your amazing dress, your fabulous shoes… maybe the tights aren't the best choice. Accessories are created to accentuate and improve your look, not steal the show. A colored tight can really make pieces a true ensemble, you just need to take into consideration your personality and your wardrobe – it will help you realize if fire engine red is perfect, or if you would look better with a dark maroon.
Unexpected Pairings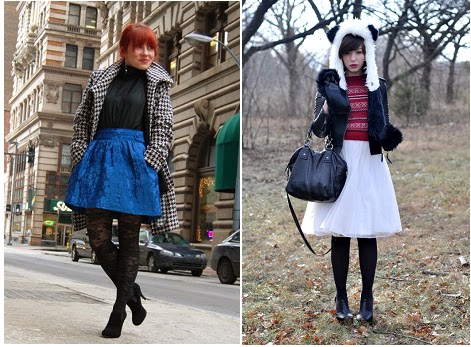 Keiko Lynn or Terra at Stylish White Female are amazing examples of beautiful women with a true knack for pairing the unexpected. Lace tights with a plaid skirt? Check. Floaty cocktail dress with biker boots? Check. These fearless fashion females know their way around their wardrobes, their figures, and their personal style and can mix and match like nobody's business.
This doesn't mean that in everyone else's wardrobe anything goes. I often see fashion bloggers try to replicate these looks and instead of looking modern, they look as though they got dressed in the dark. Mixing textures, fabrics, and genres is an art, and it takes time and practice to perfect it. The best way to incorporate this concept into your personal style is to start small.
A great way to start with this concept is to layer a tough jacket over a sweet dress. A biker jacket with feminine lines is a great piece to get this effect – it can be paired with a simple tank and jeans, but also will look quite nice with a sundress with a full skirt or a frilly frock. See how it looks, and really assess how you feel in this combination. If it feels more like a costume than an ensemble, that's okay. But if you feel good in it – take it to the next level. Try a pair of biker or cowboy boots with a classic sheath, or for your next night out on the town switch out the black top and dark jeans for a silk camisole and a leather jacket, or even a corporate blazer with a frilly shell. With time and experience you will soon be rocking multiple fabrics, textures and genres like a pro!
Belting Everything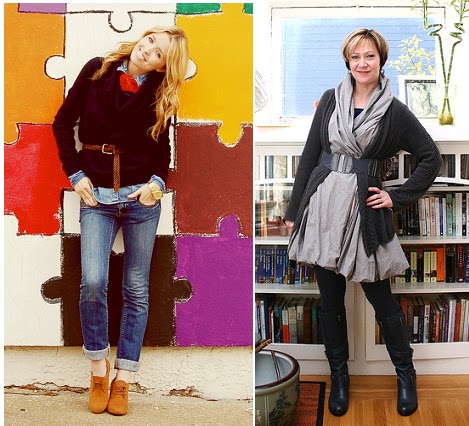 Sydney at The Daybook is the Queen of the Belt. She is able to make any outfit look cohesive with a bit of nipping and cinching at the waist. She makes belts seem effortless and a necessary accessory to pull together an outfit. Audi at Fashion for Nerds is another Queen of the Belts, but she rocks belts in a completely different, but incredibly awesome and stylish manner.
Yesterday when I was getting dressed, I thought of Sydney, Audi and the other fashion bloggers who rock the belts with unexpected outfits. I tried a vintage brown leather belt over my gray merino and denim pencil skirt – I thought it would tie in my boots and show off my shape.
I looked as though someone belted a pillow. It was all wrong. The sweater pleated and bunched, bloused out and made me look thicker and shorter than I already am. I decided it was the belt and tried a wider belt, a more narrow belt, a woven belt. All were wrong, wrong wrong. I went sans belt and was a better and more stylish woman because of it.
This doesn't mean I (or you!) can't switch up a look with a belt. You just need to know your belting limitations. Try belts in different widths and materials, and also try them at different locations on your torso (I am partial to a wide elastic belt right below the bust – hits at my smallest part and makes my legs look long). A certain belt may look amazing with one outfit, and ghastly with another. Play around with accessories… and if you aren't one that looks beautiful when belted – it's okay. Not every woman looks good in every trend. Rock those you can rock, and leave the belts to fashion bloggers like Audi and Sydney.
Shorts in Winter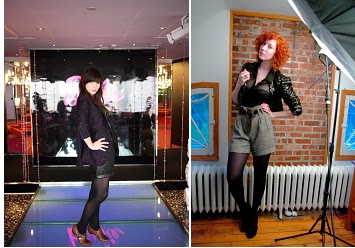 Oh the winter short – it has been available for the past couple of years. Tweed, wool, distressed denim and this year leather, paired with tights or patterned stockings it can be utterly chic. Claire from Faboo and Le Blog de Betty are two fashion bloggers I think of when I think of winter shorts. Both of them make the look so lovely and effortless.
Last week I was shopping and came upon a woman in winter shorts. She was petite – short, slim, adorable. She was wearing a cream ribbed turtleneck sweater, brown tweed cuffed shorts, brown textured tights and brown ankle booties. She looked as though someone ate the legs of her trousers.
Like mixing textures and genres, it is a fine art to master the winter short. It's all about proportions – the right length and fullness for your figure, the right pieces with it, the right location. One misstep and you look as though your upper half is in Minnesota and your bottom half in Miami.
As with any other trend, start small and conservative. A black wool short with black tights and black sleek booties will give a nice cohesive line and the focus won't be on your shorts, but your ensemble. Again, wear this look and see how you feel. Do you feel ridiculous, or do you feel fierce? from here you can develop your winter short skills with colors and other fabrics (I personally love the leather look!).
What is your favorite trend that you learned from a fashion blogger? Have you been able to incorporate it into your personal style?