This article may contain affiliate links; if you click on a shopping link and make a purchase I may receive a commission. As an Amazon Associate, I earn from qualifying purchases. 
Beauty products are fun. It's always exciting to tear open your bag from CVS, Ulta, or that box from Sephora and play with your new stash of goodies. I have a drawer in my dressing table, and each morning when I open it, I feel as though I am looking at a toy chest. Will I do a smoky eye today? A flushed cheek? Maybe just a lip stain. The options are endless!
If you feel this way, you probably also encounter what I often do – buyer's remorse. That metallic teal liner that you have never worn, a foundation that the folks on Makeup Alley say is near-Holy Grail but makes your skin look sallow, a moisturizer that made you break out, a curl defining cream that make you look as though you instead bought a Jheri Curl.
When I find an item that not only is used to completion but deserves to be re-purchased, it's a time to celebrate. Below are items that I have either recently re-purchased, or purchased and love so much, I know I will be buying a replacement as soon as this one is empty!
Skincare:
Ole Henriksen Pure Perfection Night Crème

A couple months ago, I purchased some almond oil
after reading online that it can help condition and strengthen lashes. I applied it at night, and one night I applied it all over my face in place of regular night cream. I went to bed with a greasy face, but woke up with soft, plump, happy skin. I decided to make a switch from my meh night cream (freebie blogger swag not worth mentioning) to almond oil.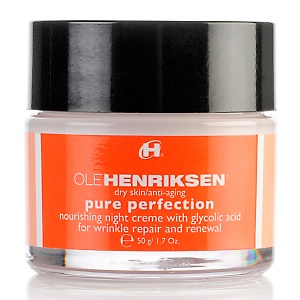 As the weather got colder and dryer and more mean, the almond oil wasn't cutting it. I was getting the dry irritated skin under my nose, waking up with a tight face, and my skin looked a bit haggard. Right when I was losing the almond oil love, I read this post on Capitol Hill Style. As soon as I finished the post, I ordered myself a tub of Ole Henriksen's Pure Perfection Night Crème
. As that I ordered it on Amazon
and have Prime, it arrived two days later.
I have been using this cream since Christmas Eve and have seen a marked improvement in my skin. When I wake my face doesn't feel greasy, nor is it tight. The red, dry, irritated winter skin I get under my nose and around my mouth is history. My skin feels soft, and has a nice glow to it that is unusual to see during the coldest and darkest part of the year. No breakouts, no irritation, just happy comfortable skin that looks a bit more youthful.
The formula is thick, but not heavy. A little goes a long way, so I will have this orange tub in my medicine cabinet for many months before it needs a replacement. It is to be used on the entire face – even the eye area (recommends Ole Henriksen's eye cream
OVER it, five minutes after application of the night cream – I am using up the eye cream I currently have). So far, so good. This is my first time trying Ole Henriksen's line but after this experience, it won't be my last.
Roc Retinol Correxion Deep Wrinkle Daily Moisturizer – SPF 30

When I ordered the Ole Henriksen night cream
, Amazon suggested I also try this moisturizer for daytime
. I hate to admit this, but I have been living off trial-sized moisturizers that I have gotten as swag, samples with my Drugstore.com and Sephora orders, etc. I know Roc gets pretty good reviews for having a good concentration of retinol, and I loved that it was SPF 30. What the heck, I added it to my Amazon order.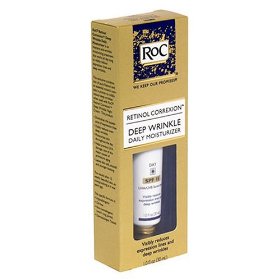 I really like this cream. It's thick, but it soaks in well if you take your time. A dab on the forehead spread around, a dab on each cheek, a dab on the chin, some for the neck and décolleté and blend in. After just a couple minutes, it is soaked in and you can apply your makeup without issues.
Since I started using the Roc moisturizer
the day after starting the Ole Henriksen cream
, I can't really tell how much of an impact it is making. My skin feels more hydrated than it was with my other random moisturizers, yet my makeup doesn't slide off my face. No breakouts, no irritation, no redness. I think my skin looks better than it did a couple weeks ago, but again not sure if it's the night cream, this moisturizer, a combination of the two, the removal of holiday stress, or just using a new regimen. Even if the retinol isn't helping with dark spots, dryness, and wrinkles, the moisturizer is a wonderful consistency and seems to agree with my face more than any other moisturizer I have used. It feels luxe, as though it would cost much more and not be a drugstore brand.

Makeup:
Almay Smart Shade Anti-aging Makeup SPF 15

I bought this in June on a whim. Loved it. You can read my original review here. When my tube ran out, I bought another. And last month, I purchased my third tube ( I wear Light/Medium
year round).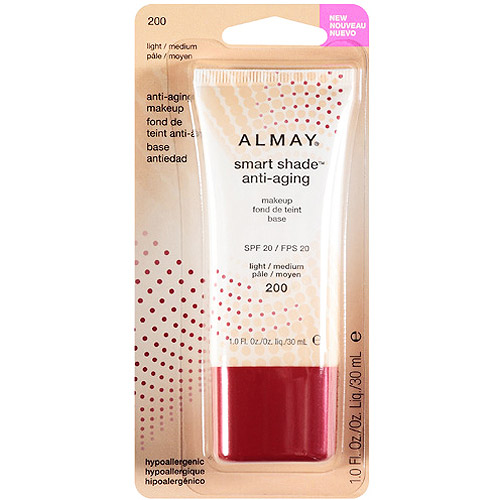 This foundation
really does change to match your skin perfectly. If you don't blend well you may end up with weird little tan streaks, but I use very little and blend well and it completely disappears, evening out my skin better than any tinted moisturizer, but doesn't give as heavy of coverage as a traditional foundation. It sits right between both types of products, doesn't irritate my contacts-wearing eyes, wears well all day, doesn't cause breakouts and I can practically apply it with my eyes closed and know it will look great.
Laura Mercier Secret Camouflage

This is my Holy Grail of concealer
. Other brands need not apply. I tried Laura Mercier concealer for the first time when I bought her Flawless Face Kit
. I loved everything in the kit, but OBSESSED over the amazing concealer. Before I even finished the travel sizes in the kit, I bought myself a full-sized version of the Secret Camouflage
.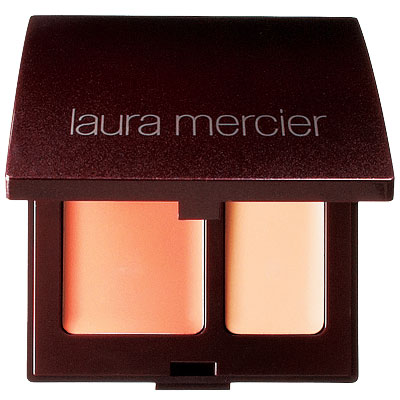 I wear SC2
– it is one shade a bit lighter than my complexion, one a bit darker and more yellow. I can mix them together for a custom color – I use the light around my eyes to cover dark circles and it blends great, doesn't tug at my skin, doesn't look ashy, and really helps hide most anything. The darker color is great for covering zits, redness around the nostrils and these weird little stretch mark-like thingies at the edges of my lips. I use my ring finger so it warms the concealer and makes it easier to blend, but I have also used a small brush to tap a little concealer on a blemish and make it hide well under foundation. When I have time and it's a special event, I will use my Laura Mercier concealer brush
to lightly apply and layer the Secret Camouflage
and this will give really amazing coverage without looking obvious.
I am almost finished with my second compact of Secret Camouflage
(first one purchased early on in pregnancy with Emerson – a compact lasts over a year) and am tempted to buy another already so that I can have one in my purse for post-work touchups. When people comment on how rested or young or fresh I look, I always tell them it's thanks to Laura Mercier!
DiorShow Mascara

I have tried Maybelline Great Lash
and don't get the hype – it separates and doesn't clump but it hardly makes any impact. Lancome Defincils
isn't bad, but it's nothing to write home about. Benefit Bad Gal
is meh. Tried tubing my lashes with Blinc Kiss Me
and wasn't a fan. Tried Lash Blast
, Voluminous
, 2000 Calorie
, Falsies
and found them good, but not great.
I want lashes that stand out. I want them thick, lush, dark, long, luscious. Even for day, I want my lashes to make some impact.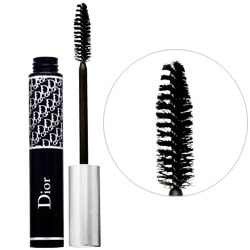 I buy the newest "sooo amazing, like false lashes!" mascara… and then I go back to DiorShow
. DiorShow is expensive, and I can't just pick it up my next time to the grocery store or Target. A tube of DiorShow doesn't last as long as other brands – it seems to dry up faster. It has a pretty strong rose scent – not an awful scent, but I prefer my makeup to smell like a whole lot of nothing.
However it goes on great – no flaking, no clumping, no irritating my allergy-prone and contacts-wearing eyes. It's thick, coats each lash, makes them really thick and gorgeous while separating and elongating. It wears all day and gives me the look I crave.
DiorShow
is worth it. I do balance it out by using a drugstore brand for day (currently using Maybelline Falsies
) and saving it for more special occasions, but I can't find anything to replace or compare.
Revlon Colorstay 12 Hour Eyeshadow Quad in Neutral Khakis

This isn't my second time buying this, or even my third. I am currently on my FIFTH palette in this exact color story
. It really is THAT good.
The ivory shade is matte and makes the perfect highlighter. I apply it with my ring finger to my brow bone and inner eyes to make me look awake. The khaki has a gold sheen that is still very wearable during the day. It is an excellent basic lid color to be worn on its own or as a base for other colors. Wet it and it's a brassy shade that is really fun for evening. The olive is extremely wearable and I have often done an olive smoky eye with this shadow. Again, wet it and it makes a more intense color (and can easily replace liner). The brown is a lovely chocolate with very little shimmer to it. When I lost my brow color on the Metro, I have been using this and think it's a perfect fit. It also is a great color for contour and when wet, can replace a liner.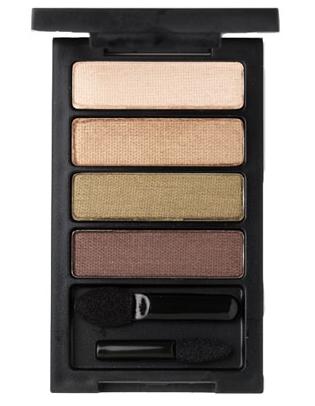 My standard day eye is with this palette
. I apply the ivory with my finger to brow bone and inner eyes. I then use my Trish McEvoy Brush 45 to have a soft wash of the khaki over my lid. Trish McEvoy Brush 29 dips into the chocolate and I swish it back and forth into the crease of my lid and in the outer corner of my eye. Finally I take my Trish McEvoy Brush 41 and swipe the chocolate lightly along the lash lines. And then as mentioned, I also use Trish McEvoy Brush 32 to feather the chocolate into my brows to fill in the sparse parts.
The khaki color seems to crumble very easily and it is usually gone before any other color. However the rest of the palette is near-perfect, lasts until you hit metal, and the compact is well made and can handle being toted around in a bag without cracking or popping open. And finally, it really DOES last for 12 hours, even if you are like me and constantly rubbing and fiddling with your eyes. Major major win.
Trish McEvoy Brushes
I almost didn't mention these because I have only purchased them once. But the sign of a quality makeup brush is that you DO only need to purchase it once, and you never lack for a different brush.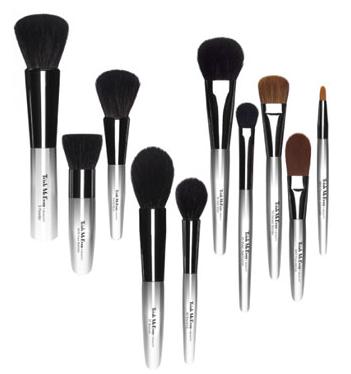 In 1998 I treated myself to a makeover at the Trish McEvoy counter in Nordstrom and went a bit buck-wild. I left with a ton of brushes. To this day, I still use every single brush they sold me. The brow brush is perfect – not too stiff, not too soft, fills in brows without leaving obvious lines. Brushes 45 and 29 are my LIFE – they will make cheap shadows look expensive and give the perfect wash of color (brush 29 seems custom made for the crease in my lid, though I have talked it up to friends who have also purchased it and feel it was actually custom made for THEIR eyes). The M20 Face Blender is a perfect blush brush that captures the apples of my cheeks without making me look like a Dolly Dingle Doll. Brush 11 is a great way to take a dark shadow and make it a liner – it really is able to wiggle into the lash line for a very clean, precise look.
The brushes are well shaped, feel good in the hand. The bristles are animal hair, and tightly clamped to the handle and never shed. I wash them with baby shampoo and let them air dry and 13 years later are still like new. Trish McEvoy makeup brushes aren't cheap, but if you don't need to purchase another brush for over a decade – it's money well spent.
Haircare:
Frederic Fekkai Luscious Curls Cream

I am on my third tube, and that says a lot. Those of you with hair like mine probably have had medicine cabinets like mine overflowing with creams, pomades, sprays, gels, balms and lotions all claiming to be able to take limp wavy hair and make it into soft, shiny spirals. Many work… for a while. Most fail, making hair greasy and heavy, or crispy.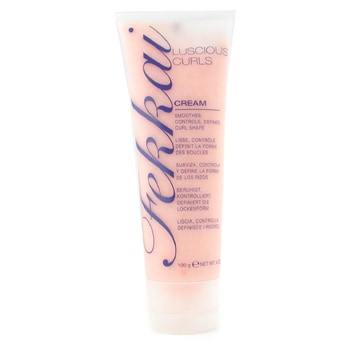 Frederic Fekkai's Luscious Curls Cream
succeeds IF I let me hair air dry. If I wash and condition my hair, apply a marble-sized dollop to my hair, scrunch and leave it alone, I end up with beachy waves and pretty spirals. The wave and curl lasts all day and often looks even better after a good night's sleep. No heavy smell, no greasy locks, and surely no crunchy crispy ramen noodle locks.
However if I try to speed up the process with my hair dryer (even with diffuser and on low heat) I end up with really awful hair. It's greasy, limp, frizzy, and looks as though I am Jon Bon Jovi circa 1984.
Bodycare:
Neutrogena Body Oil

I am addicted to this stuff. I used it in high school, but soon switched for various creams and lotions and potions from popular college stores like The Body Shop and Bath and Body Works. When I graduated from scented lotions to actual perfumes, I switched to very general lotions from the drugstore (hello Lubriderm
).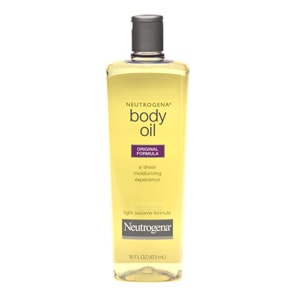 I believe pregnancy brought me back to Neutrogena Body Oil
. My nose was extremely sensitive, and I had PUPPS causing me to seek ANYTHING that would stop the incessant itching. Neutrogena Body Oil
has a very light fragrance (believe it is sesame but smells like honeysuckle to me) that doesn't compete with my Burberry London
, but still seems to calm me and make me feel fresh and feminine. The oil seeps into my skin beautifully and I get a bit of a Mandy Moore-like sheen. I glop it on and put on my terry robe and give it time to soak in and my skin is forever thankful.
Once I decided to try out the CVS brand. Ew. The fragrance is NOT the same. If I could get linen spray and candles in the scent of Neutrogena Body Oil
, I would. It feels and acts and smells more luxe than you would expect from Neutrogena. The body says it is, "A sensual experience" and I would have to agree.
Dove Ultimate Beauty Care, Original Clean Deodorant
and CertainDri

I don't want to smell like a baby, a cucumber, a grapefruit. I don't want to smell like someone else's idea of energy or spirit. I also don't want to smell like sweat. I sweat very easily, and need a product that will not only deodorize, but also slow down sweat production. I have so many brands of deodorants and antiperspirants – too many to count. I have found many work… for about two weeks and then stop. Many more irritate my skin. Almost all, once I get a bit warm start smelling so strong I get nauseous and it overpowers my perfume.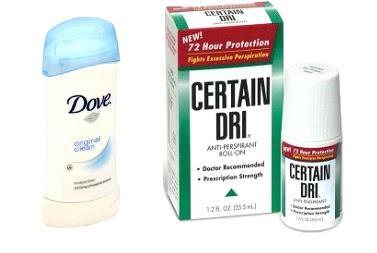 I finally found the perfect combination. Most nights (when I remember and am not too exhausted) I apply CertainDri
. Then I use the classic Dove Deodorant
in the morning. With this combination, I don't smell, I don't get red and bumpy (don't use CertainDri
after shaving), and I don't smell like fruit, flowers, chemicals, or teen spirit.
Dove
DOES have a smell, but it sort of reminds me of the scent of Neutrogena Body Oil
– very light, fresh, feminine, subtle. I prefer it over the unscented version which I don't think works as well and has a weird unscented sort of chemical smell.
As for CertainDri
, it is the only thing I have found that really helps with sweat production. It doesn't stop it all together, but it keeps me from having wet blouses and helps with odor. Sometimes it will sting a bit when applied, but that's usually because I put it on too soon after shaving or showering, or it's the end of the bottle and uber-concentrated. I have used it off and on for years without any issues, and especially find it a Godsend during humid sticky DC summers!
What products have you used and used and used again? Do you have any Holy Grail products that you just can't live without?