This article may contain affiliate links; if you click on a shopping link and make a purchase I may receive a commission. As an Amazon Associate, I earn from qualifying purchases.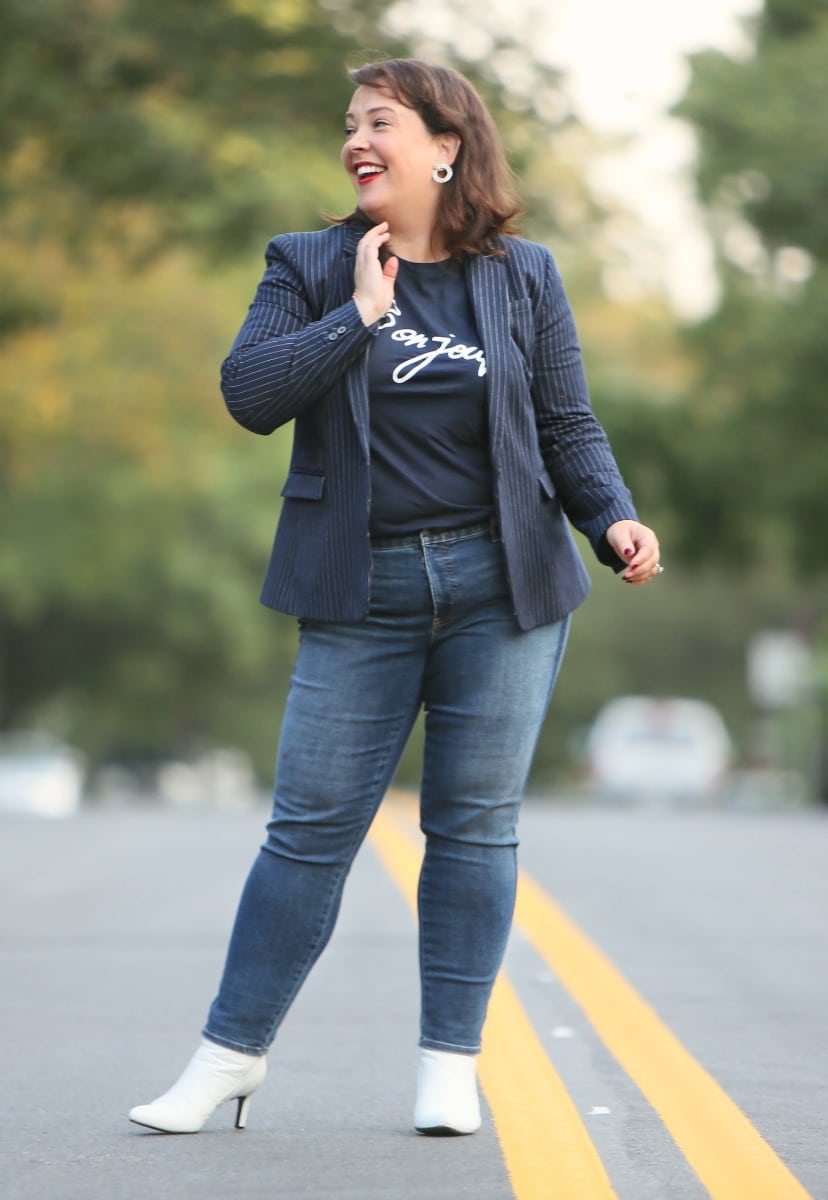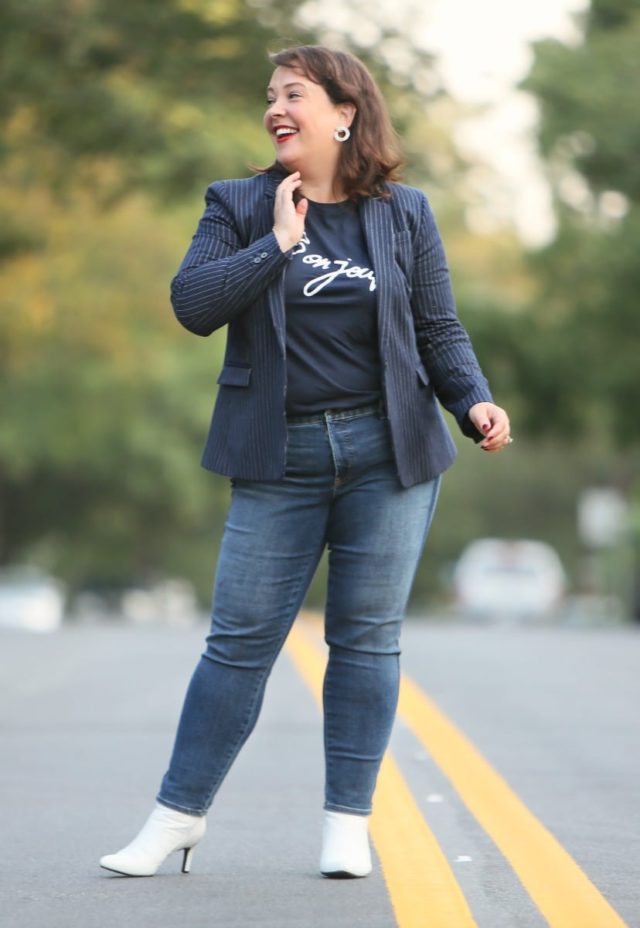 This is what I wore yesterday when I was the guest speaker at a class on blogging and marketing at Howard University. When I got home, Karl snapped a few photos. I wanted to look accessible but not too try-hard, polished but not stuffy. My friend who is the professor of the class offered a campus tour beforehand so I wanted to wear comfortable shoes for walking. I think it was a pretty perfect look for the situation; I was comfortable but felt pulled together. It helped that everything I was wearing was stretchy!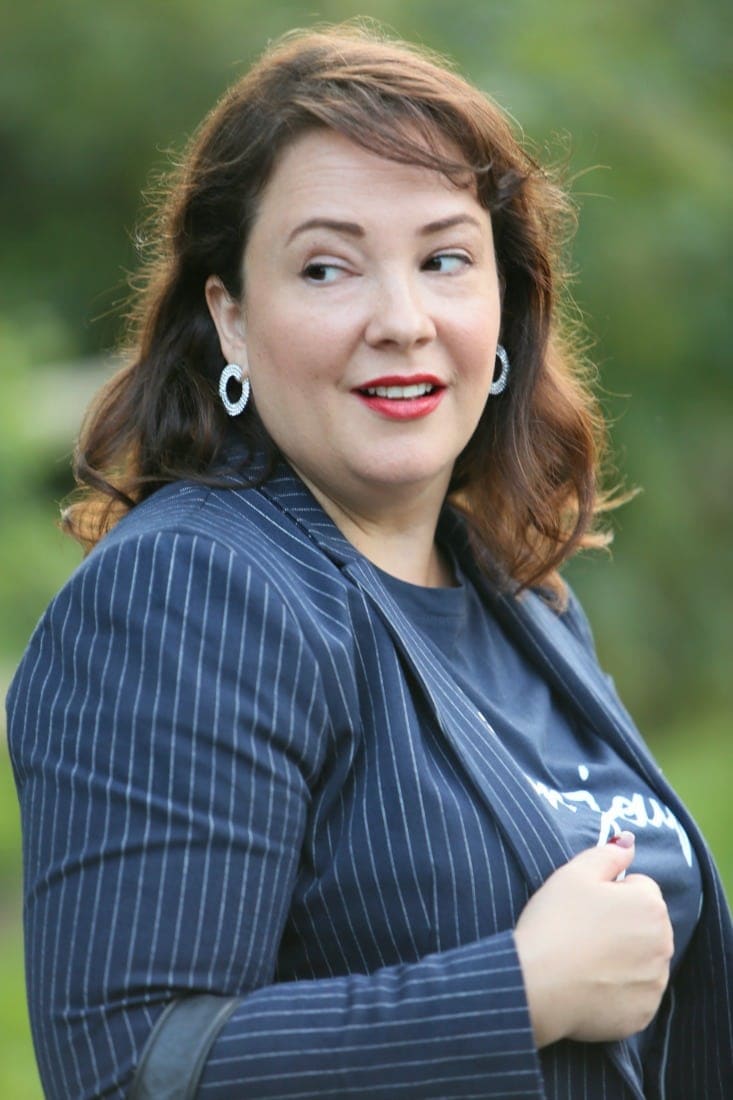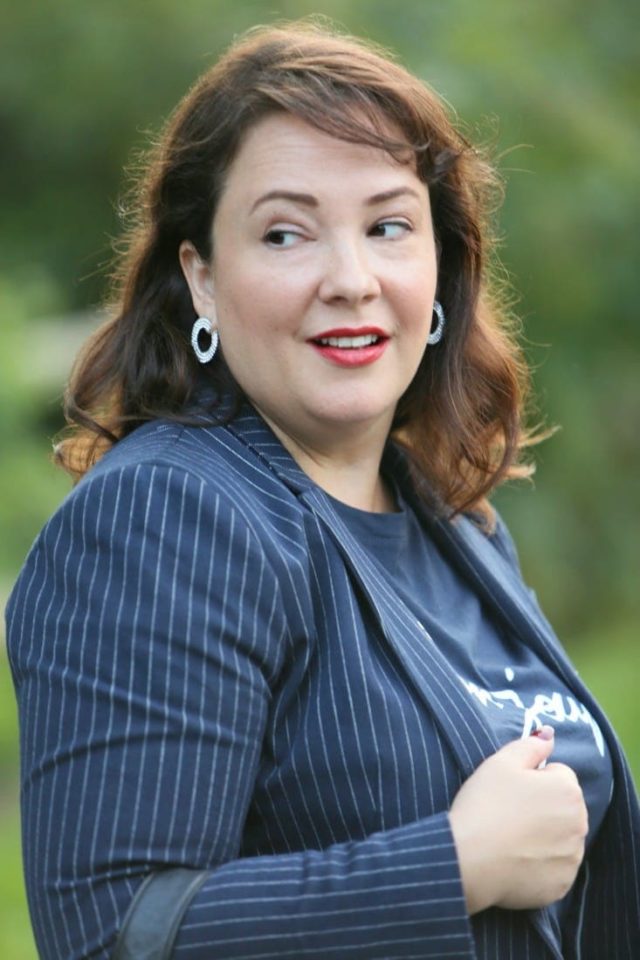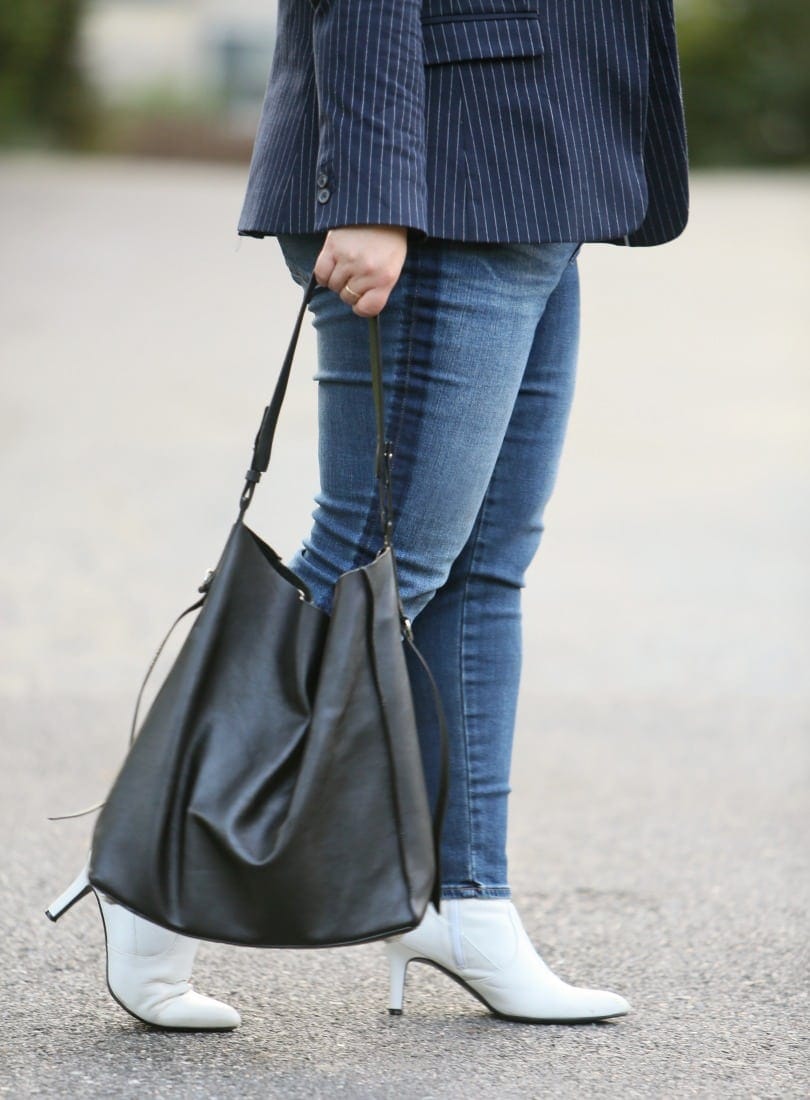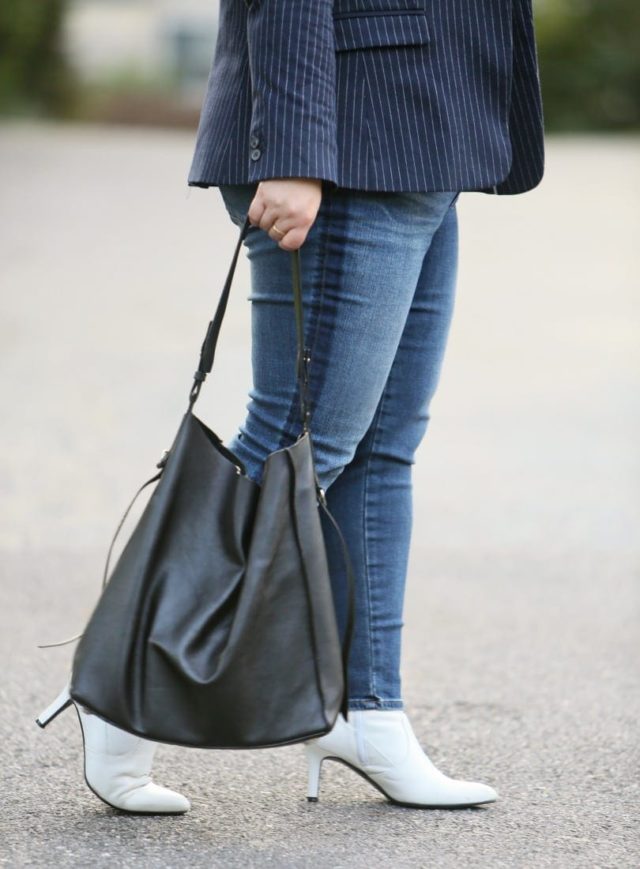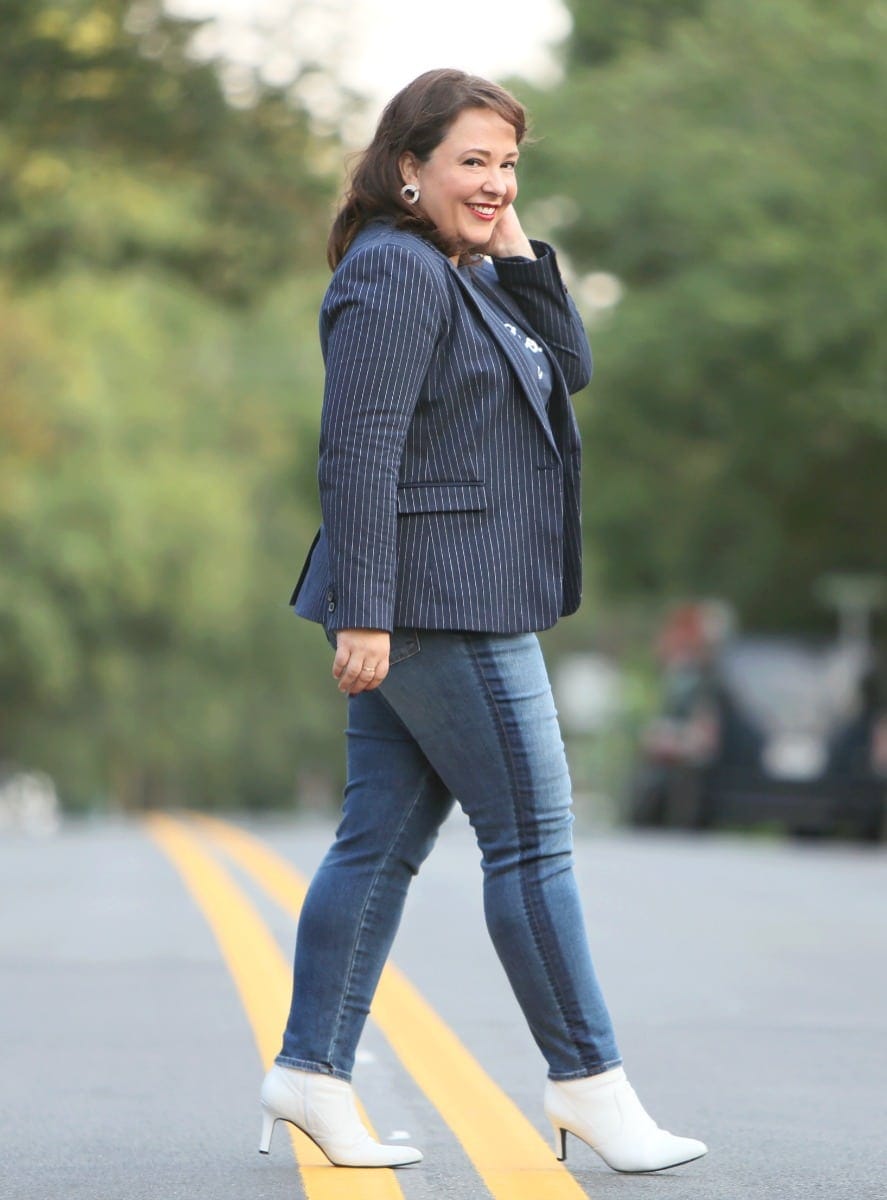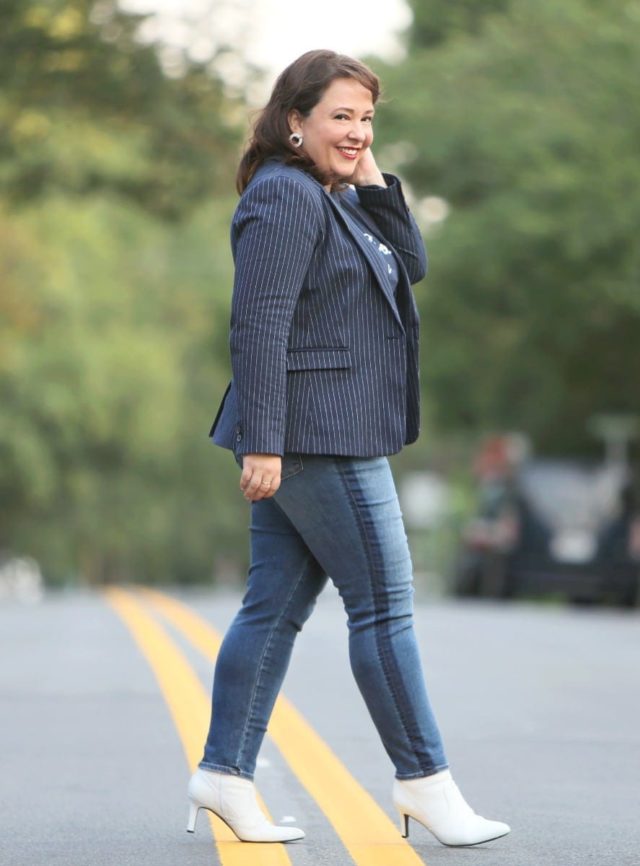 Blazer: Banana Republic (14P; similar; plus size alternative) | T-Shirt: 1901 (L) | Jeans: Slim Ankle Jean – Shadow Stripe c/o Talbots (14p; on sale!) | Booties: Naturalizer (similar) | Bag: ALLSAINTS | Earrings: Cristabelle | Lipstick: L'Oreal in Matte-Traction Red
I bought this blazer and the matching pants from Banana Republic back in 2016. You can see the set in this blog post. The pants got a lot more wear than the blazer as I gained weight and the jacket didn't fit (see the pants in this post). This year I again fit into the blazer (here's a post where I'm wearing it this past March). The fabric is a heavyweight stretch so it's comfortable as well as adding a bit of polish.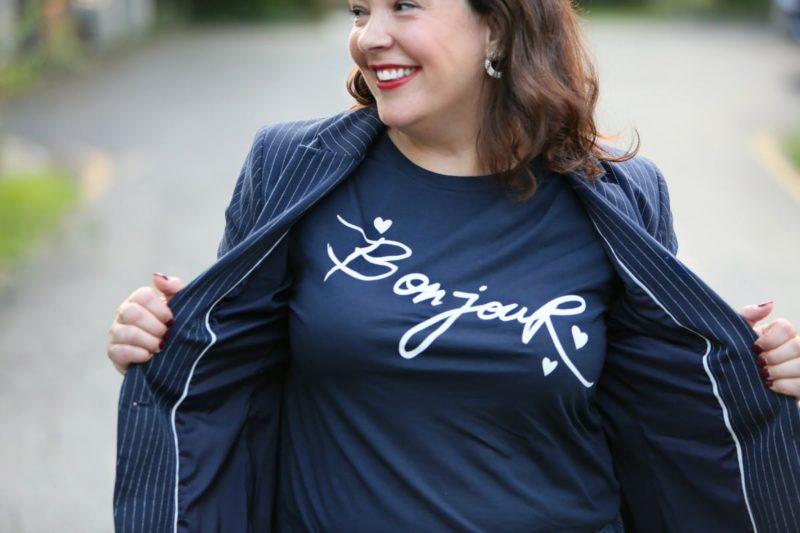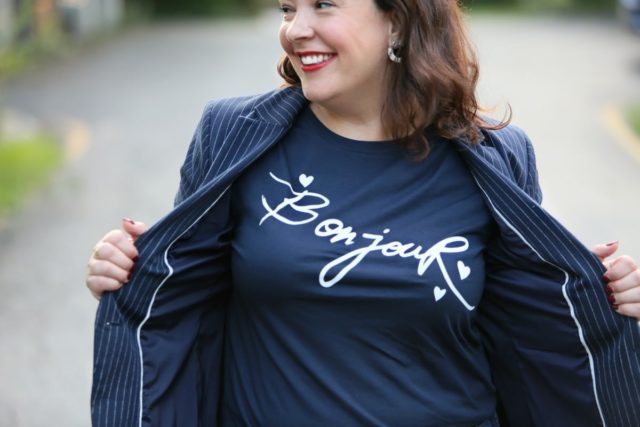 I shared on Instagram Stories that I ordered a trunk from Trunk Club and it arrived earlier this morning. This t-shirt was in the box. In these photos I look a bit disheveled (I seriously just got out of the car, threw the blazer back on and Karl captured the photos, I didn't even get to go inside to primp) but this shirt is actually a great fit, a nice weight that isn't too clingy but not stiff, and a super flattering sleeve length. Graphic t-shirts can skew too youthful and often cheesy; I collected a few t-shirts in a range of sizes that I think like this one can be stylish without looking try-hard. As a heads up; J. Crew is one of my favorite places for chic graphic tees and they are now up to a 3X in most of their t-shirt styles! Graphic t-shirts like striped t-shirts are a nice way to break up solids and add interest to a wardrobe of staples. Wear under a blazer or a cardigan, tuck into a skirt and pair with sneakers, wear with leather or faux leather leggings and a denim jacket. Just please don't get any that claim how you're just okay, meh, hungover, grumpy, unshowered, or not human without coffee, tacos, or wine. You're better than that.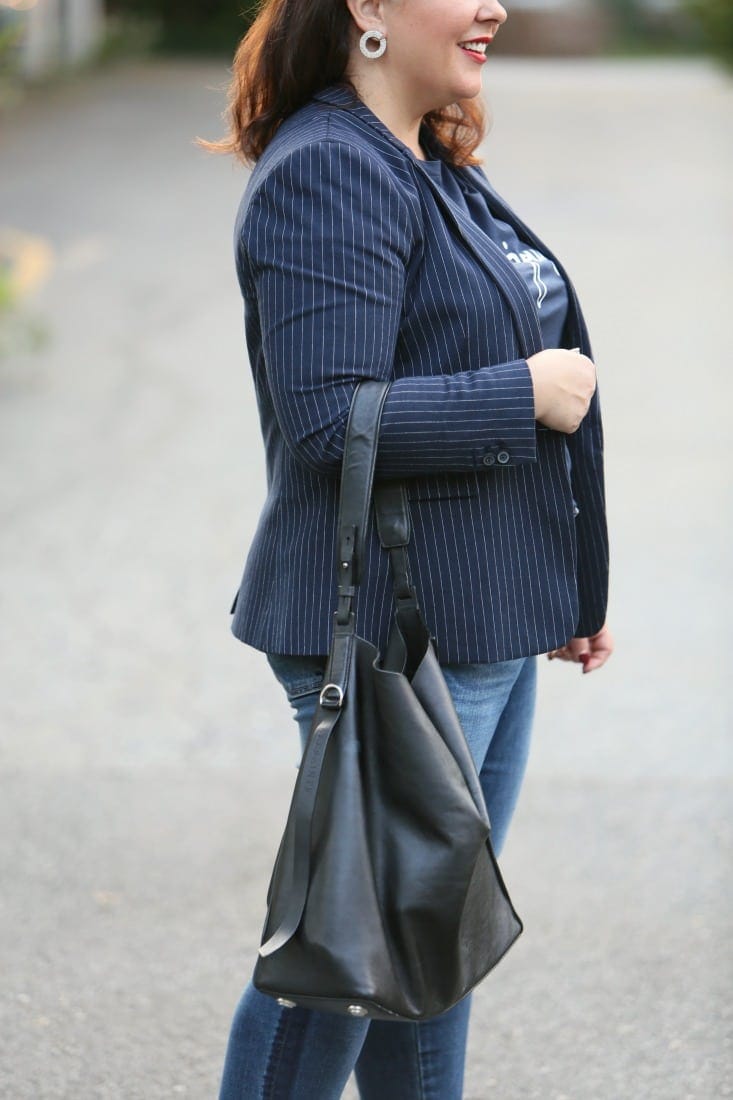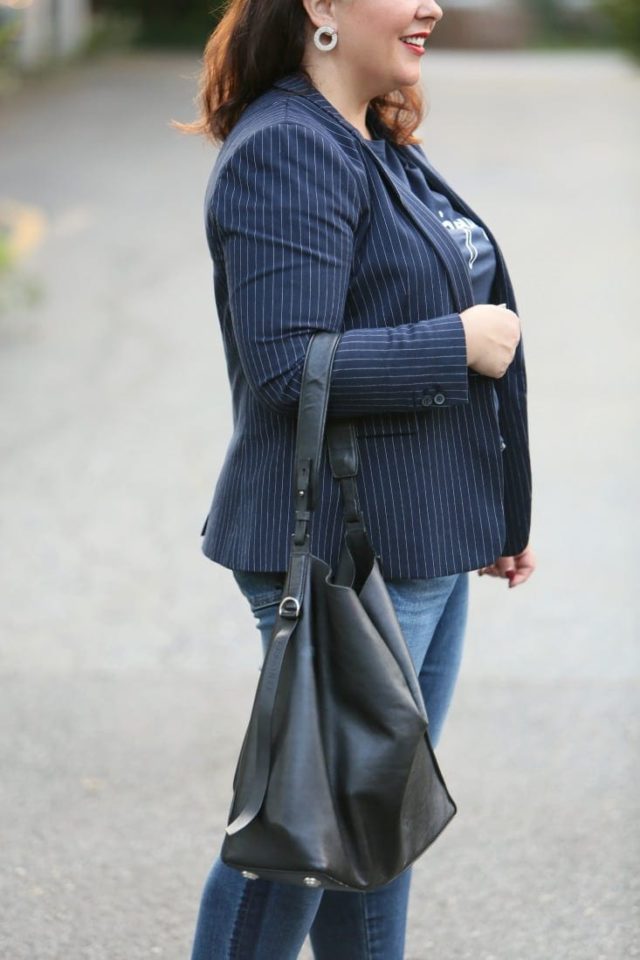 The jeans you saw before in this blog post and they continue to be a favorite. Considering this was the second time wearing them and I spent most of the day in a car, they held up nicely. The bag was a staple last fall through spring; it's not cheap but it looks what it costs and it has held up beautifully. It's been shoved under airplane seats, squshed between bags on a closet shelf all summer, has been stuffed to the gills and still looks great. The booties I got last year and they're an unexpected color that adds a nice touch to many outfits. Even better, they're from Naturalizer so they're relatively comfortable! While these specific booties from Naturalizer are no longer available, above I linked to a dupe from ELOQUII and Naturalizer's 2018 option for a white bootie.