This article may contain affiliate links; if you click on a shopping link and make a purchase I may receive a commission. As an Amazon Associate, I earn from qualifying purchases.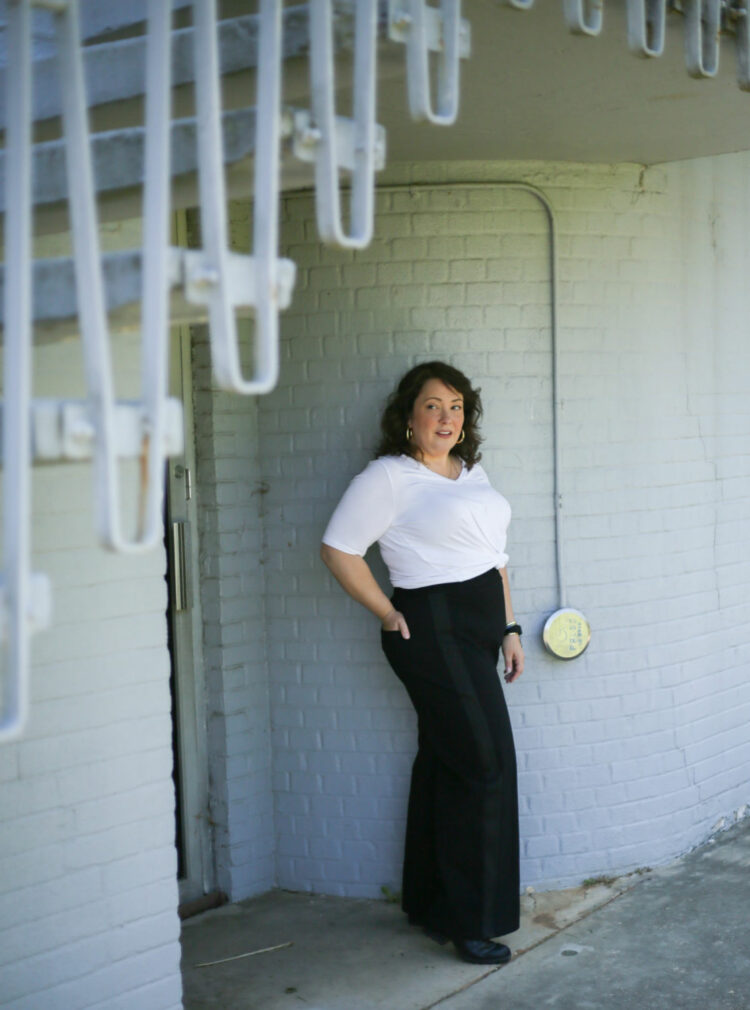 So, Universal Standard has this new promotion going on through April 30th called "Spin for Style" and they invited me to try it and share on Instagram. I thought it was a cool concept (and a great way to save on Universal Standard) so I thought to share with you here on the blog too.
What is Universal Standard Spin for Style?
Did you see Clueless? Remember Cher's closet, and how she had a computer program that would help her create outfits? Universal Standard was inspired and created a version of this on their website. You go in, select your size and then scroll down to spin for looks.
Universal Standard will pick your look. If you like what Universal Standard picked for you, drop it in your cart – one pick you'll get 10% off, like and cart two picks and get 20% off, choose all three spins and get 30% off the pieces. Plus, use promo code wardrobe_oxygen10 and get an additional 10% off your entire cart.
Don't like what Universal Standard chose for you? You have up to five spins. For reference, this link has all the possible items you may get in the "Spin for Style" campaign. I think it's a pretty great selection and love all the color!
Click here to view all my past Universal Standard reviews; Universal Standard is available in sizes 00-40/4XS-4XL and some styles are available in lengths and petite.
My Universal Standard "Spin for Style" Selects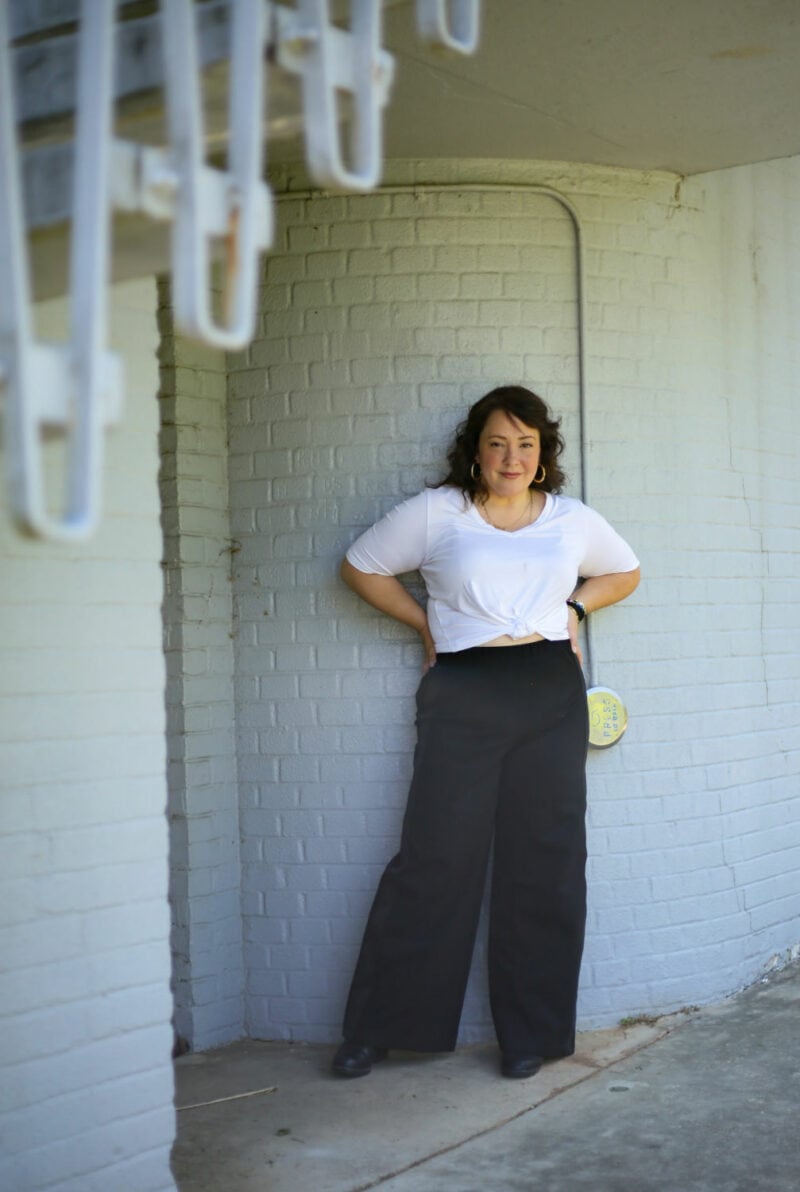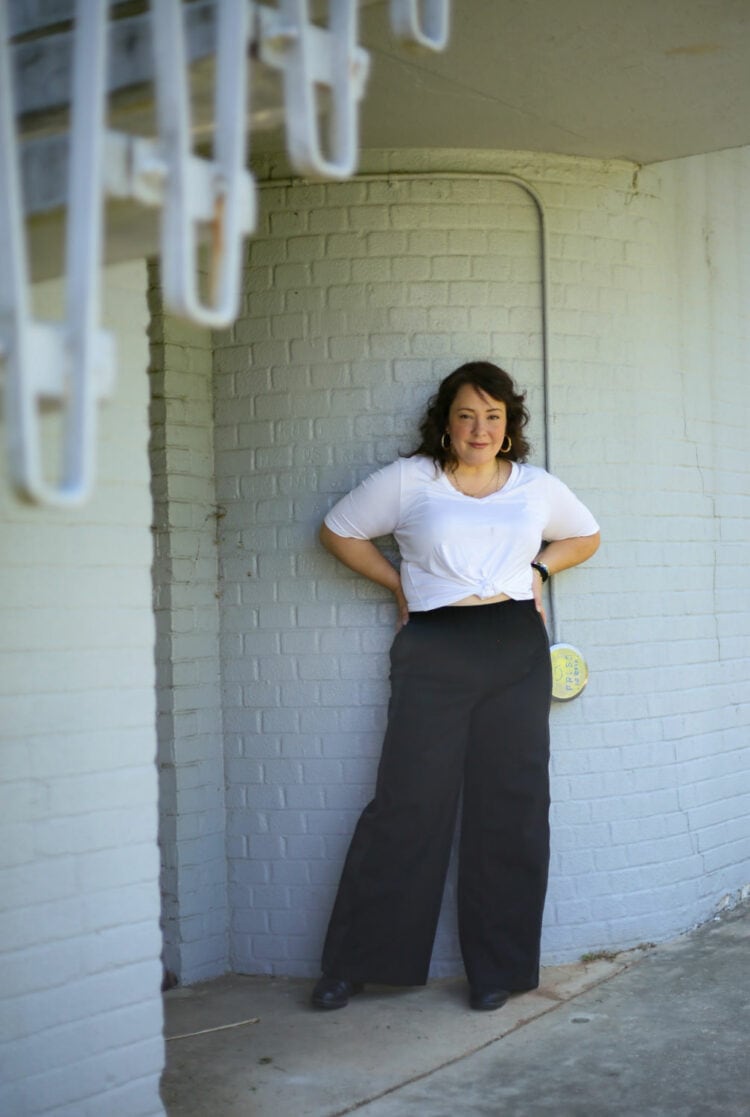 So, Universal Standard "picked" for me the Stephanie pants with the black stripe, the Lily Liquid Jersey v-neck in white, and the Peyton Poplin shirtdress in black. I received all three pieces in XS, which is my standard US size. In other brands, I am usually a size 14 and at 5'3″ often choose petite, especially for dresses, pants, and blazers.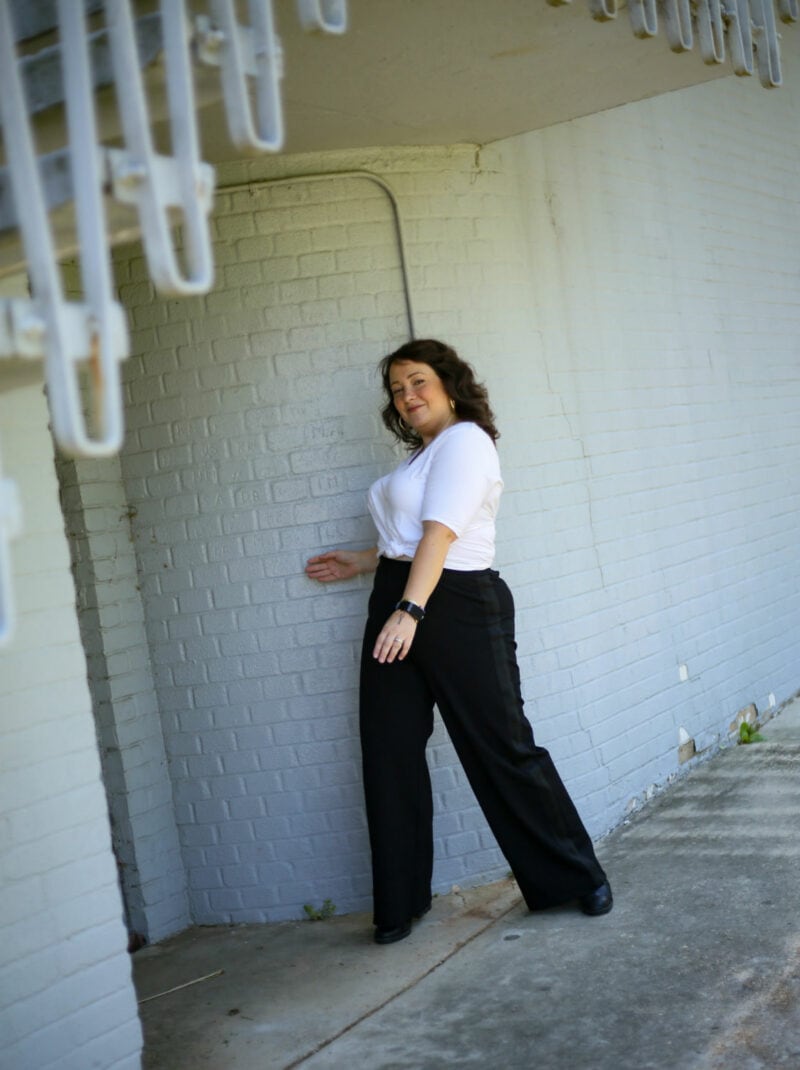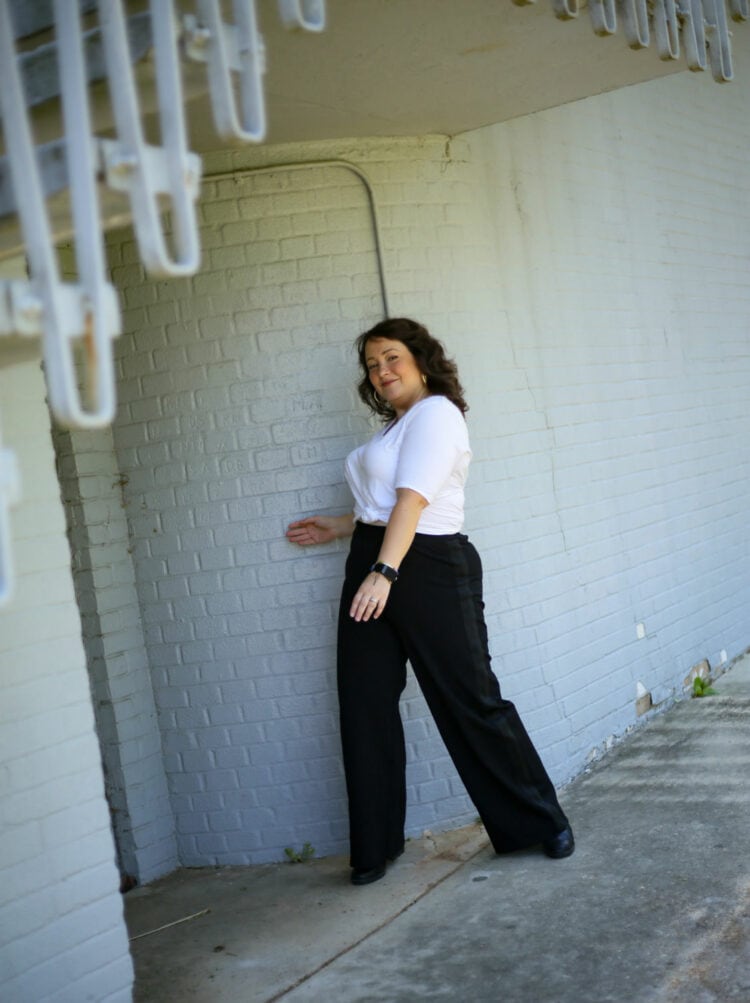 I was curious about this because, to be honest, none of these items immediately called to me. I would never have picked them out on my own. Back in 2018 when Universal Standard had a collab with J. Crew, they had a similar style of pants I bought and thought I liked enough to get them tailored. But once I had them in my closet I only wore them once and ended up selling them on Poshmark.
But I am not the same body, person, or living the same lifestyle I did in 2018. I still want to look chic, but now I also desire comfort. And I loved the idea of pants that looked dressy enough to even wear for a night out let alone an office, but were as comfy as yoga pants.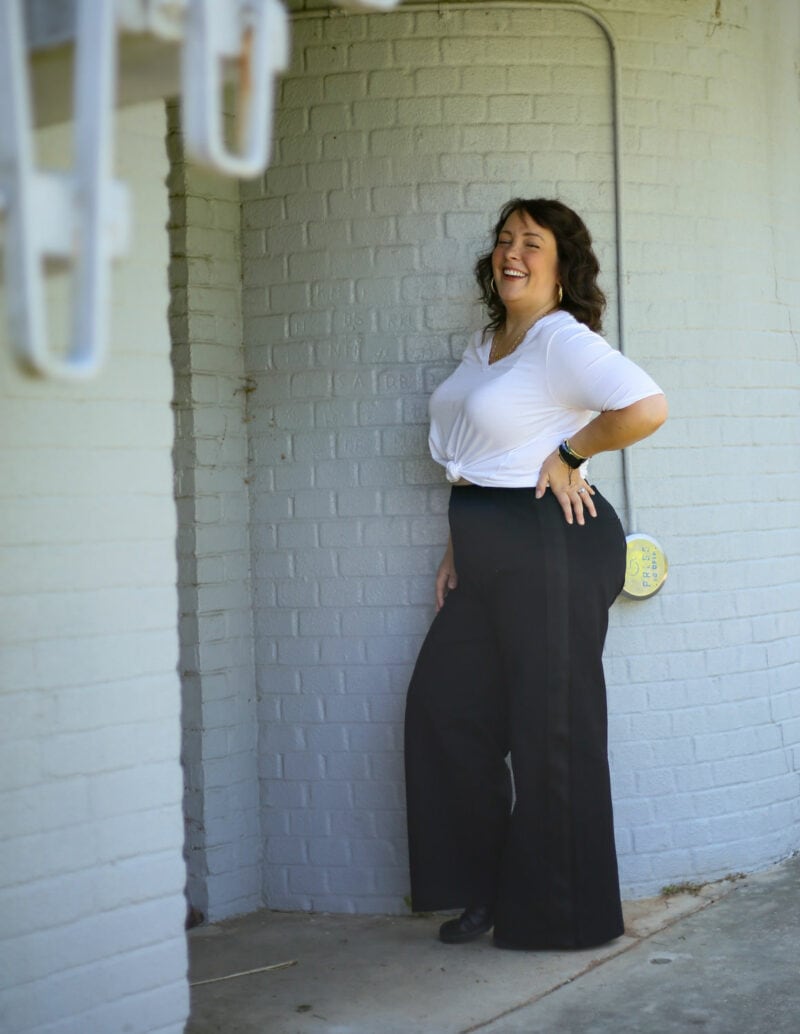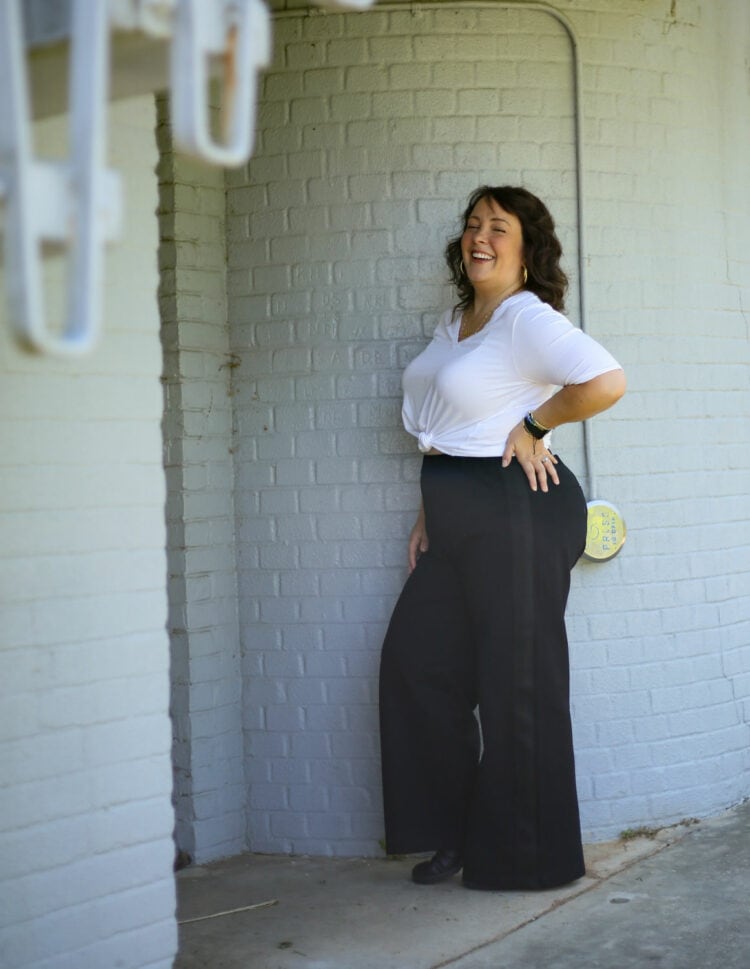 I really dig these pants. They are a 30″ inseam which is an ankle to slightly cropped look on many that would look darling with a pair of trendy sneakers, but on me was just the right length for a pair of heels.
I first put on a pair of black pumps which would have been perfect for a night out or even the workplace. It looked great with these pants, but I felt for me, in this point of life, a chunky lug-soled boot was a better choice. Makes me wish I had a pair of Doc Martens with such a sole; my Sorel boots had to make do.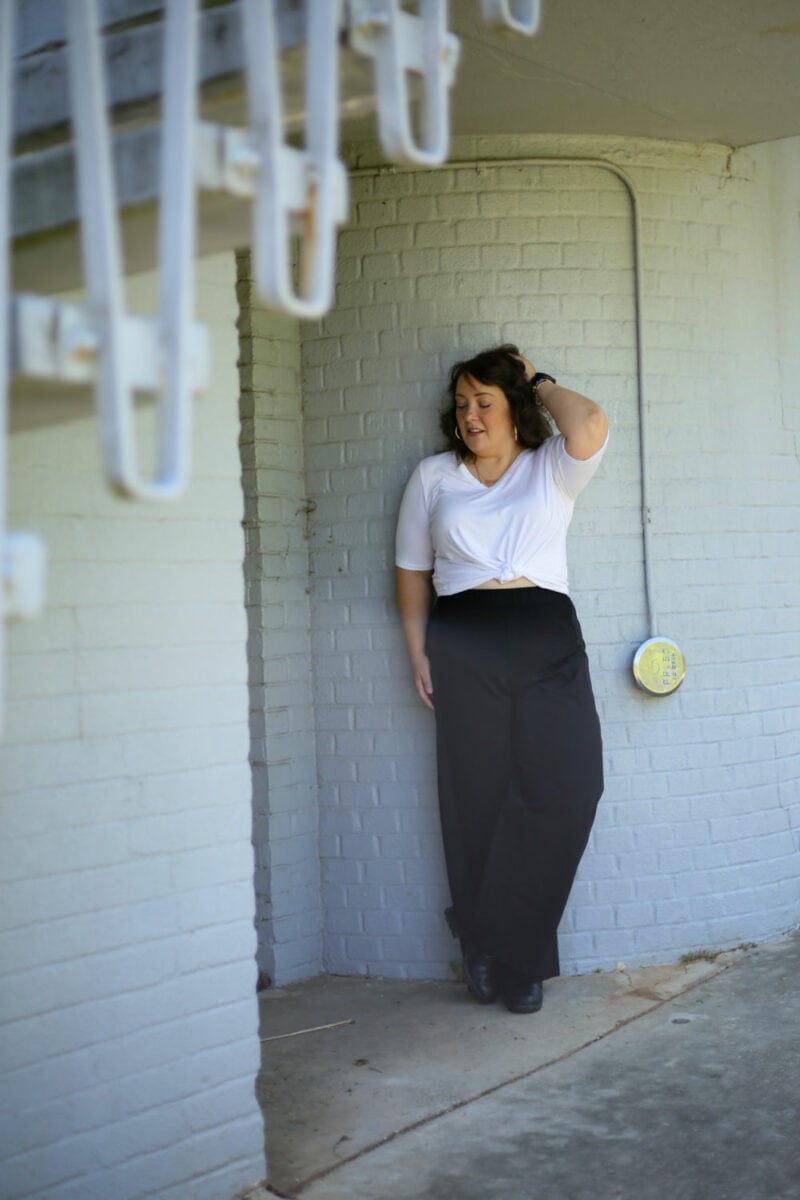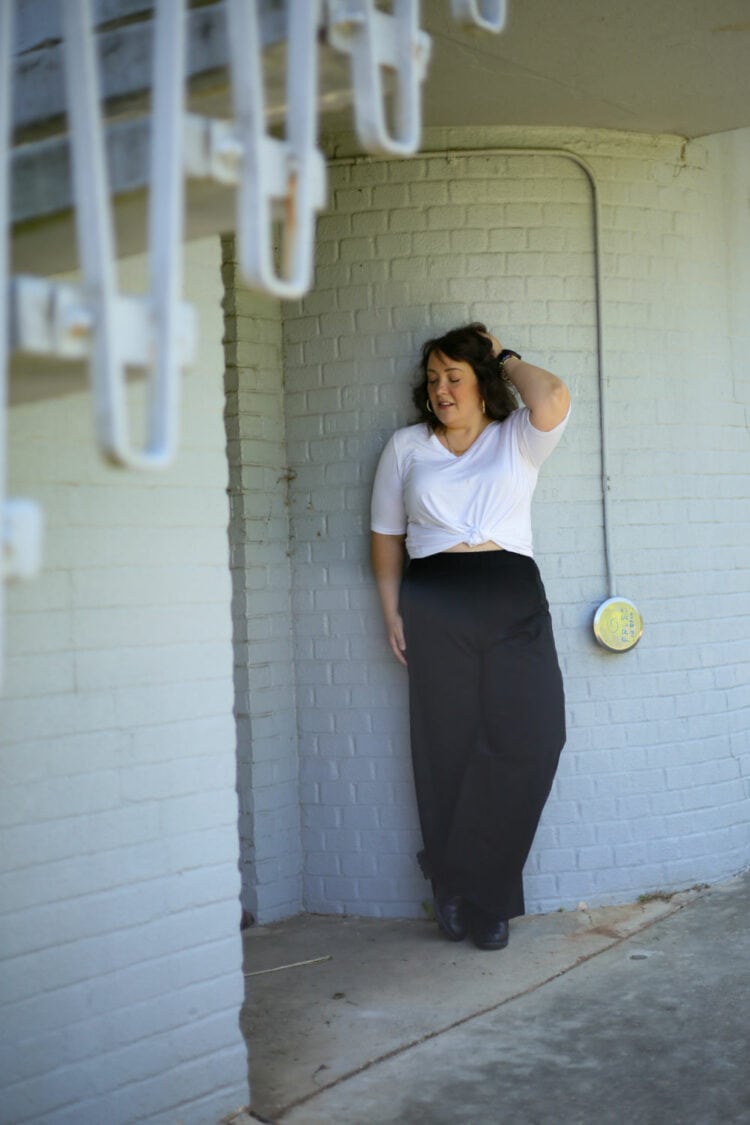 But these pants are a heavyweight ponte knit that looks refined, even with an elasticized waist. No front pockets, but two working back pockets, and the side stripe dresses these up where they would look great at the office with a blouse or sweater and flats or loafers.
I can also see wearing these pants with a cami and heels for a night out or turning it into a chic suit with Universal Standard's Miranda Blazer, also of ponte.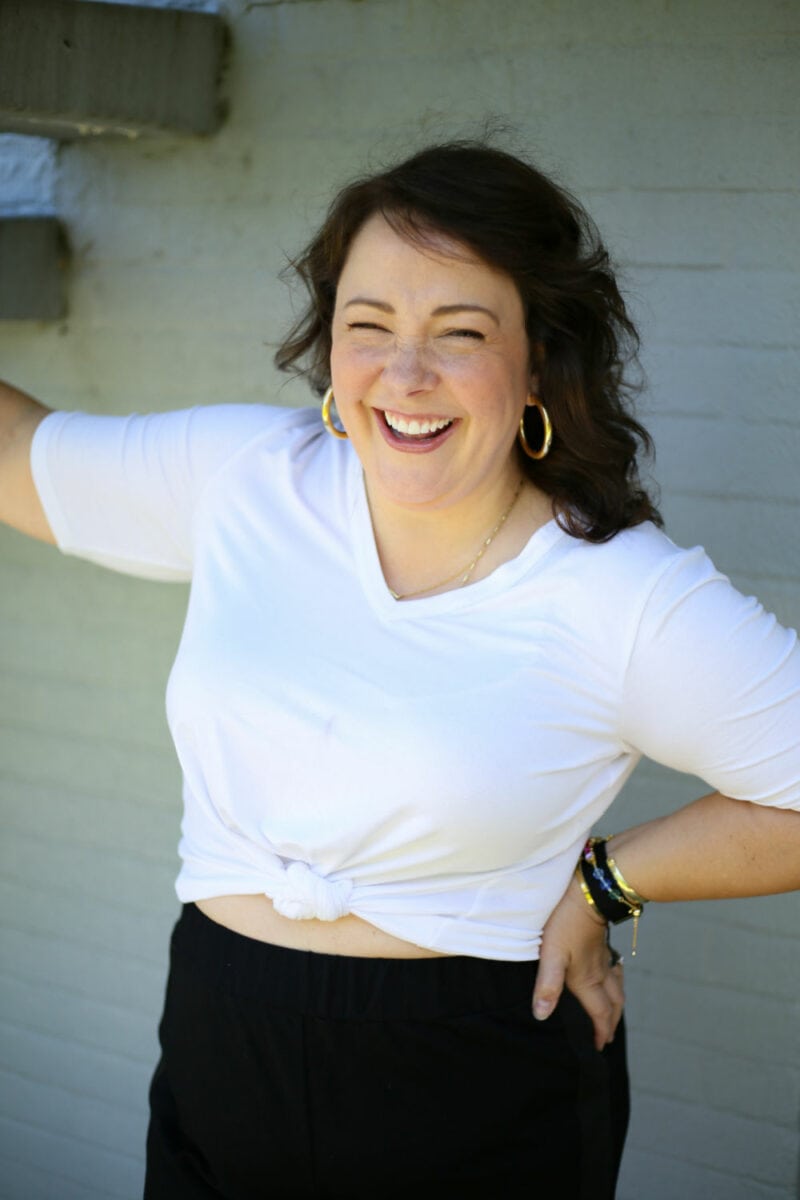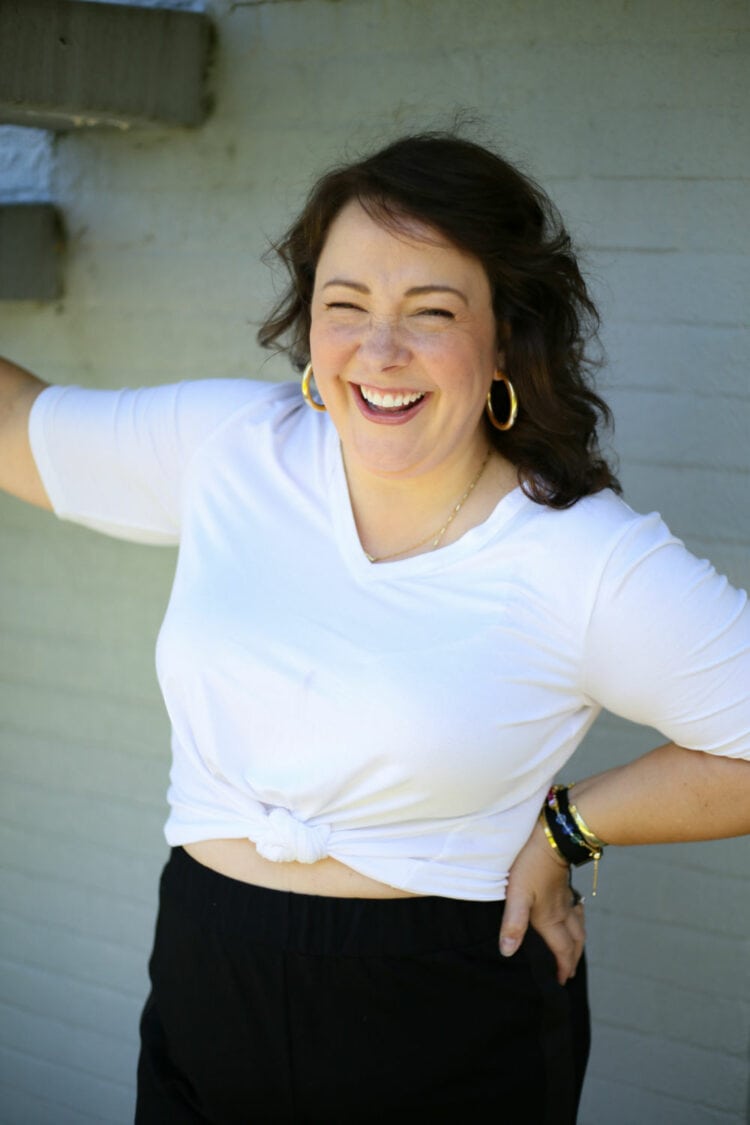 The t-shirt… I already have a white Tee Rex and a white Foundation and a bunch of white graphic tees, I didn't think this was needed but I didn't have a v-neck. Well, this top is NOT what I was expecting. The fabric is so nice – it's silky and refined and opaque and felt great on.
The drape on the Lily Tee is fantastic, the neckline more elegant than the one on the V-Rex but not too low for the workplace, and the longer sleeves are gorgeous and make the whole piece more elevated. This is the kind of tee you can wear under a blazer or cardigan to the office no problem.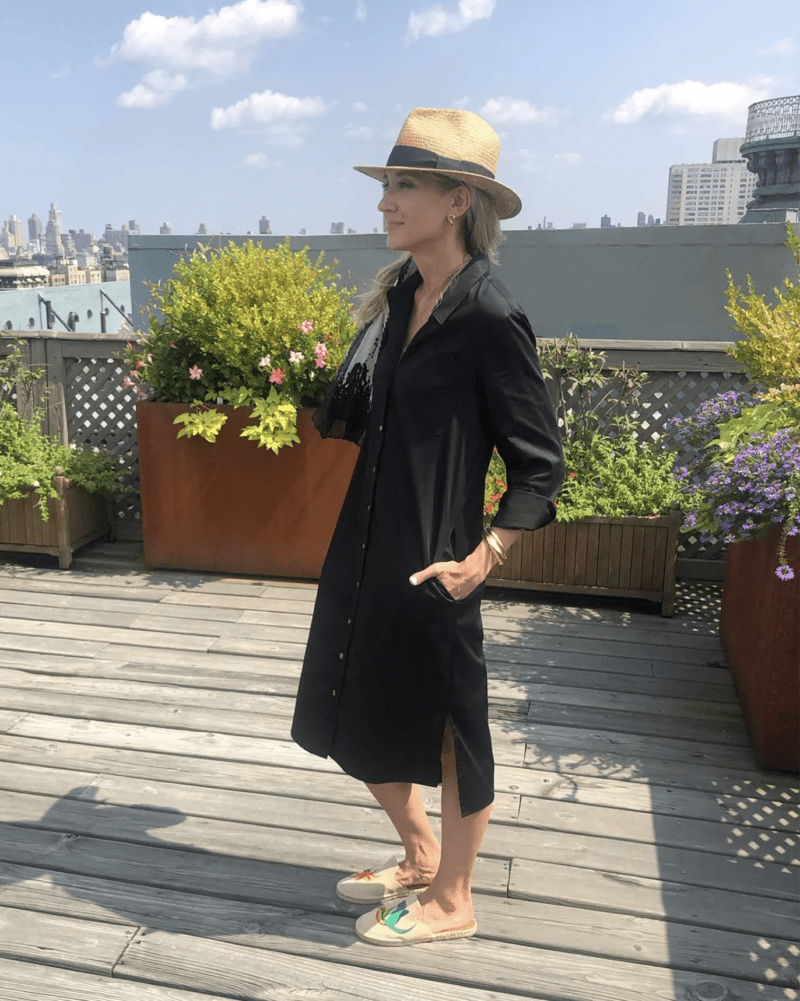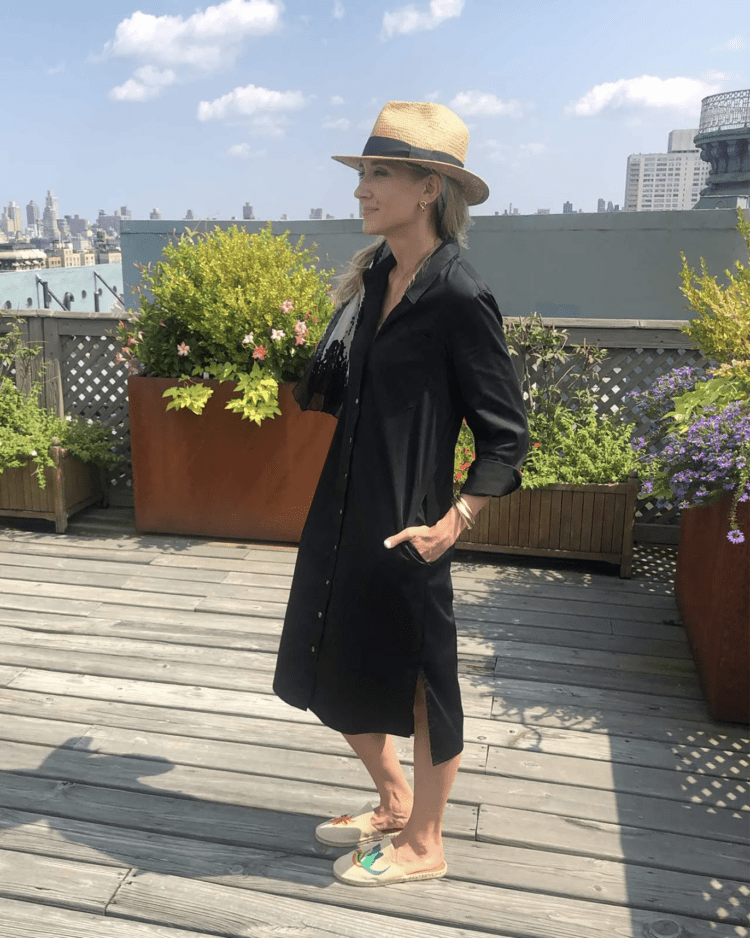 The third item I got was the Peyton Poplin Shirtdress. The fabric is divine – silky, refined, both stretchy and crisp. Thing is, it's made for a taller person. I looked like I was playing dress-up in it. I think I could have sized down to an XXS in it and still had room for my bust and upper arms. Even belting it didn't save it; I passed it on to a friend who is taller than I am to see if it works for her.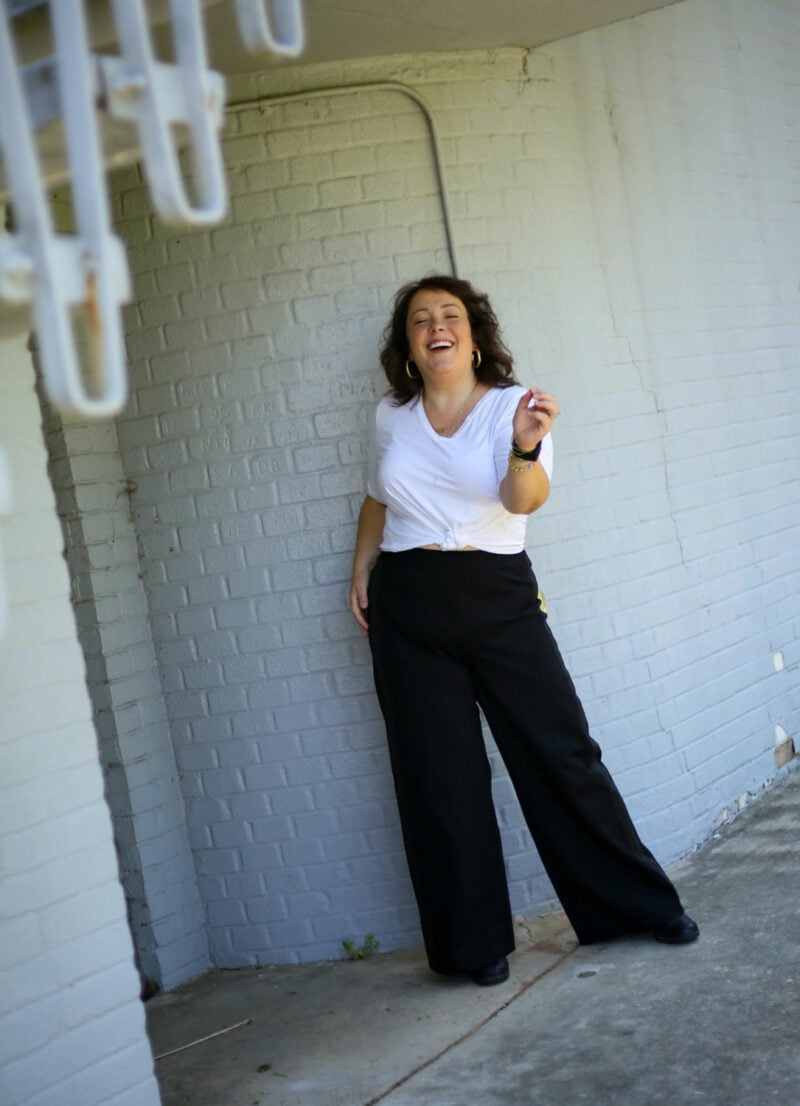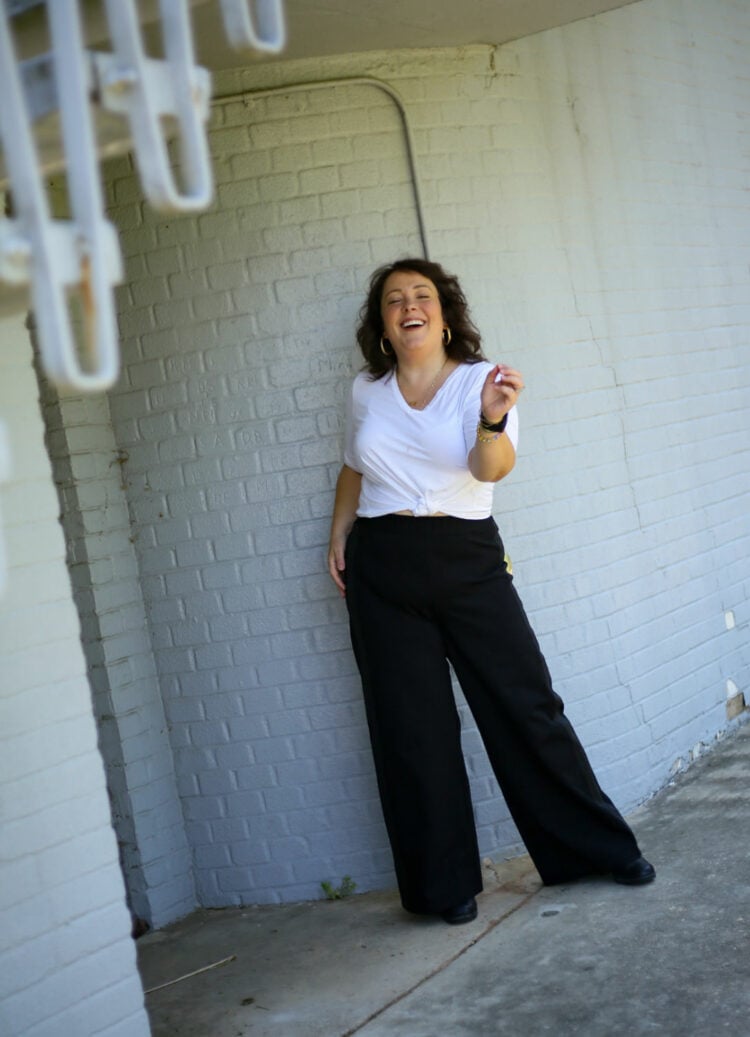 The ability to get three pieces for 30% off (and then an extra 10% off with promo code wardrobe_oxygen10 which BTW works for everything even if you don't do this promo) is pretty sweet. And if Universal Standard didn't give me this opportunity for free, I could have returned the dress.
For those who haven't done returns and exchanges with US, they make it very easy. They use Happy Returns, so you either get a free label to send back, or you can just take the item to a Happy Returns Bar for a no-contact, no packing speedy process.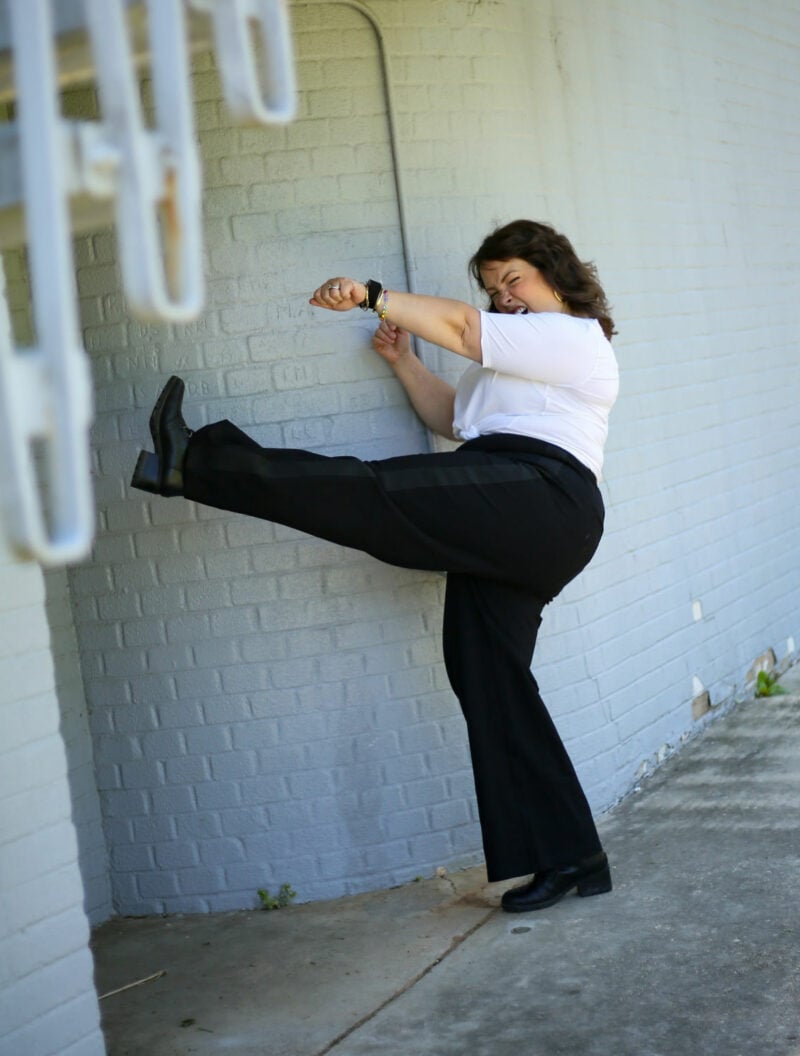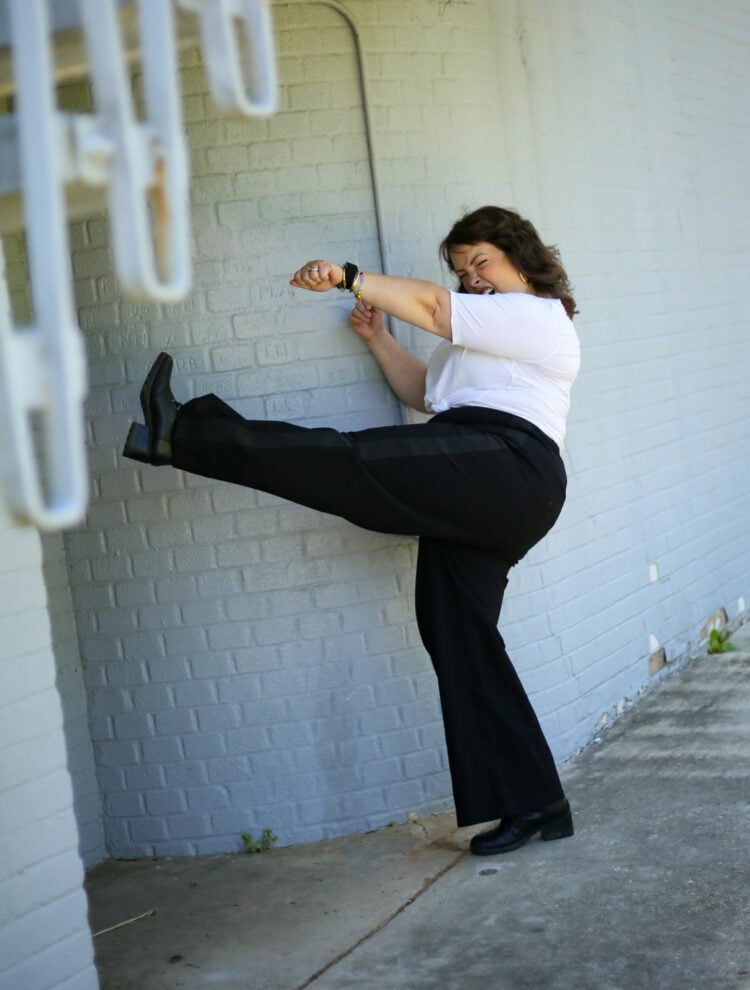 This promotion is only through April 30th, so if you're interested act fast! This is not a sponsored post; I was not paid by Universal Standard to share this, I just thought it was a cool promotion and wanted to bring your attention to it. I also wanted an excuse to have a picture of me kicking and trying to look tough!
Shop the Post: