This article may contain affiliate links; if you click on a shopping link and make a purchase I may receive a commission. As an Amazon Associate, I earn from qualifying purchases. 
I am in such a tough shape right now… the body is constantly morphing, tightening, loosening, changing. I bought these white jeans a couple weeks ago and they were snug. I wore them Saturday and they got super baggy. Today they look a mess, even after being tossed in the dryer. Way too large. Sucks because they can't be returned after being laundered and worn so much. I shouldn't have even worn them today but I am still low on trousers for work and my other pairs were either recently worn or dirty.
Same holds true for shoes – none of my shoes from last summer fit and I don't want to purchase any old crap so I am low on appropriate summer work footwear. On the lookout for some tan sandals with a wood heel!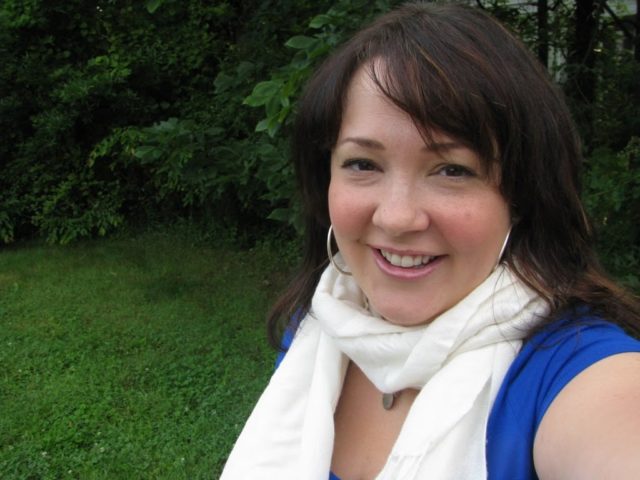 Attire:
Ann Taylor – Blue scoop tee, off-white jeans
Ivory pashmina
Born – Orange leather thongs
Silver hoops and cuff
Hair:
Next day, just smoothed bangs with round brush and dryer
Beauty:
L'Oreal – True Match foundation in C3
Cargo – Matte BeachBlush in Tenerife
Nars – Blush in Orgasm
Pop Beauty – Palette for Brown eyes: Celadon
Maybelline – UltraLiner in Black
Cover Girl – LashBlast mascara in Rich Black
Stila – Lip Glaze in Fruit Cake
This weekend was okay… Saturday was my husband's cousin's son's 2nd birthday so we went to that and saw his family (who I adore). After that my husband had a photo shoot so E and I headed home for a nap. We woke exactly when my husband got home and went to a local diner for a late dinner. Sunday we pretty much hung around the home. I went to a couple Open Houses with my sister who is looking to buy a house. We then just spent time at home.