This article may contain affiliate links; if you click on a shopping link and make a purchase I may receive a commission. As an Amazon Associate, I earn from qualifying purchases.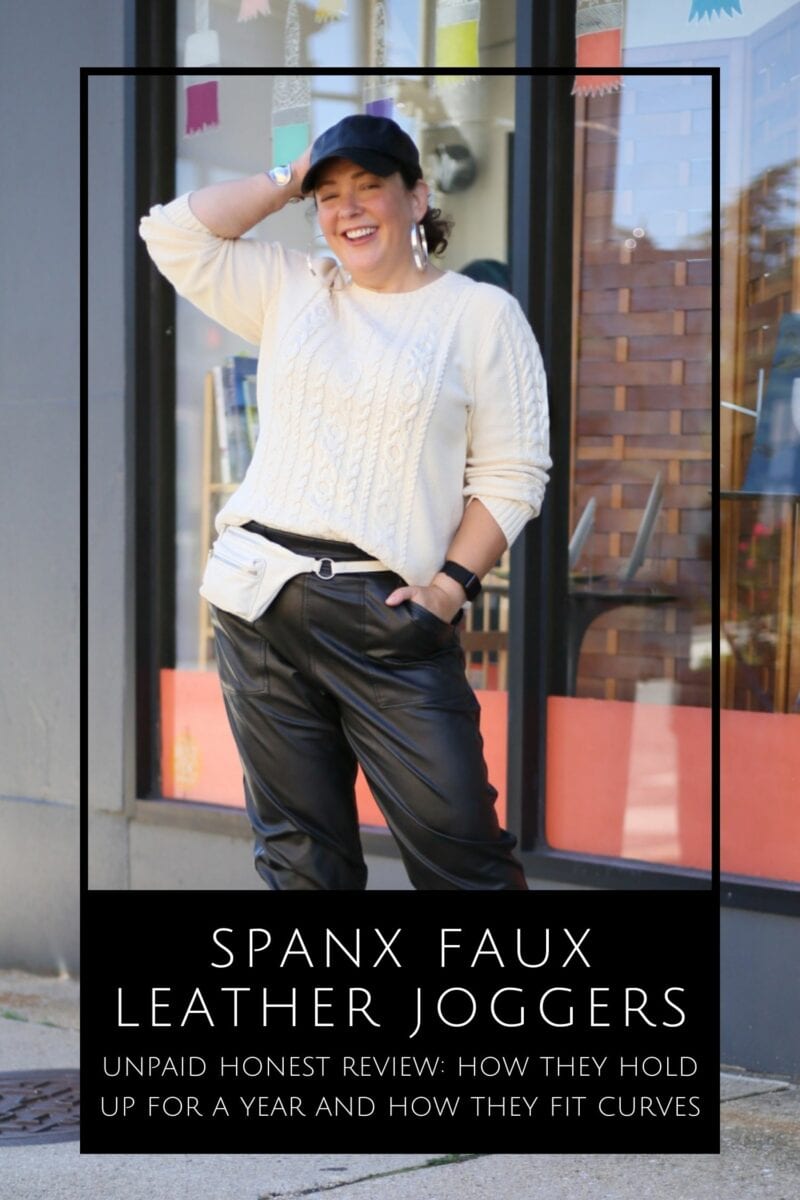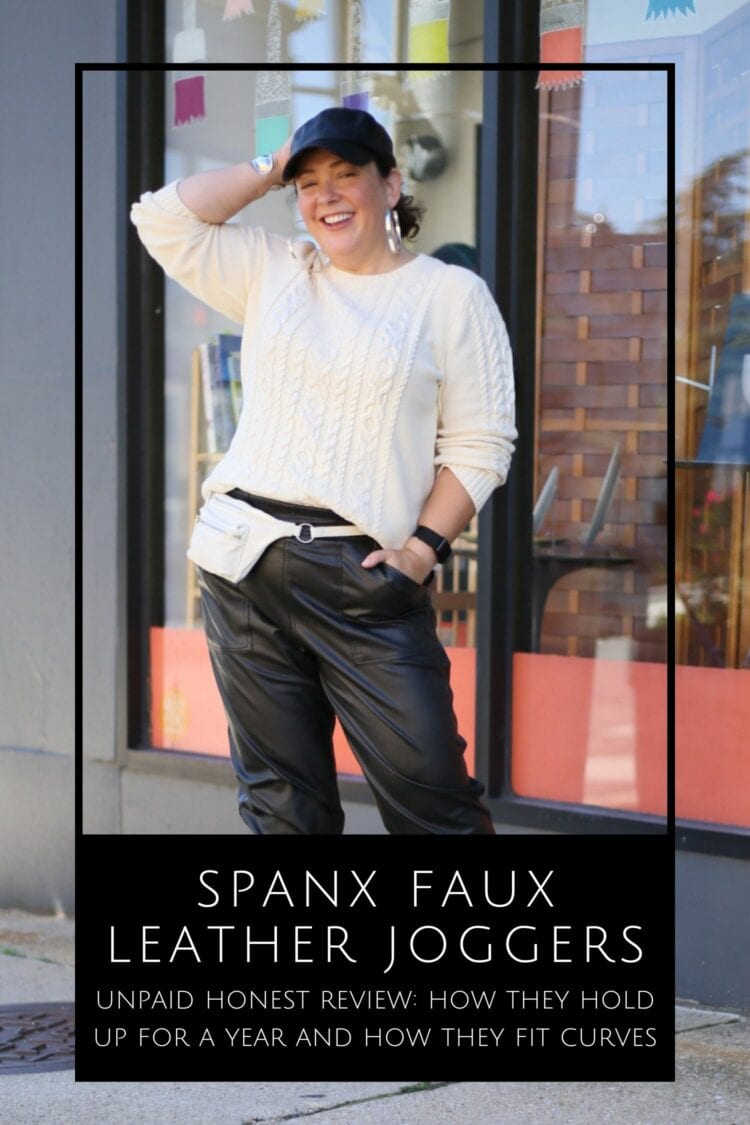 Social media ads GET me, it's really creepy how well they know my taste. And they were feeling my vibe big-time with ads everywhere for Spanx's faux leather joggers. I had to try a pair for myself, and of course share with you my thoughts. Below is my honest, unpaid Spanx faux leather joggers review.
I originally wrote this review in 2020, but updated it in 2021 as the Spanx faux leather joggers are not just still available for purchase, but they are very on trend. As someone who has owned these for a year, I've washed them multiple times, I feel I can provide an honest Spanx faux leather joggers review and help you make an informed purchase if you think they are right for you.
Spanx Faux Leather Joggers Review
I love the look of leather apparel, but it doesn't always work with my soft curvy frame. Faux leather leggings, while stylish, look like black saran wrap on my solid legs and wide calves. Leather pieces rarely have the stretch to work with, not against my body. So when I saw the Spanx faux leather joggers I was intrigued.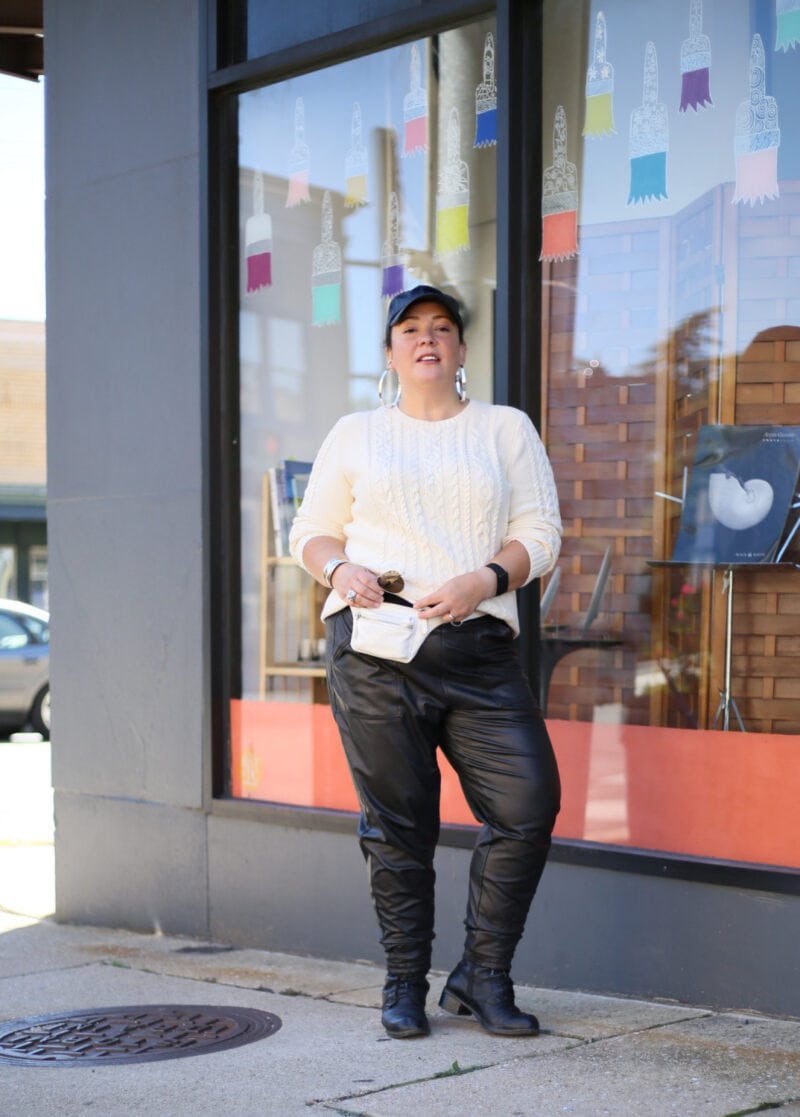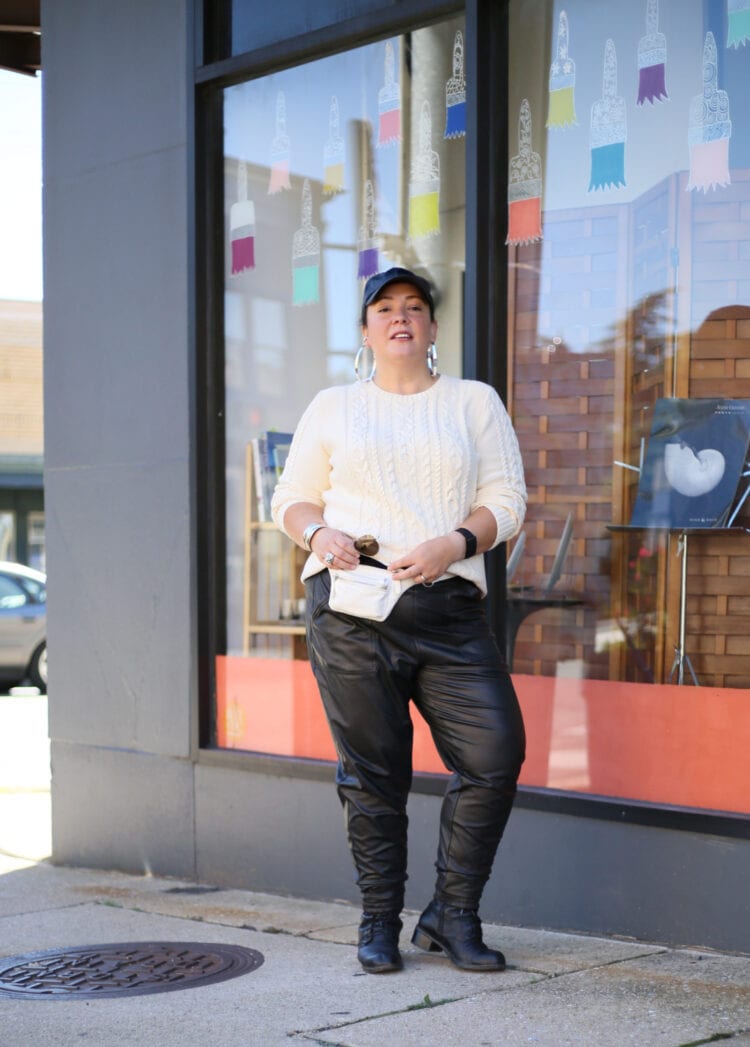 Available in sizes XS0-3X, these faux leather joggers from Spanx weren't meant to be like a second skin. They looked to be a heavier fabric that wouldn't cling, and I loved that they had pockets. Also, being 5'3″, I liked the idea of joggers so if they were a bit long they would just look a bit more slouchy, not messy.
When I originally wrote this review, I only owned my Spanx faux leather joggers for a couple of weeks. A year later, I can truly share my thoughts on these pants and why I think they are a good purchase.
How Do the Spanx Faux Leather Joggers Fit?
I am 5'3″ tall and usually a size 14. I wear an XS/12 in Universal Standard and vary between 14 and 16 at Banana Republic. For jeans I am usually a size 32. Because I have a belly and a booty, I find regular fits me better than petite cuts and I just then take to my tailor to hack off a few inches of the hem.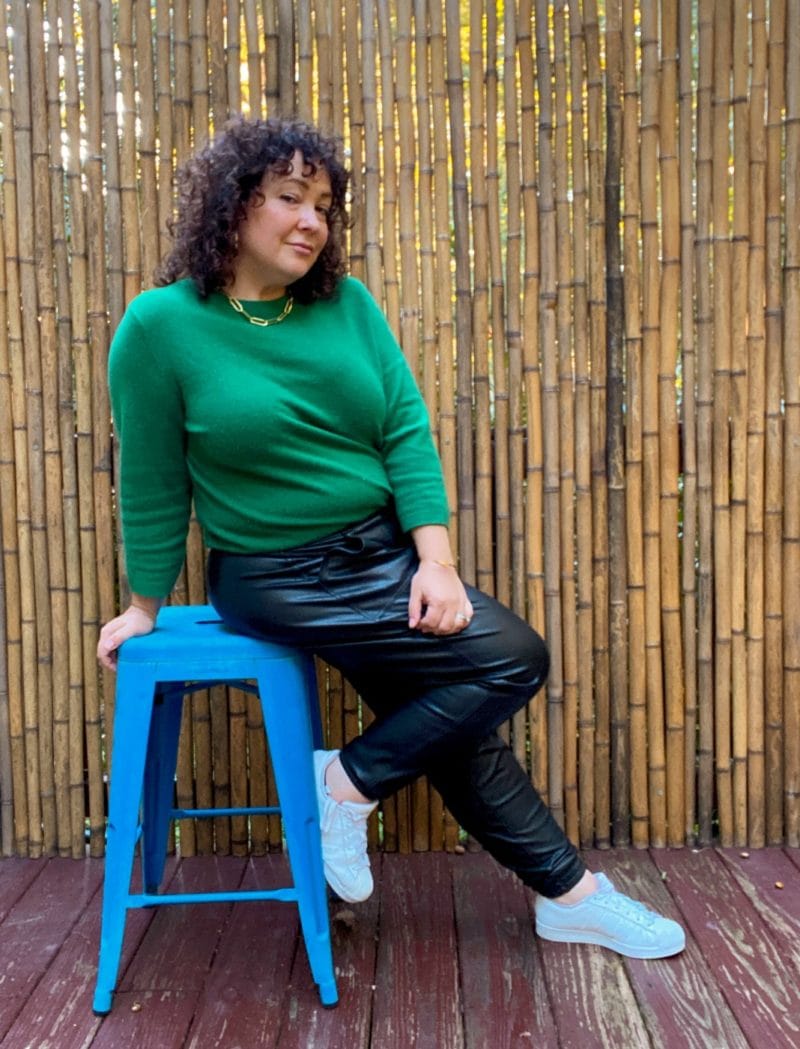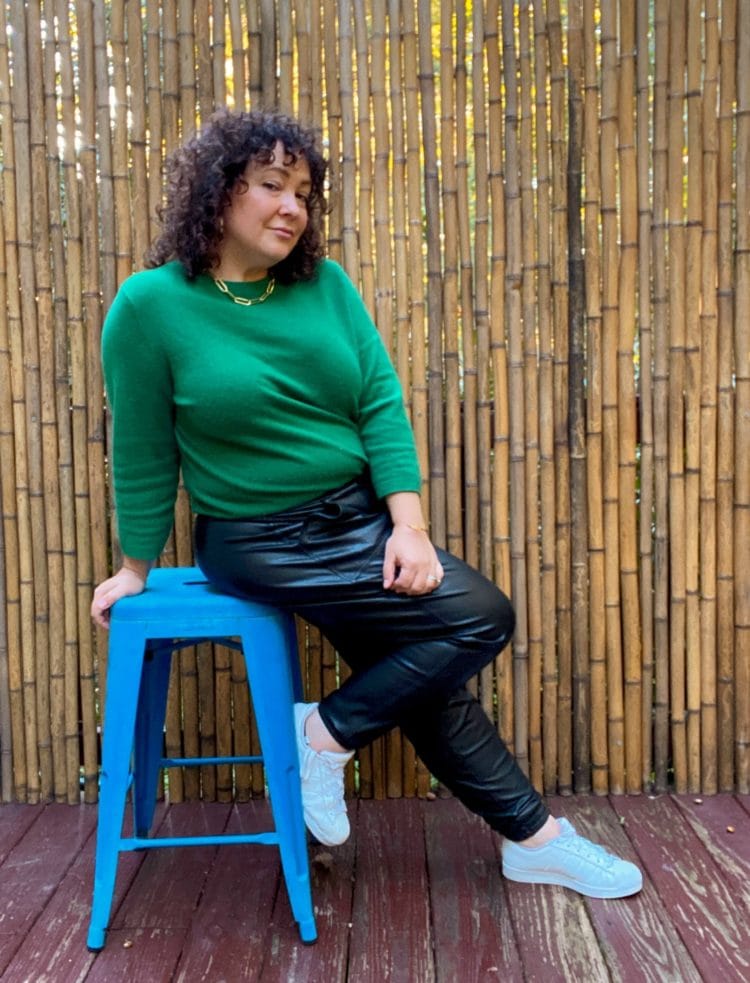 The Spanx faux leather joggers are only available in black and are offered up to size 3XL on the Spanx website. I am wearing a size Large; when I purchase Spanx intimates, I get a size Large. This was the correct size for me. If you are hovering between sizes, I recommend sizing up not down because I think joggers look better with a little extra volume, and because these are stretchy but I haven't found that they stretch out.
What is the Quality of the Spanx Faux Leather Joggers?
The faux leather is super stretchy, like you could do a workout in these and there would be no straining. You could actually curl up on the couch and watch a movie in them, they're that stretchy and comfortable. That being said they don't stretch out. I have worn them for two days of walking and sitting and even doing a Peloton stretch workout and they fit exactly the same.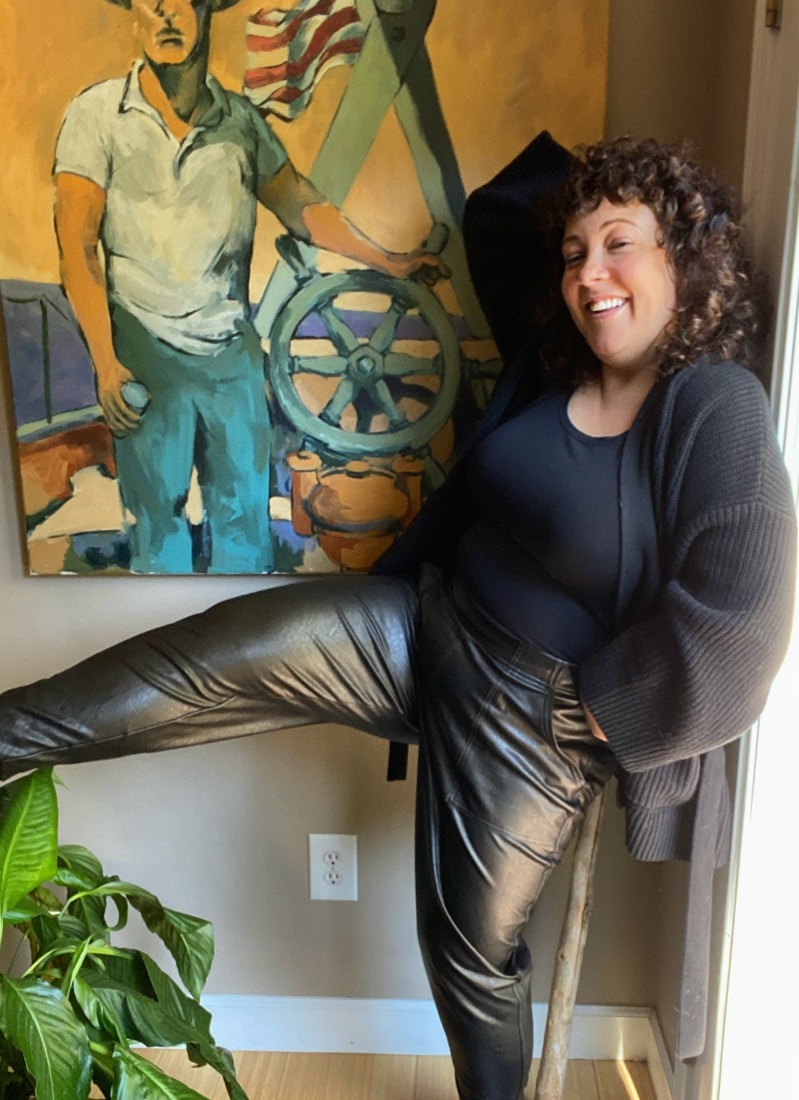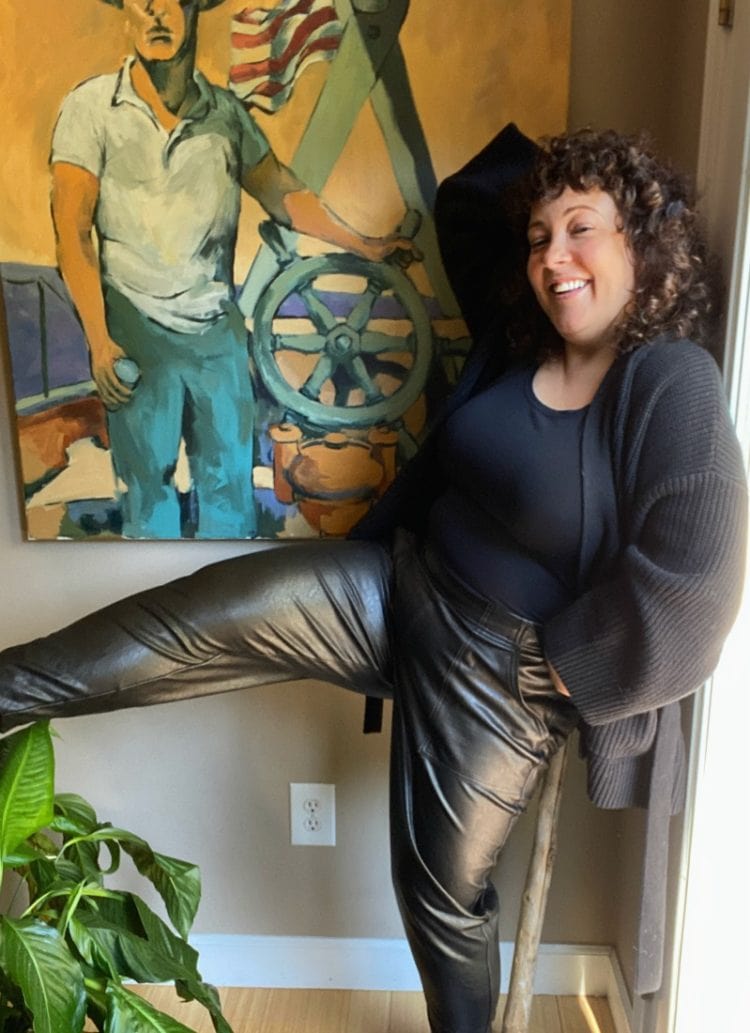 The inside of these joggers have a soft finish, almost like jersey. It is the bonded back of the fabric, not a separate layer. The only parts that have faux leather touching your skin are the waistband and the cuffs. They don't cling or stick, though I do find them most comfortable with a tucked-in top and socks or boots slipped under the cuffs so no faux leather is against my skin.
The waistband is flat in front, elasticized in back, and wide enough that it doesn't fold over. Even a year later, the waistband is flat and not creased from sitting. The ankles are elasticized and often such ankles are too tight for me and are uncomfortable. These are snug enough that when I take them off I see an imprint on my skin, but just as much as a pair of socks and no more binding.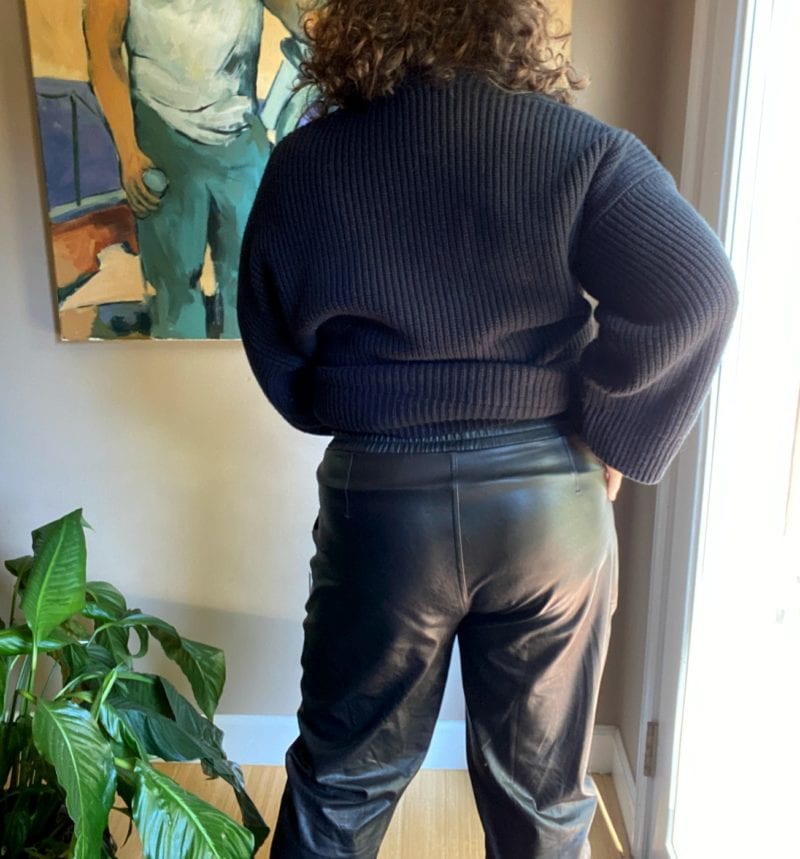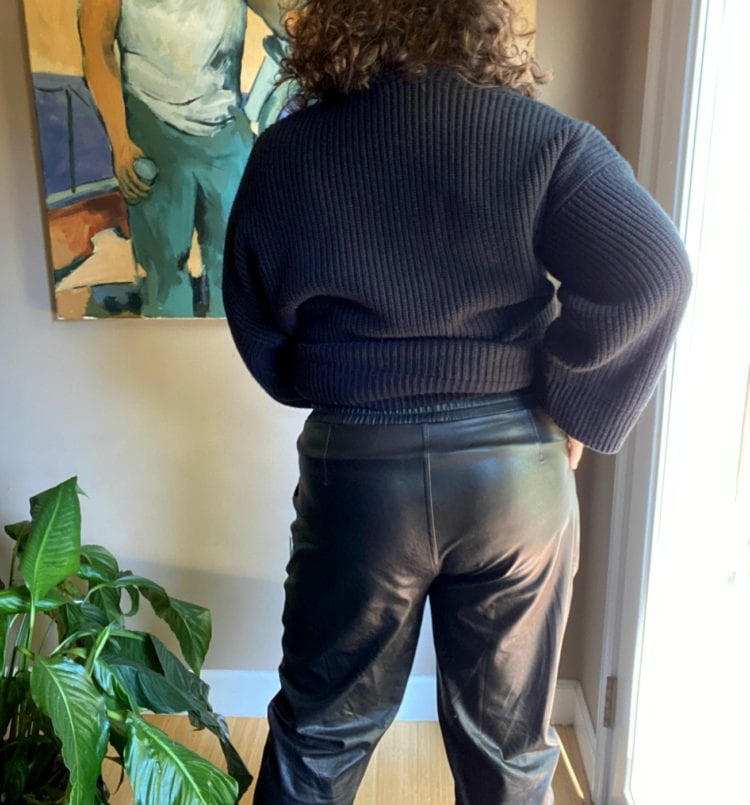 The Spanx faux leather joggers are machine wash on gentle and lie flat; which means I wash on gentle and then hang to dry off my bathroom shower curtain bar. I have never put these in the dryer and don't plan on testing them in that manner.
I have now washed these joggers at least 12 times and they still fit and look the same. No flaking or cracking of the faux leather, no stiffness, no shrinkage. They were ready to be rocked this fall as much as they were worn last fall through early spring (which was a lot, check out all the posts where I wore them).
How Realistic Looking are the Spanx Faux Leather Joggers?
The faux leather catches the light like real leather without being too shiny or looking too rubbery. I'm not trying to trick anyone into thinking these are real leather, but I like that they look nice enough that someone may wonder, and no one will think I'm wearing part of an '80s Halloween costume. These are not cheap pants, but IMO they look and feel and wear the way pants of this price should wear.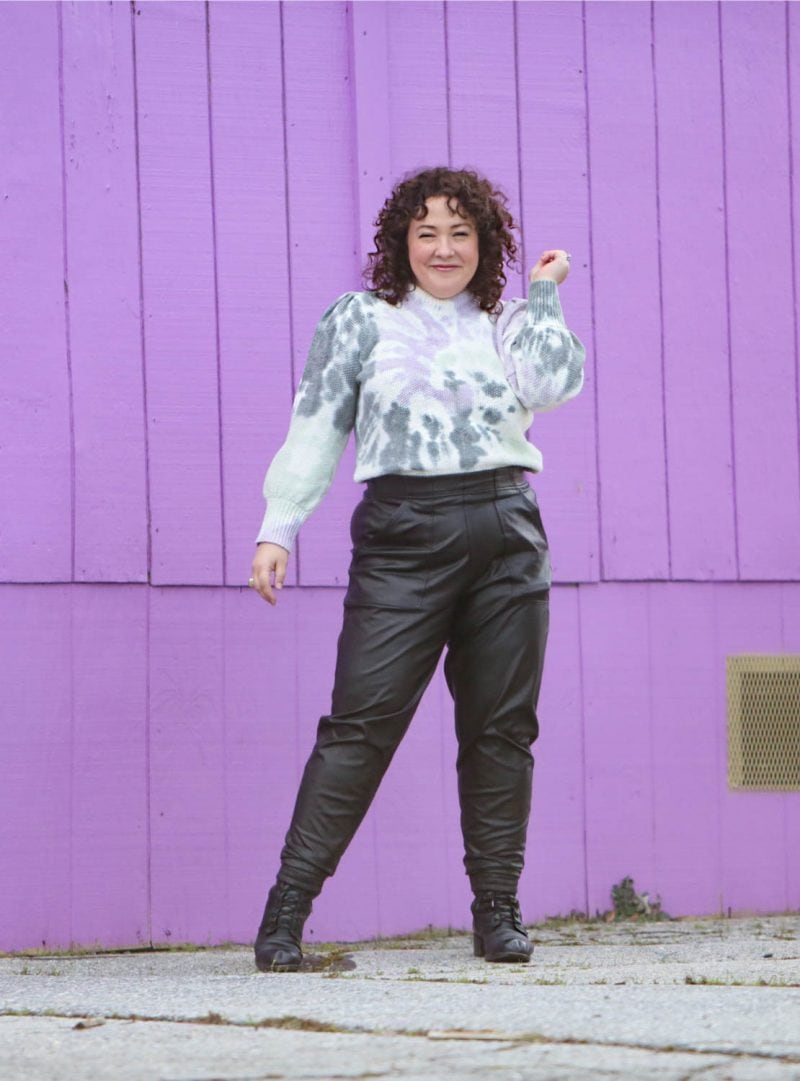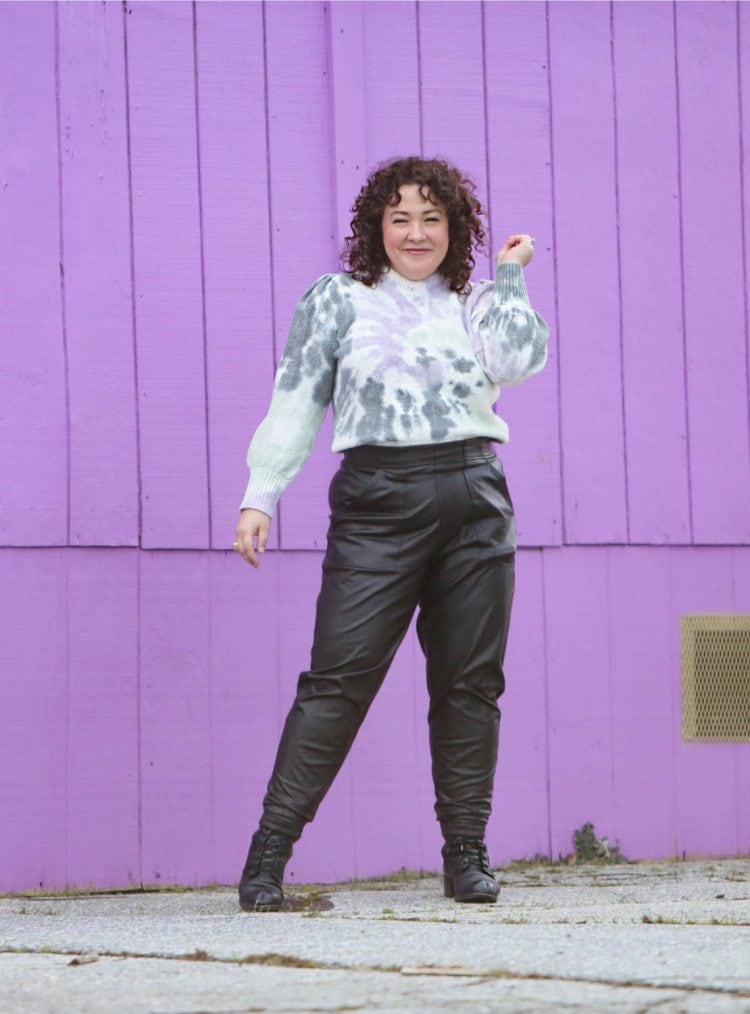 I also found that the look of the faux leather was consistent over wear and washings. My curves didn't cause places to stretch out and look thinner/different from other parts of the joggers.
I also don't find these faux leather joggers noisy. Faux leather leggings on my curvy legs rub together and make an unfortunate sound. Other faux leather pants I've tried with a looser silhouette have also made rubbery or stiff sounds when walking. None of that happens for me with the Spanx faux leather joggers.
What's It Like Shopping the Spanx Website?
The Spanx website offers free shipping and easy free returns. You have 90 days to make a return. Spanx understands you may wear an item and mid-day realize it is a wrong choice; however Spanx will not accept returns showing excessive wear and tear, or at the end of their intended lifespan or any items damaged by misuse, alterations, improper care or accidents. I placed my order On September 12, 2020. I received shipping notification on the 15th, and they were delivered on the 18th.
To see how the Spanx website is running in 2021, I made an order this fall for a different item. I placed my order on a Monday, received shipping notification that Wednesday, and received my order on Saturday.
How to Style Faux Leather Joggers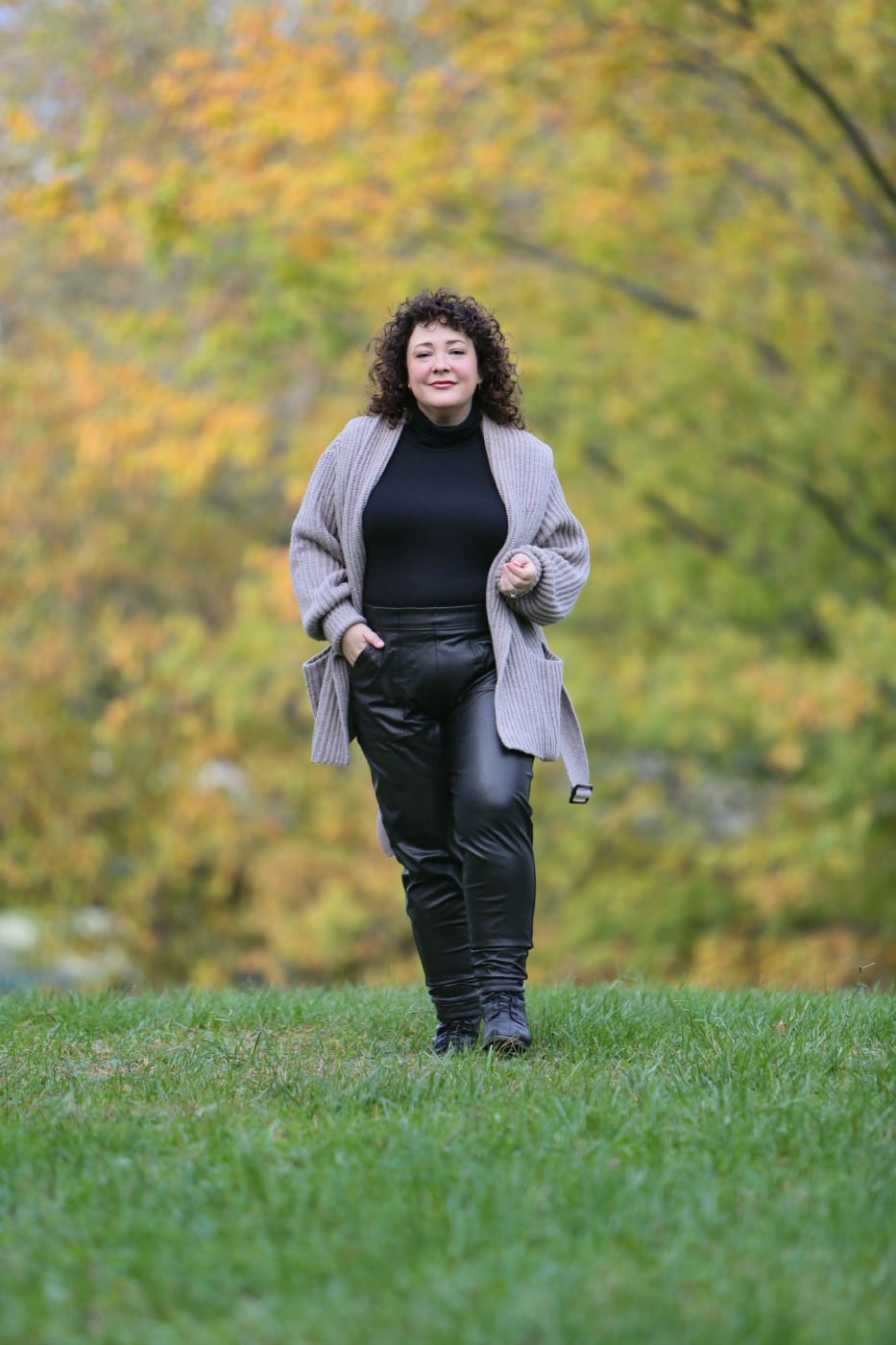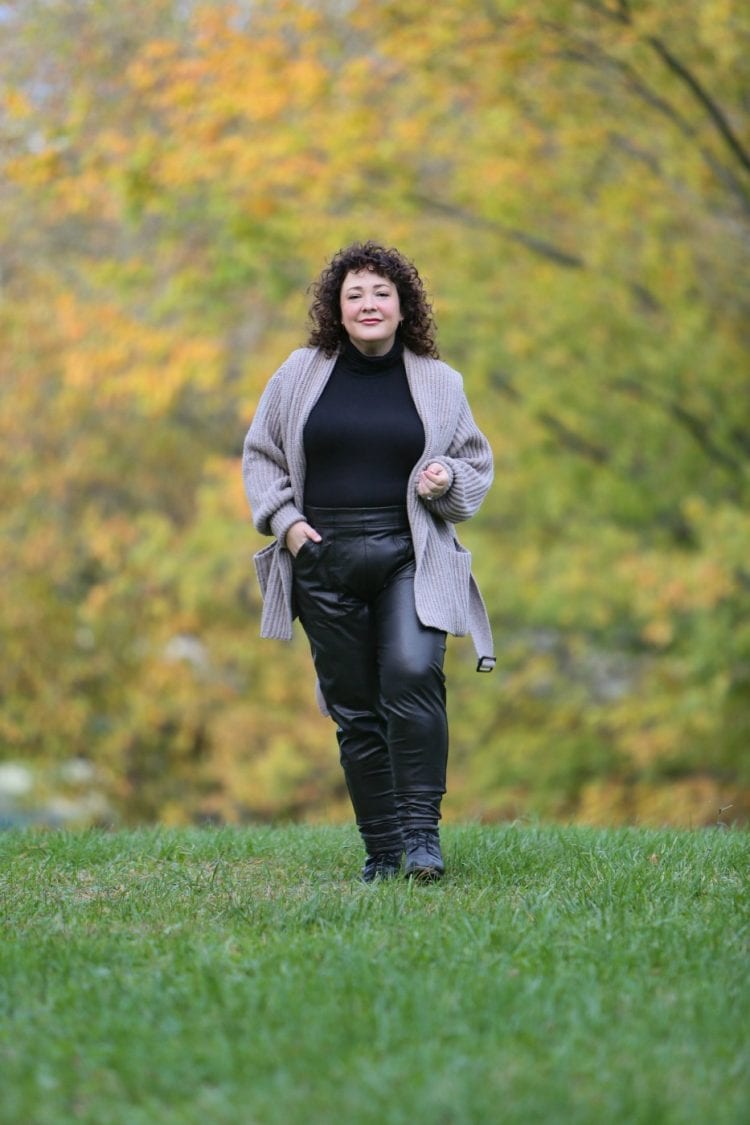 Here are some suggestions on how to style faux leather joggers:
With a graphic tee, denim jacket or boyfriend-style cardigan sweater, and sneakers
With a black turtleneck sweater, patterned or bold-colored flats, and jewel earrings incorporating the shoe color
With a silk blouse half-tucked and kitten-heel ankle booties either in black leather or a fun color or print that pulls the ensemble together
With a crisp white cotton shirt half-tucked, a printed silk scarf at the throat, and black lace-up boots slipped under the pant cuffs
With a padded shoulder t-shirt and white athletic sneakers
With an off the shoulder sweater or knit top and combat boots slipped under the cuff of the joggers
With a slouchy cozy sweater half-tucked and slip-on sneakers in leather, suede, or a skin print
With a hoodie, an optional blazer or denim jacket over it, and your favorite sneakers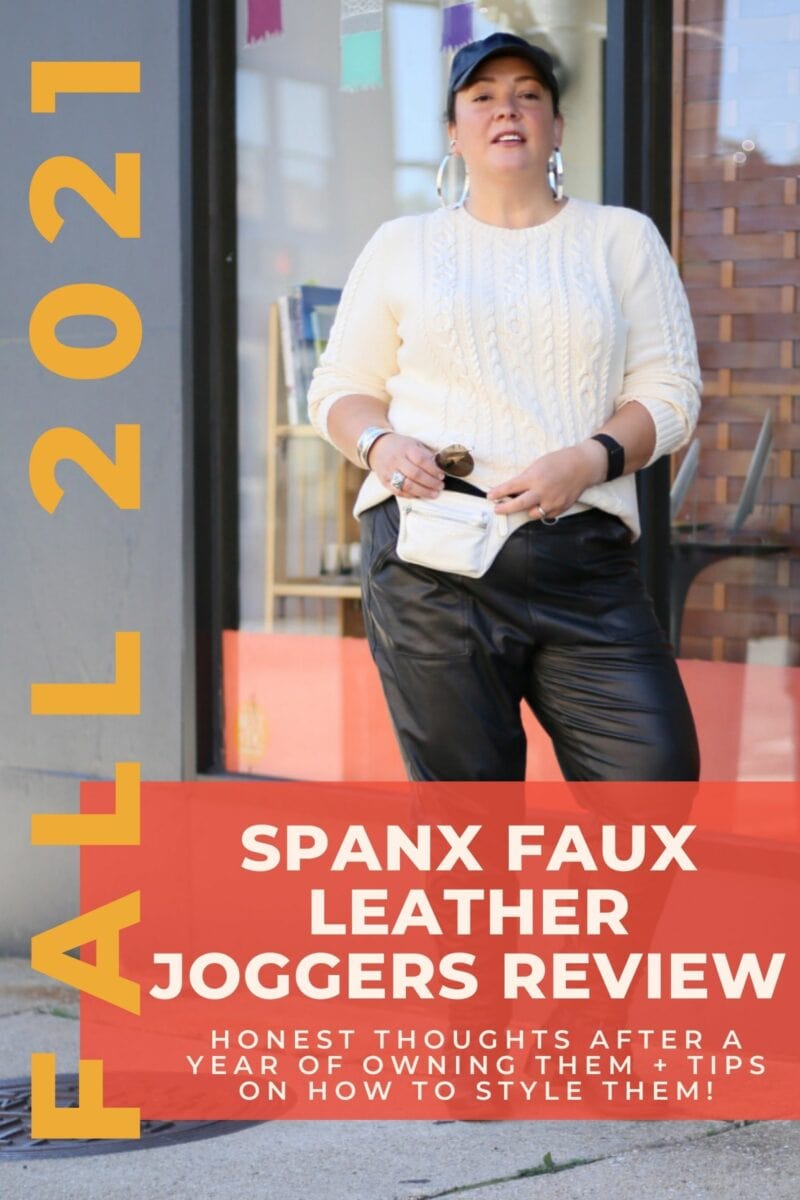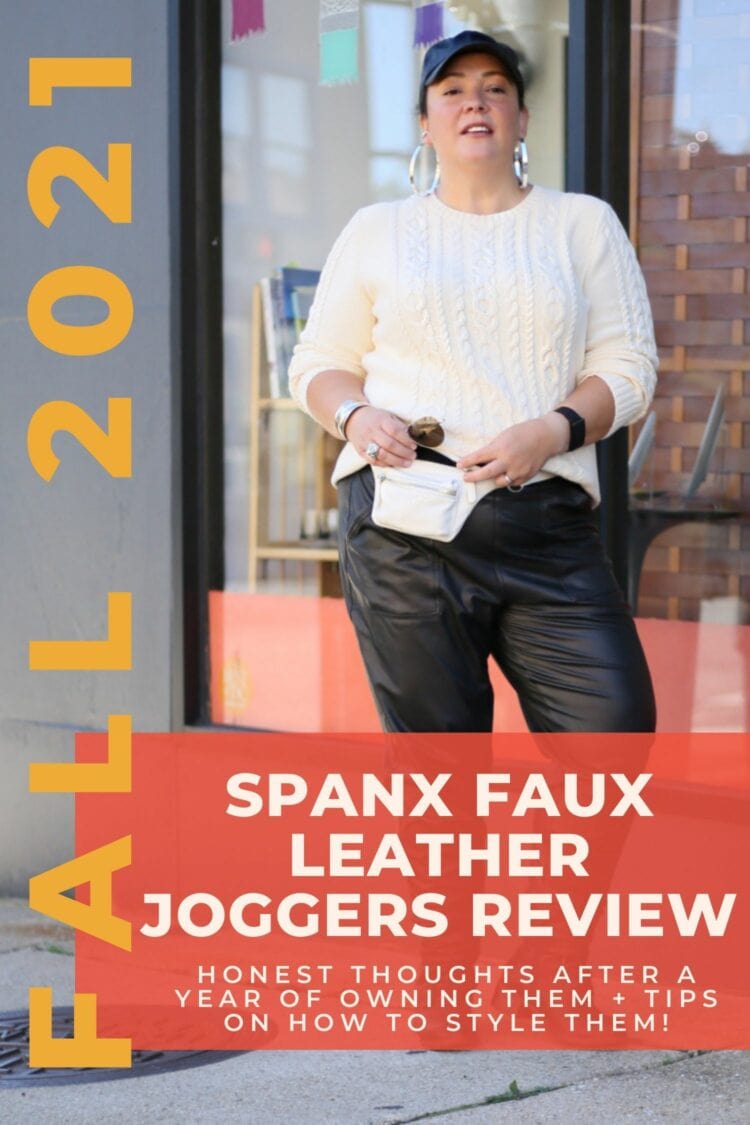 When I shared that I got these Spanx leather-like joggers on Instagram, several had questions about fit and fabric as they too were seeing the ads everywhere. If I didn't answer your question in this post, please ask it in the comments and I will answer honestly to the best of my ability.
Shop the Post: