This article may contain affiliate links; if you click on a shopping link and make a purchase I may receive a commission. As an Amazon Associate, I earn from qualifying purchases.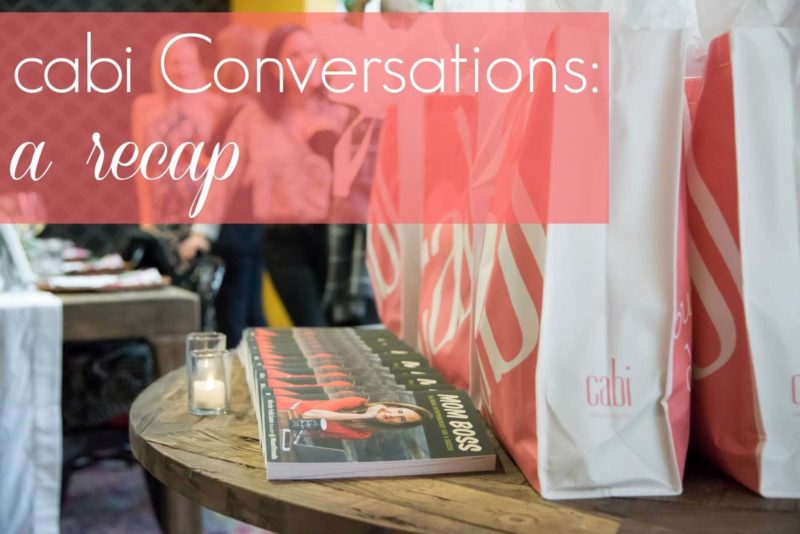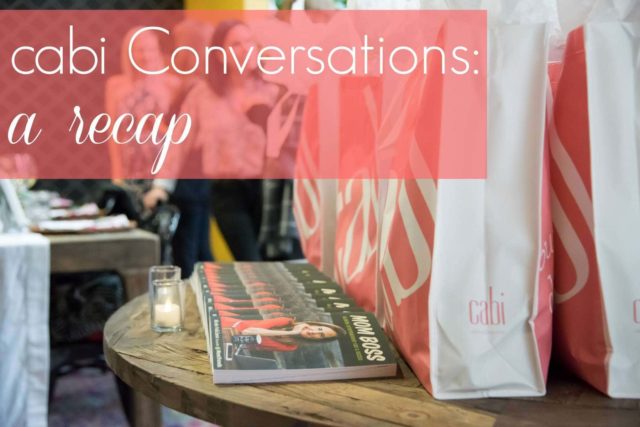 Last month I attended one of the coolest events I have experienced in my 10+ years of blogging. I was invited to cabi Conversations, an event where the clothing company cabi brings together female bloggers and influencers to chat with individuals from their team about being an entrepreneur, work/life balance, and how to do good with our influence. This event was hosted by Nicole Feliciano from Momtrends, the epitome of a successful Mom Boss, who recently wrote a book of that exact name.
This was a quick trip, less than 24 hours. Cabi flew me from DC to LAX. I had a very early flight so I could be in California by noon. For my flight I wore the cabi Playsuit (see me wear it in this post) with an old Stella & Dot pendant necklace (worn here), and my white Birkenstocks.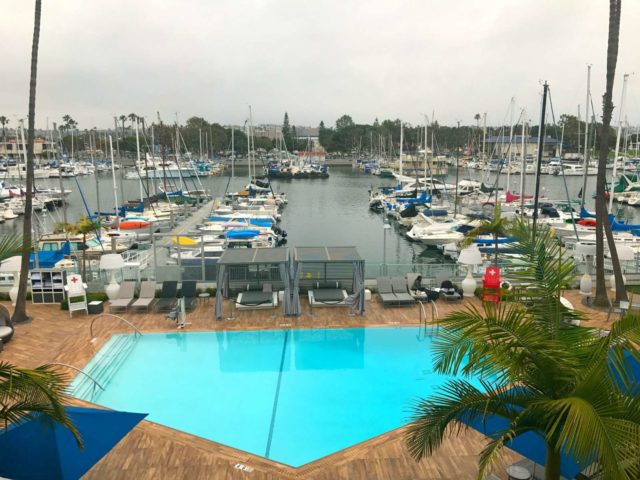 When I arrived at LAX, a driver was waiting for me to take me to the Marina del Ray Hotel. A gorgeous place, the hotel is right on the marina and has a mid-century modern vibe and beautiful views from every window like what I caught in the photo above. I arrived around noon, which was 3pm my time, and I hadn't had a proper meal since 5:30am my time. I freshened up in my room and went straight downstairs to the hotel restaurant, Salt to fill my growling belly.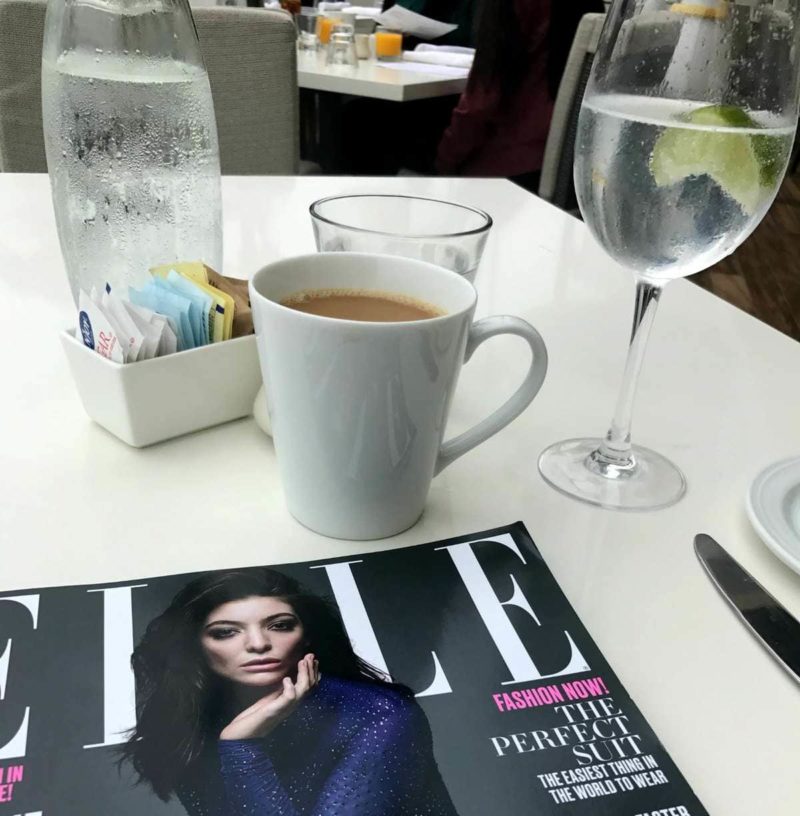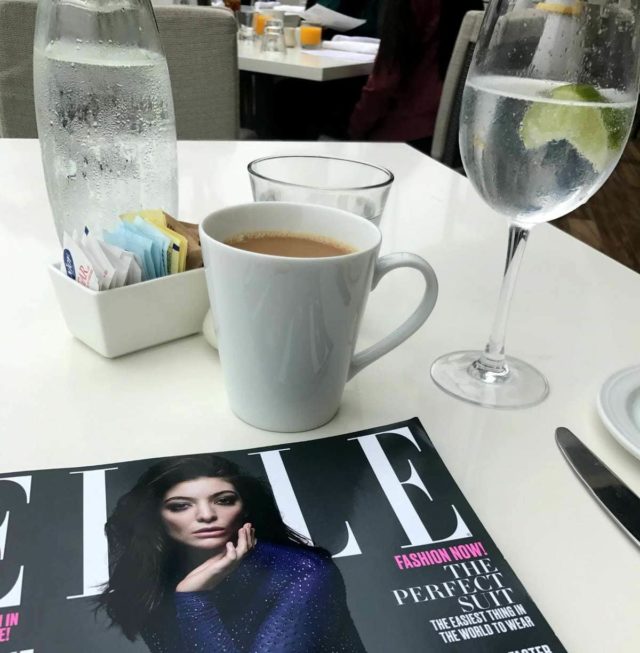 I got a seat out on their deck overlooking the marina. They were serving brunch, and I had an amazing meal and plenty of coffee while enjoying the view and a copy of Elle magazine. I miss my family when on travel for the blog, but it's pretty awesome to have alone time to do decadent things like read magazines!
After lunch, I had an odd pocket of time. If I wasn't in a three hours later mindset, I may have grabbed a cab and checked out the area. But because I knew I'd be fading fast at the evening event, I took the time to have a disco nap in my room's big comfy king sized bed (meditation videos on YouTube are my go-to for relaxing when my mind is still trying to go go go).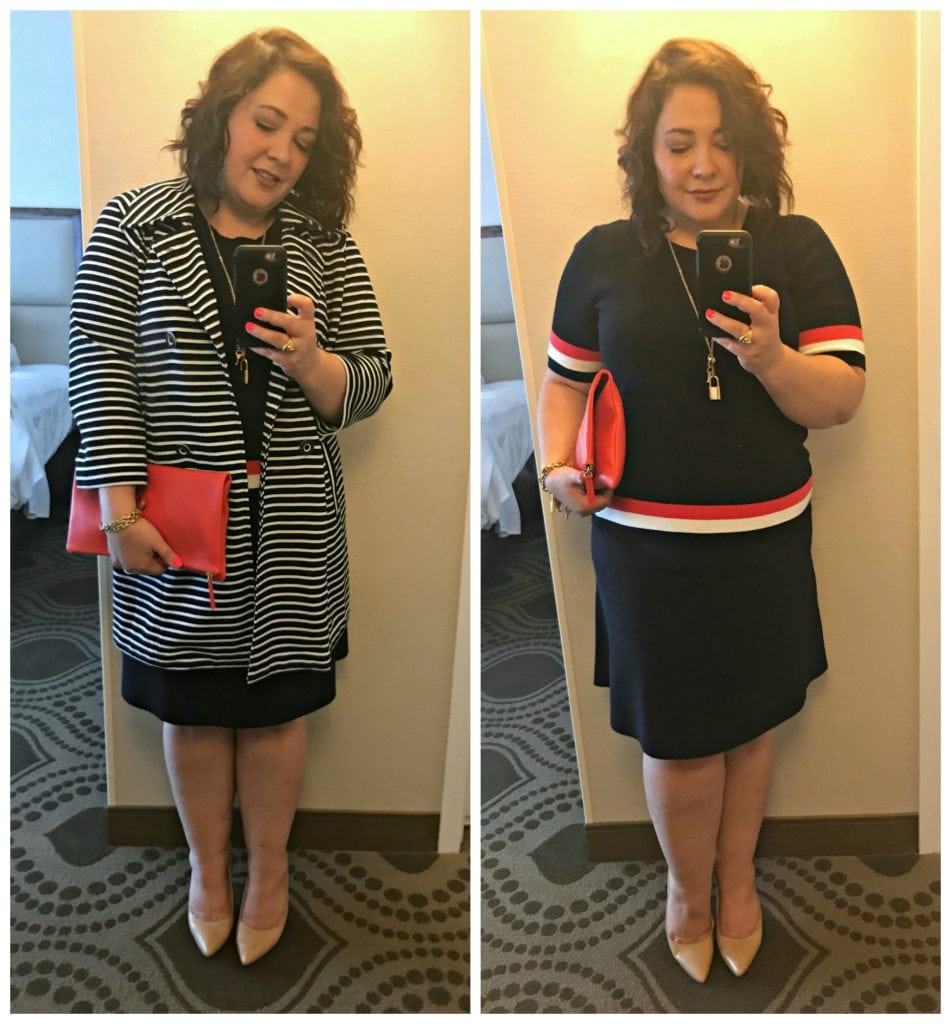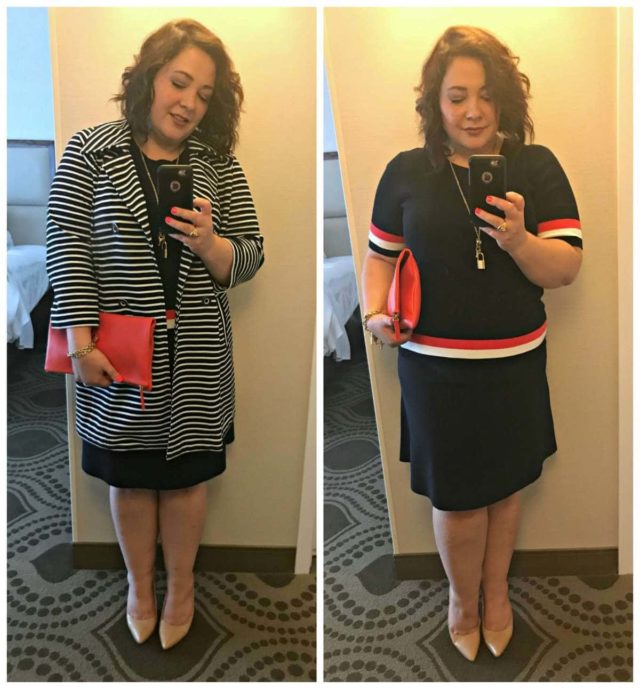 For the event, I wore exactly what I featured in this blog post: the cabi Hampton shell and Dame skirt with the Lock & Key necklace and bracelet. My shoes are Nine West, the bag is Everlane. I also brought along the Maritime trench.
At 6pm, I went down to the hotel lobby where I met up with Cheryl from Oh To Be a Muse, Jenna and Lisa from Savvy Sassy Moms, Nikki from My Style Diaries, and Nicole from Momtrends. Cabi had a luxury SUV drive us from the hotel to the event venue, Feastly.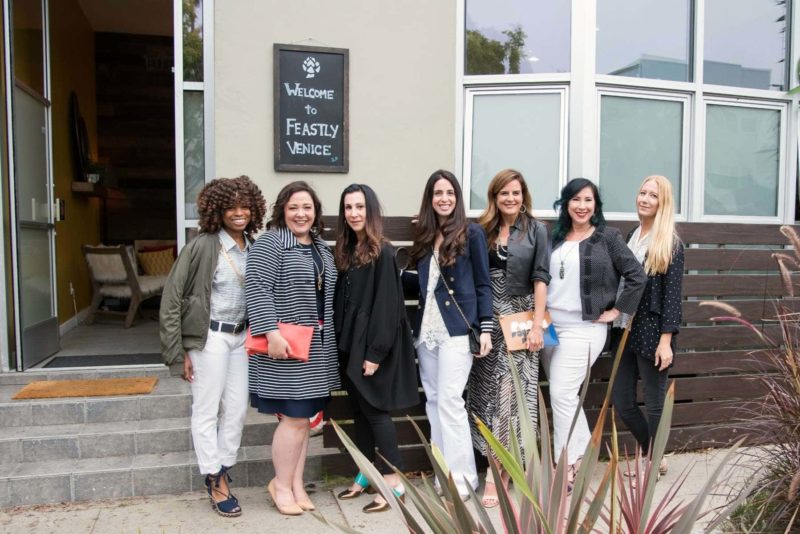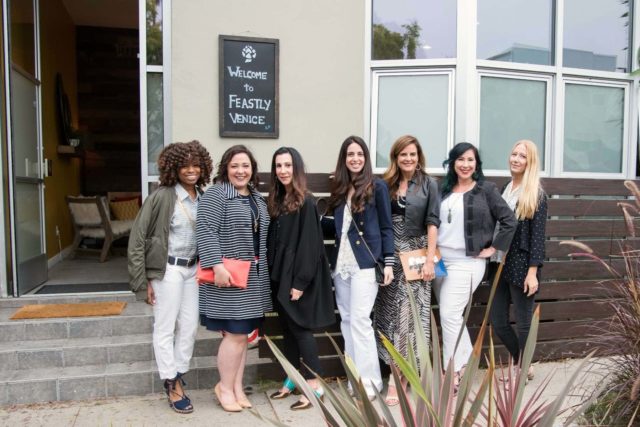 Feastly is in a residential area and an event space. You can come to dine with others for an event or special chef in residence, or rent the space for a special occasion and bring in your own chef or catering.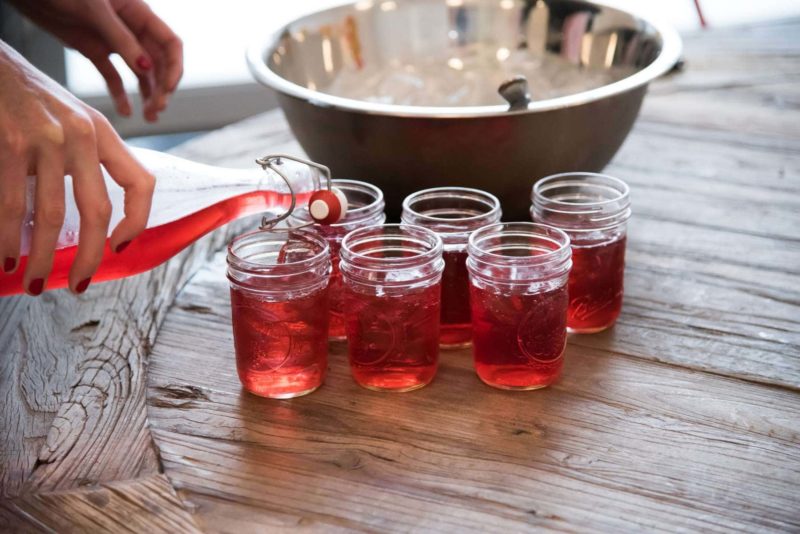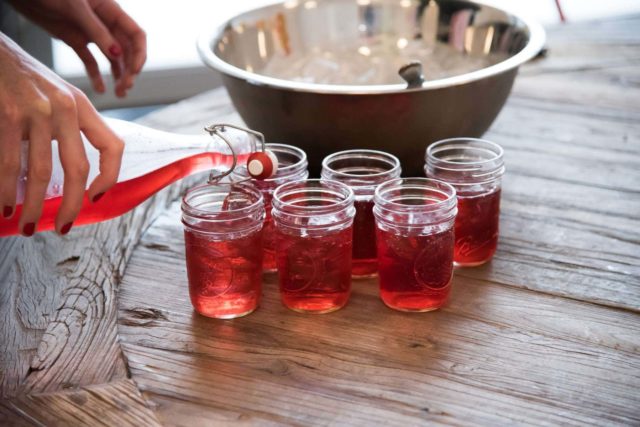 As we entered we were provided with a Hibiscus Collins cocktail (found a recipe online). There were 15 influencers, a few from cabi and their PR firm, and Nicole the host. We mingled and admired one another's outfits (cabi provided each of us an outfit of our choice from their Spring 2017 collection and some of cabi's executive team was wearing pieces from the upcoming fall collection).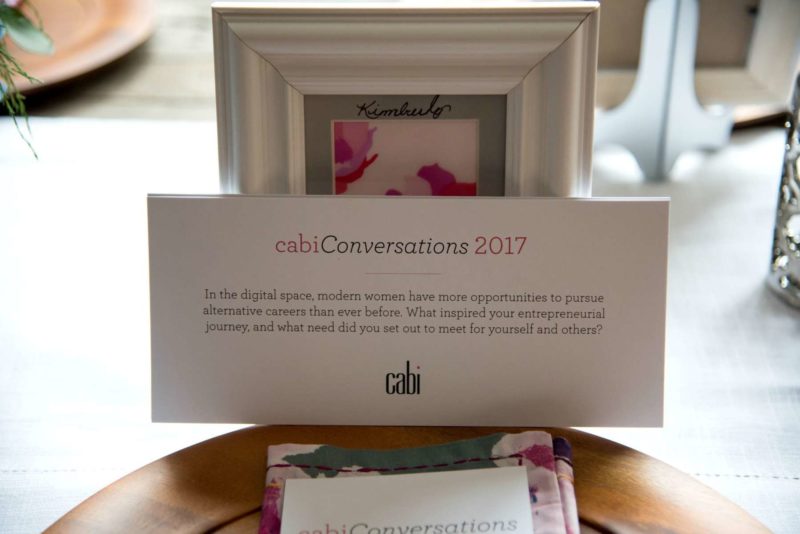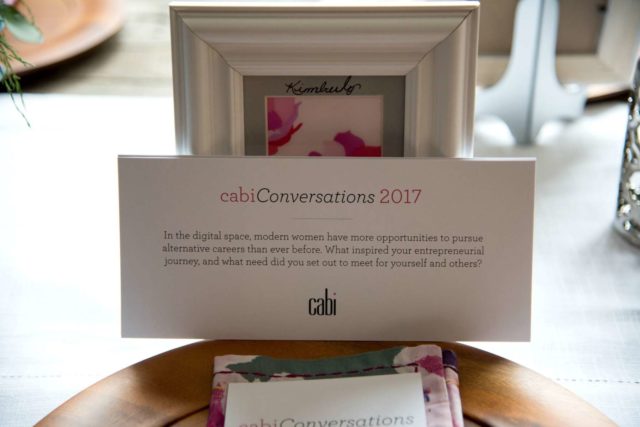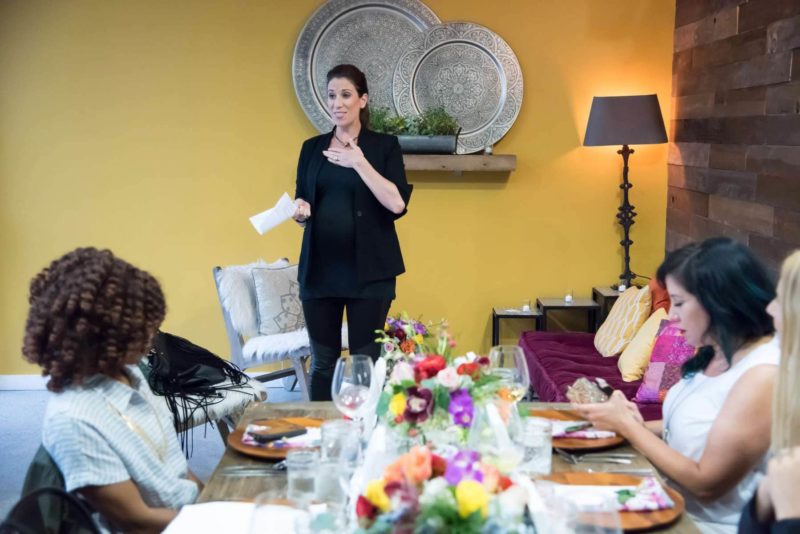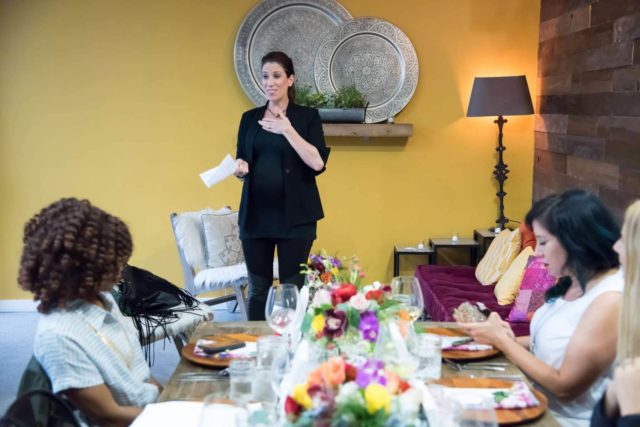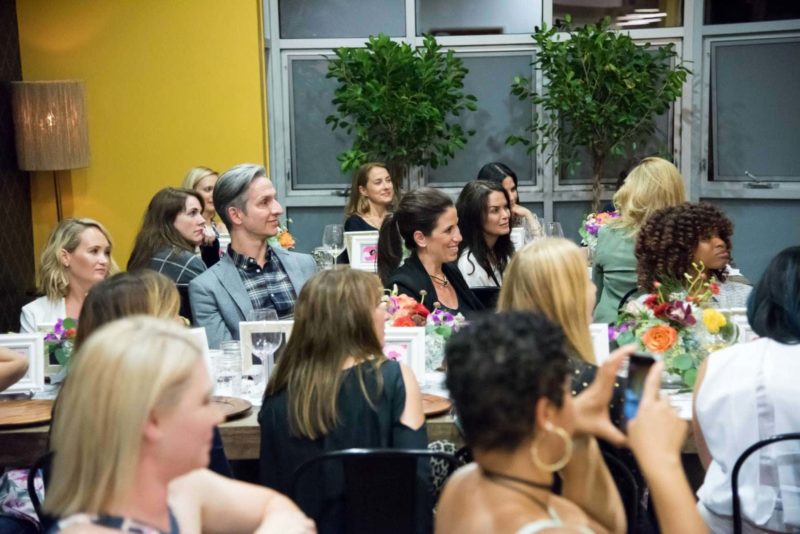 The way the evening was set up, we heard from someone from cabi's corporate team, then were given an open-ended question to spark discussion at each of our tables. We heard such inspiring stories of cabi from Katie Malone, VP of Marketing, CEO Lynne Coté, resident and Chief Culture Officer Kimberly Inskeep, and Nicole Feliciano. There was a different conversation starter for each course of the meal.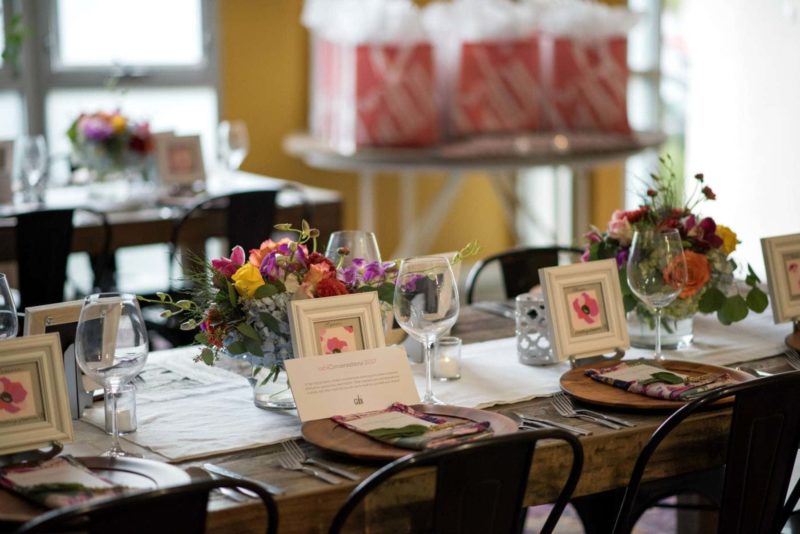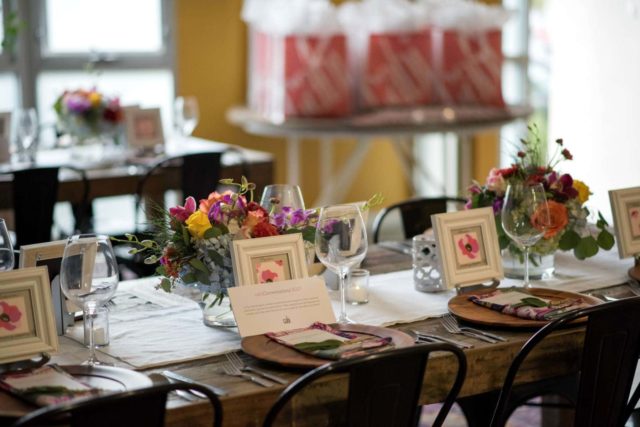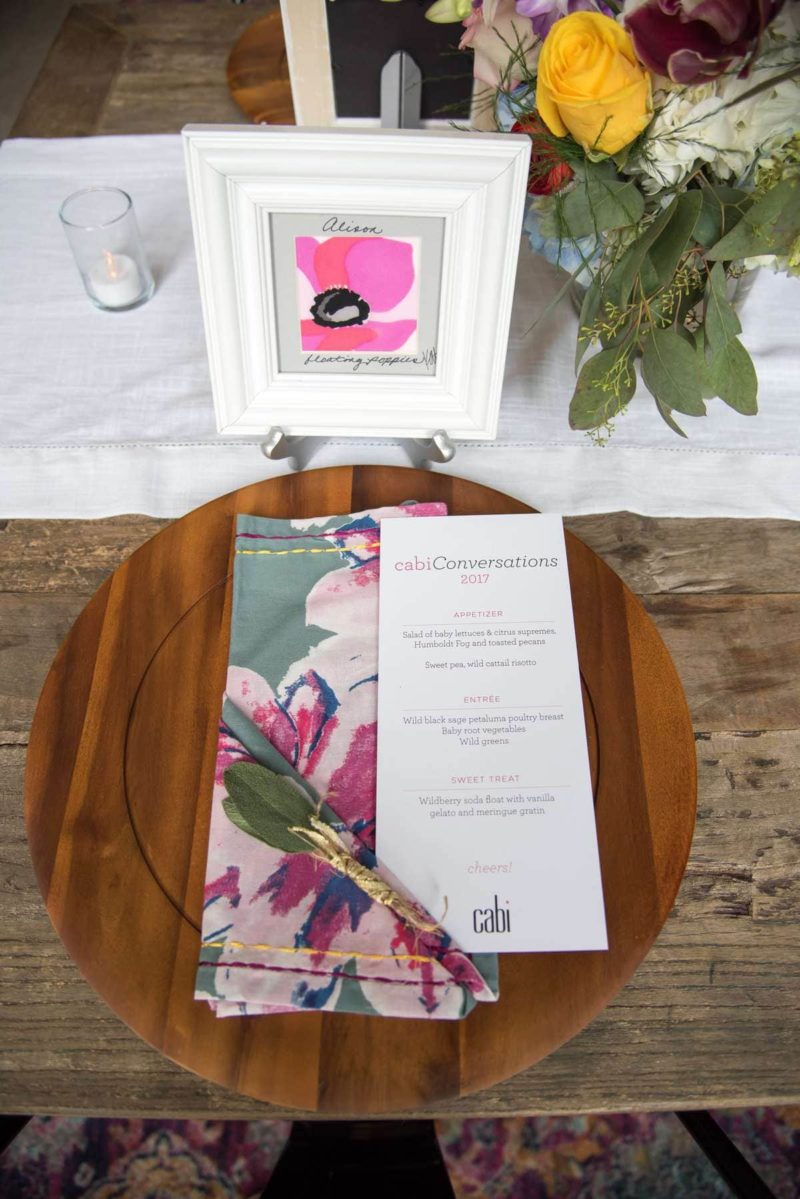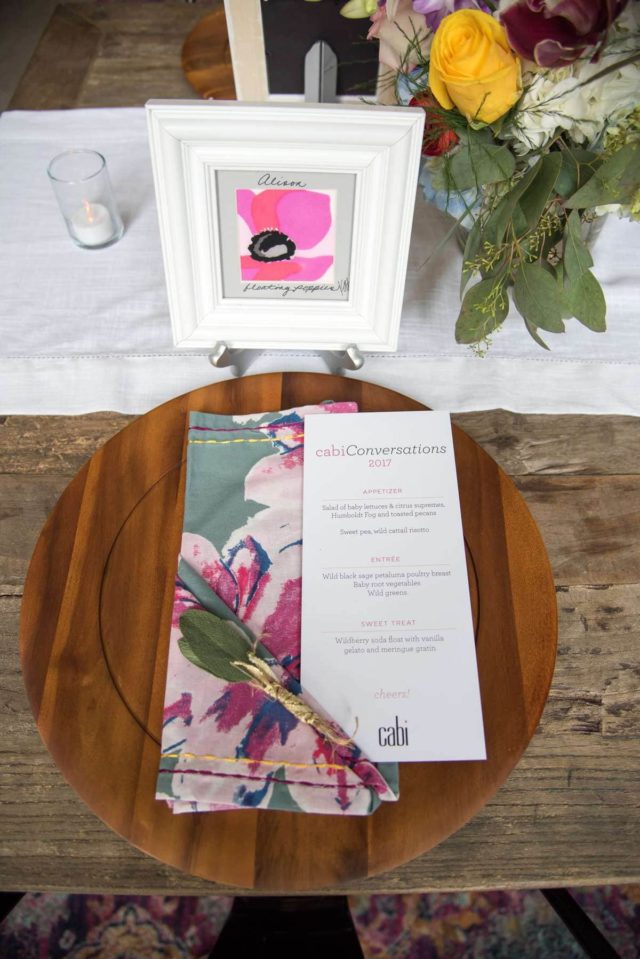 There were three tables with eight at each table. We found our seat by a beautiful framed print of floating poppies with our name on it. My table had an amazing group of women: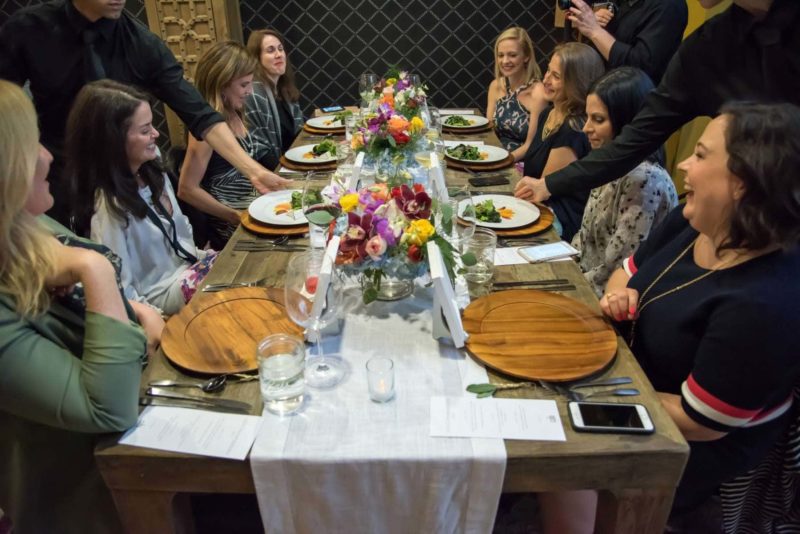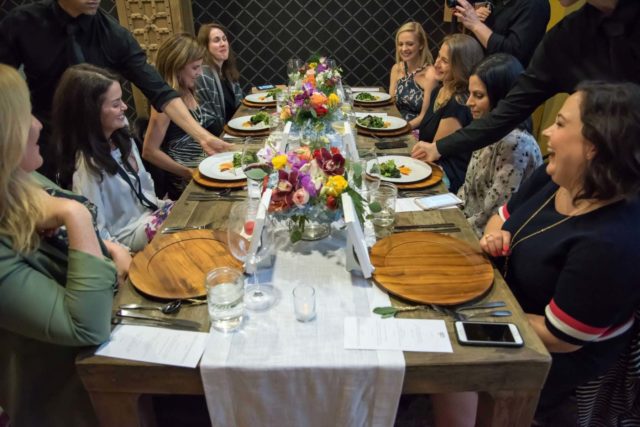 Clockwise from left: Elise from My Cupcake Addiction, Kimberly Inskeep the President and Chief Culture Operator for cabi, Nicole Felicino, Michelle Stevenson from HLGroup, Emily Sanders the Director of Brand Messaging and Content Strategy for cabi, Louise Berggren, Melinda from Curated Cool, and me.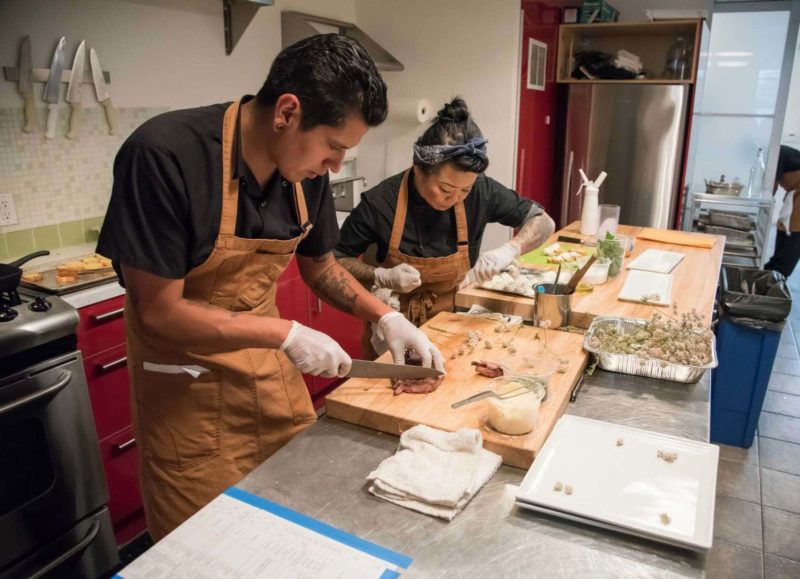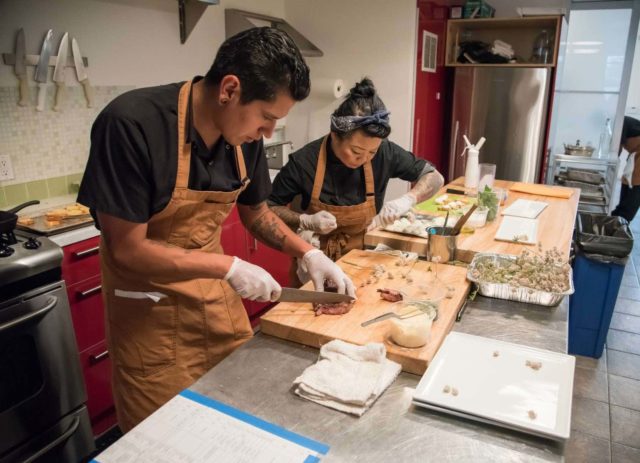 The food was amazing and creative. Each course came out and was more inventive and delicious than the last. The wine kept flowing for those who drink. The decor was gorgeous.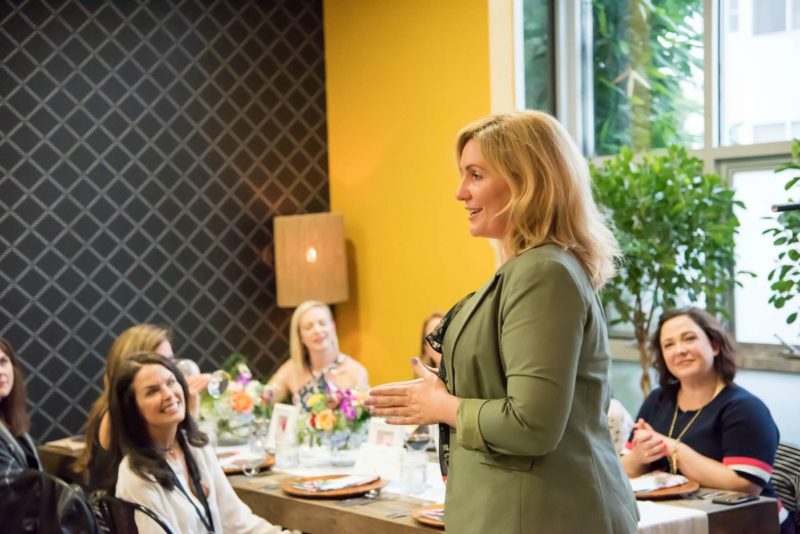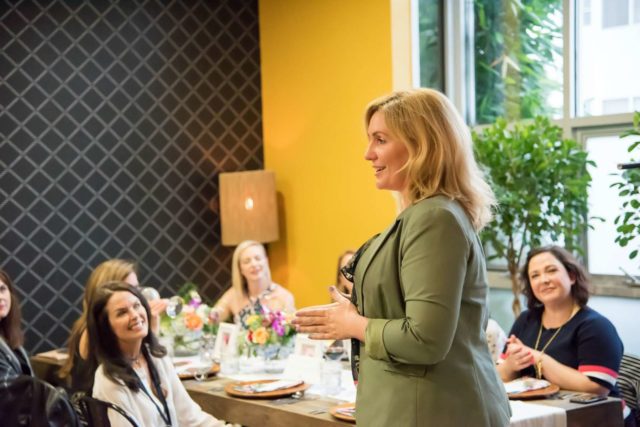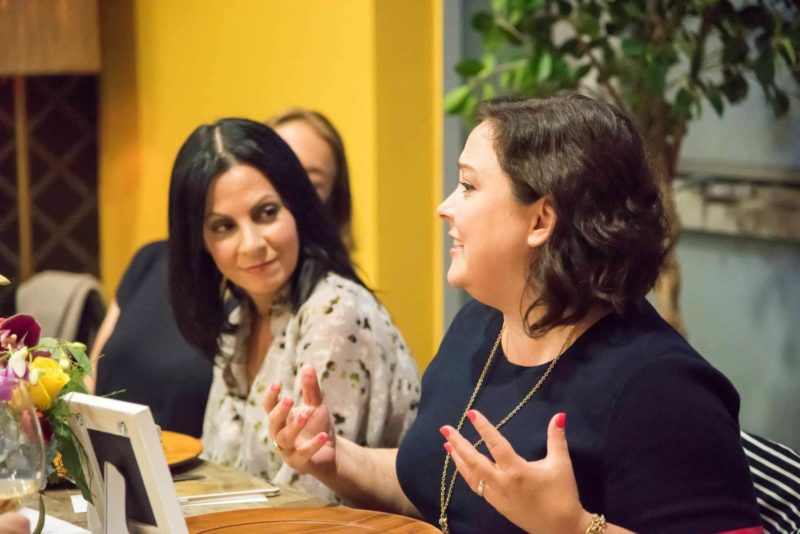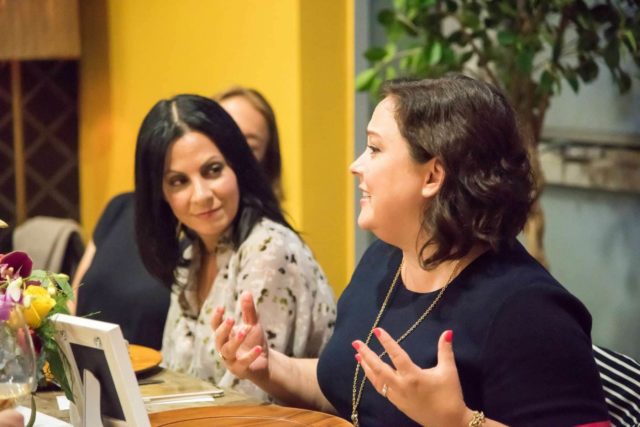 But the best part of the evening was the conversation. To be in a room with so many successful, creative, and kindhearted women was inspiring and empowering. I've been having a hard time trying to balance the day job, blog opportunities, and my personal life and this evening gave me such energy and direction. While we are all different with different businesses, we all had so much in common.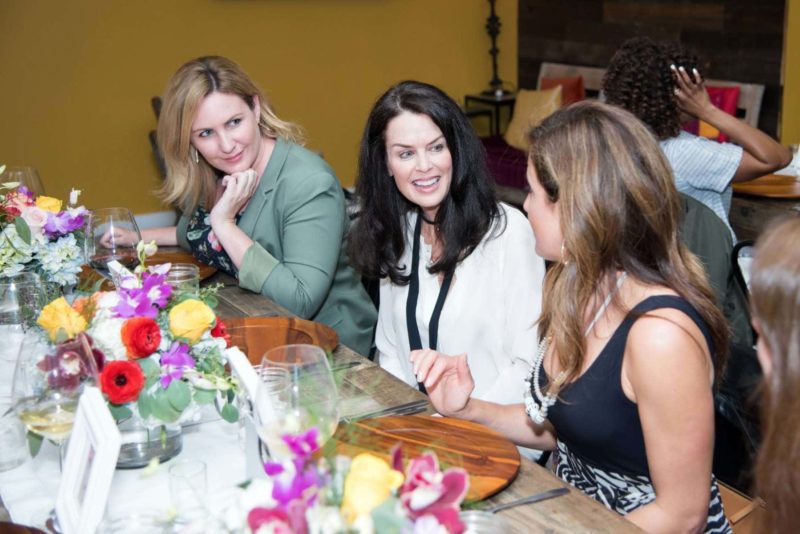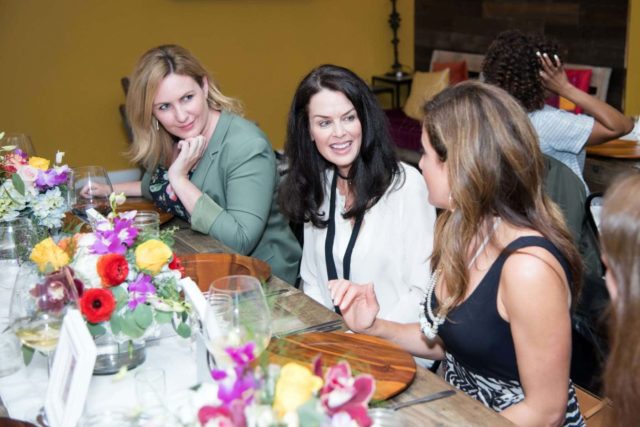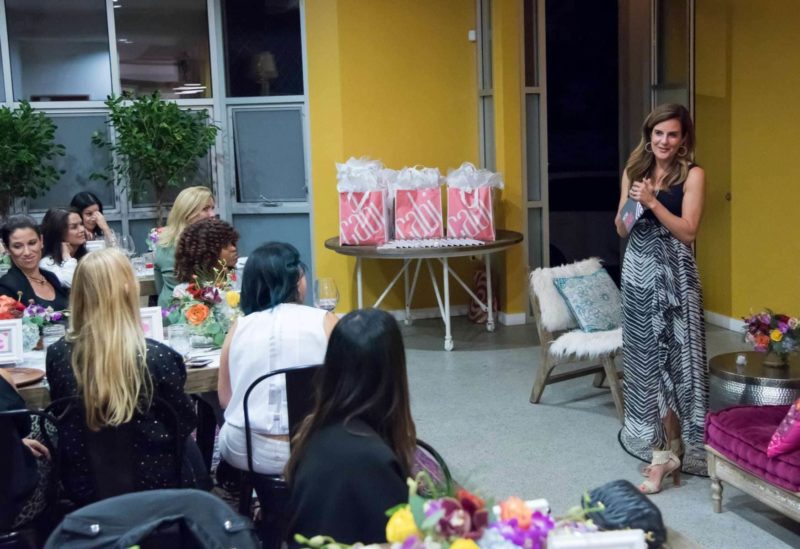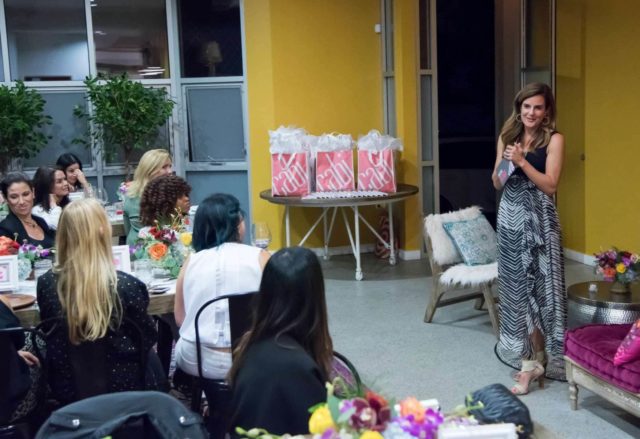 It was exciting to converse with strong women who agree we're not successful unless you're improving this world or the people in it. And to see these women entrepreneurs thriving, kicking ass and taking names while supporting and promoting their fellow women was incredibly motivating.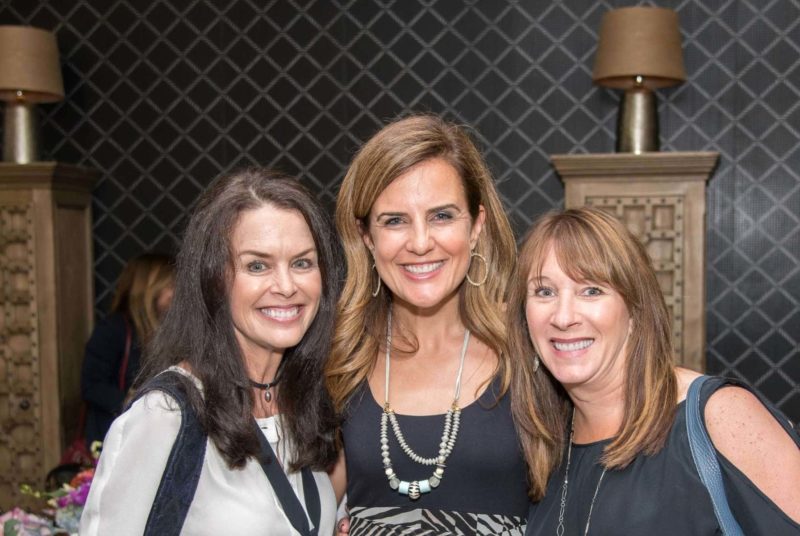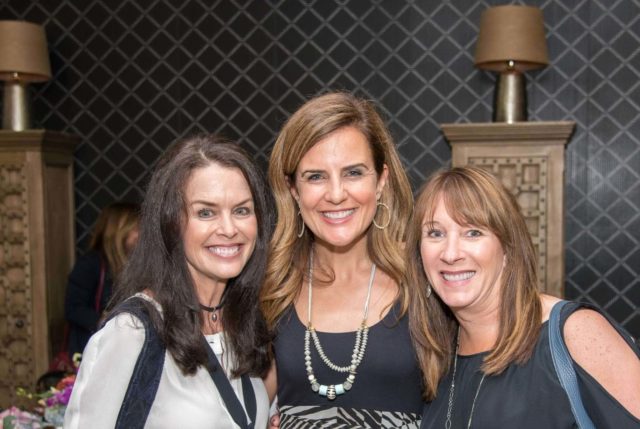 Getting to know more about cabi made me a major fangirl. I've known about cabi for several years thanks to my friend Lisa who is a consultant for cabi. I've found the clothing really fun, well made, and surprisingly flattering for a variety of sizes and shapes of women. But to know the good that cabi does, and how they empower their stylists is really awesome.
For 12 years,
the Heart of cabi Foundation
has been making a difference in the lives of women in need, has donated over $48 million in cash and clothing, and helped fund 11,200 small business loans, impacting 62 countries through the W.E. are cabi program in partnership with Opportunity International, a global nonprofit microfinance organization.
Launched in early 2015, W.E. are cabi is the first-ever one-for-one micro-lending program that funds small business loans and training programs to support women entrepreneurs in the developing world through Opportunity International. For every cabi Stylist that starts her business, cabi will fund a small business loan for a woman building her own business.
When placing a cabi order, customers can opt to round their order totals up to the nearest dollar for their Make a Change Program. The change that's given funds a small business loan through Opportunity International and makes a difference helping women around the world.
For every Collection cabi has, they designate one item as their Heart of cabi item (for this collection it's the the Crush Top) and a portion of the net proceeds from the sale of this item helps fund The Heart of cabi Foundation's efforts around the world.
After dinner, our SUV drove us back to the hotel, but we weren't ready to end our conversation. A few of us changed into comfy shoes and met at the hotel bar, and then in a common area in the hotel to chat some more. There wasn't any competition or cattiness, we were honest and open with one another because we all see that when any of us succeed, we all succeed.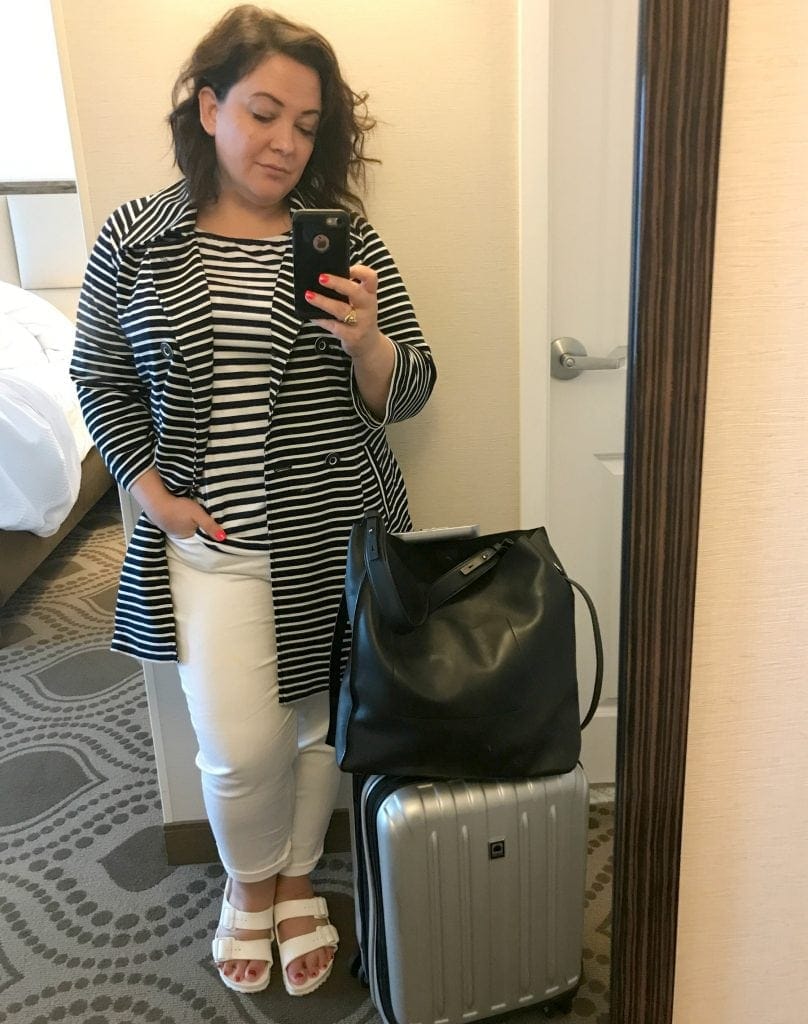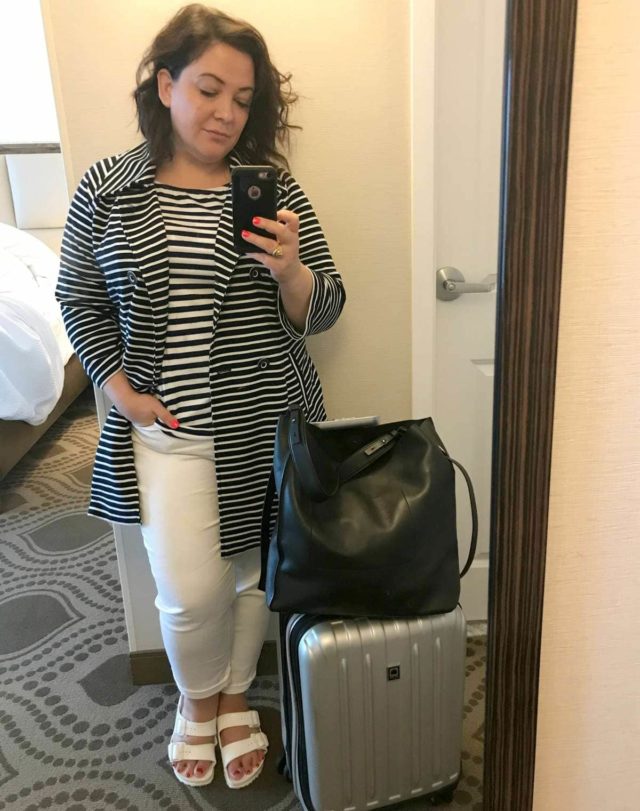 The next day I was back at LAX before noon ready to head home to my family and back to the day job the next day. For the flight home I wore the cabi Maritime Trench, ellos striped shirt, white Talbots jeans, and again the white Birkenstocks. The trench was perfect, I wore it as a blanket, shoved it in my tote when I got hot, and it didn't wrinkle. The trip was super short, but the experience and the friendships I made will last a long time. Thank you cabi for this experience and for sponsoring this post. Thank you also for inviting me to Scoop in Nashville later this month. I hope to meet some of you cabi stylists who read Wardrobe Oxygen. Let me know in the comments if you'll be there!