This article may contain affiliate links; if you click on a shopping link and make a purchase I may receive a commission. As an Amazon Associate, I earn from qualifying purchases.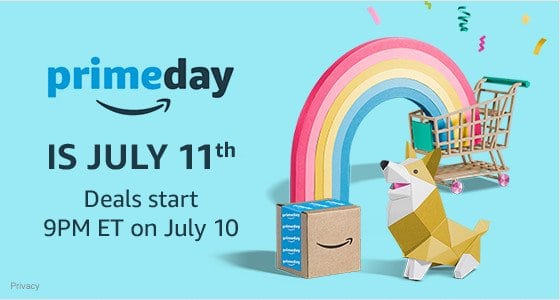 Unless you live under a rock, you know that it's Amazon Prime Day. Well actually, TOMORROW is Prime Day but deals start today at 9pm ET.  To celebrate their birthday, Amazon has started this annual tradition of thanking their Prime members with amazing deals. I love Amazon. As a busy working mom, it's my BFF for when I need the unexpected – green leggings for a role in a school play, felt for a Girl Scout project, the best hair detangler on earth for Emerson's rats nest, six bottles of clear school glue for a school event. I love it for making shopping easy – I have recurring purchases for popular home products like eco-friendly detergent, sweet almond oil, and plant-based protein shakes. It's a given for things like Kindles, e-books, regular books, and music; but I also love it for finding designer fashion and name brand beauty and skincare. Prime Day is a great time to stock up on all these categories and more. While some of their deals are lameola, here's the ones I think are pretty fantastic:
First and foremost, if you're not a member of Prime, you need to sign up to get these deals. Prime more than pays for itself in my opinion. Along with free speedy shipping and returns on so many products, you also have access to Prime video for great movies, TV shows, and more. Click here to sign up.

Amazon Products on Sale
Fashion and Beauty on Sale
Even though Prime Day is best for appliances, there's some great deals going on for your closet!
Home and Office on Sale
Eight is a high-tech mattress brand that's getting a TON of press and positive reviews. While the price is normal on their website, through Amazon they're offering $200 off their smart mattresses AND free shipping. Use code 8PRIMESM and this link. Code only valid on July 11, 2017. If I didn't have a relatively new mattress I'd likely try Eight; if you have one of their mattresses or order one on Prime Day let me know!
Erin Condren planners are so popular. I haven't tried them yet, but with this promo of 20% off I may finally bite the bullet.
Delta showerheads are 20% off. This may seem super random, but showerheads have gotten so high tech, able to conserve water while providing better water pressure. A new showerhead could improve your bathing experience while saving money and the environment!
Travel Necessities on Sale
If you don't own packing cubes, you should. They're a travel gamechanger, making more space in your luggage, help keep things organized, and prevent wrinkling. This set of large packing cubes (the size I use most) are usually $26.99 but on sale for $18.69.
For traveling overseas, visiting heavily populated cities, or attending a protest march, it's good to have a neck wallet. It hangs on a strap undetectable under your clothing to hold money, your passport, credit cards, and more. Usually $14.99, today it's only $8.69. So cheap (and so highly rated), there's no reason NOT to get one and have it at the ready!
There's plenty more deals happening, but mostly appliances and Amazon products. I highly recommend you take a look, it's a great way to get amazing prices on high quality items. And unlike a Black Friday promotion where you're racing through a store like a mad woman, you can shop from your computer or phone AND have access to tons of customer reviews to help you make the right buy. Happy shopping!