This article may contain affiliate links; if you click on a shopping link and make a purchase I may receive a commission. As an Amazon Associate, I earn from qualifying purchases.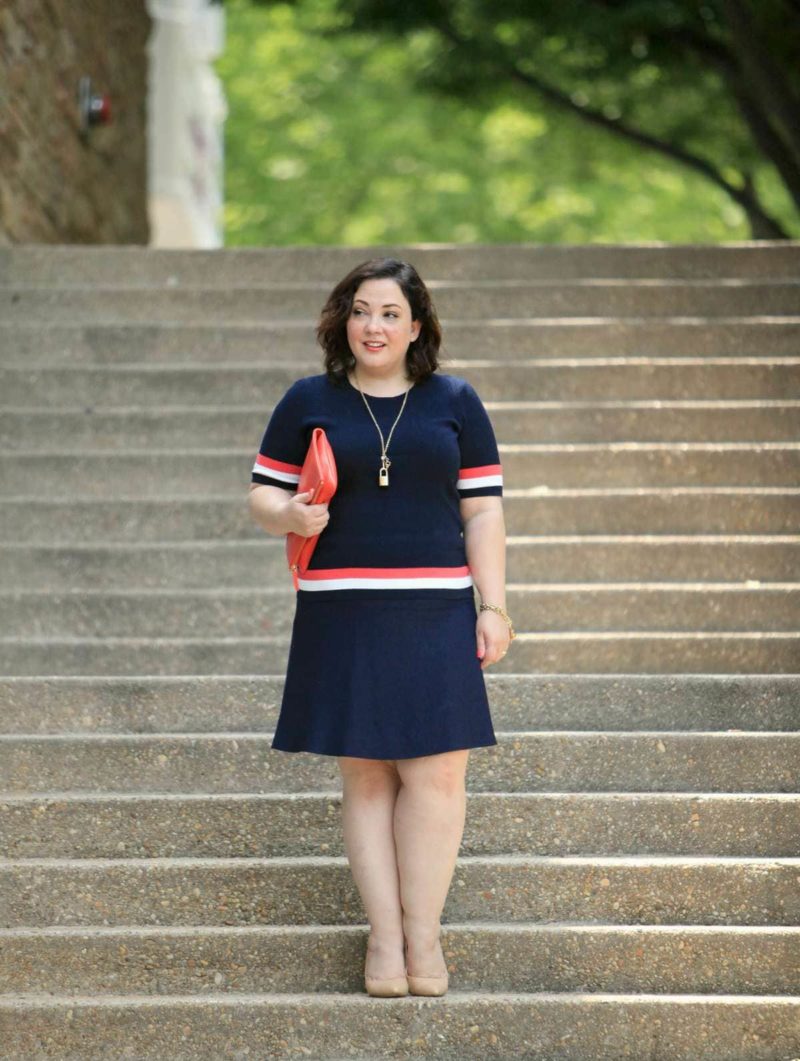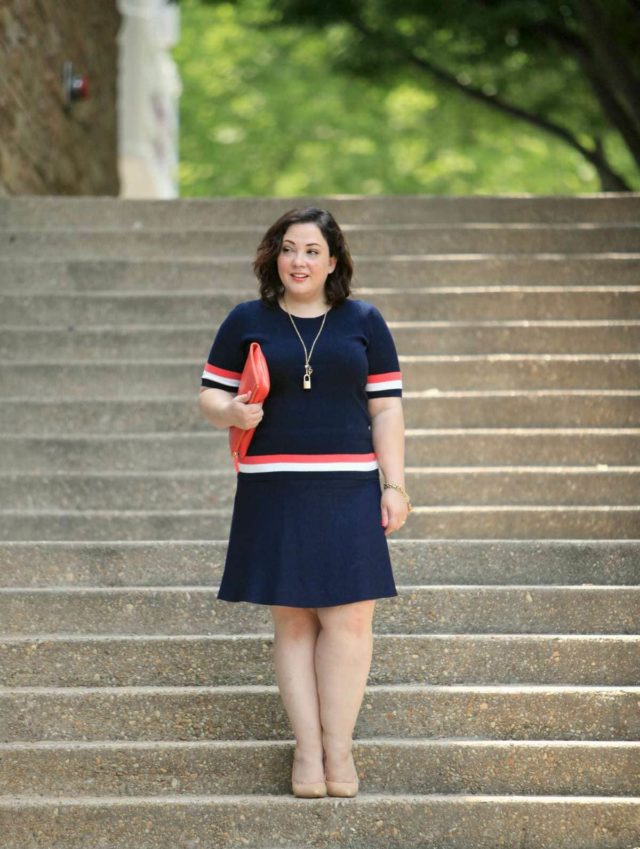 top | skirt | necklace | bracelet | bag | shoes | lipstick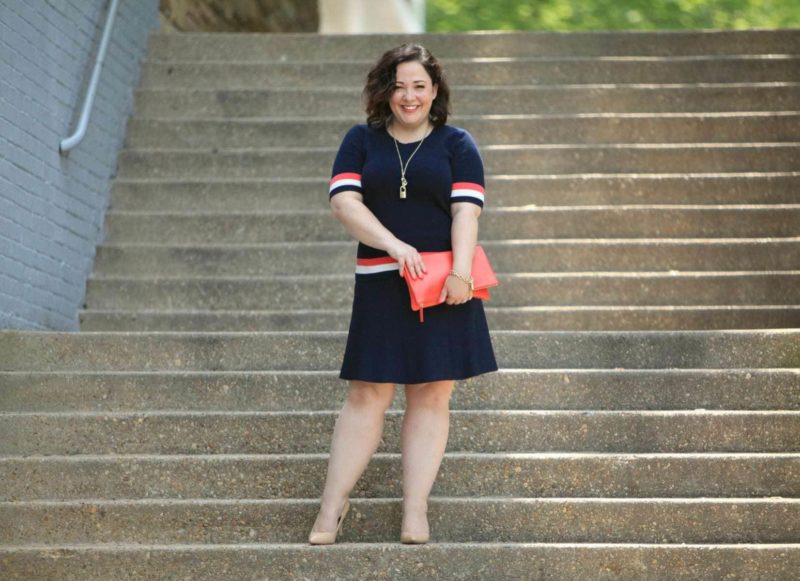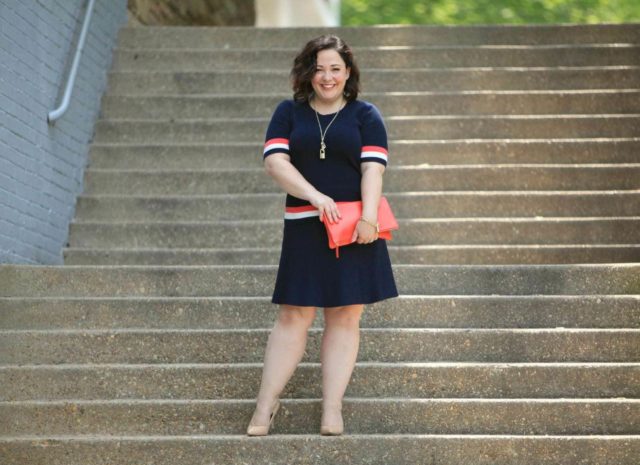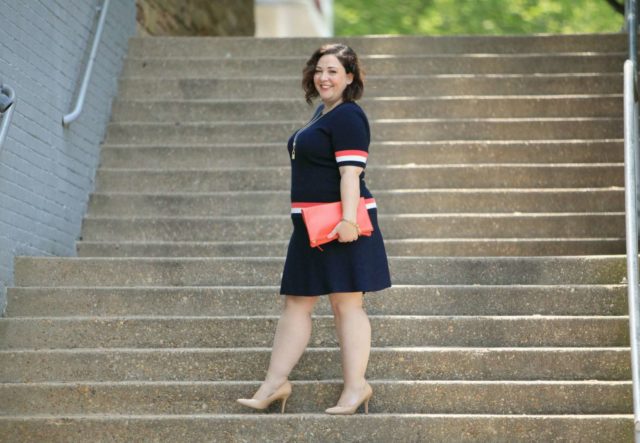 Hampton Shell c/o cabi (L) | Dame Skirt c/o cabi (L) | Maritime Trench c/o cabi (XL) | Foldover Pouch c/o Everlane | Lock & Key Necklace c/o cabi | Lock & Key Bracelet c/0 cabi | Shoes: Nine West | Lipstick: Revlon's Rich Girl Red
Several years ago, my friend Lisa became a cabi stylist and invited me to her house to check out the line… and was so glad I did.  I was surprised by high quality versatile fashion that was surprisingly flattering on a broad range of body shapes and sizes.  Since then I've hosted a cabi party, and featured cabi several times on the blog.  And yes, Lisa still is a cabi stylist and is still loving it!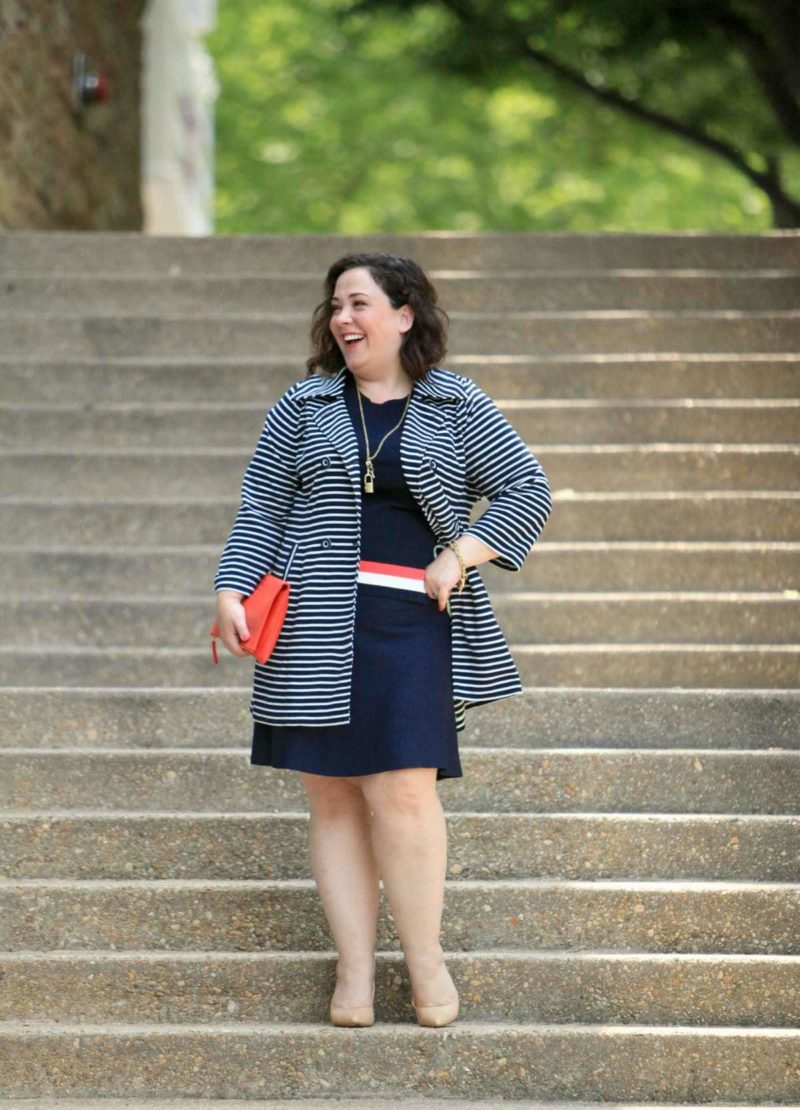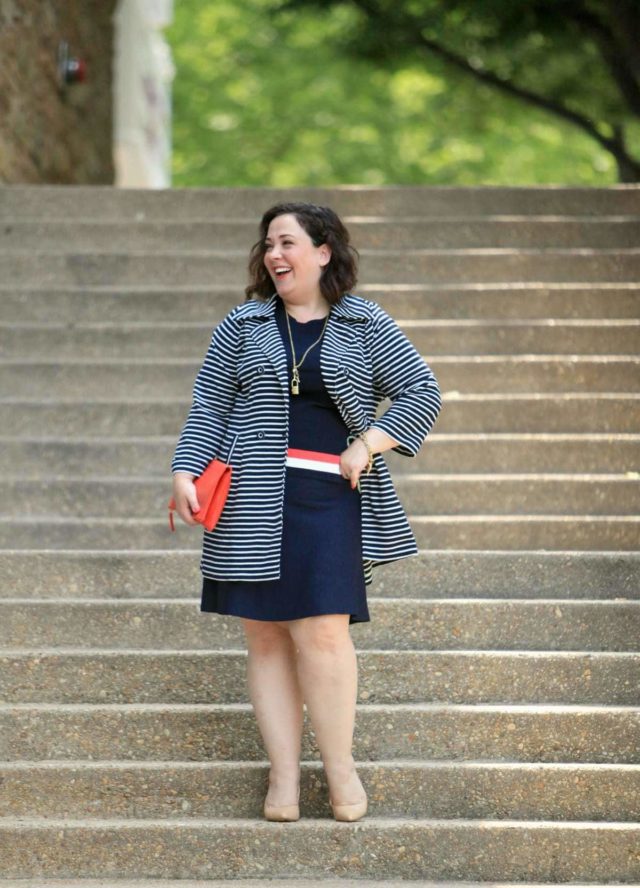 This spring cabi reached out and sent me some of their clothing, including their Playsuit and this Maritime Trench.  If you follow me on Instagram and checked out my InstaStories last week, you know I went to LA to spend some time with cabi.  A recap of this event will be coming on the blog soon; this event and getting to know the people behind the brand made me even more of a fan. I hate to hold out, but I had such an awesome time I forgot to take any photos (SUCH a bad blogger) and I'm waiting for some from cabi so I can have some visuals to go along with the story.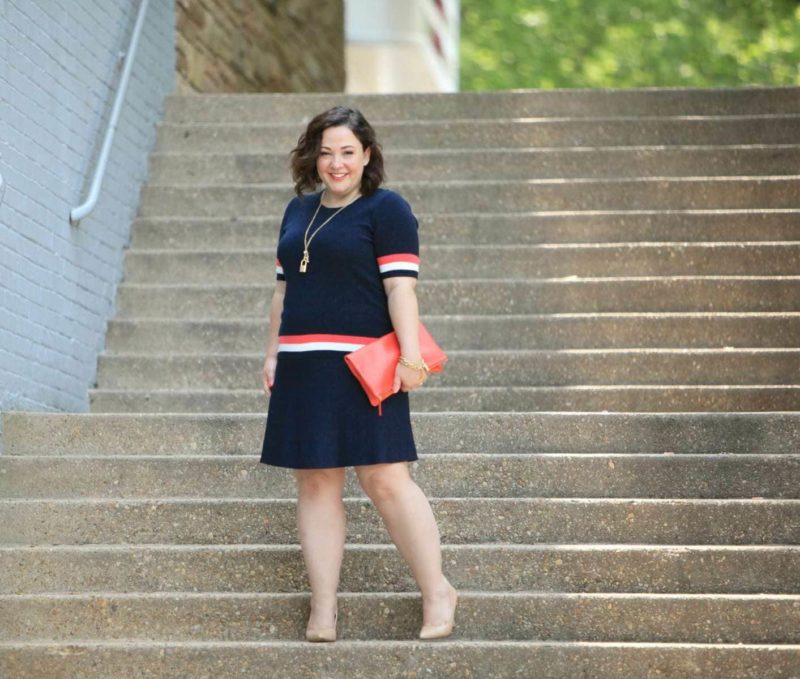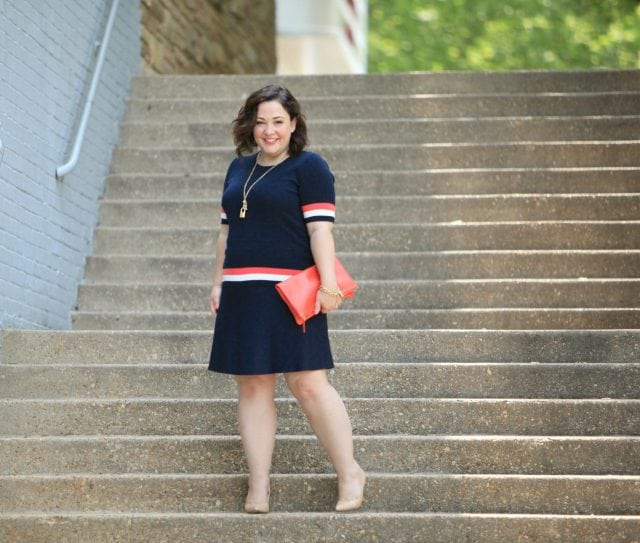 Cabi provided me a outfit of my choice to wear to last week's event; I chose what you see in this post.  After receiving clothing from them earlier in the year I realized some of the pieces run a bit big and decided to get the Dame Skirt and Hampton Shell in L instead of XL.  Good decision, these fit nicely.  I've worn this combination multiple times and always get compliments from strangers and friends.  I've also worn the shell with white jeans.  It doesn't show in these pictures, but the red and white stripe goes down the spine on the back of the sweater, which is a super cool touch.  And the bracelet and necklace?  Real working locks with keys.  I think they're super fun as does Emerson who keeps asking if she can have them when she grows up!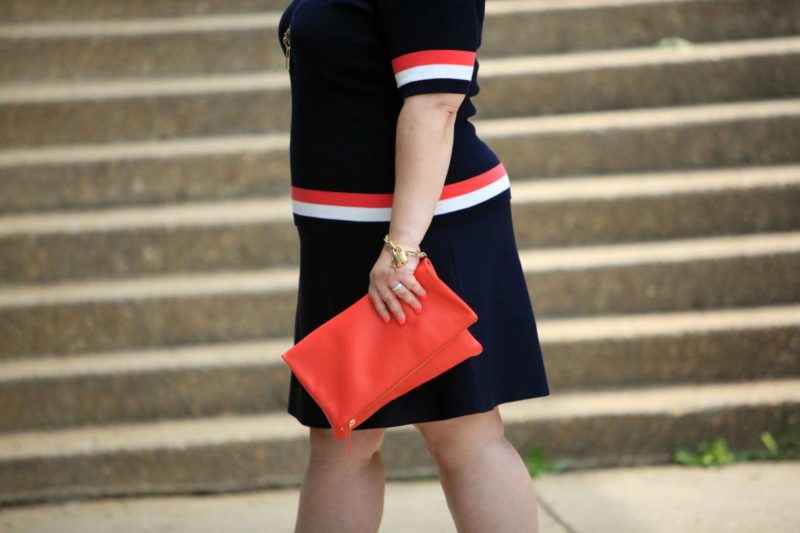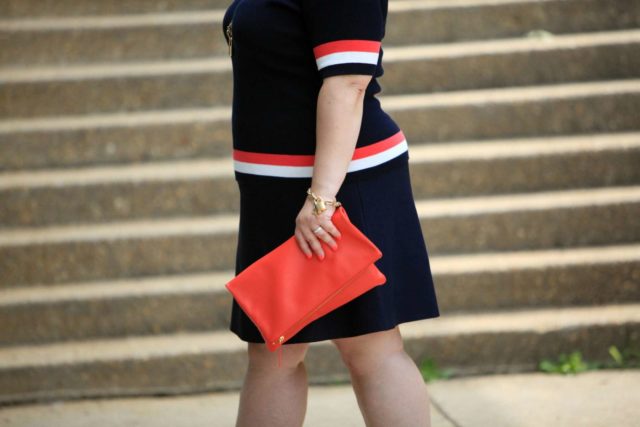 Everlane reached out a couple weeks ago and offered to send me some pieces from their line.  I thanked them but told them Everlane clothing doesn't fit me nor does it fit a good percentage of my audience.  They offered to send me some accessories and one I received is this clutch.  Both the cabi top and this bag are advertised as being red, but they both have a lot of warmth, a coral tint to them.  I was psyched to see they were almost the same color and knew I had to pair it all together.  It's a really nice leather; smells great, smooth yet strong, stays nicely folded even when chock full (in here is my wallet, sunglasses, a card holder, lipstick, eye drops, lip balm, pen, and car keys).  It's really nice quality for the price.  But the best part of Everlane reaching out is that in our email conversation they stated, "I know that we do have plans to expand our size range. It's something our design team brought up recently. I'll be sure to keep you in the loop."  They've been saying this to customers for a while, I look forward to them making good on this statement.