This article may contain affiliate links; if you click on a shopping link and make a purchase I may receive a commission. As an Amazon Associate, I earn from qualifying purchases. 
Hi Alison – I love your blog and visit daily! Your capsule wardrobes are what really drew me in. The ability to mix-and-match separates to create versatile outfits is such a plus, and something I'd like to ask about. You see, I'm considering starting my own business, and will need professional attire. But, I hate suits and suiting material. Starchy button down shirts make me squirm. My wardrobe is built around denim and jersey knits, and I can do business casual with these pieces. But I feel like I need to break down and buy a pantsuit to do "official business," go to interviews and be taken seriously. Any advice? Thanks for your consideration!
I hear you on this. While I don't mind a well-fitting blazer, I go gaga for career wear that has stretch and flexibility. Good thing suiting and professional attire has come a long way and there's a great variety of textiles that offer give, stretch, and comfort.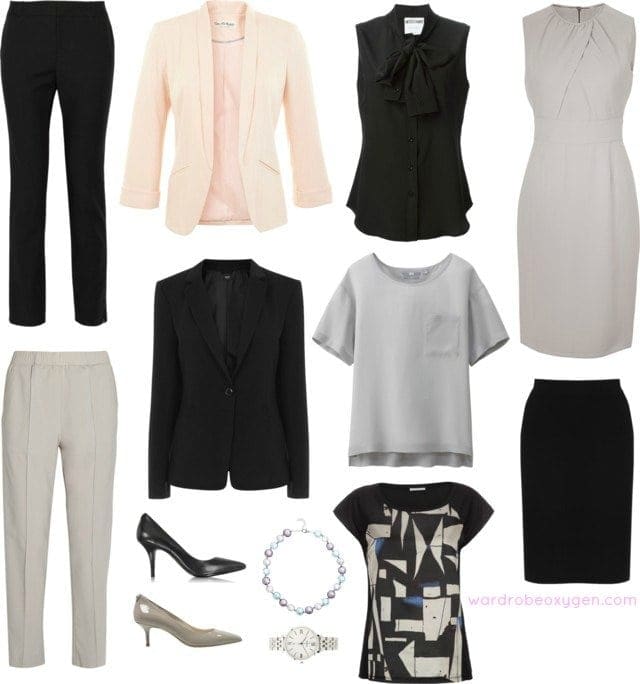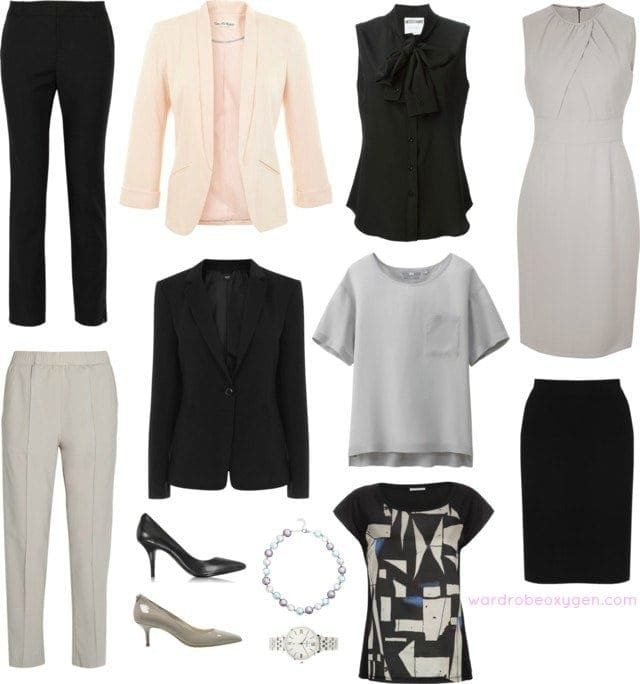 shop this capsule: black pants | gray pants | pink blazer | black blazer | bow blouse | silk tee | printed tee | gray dress | black skirt | black pumps | gray pumps | necklace | watch
This is a spring capsule wardrobe for a professional environment that doesn't have a single starched or stiff garment. I chose a simple palette of black, gray, and pink but this could easily be replicated with jewel tones, neutrals, or any other color mix. Black is a popular suiting color, but it can be seen as too severe, especially if you are starting your own business. Gray is a great color alternative that also tones down black without losing the professional edge. Pale pink softens the look for spring, adds a feminine touch, isn't too memorable, and isn't too bubble gum or girly.


The black pants, black blazer, and black skirt are all made of ponte knit. Ponte de Roma knit is a very tightly woven heavyweight knit that is as stretchy as yoga pants but gives a professional look. The pink blazer is also in ponte knit. Many companies now offer suiting in this fabric, both lined and unlined, to create a suiting collection with comfort.


The gray pants and dress are both made of a suiting fabric with Lycra, which moves with you while still looking professional. Not only that, the percentage of Lycra helps resist wrinkles. Such material is available year-round from retailers of all pricepoints and is a fabric that is office-appropriate all four seasons.


Work blouses don't have to be starched cotton to look professional, yet when you're choosing softer fabrics like ponte for your suiting it's important to be thoughtful with your top's fabric. Silk and silk knits are a great choice because their luxe feel and subtle lustre add elegance and formality to any ensemble. Many silk blouses are made with a hint of Lycra, providing a better fit, more opacity, and more comfort. Choosing one with a detail like a bow neckline, pleats, or ruffles adds interest to a suit without losing professionalism. Silk and silk jersey tees are a great alternative to button-front blouses and shirts and look great under jackets. For less formal business meetings, they can be worn on their own tucked into a pencil skirt or pair of trousers. No need to stick to just solids; a print, especially in silk can look elegant, professional, and add a touch of personality to your workwear.
If you're not wearing such attire every day, there's no need to buy a ton of accessories to coordinate. I have two different shoes featured but honestly you could get away with this entire capsule wardrobe with a single pair of black pumps. A necklace finishes a look; I chose one that incorporates the colors but isn't too trendy so it can be a signature piece, worn on a daily basis. A watch is a great way to mix fashion with function; it adds a bit of shine and it looks far nicer to check the time in this manner than whipping out your SmartPhone.