This article may contain affiliate links; if you click on a shopping link and make a purchase I may receive a commission. As an Amazon Associate, I earn from qualifying purchases.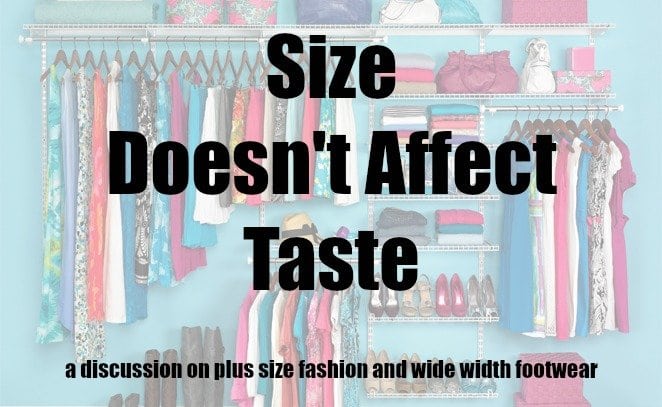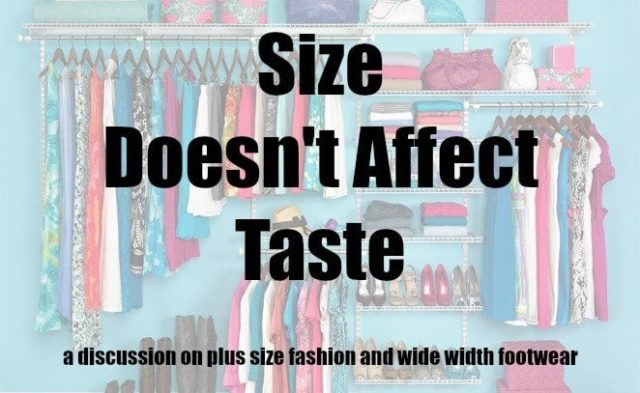 I have wide feet. Scrolling through online shops looking at wide width shoes I'm disappointed and downright disgusted with the options. I expect many to be a bit frumpy, but what angers me is the perfectly lovely shoes destroyed with so many extra details. Mixed media, studs, grommets, metallic finishes, one too many strap… I could go on and on. I don't really get it, especially since shoe trends this spring are pretty clean and simple. Why take a basic tan leather wedge sandal and add to it a snakeskin strap, a raffia covered wedge, a gold strip between the sole and the raffia, and a printed sole? More is not more. We're already dealing with limited selection and special needs that often take the glamour from shoe styles, why make it worse for us with tacky tchotchkes?
I'm a size 14. Some brands, that's a 12/14, some it's a 16 petite, some it's a 12W, some it's XL, others it's 0X. I straddle between regular and plus sizes so I see on a daily basis the atrocities that are offered to plus size women. Again, it seems that brands think more is more and they are so so wrong. A floral top with a lace-up neckline and a sharkbite hem and a cold shoulder and a chiffon cut-out. WHY??? We don't need that weird hem, that fussy sleeve, those studs or sequins. What kills me is when a brand carries a similar piece in straight sizes without the doohickies, and then once they replicate it in plus sizes they add a bunch of tacky embellishments.
Just because we're bigger doesn't mean we lack style.
Be it our feet or our figures, size doesn't change our taste level.
Slides and mules are hot this spring. Let's look at some selections in standard widths that incorporate some of the footwear trends for the season: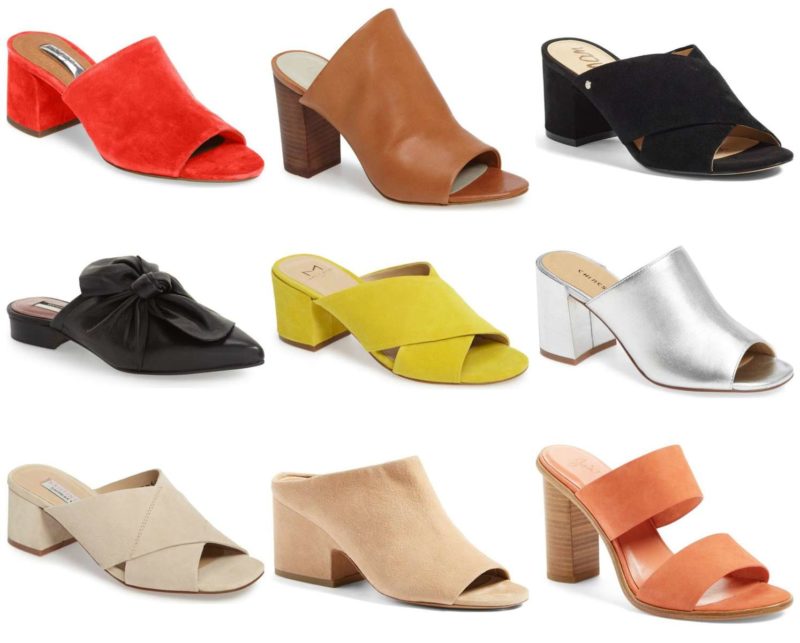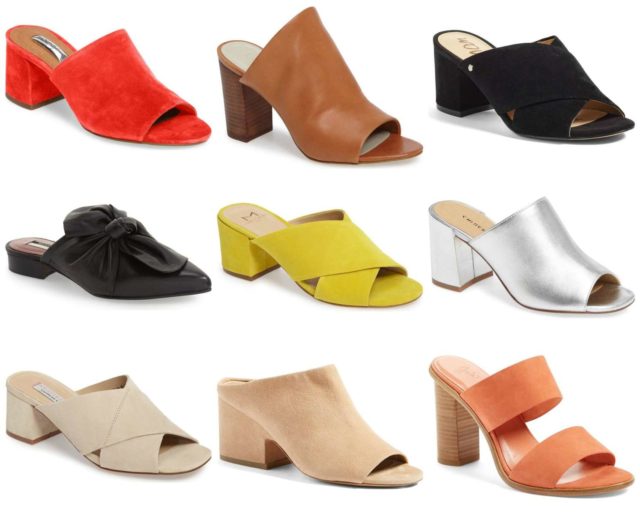 Halogen – Statement Color | 1.State – Camel Leather with a Wood Block Heel | Sam Edelman – Wide Cross Straps and Block Heel
Topshop – Closed Toe and Bow Details | Marc Fisher – Yellow is the Color of the Season | Chinese Laundry – Metallic
Kristin Cavallari – Soft Neutral for Versatility | Vince – Nude with Modern Silhouette | Joie – Two Straps and Wood Block Heel
Now here's selections in wide widths from the same retailer: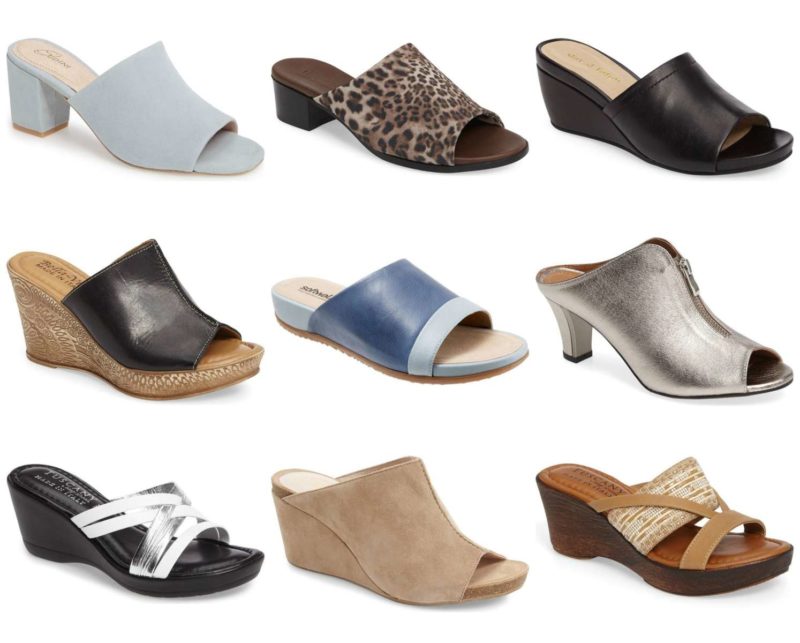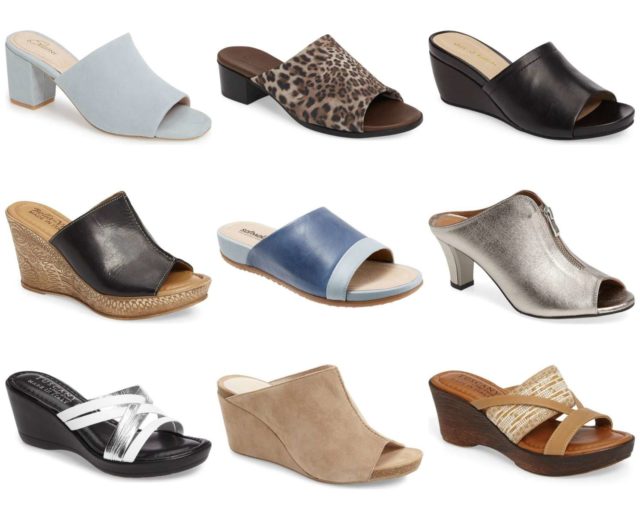 I made an effort to find fun and on trend styles that would be wearable to work or out for a social situation. As you can see it was tough. The pale blue suede ones top left are Sudini and very similar to the Halogen ones I featured, the tan wedges bottom center are also Sudini and similar to the Vince slides I featured, and the black ones top right are simple, clean, chic, and from David Tate. The rest… they may work with your specific personal style but they're not terrible versatile, on trend, or even looking that much more comfortable than the straight sized styles to justify their style.
Let's look at blazers. Whether part of a suit or a way to dress up your favorite tee, blazers are a wardrobe staple for a variety of personal style aesthetics. Let's see what is available at my favorite department store in straight sizes incorporating popular trends and classic needs for Spring: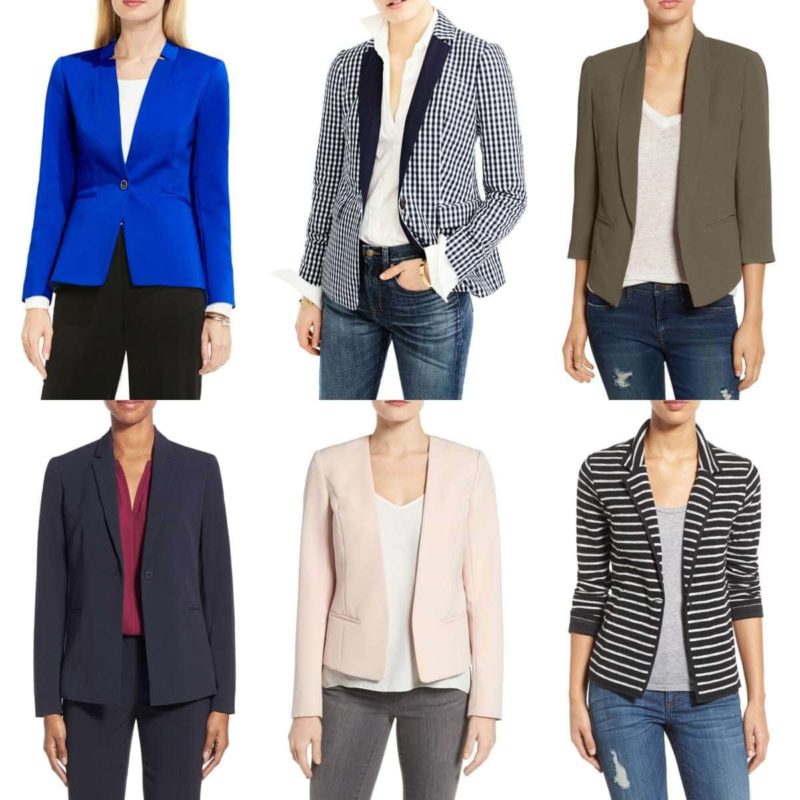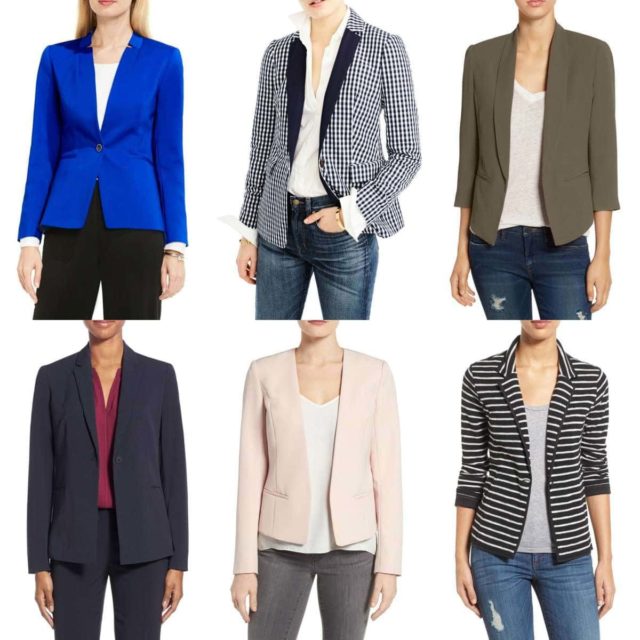 Vince Camuto – Statement Color | J. Crew – Gingham |Mural – Cropped in Olive
T Tahari – Office-Friendly Stretch Woven in Navy | Halogen – Collarless style in "Millennial Pink" | Caslon – Striped Knit
And then I tried to find similar concepts in plus sizes at the same retailer: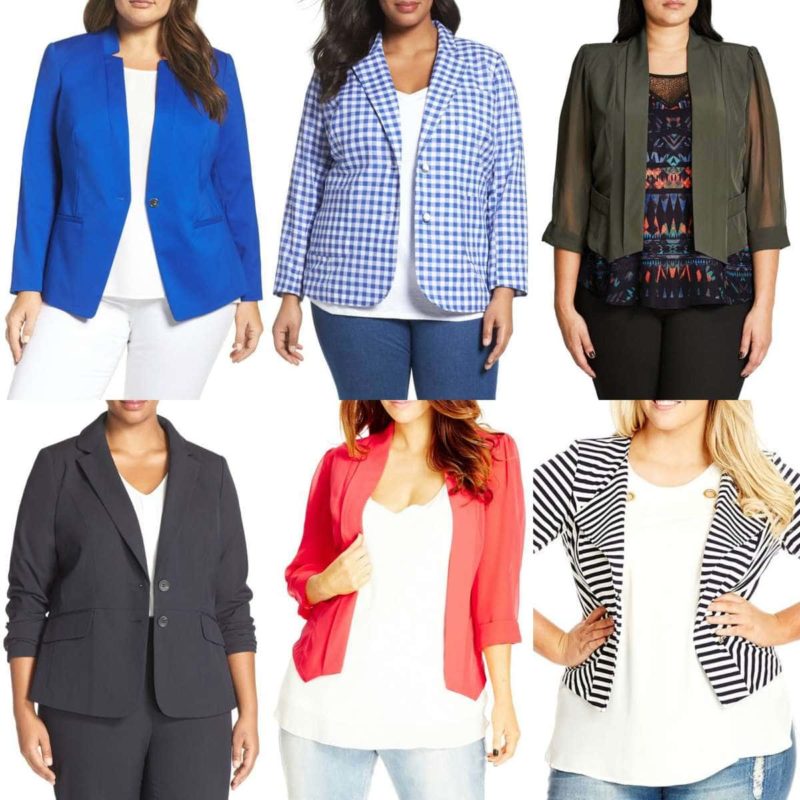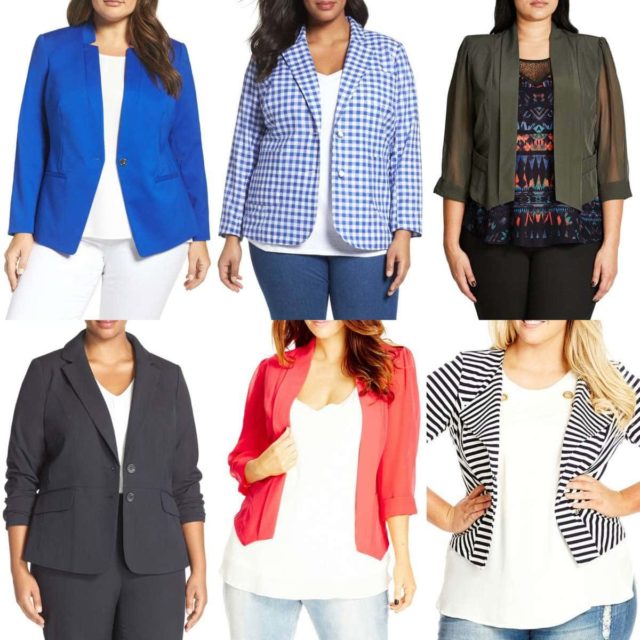 Not as awful, but still a lack of quality and professionalism in many styles. Shout out to Vince Camuto (the blue blazer) and Sejour (the navy stretch woven blazer) that are trying to make professional suiting in plus sizes and to Foxcroft (gingham blazer) who at least is trying to have some fun in blazers without going completely wackadoodle. Also I have to mention ELOQUII that has been making some beautiful suiting this season that is professional, stylish, and flattering. But in general, it's far easier to dress as a size 4 woman in Corporate America than one who is a size 24.
Let's not even get into black tie or Mother of the Bride fashion… I started writing a piece in response to a reader email on this subject and got so frustrated I had to take a break. A size 10 woman can find an elegant, simple, relatively timeless gown while plus size women get sequins and beading on floral jacquard that looks like something Dorothy would have rocked in the '80s on The Golden Girls.
Women buy this tacky crap purely because it's either gaudy or glum. In general, we have the options of orthopedic shoes and black stretchy muumuus or tacky trend overload. Brands, you may have this horrible stereotype in your head that fat women and people with fat feet are stupid, tacky, loud, and gaudy. You may think all we want is asymmetric neutrals or super sexy pinup styles but plus size women and women with wide width feet are as varied as straight sized women. Gosh, what a novel concept!
There's plus size women who love a preppy style aesthetic. There's women with wide feet who want to wear a feminine kitten heel. There's women over a size 14 who work in conservative office environments and desire suiting that doesn't have satin lapels, peplums, or made out of the cheapest polyester in China. There's women with bunions, high arches, and wide feet in general who would love a lightweight sandal to go with their breezy sundresses and linen pants. There's women who need plus size clothing or wide width shoes who are over the age of 22 but under the age of 82. And I have a secret I'd like to share with you… women with bigger bodies make money and like to look good.
Stop dumbing down style for those of us who need extended sizes. Stop thinking we don't "get" style.  It's not that, it's that we literally don't get style.  We have to seek it out with online retailers, word of mouth, social media.  We're so smart we've learned to give up on the mall for catering to our needs, we're smart enough to know that studs on a pair of sandals is so copycat Rockstuds from a couple years ago and the only reason we buy them is because there's nothing else.  If brands could just start by following Coco Chanel's advice and remove one doohickey before producing several thousands of an item.  These brands may be pleasantly surprised to find that items in larger sizes and widths may sell better if they're actually stylish.