This article may contain affiliate links; if you click on a shopping link and make a purchase I may receive a commission. As an Amazon Associate, I earn from qualifying purchases. 
Last year Karl and I didn't attend a music festival. The arm put a cramp into our capabilities and also our finances. This year, we decided again to not attend a music festival. While we love them, they can be pretty intense and we usually feel we need a vacation after our vacation. We both had broken limbs and crazy drama last summer; this summer we want to relax with our music. We have a couple concerts on the books this summer, but when I received an email from Rogue 24 earlier this month I knew we HAD to attend.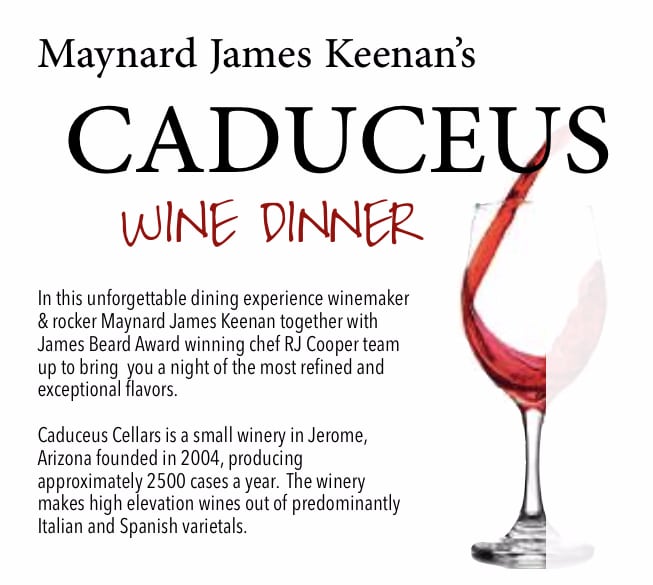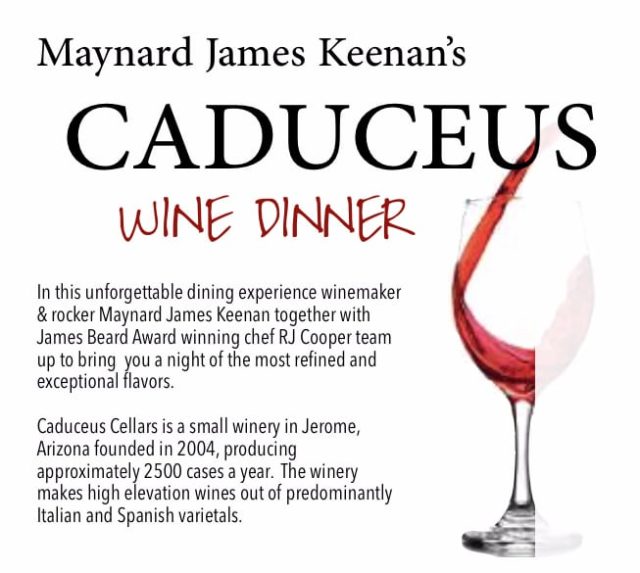 Tool is one of Karl's favorite bands, and because he has listened to their albums so much over the 20+ years we have been together, I too have come to appreciate the music and respect Maynard James Keenan, the lead singer of Tool (as well as A Perfect Circle and Puscifer). Along with music, Keenan owns Caduceus Cellars, a group of vineyards in Arizona and New Mexico. To be able to attend such an event at a highly-rated restaurant with such an artist was an opportunity we couldn't pass up.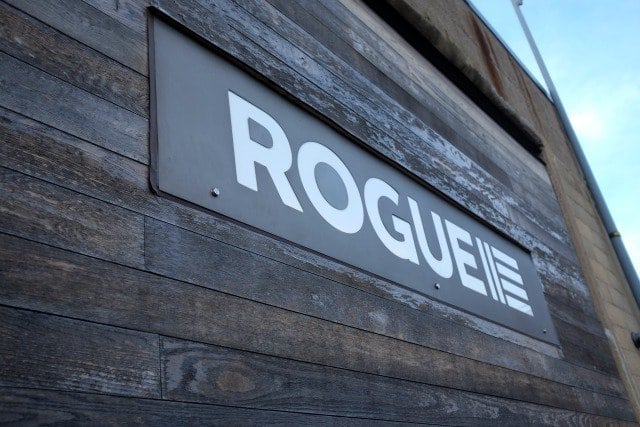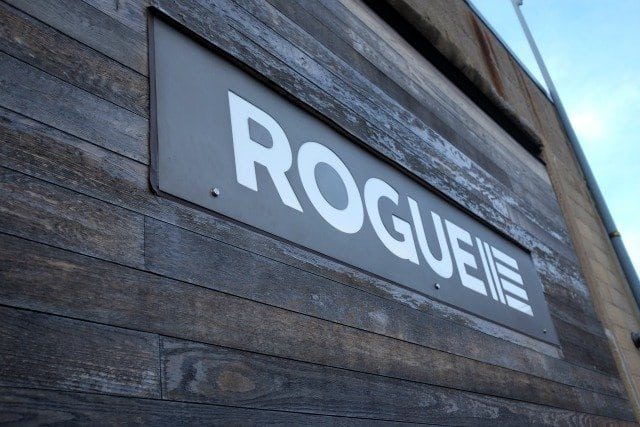 After work, Karl met me at the Mount Vernon Square Metro and we walked to Blagden Alley, where there's a hidden cluster of bars, restaurants, a coffee shop and a few other businesses. We got there early and found Chef RJ Cooper outside; he recommended we head over to Lost & Found for a quick drink. When we came back, the alley was filling with others who were there for the dinner. It was a fascinating group of folks – there were the wine enthusiasts, the foodies, and those who were there as fans of Keenan. A Donald Trump lookalike was leaning against the wall next to a woman in calf-high Doc Martens and dyed black hair, a woman in an St. John dress and diamond ring the size of a gumball in line behind a gentleman wearing a faded Tool tee shirt under a blazer with worn jeans and Chucks. I loved it, such an example of how food, wine, and music can bring all sorts of people together.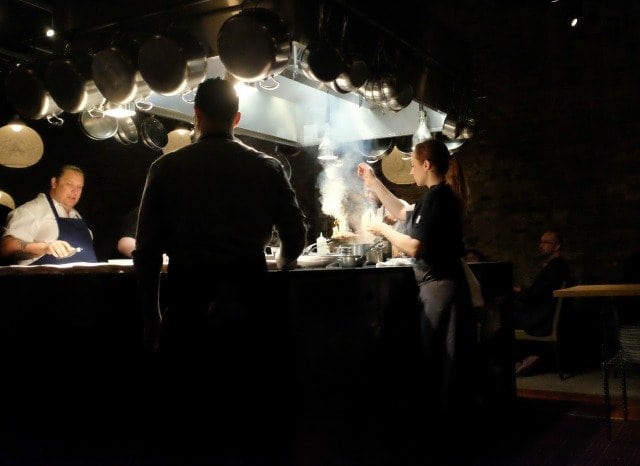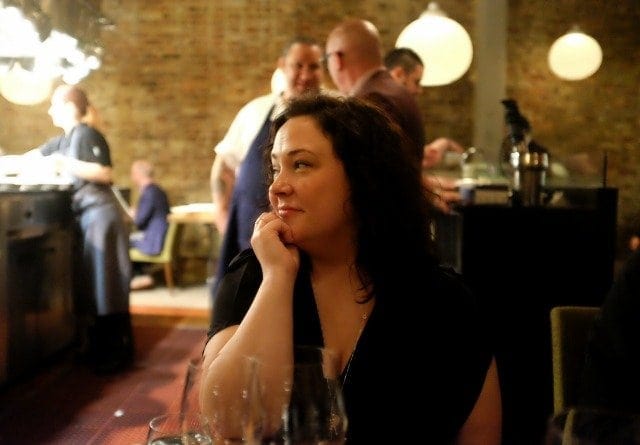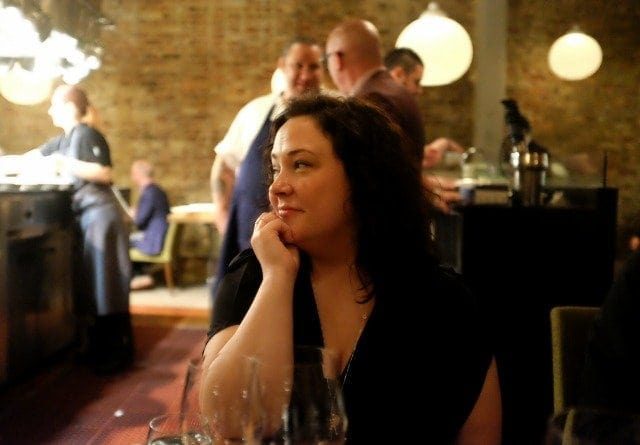 The restaurant is small, I don't think even 50 chairs. The tables surround the kitchen, the stage for the evening's performance.  We were placed at a table near the back of the restaurant that we shared with two other couples.  The couple next to us were there for the food and wine; they were big foodies who had been to Rogue 24 before and have even flown across the globe to visit highly-rated restaurants.  And the table next to us held four guests… and Maynard James Keenan.  As Karl said, he was as close to James that night as he was me!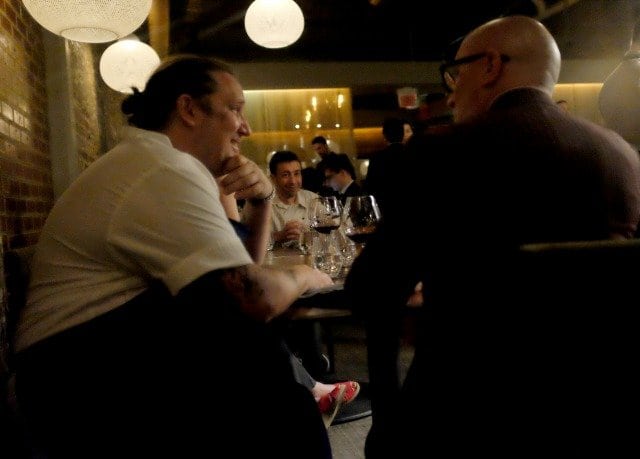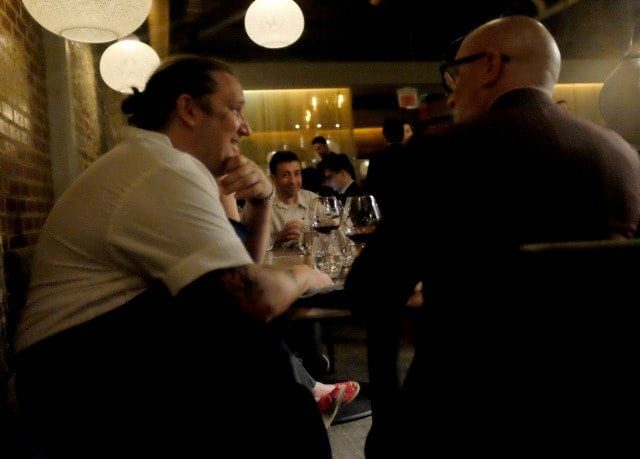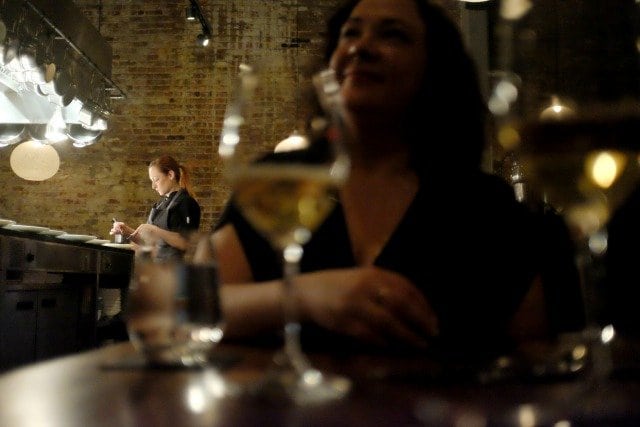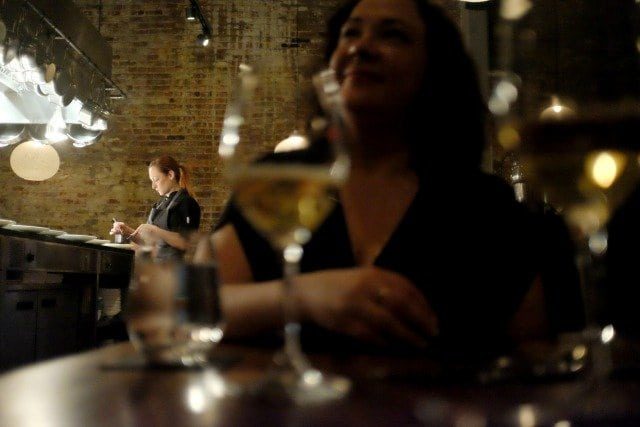 This was not an event where Karl wanted to whip out his camera at every moment, but he did bring his "pocket camera" and captured a few images.  If you follow me on Instagram you know I too caught a few pictures with my phone; once the wine started flowing people were more liberal  their phones, taking pictures of each course.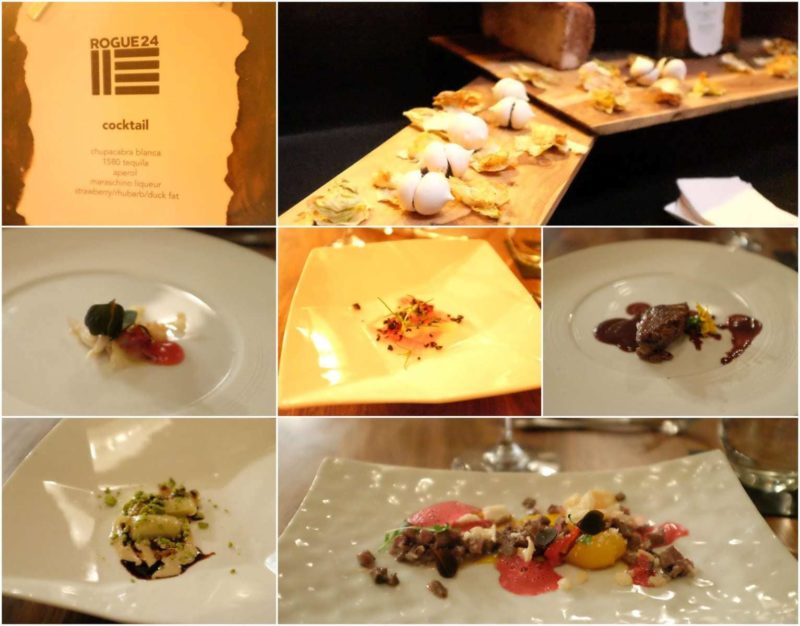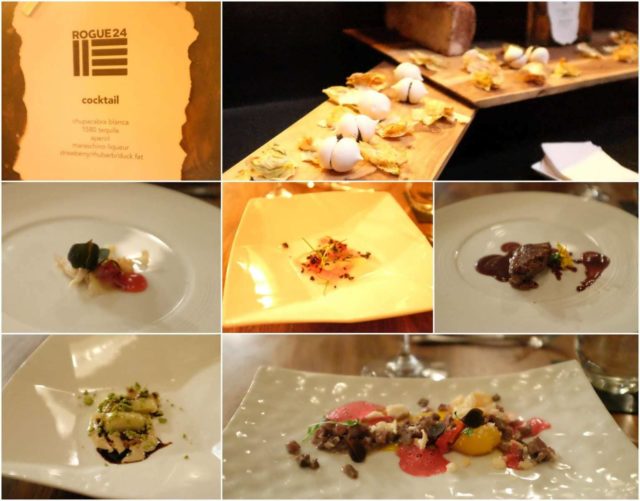 And the food was phenomenal; we ate things we had never eaten before and combinations that blew us away.  The evening started with a buffet of canapes (little macarons made of sour cream puffs with caviar, and freeze-fried cabbage with a hemp butter and mustard cream) and a tequila and wine cocktail that was light and refreshing.  Each of the seven courses was served with a different wine from Caduceus Cellars, perfectly paired.  My favorite ended up being the most expensive course Rogue 24 has ever served – goose liver agnolotti with Sicilian pistachios, buffalo brown butter and balsamic vinegar aged for 100 years served with Caduceus Cellars '13 Chupacabra red. Dessert was again a buffet, with little bite-sized treats and a coffee station.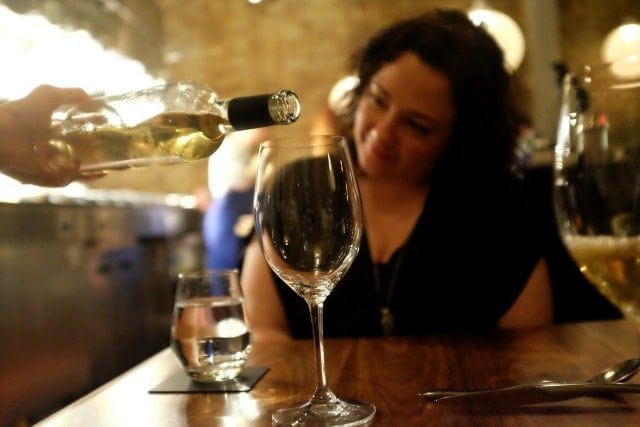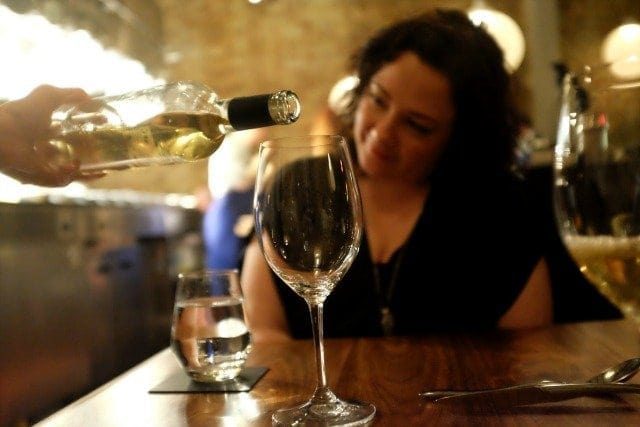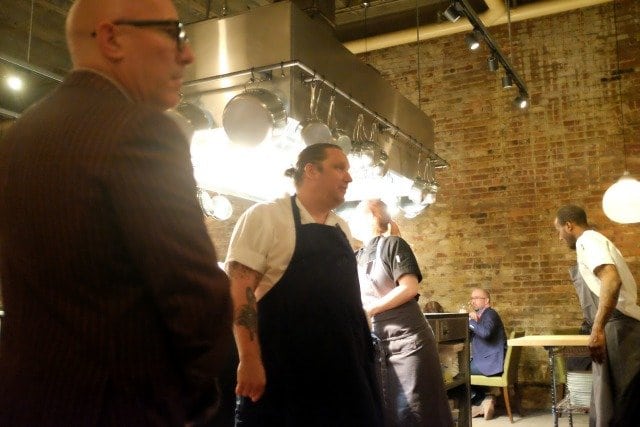 The charming and knowledgeable staff of Caduceus Cellars and Rouge 24 were eager to share information about the food and the wine. I think people can find such events intimidating, but everyone was so friendly and warm. It was surreal to be joking with a James Beard Award winning chef and making eye contact with a rockstar you have admired for so long.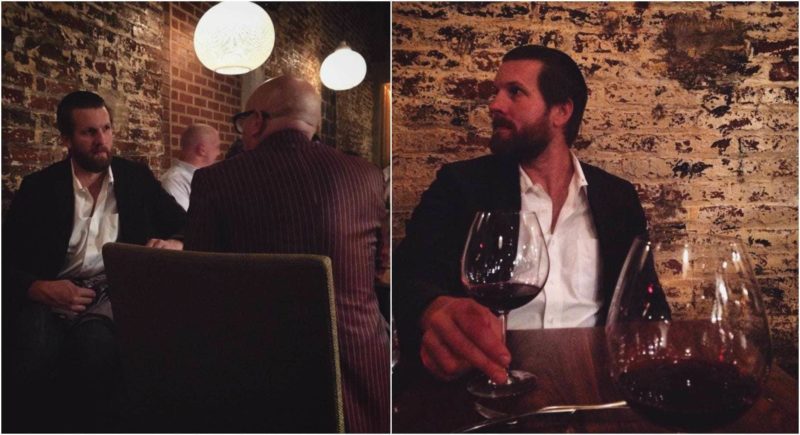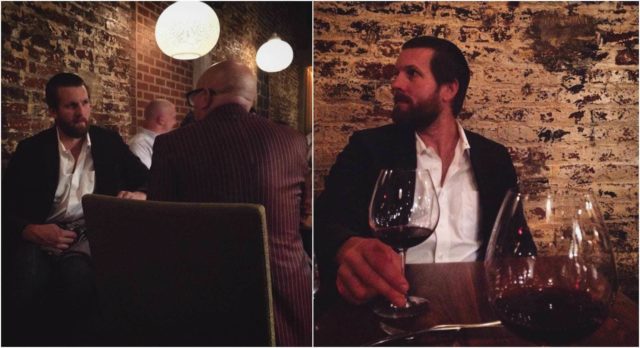 It's crazy, I don't even know how I got on the mailing list for this event; if I hadn't received the email I likely wouldn't have known about it.  I am so glad were were able to go and share such an experience.  I feel this is a #ThisIs40 moment; the evening was not cheap, it would have been easy to pass it up saying we can't afford it.  But it was far cheaper than a weekend at Bonnaroo and it was an equally memorable and unique experience.  This is an event we would have likely passed up a decade ago, but now see the value on so many levels.  As I preach with clothing I also preach with life – it's better to have quality than quantity and Wednesday evening at Rogue 24 was definitely quality.