This article may contain affiliate links; if you click on a shopping link and make a purchase I may receive a commission. As an Amazon Associate, I earn from qualifying purchases. 
Christmas Eve, I worked until 3pm and then headed to the insanely busy grocery store to get the needed supplies for the next day (my responsibility was Bloody Mary supplies and hors d'ourves for the brunch). True Maryland Bloody Mary – mix, Old Bay seasoning, celery, olives, horseradish, Worcestershire sauce, hot sauce, and even an English cucumber cut into slices for garnish. Hors d'ourves were the frozen kind because I was so limited on time.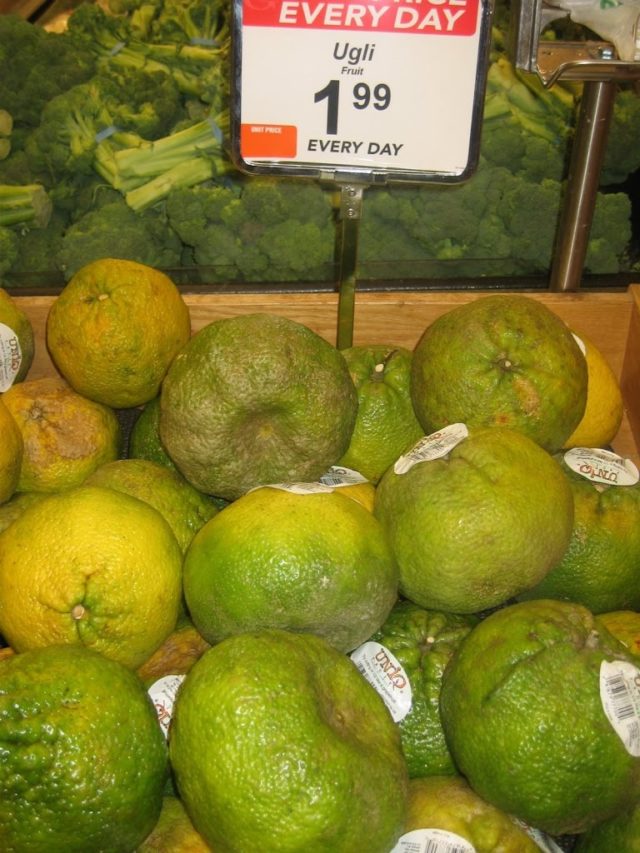 I took this picture of this fruit at the grocery; they were the strangest looking fruit and then when I saw their name I just HAD to snap an image!
After that, I cleaned up my house and used all the vegetable remnants I have been collecting for a month or two (we're talking bases of celery, carrot peels, freezer-burned sugar snap peas, ends of peppers and onions and random leftovers that have been tossed on a freezer bag in the freezer instead of the trash) and roasted them and then simmered them with water and made several quarts of vegetable stock. I put two cups in each freezer bag and place in the freezer for future recipes. I used to do this every year with a turkey or chicken carcass but this year being a vegetarian, it was my first foray into all-vegetable homemade stock. It smelled amazing and I think turned out quite well (I spilled a bit on the floor and Ruckus lapped it up as quickly as he would if made from meat).
Then we went to my mom's for Christmas Eve. Before I got married, I always spent the night at my mom's house and "Santa" would take the stockings from the fireplace mantle, fill them with toys and leave them at the foot of our beds. Us kids would open the presents and play with them until our parents would wake and we would go downstairs to open the presents under the tree and have breakfast. Now, Mommy fills the stockings for us and my husband and I go home with them, promising to not open until the next morning.
I changed from my black tee and black city boots to my orange scoop-necked merino sweater and black flats from Naturalizer. Otherwise, outfit the same as it was during the day.
Christmas Day, the hubby and I woke up and opened our stockings (these are not big presents; we receive things like magnetic notepads for the fridge, lip balm, post-it notes, travel sizes of toilitries, Clif bars and other little randoms) and then got showered and dressed to go back to my Mom's house.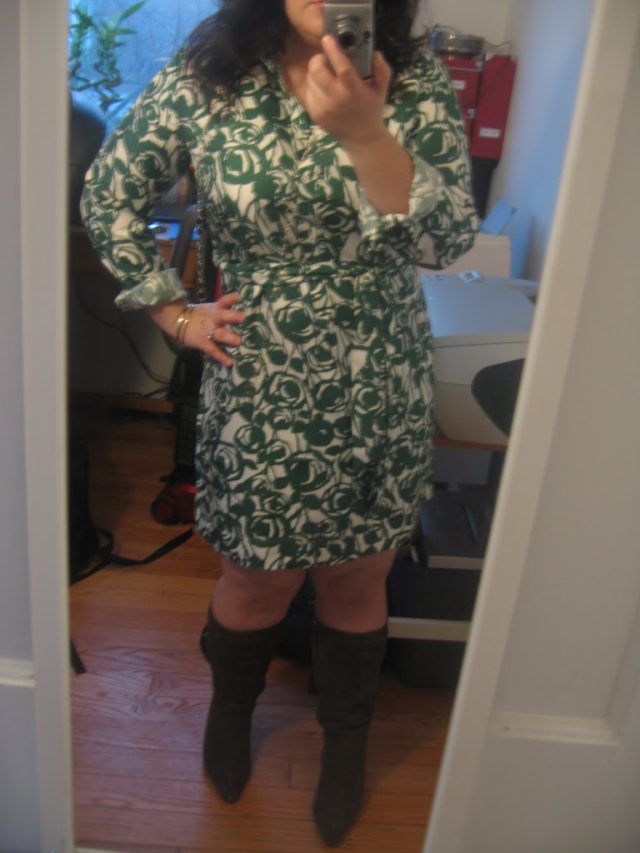 Green and off-white print silk shirtdress from Banana Republic, gold hoops, gold bangles from Ralph Lauren, long gold necklace from Express, brown suede boots from Silhouettes.
Hair was second day.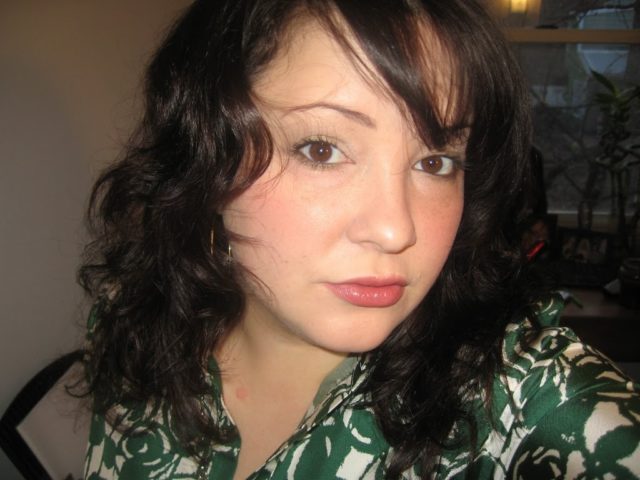 Makeup was L'Oreal True MAtch concealer in W1-3, philosophy The Supernatural in Beige, Nars blush in Orgasm, Nars lipstick in Dolce Vita, Revlon ColorStay shadow quad in Neutral Khakis – ivory in inner corners, olive on lid and along lash lines, chocolate and olive mixed and in crease and long top lash line. Lashes curled, two coats Benefit Bad Gal lash.
We opened presents while eating toast, deviled eggs and coffee. Then we cleaned up and had my husband's father, sister and her boyfriend as well as my mom's friend over for a meal. We cleaned up and left the food to be set up buffet-style and my cousin, her boyfriend and his son, as well as two friends of ours showed up. Everyone else ate, we sat around and talked and then had dessert. Everyone left by 7pm.