This article may contain affiliate links; if you click on a shopping link and make a purchase I may receive a commission. As an Amazon Associate, I earn from qualifying purchases.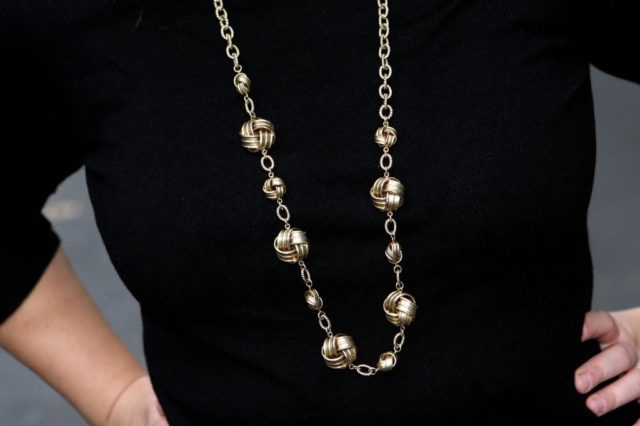 Sweater – Banana Republic (similar)
Skirt – Ann Taylor (similar)
Tights – Nordstrom
Shoes – Franco Sarto "Lotion" c/o Nordstrom Rack (similar)
Necklace – Ann Taylor (similar)
Bag – Sabina
They don't call them the Terrible Twos for nothing. However, I think the age is more terrible for the child than the parents. Emerson is at a point where she can communicate pretty well, but doesn't always have the right words. She also is still trying to grasp her emotions and how to express them. She doesn't understand why it's okay to do some things, but not others. This morning we had a full-on fit over having to wear a coat and non-sandal shoes due to the weather (45 degrees when I left the house!). It was so intense (and lets add right now that "Mama" is the bomb and Daddy is the enemy) that I had about 15 minutes to get from pajamas to this point. As usual, I rely on an all-black outfit with one statement accessory to get through such situations. I didn't even brush my hair this morning, just hit the front with a curling iron so it wouldn't stick out as drastically from the rest. Sigh.
This weekend was pretty jam-packed! Friday night after work, we went to a local cafe to celebrate my husband's birthday. Saturday morning my husband teaches yoga; I spent that time prepping food for the party. As soon as my husband got home Emerson and I left for our first swim lesson. That was 30 exhausting minutes of power struggles, tears, and singing. E isn't scared of water, but she doesn't like splashing and loud noises so she was pretty overwhelmed and not handling it in her usual chill way. I think each class will get better and better because she really does love being in water and "swimming" (kicking her legs while I hold her).
Got home, put E down for a nap and got right to cleaning. My mom and her boyfriend were awesome enough to come get Emerson and take her home with them around 6pm; guests started showing up just after 7pm for my husband's birthday party.
What I Wore: Vintage Hawaiian print muumuu I got from my husband's grandmother's yard sale (only $1!), J. Crew necklace, and my old beat up DUO "Bern" boots that didn't go at ALL but let me muck around the rainy yard to check on guests and socialize outside.   I never got a full picture of me in the dress, but let me tell you it's a pretty awesome dress!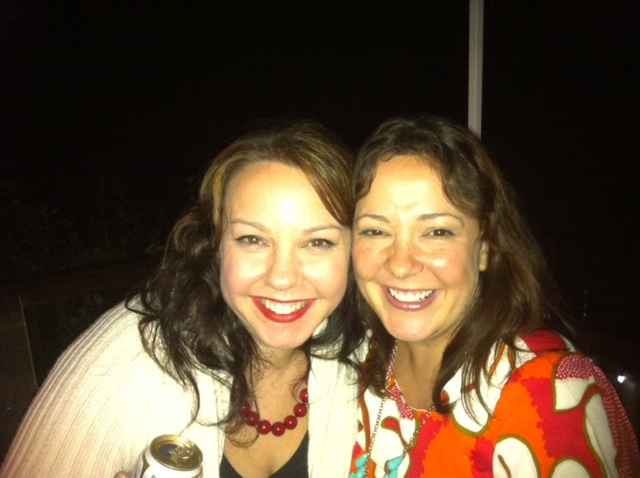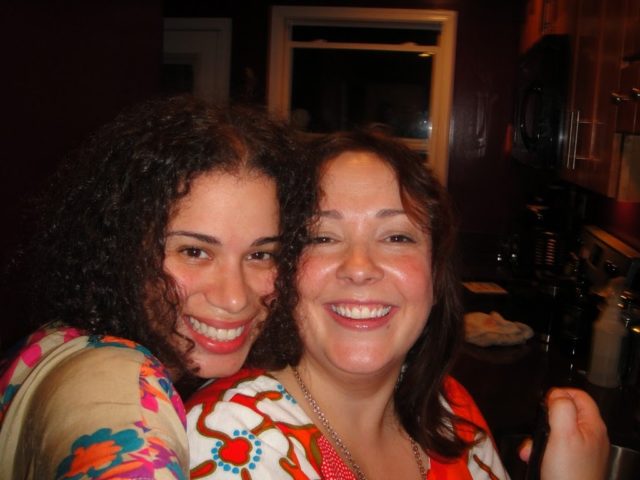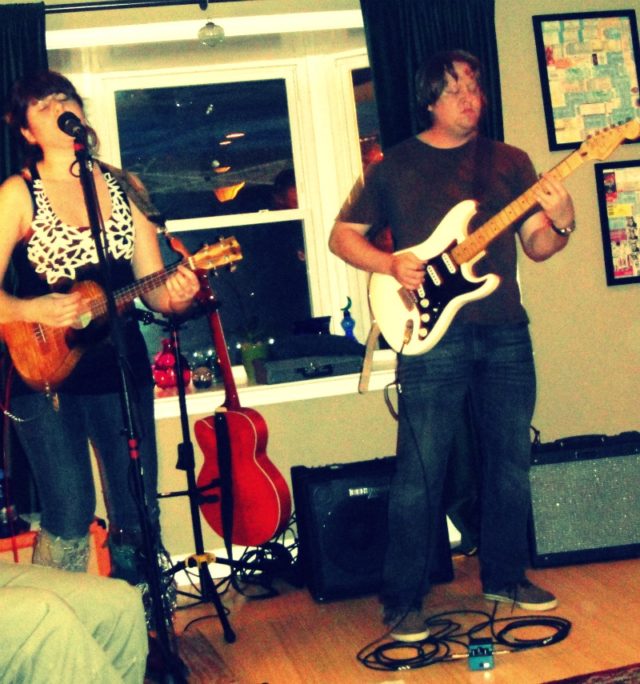 The party was SO MUCH FUN! I couldn't believe my house could hold so many people! And to think, I had a band rocking out at my house! The Galt Line was amazing – can't believe how much sound can come from two folks.  Everyone was enjoying it, and after their set some of our musician friends jammed with them – had live music almost all night!  The rain didn't slow us down, my husband put up EZ Ups and tarps outside – felt like Bonnaroo!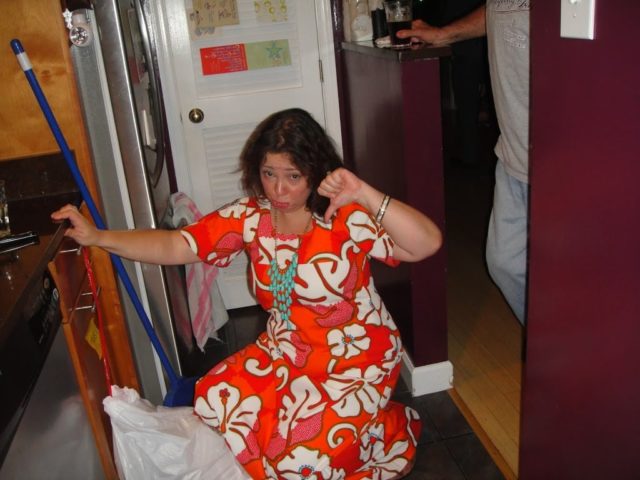 Boo boo kitty cleaning up the bottle of wine I dropped on the floor
Having an "adult" party is pretty fantastic – still a blast, but nothing broken (except a bottle of wine but I did that), no one puked, no hungover strangers in my living room, no cops called. I think we'll be having another in the future!
And I wish I got more pictures, but my camera battery died after one picture.  Pics above sent to me by friends, you can find more pics on my friend Nicole's blog.
So Sunday was spent cleaning up, catching up on missed sleep, hanging with Emerson. Then last night I went to my friend Izolda's house so she could record my voice for one of her One Minute Movies (click here for more info). Excited to be part of her project! I was home by 9:40, and passed out by 10. This morning I woke and felt I could have slept 8 more hours easily, but at least the exhaustion was because of awesomeness!
Follow Me | Twitter | Facebook